Lviv is my favourite city of all time, and yet most people couldn't even tell you what country Lviv is in, let alone how to pronounce the name of this funky little place. With delightful cobbled streets and a stunning market square, tonnes of foodie goodness, incredible themed bars and prices that make even the biggest penny pincher want to splurge, there isn't much that I can say to criticise the 'Little Paris' of Ukraine.

Not only have RyanAir begun selling super cheap flights to Lviv from the UK, Germany and Poland, but accommodation in Lviv is also extremely budget-friendly.

I really believe that Lviv is a wonderful destination for those searching for somewhere to enjoy a cheap European city break, and so with this in mind, I decided to put together a list of unbelievable apartments in Lviv for under £25 a night!

Another great option is house sitting. House sitting enables you to stay in someone's empty home for free, on the condition that you just take care of it (water any plants etc.). You can use TrustedHousesitters to see if there is anything available for your dates!



Psst – if you're flying to Lviv and need an airport transfer, I recommend using i'way. Click here to book!

Another way to get to Lviv is by bus. My go-to bus travel in Europe is always FlixBus. Flixbus is the most extensive bus network worldwide and all Flix buses have Wi-Fi, extra legroom, charging ports and the ability to modify your booking just 15 minutes before departure! Click here to book your Flixbus to Lviv.



16 Insane Apartments in Lviv for Less Than £25 a Night! | Airbnb Lviv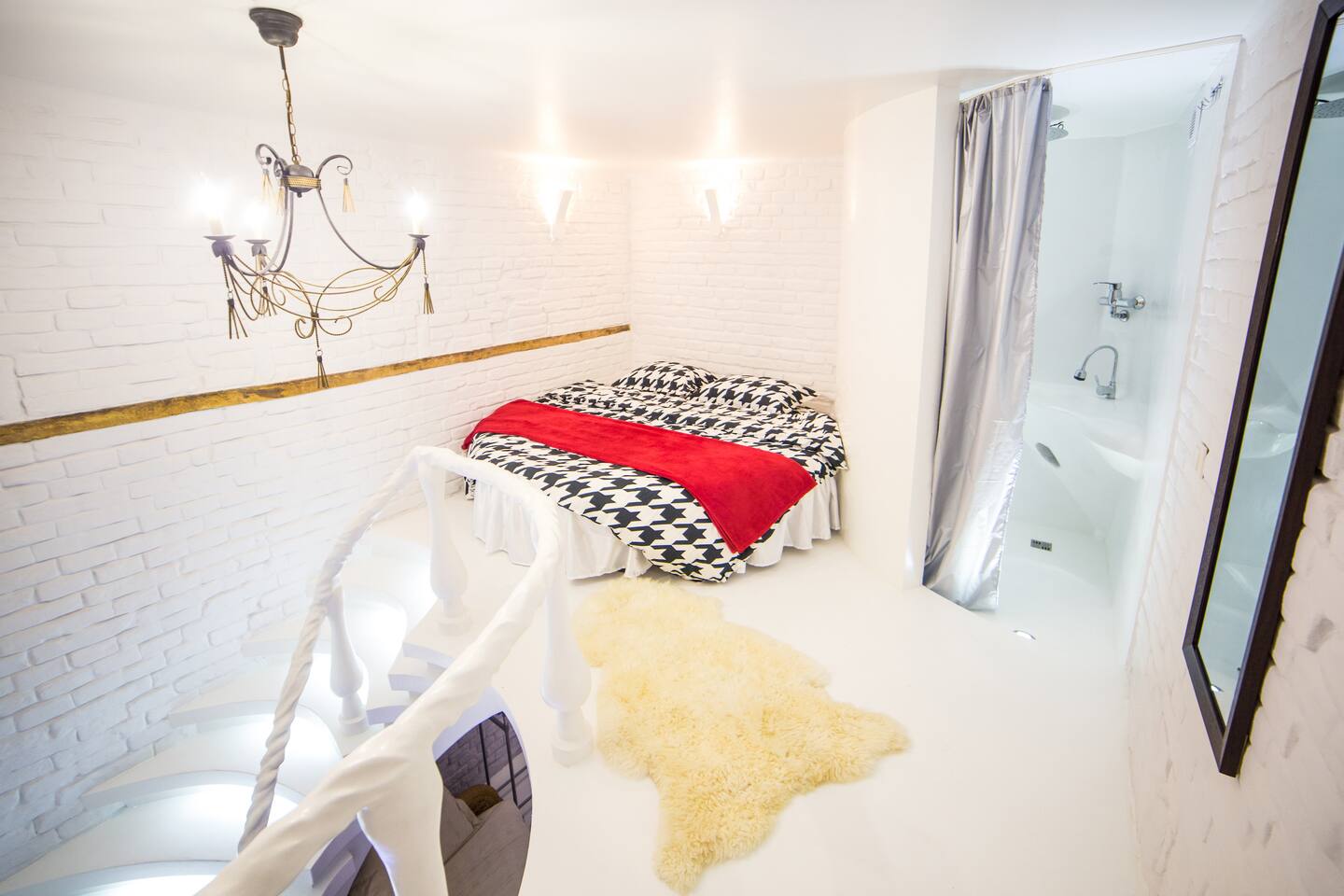 I actually can't believe that this place is less than £25 a night! It actually has two bedrooms, meaning that up to 4 people can stay here, as well as a separate living room and kitchen, all decorated just as immaculately as this bedroom here!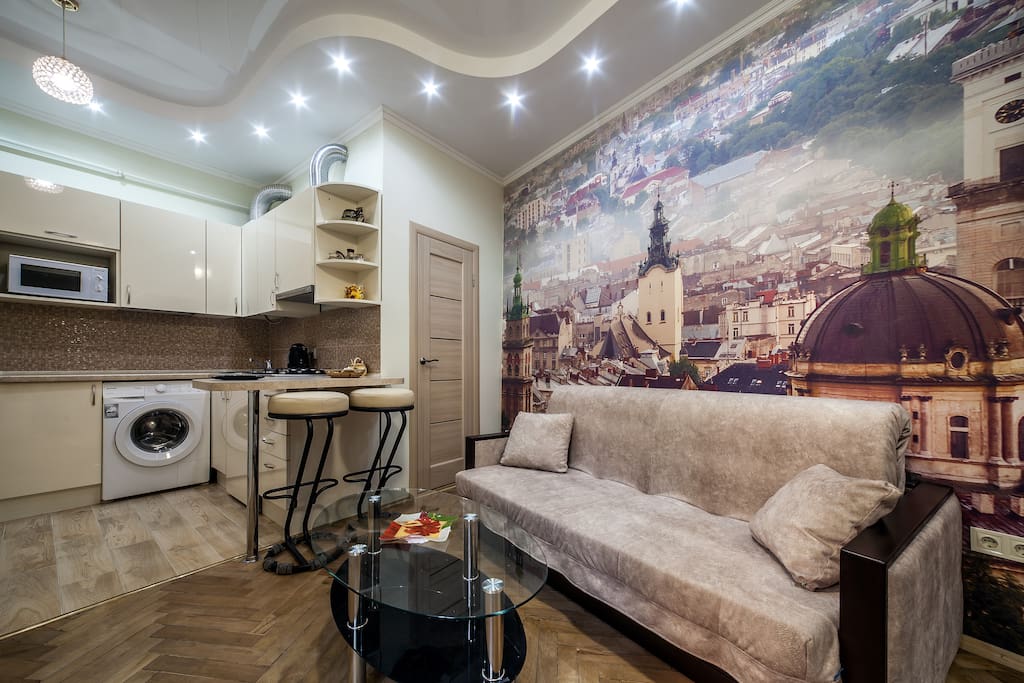 I really love this apartment because it has a great kitchen, meaning that you can whip up a great meal if you're tired of eating out. Not only that but the bedroom is separate from the living room, making the whole place much more spacious than it would be if it was a studio. Also, that sofa? It's a second bed.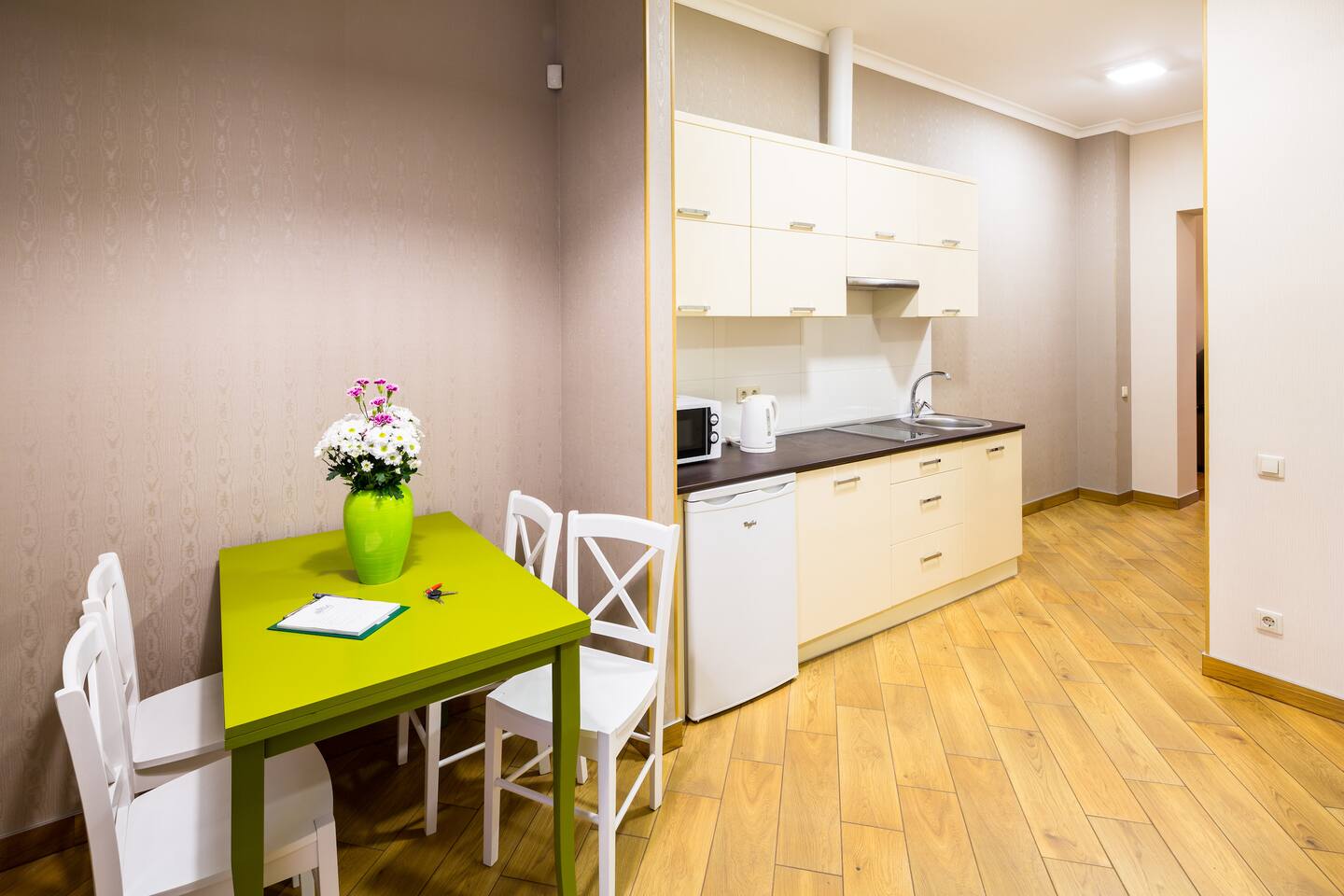 One thing I love about this apartment is how LIGHT it is. It just looks so fresh and clean! Not only that, but it's just a one minute walk from the Opera House, making it a fantastic location as well. At just £10, this Lviv Airbnb is an absolute steal.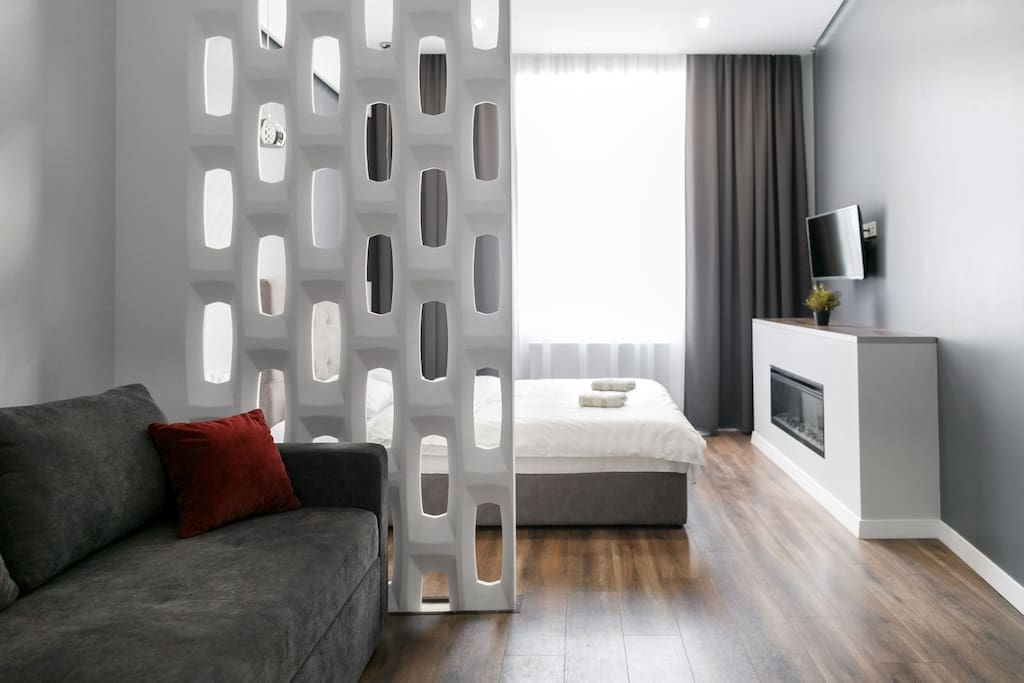 The cheeky host of this apartment boats that his newly refurbished apartment has a bathtub big enough to fit two people! While I prefer to bathe alone, I do love the sleek and modern feel of this apartment, and there's definitely something luxurious about a bath big enough for two.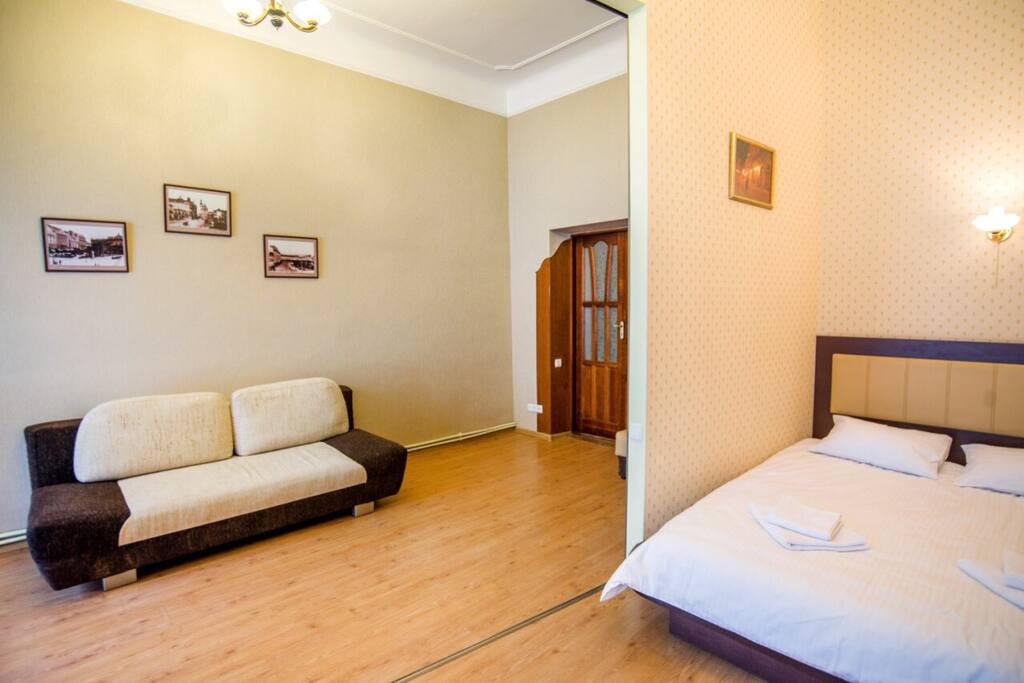 When it comes to value, you just can't beat this city centre apartment. With a separate kitchen and a pull-out sofa bed, you could fit 4 people into this space and still not feel too cramped! For those on a tight budget, it's perfect.



This beautiful bohemian studio apartment is not only in the very centre of Lviv's walking district, in the main market square, but it also comes with slippers and board games for those cosy nights in! What's even better is that you can snap up this place for less than £15 – you can't say fairer than that!



I love the exposed brick walls in this apartment, and the shape of the room makes it seem like an open plan living area rather than a studio. This apartment is also in the centre of the old town, making it super easy to get everywhere.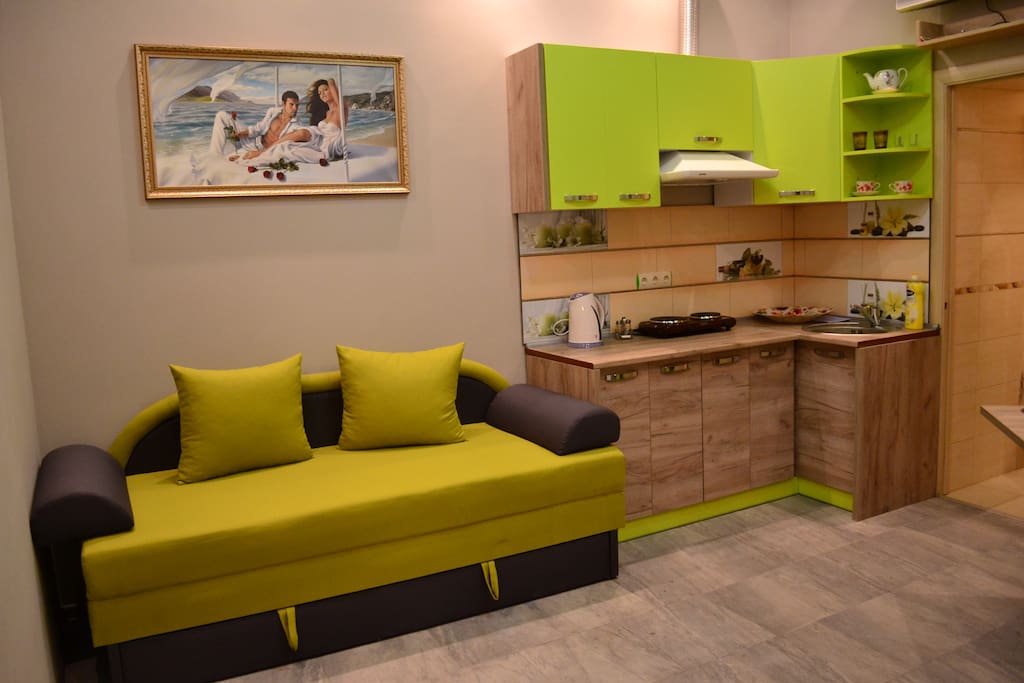 While lime green décor may not be to everyone's taste, at just £11 a night, this apartment is an absolute steal so I couldn't not include it on this list. And how comfy does that couch look?!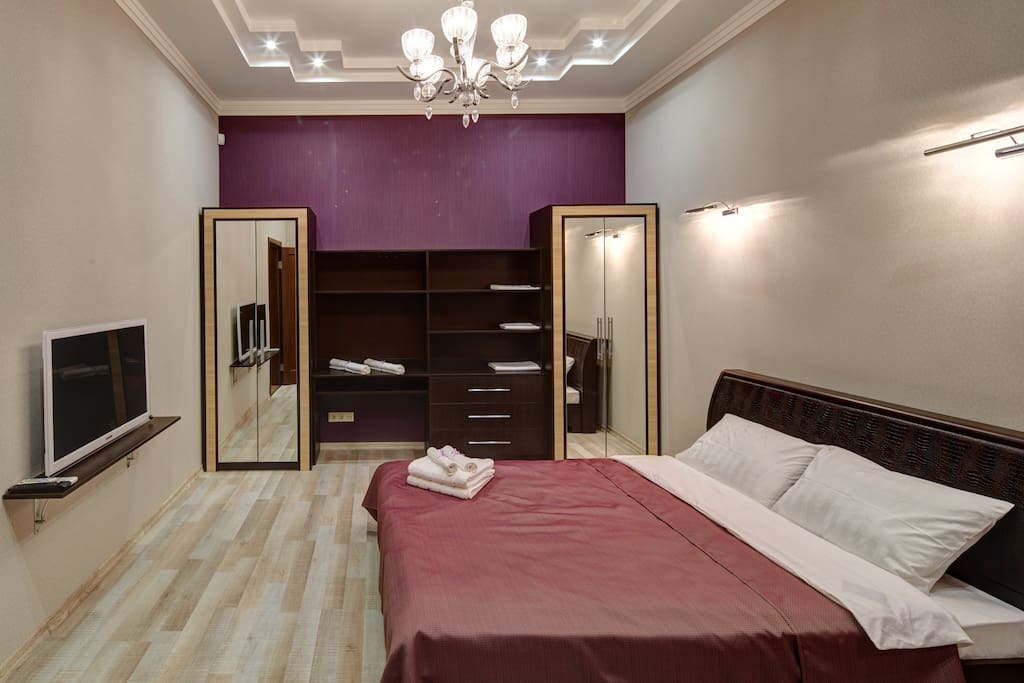 There is something very elegant about this sleek apartment, and what I really love about it is that it has its own large kitchen. For £21, you can't get a much more spacious deal – I mean, look at the size of that bed!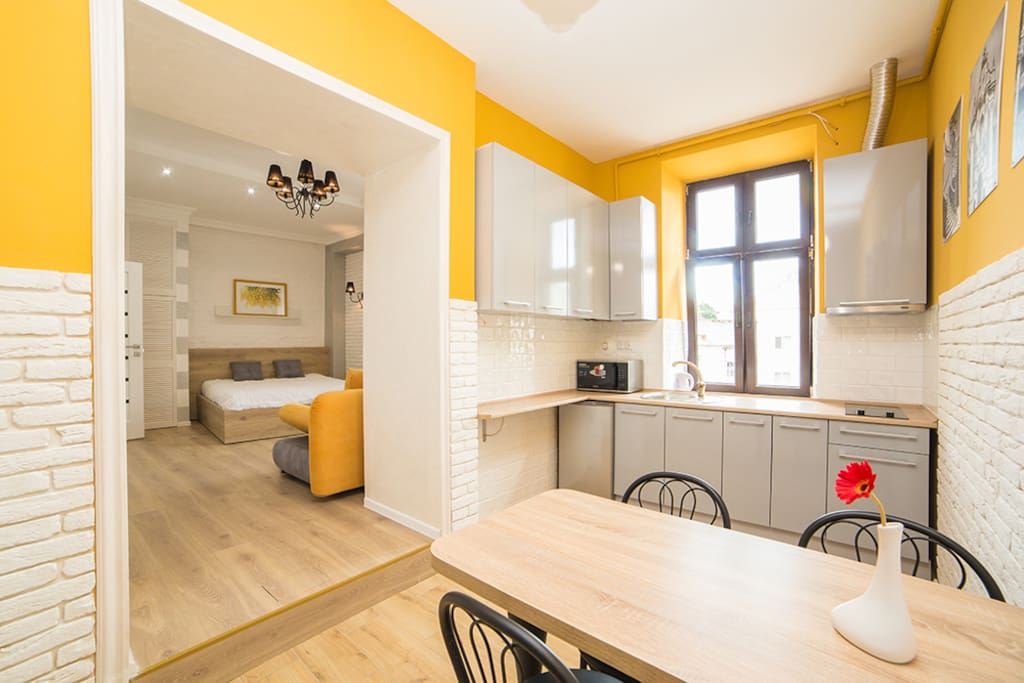 This simple and spacious apartment is somewhere I can really see myself drinking fresh orange juice and black coffee as the sunlight streams in. It's so bright and airy, it's almost impossible not to like it!

This apartment has a double sofa bed, meaning that up to 4 people can stay here – bargain!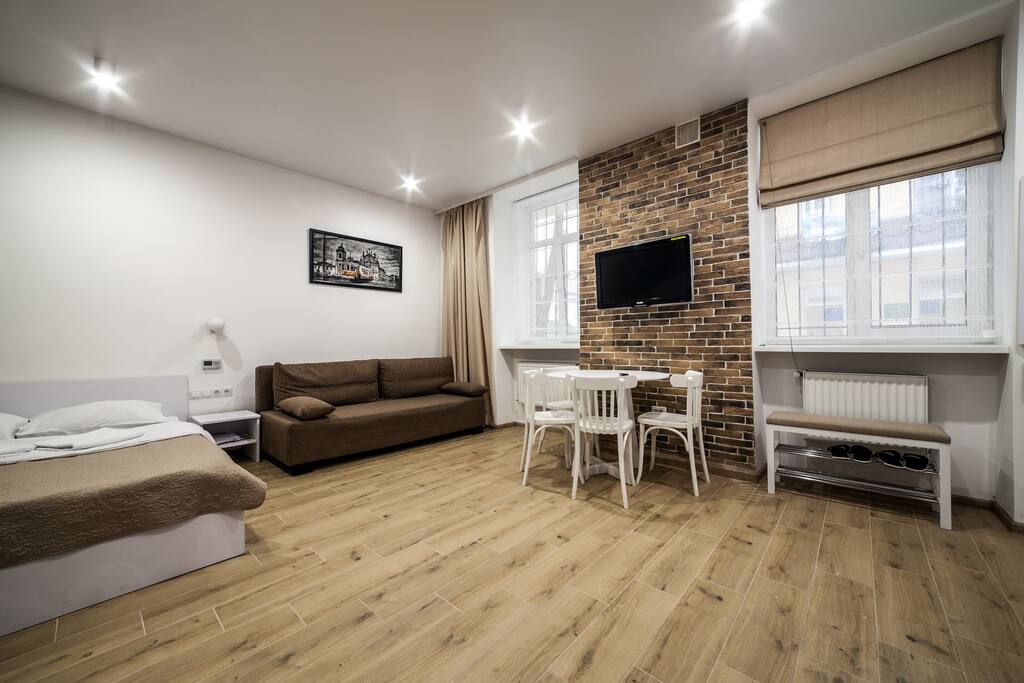 Despite being a studio, this apartment feels really spacious and I love how there is still lots of space to cook, eat and relax! The décor is also super modern and the colours really compliment each other.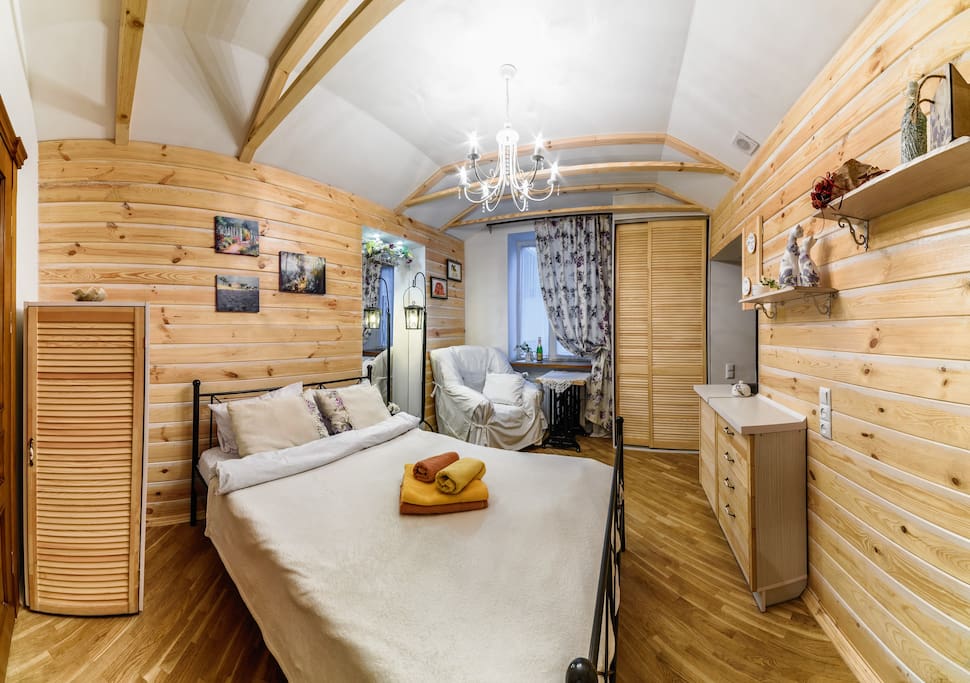 So there's definitely a lot of wood in this room but I think it's kinda cute! I also love the big comfy armchair next to the bed – perfect for curling up with a book and a hot chocolate!



The attention to detail in this immaculate apartment is absolutely stunning, and look at that window seat and gorgeous full length mirror! The décor of this Lviv Airbnb is a perfect blend of modern and cosy, and for £14, it is probably one of the best value apartments in Lviv!



Exposed brick, a quirky rug, fairy lights and slippers included – what more could you want? This is another modern apartment with a super cosy feel, giving it the best of both worlds, and for less than twenty quid, you really can't complain.


It's colourful, it's quirky and it has room for 4 people, meaning that it will cost you just £2.50 per person to stay in this eclectic city centre apartment – now that's what I call value for money, and even though most apartments in Lviv are cheap, this apartment is really cheap.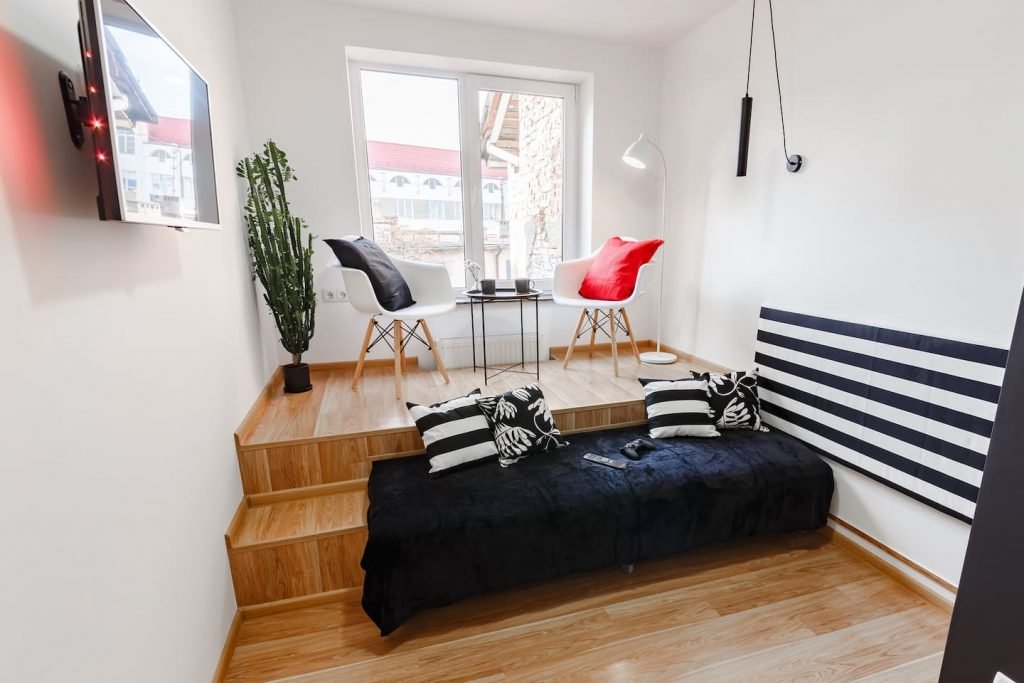 This is another Lviv Airbnb where the attention to detail is impeccable. The shiny wooden floors, the pull-out sofa bed and the cutesy coffee table bathed in sunlight make this apartment one of my favourites. It's small, but it's absolutely beautiful.



Prefer to stay in hostels? Here are my favourite hostels in Lviv


This is the hostel that I stayed in when I visited Lviv, and I really liked it! Located in the heart of Lviv's Old Town with a view of the Lviv Opera Theatre, Old City Hostel is one of the most popular hostels in Lviv.

It was fully renovated in 2019 (one year after I went there), which means that everything is brand spanking new, and it is almost unrecognisable from when I stayed there, with black leather sofas, shiny wooden floors and large mirrors, giving it a modern makeover.

To view rates and book your stay at Old City Hostel Lviv, just click here.



DREAM Hostel is another really popular hostel in the centre of Lviv. Each bed has its own personal nightlight and curtain (which is BIG in the hostel world), and everything is super modern and clean. With its own cafe and bar, DRUZI (a place loved by locals), stunning courtyard and friendly atmosphere, you can't go wrong with a stay at DREAM Hostel.

I didn't stay here myself but I did visit here for lunch, and not only was the courtyard beautiful, but the food was really good as well.

Click here to see rates and book your stay at DREAM Hostel Lviv.


Coffee Home is all about the home comforts, providing free towels, personal nightlights, sockets and charging points, various types of teas and coffees and free events.

Their formula is always to remain within the top 3 rated hostels in Lviv, and thanks to this, they are super motivated to constantly improve and make their experience better and better for their guests.

Click here to view rates and book your stay at Coffee Home Hostel Lviv.


so, that brings us to my list of the best apartments and hostels in lviv for a cheap city break! it is by no means exhaustive – you only have to have a brief look on airbnb's website to see that there are tonnes more out there – but i think i managed to round up some of the best deals out there!

if you're planning a trip to lviv and are wondering what to do in lviv, don't forget to check out my post, and also don't miss my list of top themed restaurants in lviv as well!

xoxo


If you liked this article and would like to support my work, please click the button above to donate a couple of bucks and buy me a coffee. The ad revenue that I receive on this website is minimal, so support from my readers enables me to keep creating content that you (hopefully!) love to read.

Disclaimer: Travelling Jezebel uses affiliate links. This means that if you make a purchase on a recommended site then I may make a small commission at no extra cost to you.