It's no secret that I love Poland and Krakow is definitely one of my favourite places to visit in Poland. Whether in summer or wintertime, Krakow is truly a magical city, and despite the reputation it's recently garnered as a hot spot for drunken British bachelors, it remains one of my favourite places and I highly recommend that everybody pay it a visit at some point.

I also make no secret of the fact that I'm a hostel gal through and through, and one of my favourite hostels in the world, Greg and Tom Party Hostel, happens to be in Krakow, which is where I always stay when I visit. That said, I know that not every budget traveller enjoys staying at hostels, and so I've put together a list of 20 stunning Airbnbs in Krakow that you can stay in for £30 or less.

Alternatively, you could also try house sitting. House sitting enables you to stay in someone's empty home for free, on the condition that you just take care of it (water any plants etc.). You can use TrustedHousesitters to see if there is anything available for your dates!

I also wrote an extensive list of things to do in Krakow here if you are planning your Krakow trip!

So, without any further ado, let's dive into my list of great Airbnbs for those of you looking for budget accommodation in Krakow!



If you're planning a trip to Krakow, then I strongly recommend buying travel insurance. I NEVER travel without insurance, and I've seen too many others get landed with huge medical bills as a result of not having had insurance, that it's something I'll never neglect to buy. My recommendation for great travel insurance is World Nomads.

You can also book your airport transfer with i'way, or rent a car with Qeeq (this link will get you a $50 coupon towards your car, plus free Covid-19 protection!).


20 Stunning Airbnbs in Krakow for £30 or Less!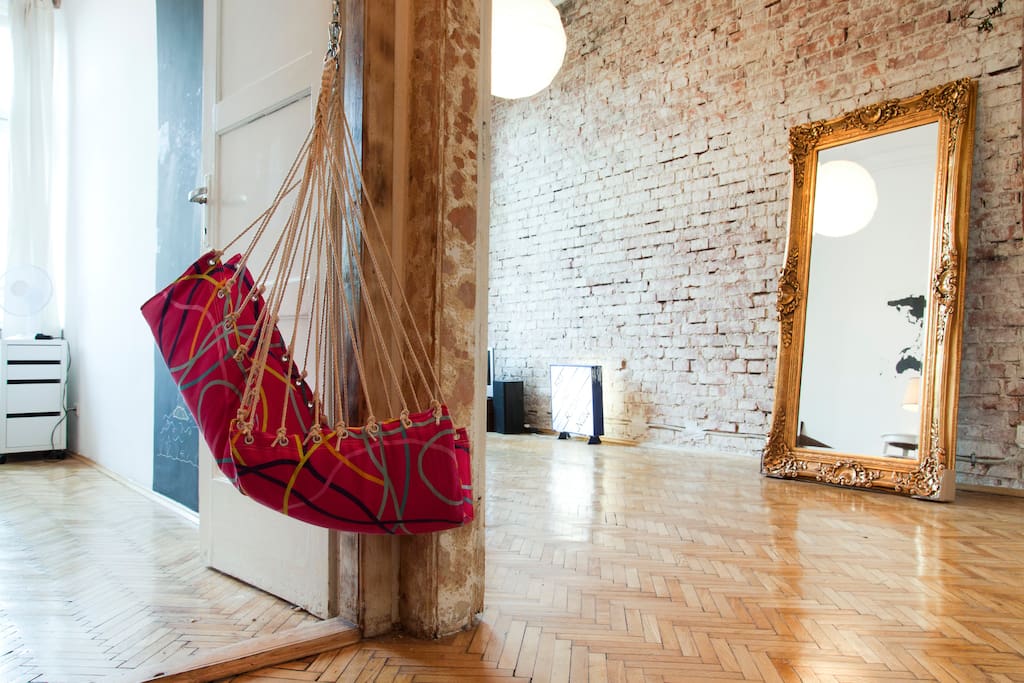 Any apartment with a pink swing is a hit in my book! I love the exposed brick and huge mirrors all over this place. It's got just the right amount of quirkiness to stand out without turning off the masses.

To book your stay here, please click here.



Not only is this newly-renovated apartment super stylish, but it's also smack bang in the centre of Krakow's Jewish District, which is a bustling hub of bars and restaurants and is quickly becoming a bohemian hot spot in the heart of Krakow. I really like the juxtaposition of the masculine blocks of grey and the cutesy black board.

If you'd like to visit then click here!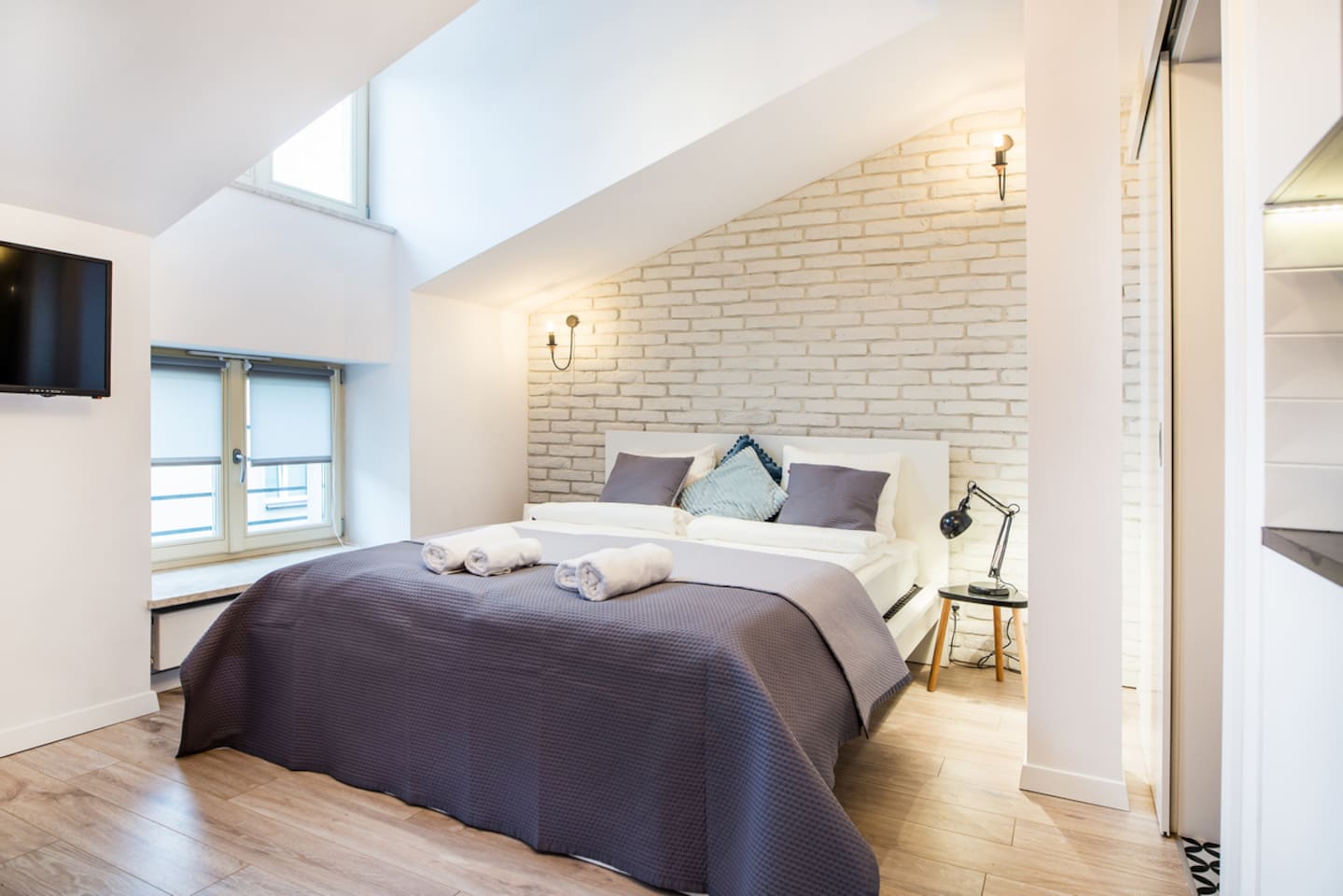 There's something so wonderful about the sloping ceilings and sunlight streaming in through the windows of an attic room. This space is so light and airy, and I would love to spend a long, lazy morning drinking coffee here.

If you'd like to stay here too, then click here!



I can't believe that for just £12 you can actually get a 2-bedroom apartment in the heart of Krakow! That works out at just £3 a guest! Not to mention that this place is cute as a button, and there's a spacious kitchen/dining area for socialising!

If you'd like to check it out then click right here.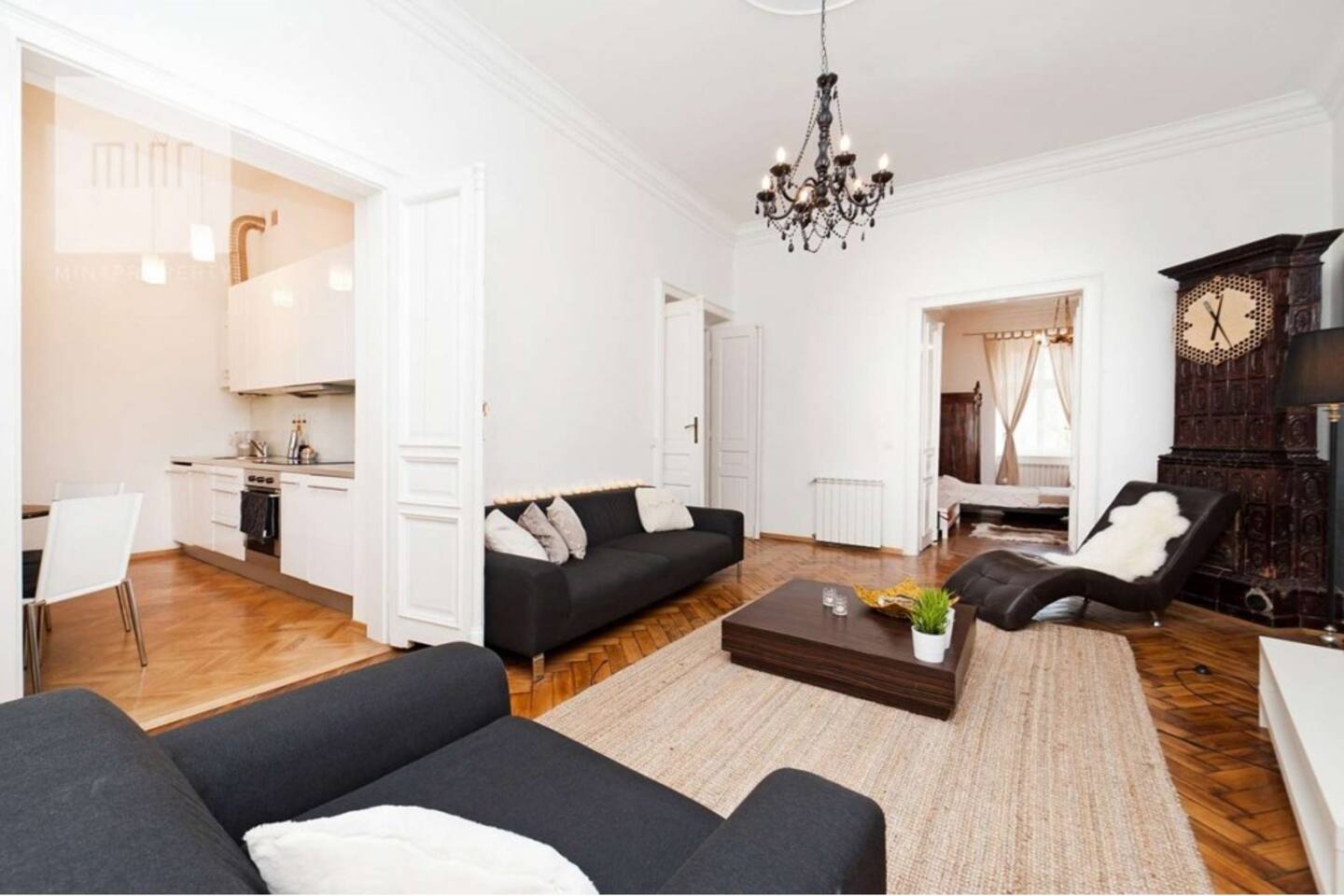 This apartment is STUNNING and I can't believe how spacious it is for only £25! This is honestly the kind of place that I could live in, never mind holiday in!

To book your stay, click here.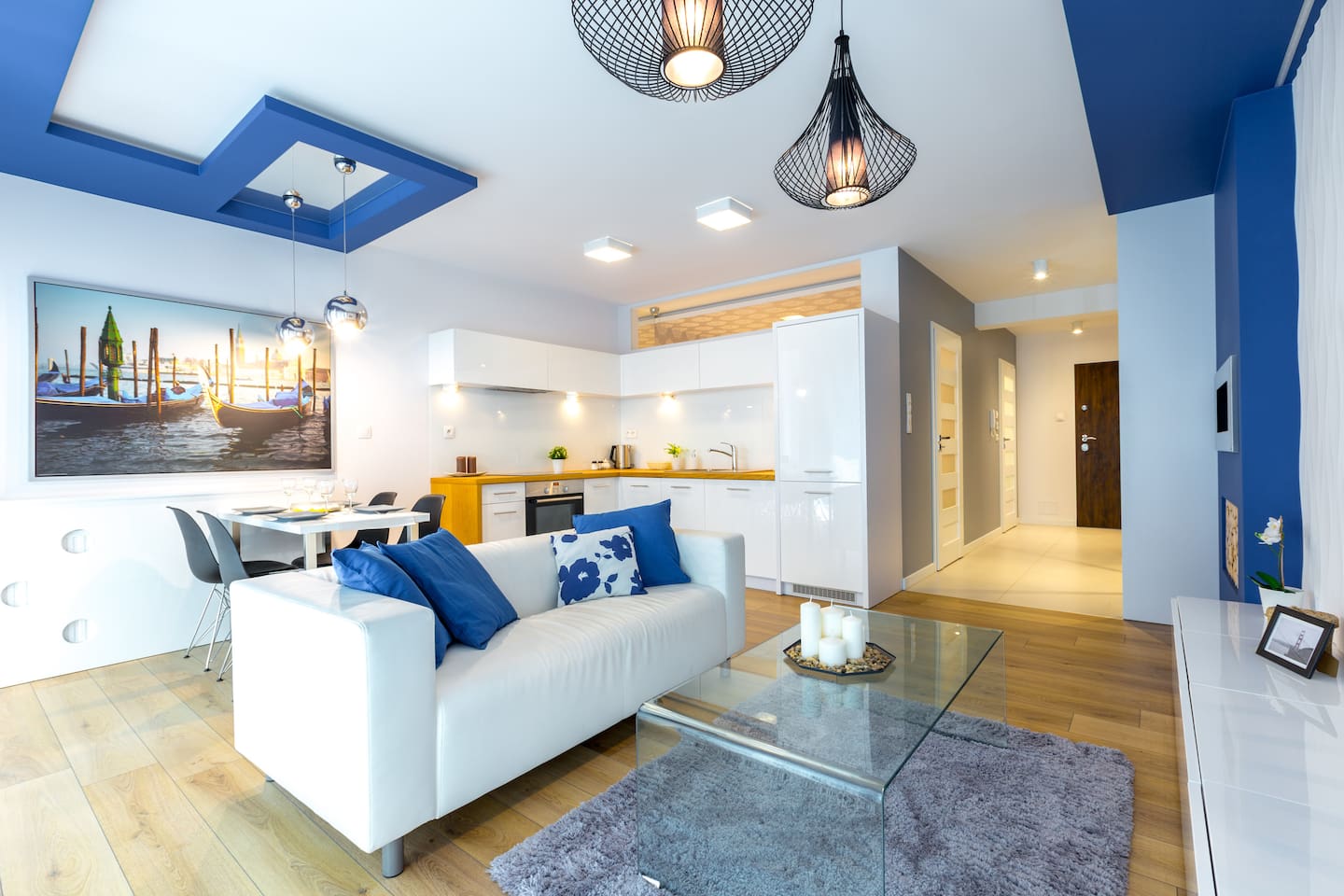 I love the attention to detail in this place, and the living/dining area makes it a great place to have a romantic dinner and movie night if it's too cold to go out!

To stay here, click this link!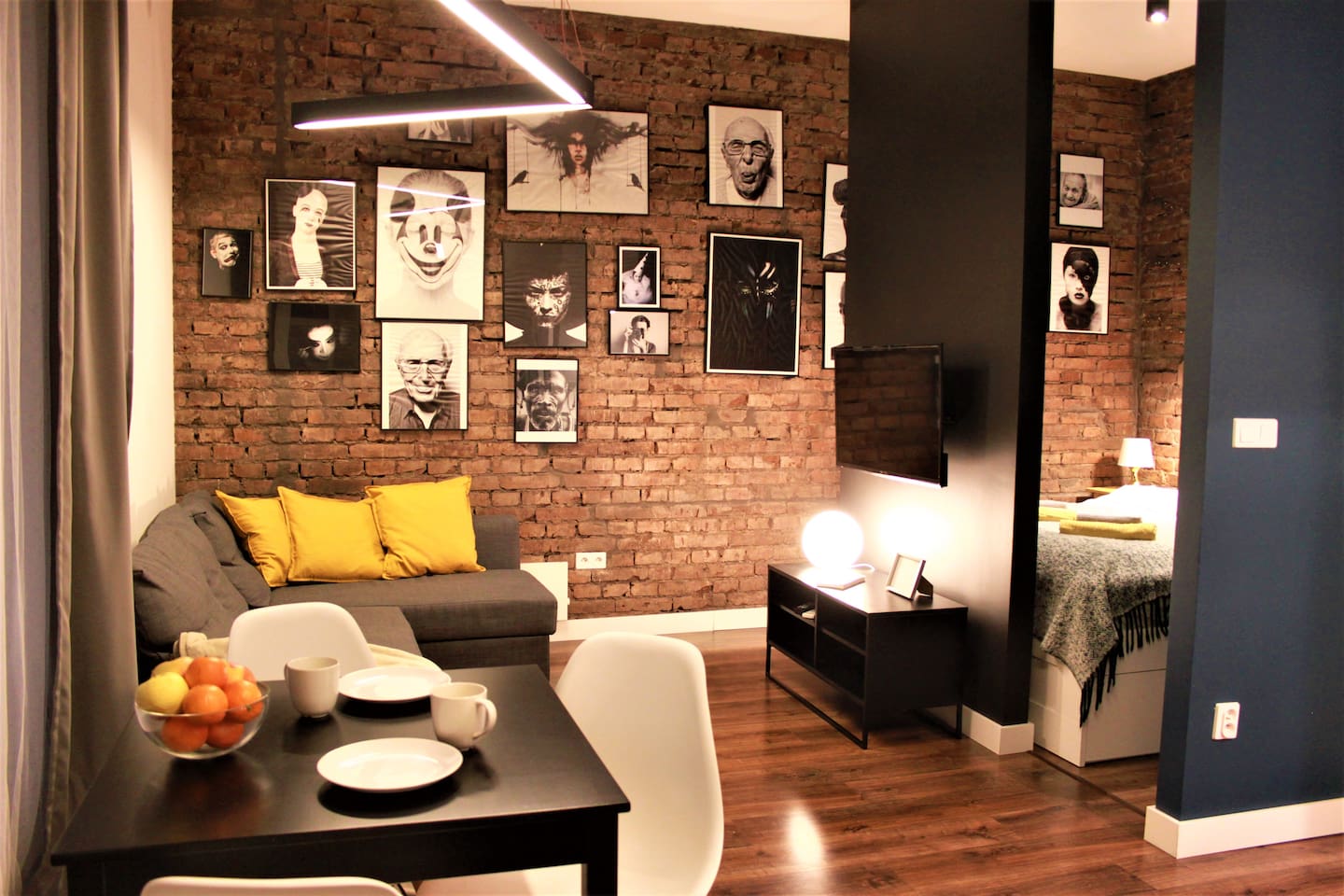 Not only does this apartment have the soft lighting and exposed brick that I so love, but despite being a studio, it has the distinct feeling of having a separate bedroom. For £21, this place is a treat.

To book your stay, click right here!



The owner of this apartment is an interior designer and it shows. Not only is this place immaculate,but it also has a balcony which is great for those morning coffees and nightcaps!

To stay here, click this link.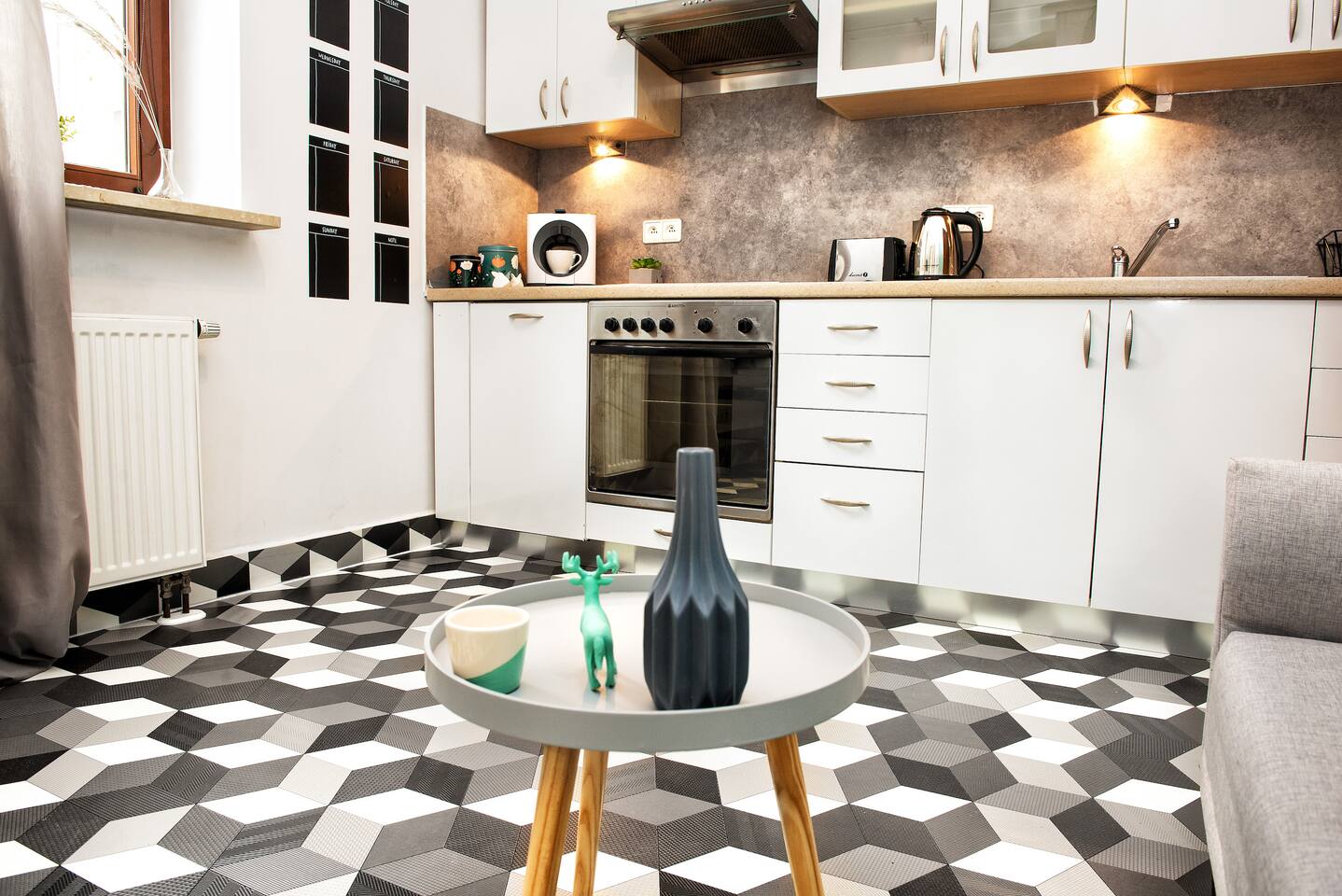 Not only is it great to have a private terrace to enjoy evening drinks on, but I love the kitchen in this place. So many apartments just have very small kitchenettes, but this is a complete kitchen, perfect for entertaining.

To stay here, click right here!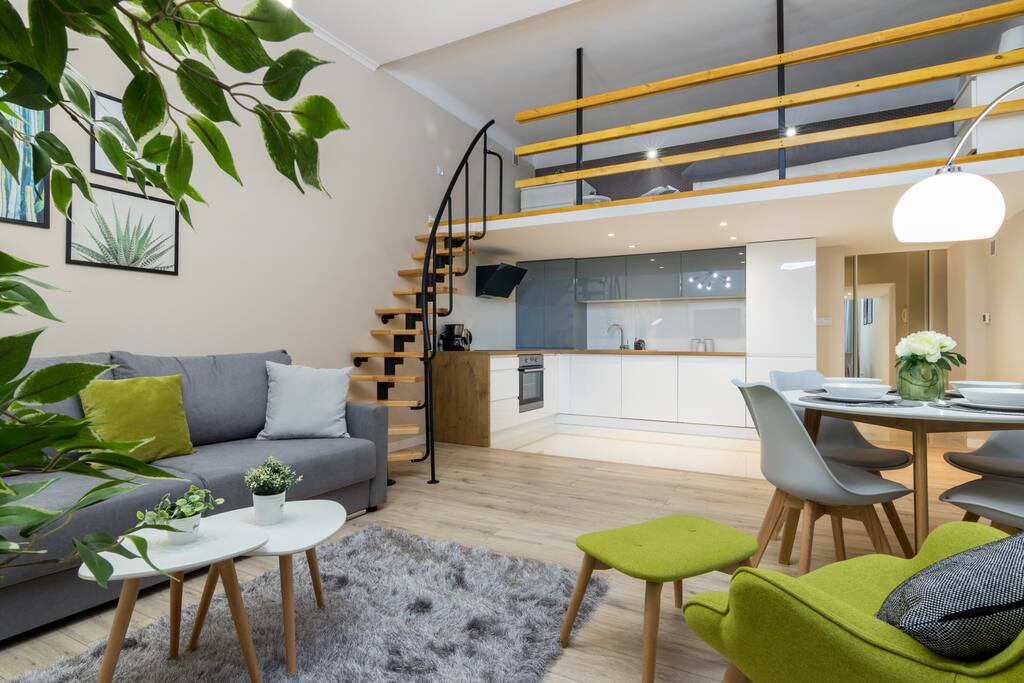 I love an apartment with a mezzanine and the calm and tranquil decor and location of this apartment won me over right away. This is the perfect place to unwind after a long day sightseeing in Krakow.

To stay here, click here!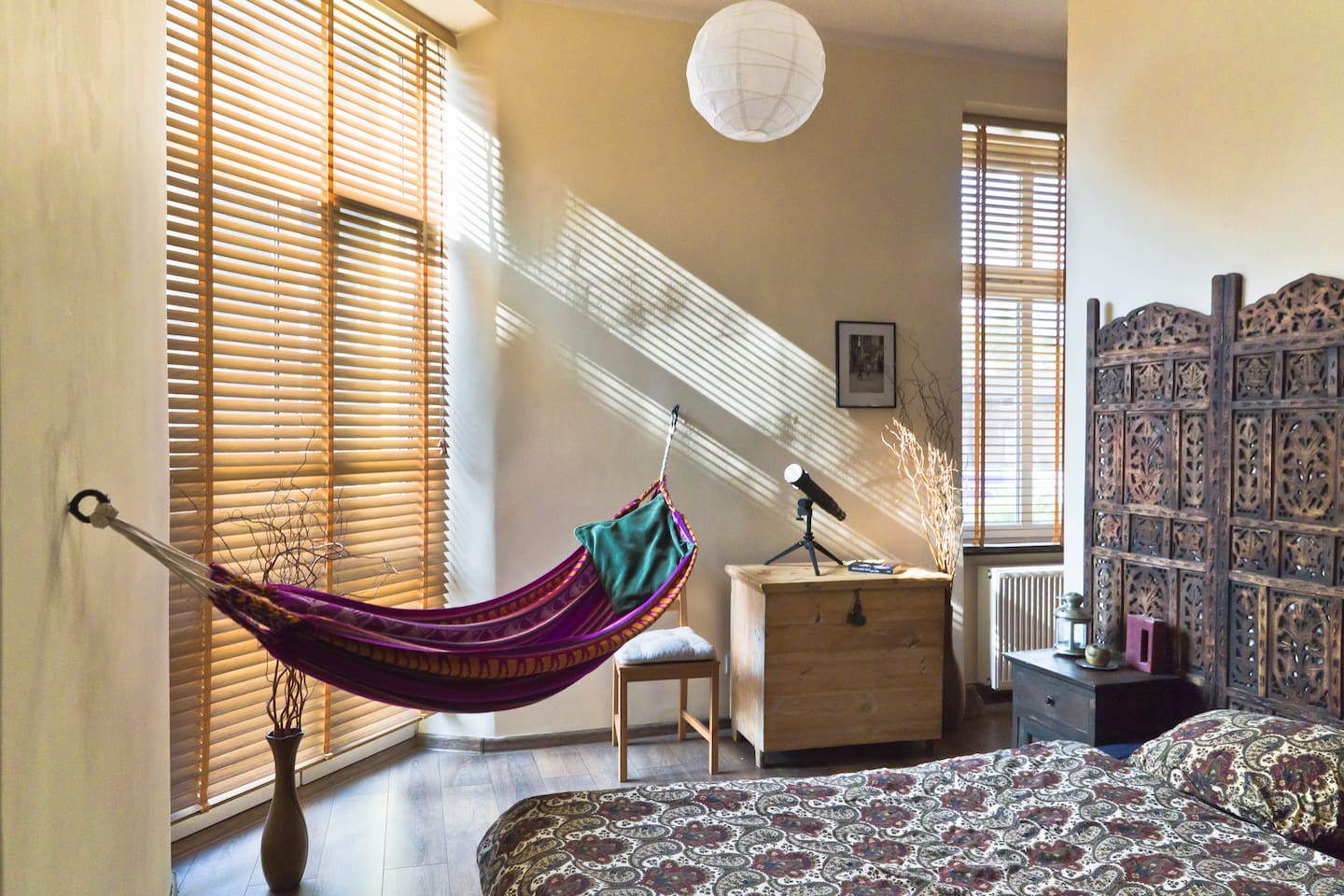 This apartment has a FIREPLACE and a HAMMOCK, and honestly, if I was staying here, I don't think I'd want to ever leave. This apartment is absolutely stunning, and definitely somewhere I'll check out when I'm in Krakow.

If you want to stay here too then click here!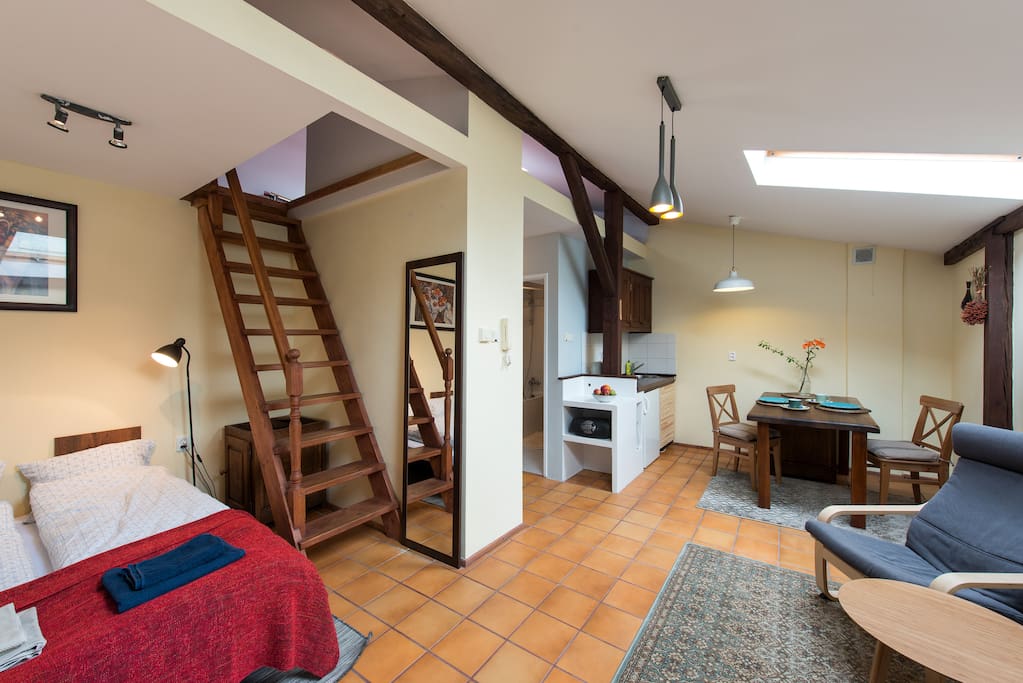 Not only is this a loft apartment with a mezzanine, but it is smack bang in between the Old Town and the Jewish Quarter, and upstairs from one of my favourite places to eat in Krakow – Vegab (vegan kebabs)!

To stay here, follow this link!



Although modern interiors like this are not how I would decorate my own home, I do like that it looks expensive, mainly because I can never afford expensive things and so I like to pretend. This slick apartment is super swanky or such a low price, and being right in the centre of Krakow's hipster Jewish district, it's definitely worth checking out.

To stay here, click this link!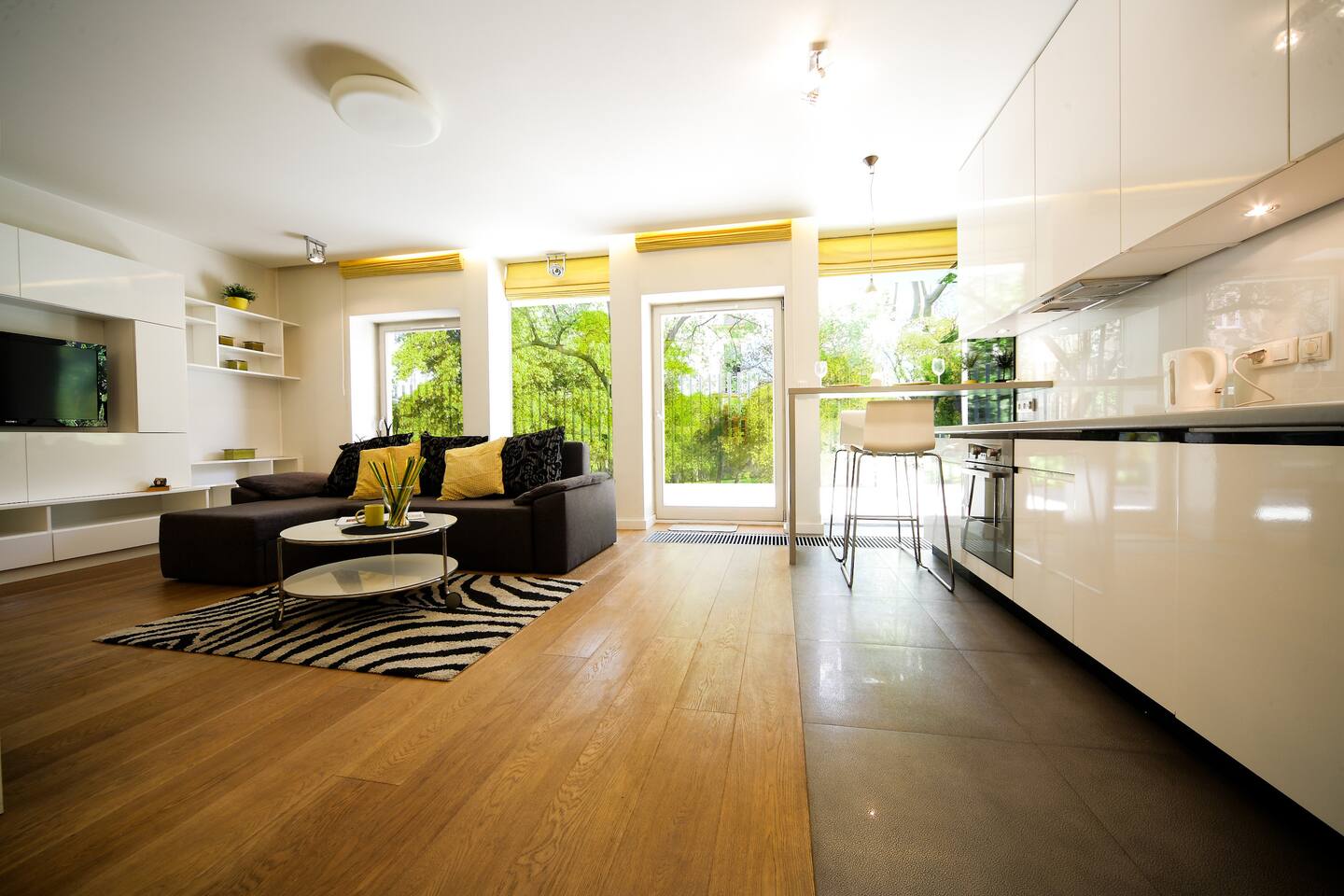 As with the previous Krakow Airbnb on this list, I like this one because it LOOKS like you've spent a lot of money, without you actually having to spend a lot of money. You can impress your new friends in Krakow with this slick apartment in the heart of the Old Town, without breaking the bank!

Stay here by clicking the link!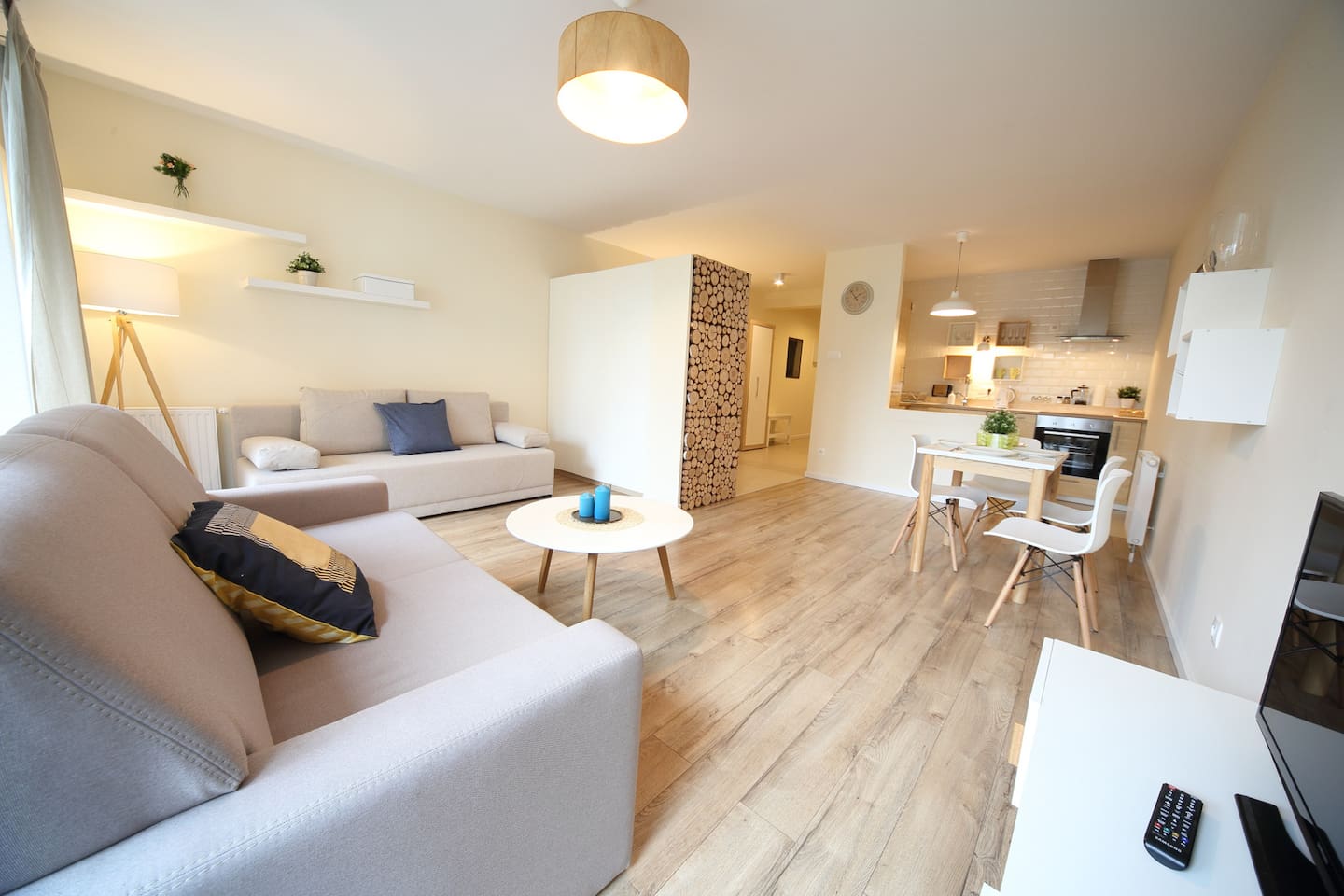 This light and airy open-plan apartment is stunning in its simplicity and has just the right amount of character to keep up with the minimalist theme without seeming sterile.

If you'd like to book your stay here, then click right here!



Want to splurge?


I was curious about what you can get if you want to spend a little bit more on your trip to Krakow. Of course, most people reading this list are looking for a budget Airbnb Krakow, but I did some digging anyway and found this beautiful apartment with a jacuzzi for £114 per night!



Personally, I think that every single Krakow Airbnb on this list is absolutely stunning, and I'd be thrilled to stay at any one of these. I hope that I've shown that you can still stay in beautiful places without having to break the bank! Budget travel doesn't have to mean slumming it, and I hope that if you're planning a trip to Krakow in the future then you'll consider somewhere on this list!





Getting to Krakow


Getting to Krakow from the UK is super easy given the number of direct flights offered from almost every major UK city from budget airlines.

If you are flying into Krakow and would like to arrange an airport transfer, I recommend i'way. You can book your transfer here.

You could also rent a car with Qeeq. I recommend using Qeeq. Click here for a $50 coupon off your car rental and FREE Covid-19 protection!

If you're travelling to Krakow by bus, my go-to bus travel in Europe is always FlixBus. Flixbus is the most extensive bus network worldwide and all Flix buses have Wi-Fi, extra legroom, charging ports and the ability to modify your booking just 15 minutes before departure! Click here to book your Flixbus to Krakow.

You can compare train and bus prices on Trainline.

Another popular way of travelling in Poland is with the ridesharing app, Blablacar. I used this multiple times in Poland and it was often cheaper than public transport, and much quicker!


If you liked this article and would like to support my work, please click the button above to donate a couple of bucks and buy me a coffee. The ad revenue that I receive on this website is minimal, so support from my readers enables me to keep creating content that you (hopefully!) love to read.
Disclaimer: Travelling Jezebel uses affiliate links. This means that if you make a purchase on a site I recommend then I may make a small commission at no extra cost to you. This article uses my Airbnb referral link, meaning that if you create an Airbnb account using it, I will receive some Airbnb credit to use on future trips.

Please note that all prices were correct as of April 2019.