Bali and the Gili Islands were the first places that I visited as a solo traveller 3 years ago, and remain among my favourite travel destinations. Not only are they perfect for solo travellers, but they have so much to offer that you can easily spend a whole month exploring them! With this in mind, I've put together a one month itinerary for Bali and the Gili Islands that includes all of the popular spots, as well as my top tips on what to do in each place, and accommodation recommendations.
Bali and the Gili Islands – One Month Itinerary
Bali
Kuta – 2 nights
Kuta won't be your favourite place in Bali but that doesn't mean that you should skip it entirely. It's super close to the airport, making it really convenient to get to after a long flight, and is the party spot on Bali which makes it perfect for the start of your trip! In Kuta you'll find cheap drink deals, tonnes of souvenir stalls and lots of drunk Australians.
Head to Kuta for 2 nights of partying (make sure to take advantage of the 'all you can eat and drink' deal at Sky Garden) and one day of nursing your hangover by the pool or at the beach.
Accommodation
Pudak Sari Unizou Hostel – This was the hostel that I stayed in and the pool was SO luxurious. Highly recommended.
Puri Rama Hostel – With 2 pools and a swim up bar, what more do you want?
Lokal Bali Hostel – A calm hostel with a stunning pool and lounge area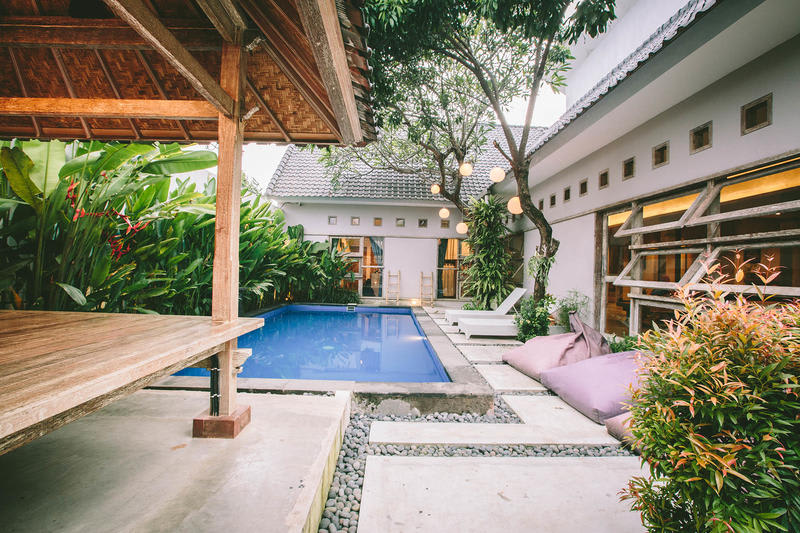 A word of warning about Kuta: pick pocketing of drunk tourists is rife in Kuta so avoid taking mobile phones and large amounts of cash out at night.
Seminyak – 3 nights
Seminyak is Kuta's much more upmarket cousin, located a quick taxi ride down the road. Seminyak's beach is much nicer and less crowded than Kuta's, so I recommend spending a day lazing around (make sure to rent a sunbed – it's only a couple of pounds for the bed and a drink!) before hitting the Potato Head beach club. The next day, head to the most photographed temple in Bali, Tanah Lot, for sunset and then go and party at La Favela. Clubs here are more expensive than in Kuta but they are a lot less sketchy and attract a much nicer crowd. Spend your final day wandering around, indulging in a cheap massage and enjoying a drink at La Plancha, a beach bar favoured by locals and tourists alike.
Accommodation
M Boutique Hostel – Luxury boutique hostel with a social atmosphere
Kosta Hostel – a tropical themed hostel with a pool bar and soul food cafe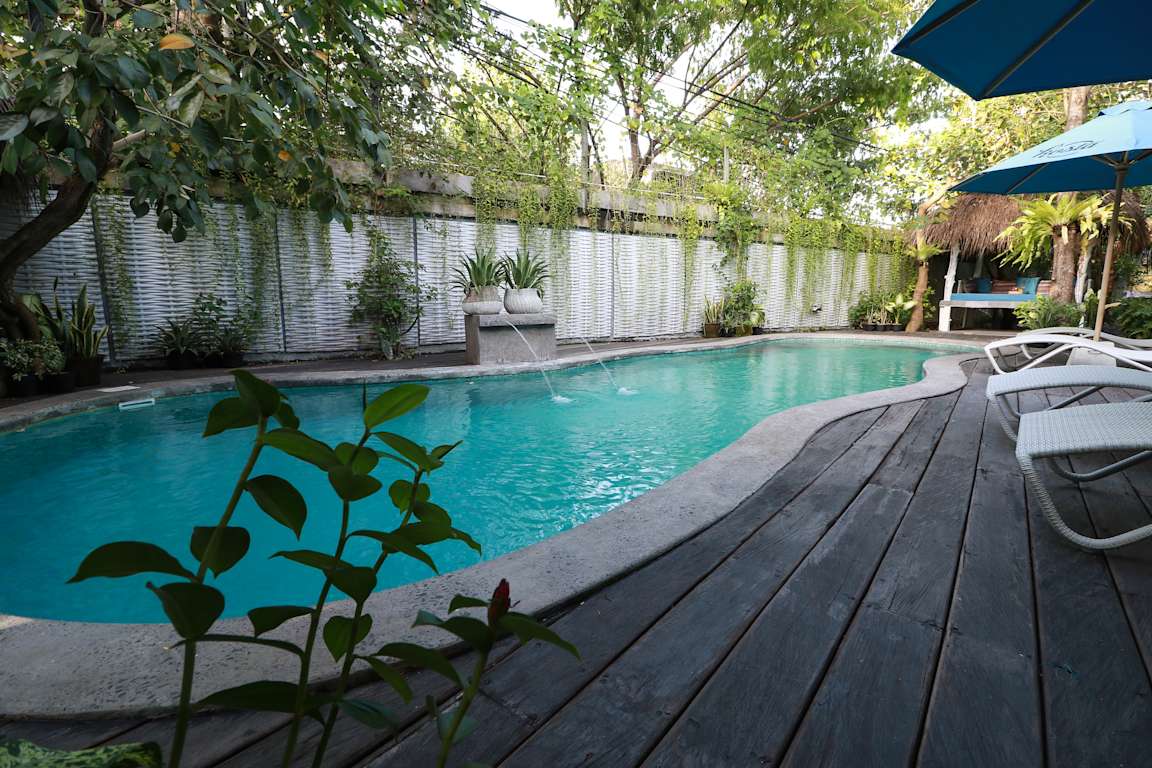 Uluwatu – 4 nights
The best thing to do in Uluwatu is hire a scooter and explore the beaches! Each beach is totally different, from the cool rock formations and shallow rock pools of Padang Padang to the white sand and limestone cliffs of Dreamland beach, there is something to suit every taste. Uluwatu is a famous surfing spot, and even if you don't surf yourself, it's great fun to grab a cheap lunch at one of the beach bars and watch the pros at work. I also got a 30 minute beach massage on Dreamland beach for £2 which is a steal!
Another must-do while you're in Uluwatu is to go and pay a visit to the Uluwatu Temple. Uluwatu Temple is an ancient Hindu temple on the edge of a cliff that is absolutely breathtaking, especially at sunset. Not only that, but every night there is a traditional Balinese dance show at the temple, as well as lots of cheeky monkeys who will try to steal your belongings if you're not careful!
Finally, a trip to Uluwatu is not complete without attending one of the legendary Single Fin parties. Every Sunday evening, Single Fin hosts 'Bali's most renowned Sunday session' with international DJs, stunning views and delicious cocktails. Just make sure you arrive early – the party finishes at 1am!
For a great guide to Uluwatu's beaches, click here.
Accommodation
Pecatu Guest House – Cheap and cheerful dorm rooms close to all of the main beaches. This is where I stayed.
SR Hostel Uluwatu – Perfect for backpackers, this is a sociable hostel with lots of parties and a free buffet dinner every night.
Taman Asih Bingin Homestay – With private rooms from just £20, this guesthouse provides high end accommodation on a backpacker budget. With an on-site restaurant, massage facilities and swimming pool, this is the perfect place to relax after a long day.
Ubud – 5-7 nights
Ubud is a must-visit for anybody taking a trip to Bali and you can easily while away a whole week there. Ubud is where Elizabeth Gilbert fell in love in Eat, Pray, Love, and it's where travellers young and old flock to rest and recuperate. Ubud is home to the famous Monkey Forest, Tegallalang Rice Fields, and Tegengan Waterfall. It's also somewhere you can attend some yoga and meditation classes at The Yoga Barn, gorge on yummy vegan and vegetarian food and watch traditional Balinese dances at the Ubud Palace. If you're feeling adventurous, you can even join a sunrise trekking tour to see Mount Batur or try the infamous Kopi Luwak.
As far as nightlife goes, Ubud is far calmer than the locations I've previously mentioned but you can still definitely party if you want to. With live music and tapas, Laughing Buddha is a great place to start your night, and CP Lounge is a gorgeous outdoor bar/restaurant that turns into a club at midnight and stays open until 4am.
For a full list of things you have to do while you're in Ubud, click here.

Accommodation
You can get some absolutely stunning villas in Ubud at bargain prices so if you use Airbnb anywhere in Bali, let Ubud be the place. For £25 off your first stay, click here.
Secret Garden Hostel – A quiet hostel located 'in a hidden tropical garden,' this hostel is the perfect place to escape from the hustle and bustle of daily life.
In Da Lodge – Everyone that I met while I was in Ubud stayed at this hostel. With great food, a swimming pool and a social atmosphere, this is the perfect place for backpackers.
Puri Garden Hotel and Hostel – Voted one of the most luxurious hostels in the world, this incredible place has a cinema room, free yoga classes, BBQ nights and live music so it's a fantastic place to meet likeminded travellers as well!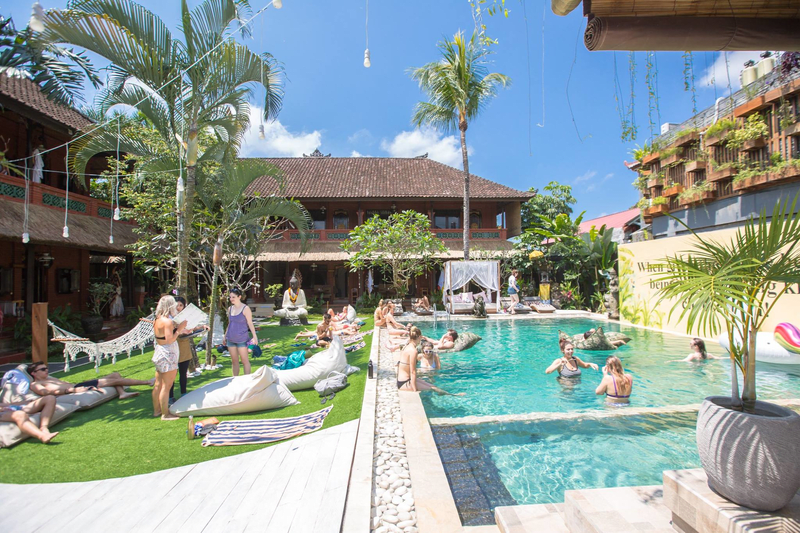 Canggu – 3 nights
If you want to learn how to surf in Bali, Canggu is the place to do it. Everyone I met that had taken surfing lessons in Bali took them in Canggu. Canggu Beach is a black sand beach with a strong surf, and you can even go horse riding if you're not in the mood to surf! Failing that, just head to one of the many beach clubs (just as nice but not as pricey as Seminyak) and enjoy a cocktail in an infinity pool.
Accommodation
The Tipsy Gypsy Hostel – Lively atmosphere in a good location.
The Farm Hostel – Hotel luxury on a hostel budget.
Elements BnB – Excellent value for money with a lovely pool, free towel, free tea/coffee and free breakfast.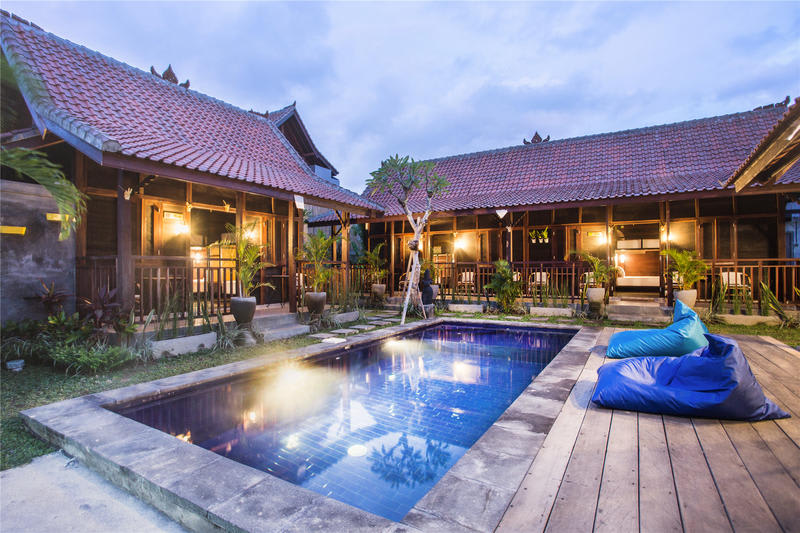 The Gili Islands
Gili Trawangan – 5 nights
Commonly known only as Gili T, Gili Trawangan is the island where backpackers let loose and party. It even has its own Full Moon Party! However, if that sounds like your idea of hell, don't worry – Gili T does not even come close to the Thai islands where parties are concerned. Gili T is all about live music, Irish pubs, beach parties and reggae.
It's worth staying here for a few days (I stayed for almost 2 weeks, oops) because there is actually a surprising amount of things to do on Gili T besides party. It's a fantastic place to dive, but you can also go snorkelling and see some fantastic coral and even turtles! Gili T is also an incredibly walkable island – you can actually walk around the entire island in an hour or two, but it's also a good idea to rent a bicycle and spend the day cycling round and exploring. As far as food is concerned, the night market is not to be missed if you want to buy BBQ'd fresh fish and traditional Indonesian food at the fraction of the price of a proper restaurant.
Last but not least, Gili T is home to the famous swings in the sea, which have starred in many an Instagram picture!
Accommodation
Gili La Boheme – This was the hostel that I stayed at and I loved it. With free pancakes, lots of organised trips with the staff (campfires, BBQs, cooking classes etc.) and a social but laid back atmosphere, this is an awesome place to stay.
M Box – This hostel is owned by the same people who own the M Hostels in Seminyak and as I had such an incredible time in Seminyak, I'm willing to bet that M Box is just as great. With a swimming pool, gym, yoga room, restaurant and bar, you almost don't need to leave!
My Mate's Place – My Mate's Place is the biggest hostel on the island and is definitely the place to be if you want to party!
Good Vibes Bungalows – Perfect for backpackers wanting the comfort of a private room with the vibe of a hostel. Good Vibes Bungalows have a lively onsite bar which makes it super easy to meet other travellers.
Gili Air – 3 nights
Gili Air is a lot more relaxed than Gili T but it's definitely still worth a visit. The beaches here are absolutely beautiful, and if you partied a bit too hard on Gili T then you should definitely spend a few days recovering on Gili Air. My favourite bar here was a reggae bar with a beautiful sea view (and apparently 'really bloody f*cking fresh magic mushrooms but I didn't sample them so you'll have to take their word for it), and there are also lots of cute cocktail bars where you can enjoy a sunset view (although my travel buddy and I did have to wait over 30 minutes for our cocktails because the staff walked all the way to the market to buy a fresh lime garnish!).
Accommodation
Fantastic Bamboo Hut – This was where I stayed and it was lovely. Who doesn't want to stay in a cute hut and enjoy a free breakfast?
Begadang – This hostel's description reads 'Jump into the world's first, huge, glass tile, funky mushroom shaped SWIMMING POOL!' and honestly that is enough to make me want to stay there. Begadang seems to be the closest thing to a party hostel I could find on Gili Air.
Captain Cocunuts – An eco-friendly hostel with a relaxing vibe.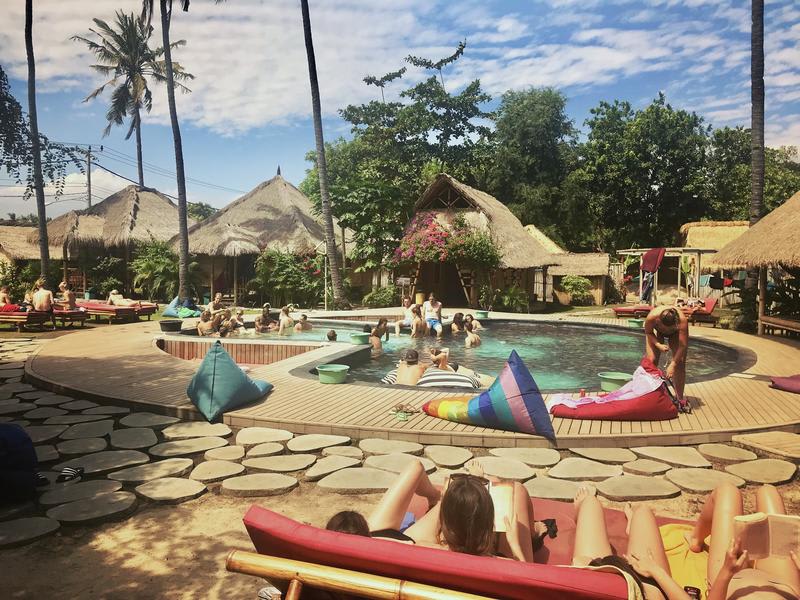 Gili Meno – 2 nights
I didn't visit Gili Meno but this island is known as the quietest out of the three. For me, Gili Air was quiet enough so if I was going to visit Gili Meno, I'd probably only spend 2 nights there but if you're looking for a place to really escape from the world, stay as long as you like! There aren't too many activities to do here but you can visit the turtle sanctuary and help release baby turtles into the wild!
Accommodation
Gili Meno Eco Hostel – Eco-friendly hostel on the beach.
The Rabbit Tree Hostel  – This hostel's descripton talks about 'ball pit bedrooms' and bedrooms 'filled with one hundred pillows.' Intrigued doesn't come close to how I feel about this place.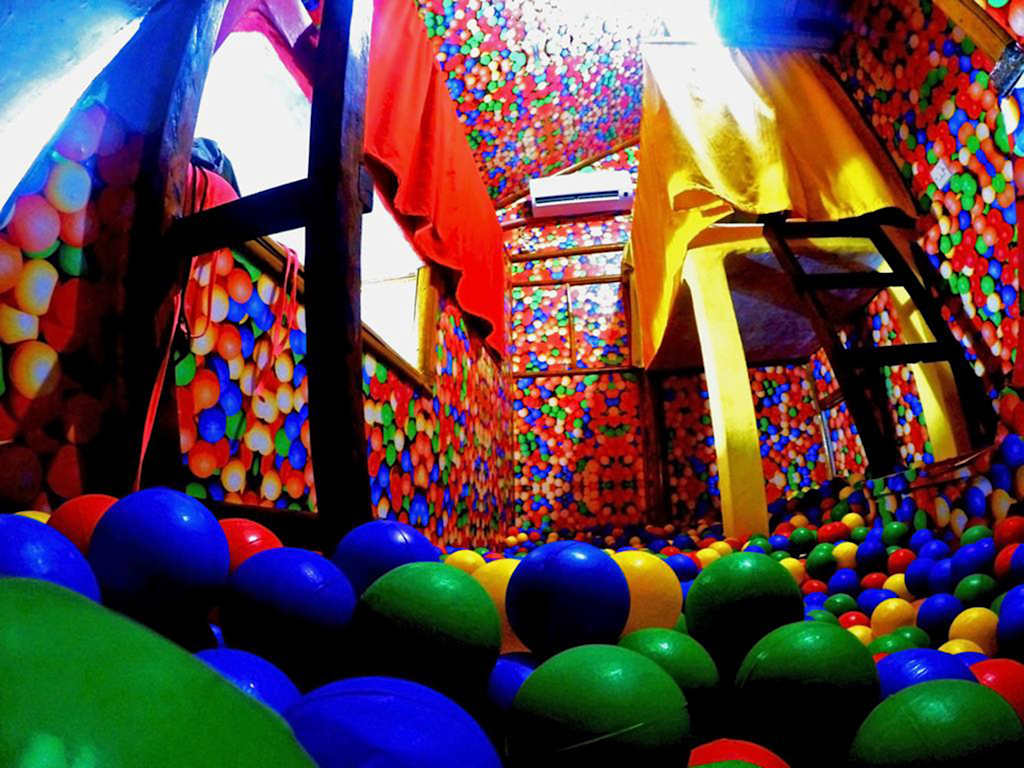 And there we have my one month itinerary for Bali and the Gili Islands! I could easily spend 6 months or more in these magical places, but if you're limited to a month then stick to my guide to make sure you don't miss anything! 
If you want even more tips for your Bali trip then make sure to check out the incredible guide over at You Could Travel!
You can also read Jen's guide over at Jen on a Jet Plane for tips on the most Insta-worthy photo spots in Bali!
Travel insurance: simple & flexible
I NEVER leave home without travel insurance, and my go-to is always World Nomads. You can buy and claim online, even after you've left home. Travel insurance from WorldNomads.com is available to people from over 130 countries. It's designed for adventurous travellers with cover for overseas medical, evacuation, baggage and a range of adventure sports and activities.
If you liked this article and would like to support my work, please click the button above to donate a couple of bucks and buy me a coffee. The ad revenue that I receive on this website is minimal, so support from my readers enables me to keep creating content that you (hopefully!) love to read.