I love rugs.

No, seriously. When I moved into the apartment that I'm currently living in, I went straight out to my local store and bought 7 rugs. Yes, 7!

In fact, I love rugs so much that even my mouse mat is in the shape of a rug – yes, seriously! (You can buy one on Amazon if you like.)

I feel as though rugs are the number one thing (after candles, perhaps), to warm up a home and make it a hygge paradise, breathing life into any room that they inhabit.

With their rich colours, unique patterns and effortless style, boho rugs add a touch of worldliness and eccentricity to even the sparsest of rooms, and there's nothing better in the winter months than walking barefoot over a nice soft boho rug!

With this in mind, I decided to put together a list of the best boho rugs that I could find in order to help you choose the perfect bohemian rug for your home (and also because I just really like creating wish lists for my dream home!).

I found these stunning boho rugs on Kukoon Rugs, which is the largest rug retailer in the UK and Ireland (so you know they know what they're doing when it comes to creating beautiful rugs!).

Kukoon have pretty much every style of rug imaginable, but in this post I'll be focusing on boho rugs because they're my absolute fave.

The links below are affiliate links, which means that if you decide to make a purchase with Kukoon, then I might make a small commission at absolutely no extra cost to you.



15 Boho Rugs to Breathe Life Into Your Living Space



What are bohemian rugs?


The word 'bohemian' means unconventional, but in an artistic way.

The word itself comes from the French, who believed that the Roma people originated from Bohemia in the Czech Republic (they actually came from India!), but now it largely refers to style inspired by artistic people (especially travellers, writers, artists and actors), where the rules are made to be broken and individuality is key.

Boho rugs are known for having unique patterns, colour combinations and textures, and different types of boho rugs include kilim rugs, Beni Ourain rugs, vintage-style rugs and natural woven rugs.

Whether you're after a boho runner rug or a round boho rug, a super extravagant design or something more traditional, I'm sure you'll find the perfect boho rug for you in the selection that I've chosen!



15 Beautiful Boho Rugs


1. Green Distressed Vintage Rug | Sophia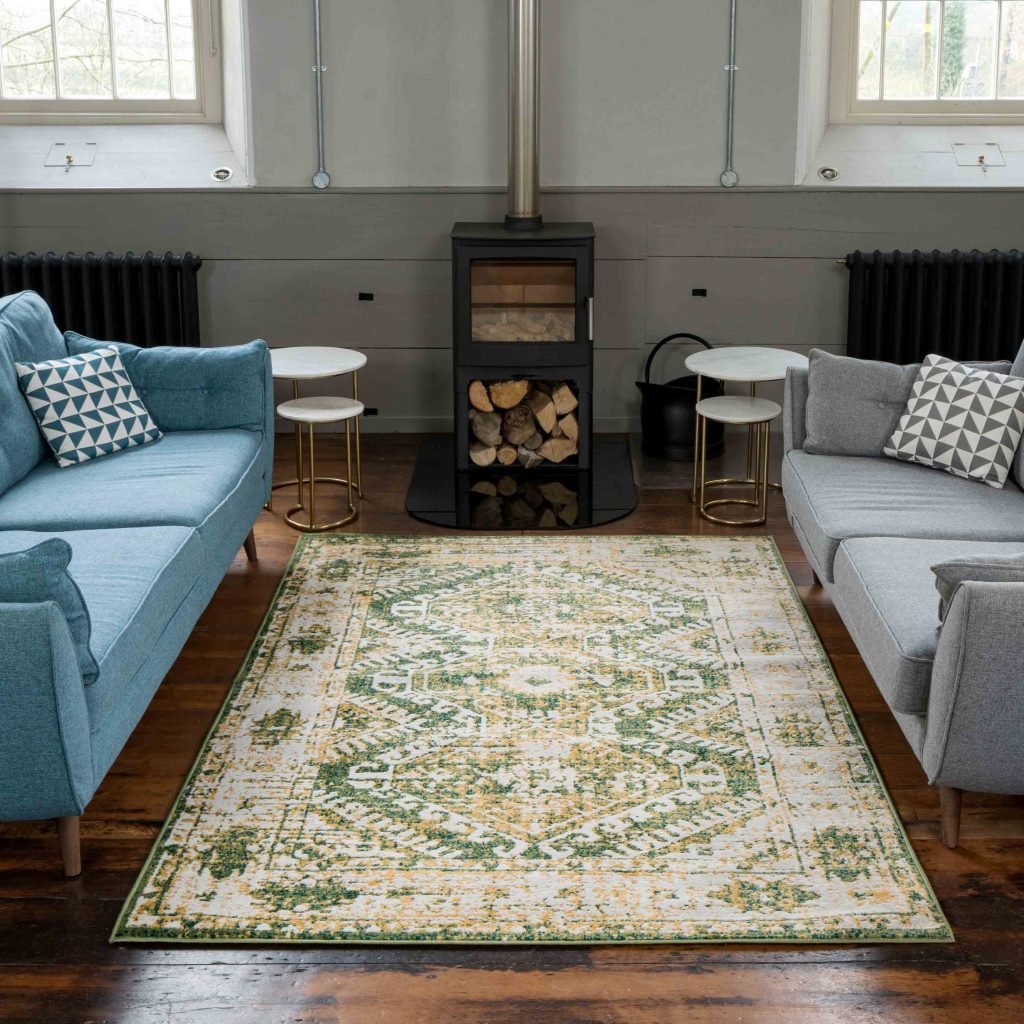 This vintage-style green rug is from the Oscar collection at Kukoon and is perfect for those who want to add a bohemian element to their homes without getting too crazy.

The distressed style gives an antique look to any room, and the earthy tones help to bring the outside in.



This Scandinavian style rug is highly textured and made from a mix of loop and tuff, creating a super plush feel underfoot.

The beauty of this piece is that the colours are muted and neutral, while the simple yet sophisticated Aztec pattern makes it a real statement piece.



Another piece from the Oscar collection, Marel has a beautiful striped design influenced by Moroccan tribes.

With a neutral grey and white colour scheme, Marel is the slightly less polished version of Ashbee, for those who prefer a more distressed boho rug.



First impressions are everything, and what better way to open up your home to guests than with a gorgeous boho runner rug like this one?

Created with a luxurious soft pile and trimmed with a woven fringe, this Moroccan-inspired rug adds so much warmth and cosiness, your guests will feel right at home.



If this pattern looks familiar to you, it's because it is!

Taking the diamond Aztec design from the boho runner rug we just saw, this larger piece from the Souk collection is perfect for your living or dining room.

With the same soft pile material, this is the perfect boho rug to curl up on in front of the fire (your cat is guaranteed to love this one!).



Another stunning piece from the Moroccan-inspired Souk Collection, the colour scheme here is decidedly warmer, which is essential if you want a hygge home.

Moroccan rugs are perfect for boho interiors because they add so much culture and are always a guaranteed talking piece.

This rug is perfect for rooms with a more neutral colour palette because it is striking, but not too in-your-face, adding a pop of colour that even the most hesitant boho lovers won't shy away from.



With its subtle dusky pink and powder blue tones, the muted colour scheme of this boho area rug is perfect for rooms with a lighter colour palette and more minimalist design (if you can be minimalist and boho chic at the same time!). This zero-pile style of rug transcends from styles popular in Manhattan apartment buildings, and combines the modern zero pile weave with a traditional Aztec pattern.

The great thing about zero pile rugs is that they are super easy to vacuum and clean and they prevent allergens such as pet hairs from getting stuck within the fibers of the rug – the perfect choice if you have a busy household or want a low maintenance choice!



Taking the geometric Marel pattern from the grey Scandi rug I showed you earlier, the fuchsia and orange colours bring character in by the bucket load. Perfect for those homes with a tonne of house plants and wooden furniture, this is a real statement piece for those of you who aren't afraid to embrace your eccentricity.



It's back to the woven fringes and Moroccan-inspired patterns with this stunning boho runner rug from the Souk collection.

This geometric design adds a contemporary twist on the traditional Moroccan style, and this is the perfect rug for any hallway.



This dusky pink and cream geometric area rug is the perfect choice for those who want to embrace their bohemian side while retaining an aura of glam.

With a sophisticated diamond trellis design, Milan is best suited to homes with grey, white and silver tones.

An added bonus of this boho rug is that it is made from polypropylene, which means that it is easy to clean, non-shedding, and the colours will stand the test of time.

Polypropylene is also known for being stain-resistant and durable – what more could you ask for?!



This ochre geometric trellis rug is the perfect piece to make even the most uninviting of hallways a place of comfort and warmth.

With its easy-clean polypropylene material and darker colour palette, this is a great boho runner rug for high traffic areas in your home, meaning that it is absolutely perfect for your hallway!



If you're looking for ideas for boho bedrooms, you're going to love this round rug.

Round rugs are perfect for small spaces as they make them appear larger, so if you really want to open up your room while keeping it cosy, this rug is a great choice.

I also find round rugs to be slightly whimsical, which is exactly what being boho is all about!



With vibrant orange, red, white and brown tones in a diamond design, this Aztec style area rug is super eye-catching and guaranteed to make your room look completely different!

This boho rug will add a huge splash of colour to whichever room you put it in, and I feel as though it has a real exotic feel to it.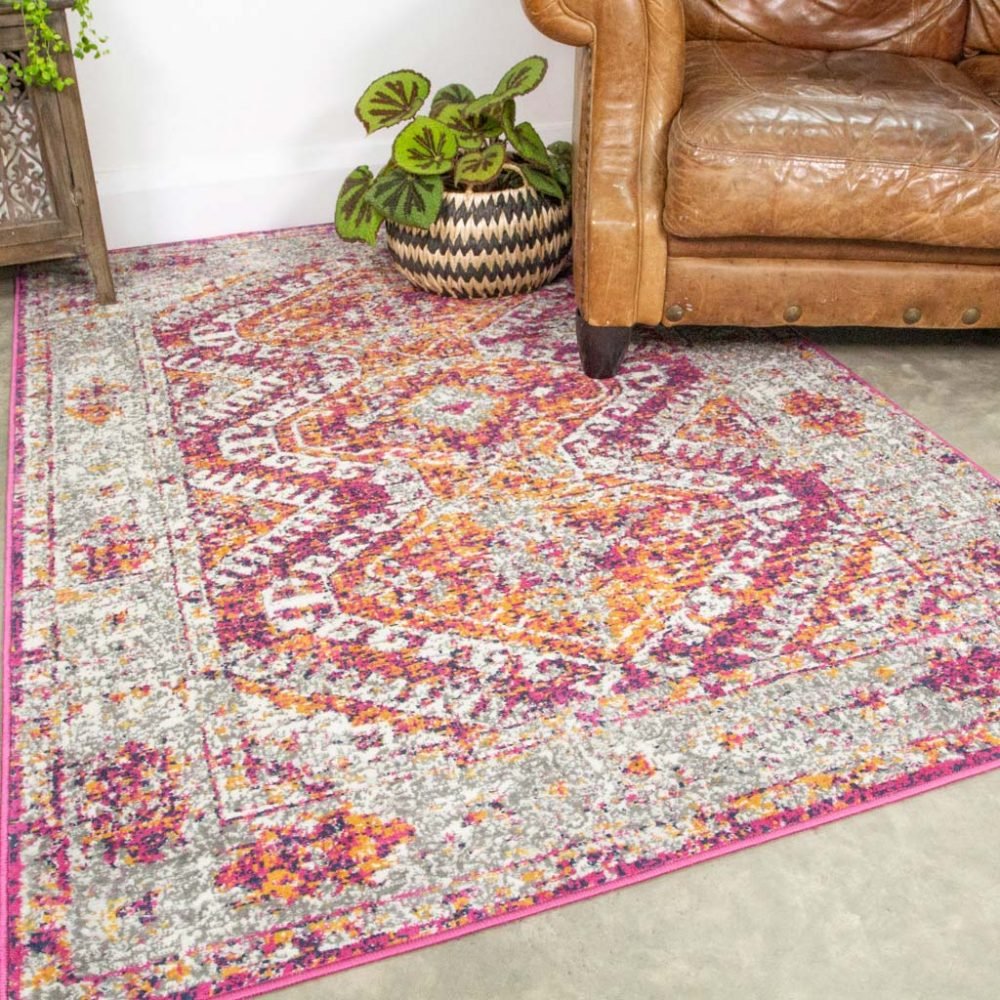 Taking the Sophia design from number 1 on this list and adding a fuchsia and orange twist, this boho rug from the Oscar collection is a girlie choice for the bold at heart.

With the distressed style giving an antique feel, the bright colours bring Sophia firmly into the 21st century.



This round boho rug with a deep orange and wine colouring is another rug that is perfect for opening up small spaces without compromising on cosiness.

This unusual patchwork design is simply stunning, and the stain-resistant polypropylene material means that this durable rug will be with you for years to come.



Boho Rugs | Final Thoughts


So this brings us to the end of my favourite boho rugs from Kukoon!

Whatever your style or colour palette, there is sure to be a boho rug that will transform your living space into a bohemian paradise, and with every shape and size available, you can't go wrong with Kukoon.

If you have been inspired by this list but would prefer to buy from Amazon, click here to shop boho rugs on Amazon.

Which are your favourites?

Let me know in the comments below.

Until next time,

XOXO
If you liked this article and would like to support my work, please click the button above to donate a couple of bucks and buy me a coffee. The ad revenue that I receive on this website is minimal, so support from my readers enables me to keep creating content that you (hopefully!) love to read.

Disclaimer: Travelling Jezebel uses affiliate links. This means that if you make a purchase on a recommended site then I may make a small commission at no extra cost to you.