Less than 24 hours after I published my first Femme Luxe clothing review, they emailed me telling me that I was free to go back to their website and choose even more outfits for myself, and so of course that was exactly what I decided to do.

After all, if I'm going to be spending the summer in Italy then I need a new wardrobe, amirite?


Femme Luxe Haul | Round 2


As I mentioned in my last post, many of the clothes that Femme Luxe sell are party dresses, loungewear and knitwear, none of which are items that I usually go out of my way to buy.

However, as I'm mad on tie-dye at the minute, I was thrilled to see a lot of tie-dye items in their collection, and I had to fight myself from ordering the same top in about 4 colours!

The items that I ordered from Femme Luxe were:

Grey Marl Cropped Oversized T-Shirt – Riya
Black Metallic Puff Sleeve Twist Front Mini Dress – Emily
Mid Blue Tie Dye Oversized T-Shirt – Veda
Blue Broderie Anglaise Bardot Crop Top – Davina
White Butterfly Print V Neck Crop Top – Aubrey



Femme Luxe Finery Haul


Grey Marl Cropped Oversized T-Shirt – Riya


As soon as I saw this t-shirt on the Femme Luxe website, I knew I had to have it.

I love big baggy t-shirts, but this one actually has a lovely style to it that makes it feel bang on trend and not just like another baggy t-shirt. In fact, the first night I wore it out, I got so compliments!

The material of this guy is super soft and comfortable, and it hangs just right off my frame rather than making me look like a blob like some oversized clothing can!

I love that this t-shirt goes with anything – I've paired it with a denim skirt but you could wear it with jeans, shorts, lounge pants or even some black vinyl for a sexier look.

I just know that I am going to live in this top.



check it out for yourself – grey marl oversized t-shirt, riya – size l (12/14)


Black Metallic Puff Sleeve Twist Front Mini Dress – Emily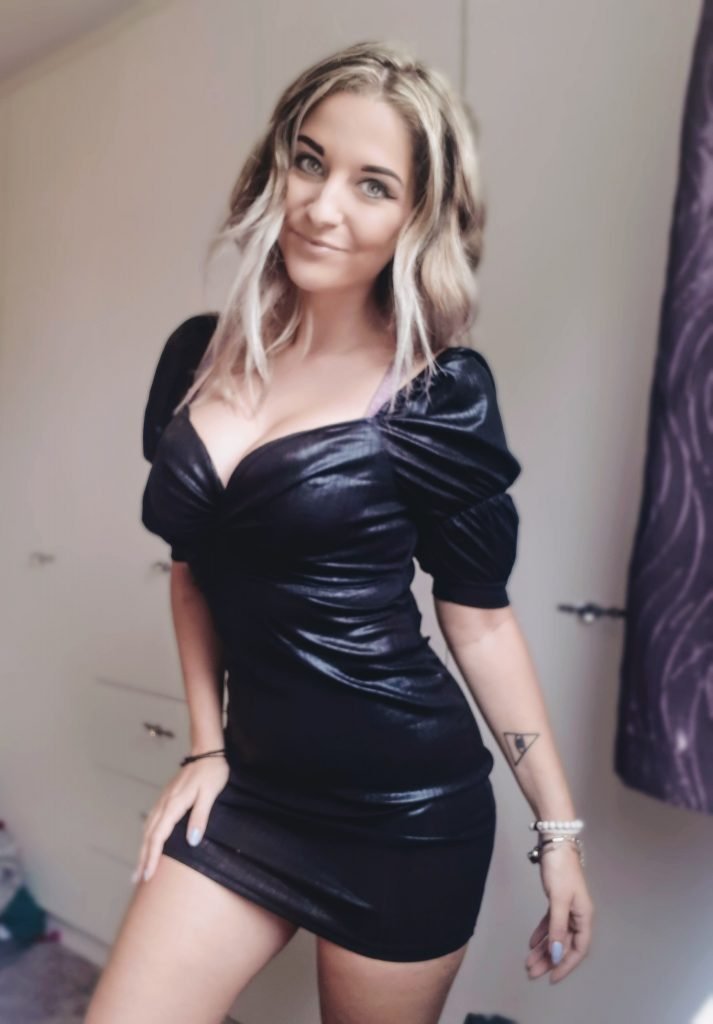 Oh where do I start with this dress?!

I'll be honest – it is not my usual style, but I wanted to try and branch out from my usual crop tops and oversized tees and try one of the slinky dresses that feature so prominently on Femme Luxe.

And I can't lie – this dress didn't give me an easy time.

I'll start with the positives.

Although I don't usually wear super figure-hugging clothes, (I was a bit wary about this dress for this reason!), the shape and fit were actually super flattering, clinging to the good curves and kind of slipping right over the bad ones!

The material was very stretchy and the dress felt really comfortable on.

It's also a lovely style, and it can either be dressed up for a fancy event, or teamed with ripped tights and boots for a more Taylor Momsen look.

However.

I had a lot of trouble making this dress actually stay on – the sleeves were just not for staying put on my shoulders and kept falling down, causing my – assets – to pop out!

Now, I don't want to give you too much TMI but I've got pretty sizeable – assets -, and so it wasn't as though the dress didn't have anything to hold it up!

Needless to say, there were a lot of bloopers when I was taking pictures of myself in this, and I was unsure if it would even make it onto my Femme Luxe haul!

Maybe I needed a smaller size?! Either that, or a lot of safety pins…


The other problem with this dress is that the material is quite see-through, and you'd definitely need to wear black tights or even an underskirt with this if you were going out.



check it out for yourself – Black Metallic Puff Sleeve Twist Front Mini Dress, Emily – size 10


Mid Blue Tie Dye Oversized T-Shirt – Veda


I knew that I was going to love this top, and I wasn't disappointed when it arrived.

It comes in 4 different colours (pink, lilac, blue and mid blue), and I was so tempted to get one in each colour – to be honest, I still might!

The model on the website wore hers as a dress, and the one I got was definitely too short to wear as a dress, but it looked great tucked into my denim skirt with the sleeves rolled up.

I think if I was going to get this top in a different colour then I would order up a size so that I could wear it as a dress.

This is the perfect top because it's something that you can wear on days where you really just feel like slobbing around but you're going somewhere so you still need to look cute (every day for me).



check it out – Mid Blue Tie Dye Oversized T-Shirt, veda – size l (12/14)


Blue Broderie Anglaise Bardot Crop Top – Davina


I really like this top.

While I live in slightly more tomboyish clothes, I just think that this is so pretty.

The off-the-shoulder style and frills around the top are super flattering and I absolutely adore the powder blue colour.

I ordered this in a size 8/10 and was a little worried that it would be on the small side, but as you can see, it fit perfectly and I'm a size 10.

This is also something that can be dressed down for a casual coffee date with friends, or dressed up with a few accessories to make it a cute restaurant outfit.

Most importantly for summer, it's loose, airy and not too fitted around the arms, meaning that it's the perfect choice for holidays!



check it out for yourself – blue broderie anglaise bardot crop top, davina – size s (8/10)


White Butterfly Print V Neck Crop Top – Aubrey


You may have noticed that this butterfly trend is all over Instagram at this point, and I happen to think that it's cute as hell, so when I spotted this I was all over it.

Of all the items I ordered, the quality of this top was probably the best – the material is super thick and the colours really pop.

It runs a little on the small side (the sleeves were a little too tight, and I don't think that my arms are that much fatter than the rest of me!), and so I think that next time I'd order a size 12 just to have a bit more wiggle room.

On the whole though, this top is super flattering and so so pretty.



check it out for yourself – white butterfly print v neck crop top, aubrey – size 10


Femme Luxe FAQ

Where is Femme Luxe based?
Femme Luxe is a fast fashion brand based in Manchester, UK.
Who is Femme Luxe owned by?
Femme Luxe was founded by Mehdi Pishbin.
Is Femme Luxe true to size?
For the most part, Femme Luxe is true to size. If you prefer a baggy fit on your lounge wear, I recommend ordering a size up.
Is Femme Luxe legit?
Yes, Femme Luxe is a legit company.
When was Femme Luxe founded?
Femme Luxe was founded in 2017.

Femme Luxe Haul Round 2 | Final Thoughts


With the exception of the black dress, I loved everything that I received from Femme Luxe Finery.

The delivery process was quick and painless (I received text messages letting me know that my order was confirmed and exactly when it would arrive), and with everything being at reduced prices right now, it's all super affordable!

That's about all for now, but if you want to see my other Femme Luxe hauls then just click here, here and here!


Disclaimer: This post was sponsored by Femme Luxe Finery, meaning that I was gifted the clothes in exchange for an honest review. I was not obliged to say anything positive about Femme Luxe Finery, and all opinions expressed in this article are completely my own.