Before we begin – in this post, I am spelling 'Kyiv' like 'Kiev' because that is what people are searching for (and I'd quite like this blog to be found by someone other than my mother!). I spell it like 'Kyiv' everywhere else, so please don't come at me with your corrections of my spelling!

My love affair with Ukraine has been intense and passionate. Ukraine is one of those countries that has never stopped surprising me. Every time I think I've seen its beauty, or discovered its weirdness, it comes at me with something ten times more strange and spectacular than I could ever have imagined.

It is this combination of the strange and spectacular that I love about Ukraine so much. Bizarre themed restaurants sit alongside stunning Orthodox churches, and the souvenir stands lining the leafy streets sell traditional Ukainian clothing (made in China of course) alongside toilet paper with Vladimir Putin's face on it.

These contrasts, these things which should not go together, but somehow always do, are what make Ukraine so special, and when I met Taya from Tours de Kiev for an afternoon of wandering through central Kiev, I had no idea quite how many quirky contrasts I would discover.

I met Taya in the early afternoon near the Golden Gate of Kiev. As we admired it, Taya told me about the history of the gate, which used to be the main gate in the 11th century fortifications of Kiev, named after the Golden Gate of Constantinople. However, it was dismantled in the Middle Ages and wasn't rebuilt until 1982 by the Soviets.
Taya then told me the sad stories behind a few of the majestic buildings that surrounded us. She explained that a lot of the buildings in Kiev are crumbling into disrepair because people simply cannot afford the upkeep.

We began to walk, enjoying the sun and getting to know each other a little. As we walked, we passed various statues and sculptures that Taya explained the meanings behind. My favourite was this adorable hedgehog sculpture!
Before long, we reached a huge area with so much impressive architecture, I didn't know where to look. Luckily, Taya had a plan, and she drew my attention to what was immediately in front of us – St. Sophia's Cathedral and its Bell Tower.

Both the cathedral and the Bell Tower have the trademark golden domes that can be seen on so many churches in Ukraine. When I asked Taya what the reason for this was, she explained that if the tops of the churches are golden, it means that God can see them easily!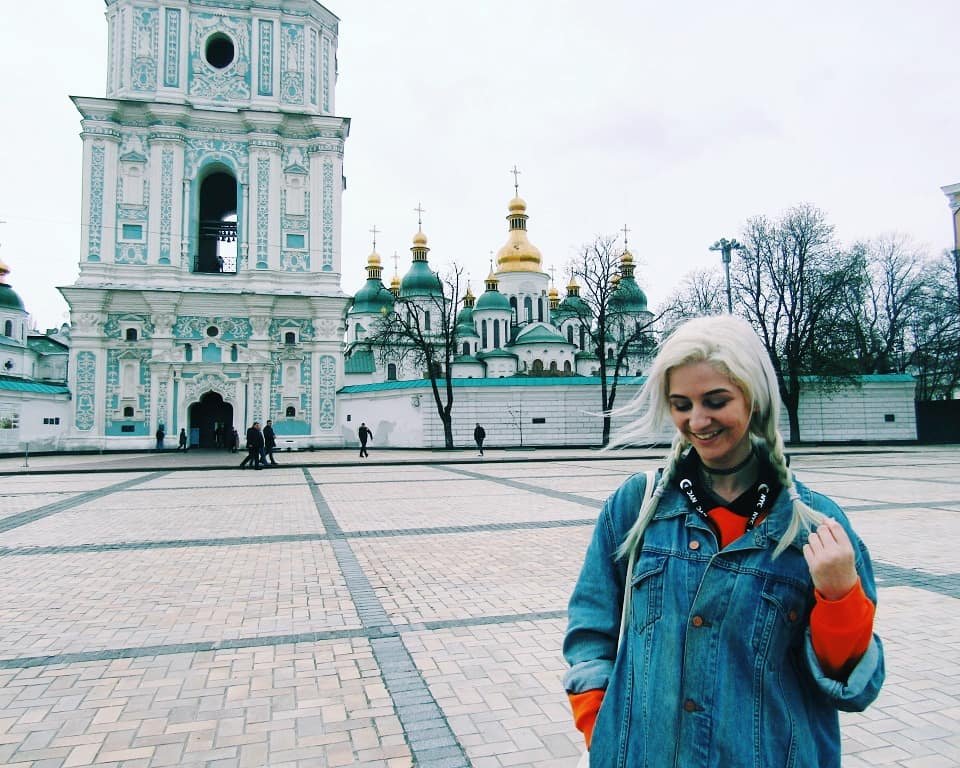 After taking a few pictures, we headed over to St. Michael's Golden-Domed Monastery, stopping midway a few times so that Taya could talk to me about the history behind some more statues – we even saw a statue of the guys who invented the beautifully infuriating Cyrillic alphabet!
St. Michael's Golden-Domed Monastery is an incredibly famous building in Kiev, and I'd seen a million Instagram pictures of it before my arrival. However, no picture can quite prepare you for a building so wonderful, and the fact that it was a gorgeous sunny day just made the cathedral even more vibrant.

For any architecture buffs out there, you may find it interesting that the exterior of the cathedral is in the Ukrainian Baroque style, with the interior in Byzantine style. We walked through the church, which is still functioning today, and around the grounds so that I could take some pictures.
Our next stop was St. Andrew's church, the church that Taya actually got married in! I didn't think that anything could top St. Michael's but I have to say that St. Andrew's is even more beautiful, and by far my favourite of the three. Maybe that's just me though – which do you like?
After we'd admired St. Andrew's church and Taya had told me another cute legend about a statue (a man was dating two women who happened to be sisters, though he only ever liked one of them – awkward!), we decided to make a quick pitstop at a local bar named Kanapka Bar. With huge chandeliers and wooden panelling, sitting inside Kanapka is like stepping back in time, in the best possible way.
Neither of us were particularly hungry, but Taya noticed my eyes gravitating towards the oysters on the menu, and so she ordered us plates of oysters, along with a refreshing apple cider for me and apple tincture for Taya. Perhaps the best thing about Kanapka are the prices – our oysters were just a euro each and the cider wasn't much more!

After lingering over our drinks for a while, we decided that it was time to continue with our tour, and so we left Kanapka and walked up to the top of the cobbled street where we enjoyed a wonderful view over the city of Kiev, as well as the mysterious 'Lysa Hore' or 'Bald Mount.' To look at, the Lysa Hore is nothing special – it is just a hill with a clearing on the top where no trees have grown (hence the name 'bald'). However, according to legends, witches and Satanists gather on Bald Mount to conduct rituals and sacrifices – spooky! Laughing, Taya told me that the only strange interaction she'd had on the Bald Mount was an older guy asking if she wanted to buy drugs – not quite a witches' coven!
Next stop was a place I'd been dying to go to before I ever stepped foot in Kiev – Landscape Alley. Landscape Alley is a street full of mosaic sculptures made in protest to building work that was supposed to occur. Taya told me that if the residents of Kiev disagree with the council's plans to build ugly skyscrapers, they create play areas for children, because although these areas are created illegally, with no planning permission, nobody in Ukraine will ever destroy a children's play area – sneaky!

However, Landscape Alley is far more than a children's playground. Despite the actual Alice in Wonderland themed play area at the far end, most of the street is comprised of sculptures that adults and children alike can't resist admiring. Some particularly popular sculptures are cats with their mouths wide open and benches inside – these cats have without a doubt been the scene of many an Instagram photo session!
After taking more than a few pictures of me posing in various cat's mouths, Taya led me down a narrow alleyway to show me some Ukrainian street art and sculptures. She told me that street art has only been present in Kiev for a few years, but that now most of the pieces tell a lot about the mindset of Ukrainian youth, with every painting relaying a message.
We stopped in front of a few different pieces, with Taya explaining the meaning behind each one. I especially enjoyed this part of the tour because, as someone who is not particularly 'arty,' I would usually just glance at the art, decide that it isn't to my taste, and move on. However, thanks to Taya, I was able to understand a lot more about the various murals around Kiev.

In fact, one of the last ones that we looked at was definitely one of the stranger pieces I've seen. At first it didn't look like anything – it was certainly very colourful but I couldn't pick out any specific designs within the piece – it all just seemed a bit manic. However, then Taya handed me a black and white photocopy of a painting known as 'Rebus' or 'Yaroslav the Wise,' which depicts a famous lithography of the prince giving instructions to his sons, with the ball in the middle of the painting symbolising information received by a new generation from an older one. At first I was confused as to what this had to do with the street art in front of me, but Taya explained that apparently, the psychodelic mural that we were looking at is actually an upside down (and crazier version!) of Yaroslav the Great!

Well, we both squinted at the mural for a long time but neither of us could see the classic painting for the life of us – I guess we just aren't cultured enough 😉 however, despite my failure to see what the artist intended, it was still interesting to get the back story behind the art.
This just about concluded my walking tour with Taya, and I was surprised at how much we'd managed to fit into one afternoon! We'd definitely taken our time wandering the streets of Kiev (as well as stopping for a drink midway through!), but we'd seen countless examples of Ukrainian street art, lots of statues, and all of the churches that Kiev is so famous for. I really felt as though I learnt a lot with Taya, and our slow pace and Taya's relaxed style made it feel as though I were just walking around Kiev with a friend rather than with a tour guide.

Not only that, but I really liked the fact that Taya customised the experience just for me. I'd expressed an interest in history and street art, and so she prepared a route that would include generous helpings of both. At no point did I feel as though we were rushed or on a time limit, which adds to the relaxed feel of the tour.

When I asked Taya which other tours she would recommend for budget travelers like me, she told me that any of her walking tours suit a backpacker's budget, especially as the bigger the group, the lower the cost (as the price of the tour is split between the people on it). For this reason, I would definitely recommend a tour with Tours De Kiev if you find yourself in Ukraine.

I also have to tell you that I attended this tour as a guest of Tours De Kiev, which meant that I didn't pay for it. However, everything that I have expressed in this post is my own opinion and I wouldn't recommend something that I wouldn't pay for myself.

If you'd like to know more about Tours De Kiev then you can find their website here and their Facebook page here.
Have you ever been to Kiev? What did you think? Did I miss out on any of the main sights? Let me know your thoughts in the comments below!

If you liked this post then pin it for later!