'Phi Phi has no redeeming qualities.'
I blinked and re-read this sentence a couple of times, unable to process quite what was in front of me. Phi Phi? Koh Phi Phi? The same Phi Phi that I fell in love with, not once, but twice on my visits to Thailand? The same Koh Phi Phi that was the setting for a film about a paradise beach (you know the one)? The same Phi Phi that attracts thousands of tourists every year for its clear waters, white sands and relaxed vibe?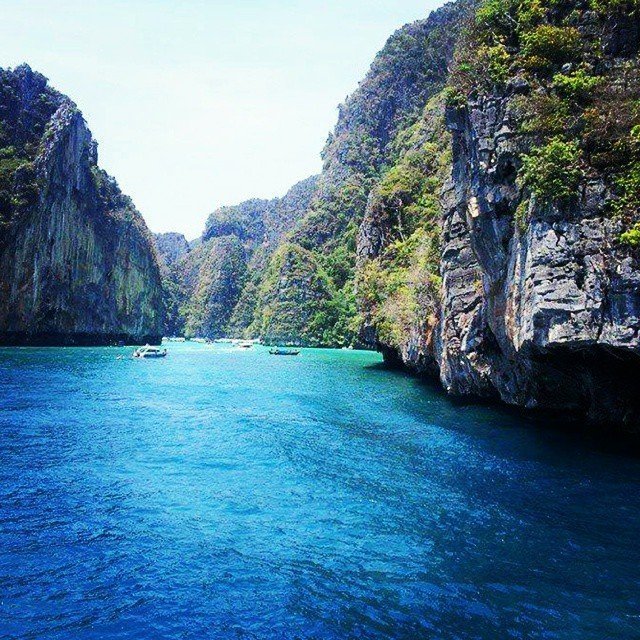 Nomadic Matt has, for a long time, been one of my favourite travel bloggers. In fact, he was one of the first travel bloggers that I stumbled across, before I even knew what travel blogging was! His in-depth guides have helped me out no end when I've been planning trips, and he's one of the bloggers I turn to first if I want to know more about travelling somewhere new.
I haven't always agreed with Nomadic Matt's opinions, as is to be expected. The world would be a boring place if we all agreed, and all that jazz. However, I've always seen merit in what he argues, and even if my opinion differs slightly, I never totally disagree with what he says.
Until, that is, I read one of his recent articles, titled 'I Still F*ing Hate Koh Phi Phi.'
In a nutshell (in case the title doesn't make it clear enough), Nomadic Matt and Koh Phi Phi don't get along. He sees it as overdeveloped, overcrowded and overrated (to put it mildly). After a scathing commentary on everything 'wrong' with Koh Phi Phi, Matt ends the article by advising readers to 'please avoid this hellhole.'
I, on the other hand, adore Koh Phi Phi. I know that it's super touristy and definitely not the place to go if you want to experience the 'real' Thailand, but I appreciate Koh Phi Phi for what it is – a party island. I visited for the first time back in 2015 and had a fantastic time with my friends visiting Maya Bay, feeding monkeys and snorkelling in the crystal clear waters. When I returned a year later, as part of my time exploring Southern Thailand I spent two weeks on the island getting to know some of the westerners who had settled there and soaking up the laid back vibe of the place. Sure, Phi Phi has always been a somewhat guilty pleasure, but it's been a pleasure nonetheless.
Let's take a look at what Nomadic Matt had to say about Koh Phi Phi…
'Hotels were everywhere. Boats seemed to endlessly ring the island, ferrying an endless queue of tourists. There were bars on the beach…resorts, tourists and loud music were inescapable.' –
See, the thing about Koh Phi Phi is that you have to appreciate it for what it is, rather than for what it could be. If you visit Koh Phi Phi expecting a deserted paradise island that hasn't been touched by tourism, then you're going to be disappointed. However, Koh Phi Phi doesn't pretend to be that. It is known to be a party island, and so it stands to reason that there would be loud music and bars on the beach. It seems unfair to visit a place like Phi Phi and expect anything different.
'It was crowded, dirty, filled with drunk tourists, terrible food, unfriendly locals, and an environment destroyed by development.'
Again, I want to reiterate my first point. If you go to a popular party island in Thailand in high season, it's going to be crowded. There are plenty of islands in Southeast Asia that aren't full of drunk tourists but Phi Phi isn't one of them, and it doesn't try to be. I also want to add that I never had any 'terrible' food while I was there and I didn't think that it was dirty.
Matt does have a point about the environment being affected by the mass tourism – I'm no marine biologist (lol I don't even know if that's the right title, this is how little I know about the environment I'm sry) but I'm sure that tourists have had an impact on Phi Phi. HOWEVER. Destroyed? Really? This seems like an exaggeration. Koh Phi Phi remains one of the most beautiful islands I've seen on my 1.5 years worth of travel through Southeast Asia.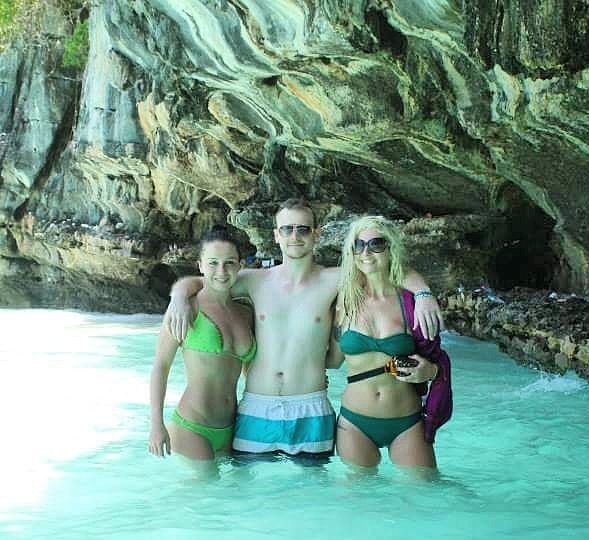 'Music blasts through the island day and night.' 
MATT IT'S A PARTY ISLAND IN THAILAND, THERE IS GOING TO BE MUSIC. IT WOULD BE WEIRD IF THERE WASN'T. Also, I don't know the current situation, but both times I visited Koh Phi Phi, all the music stopped at 2am which is earlier than pretty much every other place I visited in Asia.
'Prices are high.' 
Of course, where there is tourism, there is going to be an increase in prices. When you factor in that Phi Phi is an island and take shipping costs into consideration, you kind of expect things to cost a little more. That said, I didn't find Koh Phi Phi to be any more expensive than Koh Phangan, Koh Samui et al. Plus, it's still Thailand. For western travellers like Nomadic Matt and myself, it's still dirt cheap. Let's not forget where we're coming from here, Matt. I paid about £6 for a bed in a dorm room close to the beach. I wouldn't say that that's too pricey.
'More restaurants serving western food than Thai food.' 
Again, I can't help but feel as though this is an exaggeration as this was not what I observed on Koh Phi Phi, but even if this was true, would that be such a huge problem? I get that lots of people want to eat Thai food if you visit Thailand. Trust me, sampling the local cuisine is one of my favourite things about travel. But each to their own, and if the locals can make money from fussy westerners who insist on eating pizza for every meal, then more power to them. And besides, after spending 18 months of my life in Southeast Asia, I yearned for pizza.
'Buildings are so tightly packed that one loses any sense of being on an island.'
There are no roads or cars on Phi Phi, only sandy streets with an abundance of restaurants, bars and shops selling tie-dyed sarongs and handmade jewellery. When you add that to the fact that the beach is never more than a stone's throw away, I find it hard to believe that Matt lost any sense that he was on an island, especially when you compare Koh Phi Phi to much larger islands such as Koh Phangan or Langkawi (Malaysia). To me, Koh Phi Phi always felt like the quintessential holiday destination (which is exactly what it's supposed to be!).
'Koh Phi Phi is one of those places that takes the worst of Thailand tourism and puts it all in one overpriced location.'
Okay, hold on a second. When I think about the 'worst of Thailand tourism,' I think about fat, balding white men flying to Thailand to pay for sex with women who are doing sex work to avoid a life of poverty. I think about the streets of Phuket, the red light district of Bangkok and the seedy sex bars on Koh Samui (where my friends and I saw a boy no older than 11 with his dad). When I think back to the people that I saw on Phi Phi, I think of rowdy Aussie guys with big muscles and neon vests. Annoying, sure, but the 'worst of Thailand tourism?' Definitely not.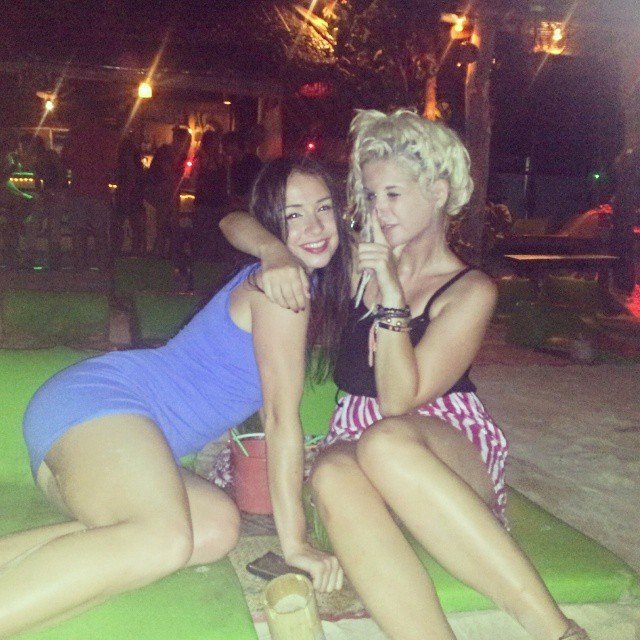 The biggest thing that puzzles me about Matt's scathing review of Koh Phi Phi is something that he said in his post about Koh Phangan. In his review of the home of the original Full Moon Party, he says 'Koh Phangan is synonymous with parties. Travellers will ironically lament that this is not the 'real' Thailand while drinking a bucket on the beach. But you don't come here to see the real Thailand. You come here to meet other travellers and have a good time.' He goes on to say that travellers should 'accept the island for what it is – a tourist party island.' 
How is it possible that Matt can apply this logic to Koh Phangan, an island more touristy, more expensive and more synonymous with partying than Koh Phi Phi, yet when it comes to Phi Phi, all he does it criticise it for its loud music, crowded beaches and drunk tourists? Should we not view both islands in the same way? Should we not appreciate them for what they are – touristy party islands – rather than criticising them for not being something else?
If you want an unspoilt deserted island, there are tonnes to be found in Southeast Asia. Try Koh Rong Samloem in Cambodia, Gili Air and Gili Meno in Indonesia, or the Perhentian Islands in Malaysia. Don't rock up at one of Thailand's most infamous party islands and complain about the noise.
What do you think? Do you think that Koh Phi Phi is a hellhole as well, or did you quite enjoy it? Let me know your thoughts in the comments below!