I was originally going to title this post 'R Kelly is a Piece of Shit,' and to be honest with you, I'm still tempted. However, whereas I would usually take a specific angle on this kind of story (as I did when the news about Harvey Weinstein broke, which you can read here), I don't feel as though this is the way to go with the things that I've recently learned about R Kelly.
Sure, I could write an angry rant about why he's such a piece of shit, or I could use his behaviour to frame a bigger question about rape culture within the music industry, but if I did either of those things, there is the implication that I somehow need to convince you of something. I could write an angry 800 word piece trying to prove to you that R Kelly is a terrible person, but for me, the facts about R Kelly and his life speak for themselves.
I don't need to convince you that R Kelly is a bad guy. His own actions do that.
It may seem lazy to choose to cover this topic in this way but I believe that in this case, it is much more effective to just have the facts rather than the facts dressed up in my own opinions.
Not only that, but there has been a kind of vagueness surrounding the R Kelly allegations that has resulted in very few people actually understanding the extent of what R Kelly has been accused of. Most people know about that videotape, and a few may have seen Buzzfeed's recent headline about R Kelly's 'sex cult' (and chosen not to read the article because it seems kinda clickbaity), but for the most part, Kelly's 24 year history of abusing young girls has gone unnoticed and unremarked upon by the general public. It is for this reason that I am choosing to focus just on the facts. I feel that it is important for the public to have a detailed timeline of what exactly R Kelly has been accused of over the past 24 years, and so this is exactly what I've created.
So, with that lengthy and self-indulgent intro out of the way, let's take a look at the accusations surrounding Robert Kelly.
Here is Everything You Need to Know About the R Kelly Allegations
Timeline
May 24, 1994. Aaliyah releases debut album
15 year old Aaliyah, niece of R Kelly's manager, releases her debut album, largely written and produced by R Kelly. The album is titled 'Age Ain't Nothing But a Number'  and many in the music industry question whether this is a comment on the rumours circulating within the industry about R Kelly's attraction to underage girls.
August 31, 1994. R Kelly marries 15 year old Aaliyah
R Kelly, then 27, marries 15 year old Aaliyah in a secret ceremony in Chicago. Although Aaliyah was under the legal age to marry, she or Kelly lied about her age and listed it on the marriage certificate as 18 years.
October 1994. Marriage with Aaliyah annulled
Kelly's marriage with Aaliyah is annulled in October of 1994 (they are believed to have eventually parted ways in February 1995) and the singers sign agreements to say that they will never speak of their marriage or relationship. In the settlement, Aaliyah promises not to pursue further legal action because of 'emotional distress caused by any aspect of her business or personal relationship with Robert' or for 'physical injury or emotional pain and suffering arising from any assault or battery perpetrated by Robert against her person.'
December 24, 1996. Kelly sued for personal injuries and emotional distress
Tiffany Hawkins sues R Kelly for the 'personal injuries and emotional distress' that she suffered during her three year relationship with the star. In court documents, she says that she began having sex with Kelly when she was 15 and he was 24.
January 2001. Anonymous video sent to the Sun-Times
A videotape is anonymously sent to the Sun-Times showing R Kelly having sex with a young woman. Editors at the newspaper believe that the video could be evidence of child pornography and turn it in to the police, but the police cannot determine the identity or age of the woman. This is not the videotape that later leads to Kelly's indictment.
August 2001. Sued by intern
Kelly's former intern Tracey Sampson sues the singer, accusing him of inducing her into 'an indecent sexual relationship' when she was 17 years old. In her legal case against him, she claimed that she was treated as his 'personal sex object' and that Kelly 'tried to control every aspect of [her] life, including who [she] would see and where [she] would go.'
The case was settled out of course for an undisclosed sum.
February 8, 2002. Second videotape surfaces
A 26-minute-39-second video is left anonymously in journalist DeRogatis' mailbox. The tape shows R Kelly having sex with a young girl, instructing her to call him 'Daddy,' and urinating in her mouth. Believing the tape to be evidence of child pornography, it is turned in to the police.
April 29, 2002. Sued by Patrice Jones
Patrice Jones from Chicago sues Kelly, claiming that he impregnated her when she was underage and forced her to get an abortion.
May 24, 2002. Sued by Montina Woods
Montina Woods claimed that she was unknowingly videotaped by Kelly whilst having sex. Kelly settles the lawsuit out of court, paying Woods an undisclosed sum in return for a nondisclosure agreement.
June 5, 2002. Kelly indicted on child pornography charges
R Kelly is charged with 21 counts of child pornography, each count representing an action seen in the video that the Sun-Times turned in to the police in the February of that year. The tape was authenticated by the FBI crime lab and experts concluded that it was not a forgery. After Kelly is arrested, he is charged with a further 12 counts of child pornography based on images found in a camera that police seized that allegedly show R Kelly having sex with another underage girl.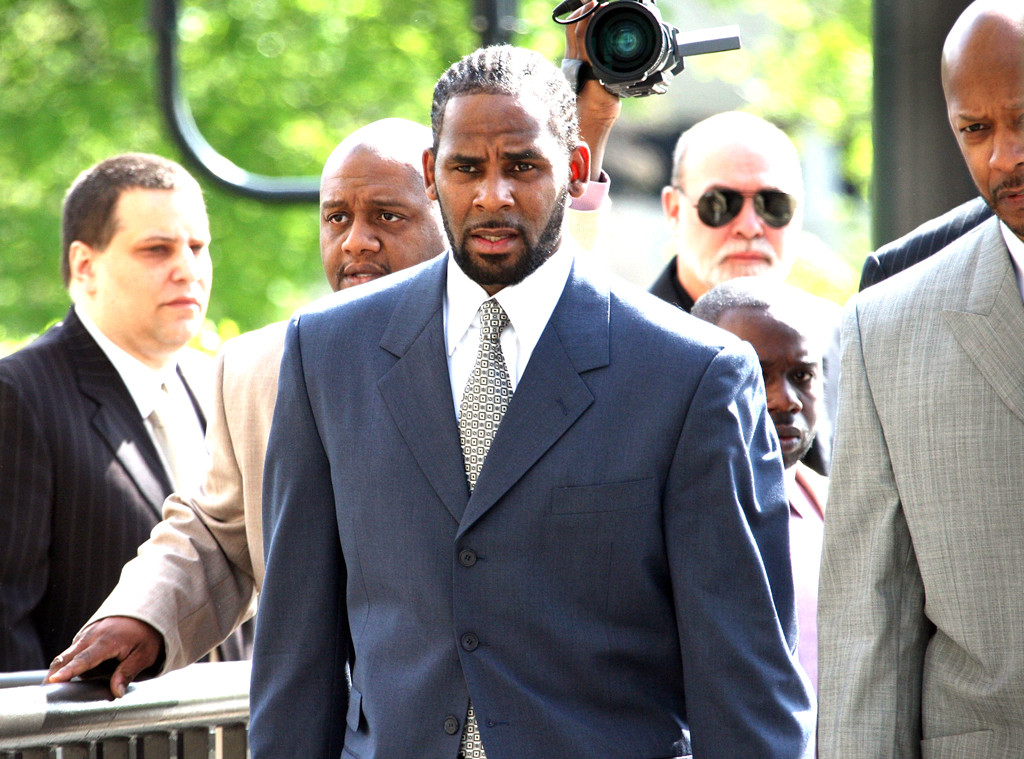 June 14, 2008. R Kelly goes to trial
After a six year wait, R Kelly pleads not guilty to all charges, and despite 14 witnesses (including the victim's family members and best friend) identifying the girl on the video as being 14 years old when the tape was made (and 12 years old when she was first introduced to R Kelly), the jury concluded that her identity could not be proven and thus it was impossible to say for sure whether or not the video depicted child pornography and statutory rape. R Kelly was acquitted.
2017. Allegations of a sex cult
Buzzfeed reports that R Kelly lures young women into his home and keeps them prisoner in a 'cult-like' atmosphere. Written by Jim DeRogatis, the journalist who covered the Kelly allegations for over two decades, the story says that six women are being held in R Kelly's home where he controls every aspect of their lives.
Interviewing three former members of R Kelly's inner-circle, the article reports that Kelly dictated 'what they eat, how they dress, when they bathe, when they sleep, and how they engage in sexual encounters that he records.' The article also asserts that Kelly has confiscated the women's phones, replacing them with phones that can only be used to contact him when he gives them permission. Parents of the girls have filed missing persons reports and publicly pleaded for their daughters (who no longer contact them) to come home.
Pretty heavy stuff, hey?
Again, I'm going to refrain from injecting my own opinions into this piece as I feel as though the facts speak for themselves, but there are people whose opinions hold a lot more weight than my own. Let's have a look at what some of the people closest to R Kelly have had to say about him over the years…
Joavante Cunningham, who worked as one of R Kelly's dancers told the Sun-Times that 'The brother's got problems. He definitely has something going on psychologically. He needs help. He should have learnt from the Hawkins case and got help.'
In 1999, former Kelly protege Stephanie 'Sparkle' Edwards told DeRogatis that R Kelly's backstage area was often filled with underage girls during the time that she worked for him as an assistant. 'He likes the babies, and that's the sickness,' she said.
Barry Hankerson, Aaliyah's uncle and R Kelly's former manager, resigned from his job 5 years after Kelly's affair with his niece. He pens a letter to R Kelly's lawyer that states he believes that Kelly needs psychiatric help for his compulsion to pursue underage girls.
An anonymous fax to the Sun-Times, which reporters later confirm to be from an assistant of Kelly's: 'You wrote about Kelly and compared him to Marvin Gaye. Well, I guess Marvin Gaye had problems too, but I don't think they were like Robert's…Robert's problem is young girls. I've known Robert for many years, and I've tried to get him to get help, but he just won't do it. So I'm telling you about it hoping that you or someone at your newspaper will write an article about it and then Robert will have no choice but to get help and stop hurting the people he's hurting.'
Kim Dulaney, a close confidant of Kelly's, told the Sun-Times that she never personally witnessed Kelly engaging in sexual activity with minors, but that she believes the charges against him are 'warranted' and that he should get help for his 'sexual addiction.'
R Kelly's brother, Carey 'Killa' Kelly, releases a DVD where he claims that Kelly was so proud of the tape allegedly showing him urinating on the 14 year old girl that he constantly showed it to his friends, before offering his brother $50,000 in cash and a record deal to lie to the police and say that he was the man in the tape once it had been made public. He also said that R Kelly was 'emotionally and physically abusive' to his wife and that he has 'a problem' with underage girls. R Kelly's older brother Bruce said that 'This person who we see singing songs and stuff like that, I'm proud of that part of him but that's not the Robert Kelly that we know.'
After Kelly's former spokeswoman Regina Daniels parted ways with Kelly, saying that he had 'crossed a line,' her husband George Daniels said 'He crossed a line with my daughter,' and 'There are guys who sit around and give your child a couple of bucks to go to school and then wait until they get a little older, then they set that trap.'
Cheryl Mack, Kelly's former personal assistant, said that the women in Kelly's entourage initially think 'This is R Kelly. I'm going to live a lavish lifestyle. No. You have to ask for food. You have to ask to go use the bathroom. Kelly is a master at mind control. He is a puppet master.' She went on to say that when other men are in the room, Kelly would 'make the girls turn around and face the wall in their jogging suits because he doesn't want them to be looked at by anyone else.'
Gerald Griggs, lawyer of the family pressing charges against Kelly for allegedly keeping their daughter prisoner, said 'Who really releases a video to let their family know that they're okay? That sounds like somebody's being held. They do that in hostage situations, not in familial relationships. We have heard from several witnesses, as recently as yesterday, about people being locked in rooms, they're not allowed to go places, they're not allowed to wear things, they're not allowed to have cell phones…' and goes on to say that 'There are allegations of all forms of physical abuse.' When asked if he could elaborate on these allegations, he said that they were 'Very serious allegations that are punishable by long terms in prison.'
Lovell Jones, R Kelly's former backup singer, said 'He's a very spiritual person but he's a little perverted,' and goes on to mention 'problems with young girls,' asserting that the singer has a 'Jekyll and Hyde' personality and that 'it was common knowledge in the camp that Kelly likes young girls.' Perhaps the most damning thing that Jones had to say about Kelly was that 'It's almost stating the obvious, I mean that somebody's repeatedly, you know, practising that kind of behaviour, I mean, he's a paedophile.'
Rocky Bivens, R Kelly's ex-manager told Benjamin Zand that 'It would be wrong of me to call him a padeophile if he's sick – I'm saying, if I was to call him – now would he be – uh – clinically, or – what's the terminology – you know, deemed as a paedophile by definition? Yes!'
And there we have it, the timeline of all of the R Kelly allegations, accompanied by the words of some of those in Kelly's inner circle. In the future, I'm sure that I will write a piece about how this illustrates how little society cares about what black women have to say, or how, as Kitti Jones put it, 'There is this unspoken thing in the black community that we don't like to take our black men down.' However, for now, let the facts be enough.
Further Reading
A Woman Who Says She Had Underage Sex With R Kelly is Finally Telling Her Story
R Kelly is Holding Women Against Their Will in a "Cult"
Sexual Misconduct Allegations Against R. Kelly Spanning 24 Years
R Kelly: Sex, Girls & Videotapes (Documentary)