Recently I came across a YouTube video discussing Kylie Jenner and Rihanna. The video talked about ego, and how despite both women seeming incredibly confident, that is not actually the case.

To illustrate this, the video went on to describe Kylie as a 'cold-blooded animal' and Rihanna as a 'warm-blooded animal.' Cold-blooded animals, it explained, do not regulate their own body temperatures internally. They depend on their outside environments to do that for them. Hot-blooded animals, on the other hand, do not depend on their environments to regulate their body temperature, keeping a consistent temperature irrespective of their external environments.

When applying this in the context of how to know your self worth, we can compare Kylie Jenner to a cold-blooded animal because her self-image and self-worth depend entirely on her external environment. She does not have a stable, fixed sense of self, instead relying on the amount of likes, comments and other outside validation that she receives in order to feel good about herself.



Rihanna, on the other hand, does not. Rihanna, in Gen Z terms, knows that she is a bad bish, and she doesn't depend on people telling her so in order to know it to be true.

Rihanna doesn't need you to tell her that she's hot because she already knows it.

On the contrary, Kylie, having grown up as the 'ugly duckling' in the shadow of her stunning siblings, only started getting positive validation when she began drastically altering her appearance.

With Kylie's new looks came more money, fame, adoration, boyfriends and followers. With positive attention came not only self-esteem, but a totally different life, thus Kylie begun to equate being seen as pretty to having success and happiness.



Know Your Self Worth – How to Beat Insecurity & Be a Cold Blooded Animal

For my entire life, people have been telling me to 'know your self-worth' and I never really knew how to. Nobody had any solid advice on how to know your self-worth. They just knew that it was important.

When I heard this theory of cold-blooded vs. warm-blooded animals, it was as though a lightbulb went off above my head.

It all made sense.

You see, I am a cold-blooded animal.

In many ways, I am extremely confident, or 'warm-blooded,' to stick to the metaphor. When it comes to my general character and accomplishments, I am pretty solid. It would take a lot to make me feel insecure about who I am as a person or the things I have done in my lifetime.

If somebody doesn't find it impressive that I've travelled the world solo, or if they don't like one of my articles, it doesn't rattle me. I can shrug off the criticism, secure in the way that I feel about those things and not letting outside opinions bother me.

When it comes to self-image, however, it's another story entirely.

When I was in high school, I got laughed at for my big nose, bushy hair, bad teeth and just about everything else. I was totally insecure and I felt like the ugliest girl in the world.

However, as is usually the case with being female, as soon as I bleached my hair and grew a pair of knockers, I wasn't perceived as being ugly anymore. The same boys that laughed at me throughout the first three years of high school were now texting me behind their girlfriend's backs telling me how hot I was. Such a dramatic turnaround filled me with confidence, especially when combined with the fact that I became a teenager in the days of MySpace, taking selfies before they were even called 'selfies' and getting hundreds of 'likes' per picture.

It isn't difficult to see how a 14 year old girl just trying to figure out who she is can fall into the trap of becoming a cold-blooded animal.




Fast-forward a few years and I haven't changed a bit. Just like Kylie, if I get enough likes on a selfie, or if I get a tonne of attention on a night out I'll feel great about myself, but if I don't, I feel rubbish. I depend on positive external validation to regulate my self-image, and if I don't get it then I'm miserable.

And guess what?

This is a real psychological phenomenon, known as the 'Internal Locus of Evaluation.'

In my quest to understand just why so many of us seem to depend on external forces to bolster our own self-image, I did a spot of Googling and I stumbled upon this guy, Carl Rogers, and his concept of the Internal Locus of Evaluation (less catchy than cold vs. warm-blooded animals granted).



Know Your Self-Worth – the Internal Locus of Evaluation?


In layman's terms, if you have an internal locus of evaluation then you don't depend on other people's opinions. You trust your own judgements and your self-esteem isn't affected by the approval (or lack of) of others.

If you have an external locus of evaluation, you do depend on outside validation. Rogers suggested that if an individual has an external locus of evaluation then they could actually fail to self-actualise (to realise their true talent and potential) because the need for positive regard and approval from others can actually overtake a person's desire to grow and better oneself.

In other words, not focusing on world domination because the boy you like hasn't texted you back.

Rogers chalked a lot of this up to what happens to an individual during childhood. As children, we look to other people for approval and positive regard. When we get positive feedback from performing a certain behaviour, we feel good about ourselves. If, however, a behaviour does not receive positive regard then we either need to go without or change our behaviour in order to get the positive feedback.

To give a real life example, I learnt that by looking good, I got positive feedback from my peers, and so I continued to base my self-image on other people's opinions of me. Therefore you, reading this now, have the power to make me feel like a walking goddess or a disgusting swamp monster with only a few words.

And that's pretty scary and not at all healthy.

Of course, learning about the locus of evaluation/cold vs. warm-blooded animals, made me determined to change. I've always known that I let the opinions of others affect me, but only when I looked at it in such basic terms did I understand, not only how much I'd been letting it shape my attitude towards myself, but also just how many people are cold-blooded animals like me.

If you're a cold-blooded animal like me and want to know your self-worth, just read on!


As soon as my eyes were opened to the existence of cold-blooded animals, I began seeing them everywhere.


Earlier in this article, I referenced growing up in the era of MySpace, when people would trade picture comments (pc4pc!) in order to look more popular (and thus more attractive). However, girls growing up these days have it so much harder.

Growing up in the age of Instagram is very different to growing up with MySpace. When I was 14, the mass panic in the media was size zero models and whether they were giving us eating disorders.

Nowadays, however, your competition isn't Emily Ratakowski from a music video or some skinny girl in Vogue. You don't have to compare yourself to some supermodel who you're never going to meet because guess what? Now your competition is Lydia from Instagram. She isn't an actress or a model, or even an influencer. She's only got 500 followers but you can bet your last cent that your boyfriend is one of them, and yep, he's liked her picture and not yours.

I use Instagram almost exclusively for work. If it weren't for this blog, I wouldn't even have an Instagram account. While I may throw up a selfie every once in a while, 99% of the pictures I post are travel related, and 99% of the accounts I follow are travel accounts.

Because of this, I have become extremely out of touch when it comes to knowing what 'regular' Instagrammers post (as in, people who are not bloggers or influencers). If you'd asked me a few months ago what a normal 18 year old girl posts on Instagram, I'd say pictures with friends, drunken nights out, some food/coffee pics and then a selfie every once in a while.

I had no idea that the vast majority of 'regular' girls actually use Instagram as their own personal modelling portfolio, using the platform as a place to get reassurance that they are desirable rather than as the social network it was intended to be.

Girls who probably have great jobs, senses of humour, hobbies and passions reduce themselves to nothing more than a half-naked pout in the bedroom mirror. They are fishing for likes and they get them. This is a game that WORKS, and so they keep doing it until they get to a point where the only way they can feel good about themselves is if they post a revealing selfie and it gets more likes than the last one.

This is sad you guys.

I am all for flaunting your body and showing the world what god gave ya, but there is a difference between posting a slutty picture because you're actually feeling fierce and you want the world to know it, and posting a slutty picture because you have to prove your social value by getting 300 likes (and, by the way – even if you do get 300 likes, your joy will be temporary. The joy that we get from outside validation is always temporary).

This is no way to know your self-worth.


Comparison is the thief of joy.


This summer, I had a holiday romance with someone in the public eye. I don't say that to brag (well, maybe a little), but to illustrate that because of his fame, his entire dating history is available at the touch of a button.

Now, perhaps surprisingly, I hadn't given a second thought to the women he'd dated before me. Although we were in the very early stages of getting to know one another, he made me feel very secure, and so I didn't feel the need to snoop.

However, when I met a couple of friends for a drink, the first thing one of them immediately said was "So Dani, I've spent the afternoon Googling his ex-girlfriends, and just so you know, they're all supermodels."

Not the ideal thing to hear, right? Actually, by some miracle, it didn't bother me. Whereas normally I would have spiralled into a pit of self-doubt and rushed home to begin an internet deep dive of these women, I just shrugged.

"So, I guess he has great taste in women," I grinned.

And that's the trick.

If the guy you're talking to happens to have dated gorgeous women before you, all that that tells you is that he has good taste. Why should that make you insecure?

Why should we care at all what the women that came before us were like? Why is it that as soon as we mention a guy's ex (for example, "he only broke up with his ex recently" or "he was engaged before") the first question is always, without exception "Well what does she look like?" as if your man was with this girl for 5 years based on her facial symmetry.

I know what you're thinking. You're thinking "Yes but if his ex was a Victoria's Secret model and I'm barely a 6/10, how could I not feel insecure?"

But guess what?

Another girl being hot doesn't make you any less hot. If you really are a 6/10, then you'd be a 6/10 regardless of whether his last squeeze was a Victoria's Secret model or not. All that matters is that YOU are the one he wants to be with right now. Not his ex.

It works the opposite way around as well. Why do we want our boyfriend's ex to be uglier than we are? It won't make us any prettier. All that that does it make us kind of a bad person, and that in itself is ugly.



Cold-blood and toxicity.


Several years ago, I had a friend, we'll call her Amber, who let her insecurities manifest themselves in some seriously messed up behaviour. One night when she was drunk, she confessed to me that she used to actively encourage me to go out wearing unflattering clothes so that I wouldn't get attention from guys. She'd already told me that she felt like 'the ugly version' of me, and so it stood to reason in her mind that if guys didn't fancy me, they'd automatically fancy her, and then she could feel good about herself.

Once, a guy I'd been talking to on Tinder came to meet us in town. Now, Amber had a boyfriend. She had no reason to need attention from this guy. Did it stop her from telling him she wasn't wearing any underwear and getting her boobs out for him? Nope.

Another time a guy I'd been dating had come to visit me in the apartment I shared with Amber. Despite knowing I was happy with this guy, she insisted on walking around the apartment in a tiny crop top and thong – I guess she felt prettier if she was taking the attention from me, as though we couldn't both be attractive in our own right.

This is why being a cold-blooded animal is so toxic.

It's one thing to enjoy positive attention – don't we all? – but when your need for validation results in you constantly trying to 'one-up' your friends, even going so far as to flirt with every single guy they date, it's never going to end well.

And just to clarify – I don't think that Amber is a bad person – I think that she is simply one of many who bases their entire sense of self-worth on whether they are sexually attractive to others, which can result in some bad behaviours.



There will always be someone hotter than you.


The hosts of a podcast I listen to regularly joke about how they've been at parties where a hot chick has walked in and they have had 'no choice' but to pick a fight with their boyfriend so that they would both have to leave the party.

But why?

Do you think the presence of a hot girl is enough to end your relationship? More so, do you think your boyfriend is never going to be in the presence of a hot girl?

The hard truth is that there will always be someone prettier than you.

That is why Kylie Jenner's habit of getting butt implants, boob implants, lip fillers and whatever the hell else she has, is futile. Kylie Jenner is one of the most beautiful women out there, but there will always be someone hotter, or smarter, or funnier, or more accomplished.

Just like the Instagram girls who base their self-worth on likes and followers, it will never be enough. Unless you get your sense of self from within, you will always be chasing the dragon and falling short.

When you depend on outside validation you starve without attention.

If you truly want to know your self-worth, the knowledge has to come from within.

Giving other people – especially people you barely know – the key to your self-worth is possibly the most destructive thing we can do.

Why give that power to others? Why let total strangers have that sort of power over you? You wouldn't trust them with actually having your money or your house keys so why give them the keys to your self-worth and self-esteem? Why reduce your entire sense of self to how many random dudes liked your latest selfie?

It's dumb. And you're not dumb.



How to Be a Warm-Blooded Animal & Know Your Self-Worth


Recognise that you are a cold-blooded animal


I am no self-help guru, but it doesn't take a genius to figure out that the first step in solving the problem is acknowledging the problem. I think that most people seeking outside validation are not cognisant of it.

We associate insecurity and low self-esteem with feeling ugly and worthless, but actually the question we should be asking ourselves is not whether we have a low self-esteem, but whether we have a fragile self-esteem, one that fluctuates depending on our environment.

Only when we acknowledge this can we begin to work on it.



Be mindful of your intentions


You shift the scale from cold to warm-blooded when you begin to be mindful and aware of why you are doing things. Are you posting a meme because it genuinely made you laugh and you think your followers will like it, or are you trying to be seen as the funny, quirky girl? Are you posting that half-naked selfie because you are genuinely feeling like a goddess or because you want to remind your ex what he's missing?

When you become aware of your reasons for doing things, you can begin to free yourself from those damaging behaviours.

If you are seeking validation with a post, whether that be for your looks, intellect, quirkiness, or WHATEVER, then don't post it. If you are flirting with a guy you don't like in order to make someone jealous or boost your self-esteem then stop.

This past week I've practised this with my Instagram stories. Through Instagram I've become internet friends with so many wonderful people that constantly reply to my stories and engage with my content. However, because I know that I get a lot of messages in response to every story I post, it is all too easy to fall into the trap of posting something whenever I need a reminder that I am valid.

This week, the only things I posted to my story were a funny picture of me and a dinosaur in Moldova, a screenshot of an INSANE traffic day for my blog that I was proud of, and a meme that I thought was funny. I didn't upload a boomerang of my friend and I drinking Prosecco the other night because hey, the world doesn't need to know that I have an active social life. I know and that's all that counts.



Stop comparing yourself to others


Stop comparing yourself to other people, whether that be your best friend, your boyfriend's ex, or that random girl you creep on on Insta. Competing with yourself is healthy. Competing with others is not.

If I compared my blog traffic with Nomadic Matt's, I'd probably stop paying for hosting and just give up right now. However, if I compare my stats with where they are at 6 months ago, or even a month ago, I want to jump for joy because I'm killing it.

Accept that there will always be someone hotter, someone funnier, someone more successful than you. Focus less on what everyone else is doing and focus more on being the best you that you can be.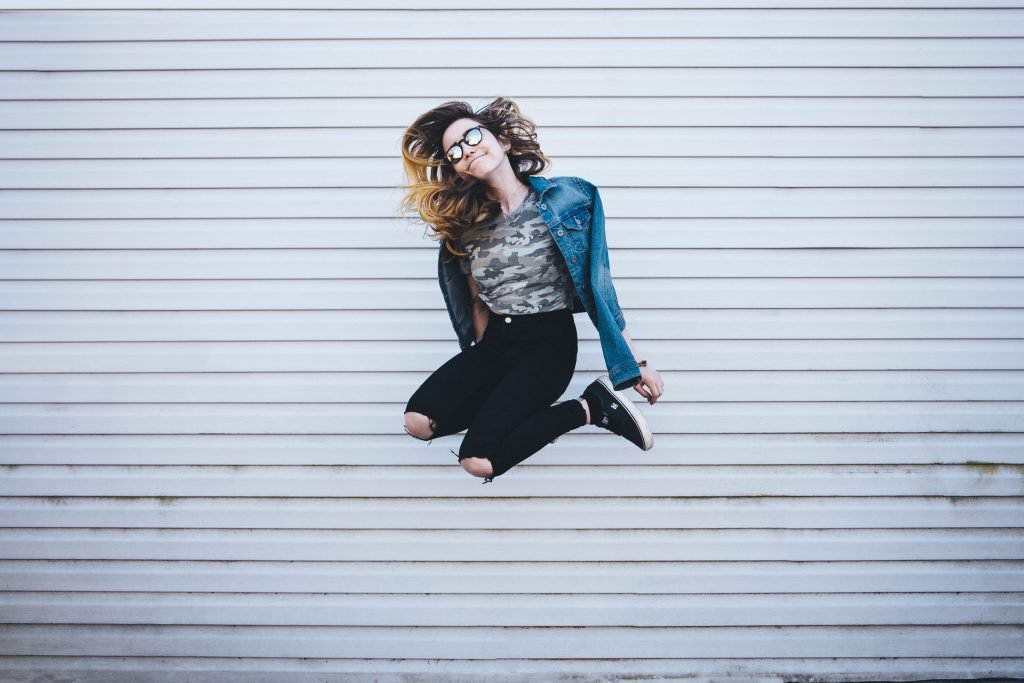 Limit your time online


Seriously.

Not only will you have way more time to pursue things that actually make you feel secure and accomplished (like working out, reading a book, finding the cure for cancer), but you will also be spending less time looking through a filtered lens at how other people are living their lives and feeling bad about your own.

Put. The. Phone. Down.



Find value outside of your beauty


Society tells us as women that our only value is in the way we look, but that isn't true. I am not trying to trivialise beauty – there is certainly a high value in beauty – but that doesn't mean there there aren't other kinds of value.

If you truly want to know your self-worth, you must do what makes you feel the best.

What makes me feel the best?

Not getting 400 likes on an Instagram picture or having a sleazy guy slide into my DMs, that's for sure.

What makes me happy is hitting 'publish' on a post about human rights and knowing that I'm doing my bit to raise awareness of an issue I care about.

Find the thing that makes you feel good about yourself on a deeper level, and do it.

That is the key to building true confidence.



Don't tear other women down


It's easy to look at another woman who you deem to be more attractive than you are, and say "well she's probably really dumb" or "I bet she's super shallow."

And you know something?

She might be.

But ultimately, that doesn't matter.

She may be the dullest girl in the world but that really isn't relevant. Focus on yourself and forget about her.



Fake it till you make it


Confidence doesn't just come overnight, but there is absolutely nothing wrong with acting as though you possess oodles of confidence while you're waiting for the real thing.

Science has shown that even the simple act of smiling can help trick your brain into thinking that you're happy, and so why not take this a step further and act the way you would if you really were the confident person that you are aspiring to be?

It may even help to choose a celebrity that you look up to and ask what they would do in your situation? Do you think Rihanna gets bothered if some idiot troll tells her she's ugly? Of course not, so why do you?



SO, there concludes my thoughts on how to know your self-worth! I know that this is totally different to anything i've ever written before but hey, if you made it this far then you must have enjoyed it at least a little right?

And guess what? If you didn't, i don't care 😉

If you liked this article and would like to support my work, please click the button above to donate a couple of bucks and buy me a coffee. The ad revenue that I receive on this website is minimal, so support from my readers enables me to keep creating content that you (hopefully!) love to read.