It's that time of year again, and while gift shopping for anyone can be tough, buying unique travel gifts for girls is even tougher. What do you buy somebody that is rarely home? What gift can you give to a female traveller that will actually be useful to her, that will fit into her backpack and that she will truly appreciate?
As a girl that spends most of the time out of my home country, I understand the struggles that my family and friends go through when trying to find unique travel gifts for me. They know that I love books, but books are heavy, and as much as I would love to, I can't be lugging around a suitcase full of hardbacks whether I go. I also love lingerie, but again, there are only so many lacy bras that I can take with me when I travel (god damn you, practical clothes).
So then, what do you buy for the girl who is always on the move?
Fortunately, there are plenty of unique travel gifts that are not only invaluable for the seasoned traveller, but are also totally affordable if you're on a budget.
Here then, are my 30 unique travel gifts for girls!
(pssst – just click on the name of the products to buy!)
When I was working in Cambodia, my friend created a business to try and reduce plastic consumption on the island, and I learnt a lot about how harmful plastic water bottles are to the environment. So many people buy a bottle of water, use it once, and then throw it away, and it really is such a waste. With a bottle such as this one, not only are you doing the environment a favour, but you can drink water from pretty much anywhere (think lakes, ponds, and even puddles!) as it contains a filter that removes 99.9999% of waterborne bacteria and 99.9% of waterborne protozoan parasites without chemicals, iodine or batteries.
As if this wasn't enough, this bottle in particular can be rolled up or laid out flat, meaning that it doesn't take up valuable space in your backpack.
A great gift for new travellers and over planners, this trip planner features log boxes for daily activities, their duration, booking status and costs. It also includes checklists for preparation and general packing, maps of world time zones, and temperature data for major world cities.
While this gift would be a horrendous idea for me (I'm not a one for planning my trips), everyone knows someone who would go crazy for a book like this, and even I admit that it's a neat idea to have all of your trip's details in one handy place (especially if it's in a beautiful notebook like this).
So many travellers keep diaries while they're on the road, and who can blame them? They're having incredible experiences every day, and they don't want to forget a second of their time. Even if the girl you're buying for is not much of a writer, she will still appreciate having somewhere to write down all of the hostel recommendations, new songs that she hears, packing lists and more. This travel journal comes complete with a zipper pocket and card holder insert, making it the perfect place to store money, cards and passports so they don't get lost while en route.
If the travellers you know are anything like me, then their passports will be a hot mess. Not only has the gold emblem on mine completely rubbed away, but it's also covered in stickers from my multiple visa renewals in Cambodia, and more than a little glitter (also Cambodia's fault). This passport cover will not only keep your loved ones' passport pristine but is also really cute and perfect for girls who love their essentials to look as good as they do.
Sleep is sometimes difficult to come by when you're on the road. Uninterrupted sleep is even harder still. With a sleep mask, us travellers have one less obstacle standing in the way of sleep, and this one in particular sends a not-so-subtle message to any obnoxiously loud room mates that your friend may encounter in hostels.
Some girls may be super cool and low-maintenance, but I am not one of them. Travelling does not stop me wanting to look my best, and how can I do that without my bag of beauty essentials? Of course, it's impossible to take all of your makeup with you when you travel, but a small bag like this will allow the travellers in your life to fit in everything they need to look pretty (and if they're basic bitches like me, then they will love anything with a mandala on it).
When I was travelling through South East Asia, this book was like the Bible for my fellow travellers. Shantaram, a novel based on events in the author's own life, tells the story of Lindsay Ford, who escapes from jail in Australia and flees to Bombay, India, and proceeds to live the craziest life imaginable. He establishes a health clinic in the slums, spends time in jail, stars in Bollywood movies, works for the mafia, and goes to Afghanistan to smuggle weapons for mujahideen fighters.
This book is a must-read for anybody who loves to travel. The descriptions of Bombay are breathtaking, and the story itself is gripping. I read this while I was on the Perhentian Islands in Malaysia, and I couldn't put it down. I can't recommend it enough.
Coconut oil and Argan oil are gold. No matter which camp you're in (I sit with Argan oil as it agrees with my hair more than coconut oil), there is no denying that both of these products are absolutely phenomenal, and every backpack is lacking without at least one of them. I wrote in detail about the many benefits of Argan oil here, but let it suffice to say that any product which has as many uses as these is a must-have for anybody travelling with a weight limit. Both coconut and Argan oil are unique travel gifts that every girl will appreciate!
I've lost count of the number of sunglasses that I've lost, damaged, and had stolen whilst on my travels. I've never bought expensive sunglasses, but at this point, I even resent buying cheap ones, as I know that within a month, they will be history. Trust me, if you buy a girl a spare pair of sunglasses for her trip, she will thank you forever. I love these ones in particular as they're so over the top.
Sarongs are a lifesaver when travelling as they are so multi-purpose. Not only can they be used as a cover-up and beach towel, but I also use mine as a regular towel (lightweight and fast-drying), and even as a blanket sometimes when the bus driver cranks the air-con up too far.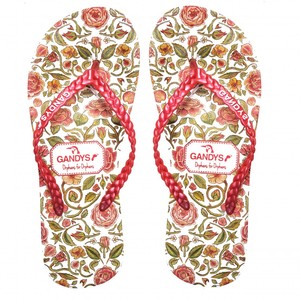 Tsunami Kids tells the true story of Rob, Paul, Matty and Rosie Forkan, who tragically lost their parents in the 2004 Boxing Day Tsunami, and subsequently had to trek 200km across the decimated country of Sri Lanka to get to safety. In the years following the tsunami, Rob and Paul created a multinational brand, Gandy's Flip Flops, that donates 10% of the profits from every pair of flip flops sold to children deprived of education, nutrition and medication.
Both the book and the flip flops make great standalone unique travel gifts, but it's also a great idea to combine the two (as my Auntie did for me one year). I can personally vouch for the flip flops being a much higher quality than the cheap pairs that I usually buy, and how pretty are the designs?! Tsunami Kids and Gandy's Flip Flops make perfect gifts for travellers with a conscience.
Travel pillows are a gift that just keeps on giving. They make long journeys so much more bearable, and I love the unusual galaxy design on this one.
Portable speakers are a great gift idea for any traveller as they will make your friend the most popular person in the hostel. Whether they're hanging out in the park on a sunny day, chilling at the beach, or pre-drinking in the hostel's common room, portable speakers with bluetooth will turn (almost) any situation into a party.
Ah, smartphones and their ridiculous battery lives. There is nothing worse than downloading a tonne of podcasts and creating a cracking Spotify playlist for that 12 hour train journey, only for your phone to die after 2 hours, leaving you with nothing but a book that you've read 3 times and your sleeping neighbour for company. With a portable charger, these predicaments are a thing of the past and are a true travel essential.
Ah, Kindles. As an avid book reader (and English Literature graduate, ahem), I used to hate Kindles with a passion. I love nothing more than a real book that I can hold in my hands, scribble in the margins of and turn over the corners. One of my biggest passions is buying books (seriously, you should see my collection). However, I have begrudgingly come to admit that Kindles are more practical for travellers like me. They are lightweight, can store hundreds of books on them, and you can even purchase more books instantly (providing you have an internet connection). If the woman in your life loves books as much as I do, but doesn't yet have a Kindle, then this will be a priceless gift for her.
It almost goes without saying, but headphones are another travel essential. I love my pink Skullcandy headphones, because not only are they cute, but they're also super high quality and really durable. I've lost track of the times that they're been tangled, squashed and dropped, and they've worked for me for years.
It's a little on the pricey side, but this eyebrow kit is something that has saved my skin on many occasions while I've been travelling. Everything that you need for perfect brows is contained neatly in this adorable pink case, from powder and tweezers, to brow gel and stencils, and really, who can put a price on good eyebrows?!
Before you judge me too harshly for including two  brow products, hear me out. It isn't necessary to carry around the JAPONESQUE brow kit and WUNDERBROW (although I do, shoot me), but between them, they make life a lot easier. WUNDERBROW will stay put for days. You can shower, swim, work out, whatever the hell you like, and this stuff will not budge an inch. I personally love WUNDERBROW because I'm lazy and it makes my daily makeup routine a hell of a lot quicker. As with the JAPONESQUE kit, it's a little expensive, but my god it's worth it.
What's better than something that makes your skin feel nice and smell nice? SOMETHING THAT KEEPS MOSQUITOS AWAY. I don't think that this stuff was even intended to be a repellent, but sweet Jesus, it works far better than DEET, smells nicer, and is a lot less harsh on the skin. I fully credit this stuff with saving me from Dengue fever in Cambodia and for the price, it would be rude not to buy it.
Backpacking doesn't necessarily mean you have to ditch your glam lifestyle. It just means that you have to get a little organised. This jewellery case will let you take all your bling (I'm still stuck in 2000, and what?), with you, without it getting lost or all tangled up in your makeup bag.
People scoff at bum bags but I LIVE for them. Not only do they make it pretty difficult for somebody to pickpocket you, but you don't have to worry about carrying a bag around while you're out dancing because all that you need will be strapped to you!
I understand the geeky reputation that bum bags have, but a cute studded one like this is fashionable and practical, which is a win-win IMO.
Not only are these floral packing cubes so cute, but they make organising a bag soo easy. You just pop your undies in one, tops in another, skirts in another, and so on. With packing cubes, backpackers can wave goodbye to endless rummaging around in the dark and say hello to a much easier way of travelling. Packing cubes may seem like a pretty boring gift idea, but every traveller will thank you if they find these under the tree.
Perfect for the first-time traveller, this handy illustrated guide shows readers how to plan strategically for every kind of trip, complete with trip-specific packing lists, tips for narrowing down your wardrobe, as well as the age-old question – are all those shoes really necessary? 
Not only are these straightening irons teeny tiny (leaving more room for everything else, yay), but they are also rechargeable, meaning that you don't always need access to a plug socket in order to look hot (and trust me, plus sockets can sometimes be hard to come by). Straighteners might be seen by some backpackers as too much of a luxury item, but after 18 months with frizzy hair in Asia, I promised myself that I'd never be without my straighteners as long as I'm travelling around Europe, and it's not a decision that I've regretted.
I think that every traveller is obsessed with maps. I wouldn't even like to imagine how many hours I've spent staring at world maps and dreaming about all of the far-flung places that I have yet to visit. They may not be the most unique travel gifts but maps are a great way to spark wanderlust, plan routes and learn from, and if you buy your traveller friends a world map for their bedroom walls, I guarantee that they will love you forever (well, maybe).
I've played this little game at several hostels, and it makes a nice from the standard hostel card games (which, as much as I love, can get a little old). As the title suggests, this game is travel specific, compact, and perfect for breaking the ice with fellow travellers.
Just like world maps, travel books are every backpacker's friend, and Lonely Planet is the Don of travel books. Lonely Planet's Best in Travel 2018 is guaranteed to inspire your loved ones to take another trip and includes best value destinations, top vegetarian and vegan destinations, best places to stay and best places for cross-generational family trips. Even the most seasoned traveller will find something to add to their travel bucket lists within the pages of this book.
If you know someone that dreams of travel but hasn't yet saved enough cash to take the first step, then this cute little money box is a thoughtful little gift that will remind them to save every little penny for their trip. I love throwing my small change into money boxes and watching it build up into bigger sums that I can then deposit into my bank. As Tesco would say, every little helps. 
These coasters are an affordable little gift, and while they may not be the type of thing that your friend can take on their travels with them, they still send the message that you understand their love of travel and took the time to buy them something personal.
A St. Christopher's pendant is perhaps one of the nicest gifts that you can buy for a traveller. St. Christopher is the patron saint of travellers, and this particular pendant comes with a prayer engraved on the back – 'God protect us as we travel, by air, land or sea. Keep us safe and guide us, wherever we may be.' Whether or not you're religious, you can't deny that this is a beautiful sentiment and is the perfect way to show a family member that she is always in your thoughts as she travels.
So, there we have it! My 30 unique travel gifts for girls!
If the girl you're buying for also happens to be a bookworm then be sure to check out my 10 must-read books about women's rights as well!
Do you have any other ideas for unique travel gifts? Please let me know your suggestions and thoughts in the comments section below!
(Disclaimer: this page uses affiliate links. This means that if you purchase any of the products that I have recommended, I may make a small commission at no extra cost to you!)