Horwood House is a Grade II listed manor house in Little Horwood, Buckinghamshire.

Until recently, it had been neglected, in need of a little TLC, and its recent £6 million renovation provided exactly that while still preserving the original features of the manor house itself.

This past week, I travelled down to Milton Keynes with my friend Illy to enjoy a countryside escape. Our stay provided us both with a much-needed excuse to catch up on gossip, gain an extra 5 kilos, and get away from the hustle and bustle of daily life.

(I was invited as a guest of Horwood House, meaning that my stay was complimentary. All opinions shared are my own. )

Here's my Horwood House review.



Horwood House Review – A Milton Keynes Spa Hotel


Horwood House at a glance


Horwood House is about a 20 minute drive from Milton Keynes Central Railway Station (or a £20 taxi), in the village of Little Horwood.

It is a Milton Keynes spa hotel that also caters to corporate events, families, and locals looking for an escape from the city and a little R&R.

The grounds are a series of formal gardens which include a walled courtyard, lilypond, and large open spaces (you may even spot a rabbit if you're lucky like us!).

There's also the brand new H Spa, gym, and contemporary restaurant called Harry's Bar & Kitchen.



The Vibe


Horwood House itself is stunning.

It employs the popular 19th century Arts and Crafts style throughout, with the Manor House Suites all boasting grand bay windows, country chic furnishings, and opulent bathrooms with gold taps and twin sinks.

The formal gardens are also examples of the Arts and Crafts style, and for any cottagecore lovers out there, you'll feel right at home strolling by the lilypond or enjoying a drink at the Manor House bar.

Unfortunately, we didn't get to have a nosy around the Manor House due to a private corporate event being held during our stay, and so our experience of Horwood House was limited to the modern building next door.

Luckily, this is where most of the facilities are, so aside from not being able to live out our Lady of the Manor fantasies, we could indulge in everything else the hotel had to offer.



The Rooms

The modern building is where most of the rooms at Horwood House are, including the Hotel Executive Suites, which is the room type that we both enjoyed.

The Executive Suites have a lounge area with a desk, TV, and seating area, and a separate bedroom. There wasn't much room to walk around the king size bed, but it was suuuper comfortable, and I really didn't want to get up when my alarm went off!

There was also a Nespresso machine, as well as Cadbury's hot chocolate sachets, various teas, and biscuits which I may have slipped into my bag for later!

At the time of writing, Executive Suites start at £196, based on two people sharing with breakfast included.



The Spa


I'm sure that many people reading this are on the hunt for Milton Keynes spa breaks, and if that's you, you're in luck because Horwood House has H Spa, with a 15m pool, sauna, steam room, and fully-equipped gym.

You don't have to stay at the hotel to use the facilities or become a member, but if you are staying at the hotel, you can certainly indulge!

We didn't actually end up going to the spa – we weren't told about it at check-in, so we only realised it was there when we saw the sign, by which time we'd already made plans for the afternoon (see below!).

However, if you do have time to use the spa, you definitely should because it sounds great!



Dining


Afternoon Tea


Shortly after check-in, we arrived at Harry's Bar & Kitchen in the modern part of the hotel for our Afternoon Tea (£35 pp), which we were both really looking forward to.

We had the place almost to ourselves which was nice, and after being seated, we had about 25 minutes to wait for the food to arrive, which we spent gossiping and enjoying a glass of Prosecco.

Now, I don't have much of a sweet tooth, but even I appreciated the edible glitter and decorative flowers on the cakes! We didn't have a menu so I'm not sure exactly what the cakes were, but they tasted great!

We also got 4 large scones with ample amounts of jam and clotted cream, finger sandwiches (cucumber and cream cheese, egg mayo, and smoked salmon with cream cheese), and a cheese and onion quiche.

Unfortunately, the servers forgot to bring our tea (!), but we asked for some at the end and the server was very apologetic, immediately bringing over a coffee for me and a pot of Earl Grey for Illy.

We could have asked for it sooner and enjoyed it with our food, but to be honest, we were too busy trying all the cakes to care!



Dinner at Harry's Bar & Kitchen


Just a few hours after Afternoon Tea, we returned to Harry's Bar & Kitchen for our 7pm dinner reservation – I'd be lying if I said either of us were hungry, but having seen the menu, there was no way I was going to miss out on dinner!

We ordered a bottle of house white wine, and our server, Simon, ensured that our glasses were always topped up (shoutout to Simon BTW – he was great, and so funny).

To start, we ordered two small plates and shared – a benefit of going to eat with someone who has the exact same tastes as you!

We went for crispy beef croquettes with smoked garlic aioli (£5.50), and fried calamari with Sriracha mayonnaise (£9.50).

We thoroughly enjoyed both, and having lived in Valencia for over a year, I was delighted to be re-acquainted with beef croquettes, a Valencian tapas favourite.



For mains, Illy ordered the 10oz aged pork chop with apple and mustard chutney, Cajun fries, and watercress salad (£18), and I decided to go for the 10oz rump steak with grilled tiger prawns, Cajun fries, and watercress salad (£35, or £23 without the prawns).

The pork chop was huge (Illy's face when it arrived was a picture!), and my steak was rich and succulent, with the charcoal grill really adding to the flavour.




I was too stuffed to order dessert, but Illy ordered some kind of chocolate fondant with salted caramel ice cream, and having had a taste (for research purposes, I swear!), I can confirm that it was delicious.

We were enjoying our evening so much that before we knew it, 7pm had become 11, and we hastily made our way to bed!



Breakfast at Horwood House


Breakfast at Horwood House is also in the modern part of the hotel but in a different restaurant, this one with the name 1911.

The breakfast buffet is served from 7:00 – 9:30 on weekdays, and 7:30 – 10:30 on weekends.

It consists of everything you need to make a traditional English breakfast (meat and veggie sausages, golden hash browns, greasy bacon rashers, baked beans, scrambled and fried eggs, and fried mushrooms), as well as plenty of cereal, cakes, pastries, and other continental options.

There's also a coffee machine that makes a mean cappuccino.

I really enjoyed breakfast at Horwood House, and even though we didn't arrive until about 9:15, the food was still plentiful and hot (unlike many other hotels I've stayed in!).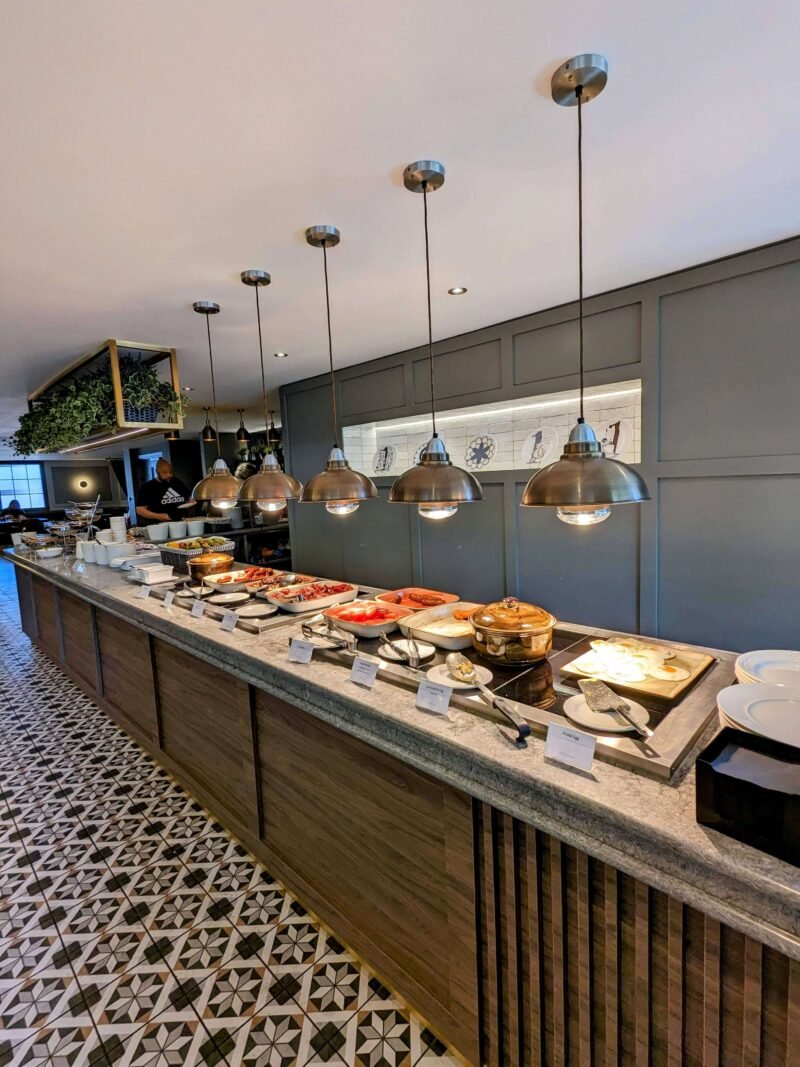 Horwood House Review | Final Thoughts


If you're looking for a country house hotel in Buckinghamshire, Horwood House has got you covered.

Whether you're after a Milton Keynes spa break, a romantic getaway, or a girlie staycation like me and Illy, you can find what you're looking for here.

Below you can find the current rates and reviews of Horwood House Hotel on both Booking and Expedia.



That's about all I've got for today, but as always, if you have any questions then don't hesitate to reach out in the comments section below and I will get back to you!

Until next time,

XOXO


If you liked this article and would like to support my work, please click the button above to donate a couple of bucks and buy me a coffee. The ad revenue that I receive on this website is minimal, so support from my readers enables me to keep creating content that you (hopefully!) love to read.

Disclaimer: My stay at Horwood House Hotel was complimentary. This blog post also contains affiliate links, meaning that I may make a commission at no extra cost to you if you make a purchase after clicking on those links.