If you're wondering what to eat in Greece, you're not alone.

I visited Greece for the first time this month, and one of the things I was most excited to discover was the food.

Greek cuisine truly has something for everyone – from sizzling skewers of grilled meat to stuffed vegetables, freshly-baked pita dipped in garlicky tzatziki, and Greek salad topped with salty goat's cheese and drizzled in olive oil, you really can't go wrong eating in Greece.

Naturally, what to eat in Greece will differ depending on where you go – for example, the islands are famous for their seafood – but there are some Greek food staples that you really shouldn't miss when visiting Greece, and this Greek food guide includes all the very best traditional Greek dishes that you have to try.

So, I hope you're not hungry, because by the time you've finished this Greek food guide, you're going to be desperate to sample as much delicious Greek grub as you can get your hands on.

Here's what to eat in Greece.



What to Eat in Greece – The Ultimate Greek Food Guide


Greek food at a glance


Many people associate Greek food with meat, specifically grilled skewers of lamb, chicken, beef, and pork.

While Greeks certainly do love their grilled meat, the geography of Greece means that actually, seafood is super popular here as well, and you'll often find grilled sardines, octopus, and fried calamari gracing the menus of traditional tavernas across the country.

You'll also find lots of vegetables in Greek cuisine, often stuffed with rice (and more vegetables!), and grilled.

Over the years, Greek food has been influenced by Middle Eastern cuisine, Italian cuisine, and, of course, the Ottomans.

Greek dishes are always packed with flavour and are made using fresh local ingredients, such as Mediterranean vegetables, local olive oil, cheese, and yoghurt.



Key ingredients in Greek cuisine


Olives


I recently spent some time in Kalamata, home to the most famous olives in the world, and trust me when I say that Greeks are very passionate about their olives.

I was lucky enough to go on a tour of a family-owned olive oil mill, and our guide joked that every Greek has at least 300 olive trees, and everyone believes that their olives are the best in Greece.

The famous Kalamata olives are black, but much juicier and sweeter than black olives you may have tried from elsewhere.

With that being said, olives are great all over Greece, and you'll be hard-pressed to find a meal that doesn't begin with some olives for the table.



Olive oil


One thing you must know about Greeks is that they love olive oil.

While many people associate quality olive oil with Italy, Greece actually produces a tonne of olive oil (75% of which is extra virgin), and often exports its oil to Italy!

Olive oil is generally used to dress salads, and you will often find it on restaurant tables, ready to drizzle on hunks of crusty bread.

Fun fact: while the average American consumes 1L of olive oil per year, the average Greek consumes 20L!



Cheese


Everybody knows about feta cheese, but did you also know that pretty much every Greek island makes its own cheese, that you can usually only buy on the island itself?

According to Ancient Greek mythology, Aristaios was sent by the gods to bestow the gift of cheese making onto the Greeks, which may help to explain the fact that over 60 types of cheese have been recorded in Greece, and every region is very particular about how their cheese should be made!

Many Greek cheese are crumbly, hard and salty, although you can find some softer yellow cheeses such as kasseri.



Eggplant


From stuffed eggplant to eggplant dip, layered eggplant in moussaka, grilled eggplant, eggplant fritters, and so much more, you can't fail to notice how popular this humble vegetable is in Greek cuisine!

While I'm not usually a huge fan of eggplant, I have to admit that I was surprised by how delicious many of the eggplant dishes were that I tried in Greece!



Lemon


While many people are familiar with using lemon to season seafood, the Greeks squeeze lemons over everything!

From grilled chicken to chunky chips (fries), you'll often be served your meal with a fat wedge of lemon on the side!



Oregano


This is another Greek staple when it comes to seasoning dishes.

Although Greek food incorporates a multitude of herbs and spices, oregano is a definite favourite, and is the herb of choice for seasoning Greek salads.

Something I particularly loved was that Greek fries usually come tossed in salt and oregano, which was a game changer for me!



Pita bread


Pita bread really needs no introduction, as I'm sure you're all familiar with this flat, round bread, but just know that if you visit Greece, you will not be able to get away from pita!

Usually pita bread is served complementary in tavernas, and you can pay a little bit if you want extra.

It can be used for wrapping up your souvlaki, mopping up olive oil, or dipping into meze staples such as tzatziki.



Traditional Greek Dishes


Gyros


Gyros is one of the most famous Greek foods on this list, and if you're wondering what to eat in Greece on a budget, you can't go wrong with gyros.

The meat (usually pork, but sometimes chicken), is cooked on a vertical rotisserie (like Doner meat), and stuffed in pita bread, along with French fries, tomatoes, onions, and tzatziki.

Gyros are typically eaten as a street food the go (in Athens, you can expect to pay around 3 EUR), although you can also get them in restaurants.

If you order gyros in a restaurant, you can expect to get all of the ingredients stacked on top of a flat pita bread rather than in wrap form.



Moussaka


Moussaka is probably the most famous Greek dish there is!

Moussaka is a layered eggplant (aubergine) casserole made with a tomato meat sauce and topped with a thick coating of béchamel.

It is seasoned with cinnamon, nutmeg, paprika, and oregano, and is a very filling dish, so be careful not to load up on appetisers if you're ordering moussaka!



Souvlaki


Another one of Greece's most famous foods, souvlaki are skewers of grilled meat (pork, chicken, beef, or lamb), that can be served either on the skewer, or wrapped in a pita, similar to gyros.

Unlike the meat in gyros, which is cooked vertically and resembles Doner meat, souvlaki meat is small cubed meat that is grilled.

In a restaurant, you can typically order a simple souvlaki for a couple of euros (which will come served with a side of pita), or as a 'portion,' which will come with fried potatoes, salad, tzatziki, and bread.



Pastitsio


Pastitsio is a less famous Greek dish (at least, I'd never heard of it before visiting Greece!), that can be thought of as a Greek lasagne, or as a kind of moussaka that replaces the eggplant with pasta.

This baked pasta dish consists of layered pasta noodles and ground beef seasoned with cinnamon and cloves, held together in a tomato sauce, and topped with a generous portion of béchamel sauce and a sprinkle of nutmeg.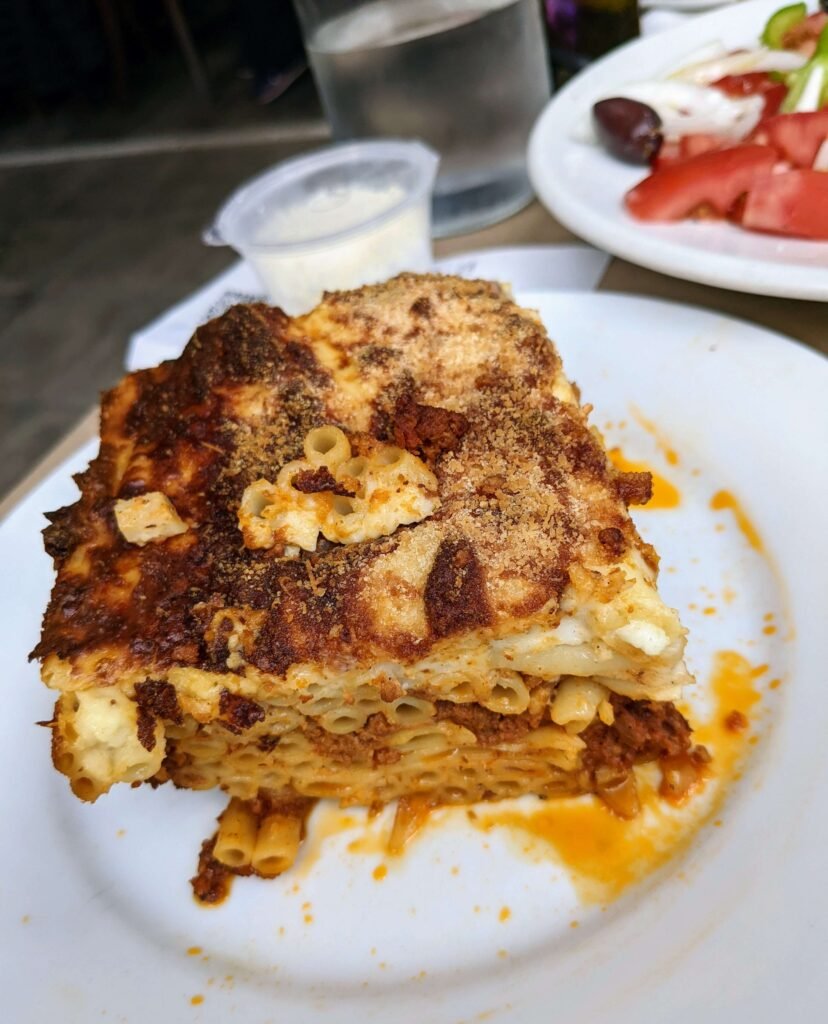 Grilled sardines


While certainly not unique to Greece, grilled sardines with olive oil and lemon are a summertime favourite in many of the tavernas that line the Greek coastline.

Grilled sardines can be enjoyed either as a starter (as part of a larger seafood meze), or as a main dish.



Shrimp saganaki


Imagine big juicy shrimp, cooked in a garlicky tomato sauce with chunks of salty feta and a dash of olive oil – are you drooling yet?

Shrimp saganaki was one of the first Greek dishes I tried in Kalamata, and while I wasn't exactly sure what I was going to get, I certainly wasn't disappointed.

Shrimp saganaki is usually enjoyed as a starter and served with hunks of crusty bread to mop up the sauce – yum!



Yogurtlu


While technically yogurtlu is a Turkish dish, the Ottoman influence on Greek cuisine means that you can find yogurtlu in tavernas all over Greece.

I can't speak for the yogurtlu you'll find in Turkey, but in Athens I had a delicious portion of yogurtlu that consisted of toasted pita bread, topped with grilled lamb kofta, a big dollop of Greek yogurt, and a sprinkling of paprika.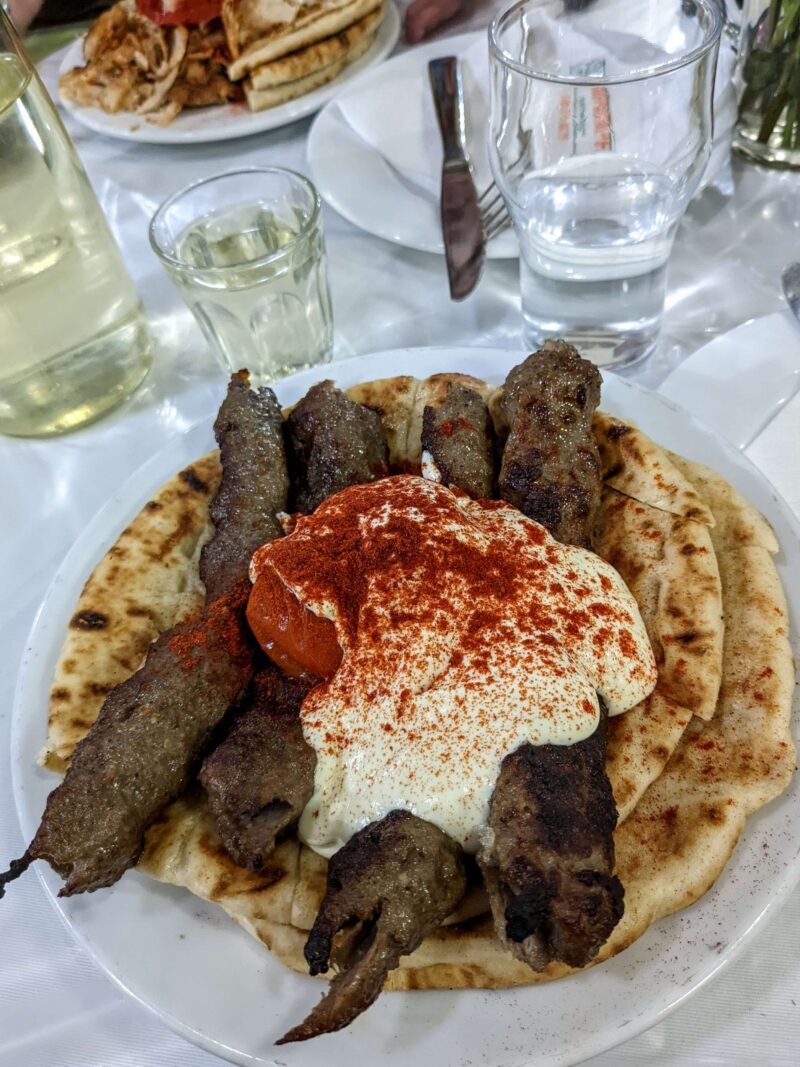 Bakaliaros Skordalia


If you're wondering what to eat in Athens and are craving a good old-fashioned fish n' chips, Bakaliaros Skordalia might just scratch the the itch!

While it is typically eaten on the 25th March (Greek Independence Day), you can still find Bakaliaros Skordalia on restaurant menus around Greece.

This dish is made by frying salted cod coated in beer batter (the bakaliaros), and serving it with a side of incredibly garlicky potato puree that is more like a dip than mashed potato (the skordalia).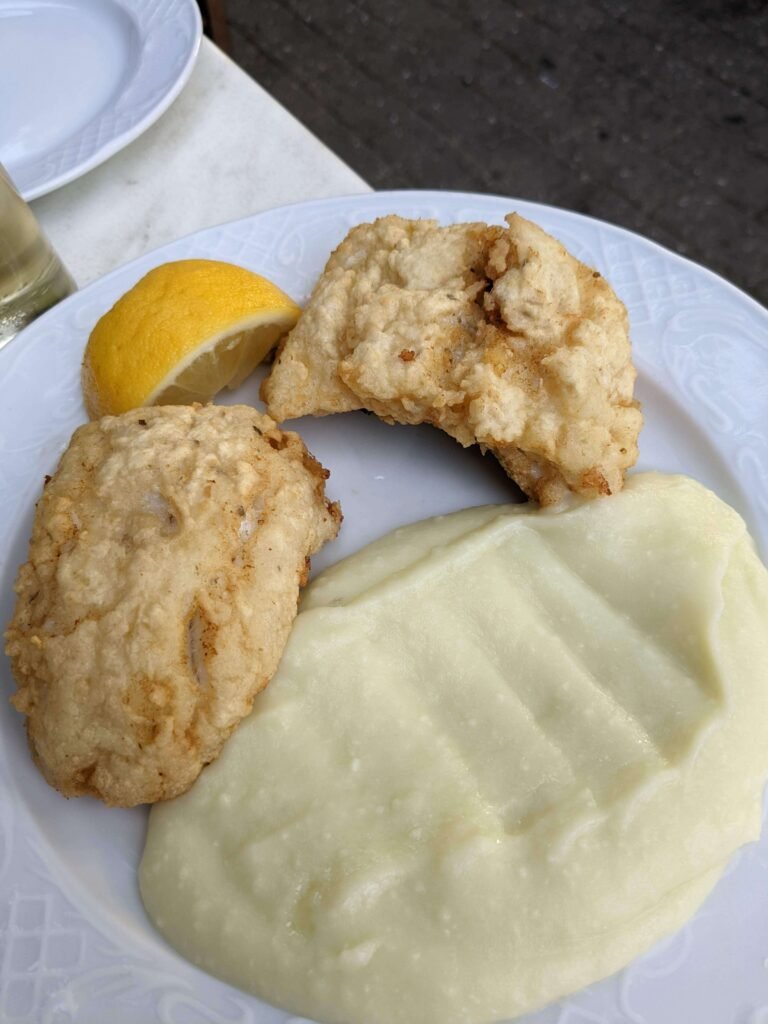 Grilled octopus


Another simple yet delicious dish you can find in tavernas all over Greece is grilled octopus, seasoned with salt and pepper, garlic, fresh parsley and dried oregano.

It is served drizzled with high quality olive oil and a fat wedge of lemon.



Kalamarakia Tiganita


Fried calamari in greasy batter, salted, and with a generous squeeze of lemon, is another dish you'll find on menus all over Greece!

I lost count of the amount of times I had this during my 2 weeks in Greece, and I was never disappointed!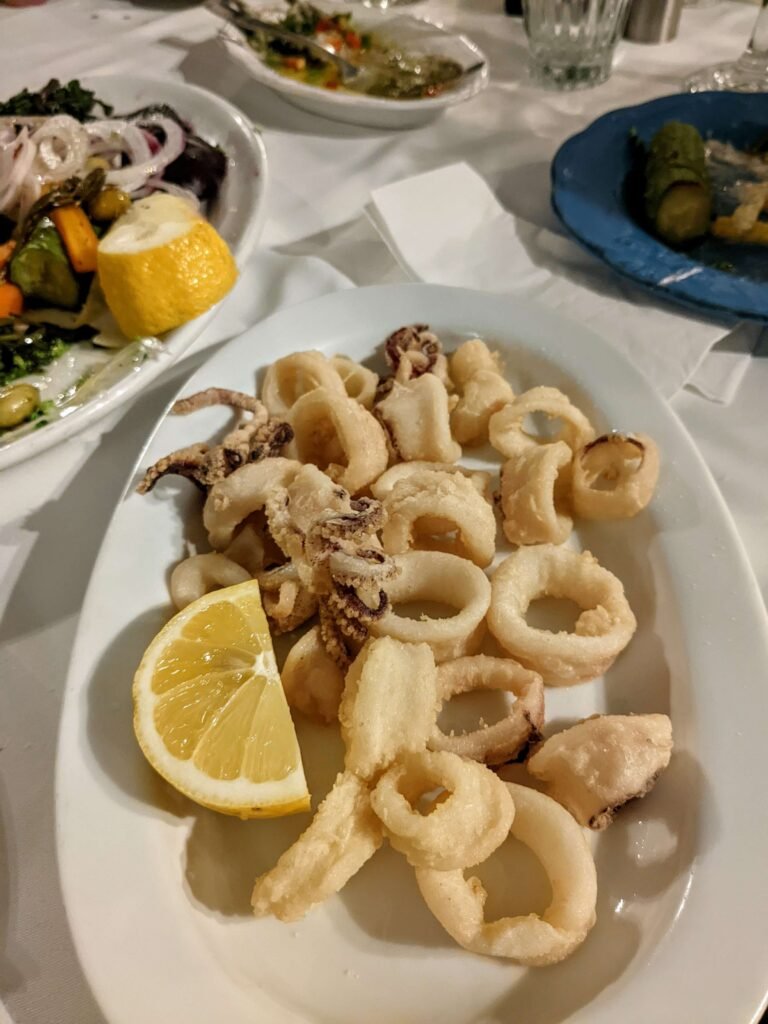 Taramasalata


Taramasalata is a creamy Greek dip that you'll usually find in meze platters with lots of pita bread.

It is made from salted and cured fish roe (cod, carp, or grey mullet), mixed with olive oil, lemon juice, and a starchy base of stale bread or mashed potatoes.

The taste of fish is very subtle, and it's almost like a fish-infused mayo (?!).



Melitzanes Papoutsakia


The word 'papoutsakia' actually means 'little shoes,' which is what this adorable Greek dish takes its name from!

The traditional melitzanes papoutsakia is eggplant stuffed with meat sauce and topped with béchamel and a hard, salty cheese, although we had a lovely vegetarian version stuffed with cheese, mushrooms, onions, and peppers.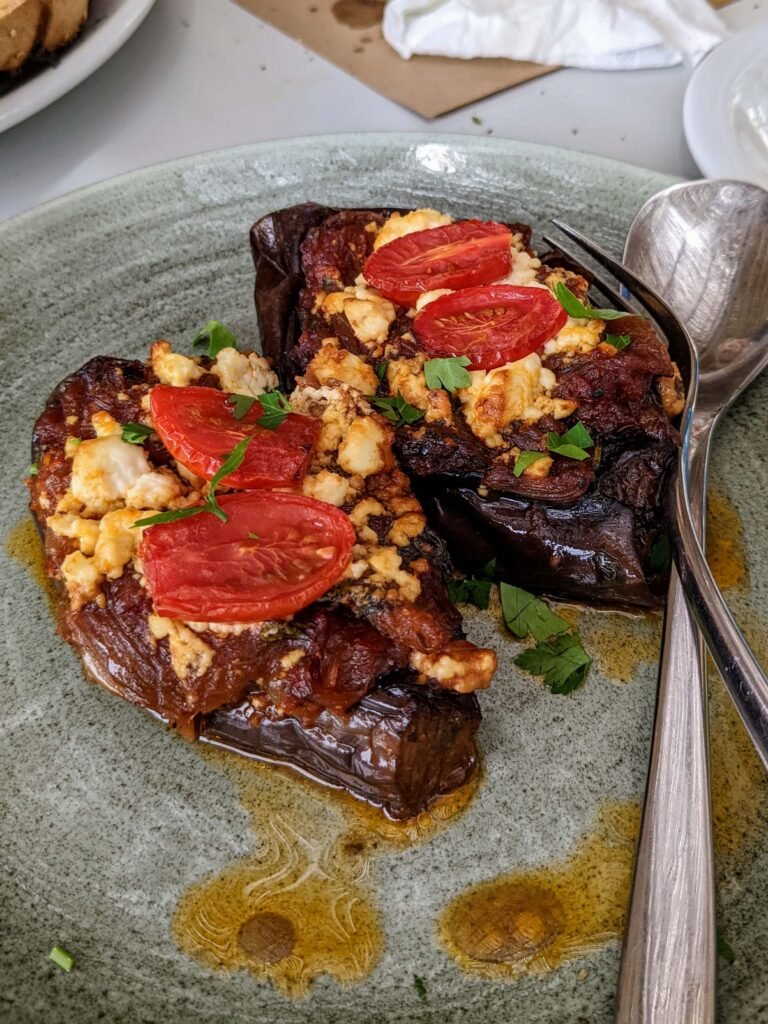 Vegetarian Greek food


Greek Salad (Horiatiki)


I'm sure most people reading this have eaten Greek salad before, but trust me – until you've had a Greek salad in Greece, you've not had a Greek salad.

Roughly chopped tomatoes, cucumber and red onions are thrown together, along with a sprinkle of olives and a gigantic slab of feta cheese, drizzled with (you've guessed it) extra virgin olive oil.

The beauty of this salad is the freshness of the ingredients and the simplicity of the dressing (olive oil and oregano, sometimes with salt).



Saganaki


Ahh, the ultimate guilty pleasure!

Saganaki is a slab of cheese, tossed in flour and fried. The end result is crispy on the outside, and melty on the inside, and it's a greasy, salty, cheesy dream.

Saganaki is a typical starter, to be enjoyed alongside meze dips, salads, and other appetisers.

The name saganaki comes from the pan used to fry the cheese, which is called a saganaki or sagani.



Cheese pie


In bakeries all over Greece, you will find various 'pies,' which are not like an English pie at all, but rather like burek, a traditional Balkan pie.

Tiropita is made with layers of flaky phyllo pastry stuffed with feta cheese, baked until golden brown and cut into triangular shaped pieces that are perfect as a snack on the go or a quick lunch.



Spinach pie


Spanikopita is the name given to spinach pie, another traditional Greek pie made with phyllo pastry and stuffed with – you've guessed it – spinach, as well as feta cheese.

Served as a starter, snack, or quick bakery lunch, you will find spinach pies all over Greece (and I have to admit, my 2 weeks in Greece left me never wanting to see a spinach pie again!).



Tirokroketes


Tirokroketes are a very popular meze dish, and you can find them in almost any taverna in Greece.

Tirokroketes are cheese balls, made with 3 different types of cheese (feta, graviera, and gouda), coated in cheesy breadcrumbs, and fried until golden brown – mmm!



Tomatokeftedes


Tomatokeftedes, or tomato fritters, are most popular on the islands of Santorini and Syros, although I was delighted to find them in Athens as well!

While common on meze platters, you can also order tomatokeftedes as a starter, to be served alongside pita bread, or as a side dish to accompany your main.

The crushed or pureed tomatoes are fried until crispy in oil, sometimes also with feta, oregano, zucchini and onion.



Kolokythokeftedes


Even better than tomatokeftedes (in my humble opinion), are kolokythokeftedes, or zucchini fritters.

Made with zucchini, feta, and tonnes of fresh herbs such as mint and dill, zucchini fritters are the perfect summertime dish.



Tsouhti


Tsouhti is a pasta dish that originated on the Mani peninsula, which was where I tried it.

Tsouhti was originally a peasant food, made from necessity when all the crops were gone and all people had was dairy products, oil, and eggs (and no refrigerators to keep them fresh!).

The pasta is cooked, tossed in melted butter and olive oil, sprinkled with grated mizithra cheese (a hard cheese similar to Pecorino Romano), and topped with a fried egg.

It's simple, but it's comfort food at its finest, and is especially good during the winter months.



Yemista


Yemista are stuffed tomatoes or peppers, and make a great main dish for vegetarians (although occasionally they are stuffed with meat, so be sure to double check before you order!).

They are usually stuffed with rice, vegetables, cheese, and a tomato-based sauce, as well as a myriad of herbs and spices – there are so many variations of yemista, that it wouldn't be much of a stretch to say that every household has their own version!



Dolmades


Dolmades are grape leaves that are stuffed with herbs, rice, and onions, and folded into tiny little parcels.

While this dish is traditionally vegan, sometimes the leaves are also stuffed with minced meat, so make sure to ask before you order!



Tzatziki


Even if you have no clue what to eat in Greece, I'm sure you'll be familiar with tzatziki, an incredibly popular dip that is typically served as an appetiser that makes up a meze.

Like many other things on this list, there are endless variations of tzatziki, but the traditional version is made with thick strained yoghurt, cucumber, garlic, lemon juice, salt, and dill.



Melitzanosalata


Melitzanosalata is referred to as a salad, but it's really more of a dip, specifically a very garlicky eggplant dip.

While I'm generally not a fan of eggplant, I couldn't get enough of this dip when I was in Greece, although you must be warned – when I say that melitzanosalata is 'very garlicky,' I truly mean it!!



Greek desserts


Baklava


Now, I have to admit that before writing this article, I thought that baklava was originally Turkish, and when I went to double check, I fell down a massive rabbit hole, and now I don't know whether baklava comes from the Ottomans, Ancient Greeks, or somewhere else (there's a fascinating article about the 'Baklava Wars' here, if you're interested).

However, what I do know is that Greeks consider baklava to be Greek, and you can find it everywhere in Greece, so therefore it deserves its place on this list!

In case you don't know, baklava is an incredibly sweet dessert made from layers of flaky phyllo pastry that is filled with chopped nuts and sweetened with honey or syrup.



Loukoumades


Often referred to as 'Greek doughnuts,' loukoumades are bite-sized pieces of fried dough that are sprinkled with syrup, walnuts, and cinnamon.

The best loukoumades are crispy on the outside and fluffy on the inside, and served piping hot straight from the fryer.



Yiaourti Me Meli


Greek yoghurt with honey and walnuts is a delicious and healthy dessert and popular breakfast.

Packed with protein and carbohydrates, it's a great start to the day, as well as being perfect for anyone with a sweet tooth!



Galatopita


Often translated as 'milk pie' by locals, galatopita is what I would call a 'custard pie.'

Whatever you want to call it, this creamy pie is made with milk, semolina, eggs, sugar, and butter, and often topped with a little bit of honey and/or cinnamon.



Pasteli


Pasteli is an Ancient Greek snack that warriors or Olympic athletes would eat for energy – you can think of it as the world's oldest energy bar!

Pasteli is made by pressing sesame seeds and honey into a bar, and it is still a common snack in Greece today, although it is generally seen as a candy rather than something to consume before going into battle!



Revani


Revani is another sickly-sweet Greek dessert made from semolina sponge soaked with a sugar or orange syrup.

Served cold and in small cube-shaped portions, revani is a light but incredibly sweet dessert, so one is often enough!



Greek drinks


Ellinikos Kafes


Ellinikos Kafes is Greek coffee, and you may also know it as Turkish coffee, Serbian coffee, Albanian coffee…you get the gist.

Coming from the Ottomans, this type of coffee is a very strong coffee that is brewed on the stove in a special brass pot, called a briki.

It is always served black, and with the grounds in the bottom of the cup, and sugar is added during the roasting process rather than after.

You should take your time to savour this coffee, and it is usually served with a glass of cold water on the side.



Frappe


Another popular Greek coffee is a frappe, a frothy iced coffee that is the perfect caffeine hit on a Greek summer's day!

It is made with instant coffee (Greek Nescafe, if you can find it), sugar, milk, ice, and water, all shaken vigorously together to create a foamy drink, similar to whipped cream coffee.



Ouzo


Ouzo, a liquor with a distinct anise flavour, is crafted from grape must, which is the residue left after wine-making.

No other beverage holds such a distinctive association with Greek culture as ouzo does, and it is deeply intertwined with the Greek way of life.

Ouzo is certainly not for the faint-hearted!



Tsipouro


Even more hardcore than Ouzo (in my opinion!), Tsipouro is a distilled spirit that is similar to Italian grappa Balkan rakija.

Tsipouro is usually enjoyed as an aperitif or a digestif in Greece, and it is often served neat in small glasses.

Just like rakija, Tsipouro holds cultural significance in Greece, with many families and communities having their own traditional production methods and recipes passed down through generations.



Greek food FAQs

Is Greek food vegetarian-friendly?
There are lots of vegetarian dishes in Greece. Some great veggie options include spinach pie, cheese pie, stuffed eggplant, zucchini fritters, dolmades, yemitsa, and saganaki.
What is Greece's main dish?
Undoubtedly, the most popular and famous dish in Greece is moussaka.
What is a typical Greek breakfast?
A typical Greek breakfast usually consists of bread, pastry, fruits, and Greek yogurt, often with honey.
Is Greece expensive for food and drink?
Mainland Greece is very affordable for food and drink. Expect to pay no more than 12 EUR for a main course in a taverna, and no more than 5 EUR for half a litre of table wine.
Should you tip in Greece?
There is not a strong tipping culture in Greece, but these days, tourists are expected to tip. If you would like to tip, leaving some small change for your server is more than enough.
Can you drink tap water in Greece?
Always ask at your accommodation, especially if you are visiting a Greek island, but generally the tap water is safe to drink in Greece.

What to Eat in Greece | Final Thoughts


As you can see, the vibrant culinary scene of Greece is a must for foodies.

Greek cuisine offers a rich tapestry of flavours, and whether you're indulging in classic dishes like moussaka and souvlaki, or discovering lesser-known delicacies like spanakopita and papoutsakia, you're sure to be captivated by its simplicity, freshness, and the use of quality ingredients.

Dining in Greece is not just about the food itself; it's an experience of hospitality and togetherness, and this is what truly stood out to me during my time in Greece.

The warmth and generosity of Greek people, combined with the tradition of sharing meze, allowing the wine to flow, and listening to traditional music, create a wonderful atmosphere that makes every meal a special occasion.

That's about it for today, but as always, if you have any questions, please leave them in the comments section below and I will get back to you!

Until next time,

XOXO



If you liked this article and would like to support my work, please click the button above to donate a couple of bucks and buy me a coffee. The ad revenue that I receive on this website is minimal, so support from my readers enables me to keep creating content that you (hopefully!) love to read.


Disclaimer: Travelling Jezebel uses affiliate links. This means that if you make a purchase on a partnered site then I may make a small commission at no extra cost to you.