Last month I returned from an epic 10 days in Sri Lanka, and what a time it was!

I'd never been to South Asia before, and so when I was invited on a press trip to experience the highlights of Sri Lanka, I couldn't believe my luck – yes please!!

However, when I told people of my plans to visit Sri Lanka, reactions were mixed.

Some were jealous, telling me that Sri Lanka is among their favourite countries to visit, but others were less enthused, raising concerns about safety and asking me 'is Sri Lanka worth visiting?'

Well, after visiting countless ancient temples, white sand beaches, lush national parks, and rural eco-lodges, I can confirm that YES, Sri Lanka is absolutely worth visiting, and I can't believe I left it so long!

Not only can few places match the incredible diversity of Sri Lanka, but Sri Lanka is also safe, affordable, and completely lacking in crowds and overtourism.

Imagine the beauty, culture, and climate of Bali, only without the hordes of Instagrammers – yeah, that's Sri Lanka.

So, if you're curious about why you should visit Sri Lanka, or you're already considering it but need a little nudge in the right direction, you're in the right place.

Here are 18 highlights of Sri Lanka, which happen to double as reasons to book a flight there, like, now.



18 Highlights of Sri Lanka – Reasons Why You Should Visit Sri Lanka Right Now!

1. Sigiriya Lion Rock

The ancient rock fortress of Sigiriya is a UNESCO World Heritage Site and hailed at the eighth wonder of the world – definitely one for your Sri Lanka bucket list!

'Lion Rock,' which is the English translation of its name, was built by King Kasyapa I in the 5th century, and if you make the climb of over 1200 steps, you'll find some of the oldest landscaped gardens in the world at the top, as well as water pools where the King would watch his 500 concubines bathe and dance (presumably not all at the same time!).

Lion Rock takes its name from the fact that originally, visitors would enter the monument through a colossal lion's mouth that was sculpted into the rock face. Unfortunately, all that remains of the lion are its huge paws, but they're still very cool.

Also at Sigiriya Lion Rock are the Mirror Wall (a wall that was polished frequently so that the King could see his reflection), and erotic paintings of Kasyapa's concubines, known as the 'Sigiriya Ladies.'



Where to stay for Sigiriya

I stayed at Aliya Resort and Spa, which was just a 20 minute drive from Sigiriya Lion Fortress.

Aliya is a luxury eco-hotel with a huge infinity pool, excellent spa facilities (I got a full-body massage and it was amazing), several restaurants, and lots of activities on offer for guests.

The staff are also really friendly here, and I really can't recommend this place enough.



2. Nuwara Eliya

Situated in the heart of the hill country, Nuwara Eliya is known as the 'Little England' of Sri Lanka, and at 1890 metres above sea level, it is a cool escape from the heat and humidity of the rest of the country!

With colonial Victorian architecture, red phone boxes, rose gardens, and even a red-brick post office, it's not difficult to see why homesick British people loved it here!

Nuwara Eliya is also an important tea growing region, where you can visit tea plantations, stroll through rolling hills, and drink some of the best tea in the world!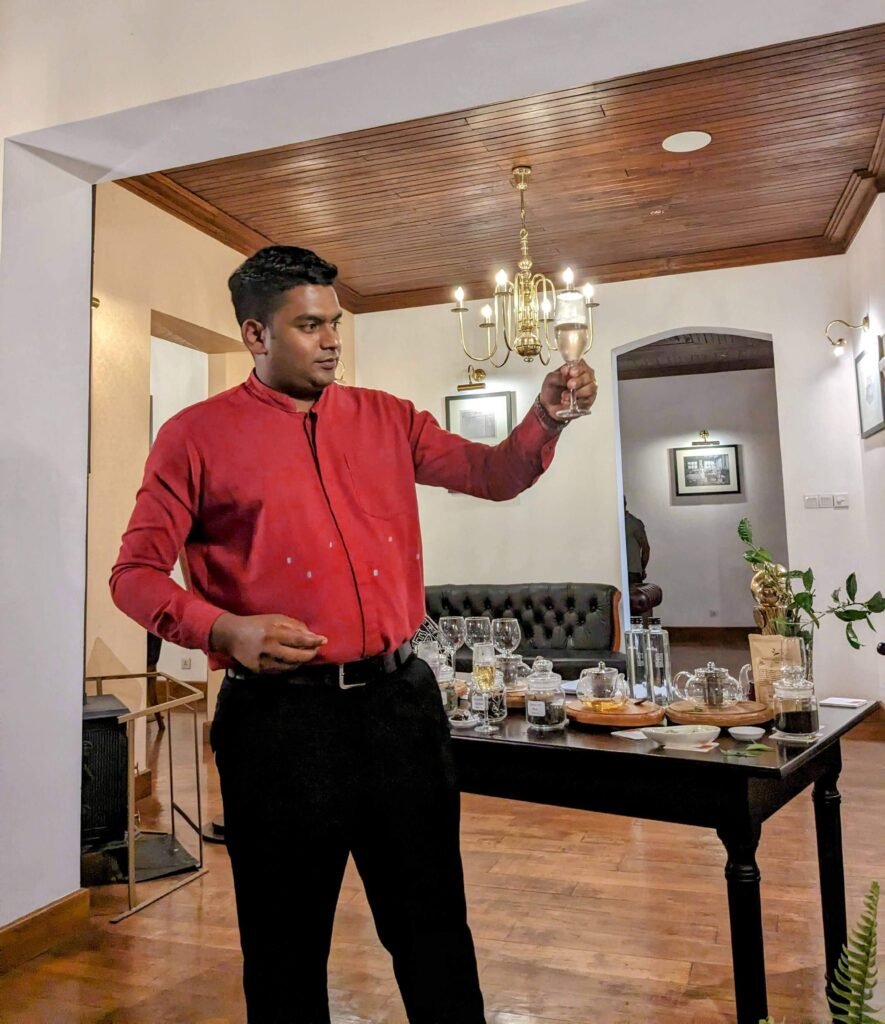 Where to stay for Nuwara Eliya

I stayed at Jetwing St. Andrews, a 5-star, Tudor-style colonial building.

With Chesterfield sofas, wood furnishings, and roaring fires, everything about St. Andrews is quintessentially English.

While you're there, you can enjoy high tea on the terrace, take your pick from the extensive wine list in the colonial-style bar, or even have a game of billiards in the dedicated, wood panelled billiards room!

Jetwing St. Andrews is just 5km from the centre of Nuwara Eliya, a short drive or tuk-tuk.



3. Hike the Pekoe Trail

The Pekoe Trail is a whopping 300km walking trail through the Highlands of Sri Lanka, and is one of the biggest highlights of Sri Lanka, if not the whole of Asia!

The Pekoe Trail is divided into 22 stations, with approximately 10-15km between each station.

As we were on a packed itinerary, we only did a few kilometres between Nuwara Eliya and Pedro's Tea Estate, but the views were comparable Ubud in Bali, only without another tourist in sight!

If you're interested in hiking the Pekoe Trail but don't fancy doing it alone, this guided tour of Stage 15 includes a picnic lunch and climb up Ella Rock.

For more information on all 22 stages of the Pekoe Trail, this guide is a great resource.



Where to stay for the Pekoe Trail

As the Pekoe Trail spans 300km, it all depends on where exactly you choose to hike!

We walked a section close to Nuwara Eliya, and so the Jetwing St. Andrews Hotel that I mentioned in the last section was perfect.



4. Tea plantations

Tea plantations are another of the highlights of Sri Lanka, which is actually the fourth largest producer of tea in the world, and the second largest exporter!

The tea plant was introduced in Sri Lanka back in 1867 by Mr. Jems Taylor, and Sri Lanka is also where Sir Thomas Lipton launched his tea empire! As a result, Ceylon tea (Ceylon is the former name of Sri Lanka) is among the most famous in the world.

There are lots of tea plantations and factories that you can visit in Sri Lanka, but we made a stop at Pedro Tea Estate in Nuwara Eliya.

Here, you can tour the tea factory (500 LKR/1.43 EUR), try your hand at tea plucking (1000 LKR/2.86 EUR), or simply enjoy a pot of tea overlooking the estate.

Pedro Tea Estate is 3.45km from the centre of Nuwara Eliya. A return tuk-tuk will cost just over a euro.



5. Poson Poya

If you're lucky enough to visit Sri Lanka for the June full moon, you will experience the Poson Poya festival, which is one of the most unique cultural experiences you can have in Sri Lanka.

Poson Poya celebrates the arrival of Buddhism in Sri Lanka over 2000 years ago, and is the second most important Buddhist celebration in Sri Lanka after Vesak.

Poson Poya Day commemorates the moment when Arahat Mahinda, son of Emperor Ashoka, converted King Devanampiyatissa to Buddhism.

We were in the town of Tissamaharama (usually shortened to Tissa) on the June full moon, and were lucky enough to watch the entire parade from Tissamaharama Stupa, complete with music, fire, traditional costumes, and dancing.

Pilgrims from near and far sit on the side of the roads, reserving their spots for the parade, free food and drink (non-alcohol) are handed out to all, and the air is pulsating with excitement.

Witnessing a Poson Poya celebration in Sri Lanka is one of the most unique things to do in Sri Lanka (or anywhere for that matter), and if you get a chance, you should absolutely go and watch.



Poson Poya elephants

I can't talk about Poson Poya without mentioning that elephants are featured in the Poson Poya parade.

Although Sri Lankans see their inclusion as honouring the animal (killing an elephant is punishable by death in Sri Lanka), Western travellers often have a different view.

The organisers of the parade assured me that the elephants are taken great care of throughout the year and are used to the noisy environment of the parades (therefore they are not distressed).

I didn't personally love seeing the elephants dressed up and being made to walk the city streets, but what I will say is that as this is a cultural rather than a commercial event, you will not be directly contributing to the elephant's captivity if you do decide to go and watch (unlike visiting the Tiger Kingdoms in Thailand, for example).

It just depends on you and what you're comfortable with.



6. Yala National Park

One of the highlights of Sri Lanka for wildlife lovers has got to be Yala National Park, Sri Lanka's number one leopard sanctuary and the best place to spot leopards in Sri Lanka.

With only some of the park open the the public (you must visit in jeeps with a licensed guide), the majority of Yala National Park is truly wild, although you'll still find plenty to see in the area open for safari!

Here, the leopards have territories of just over a kilometre each, and Yala claim to have the highest density of leopards in the world.

Unfortunately, this makes Yala very popular, and even though there was a leopard sighting when we visited, there were so many jeeps clustered around trying to get a glimpse that it was impossible to see.

What we did see were all kinds of exotic birds (including a Kingfisher!), wild boar, water buffalo, crocodiles, a jackal, and an adorable little mongoose.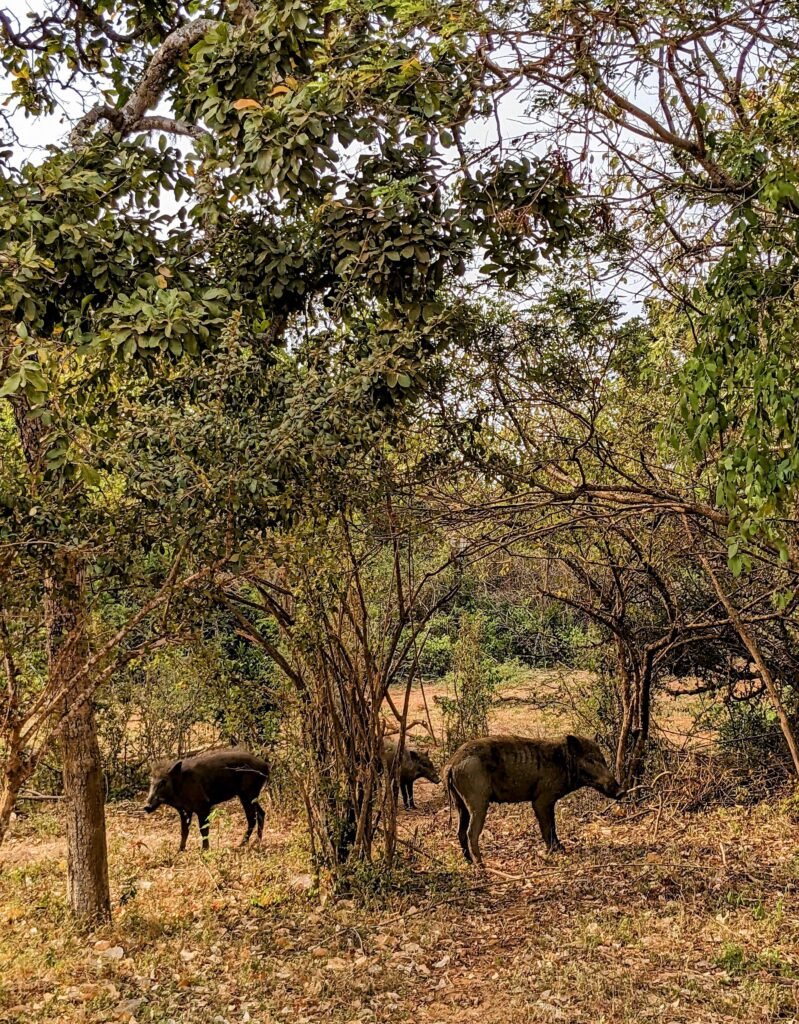 Where to stay for Yala

We stayed at the 5-star Shangri-La Hambantota, located about an hour's drive from Yala National Park.

The Shangri-La Hambantota is a destination in itself, boasting an 18-hole golf course (the only one in Sri Lanka), 3 swimming pools, an Ayurvedic spa, Artisanal village with local Artisans, an abundance of sporting activities, and so much more.

Despite it being such a large hotel, the general manager was always in the lobby greetings guests and making sure everything was okay.

My only regret was not having longer to spend here to make the most of the facilities!



7. Temple of the Tooth

The sacred city of Kandy is the cultural capital of Sri Lanka and home to the Temple of the Sacred Tooth, Sri Lanka's most revered Buddhist relic.

Housed in a golden casket, the relic is said to be Buddha's left canine tooth, and Buddhists from all over the world travel to Kandy to visit the temple and three times a day, there are ceremonies with flowers being offered to the sacred tooth.

You can't actually go and see the tooth itself – visitors and devotees are only permitted to see the inner shrine where it is kept.

If you want to witness one of the daily offerings, you can find more information here.



Where to stay for Temple of the Tooth

We travelled to Kandy purely to visit the Temple of the Tooth, but it was a lot of driving, and I recommend staying in Kandy for a day or two, giving yourself a chance to explore the city, which is a UNESCO World Heritage Site.

Take a stroll along Kandy Lake, look for rare birds in the Udawatta Kele Sanctuary, and learn about Ayurvedic medicine at a spice garden (although beware of the hard sell at the end of your visit).



8. Minneriya National Park


If you want to see elephants in Sri Lanka, Minneriya National Park is one of the most famous places to spot them.

They are always present in huge numbers here (we saw more than 50 on our visit!), and you can watch them bathe, play, and wander through their natural habitat from just a stone's throw away.

This 8890 hectare park was declared a wildlife sanctuary in 1938, and you can also find water buffalo, deer, peacocks, and many rare birds.

It is said that July to October is the best season to visit Minneriya, but we visited in May and saw lots of elephants, without any crowds!

Minneriya National Park is located between Habarana and Polonnaruwa.

If you want to get the most out of your time, you might want to consider booking a combined tour of Sigiriya Lion Rock, Minneriya National Park, and Hiriwadunna traditional village.

For the safari experience alone, you can get tickets here.



Where to stay for Minneriya National Park

Minneriya National Park is very close to Sigiriya, and I stayed at the Aliya Resort and Spa (the first hotel mentioned in this post).

9. Exploring the village of Hiriwadunna

Hiriwadunna is a small village near Habarana, and one of the highlights of Sri Lanka for me was a village tour and lunch in Hiriwadunna.

We took a short boat ride over Hiriwadunna Lake, before walking through the village and finishing at a local family's farm house, where we enjoyed a cooking demonstration using rudimentary tools (I even had a go at grating a coconut with one!).

We then feasted on all kinds of Sri Lankan delights, coconut sambol, dried and salted fish, tempered okra, potato coconut curry, and various traditional salads.

Tours can be booked through most hotels in the area, and the cost per person is around 13 EUR, with discounts for groups.



Where to stay for Hiriwadunna

We took the village tour of Hiriwadunna when we were staying at Aliya Resort, the same place we stayed for Minneriya National Park and Sigiriya.

If you want to combine a guided tour of all three activities in one day, this tour is a great option.



10. Trincomalee

Trincomalee is home to some of the most beautiful beaches in Sri Lanka, not to mention dolphins and whales (you can wake up super early and go dolphin/whale watching at sea!), stunning Hindu temples, and the colonial Fort Frederick, which is now used by the Sri Lanka army.

Located on the North-East coast of Sri Lanka, Trinomalee is also home to tonnes of cool beach bars, Rasta cafes, hippy shops, and more.

This was one of my favourite spots in Sri Lanka, and if you're looking for a beach holiday with a pinch of culture, Trincomalee is undoubtedly one of the biggest highlights of Sri Lanka.



Where to stay for Trincomalee

I stayed at Trinco Blu by Cinnamon, a luxury hotel perched right on the beach (the picture below was taken from my balcony door).

The rooms were large, bright, and comfortable, the buffet restaurant was great (with live cooking stations), and we were able to arrange our dolphin-watching excursion from the hotel as well.

There was also a massive pool right on the beach.



11. Pigeon Island

If you're still wondering why you should visit Sri Lanka, wonder no more.

A short 1km boat ride away from the coast of Trincomalee lies Pigeon Island National Park, one of only two marine national parks in Sri Lanka.

Pigeon Island is actually comprised of two small islands, and the park takes its name from the rock pigeons that inhabit the area.

The 'large' Pigeon Island is the one you'll visit, and it is home to some of the best coral reefs in Sri Lanka, as well as sea turtles, blacktip reef shark, and over 300 species of colourful coral reef fish.

Pigeon Island is a great place for snorkelling and scuba diving, or you can also relax on either side of the 100m wide strip (the side where the boat taxi will drop you off is sandy, while the other side is full of sharp coral, so bring some water shoes to avoid cutting yourself!).




Where to stay for Pigeon Island

We visited Pigeon Island when we were staying at Trinco Blu in Trincomalee, the last hotel I mentioned!



12. One of the world's most scenic train rides

The 3-4 hour train ride from Kandy to Ella or Nuwara Eliya to Ella has been named as the most scenic train ride in the world in countless publications.

If you haven't read about it or seen it on a travel documentary, you'll no doubt you'll have seen it on Instagram or TikTok.

The train travels through cloud forests, past tea plantations, over lush valleys, and over the famous Nine Arch Bridge, which was created by the British.

The train goes fairly slowly and the doors are left open, giving a nice breeze and ample photo opportunities (although be careful you don't fall out!).

Not only are the views to die for, but riding this train is an amazing cultural experience. Men wander down the aisles selling Sri Lankan snacks and street food, children hang out of the windows on passing trains waving and laughing, and the breeze from the open windows keeps things fresh and cool.

If you want to take this train, you'll need to depart from Kandy or Nuwara Eliya and head to Ella.



13. Ravena Pool Club

Including a pool club on this list may seem odd – after all, it's hardly one of the biggest reasons to visit Sri Lanka – but if you're already in Sri Lanka, you can't skip Ravena Pool Club in Ella, the first international pool club in Sri Lanka.

We spent a couple of hours here after arriving in Ella, and it gives real Bali vibes.

With an infinity pool, heated jacuzzi, DJ, and selection of day beds all overlooking the evergreen mountains below, you couldn't be closer to paradise if you tried.

There's also an extensive cocktail list and food menu with both Sri Lankan and international dishes.

To rent a day bed and enjoy pool access and complimentary towels, you'll pay about 10 EUR for 3 hours. The VIP area (which includes use of the jacuzzi) costs 35 EUR per group up to 4 people, 11 EUR of which can be redeemed on food and drink.

You can find out more on their website.



14. Sri Lankan cuisine

One of the biggest highlights of Sri Lanka for me personally was the food.

Salty dried fish, spicy curries, coconut salads, and egg hoppers (a kind of pancake with a fried egg in the middle) were just some of my favourite Sri Lankan dishes.

I also tried the famous Jaffna Crab Curry, which is considered the best crab curry in the world.

If you like spice, seafood, and meat, you'll love Sri Lankan food.



15. Polonnaruwa

Yet another UNESCO World Heritage Site in Sri Lanka is Polonnaruwa, the second capital of Sri Lanka after the destruction of Anuradhapura in the year 993.

This 10th century medieval city that is an archaeology lover's dream, and the various archaeological sites here include tombs, palaces, temples, and even the ruins of the famous garden-city created by Parakramabahu I in the 12th century.

My favourite ruins were The Vatadage, a circular relic house with Buddha statues inside, and the 17m tall Lankathilaka which houses a gigantic Buddha statue.

I was also awestruck by the Gal Vihara, a group of four Buddhas in perfect condition, carved from one long slab of granite.



Where to stay for Polonnaruwa

We visited Polonnaruwa whilst staying at the Aliya Resort and Spa Hotel, which I mentioned a couple of times above (this hotel was a great base for exploring Sri Lanka!).

Polonnaruwa was about a 1 hour drive from the hotel.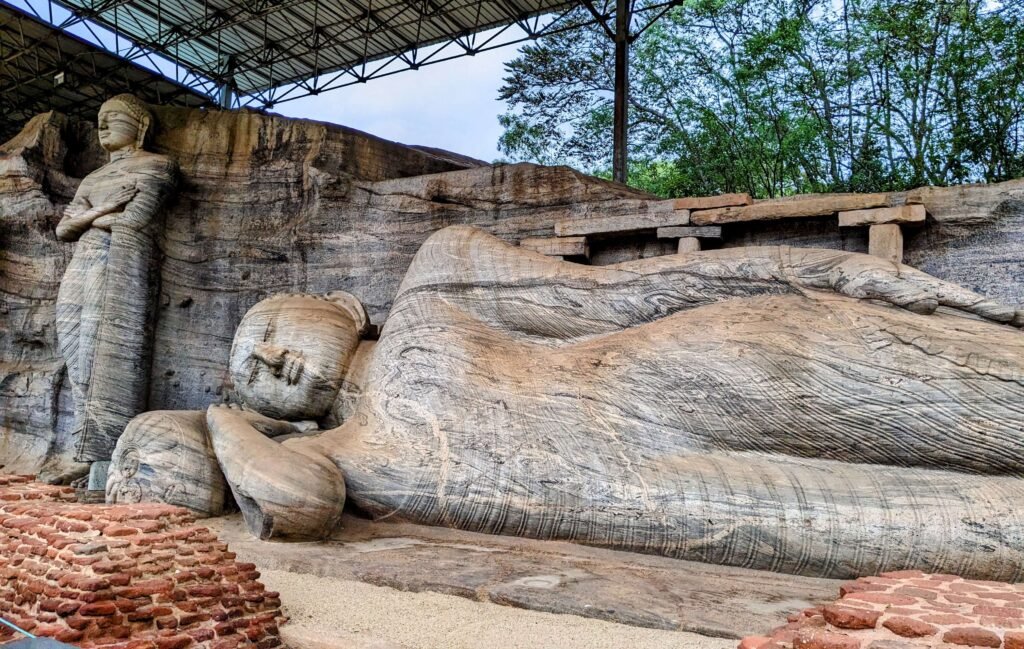 16. Galle

When it comes to colonial Sri Lankan cities, you can't get much more historical than Galle.

Initially built by the Portuguese in 1663, the fort was later conquered by the Dutch, before the British got ahold of it.

Surrounded by ocean on three sides, with the majestic Galle Fort, stone walls encircling the city, and architecture that reflects all of Galle's previous conquerors, a visit to the fortified old city is a must on any self-respecting Sri Lanka bucket list.

Full of whimsical boutiques, artisan coffee shops, and impossibly pretty streets, Galle reminded me of a cross between Penang in Malaysia, and Hoi An, in Vietnam.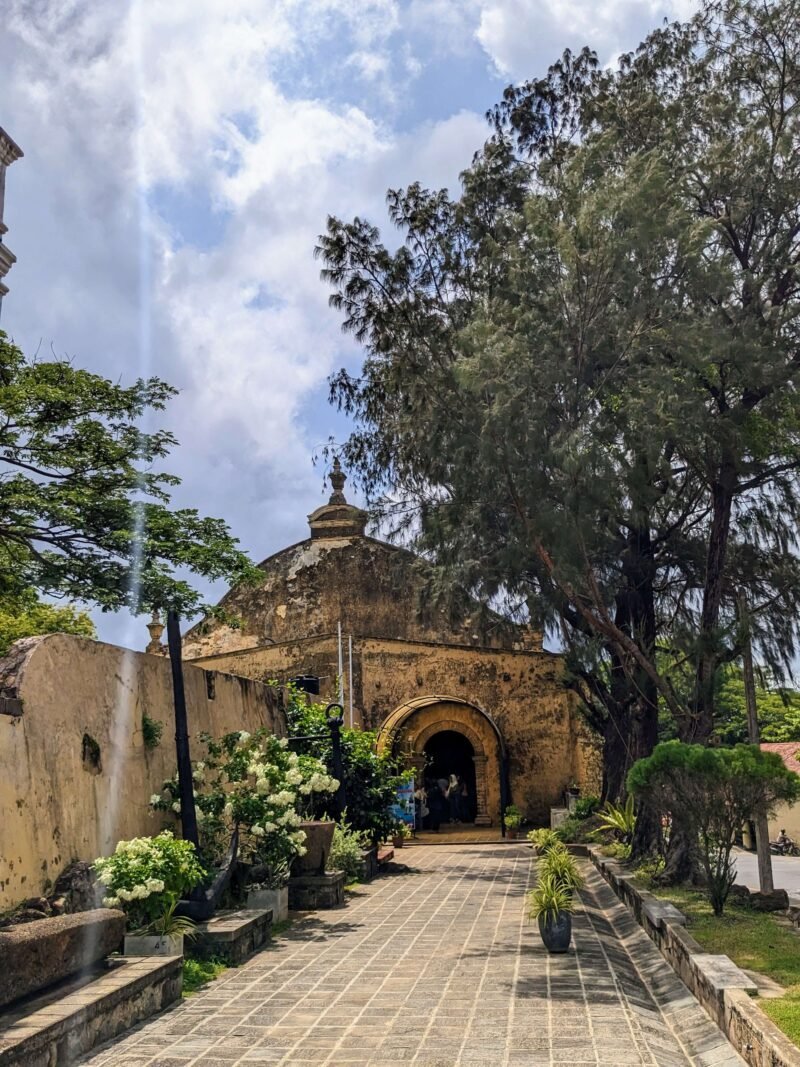 Where to stay for Galle

We didn't actually stay in Galle itself, but in the stunning Tabula Rasa Resort & Spa, which was about a 20 minute drive away.

Now, when I tell you that this was my favourite hotel of all the hotels I've ever stayed in, I'm not kidding.

We were immediately welcomed as friends to Tabula Rasa, and the amazing food, stunning rooms, and picture-perfect infinity pool just added to the charm.

Tabula Rasa is the kind of place where you can enjoy a floating breakfast in your own private pool overlooking the jungle, and if that doesn't make you want to stay there, I honestly don't know what will.

If you'd prefer to stay in the centre of Galle, I wouldn't blame you – it is lovely. Below you can check rates and reviews of Tabula Rasa, as well as some of the best hotels in Galle itself.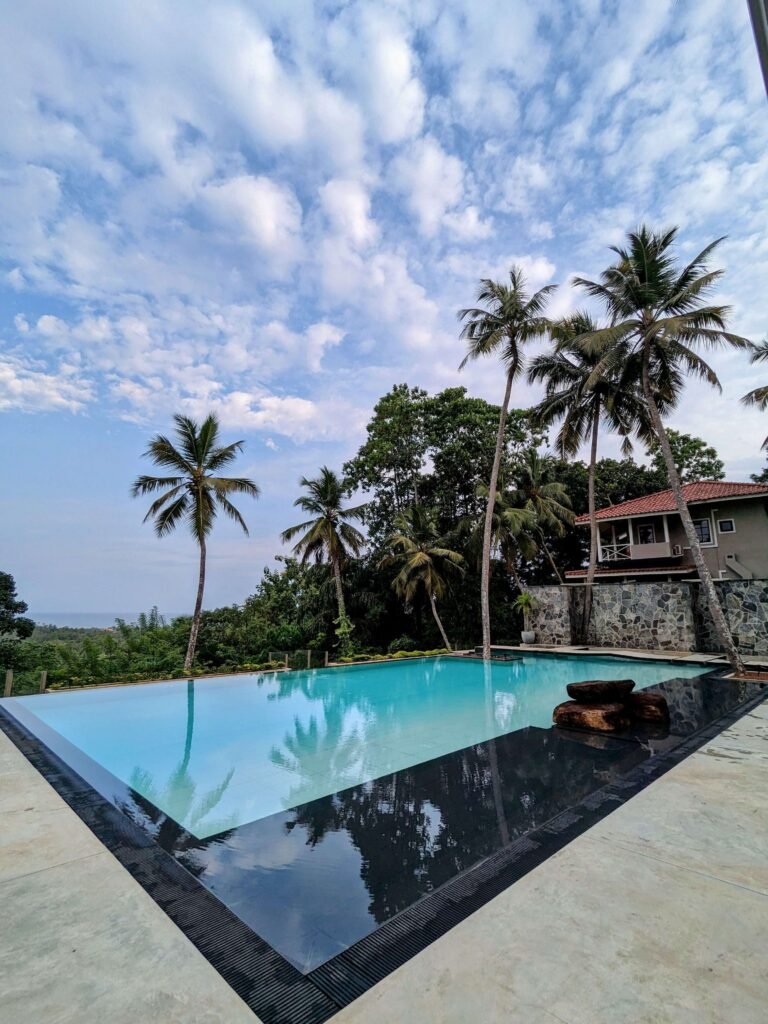 17. Dambulla Cave Temple

Dambulla Cave Temple is the best-preserved cave-temple complex in the whole of Sri Lanka.

This UNESCO World Heritage Site (yes, another one!) is a cave monastery of five hand-carved caves that have been in continual use for almost 2000 years!

On the walls are hundreds of ancient paintings with intricate details, as well as countless statues of Buddha, and a huge 14 metre long reclining Buddha carved out of the rock.

Many Sri Lankan people come here to pray and pay their respects, and the Dambulla Cave Temples are considered a really sacred place of worship.



Where to stay for Dambulla

Aliya Resort and Spa was also the base for our trip to Dambulla. The drive from the hotel to Dambulla Cave Temple was 30 minutes.



18. Colombo

Ironically, Colombo, Sri Lanka's capital city was where I spent the least amount of time on my Sri Lanka trip, but I did take part in a walking tour that meant I got to see quite a few of the major landmarks and significant buildings.

Colombo is a cosmopolitan city and is the place to go if you want international cuisine and a big city vibe.

I was there on a weeknight, and the streets were full of people sipping cocktails, enjoying coffee, and I even saw a band setting up for a live music performance on a bar terrace.

As you can see from the pictures below, the juxtaposition of old, colonial architecture with modern glass skyscrapers is stark, and there are also lots of beautiful old buildings that have fallen into disrepair and have plant life growing from the windows (which is sad for them, but really pretty to see!).



Where to stay in Colombo

I stayed at the 5-star Cinnamon Grand Colombo (if you can count a 1am checkout as 'staying at'), and I couldn't believe how big it was!

The rooms were pretty basic (though nice enough), but with ELEVEN restaurants, a bar, two swimming pools, spa and wellness centre, fitness centre, live music, and evening entertainment, you could stay here for a week and not get to experience it all!



Is Sri Lanka safe?

Sri Lanka is very safe, even for solo female travellers.

You can read my post about safety in Sri Lanka for a more in-depth guide to staying safe in Sri Lanka, but overall, you don't need to worry!



Highlights of Sri Lanka | Final Thoughts

Something I kept repeating during my time in Sri Lanka was that Sri Lanka is how I imagine Bali to be 20 years ago, before the mass tourism we see there today.

Buddhist temples, sandy beaches, lush rice paddies, and rolling hills abound in Sri Lanka, and when you factor in the friendliness of the people, the affordability of Sri Lankan travel, and the fact that the tourist infrastructure is very well-developed, you have the perfect destination.

As somebody that has met with the Sri Lanka tourism board, and spoken with them about their future promotional campaigns, I suspect that Sri Lanka won't be a secret for very long, and if you want to experience Sri Lanka at its very best, the time to go is NOW.

That's all I've got for you today (and after almost 4300 words, I'm sure you're glad of that!), but as always, if you have any questions then please don't hesitate to reach out and ask me in the comments section below.

Until next time,

XOXO


If you liked this article and would like to support my work, please click the button above to donate a couple of bucks and buy me a coffee. The ad revenue that I receive on this website is minimal, so support from my readers enables me to keep creating content that you (hopefully!) love to read.

Disclaimer: I visited Sri Lanka on a press trip hosted by the Sri Lanka Tourism Promotion Bureau. All opinions in this article are 100% my own and I was not paid for this post. Some of the links in this article are affiliate links, meaning that if you decide to book a hotel or tour I recommend, I may make a small commission at no extra cost to you.