2023 UPDATE: Due to Russia's control over Transnistria and the situation regarding Russia and Ukraine, you should NOT try and visit Transnistria at the moment. There have been several explosions reported in Transnistria (April 2022). You will not be protected by your own government, or the government of Moldova if you visit Transnistria.


I first heard of Transnistria Moldova when Stacey Dooley visited it as part of a BBC documentary about drugs trafficking. As her and her team visited tiny villages asking villagers whether they were part of a drugs trafficking ring (the poor dudes were just trying to look after their goats), I felt myself becoming intrigued about this tiny strip of land between the Republic of Moldova and Ukraine.

Transnistria, this 'country that doesn't exist,' is a self-professed independent state that broke away from Moldova after the dissolution of the USSR. However, despite having its own government, parliament, currency, flag, military, police, postal system, national anthem and coat of arms, only three other 'states' recognise it, and none of these states have been recognised themselves! (If you're interested, those non-recognised states are Abkhazia, Artsakh and South Ossetia – yeah, I didn't know either.) As far as the world is concerned, Transnistria is part of Moldova.

In layman's (AKA my) terms, when the USSR broke down and all of the former Soviet countries said 'Woohoo, freedom!' Transnistria was like 'Nah bro, we're out.' Since then, Transnistria has been living in a kind of Soviet bubble, with the hammer and sickle still displayed on its flag (the only flag in the world to still have this), and their love of Russia is everywhere from their language (Russian, naturally), to the posters of Putin and Russian flags that adorn the streets of Tiraspol (Transnistria's capital city).

I feel like I should point out now that I will often refer to 'Transnistria' as 'Transnistria, Moldova' in this article. I don't do this to be disrespectful or to imply that I personally do not recognise Transnistria as an independent state – I do it because 'Transnistria Moldova' is what people are searching on Google for, and if I want to be of any help in helping people planning to visit Transnistria, I need to get my blog seen! I would also like to address some of the angry comments that I have received about my use of the word 'Transnistria' – I use this word because this is the widely accepted English translation and spelling of the place, and as I am writing in English, to an English audience who is Googling the most widely accepted term, I deem it to be the best choice.



Transnistria Tourism – Is Transnistria Safe?

Within the last couple of years, more and more backpackers looking for an off the beaten track experience have found themselves in Transnistria, Moldova, this mysterious land that celebrates Lenin as a god and lives in a Soviet-style time capsule. However, as exciting as it is to visit somewhere so few people get the chance to experience, there are a few things to be cautious of when planning a trip to Transnistria.
Perhaps the most important thing for tourists to be aware of when visiting Transnistria Moldova is that it is imperative to keep out of trouble. If you end up in legal trouble here, your country is basically powerless to help you because you are out of reach of embassy and consular help (not something that I knew before I visited!). Embassies based in Moldova have no influence over Transnistrian territory, and as Transnistria is not a recognised state, there are obviously no consular representations here.

Because of this, if you're planning a trip to Transnistria, then I strongly recommend buying travel insurance. I NEVER travel without insurance, and I've seen too many others get landed with huge medical bills as a result of not having had insurance, that it's something I'll never neglect to buy. My recommendation for great travel insurance is World Nomads.

Aside from that, Transnistria is a relatively safe destination for tourists. Although corruption here is rife, and Stacey Dooley was right when she said that this no man's land is often used by smugglers to transport illegal goods across Europe, none of those things affect tourists, and you're highly unlikely to become the victim of a crime when you visit Transnistria.
What's more, despite a bloody civil war between Transnistria and Moldova in 1992, the Russian peacekeeping forces that have been stationed in Transnistria ever since have ensured that no more fighting breaks out on the streets of Transnistria, and our guide told us that even without the peacekeepers, he doubted that violence would ever break out between the two states. Despite the conflict remaining officially unresolved and the two territories living in a state of ceasefire, things have remained stable for the last decade and a half.



Getting to Transnistria Moldova

Most people visit Transnistria from Chisinau in Moldova, where you can take a bus or a taxi to Tiraspol. However, my friend and I entered Transnistria from Odessa in Ukraine.
We hired a taxi driver who agreed to drive us the two hours from Odessa to Tiraspol for 50USD, wait around for us for a few hours as we explored, and take us back to Odessa for just 25USD. Honestly, I think that this method of getting to Transnistria is much better than getting the bus as we got through the border super easily (tourists travelling alone are way more susceptible to corrupt border guys demanding bribes) and didn't have to fuss around catching a local bus and keeping an eye on the clock all day.
I won't list the actual taxi company that we used here because the driver turned out to be a creep (um, no dude, I don't want you coming to my bedroom at 11pm?!), but you should easily be able to source out a local driver and negotiate similar rates!
As far as visas go, foreigners can acquire a free visa on arrival that allows you to spend 10 hours in Transnistria – in my opinion, this is definitely enough time to explore Transnistria but if you want to stay longer than the process is a little more complicated. You can find out more about that here.
It is also worth a mention that the visa on arrival is only a paper form that you can keep in your passport and discard after you have left, therefore you don't have to worry about getting a passport stamp that may later cause you problems!



Our Transnistria Tour


For my visit to Transnistria, Moldova, I'd decided to pay for a tour with a local guide named Andrey. It is, of course, possible to visit Transnistria without paying for a tour, but I really wanted the chance to actually learn something about Transnistria from somebody who lives there. For 50 USD between us, my friend and I got to spend 3 hours with Andrey and ask him any question we wanted about life in Transnistria Moldova, as well as having all of the main sights explained to us.
I understand that to the more elitist backpackers, paying for a tour might seem too commercial, and not an 'authentic' experience (whatever that means), but I have absolutely no regrets about my day with Andrey and I highly recommend booking a tour if you find yourself in Transnistria. I think that if my friend and I had just wandered around by ourselves, we would not only have learnt nothing, but we would have been incredibly bored within about 30 minutes as there really isn't a whole lot to 'see' in Transnistria, and without context, the whole venture would have been a bit pointless.
Not only that, but I'm a firm believer in supporting locals and small businesses, and so it felt good to pay Andrey for his services rather than just visiting the country, snapping a few pictures and not contributing financially at all.



Visiting Transnistria – The Country that Doesn't Exist


When we arrived in Tiraspol, Transnistria's capital in the late morning, we met Andrey in front of the Government of Transnistria building, a huge Soviet building with an imposing statue of Lenin in front of it.

On my travels to former Soviet countries, I've seen many a statue of Lenin before. However, usually the statues are hidden away such as in Tirana, Albania, where all of the statues of Soviet dictators have been moved to behind a building where you would never see them if you weren't looking. In Transnistria Moldova, however, it's a different story. The statue of Lenin in front of the Government of Transnistria building is absolutely colossal, and it gives you no doubt as to which side Transnistria is on.



As Andrey began to introduce us to his country, he told us that 'we are 99.99999% for Russia. We are Russia's most loyal friend. We love everything they do.'
'And how does Russia feel about Transnistria?' Al asked.
Andrey smirked. 'Russia does not think about us', he shrugged.
As he spoke, our attention was caught by a group of elderly people carrying flowers across the road and walking towards the statue.
Following our eyes, Andrey explained. 'Today is Lenin's birthday. We have many statues of Lenin in Transnistria and today people will bring him flowers.'
I thought that my eyes would pop out of my head. Well Dani, we sure ain't in Kansas anymore, I thought wryly.
As we walked further down the street so that Andrey could show us the Transnistrian flag (always right next to a Russian flag of course), I was taken by how perfect everything was. Coming from Ukraine, where the roads are filled with potholes and it can take hours to drive 100km, I was expecting Transnistria to be more or less the same, if not worse. However, the main road in Tiraspol is wide with perfect black tarmac and clear road markings, the pavements are free from loose tiles and bits of rubble, and I didn't see litter anywhere.
It is reminiscent of Singapore.
Or North Korea.



'Does Russia recognise Transnistria as an independent state?' I asked, knowing that officially Russia had never recognised Transnistria, but wondered if they ever would.
'For Russia, it is important that we remain with Moldova.' Andrey explained. 'We have Transnistrian politicians who are high up in the Moldovan government, and of course, our politicians will listen to whatever Putin says. If we were to separate, Russia would lose its influence over Moldova,' he said, before continuing. 'That said, if Moldova ever became more Western and separated from us, then Russia would recognise us in an instant.'
I nodded thoughtfully. It made sense. What didn't make sense was Transnistria's unwavering loyalty to a state that seemed to be acting only to preserve its own interests.
However, as Andrey continued to speak, it all became clearer. As well as it being no secret that Russia funds Transnistria, the border police are also Russian troops and there are more than 1200 Russian peacekeeping soldiers stationed around the state to prevent tensions with Moldova from flaring up, a presence that you cant fail to notice when walking the streets of Transnistria, Moldova.
We crossed the street and made our way over to an interesting cluster of things – a tiny Orthodox church, a war memorial with the names of those who lost their lives during the 1990-1992 war, an eternal flame to commemorate the soldiers, and a huge ass tank. Like I said, interesting cluster of things.



After we'd taken it all in, Andrey drove us to another Lenin statue (as I said, there are a lot), and I suddenly became aware of how quiet the streets were. We were in the capital city of a (self-professed) country, in the middle of a hot spring day, and yet it felt as though there had been some sort of zombie apocalypse. There were no cars on the roads, no people walking their dogs or rushing to work. Of course, we weren't totally alone on the streets of Transnistria (the Russian troops made sure of that), but it certainly felt a hell of a lot quieter than I would have expected.


The next stop on our tour was actually another city – Bender. We piled into Andrey's car and he drove us the short distance to Bender, talking to us along the way about how although he loves Russia, he does like the fact that the USA has a democracy. We spoke about politics and corruption, and he asked us if we'd noticed the many grocery stores dotted around with the name 'Sheriff.'
'Sheriff!' we exclaimed. 'Our taxi driver said you would tell us about Sheriff! What's the deal?'
Andrey chuckled. 'Sheriff was formed by a guy who used to be a cop.* He started this chain of shops when Transnistria became a capitalist state, and now he owns everything. You see this football stadium on our right? That is the Sheriff football stadium. There are also Sheriff petrol stations, construction companies, publishing houses, and a TV channel!'**
'So basically this dude, Sheriff, waited until he could cash in on this new capitalist system and bought…everything?' I asked.
'Exactly,' Andrey said. 'And that's not all. Sheriff is…friends with the President. The President listens to Sheriff.'



Now this is something you don't learn on a regular visit, I thought. I later found out that Andrey wasn't lying when he said that Sheriff had a major influence on Transnistrian politics – in the past, Sheriff has used its power to sway elections, which isn't difficult to do when you own the entire country I guess.
As we laughed about the great power that is Sheriff, we reached the city of Bender, which is on the Western bank of the River Dniester (from which the country takes its name).



There we met another guide, Kate, who led us to a couple more Soviet monuments. She was telling us details about the significance of these, but to be totally honest with you, I was so swept up in this strange strange land that I can't relay any of those details to you now. What I found far more interesting than the names and dates she was reciting was the fact that I was actually walking through this country that doesn't officially exist, the only people on the streets being our group and handfuls of Russian peacekeepers everywhere (who of course we were were not allowed to take photographs of).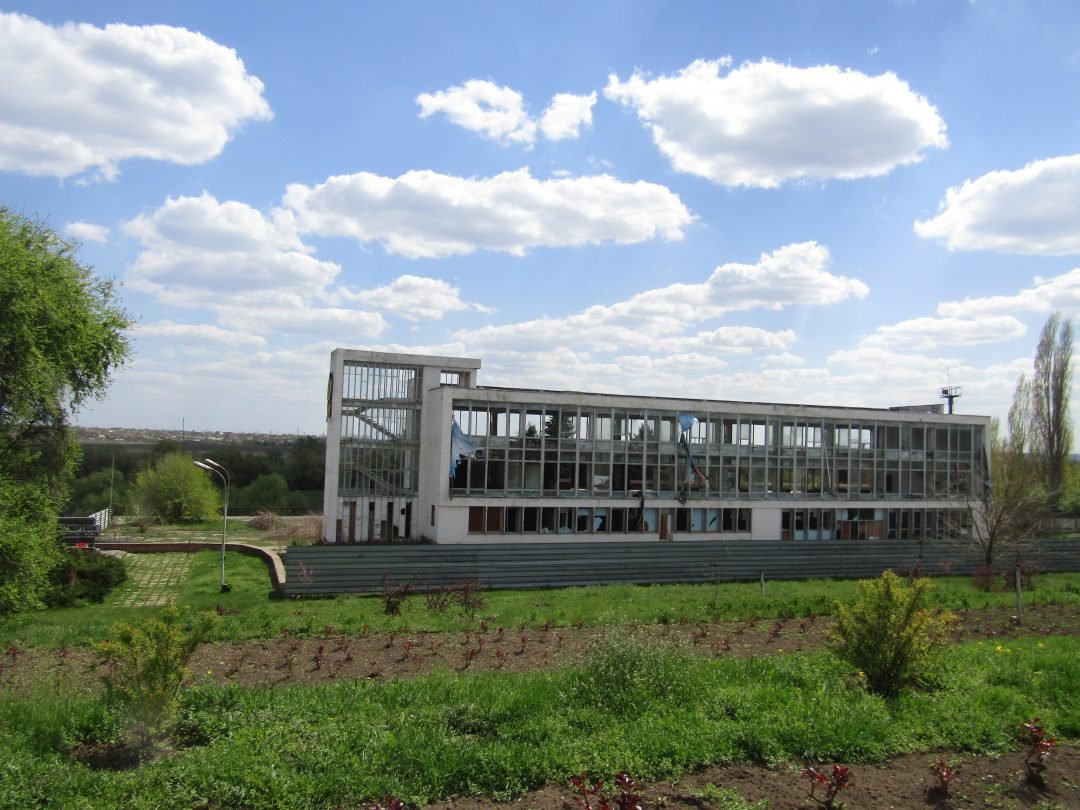 We continued to walk, stopping at statues of 'peaceful' Russian soldiers, depicted with young children gazing adoringly up at them, and venturing inside a 'cultural centre,' which was as outdated as you would expect it to be, and staffed by a grumpy babushka who sat at the reception desk sullenly.


Next, Andrey led us to an old Soviet outdoor gym. As we walked, he mused out loud. 'Hmm, maybe it is closed. But we will make it open.'
Ahh, Transnistria.
However, luckily for us (I've never been much of a rule breaker), the gate to the gym was unlocked, and so we were able to enter easily.
Comprised of pieces of scrap metal and tyres, the 'gym' consisted of just a few monkey bars and various other bars that you can swing from if you are so inclined, and Andrey insisted on showing us his skills, 'Transnistrian style.'
After we'd watched him flex his muscles for a while (with Al also attempting the monkey bars and doing a pretty good job!), we left the gym and headed back to the centre of Tiraspol, where we visited the National Theatre (check), and Andrey pointed out his university, talking briefly to us about his studies. We then spoke about my blog, and Andrey seemed surprised when I told him that I was doing okay.
After a minute of contemplation, he looked me up and down and shrugged. 'Well, you look good I suppose.'



LGBT Treatment in Transnistria – A Word of Caution

We continued to walk and the conversation turned towards social issues, specifically the treatment of LGBT citizens.
Andrey told us that he personally didn't have a problem with LGBT people (although as a tour guide, he probably would say that), but that in Transnistria, there is no gay club scene, not even an underground one, and that if two men were to walk down the streets of Transnistria holding hands then vigilantes would 'stop them.'
I include this, not to deter my LGBT readers from visiting Transnistria Moldova , but just as a word of warning that Transnistrians are not as progessive when it comes to these things as people from Western Europe, for example. In this area, Transnistria is not altogether different from other places that I have visited, particularly in the Balkans. LGBT travellers should exercise caution in countries such as Albania, Serbia, Montenegro etc.



Transnistria Tourism – Final Thoughts

By this point, we'd covered quite a lot, and as we finished the tour in front of the Tiraspol City Hall (complete with yet another bust of Lenin), we couldn't believe that we'd been walking around for 3 hours! Andrey is very charismatic and his approach to being a tour guide is not to simply list names and dates, but to actually talk about real life for Transnistrians in a very honest and direct way. Because of this, the time flew, and both Al and I agreed that walking around with Andrey felt worlds apart from other walking tours that we've done, which can sometimes feel stuffy or contrived.
Our final Transnistrian education came in the form of lunch at a restaurant recommended by Andrey. I have to say that the Russian salad, noodle soup and cold meatballs were not going to win any Michelin stars, and it didn't help that there was a power cut in the restaurant so we dined in the dark, but hey, it's all part of the experience, right?


I am SO glad that I went to Transnistria Moldova, and hiring a guide was the best decision I could have made. It is definitely possible to walk around the city alone, for free, but I honestly think that doing that is a waste of time. Having Andrey around to answer my questions about Transnistria was invaluable, and he took us to places that we never would have found without him, explaining everything in a way that was at the same time educational but also entertaining.
Transnistria is an incredibly interesting place and as long as you don't do anything stupid to warrant getting arrested, you will be completely fine there.
It is hard for me to speak personally on solo female travel to Transnistria as I was there with my male friend and a male guide, but the girls that I know who have visited Transnistria solo have had no problems whatsoever.
If you want to experience a culture totally different from anywhere else in Europe, and if you're curious about life in a Soviet state, then Transnistria Moldova is the place for you. It's also truly 'off the beaten path' if that's your thing, and you'll definitely earn some backpacker points if you can tell people that you've visited a country that doesn't exist!

For more information on Andrey and his tours then please click here to visit his website.

* Later fact checking revealed that Sheriff was actually founded by two former KGB agents, not one.

* * This is indeed true. In fact, there is also a Sheriff Mercedes-Benz dealership, a Sheriff advertising agency, spirits factory, two bread factories, a mobile phone network, and even a football club – FC Sheriff.

Have you ever been to Transnistria Moldova? How was your experience? Please let me know in the comments section below!

If you liked this article and would like to support my work, please click the button above to donate a couple of bucks and buy me a coffee. The ad revenue that I receive on this website is minimal, so support from my readers enables me to keep creating content that you (hopefully!) love to read.

Disclaimer: Travelling Jezebel uses affiliate links. If you make a purchase on a recommended site, I may make a small commission at no extra cost to you.