As a former English Literature student, the fact that I'd never visited Stratford-upon-Avon, the 16th century birthplace of William Shakespeare, until this past weekend, is pretty unforgivable.

Not only is this picturesque market town home to so much history, but it's also a wonderful escape from hectic city life, and so when the opportunity to spend a weekend at The Arden Hotel Stratford arose, I couldn't say no.

Together with my partner Ethan, we took the train from Manchester to Stratford-upon-Avon via Birmingham for a wonderful weekend in Stratford-upon-Avon, full of literary explorations, fine dining, and some well-deserved R&R at The Arden Hotel, Stratford-upon-Avon.

(I was invited as a guest of The Arden Hotel, meaning that my stay was complimentary. All opinions shared are my own.)

Here's how it went.



The Arden Hotel, Stratford-upon-Avon | A Review


The Arden Hotel Stratford


The Arden Hotel is a 45-bedroom boutique hotel in the centre of Stratford-upon-Avon, Warwickshire.

It has received 4 AA Silver Stars, making it one of the best four-star hotels in the region, and is also a member of the award-winning Eden Hotel Collection, a selection of unique hotels that have been specially chosen for their impeccable standards and attention to detail.

Sitting right across the street from the River Avon and the Royal Shakespeare Company Theatre (our room had views of both!), The Arden Hotel is also a stone's throw from tonnes of other attractions, including Shakespeare's Birthplace, Holy Trinity Church, Shakespeare's Schoolroom and Guildhall, as well as all of Stratford-upon-Avon's best bars and restaurants.



Checking in


On our arrival, we were enthusiastically greeted by the friendly receptionist, who guided us through the check-in process quickly and seamlessly.

We were then given a quick tour of the hotel, including the No.44 Brasserie, the main lounge area that serves afternoon tea, as well as the perfectly-manicured Tudor knot gardens and all-weather terrace.

The interior of the hotel is contemporary yet elegant, with a light grey theme and occasional splashes of magenta, teal, and gold throughout.

I really appreciated the tour, as it was a great way to orient ourselves (the corridors are a bit labyrinthine!), and it also showed how the staff at The Arden go above and beyond to ensure that your every need is accounted for.



The rooms


After our hotel tour, the receptionist led us to our room, Redwood (all of the rooms in The Arden are named after trees).

She showed us where the mini fridge and tea/coffee facilities were, and gave us all of the additional information we needed (that room service is available 24/7, for example).

She then left us to settle in, and I immediately flopped down in one of the armchairs near the large bay window while Ethan boiled the kettle.



As well as hot chocolate, coffee, and a range of different teas, there were also complimentary biscuits, pretzels, apples, and popcorn, as well as canned water in the fridge (yay for no plastic bottles!).

There was also that day's local newspaper and a hardback book featuring all of the best things to do in the area, which we had a flick through as we enjoyed our hot drinks.

The room itself was very spacious, with neutral tones, plenty of light, and views over the RSC Theatre and River Arden.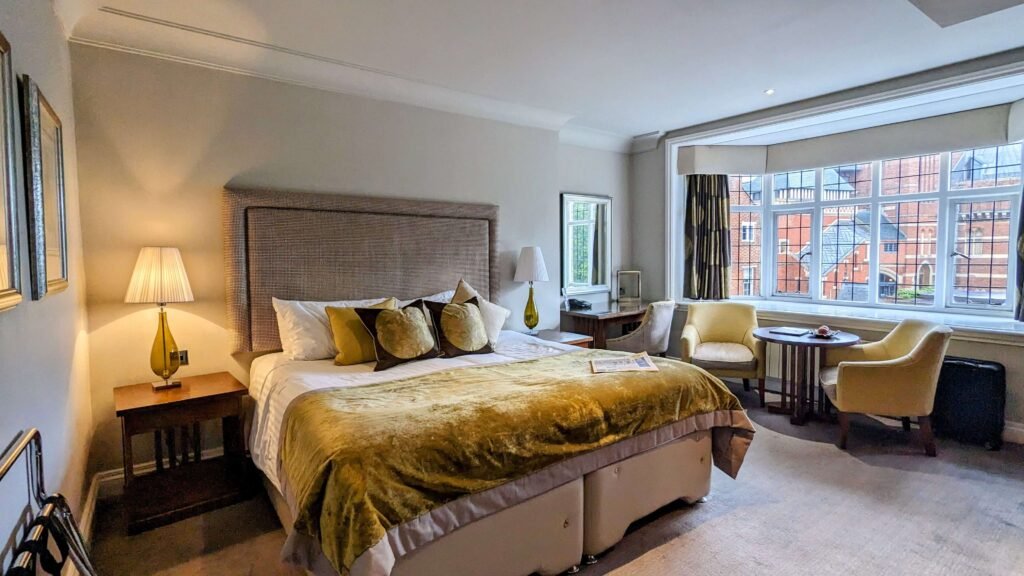 The king-size bed had some of the fluffiest pillows I've ever come across (the first thing I asked Ethan when we arrived home was whether we could buy new pillows!), and inside the marble bathroom was a large bathtub, fluffy white robes, and luxury TEMPLESPA toiletries.

When we'd been in our room for about 15 minutes, we received a call from reception checking that everything was okay with our room – yet more proof that the staff at The Arden really care about the guest experience.



Dining


No.44 Brasserie


Usually, when visiting a new city, I like to visit some of the local restaurants rather than dining at the hotel, and that's exactly what we did the first night!

However, with 2 AA Rosettes, The Arden's No. 44 Brasserie is undisputedly one of the best restaurants in Stratford-upon-Avon, so we were excited to dine there on our second evening.

Thanks to its location, No.44 is the restaurant of choice for many theatre-goers (and The Arden's Champagne Bar is where they all flock for a tipple afterwards!), but thankfully our booking wasn't until 8pm, so it wasn't too busy.



In the mood for some bubbly, we ordered a bottle of Prosecco (£35), before both opting for the crispy polenta-coated Malvani prawns with tomato relish and curry emulsion (£9.50) to start.

The prawns were so meaty and juicy, and the crispy polenta added a great crunch. The curry emulsion added a wonderfully unique flavour, and we were both very pleased with our choice!



Next, Ethan ordered the 8 oz. Ribeye steak with chips, tomato, and mushroom (£32) with peppercorn sauce (£3), along with a side of onion rings (£4), which he really didn't need!

The steak was cooked to perfection, and the chunky chips were some of the best I've ever tasted (I had to try his food in the name of research, ahem).

Although I was tempted by a few things on the menu, I plumped for the slow-cooked pork belly with mustard mash and savoy cabbage with pancetta (I forgot to note the price but it was around £20), together with a side of tenderstem broccoli and sugar snap peas (£4).

It was incredible, and we couldn't stop commenting on how delicious everything was (I even ate my carrots, which is not like me!).



For dessert, Ethan chose passion fruit cheesecake served with chocolate ice cream and passion fruit caramel (£8) and I ordered a vanilla crème brûlée with raspberry and shortbread (£7.50) that I'm still dreaming of!

The dessert menu also featured a selection of dessert wines and cocktails, and of course Ethan just had to try a dessert wine (£7)!

Every single thing we tasted was phenomenal, and if I could afford it, I'd eat here every week!

Again, the staff were wonderful (shout out to Alex, who we had a lovely chat with over our final drinks!), and really made sure we were taken care of.



Breakfast at The Arden Hotel


I'm definitely a breakfast person, and luckily for me, breakfast at The Arden Hotel Stratford is just as delectable as dinner!

Residents can stick to the continental breakfast buffet (£12), which includes pastries, cereal, fruit, yoghurt, fruit juice, and tea/coffee, or you can order something from the À La Carte menu (£20 including tea/coffee and access to the buffet).



On our first day, I went for a Full English, and Ethan chose Eggs Benedict with bacon and hash browns on the side.

My scrambled eggs were so buttery, and Ethan's poached eggs were also cooked to perfection. We ordered tea (Ethan) and a cappuccino (me), and I also concocted a mean Virgin Mary from the dedicated Virgin Mary station (!).



On our second day, we both ordered Eggs Royale with a side of hash browns, and Ethan also helped himself to several sweet pastries from the buffet!

Yet again, the staff were wonderful (our server even remembered how disappointed I'd been when they didn't have any smoked salmon the day before, and he'd saved some for us on our second morning!), the coffee was good, and the food was yummy.



Getting there


The Arden Hotel is a 2.5 hour drive from central London, or you can take a 2 hour train from Marylebone Station.

As we were travelling from Manchester, we took the train to Birmingham (1.5 hours), and then from Birmingham to Stratford-upon-Avon (50 minutes).

From the train station in Stratford-upon-Avon, it's just an 18 minute walk to the hotel.

If you're driving, you can take advantage of the free hotel parking, and even charge your electric car onsite!



The Arden Hotel, Stratford-upon-Avon | Final Thoughts


From the lovely rooms to the wonderful food, excellent location, and flawless performance from the staff, I can't find anything bad to say about my stay at The Arden Hotel in Stratford-upon-Avon.

The Arden is a charming boutique hotel, and it really took our stay in Stratford-upon-Avon to the next level.

I'd definitely recommend it if you're planning a trip to Stratford anytime soon!

Room prices vary, but when we stayed, the cost was about £200 per night (bear in mind that we visited on a weekend, which is more expensive).

To check current rates, head to Booking.com.



That's all I've got for today, but as always, if you have any questions then don't hesitate to reach out in the comments section below and I will get back to you!

Until next time,

XOXO


If you liked this article and would like to support my work, please click the button above to donate a couple of bucks and buy me a coffee. The ad revenue that I receive on this website is minimal, so support from my readers enables me to keep creating content that you (hopefully!) love to read.

Disclaimer: I stayed at The Arden as a guest, and everything I received was complimentary. All opinions are my own. There are affiliate links on this post, meaning I may make a small commission if you make any purchases on recommended sites.