Last Friday, Ethan and I took the train down south for a weekend in Stratford-upon-Avon, home of none other than Shakespeare himself.

This picturesque market town is the perfect place to escape from the hustle and bustle of city life, and whether you're travelling as a family, a couple, or having a much-needed mother and daughter getaway, you won't regret spending a weekend in Stratford-upon-Avon.

Here's my guide to how to spend the perfect weekend in Stratford-upon-Avon, including the best things to do, where to eat, where to stay, how much to budget, and everything else you need to plan your trip.

Are you ready?

Then let's get into it.



A Weekend in Stratford-upon-Avon


Is Stratford-upon-Avon worth visiting?


If you're a literature nerd like me, then you're probably not even asking this question, but what about if you aren't obsessed with Shakespeare? Is Stratford-upon-Avon worth visiting?

In a word, yes!

Stratford-upon-Avon is a gorgeous little town and a quintessentially English place to visit.

Beautiful Tudor-style architecture, quaint tea rooms, more than 150 resident swans, and a relaxed pace of life are what make Stratford-upon-Avon so special, and that's without factoring in all the Shakespeare tourism you can do here!

If you love big city life like Ethan, then 2 days in Stratford-upon-Avon is probably enough, but if you're like me, then a weekend in Stratford-upon-Avon won't feel like nearly enough, and you'll want to rent a little cottage here and stay forever!



How to get to Stratford-upon-Avon


Stratford-upon-Avon is a 2.5 hour drive from central London, or you can take a 2 hour train from Marylebone Station.

As we were travelling from Manchester, we took the train to Birmingham (1.5 hours), and then from Birmingham to Stratford-upon-Avon (50 minutes).

The town centre is about a 10 minute walk from the train station.



Where to stay in Stratford-upon-Avon


We stayed at The Arden Hotel, a 45-bedroom boutique hotel in the centre of town, right across from the RSC Theatre.

The Arden is the proud holder of 4 AA Silver Stars, making it one of the best four-star hotels in the region, and it is also a member of the award-winning Eden Hotel Collection.

Honestly, I can't speak highly enough of our time at The Arden.

Our large room had views over the River Avon and RSC Theatre, was fully stocked with snacks, and had a ridiculously comfortable bed, as well as a swanky marble bathroom with fluffy white robes and luxury TEMPLESPA toiletries.

Not only was our room great, but the staff went above and beyond to make our stay enjoyable, and we also thoroughly enjoyed our dinner at their No. 44 Brasserie (more on that later), and stunning made-to-order breakfast.

If you're looking for a luxurious weekend in Stratford-upon-Avon, The Arden is the place to stay.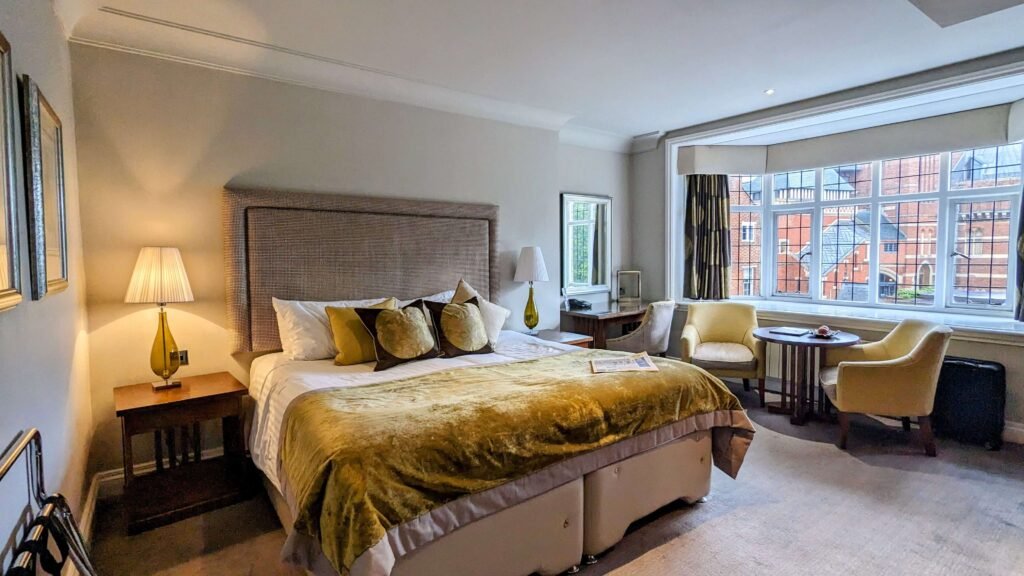 Unique things to do in Stratford-upon-Avon


If you only have a weekend in Stratford-upon-Avon, you might struggle to get through all of the things to do in Stratford-upon-Avon.

We only had 1 full day in town, and felt that it wasn't enough time to see everything we wanted to, although we nevertheless packed in our fair share of Stratford attractions.

Fortunately, the centre of Stratford-upon-Avon is very small, meaning you're never more than a 10 minute walk away from something (apart from Anne Hathaway's cottage, which is slightly out of town), making it easy to explore on foot.

Unless you're visiting Stratford-upon-Avon specifically to see all of the Shakespeare attractions, I recommend choosing 1 or 2 and leaving yourself time for all the other wonderful things that Stratford has to offer!

We opted for Shakespeare's Schoolroom & Guildhall and loved it, although I'd have liked to venture inside the home where Shakespeare was born if we'd had more time.

Below is a list of everything we did during our weekend in Stratford-upon-Avon, as well as some of the things we didn't get a chance to do. I've tried to give you all the info so that you can tailor it to your own tastes and create your own 2 days in Stratford-upon-Avon itinerary!



Shakespeare's Schoolroom & Guildhall


Shakespeare's Schoolroom and Guildhall isn't quite as famous as the other Shakespeare attractions in Stratford-upon-Avon, but this immersive museum is well worth your time!

The Guildhall is a Grade I listed building (only 2.5% of all listed buildings in the UK are Grade I!) and was the heart of life in Stratford for more than 400 years.

On the ground floor, local council meetings would take place, as well as court rulings for crimes such as debts, thefts, and assaults. There is also a small chapel here where you can see 600 year old medieval wall paintings that were only discovered in 2016!



Once you've explored the Lower Guildhall with your knowledgeable guide, you'll be whisked away by Master Thomas Jenkins for a lesson in how the school day used to be, back when Shakespeare attended this school in 1571.

You'll sit on the long benches and be educated about corporal punishment, the lengthy school days, and what subjects children were taught, before experiencing a mini lesson in Latin!



You're then free to look around the classroom next door, where you can see names and initials scratched into the Georgian desks, dating back to the mid-18th century!

You can practice your calligraphy with a quill and ink, or even try on some authentic Tudor clothes!

Both Ethan and I thoroughly enjoyed our visit to Shakespeare's Schoolroom and Guildhall, and I highly recommend paying it a visit!

Tickets to Shakespeare's Schoolroom and Guildhall are £12.50. We got our tickets in advance using Get Your Guide.



Guild Chapel


Right next to Shakespeare's Schoolroom and Guildhall is the Guild Chapel, standing on the corner of Church Street and Chapel Lane.

The Guild Chapel was built by the Guild of the Holy Cross in the 13th Century, and it was a crucial part of medieval life in Stratford-upon-Avon.

Inside the Chapel you can see some of the rarest collections of medieval wall paintings in Europe that offer a unique glimpse back in time.

These images depict the afterlife, and were banned as a result of the English Reformation. Rather than being destroyed, however, the paintings were covered with layers of limewash, and have only been discovered in very recent years.

The Guild Chapel is open every day from 10 am – 4 pm and is free to enter. Volunteer guides will be happy to talk to you about the Chapel and the paintings within it.



Visit Shakespeare's grave at Holy Trinity Church


The Holy Trinity Church is where Shakespeare was baptised, where he worshipped, and where he was eventually laid to rest.

Christians have been worshipping God on this very site for over 1000 years, and the present stone structure you see today was begun in the year 1210!

There is a lot to see in this church, from the medieval font to the stained glass windows, but most people come to pay their respects at the grave of William Shakespeare and his family members.

To ensure that his remains would never be disturbed, Shakespeare actually put a curse on his grave, which sits beside that of Anne Hathaway (Shakespare's wife), Susanna and Dr. John Hall (his daughter and son-in-law), and Thomas Nash (first husband of Shakespeare's granddaughter Elizabeth).

Holy Trinity Church is open to the public Monday – Saturday from 10:00 am to 5 pm, and Sundays from 1 pm to 3.30 pm. The main church is free to enter, but you must pay £4 to enter the Chancel and see Shakespeare and his family's graves.



Stroll along the River Avon


One of the best free things to do in Stratford-upon-Avon (weather permitting!), is to take a stroll along the River Avon.

Get yourself an ice cream and amble slowly along the riverfront, feed the swans, and look at the boats that cruise lazily along the water.

If you fancy, you can enjoy a 30 minute cruise aboard one of the many traditional Edwardian passenger launches, past the Royal Shakespeare Theatre and Holy Trinity Church, and under the 15th Century Clopton Bridge.

A 30 minute boat ride costs £9, and you can buy tickets from the crew onboard the boats.



Enjoy the Old Town


Full of half-timbered buildings from the Tudor era, quirky statues, hidden courtyards, centuries-old pubs, and excessive amounts of bunting, the Old Town of Stratford-upon-Avon is incredibly charming.

Shops I particularly liked in Stratford Old Town included:



Magic Alley


Magic Alley is a 'magical attraction,' cafe, and shop where you can buy spell books, witchy home decor, crystal balls, mystical figurines, and much more.

It's certainly unique shop (although IMO it was a bit on the pricey side) and fun place to look around.

Magic Alley also has an 'attraction,' which changes throughout the year and is a separate, paid experience. At the time of writing, the attraction is a murder mystery game called The Witching Hour, where you must solve a series of puzzles to identify the murderer.

Magic Alley is open every day from 10 am to 5 pm. The shop is free to enter but the attraction costs £8 at present. You can find out more on their website.



House of Spells


House of Spells is a small fandom shop selling licensed products from Harry Potter, Game of Thrones, Fantastic Beasts, Lord of the Rings, Vikings, Stranger Things, and much more.

If you've ever fancied owning Bellatrix Lestrange's wand or Viserion's dragon egg, look no further than House of Spells.

House of Spells is open everyday from 9 am – 6 pm.



Chaucer Head Bookshop


The Chaucer Head Bookshop is a treasure trove of second-hand, rare, and antiquarian books on a wide range of subject matters.

There are some really obscure titles in here (my favourites were The Use of Vegetable Dyes and Old English Furniture), and you could easily lose an afternoon among the shelves.

The Chaucer Head Bookshop is open Thurs-Fri from 12 pm to 4:45 pm, and Saturday from 11 am to 5 pm.



And more…


I didn't get a chance to properly go shopping in Stratford-upon-Avon, but I did spot a couple of ye olde-English sweet shops, a Beatrix Potter specialist shop (!), and a Christmas shop that remains festive all year round.



Go on a ghost tour


I love walking tours, but I'd never been on a walking tour centred on witchcraft, murder, ghosts, and gore before!

We met our guide and enjoyed a 90 minute walk around Stratford, regaled with tales of the plague, gruesome murders, haunted hotels, and even a grave robbery involving somebody very, very famous from Stratford!

It was super entertaining, and we were both really glad we'd done it!

The tour we went on cost £9.99 and you can get your tickets on Get Your Guide.



Rother Street weekend markets


No weekend in Stratford-upon-Avon is complete without a visit to the Rother Street weekend markets.

Friday is the traditional Charter Market, where you'll find upwards of 40 traders offering a range of international street food, fresh vegetables, local cheese, freshly-baked bread and cakes, as well as a selection of clothing, artwork, flowers, and accessories.

On Saturday, you'll find the Urban Mix Market in the same location, which is the market me and Ethan visited.

The Urban Mix Market is where you'll find cool junk, records, second-hand books, handcrafted jewellery, wax melts, and other quirky gifts. There's also a handful of artisan food stalls, so you won't go hungry.

The Waterside Upmarket is what you'll find on a Sunday in Stratford-upon-Avon, and this market is held along the River Avon from mid-March until the end of October, and on Bridge Street from November to mid-March.

Waterside Upmarket is Stratford-upon-Avon's premier Sunday market, and as well as all the street food and local artisans you'd expect, you'll also find street performers and characters to entertain the children as well.



Visit a cat cafe


The only thing better than a cat cafe is a cat cafe with a PUNNY name, and Shakespaw Cat Cafe, is exactly that!

Shakespaw's is home to lots of beautiful rescue cats, and the menu includes a range of Belgian waffles and crumpets, cream tea, afternoon tea, and sandwiches.

You do have to pay to enter (£6), but that's on the cheaper side when it comes to cat cafes, and the prices of everything on the menu are very reasonable.

Ethan got a pot of tea and a scone with jam and cream (£7.20) and I ordered a Cattuchino (£3).

Shakespaw Cat Cafe is open every day except Tuesday from 10 am to 6 pm. You can book a table on the website.



Tudor World


Tudor World is another of the museums that we unfortunately didn't get to visit, but even just walking by the entrance, I was impressed – the attention to detail and staff dressed in character are stunning!

Tudor World is an interactive museum that brings the past to life. Here, you'll learn all about everyday life in the 16th century, and you'll also be able to try using a quill, go in the stocks, take part in a witch trial, and many more interactive exhibits.

Tudor World also runs Shakespeare walking tours of Stratford (led by Wills himself!), as well as after-hours ghost tours of the historic and haunted building that houses the museum.

Tudor World is open everyday from 10:30 am to 5:30 pm. Entry is £7.
The Shakespeare Walking Tour is every Saturday at 2 pm and costs £7.
The Ghost Tour is at 6 pm every evening, with additional tours at 7, 8, and 9 pm on Saturdays. Tickets are £8.50.



Bancroft Gardens


Situated right next to the river, Bancroft Gardens are the perfect place to enjoy a picnic, read a book, buy a coffee or an ice cream from the local vendors, and pass the time.

You can watch the boats, soak up the atmosphere, and maybe even catch some street performers!



Other Shakespeare attractions in Stratford-upon-Avon


Royal Shakespeare Company Theatre


Something we didn't get a chance to do (but would have loved to!), was to catch a play at the Royal Shakespeare Company Theatre – imagine getting to see a Shakespeare play in the town where Shakespeare was born!

If you don't fancy Shakespeare, they always have other shows (at the time of writing, you can go and see Matilda The Musical!), and of course, you must book in advance for whatever you want to see.



Shakespeare houses


The Old Town is home to several so-called 'Shakespeare houses,' including Shakespeare's birthplace, New Place (the first house that Shakespeare bought), and Anne Hathaway's cottage.

If you can only choose one, go for Shakespeare's Birthplace. You can walk through the rooms of the house that Shakespeare grew up in, see a replica of his father's glove-making workshop, and learn about the early life of the Bard himself.

New Place is where the Shakespeare family lived for 19 years. There is no house on the site anymore, but you can see the landscaped gardens and learn the history behind the house that once was.

Anne Hathaway's Cottage is a 5 minute drive (or 30 minute walk) outside of Stratford. It is the family home of Anne Hathaway, Shakespeare's wife (not the actress!), and as well as discovering the 15th century cottage, you can take a stroll through the lush gardens.



How to visit the Shakespeare houses in Stratford


Tickets for Shakespeare's Birthplace cost £18 and you can buy them on Get Your Guide.
Tickets for New Place cost £13 and you can buy them here.
Tickets for Anne Hathaway's Cottage are £13 and you can buy them on Get Your Guide.

If you plan on visiting more than one of Shakespeare's houses, the best way to do it is by purchasing a Shakespeare's Story ticket. This ticket will get you access to all 3 of the aforementioned museums for just £25, so it's really a no-brainer, especially when you consider that entry to Shakespeare's Birthplace is £18 alone.



Eating and drinking in Stratford-upon-Avon


The Garrick


The Garrick is not only the oldest pub in Stratford and a Grade II listed building, but it also has the dubious honour of being where a bout of the plague is thought to have begun in England.

This occurred in 1564, when Oliver Gunn, a weaver's apprentice, died of the illness, which went on to claim the lives of over 200 people in the town.

It is said that many of the pub's former occupants visit from beyond the grave, but when we visited to enjoy some pre-dinner drinks, the only scare we got was struggling to find a table!

This stunning timber-framed building is just as beautiful inside as the outside would suggest, and the pub grub on offer looked (and smelt) delicious.

The Garrick, like most of the pubs in Stratford-upon-Avon, is a Greene King pub, which does unfortunately mean that the menu is the same everywhere. With that being said, the prices are very reasonable, and because the interior is so different, it doesn't feel like a chain.



Windmill


Windmill also claims to be the oldest pub in Stratford-upon-Avon, which is technically true – The Garrick had to be rebuilt due to a fire, but there was an inn on the spot where it stands before Windmill existed, so people love to argue about this.

Windmill is another Greene King pub (told you), with lots of small and cosy rooms, low ceilings, and a half-timbered frame.

While we didn't sample the food, we very much enjoyed coming here for a drink, and again, it's a Greene King pub so prices are reasonable.



The Red Lion


The Red Lion in Stratford is a Table Table pub (similar to Greene King), and is where we went for dinner on our first night during our weekend in Stratford-upon-Avon.

We wanted hearty and affordable pub grub in relaxed surroundings, and The Red Lion delivered.

To begin, we ordered cocktails (Zombies, 2 for £10), and went on to share a bottle of Jam Shed Sparkling Rosé (£16).

We then ordered a Sharing Platter to start (£12.19) which came with chicken goujons, garlic mushrooms, onion rings, mac & cheese bites, garlic bread, and a trio of dips.

For mains, Ethan went for the creamy chicken and pulled ham pie with chips and peas (£12.29), and I opted for the trio of mini pies (steak and ale, lamb and mint, and chicken tikka) with mash and gravy (£13.79).

The food wasn't groundbreaking, but it did the job, and for the price, we certainly weren't complaining.



No. 44 Brasserie


No. 44 Brasserie is the restaurant in The Arden Hotel, and with 2 AA Rosettes, it is undisputedly one of the best restaurants in Stratford-upon-Avon.

If you fancy a spot of fine dining in Stratford, this is the place to go to, and it's one of the best restaurants I've been to in a while.

We ordered a bottle of Prosecco (£35) and crispy polenta-coated Malvani prawns with tomato relish and curry emulsion (£9.50) to start, which were absolutely phenomenal.

The prawns were so meaty and juicy, the polenta added a great crunch, and the curry emulsion provided even more flavour.

For mains, Ethan ordered the 8 oz. Ribeye steak with chips, tomato, and mushroom (£32) with peppercorn sauce (£3), along with a side of onion rings (£4), while I plumped for the slow-cooked pork belly with mustard mash and savoy cabbage with pancetta (I forgot to note the price but it was around £20), together with a side of tenderstem broccoli and sugar snap peas (£4).

Dessert was passion fruit cheesecake served with chocolate ice cream and passion fruit caramel for Ethan (£8), and vanilla crème brûlée with raspberry and shortbread for me (£7.50).

We enjoyed every mouthful of food that night, and if I could afford to come back and eat here every week, I would.



Officer's Mess


Officer's Mess is a 1940s-inspired cocktail bar that you have to visit on your weekend in Stratford-upon-Avon.

Their website claims that they have 'probably the best cocktails in the county,' and while I'm by no means a connoisseur, I'd have to agree!

We visited in the late afternoon and the tiny bar area was packed, but it didn't stop us being served quickly and enjoying our Cosmos!

In the evenings, Officer's Mess plays host to drag performances, French swing and Latin jazz shoes, stand-up comedy, and much more.



The Phoenix


After asking around, a couple of locals told us that The Phoenix was going to be the liveliest place to grab a couple of drinks after dinner, and so that's exactly where we went!

I can't vouch for the food as we didn't eat here, but the drinks were very reasonably-priced, the crowd was a real mix of ages, and the sleek contemporary interior is what makes The Phoenix stand out from the more traditional Stratford pubs around.



Is Stratford-upon-Avon expensive?


Stratford-upon-Avon is certainly not cheap, but I wouldn't say that it's particularly expensive, and you can definitely visit Stratford on a budget if needed.

First, there are plenty of free things to do in Stratford-upon-Avon, such as strolling along the river or down one of the various canal paths, relaxing in Bancroft Gardens, taking your picture in front of Shakespeare's Birthplace, and visiting the various churches.

At £7, entry to Tudor World is also very reasonable, and makes a good alternative to the pricier Shakespeare attractions in Stratford-upon-Avon.

In terms of food and drink, you can eat at one of the many Greene King pubs to save some cash (or The Red Lion), and there's also a Wetherspoon's on Sheep Street called The Golden Bee where you can enjoy a cheap pint.



A Weekend in Stratford-upon-Avon | Final Thoughts


That's about all I've got for today (and after almost 4000 words, you're probably glad to hear it!), but I hope that this article was helpful and that you are excited for your weekend in Stratford-upon-Avon!

As always, if you have any questions then please don't hesitate to reach out and ask in the comments section below and I will get back to you.

Until next time,

XOXO



If you liked this article and would like to support my work, please click the button above to donate a couple of bucks and buy me a coffee. The ad revenue that I receive on this website is minimal, so support from my readers enables me to keep creating content that you (hopefully!) love to read.


Disclaimer: Travelling Jezebel contains affiliate links. If you make a purchase on a recommended site, I may make a small commission at no extra cost to you.