Ever since we adopted our cat Lucy (RIP beauty) from Bleakholt Animal Sanctuary when I was just three years old, Bleakholt has always had a special place in my heart.

Bleakholt Animal Sanctuary is a charity and farm dedicated to rehoming countless rescue dogs, cats and small animals such as rabbits and guinea pigs, as well as looking after horses, donkeys, goats, pigs, chickens and more. It all started way back in the 1950s when a lady called Olive Lomas began saving donkeys and horses from slaughter. In 1957, the project moved to Bleakholt Farm, and since then, the facilities have continued to improve, making life as comfortable as possible for the animals in Bleakholt's care.

Some of the facilities at Bleakholt Animal Sanctuary include heated kennels and catteries, a dog hospital, kitten and puppy centres, stables for the horses and wide open fields for the donkeys to amble around. The rabbits and guinea pigs all have large spaces (much larger than the standard rabbit hutch), and the goats have a huge open pen with plenty of rocks and bridges for them to climb up onto.

Because of the 450+ animals in Bleakholt's care, as well as the stunning countryside location with sweeping views over the Pennines, a visit to Bleakholt Animal Sanctuary makes a really nice day trip from Manchester, and my mum and I try to visit as often as we can to enjoy the sun and make friends with some of the animals, comfortable in the feeling that every penny we spend there is going directly towards benefiting the animals.



Bleakholt Animal Sanctuary – The Perfect Day Trip from Manchester


Bleakholt Animal Sanctuary – Getting There


Bleakholt Animal Sanctuary is situated in Edenfield, Ramsbottom, and is best accessed by car. If you're coming from the centre of Manchester then you can get to Bleakholt by taking the M66 North and exiting at junction 1.

More in-depth directions can be found on Bleakholt's website.



Visiting Bleakholt Animal Sanctuary


My last trip to Bleakholt was on a beautiful sunny day in early April. It was a little chilly but I only had a week left in the UK before I was due to go on a big trip and so my mum and I both wanted to make the most of our time together before I left.

On getting out of the car and heading inside the sanctuary, our first stop was the kennels, where we saw an old girl named Sasha. Sasha has been at Bleakholt for a long time (apparently she was too possessive over the family sofa and so they sent her to the sanctuary!) and we both recognised her from past visits. Sasha has a very loud bark, and when you're heading towards the kennels, she can be a little intimidating, but it's only because she is so desperate to be stroked. As soon as you're close enough to the kennels to touch her, she sits right up against the cage, rubbing her head up against it and looking at you with these adorable brown eyes.

Of course I ignored the 'do not touch' signs (NOT SAYING YOU SHOULD DO THE SAME BTW before I get hit with a lawsuit), but how can you say no to a face like Sasha's??

As we slowly made our way around the kennels, falling in love with almost every pup in there as we read the descriptions about each dog's unique personality, we reflected on how sad it was that so many owners give their dogs to places like Bleakholt for minor behavioural issues. Of course, Bleakholt Animal Sanctuary really looks after its animals, but I could never imagine sending away an animal that I loved.

For those interested, it is actually possible to become a registered dog walker with Bleakholt, which is done on a voluntary basis and helps out the sanctuary massively. Each dog is colour-coded according to how experienced the dog walker needs to be, and the walker must fill out forms and pass various tests in order to qualify.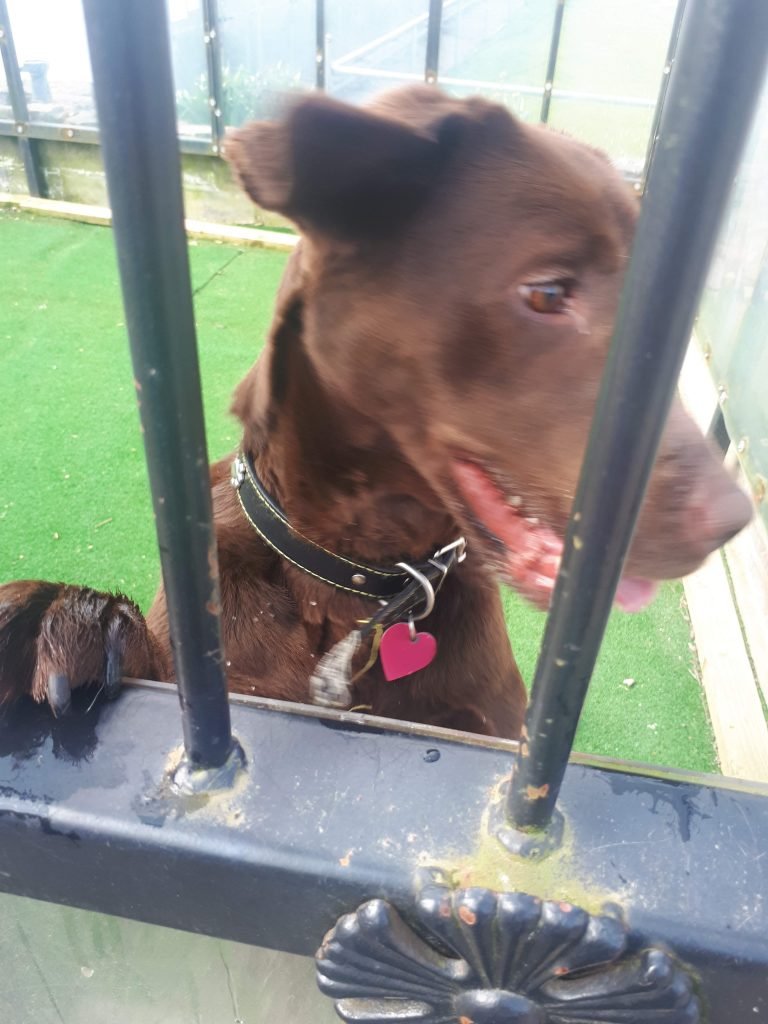 After the kennels it was on to the kitty cats. Most of the cats are outside, in large cages with lots of toys and a few other cats for company, along with an inside heated room with soft bedding. We absolutely fell in love with a friendly black and white tomcat who could not get enough of us as he rubbed up against the railings and rolled over, showing us his fluffy belly. I tried my hardest to persuade my mum that she should adopt him, but to no avail.

One day…



After we'd seen the outside cats, we went to 'The Oldies,' an inside block with cats that are too old and frail to live with the main kitty population. Inside The Oldies are tonnes of soft beds, boxes with beds inside decorated to look like kitty hotels and B&B's, and a huge comfy sofa, and all of the cats are wandering around freely so you can sit for as long as you like and play with them. I made a couple of friends in The Oldies, including a very handsome boy with a tumor on his neck, who we guessed must be living out the remainder of his days in Bleakholt as comfortably as possible.



After The Oldies, it was onto the main farm area, where – you've guessed it – Bleakholt's farm animals are kept. We didn't spend quite as long here, but we had a bit of a giggle with the goats and stopped for a brief photo shoot midway because my mum is always nagging me to take more Instagram pictures when I'm in England (true story, she's a real Kris Jenner sometimes).

However, for those who do like to spend more time with the farm animals, here you will find pigs, sheep, goats, horses, donkeys, guinea pigs, rabbits, chickens and more!



Our final stop was the on-site book shop. For the last 4 years, Bleakholt Animal Sanctuary has operated a little used book shop, where visitors can bring their old books and buy new ones – amazingly, in the 4 years that it has been open, it has raised a whopping £29,000 to go towards helping the animals at Bleakholt! My mum regularly donates her old books to Bleakholt, and the two of us love nothing more than spending time browsing the shelves and taking piles and piles of books home with us to read – I mean, when the books are 50p each or 3 for £1, how can you not?! After helping myself to a few trashy crime novels, I was satisfied, and so the two of us paid and made our way back to the car.

It had been a successful afternoon indeed!



How can you get involved at Bleakholt Animal Sanctuary?


Bleakholt Animal Sanctuary provides many ways for visitors to get involved and donate their time and money to the animals.

Not only is there the bookshop I mentioned, but Bleakholt also has another on-site shop, where you can buy homemade farm goods and toys for your own furry friends. There is also a cafe, with homemade sandwiches, soups and cakes, as well as hot and cold drinks, and Bleakholt also holds regular Open Days with pottery workshops, the chance to get up close and personal with owls, face painting and more. These Open Days are a fantastic way for Bleakholt to raise money and encourage people to adopt their animals while providing a great family day out for all ages. They also have events to mark various holidays such as Easter Egg hunts!

If you'd prefer to donate your time to helping Bleakholt Animal Sanctuary, then there are plenty of volunteering opportunities, with everything from gardening, to working in the on-site shop or cafe, to dog walking!

Of course, most of the domestic animals are Bleakholt (with the exception of the sick or feral animals), are available to adopt. We adopted our cat from Bleakholt years ago, and Bleakholt still welcome individuals and families who want to adopt. Every animal that you adopt from Bleakholt is de-flead, wormed, vaccinated, neutered, microchipped and vet checked, and everybody wanting to adopt is also thoroughly vetted (no pun intended!).

For more information, see their website.



Bleakholt Animal Sanctuary – Final Thoughts


If you live in the Greater Manchester Area then I cannot recommend a trip to Bleakholt Animal Sanctuary enough. It's a great day out for families, but it's also good for anyone who loves animals. I mean, what could be better than walking around the countryside in the sunshine, meeting lots of adorable animals and enjoying a coffee and cake in the on-site cafe? What's more, you are doing a good thing just by visiting! Even if you can't adopt an animal, you can still donate books, spend a few pounds in the cafe, or walk the dogs.

Have you ever been to Bleakholt Animal Sanctuary? What did you think? Please let me know your thoughts in the comments below!

If you liked this article, please pin it for later!



If you liked this article and would like to support my work, please click the button above to donate a couple of bucks and buy me a coffee. The ad revenue that I receive on this website is minimal, so support from my readers enables me to keep creating content that you (hopefully!) love to read.


Disclaimer: Travelling Jezebel uses affiliate links. If you make a purchase on a recommended site, I may make a small commission at no extra cost to you.