As a proud Mancunian, it pains me to no end when I meet people who have 'visited the UK,' who have actually just spent a couple of days in London.

Now, London is a great city, but the north of England, though often overlooked as a travel destination, has so much to offer!

With picturesque landscapes, historic sites, and charming market towns, the north of England is a great place to explore, whether you're looking for a lively city break or a walking holiday in the countryside.

With that in mind, I decided to put together a list of places to visit in Northern England.

It isn't the most extensive list in the world, because there are so many great places to visit in the north of England that we'd be here all day if I listed them all, but it's a good introduction to what you can find 'up north.'

Here are 10 places you have to visit in the north of England.



10 Places to Visit in Northern England


1. York


York is a beautiful city that is brimming with history and culture.

Founded by the Romans in 71 AD, York was once the capital of England and is still known as one of England's most important historical cities.

Today, visitors can explore its stunning architecture, world-class museums, colourful gardens, and charming shops.

Don't forget to pay a visit to York Minster and nearby Clifford's Tower before strolling down The Shambles, one of the best-preserved medieval shopping streets in the world!

Throughout The Shambles and the labyrinthine cobbled streets surrounding it, you will find all sorts of wonderful boutiques and specialist shops including The Shop That Must Not Be Named, a treasure trove of Harry Potter-themed items fit for any witch or wizard!

Those with a more macabre side should pay a visit to The York Dungeon, an interactive exhibit about medieval torture, The Black Death, and more, with actors playing the part of executioners, murderers, and a whole cast of other spooky characters.



2. Durham


Durham is a university town with an incredible amount of history and culture.

Home to the oldest Norman castle in England, Durham Castle houses some of the country's most important relics.

You should also visit Durham Cathedral, which is said to be one of the most spectacular cathedrals in the whole of the UK!

Take some time to explore its cobbled streets, boutique shops, and tranquil river walks. 

In particular, be sure to make time for the three-mile round-trip walk from Federation house. It only takes around an hour to an hour and a half and it goes through some of the most scenic parts of the city. 



3. The Lake District


I visited the Lake District when I was 17, with my first boyfriend, and it still stands out as being one of the loveliest places I've been to, and is definitely one of England's most picturesque regions.

With its breathtaking scenery, crystal clear lakes, and rolling hills, The Lake District is an ideal destination for outdoor lovers, with plenty of activities to keep you busy, such as kayaking, hiking and even rock climbing.

For the less adventurous (like me), you can enjoy a boat trip on Lake Windemere, indulge in a spot of cream tea, and take long walks in the countryside before cosying up in a traditional English pub.

For those looking to stay a few nights in this area, the Angel Inn is the perfect bed and breakfast choice. It offers cosy and stylish accommodation, with breakfast included, in a location very close to the most popular of the lakes, Lake Windermere. 



4. Manchester


Okay, so I may be biased here, but I think that Manchester is the perfect destination for city lovers, and one of the best places to visit in Northern England.

Not only is this Victorian city home to the leader of the Suffragette movement, Emmeline Pankhurst, but it's full of culture, music and art, and well as plenty of interesting attractions like the Imperial War Museum North, The John Rylands Library, and the Science and Industry Museum.

Manchester also has a proud LGBT scene, and an entire 'Gay Village,' full of bars and nightclubs, with Canal Street at the centre.

There are also excellent Manchester restaurants, bars and cafes, including the very fun Northern Soul Grilled Cheese, where you can treat yourself to some rather epic grilled cheese sandwiches including the BBQ bad boy, accompanied by delicious sides like fried pickles.  

For a unique shopping experience, head to Afflecks Palace, a 5-storey building where you can buy everything from tarot cards and crystal balls to gas masks, alternative clothing, collectible toys, records, and so much more.

There's a breakfast cereal café here, as well as a 'Maid Café,' plus a tattoo studio, retro arcade games, photo booths, fortune telling, and even a Thai massage parlour.

Lastly, football fans among you (that's soccer, to my American readers) can't miss a visit to the legendary Old Trafford stadium, as well as the National Football Museum, which is the biggest and best football museum in the world.



5. Liverpool


Liverpool, the birthplace of The Beatles, is a vibrant city full of surprises.

With its iconic waterfront, spectacular museums and galleries, and unique culture, it's one of the most exciting places to visit in Northern England.

It also has a bustling nightlife scene with pubs, clubs and music venues all over the city.

Be sure to try Heebie Jeebies an electric club on many levels, with a courtyard and brick cellar located on Seel St.

Alternatively, there is always Dorothy's Showbar located on Victoria St where you can treat yourself to a delicious cocktail while you watch some raucous drag entertainment! 

You can't leave without visiting The Beatles Story, the largest permanent museum telling the story of Liverpool's most iconic band. I'm not a fan of The Beatles, but I actually went on a Beatles tour in Hamburg, and found it really interesting!



6. Hebden Bridge


I only visited Hebden Bridge recently and I immediately fell in love with this adorable little West Yorkshire town.

With adorable little cottages lining the equally picturesque Rochdale Canal, rolling hills all around, and an abundance of cutesy gift shops, artisanal food shops (we may have splurged a bit in the cheese shop), and traditional English pubs, Hebden Bridge is a great place for a holiday, or you can easily visit as a day trip from Manchester!

If you enjoy walking, there are heaps of walking trails around here, and you can also go and visit the Heptonstall Museum in the neighbouring village, which is also where you can pay your respects at Sylvia Plath's grave.



7. Hadrian's Wall


Hadrian's Wall is one of the most famous ancient monuments in the whole of the UK, and is one of the most important historical places to visit.

It stretched across the entire width of Northern England, and was built by the emperor of the same name in the 2nd century.

While it's now basically a chain of relatively low ruins and guardhouses, 117.5km of the wall are still intact, and it represents a fairly incredible old world achievement, as well as being another symbol of how special ancient England was to the Romans.

Hiking along the whole thing is quite a feat, but many people choose sections of the wall to hike and enjoy the magnificent countryside views.



8. Chester


Chester often gets overshadowed by nearby Liverpool and Manchester, which is a real shame as Chester is a gorgeous medieval city.

Home to Roman city walls and the largest Roman amphitheatre in the UK, Chester is also home to the UK's second most photographed clock, the Eastgate Clock (can you guess which is the first?).

There's also lovely pubs and shops here, and if you want a UK city break with a small town feel, Chester is the place to go.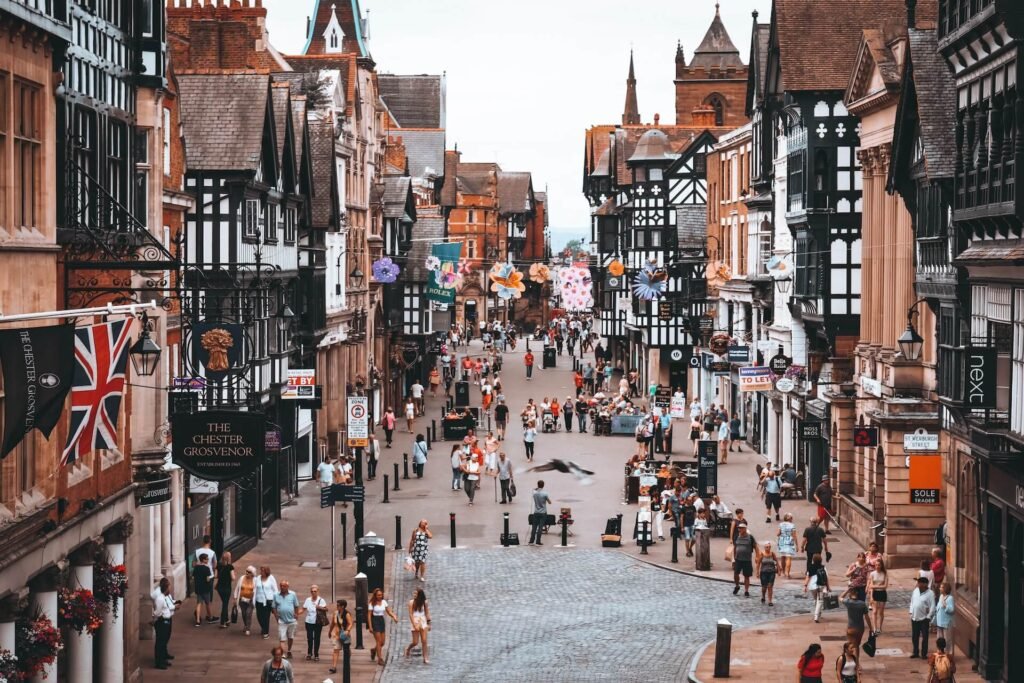 9. Blackpool


Ah, Blackpool.

Blackpool is kind of an 'antihero' in terms of places to visit in Northern England, because it's essentially the Benidorm of England (you could say Vegas, but that would be much too generous).

Famed for Blackpool Tower, a landmark which was built in 1894 as a replica of the Eiffel Tower (and, weirdly, contains a circus and an ornate Victorian ballroom), Blackpool is also home to a theme park, known as the Pleasure Beach, tonnes of tired-looking arcades, tacky souvenir shops, aggressive seagulls, and a rather depressing beach.

It could never be considered a 'nice' place to go, but it's certainly an 'experience.'



10. Haworth


Haworth is a small village in West Yorkshire that I visited when I was much younger because we had some family friends that lived there.

It's surrounded by moors, and was home to none other than the 3 three Brontë sisters, Charlotte, Emily, and Anne (can you tell I have a degree in English Literature yet?).

You can visit the Brontë Parsonage Museum, where the sisters used to live, and if you happen to visit Haworth in May, you may even get to witness the annual 1940's festival that takes over, complete with swing bands, costumes, and historical re-enactments – I did, and it was super fun!



Places to Visit in Northern England | Final Thoughts


As I mentioned in the introduction, there are hundreds of worthwhile places to visit in Northern England, that haven't been featured on this post.

Newcastle, Leeds, Sheffield, the Peak District, Whitby, Scarborough…the list goes on.

However, this list is a great place to start, and I like to think that I've included something for everyone – if you want a picturesque English village, head to Hebden Bridge or Haworth.

For a lively city break, choose Manchester or Liverpool, and for a more historical city break, Chester and York have you covered.

For long walks in the country, you can't beat the Lake District.

I hope that this article has been helpful, and as always, if you have any questions then don't hesitate to reach out to me in the comments section below!

Until next time,

XOXO



If you liked this article and would like to support my work, please click the button above to donate a couple of bucks and buy me a coffee. The ad revenue that I receive on this website is minimal, so support from my readers enables me to keep creating content that you (hopefully!) love to read.


Disclaimer: This post was a collaboration between myself and an external author.