When I was recently staying with my boyfriend's family in County Clare and they told us that we would be spending the day at Bunratty Castle, I figured that we'd be wandering around a castle, reading some information plaques, taking a few pictures and leaving.

Don't get me wrong, I was definitely excited to visit Bunratty and go to see the castle, but I assumed that visiting Bunratty would involve all the regular things that visiting castles involves and not much else.

Little did I know that there are actually tonnes of things to do in Bunratty, both in and around Bunratty Castle and Folk Park, and you can easily spend the entire day there, either alone, with a partner/friends, or with the whole family!

Of course, in true Travelling Jezebel style, a fair few of these points will revolve around food, so if you're also curious about where to eat in Bunratty then look no further!

So, if you find yourself in County Clare (or even Galway, which is just an hour away), and are wondering whether Bunratty Castle is worth visiting, buckle up because I'm going to share all of the fun things that you can do in and around Bunratty Castle.




Things to Do in Bunratty, Ireland


About Bunratty Castle and Folk Park


Bunratty Castle, is, of course, in the village of Bunratty, County Clare.

Both the castle and the village are named after the River Raite, which runs beside it (the name Bunratty in Irish is Bun Rataigh, which literally means 'The Foot or Bottom of the Ratty'), and Bunratty Castle is considered to be the most complete and authentic castle in Ireland, earning it a well-deserved place on many Ireland bucket lists the world over.

On the grounds of Bunratty Castle is Bunratty Folk Park, which spans 26 acres and has more than 30 buildings that form a 'living medieval village.'

There are also various food and drink options at Bunratty, shops and even a nightly medieval banquet, all of which we'll get into a bit later!



The history of Bunratty Castle


There is a long and bloody history behind Bunratty Castle, and just like many things in Ireland, Bunratty has played host to its fair share of battles between the Irish and English.

I'm about to throw a lot of names and dates at you now, so if that's not your thing then I won't be offended if you skip past this part of the article.

I'll try and keep it simple and condense almost 800 years of history into a few paragraphs.

Bunratty Castle dates all the way back to 1250, when Robert De Muscegros, a Norman, built a tall wooden tower on top of a large earthen mound, which acted as a strong defensive fortress.

The land was then granted to Thomas De Clare, who built the first stone castle on the site. At this point in time, the town of Bunratty had about 1000 inhabitants.

In 1318 the son of Thomas, Richard was killed in a battle between the Irish and the Normans, and the entire town (including the castle!) was destroyed.

It was restored for the King of England before being laid to waste by the Irish Chieftains of Thomond and proceeded to lay in ruin for 21 years.

It was then rebuilt by Sir Thomas Rokeby but, as history is prone to repeat itself, Bunratty was once again attacked by the Irish and the castle was to remain in Irish hands forevermore.

The structure that we see today was built by the MacNamara family around 1425.

Although Bunratty had fallen into ruins again by the 20th century, it was bought as a passion project by Lord and Lady Gort in 1953, and they worked closely with archaeologists and internationally renowned experts on medieval art to restore Bunratty back to its former glory.

By all accounts, they did a marvellous job, and today, Bunratty Castle and the adjoining Folk Park have welcomed millions of international tourists who want to learn about Ireland during the Middle Ages.



20 Things to Do at Bunratty Castle


1. Explore Bunratty Castle


Well…duh!

After you've posed with the gigantic cannons outside the front doors, enter Bunratty Castle and step back in time to medieval Ireland.

Pass through the basement, the grand banquet hall and various bedrooms, kitchens and more.

Take the narrow winding staircase down to the old dungeon and peep into rooms that display old tapestries, game mounted as trophies, intricate period costumes and furniture from the time period.

Fun fact – Bunratty Castle is home to Ireland's most extensive collection of artefacts and furniture from the late medieval to early renaissance periods!

I love interior design, especially the dramatic and opulent styles of days gone by, and so this was particularly fascinating to me.



2. Check out the views from the top


Climb the spiral staircase up inside the turrets of Bunratty Castle all the way to the top and you will emerge into the open air, where you can enjoy the sweeping views over the lush greenery of Ireland (now you know why it's called the Emerald Isle).

Just make sure to shout up and make sure nobody's coming down the stairs before you start your ascent or you'll run into difficulties!



3. Meet the 19th century villagers


Wander around the Folk Park and venture inside the 30+ village buildings to see exactly how villagers in rural Ireland lived in the 19th century.

The cottages and thatched farmhouses are all totally different and represent the types of places that people of various social standings would have lived in.

Not only were the insides totally different, but each type of home was built differently to suit its individual purpose.

When you've finished with the houses, peer inside shop windows, pay a visit to the doctor's surgery, explore the village school or make a trip to the local post office.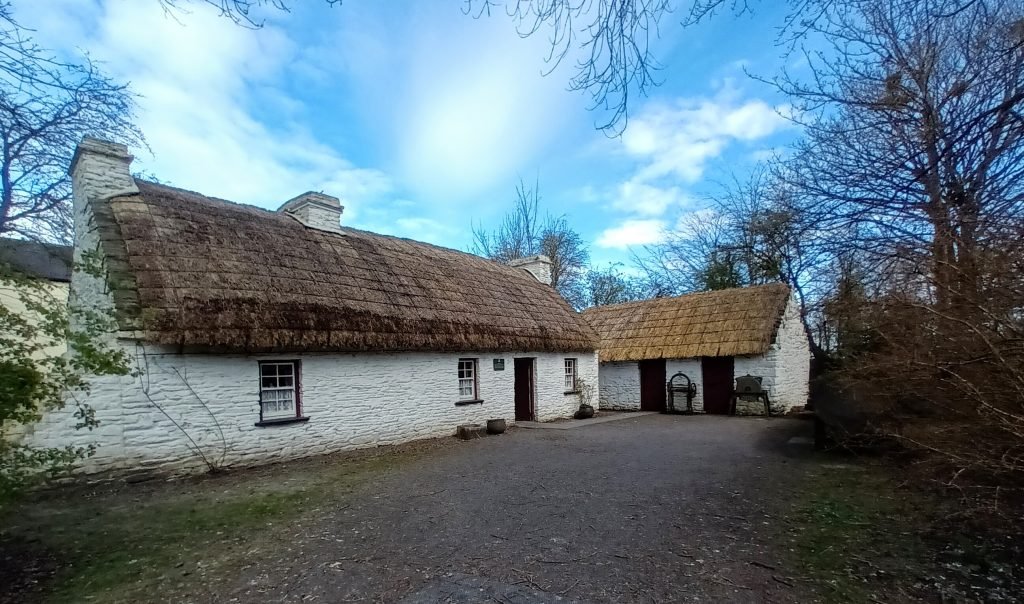 4. Meet the villagers!

From April onwards (gutted that I visited in March!), the Folk Village is full of actors in medieval dress going about their daily business.

You can watch the schoolteacher giving his lessons, observe the village policeman on his patrols, watch the blacksmith at work, listen to the local musician playing traditional Irish music and more.

You can even buy a pint at the fully licenced village pub, MacNamara and Sons to complete your 19th century experience!



5. Visit the pottery workshop


In one of the Folk Park cottages is a pottery workshop selling a range of items all designed and handmade by Shirley O'Neill.

The O'Neill family has been making pottery for many years, and every single piece in the shop is handcrafted by Shirley, meaning that no two pieces are alike.

With intricate Celtic designs and multicoloured glazes, the items are interesting to look at, even if you don't decide to buy anything.

Ethan's mum bought me a gold clip bookmark with a Celtic design on it and I love it!



6. Meet some Irish Wolfhounds


Irish Wolfhounds have been around since before Christianity and the written word, though they have inspired art, poetry and literature for generations (I immediately thought of The Grim/Sirius Black when I saw them for the first time!).

Once used to hunt game and act as a guardian for their masters against wolves, Irish Wolfhounds are colossal, weighing almost 9 stone at a minimum!

Known to be introverted, intelligent and reserved, these dogs truly are gentle giants, and you can meet two of them, Meabh and Saoirse, at Bunratty Castle.



7. Enjoy a picnic


If you're really lucky and visit Bunratty Castle on a sunny day, make the most of the rare Irish sunshine by having a picnic in the grounds!

Mr O'Regan's café prepares reasonably priced picnic boxes for families, with freshly cut sandwiches, homemade brownies, cookies, refreshing drinks and gourmet crisps.

All you have to do is order your picnic at Mr O'Regan's café 1 hour before you want to eat – I recommend ordering on the way into the castle, so it's ready when you come out!

A picnic box for 2 adults and 2 children is 37.50 EUR and a picnic box for 2 adults and 4 children is 49.50 EUR.


8. Follow the Fairy Trail


When I saw a tiny pink sign on a tree saying 'Fairy Trail,' I was SO SAD that I hadn't visited Bunratty Castle as a child (little Jezebel loved fairies).

Stroll through the walled garden (one of the other great things to do at Bunratty Castle!) and woodlands solving clues from the free interactive activity book along the way.

During the game there is a scavenger hunt where you can race to locate each type of flower in the booklet, learn fun facts, answer questions about nature and more.

Of course, the Fairy Trail game is designed for small children, but there's no harm in playing along as an adult either.

Even if you don't fancy playing, there are tonnes of cute toadstools dotted about and even a fairy seat with wooden wings – all very IG friendly 😉



9. Pull your own pint at Durty Nelly's


For some more 'adult' fun (no, not that kind of fun, get your mind out of the gutter), head to Durty Nelly's, one of Ireland's landmark Irish pubs located just outside the grounds of Bunratty Castle.

Established in 1620, Durty Nelly's is a charming and cosy pub where local villagers and tourists alike come to drink Guinness and get merry.

If you ask nicely, the bartender will even let you come behind the bar and pull your own pint of Guinness, showing you how to pour the perfect pint.

To learn the fascinating story behind Durty Nelly herself, click here!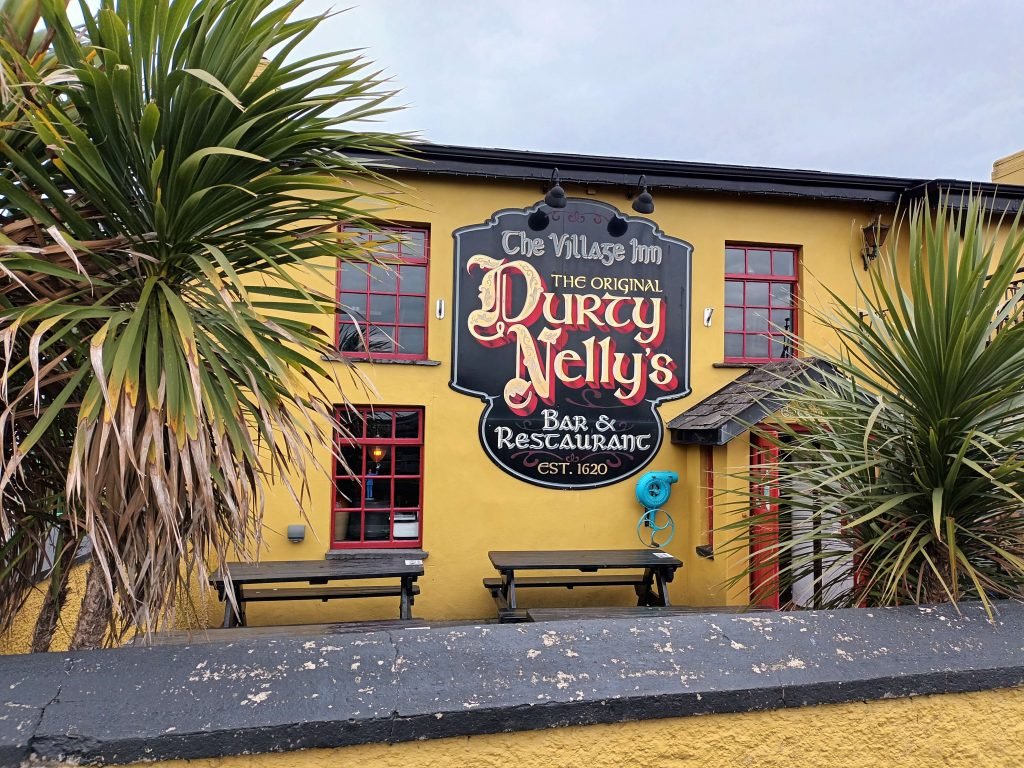 10. Eat fresh oysters


While you're at Durty Nelly's it would be a shame not to order a half-dozen oysters on ice, served with lemon and pickled scallions.

Oysters are native to Ireland, and the oysters I had at Durty Nelly's were among the freshest and tastiest I've ever had.



11. BBQ in the sun


This is the last point about Durty Nelly's, I promise!

There are a few decent restaurants dotted around the village of Bunratty, but if you visit on a nice summer's day, you absolutely have to take a seat on Durty Nelly's outdoor terrace by the riverside and enjoy one of their barbecues.

For just 16.50 EUR per person, you can each choose 3 types of meat from the list (honey glazed spare ribs, jumbo sausages, chicken skewers and more) and watch them sizzle on the grill before being served up with potato wedges, coleslaw and salad.

If you're feeling fancy, you can upgrade to the 'elite' menu (22.50 EUR) which includes Bulmer's Irish Cider pork belly, sirloin steak and giant tiger prawns.



12. Buy traditional Irish souvenirs


The gift shop at Bunratty Castle is a far cry from the overpriced and tacky souvenir shops that you'll find on the streets of Dublin.

The Shannon Irish Design Store stocks a wide range of quality Irish products from both established brands and small, independent buisnesses.

Glassware from all over Ireland, Aran knitwear, beautiful tableware, jewellery, Irish shortbread and more can all be found in the Shannon Irish Design Store, and all at reasonable prices.

Ethan bought me these gorgeous silver bracelets with jade and amethyst (12 EUR each or two for 20) that I am absolutely in love with.



13. Experience a medieval banquet


Perhaps the thing that Bunratty Castle is most famous for these days it its nightly medieval banquets, which 3 million tourists have experienced.

Enjoy a toast of Bunratty Mead and a short history of the castle with the Earl's Butler before heading into the banquet hall for a feast of spiced parsnip soup, spare ribs, roast chicken, local vegetables and apple cake, hosted by actors in medieval dress.

As the wine flows, The Earl of Thomond leads the entertainment, and you will enjoy medieval music complete with bagpipes, a fiddle, harp, singing and more.



14. Céilí in the Kitchen


If the medieval banquet isn't for you, Bunratty Castle also offers an event called 'Céilí in the Kitchen' which pays homage to the old celebration hosted in Irish homes the evening prior to an emigrant's departure from rural Ireland to the United States.

Friends, family and neighbours would all attend and spend the night dancing, singing and storytelling, as well as consuming liberal amounts of food and drink.

Céilí in the Kitchen takes part in one of the thatched houses of the Folk Park.

After being welcomed in by the man of the house, you will enjoy a feast of traditional Irish food, house wines and great company before enjoying a performance from some of the best musicians, singers and dancers from the West of Ireland.



15. Meet the animals of Bunratty


Another one of the many things to do at Bunratty Castle is to see how many of the resident animals you can find!

From geese and chickens to pigs, goats, ponies, rabbits, lambs, ducks and even Irish red deer, you will find plenty of furry (and feathered!) friends at Bunratty.

Either wander casually and see how many you spot, or follow the Pa's Pet Form Paddock Map across the 26-acres of land to make sure you find them all!



16. Order the seafood plate at JP Clarke's


JP Clarke's Country Pub of Bunratty is one of the best places to eat in Bunratty village, and if you try one thing off the menu, make it JP Clarke's Seafood Plate.

With smoked and poached salmon, crab and herb crème fraiche, a prawn cocktail and rock oyster, all locally sourced and fresh as can be, you won't be disappointed.



17. Watch the Bean an Ti's bake


The Bean an Ti is the woman of the house, and if you're strolling around Bunratty Folk Park, be sure to pop into the Golden Vale Farmhouse to watch several Bean an Ti's preparing Irish wholemeal brown bread, fruit scones, griddle cake and Shannon soda bread.

You might even get to try some!



18. Admire the walled garden


This small garden is enclosed by four stone walls that protect it from the harsh westerly winds.

Although the walls are the only original part of the garden left, all of the gardens at Bunratty have been beautifully restored, and so it's worth having a look.



19. Visit Bunratty Winery


Bunratty Winery is in Bunratty village and is the place to go if you want to see Bunratty Mead being made (which is served at the banquets!).

Bunratty Mead is a medium-sweet wine made from an ancient Irish recipe of pure honey, fermented grape juice, natural herbs, water and matured spirits, and it was the drink of choice among the medieval upper classes.

Bunratty Winery is also one of only a couple of distilleries licensed to brew Irish Potcheen, a potato whiskey that was considered to have such a bad influence on people, it was banned in 1661, and only made legal again in 1997.

Unfortunately, the winery doesn't offer tours of the winemaking process, but you can still go into the showroom and taste samples of Mead and Potcheen, or buy some to take home with you.

Fun fact: In olden times the bride and groom would drink Mead for one full moon after their wedding. It is this from this that we have the term 'honeymoon.'



20. Stay at Bunratty Castle Hotel


As we've established, there are so many things to do at Bunratty Castle that you could easily spend a night or two here, working your way through all the various activities on offer or simply soaking up the tranquil village atmosphere and country air.

Bunratty is also an excellent place to base yourself if you're planning to visit other places in County Clare such as The Burren, Cliffs of Moher, Thomond Park and King Johns Castle.

Bunratty Castle Hotel is not part of Bunratty Castle itself, but it is just across the road.

It boasts tasteful, understated rooms, a luxury spa with all the bells and whistles and a range of therapeutic treatments, as well as a 'techno gym' fitness suite.

There are also two hotel restaurants with a range of both local and international delights if you don't feel like going out!



Bunratty Castle FAQ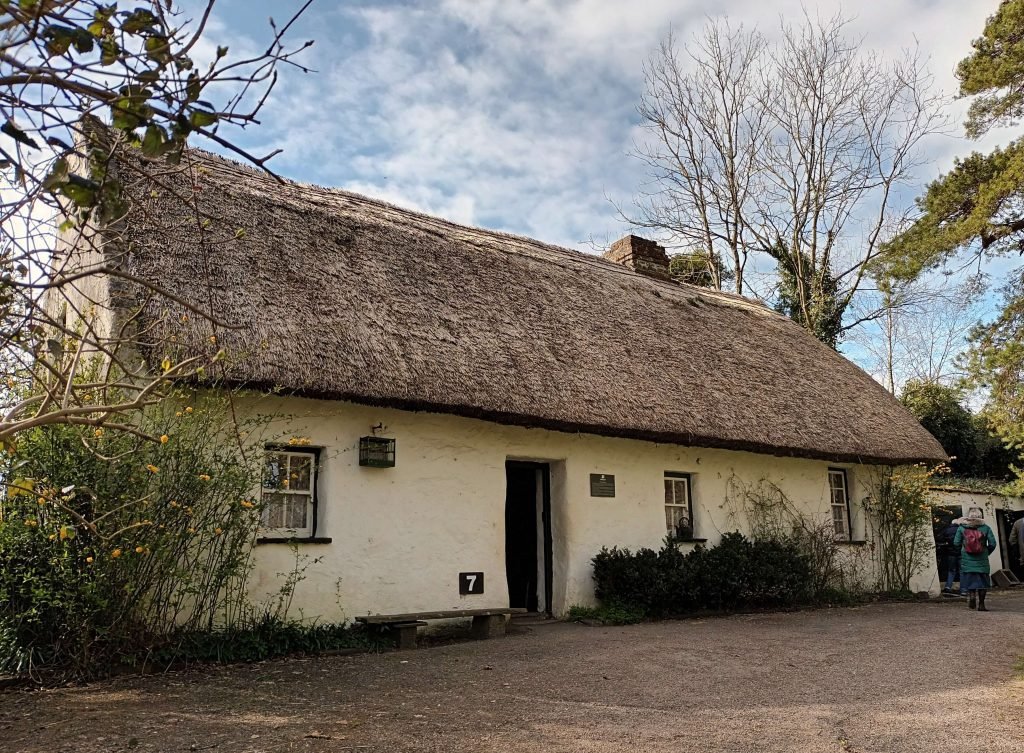 Visiting Bunratty Castle and the Village of Bunratty | Final Thoughts


If you've made it to this part of the article, well done!

It was certainly a long one, and despite having only visited Bunratty recently, I already want to go back and do some of the things I didn't get a chance to do (I'm dreaming of the BBQ at Durty Nelly's!).

Most people see Bunratty Castle as a small excursion that will only take a couple of hours, and while you certainly can see the castle in that time, you'll get so much more out of it if you stay for a night or two and discover all of the other wonderful things that Bunratty has to offer, from the local gastronomy to the evening performances.

I hope that this was a useful guide, and as always, if you have any questions then just leave them in the comments section below and I will be sure to get back to you!

Until next time,

XOXO



If you liked this article and would like to support my work, please click the button above to donate a couple of bucks and buy me a coffee. The ad revenue that I receive on this website is minimal, so support from my readers enables me to keep creating content that you (hopefully!) love to read.


Disclaimer: Travelling Jezebel uses affiliate links. If you make a purchase on a partnered site then I may make a small commission at no extra cost to you.