One day in Dublin is not enough, and I won't lie and say otherwise.

One day in any city is not enough time to get a real understanding of what that city is all about, and the Irish capital is no different.

However, sometimes a day is all we have, which makes planning our visit even more important. After all, we don't want to waste precious time on things that simply aren't worth it!

It may seem like a difficult task to squeeze in all that Dublin has to offer during a single day, and make no mistake about it – it is!

Luckily though, Dublin is an incredibly walkable city, and most of the popular Dublin attractions are very close together, so if you are limited to one day in Dublin, fear not, because I have the perfect Dublin itinerary for you.

Are you ready?

Then let's get into it.



How to Spend One Day in Dublin – A Dublin Itinerary


Before we get into it, I should point out that I won't be writing a minute-by-minute schedule that you have to stick to at all costs.

Too often those kind of things tend to underestimate the amount of time that it takes to travel between attractions, how much time you actually want to spend at a certain museum or when you want to eat lunch etc.

Many of the things on this Dublin itinerary also require you to buy tickets beforehand, and it isn't always possible to get the exact time you want.

Essentially, this is a pretty loose guide to how to spend one day in Dublin, especially if you're visiting Dublin on a budget and want to make the most of your time there.

If you want to fit everything in without feeling too rushed, I recommend making sure you're up and about by about 8ish.

Pro tip – if you only have one day in Dublin, you're on pretty limited time. Make the most of that time by purchasing a hop-on, hop-off bus tour.

A hop-on, hop-off bus will take you to all of the main Dublin attractions and includes a live English-speaking guide (and audio guides in 8 different languages). Buses are every 30 minutes, so you can hop-off if you see something you like, and then just re-join the tour when the next bus comes! This hop-on, hop-off sightseeing bus on GetYourGuide includes 24, 48 and 72-hour ticket options and is one of the most highly-rated Dublin activities on the site!



Breakfast in Dublin


You'll be doing a lot of walking, so it's definitely wise to set yourself up for the day with a hearty breakfast!

I spent a lot of time in my hostel dorm room Googling the best breakfast in Dublin, and was surprised to find that the touristy Temple Bar area wasn't much more expensive than other places in the centre, so I headed to the highly-rated Joy of Cha for my first breakfast on the Emerald Isle.

The Joy of Cha is a quaint little café with a bohemian feel, friendly staff and a wide range of breakfasts, sandwiches and cakes.

I ended up going for the Breakfast Bagel with grilled cheese, a fried egg, crispy bacon and greens (8.50 EUR) and a cappuccino (2.90 EUR), but was very tempted by the Irish Traditional Breakfast with free-range eggs, bacon, sausage, white pudding, black pudding, grilled tomato, baby potatoes and toast (9.50 EUR).

It was unreal.

The cappuccino was one of the best I've ever had (and huge!) and the bagel was absolutely delicious.

If you're staying near the Temple Bar area, you can't go wrong with Joy of Cha.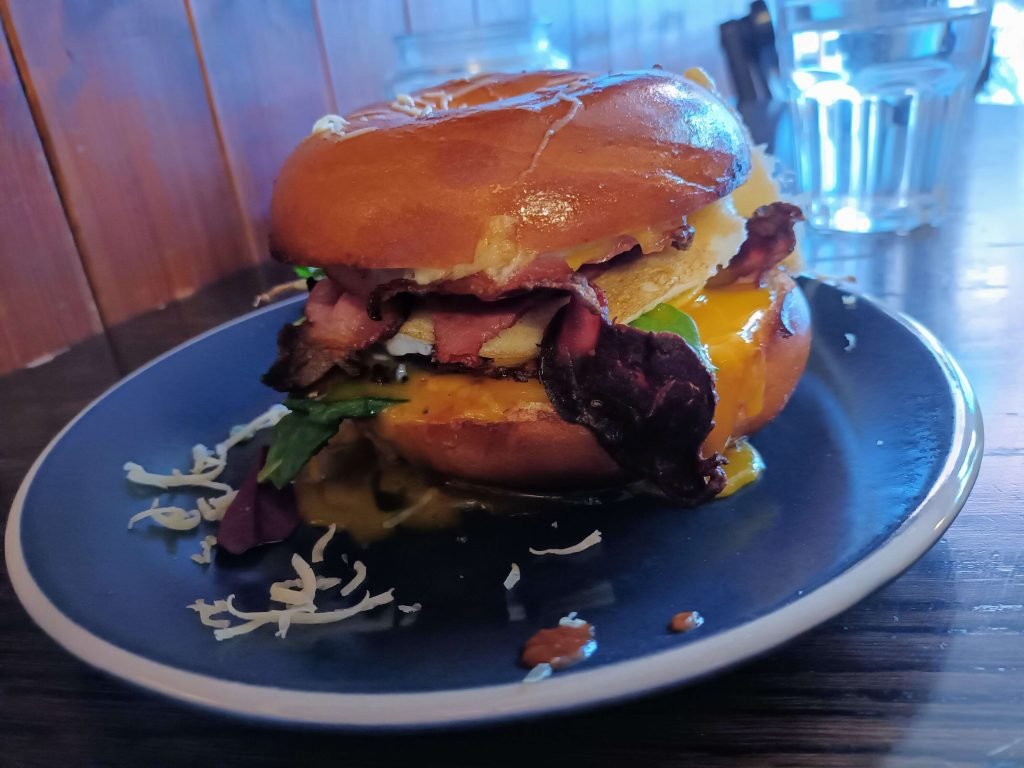 Marvel at St Patrick's Cathedral and Marsh's Library


St Patrick's Cathedral is, of course, dedicated to the one and only Saint Patrick, the patron saint of Ireland and the reason why you probably dress up in green and get drunk every March 17th.

St Patrick's also happens to be the national cathedral for the whole of Ireland, making it a pretty important stop on your Dublin itinerary!

As if all that wasn't enough, St Patrick's is one of the few buildings left from medieval Dublin, having been around for over 800 years!

If you want to see the spectacular interior with its stained glass windows, medieval tiles and marble statues, tickets are 8 EUR.

You can either wander around by yourself or join one of the free guided tours, which take place at regular intervals throughout the day (just ask when the next one is!).



If, like me, you prefer to admire the architecture from the outside, grab a coffee from the cutesy Tram Café, located behind the cathedral in St Patrick's Park (yes, it's an actual tram).

With an abundance of colourful flowers, a central fountain and lots of benches, St Patrick's Park is the perfect place to have a rest and take in the stunning Gothic architecture and 120 foot tower, making St Patrick's the tallest cathedral in Ireland!

Just next door to the cathedral is Marsh's Library, the oldest library in Ireland and the home of ancient tomes dating all the way back to the 15th century!

Not only is Marsh's Library the one of the last 18th century buildings in Ireland that is still used for its original purpose, but if you look very carefully, you can even see bullet holes from the 1916 Easter Rising.

Admission to Marsh's Library is 5 EUR.



Discover the Chester Beatty Library


The Chester Beatty Library is not only one of the best free Dublin attractions, but it's also described by the Lonely Planet as 'not just the best museum in Ireland but one of the best in Europe.'

Once the private library of Sir Alfred Chester Beatty, an Irish American copper mining engineer, philanthropist and avid 'collector,' of artefacts, the Chester Beatty is now open to the public as a museum and research library for scholars everywhere.

It is a treasure trove of rare books, manuscripts and other fascinating pieces from all around the world, and its aim is to promote the appreciation and understanding of world cultures.

With Japanese prints, papyrus manuscripts, Middle Eastern books, Persian art, and more, you can easily while away an hour or two in the Chester Beatty.

And again – it's totally free, which is more than can be said for most Dublin tourist attractions!



Join a Free Walking Tour


One of my favourite things to do in any city is a Free Walking Tour.

Free Walking Tours are always a great introduction to a city, with the added bonus of being able to pay whatever you like to the guide at the end (yeah, they're not really free).

The Free Walking Tour that I opted for was Free Tour of Dublin, ran by Generation Tours Dublin (reserve your spot for free here).

It kicks off every day at 11am from The Old Storehouse in Temple Bar and includes Dublin Castle, Christ Church Cathedral, Temple Bar (with a pitstop for a pint of Guinness of course!) and a tonne of cool history, legends, and even a ghost story!

Of course, we didn't venture inside any of the places on our tour – if you want to explore anywhere in more detail then you can buy an admission ticket online and enjoy a self-guided or guided tour.



There are also plenty of paid walking tours that you can take in Dublin which cater to pretty much every taste.

Some of my picks are:

The Dark Side of Dublin (ghosts, devil worshippers and more!)

Dublin Irish Literature Walking Tour

Silent Disco Walking Tour

Jewish History of Dublin Walking Tour

Dublin Delicious Walking Food Tour



Enjoy some hearty Irish grub


After all that walking, you'll probably have worked up an appetite, so find an Irish pub and treat yourself to some traditional Irish food.

I enjoyed a delicious beef and Guinness stew with toasted granary bread and lashings of salted butter at Grainger's Cafe Bar, just across the River Liffey (about a 15 minute walk from Temple Bar).

Everything on the Grainger's lunch menu is 12 EUR, and highlights include fish and chips, seafood chowder and bangers and mash (and the stew, of course).



Kilmainham Gaol/Guinness Storehouse


Now your belly's full, you have a choice to make – you've got time for either a visit to the old Kilmainham Gaol or a trip to the Guinness Storehouse.

For my day in Dublin, I decided to go for the Kilmainham Gaol.

Kilmainham Gaol opened its doors in 1796 and was used as a prison up until 1910 (and again temporarily after the 1916 Easter Rising, where accused Irish rebels were held).

As well as housing hundreds of common criminals (including children as young as 4), Kilmainham also housed political prisoners who were fighting for Irish independence.

It is Kilmainham Gaol where the British put to death many of the leaders of the Easter Rising by firing squad.

I learnt so much during my visit to Kilmainham Gaol, and my 8 EUR ticket included a 1 hour guided tour of the prison itself, as well as entry to the on-site 3-storey museum as well – bargain!

You can buy your ticket here. Spots fill up fast, so don't leave it until the last minute!



For those of you who want the quintessential 'Irish experience' with more of the booze and less of the history, the Guinness Storehouse is the place for you.

Bought in 1759 on a 9000-year lease, the Guinness Storehouse isn't going anywhere soon, which is a good job considering it produces 3 million pints of Guinness every day!

You can wander around the Storehouse at your leisure (the tours are self-guided) before heading up to the Gravity Bar for a free pint and sweeping panoramic views of the city.



Get Merry in Temple Bar


Ah. Temple Bar, the most famous neighbourhood of Dublin.

While you won't find many Dubliners here, this former bohemian district of the city (the artists and poets were forced out when the government realised how much tourist dollar they could make from Temple Bar) is home to tonnes of lively pubs, all with creamy pints of Guinness, trad music and hordes of drunk tourists.

Is it 'authentically' Irish?

Of course not.

Is it tonnes of fun?

Oh yes.

You'll probably want to head to The Temple Bar at Temple Bar (yes, one is actually a bar and one is just the name of the area).

The Temple Bar is the most famous pub in Ireland, and is home to the largest whiskey collection in the whole of Ireland (over 450 different types!).

You can expect trad music every evening, overpriced pints and lots and lots of tourists.

However, it's been there since 1840, it's famous as hell and having a drink at The Temple Bar is sort of a rite of passage if you visit Dublin.



After drinking a Guinness at The Temple Bar (this is always the cheapest beer in Dublin), work your way through some of the other buzzing pubs in Temple Bar.

If you're getting peckish, I recommend Oliver St John Gogarty (I had a gorgeous seafood chowder and fish and chips here) for its hearty food and lively atmosphere.




For a pint that won't break the bank, The Old Storehouse Bar & Restaurant sells pints of Guinness for 5.50 EUR, and The Snug has one of the cheapest pints in Dublin at just 3.70 EUR!

If you're looking for fun of the organised variety, this backpacker pub crawl is ridiculously good value at just 14 EUR – for that, you'll get a pint of Guinness, some shots, free entry to clubs and VIP entry to Copper Face Jacks (which is usually 10 EUR for standard entrance).

This is one of the cheaper pub crawls I've seen in Europe, and considering how pricey Dublin is, I think it's well worth it.



Where to Stay in Dublin


After all of that walking (and drinking!), you'll no doubt be looking for a decent night's sleep, and Dublin is packed full of options.

Here are my picks for the best 'budget' (you can never get truly budget accommodation in Dublin), mid-range and luxury places to stay in Dublin.



Where to stay in Dublin – Budget $


For my first visit to Dublin, I stayed in Jacob's Inn hostel.

It had a large bar/restaurant area that was great for getting some work done while I was waiting to check in, friendly staff and capsule beds for absolute privacy.

Not only were the beds totally private, but each one had two lights (one being neon!), a shelf, two USB plug sockets, and fluffy white duvets, as well as a locker large enough for a backpack or suitcase.

I wasn't around much when I stayed there so I didn't experience the social side of things, but as far as amenities go, Jacob's Inn was a solid choice.



Where to stay in Dublin – Mid-range $$


For my second trip to Dublin, my boyfriend and I stayed in Harcourt Hotel.

At the time of booking, we paid just 89 EUR for a night, which is insanely cheap for Dublin. The reason why the rooms are so cheap is that there is a nightclub/bar right outside, so it does get noisy.

With that said, the club does close at 2.30am, and I was asleep way before then, despite usually struggling to sleep.

They also provide earplugs which is a nice touch!

In terms of the hotel itself, I loved it.

The bed was super comfy, the bathroom was gorgeous, there were tea and coffee facilities, blackout curtains, A/C and heating, and a lovely table and chairs area. I was also able to store my luggage there for free the next day (Jacobs Inn charged me 5 EUR for 6 hours), and the staff were really friendly.

If you don't mind a bit of noise or are planning to be out late anyway, I really recommend Harcourt Hotel.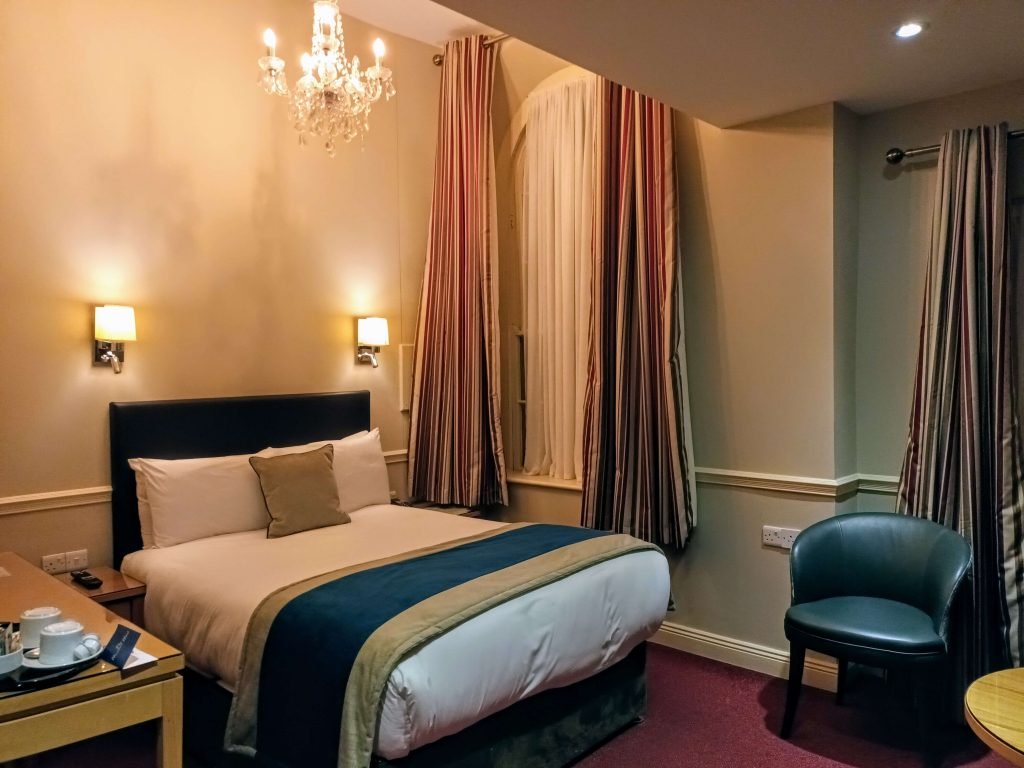 Where to stay in Dublin – Luxury $$$


For 5-star luxury with no expense spared, The Merrion Hotel has it all.

This elegant Georgian building with its landscaped gardens, Italian marble bathrooms with luxury toiletries, spa facilities, infinity pool and restaurant with 2 Michelin Stars is what dreams are made of.

The only problem with The Merrion is that if you're staying here, you'll never want to leave the hotel!



Things to Know Before Visiting Dublin


The currency in Dublin is the EURO. Most places accept card payments but it's always advisable to carry cash just in case.

Taxis in Dublin are expensive, especially for tourists. Use the FREE NOW taxi app (similar to Uber) to avoid paying over the odds.

Dublin is a relatively safe city but unfortunately it does have a higher crime rate than other cities in Ireland. As with anywhere, you should always be vigilant and exercise caution. Keep a close eye on your belongings, especially in the crowded Temple Bar area, Connolly Railway Station, Heuston Station, and Grafton Street.

Dublin uses the 3-prong plug, like the kind found in England.

Dublin is very expensive. Hostel dorms can be over 50 EUR, a pint of lager is usually around 7 EUR, and for the smokers among you, a pack of cigarettes will be at least 15 EUR.

It will probably rain at least once! Even in the summer, Ireland rains a lot, and it isn't uncommon to experience 4 seasons in a day. Layer up and bring something waterproof for your trip to Dublin.

As far as public transport, you can take either the tram (Luas) or the bus. Be aware that when using the bus, you can't pay in card and no change is given. If you can, use the tram.



One Day in Dublin | Final Thoughts


As I said at the beginning of this post, one day is nowhere near enough time to truly get to know a city.

You are never going to see all of the main attractions, sample all of the local delicacies and drink a pint in all the quirky pubs.

However, one day in Dublin is better than no time at all, and I am confident that if you stick to my itinerary, you will be able to get a real feel for the city and have fun at the same time.

Any questions?

Don't hesitate to ask me in the comments section below and I will do my best to help!

Until next time,

XOXO


If you liked this article and would like to support my work, please click the button above to donate a couple of bucks and buy me a coffee. The ad revenue that I receive on this website is minimal, so support from my readers enables me to keep creating content that you (hopefully!) love to read.

Disclaimer: Travelling Jezebel uses affiliate links. This means that if you make a purchase on a recommended site then I may make a small commission at no extra cost to you.