Visiting Ireland is a dream for so many people, and the capital of Dublin is usually high on people's bucket lists of top European city breaks.

However, there's a small problem.

Ireland is one of the most expensive countries in Europe and Dublin is a very expensive city.

With 7 euro pints and hostel dorm beds sometimes exceeding 100 EUR (I wish I was joking), it's safe to say that if you're visiting Dublin on a budget, you'll need to do some careful planning.

Fortunately, it is possible to plan a trip to Dublin without breaking the bank.

It isn't easy, but it's possible.

So, if you're like me and you don't have money to burn on your Dublin trip, worry not, because I've put together this guide to visiting Dublin on a budget so that you can still enjoy the Irish capital without crying over your bank statement when you return home.

From getting around and sleeping cheap to finding free Dublin attractions, this handy guide is packed full of useful tips to make your stay in Dublin as enjoyable (and affordable) as possible.

Are you ready?

Then let's get into it.



How to Visit Dublin on a Budget


Budget accommodation in Dublin


Many of the 'Dublin on a budget' guides online say that you can do Dublin on 30-40 EUR a day.

I don't know how long it's been since those people were in Dublin, but let me tell you right now that you'll be lucky if you even find accommodation for less than that.

I stayed at Jacobs Inn hostel in Dublin, and while I thought that 30 EUR for a bed in a 10-person dorm was on the steep side, I couldn't believe it when I found out that the same bed was going for 55 EUR the following day.

Honestly, accommodation in Dublin is just super pricey and you'll probably struggle to find something that's not a rip-off.

When it comes to finding budget accommodation in Dublin, I recommend the following:


If you have Airbnb, have a look there first. Airbnb allows you to rent a room in somebody else's house, which can end up being way cheaper than a hotel room, and a similar price to a hostel dorm bed!
Try and plan your Dublin trip for a week day. Tuesdays are usually the cheapest in terms of accommodation.
For dorm beds, Hostelworld is the place to go.
For hotels, use a site that offers a price match function like Booking.com to ensure you're getting the best rates. If you're on their Genius programme, you can also get room upgrades and breakfast at no extra cost with certain hotels.
Partner up – my boyfriend and I found that it was cheaper to book a hotel room at the last minute than a hostel. We paid 89 EUR for a room at Harcourt Hotel and it was lovely.
Try Couchsurfing! If you're up for an adventure, Couchsurfing allows you to stay at a local's home for free in the name of cultural exchange. There are currently over 37,000 Couchsurfing hosts in Dublin willing to offer their spare room or sofa for free, making this the best option for doing Dublin on a budget.

Getting around in Dublin


Dublin is a very compact city, so you'll be able to see all of the main sites on foot.

With that being said, if you have limited time to spend in Dublin then you might want to think about getting a hop-on, hop-off bus ticket.

A hop-on, hop-off bus will take you to all of the main Dublin attractions (25 stops!) and includes a live English-speaking guide. Buses are every 30 minutes, so you can hop-off if you see something you like, and then just re-join the tour when the next bus comes!

This hop-on, hop-off sightseeing bus on GetYourGuide includes 24, 48 and 72-hour ticket options and is one of the most highly-rated Dublin activities on the site!



Some useful tips for navigating public transport include:


You can borrow a bike for 30 minutes for free with dublinbikes. If your time is running out, simply hop off and pick another bike.
The buses in Dublin only take cash and do not give change, so unless you have the exact fare for your journey, it might be better to take the tram (Luas).
Use a taxi app like FREE NOW for fixed fares, card payments and the ability to see how much a ride will cost before you book.
You can reach the centre of Dublin by bus from the airport. A single ticket costs 6 EUR or you can buy a return for 10. For context, a taxi on FREE NOW is around 30 EUR.

Affordable Dublin attractions


There are plenty of Dublin attractions that charge anywhere from 10-25 EUR to enter.

Museums are usually around 10, the cathedrals are 8, and the Guinness Storehouse and Jameson Whiskey Distillery are pricier still.

This can all mount up, but luckily there are plenty of affordable (and even free!) Dublin attractions that won't burn a hole in your pocket.

Here are my picks:


The Chester Beatty Library is heralded as being one of the best museums in Europe by Lonely Planet and admission is totally free. Here you can see art, literature and various other artefacts from around the world, from the private collection of Irish/American miner and philanthropist, Sir Alfred Chester Beatty.
The National Museum of Ireland is actually 4 museums and the best bit is that admission is totally free! Visit the museums of Decorative Arts and History, Country Life, Natural History and Archaeology to learn everything you possibly can about Irish history. The National Museum(s) of Ireland are definitely among the top free Dublin attractions.
If you don't have the 18 EUR to stump up for the Trinity College and Book of Kells museum but you still have a thing for old libraries, you can visit Marsh's Library for the meagre sum of 5 EUR. Marsh's Library is the oldest library in Ireland and home to ancient tomes dating all the way back to the 15th century. Not only is it the one of the last 18th century buildings in Ireland still used for its original purpose, but if you look carefully, you can even see bullet holes from the 1916 Easter Rising.
While you'll have to fork out 8 EUR to enter St Patrick's Cathedral, the national cathedral of Ireland, it costs nothing to admire the stunning Gothic architecture from the outside! On the cathedral grounds is St Patrick's Park with lots of flowers, a central fountain and quaint café named Tram Café (because it's an actual tram) where you can enjoy a coffee and the fresh air.
If you haven't had your fill of cathedrals, head to Christ Church Cathedral and admire that one too! Again, you'll have to pay to enter, but looking from the outside is free!
Explore the grounds of Dublin Castle for free as well (are you seeing a theme here?).
Join a Free Walking Tour! Free Walking Tours are always a great introduction to a city, with the added bonus of being able to pay whatever you like to the guide at the end (I usually tip between 5-10 EUR). The tour that I opted for was Free Tour of Dublin, ran by Generation Tours Dublin (reserve your spot for free here). It kicks off every day at 11am from The Old Storehouse in Temple Bar and includes most of the main Dublin attractions (and even some ghost stories!).
Visit Kilmainham Gaol. Kilmainham Gaol is an old prison and the place where the British executed many of the leaders of the 1916 Easter Rising by firing squad. A 60-minute tour and access to the 3-storey onsite museum costs just 8 EUR. Reserve your place in advance here (spots fill up quick!).
Wander around St Stephen's Green, one of Ireland's oldest public parks and a great place to take a break from the hustle and bustle of the city. With a fountain, statues of notable Irish citizens and a huge pond home to ducks and swans, St Stephen's Green is one of the best free places to visit in Dublin.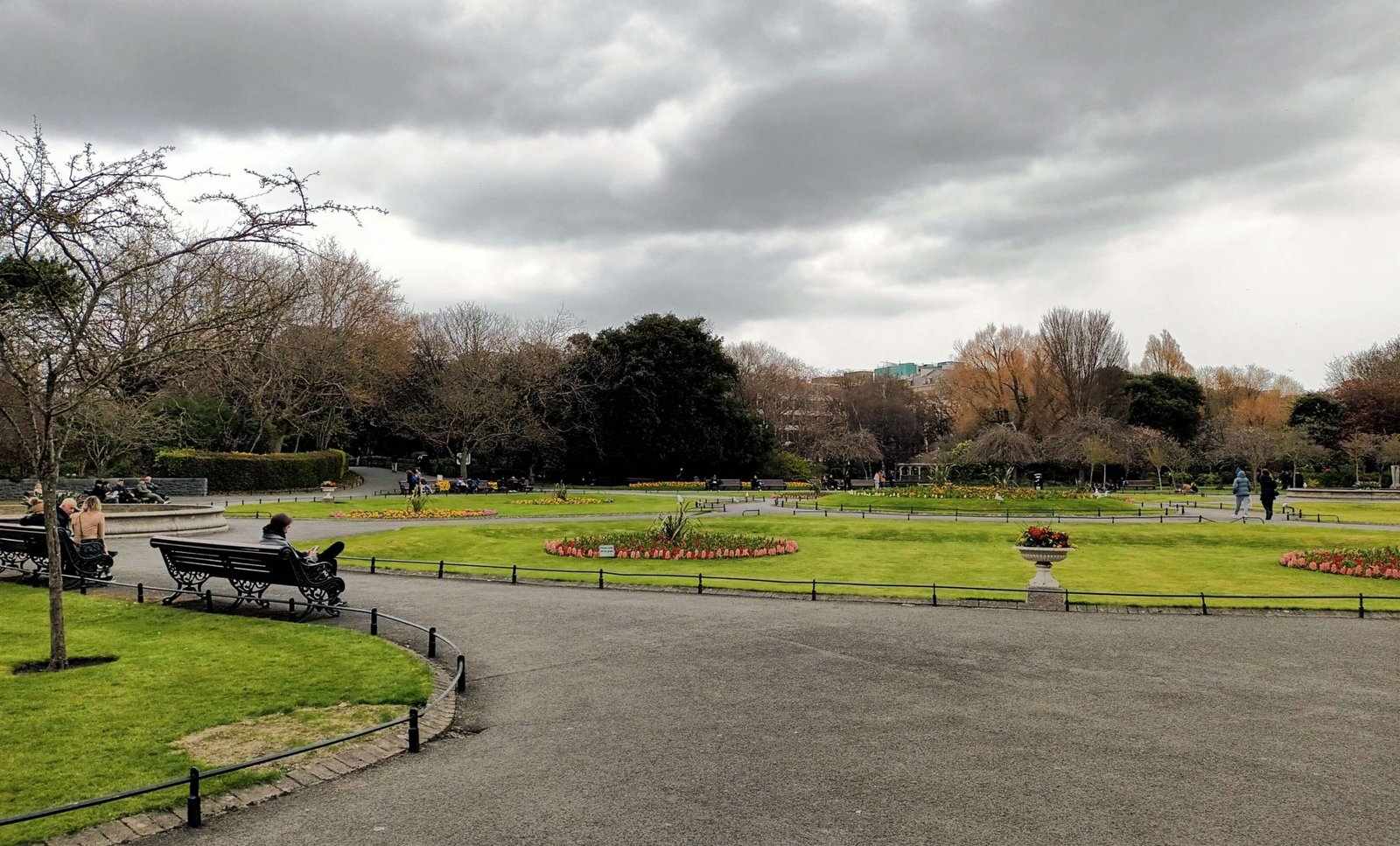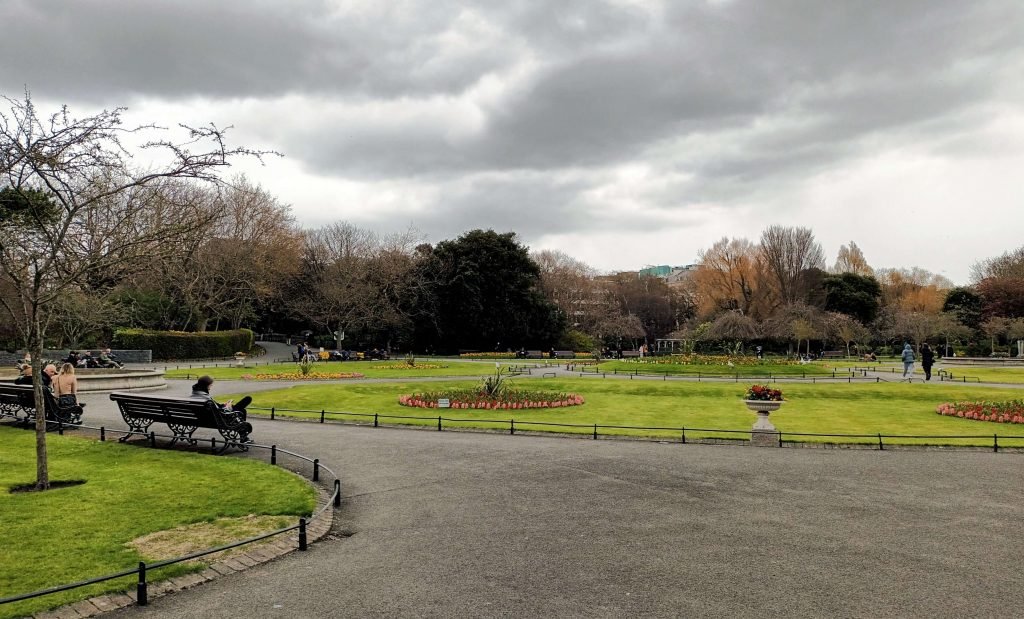 Drinking in Dublin on a budget


I'm not gonna lie – one of the most expensive things to do in Dublin is to drink.

A pint of lager is usually over 7 EUR and even Guinness, which is the cheapest beer around, isn't that much cheaper.

However, a huge part of Irish culture is having a drink, especially after you've guzzled down tonnes of traditional Irish food, and I've no doubt you're eager to explore Temple Bar and experience some Irish pubs.

Here are my tips on how to enjoy a cheeky tipple in Dublin without spending your life savings.


Naturally you'll want to drink in the pricey Temple Bar area, which is the most touristy spot of Dublin. Although a drink at The Temple Bar in Temple Bar (yes it's confusing) is a must, it's also going to be very expensive. By all means enjoy your first pint there, but then head to nearby pub The Snug for true Irish vibes and pints for less than 4 EUR. The Snug is cash-only so come prepared!
Kalabasa Bar and Restaurant sells 2 cocktails for 10 EUR and affordable food options.
Token is a bar/restaurant/pinball parlour/retro arcade with 'high-end fast food' and many different beers for under 6 EUR a pint (this is actually cheap for Dublin).
You can also head to both The Silver Penny and Keavan's Port for stupidly cheap drinks. This is because they are part of the English J.D Wetherspoon chain of pubs, and you can get a pint for just over 3 EUR! They also have tonnes of food deals on where you can get a meal and a drink for 10 EUR.
If you're really on a budget in Dublin, you can make like the students do and drink cans of beer by the canal!

Visiting Dublin on a Budget | Final Thoughts


While the costs of a trip to Dublin can certainly mount up, I hope I've managed to show that you can still get a feel for this city without breaking the bank.

I don't feel as though I particularly missed out on anything when I visited Dublin on a budget, especially given that some of the best attractions are actually free (I shouldn't say this but I've always preferred cathedrals and castles from the outside anyway).

As always, if you have any questions for me then please leave them in the comments section below and I will get back to you.

If you only have one day to spend in Dublin then make sure to check out my guide on how to spend a day in Dublin too!

Until next time,

XOXO


If you liked this article and would like to support my work, please click the button above to donate a couple of bucks and buy me a coffee. The ad revenue that I receive on this website is minimal, so support from my readers enables me to keep creating content that you (hopefully!) love to read.

Disclaimer – Travelling Jezebel uses affiliate links. This means that if you make a purchase on a recommended site then I may make a small commission at no extra cost to you.