Bali was the first place that I ever visited as a solo traveller and it remains up there with my favourite travel destinations of all time.

With friendly locals, a tasty cuisine, a fascinating culture and tonnes of hidden gems, it's hardly surprising that more and more people are flocking to Bali every year, from budget backpackers to luxury travellers, all eager to experience the Bali that they have seen on Instagram and in Eat, Pray, Love.

From luscious rice paddies to jagged cliffs, sacred temples and pristine beaches, this petite Indonesian island really does have it all, and if you're planning a trip to Bali, it can be difficult to know where to begin.

With this in mind, I decided to put together a Bali itinerary that will help you plan a wonderful 2 weeks in Bali.

Whether you want to learn to surf, munch on some of the world's best vegan food or wander through rice paddies, this Bali itinerary has got you covered.

So, without further ado, let's get right into planning your Bali trip!



The Ultimate 2 Weeks in Bali | A Bali Itinerary


How long should you spend in Bali?


Not all of you will be fortunate enough to have 2 weeks in Bali. Some of you will have 10 days in Bali, some of you will have just 1 week in Bali, and some of you will have much longer.

I spent 5 weeks exploring Bali and the Gili Islands and I still only managed to experience a fraction of all the wonderful things that this magical little island has to offer!

It is my idea that you can use this as more of a loose guide than a strict minute-by-minute kind of deal.

If you have more time to play with, feel free to add a couple of days onto each of the places I mention in order to explore those places in more depth.

If you have less time, decide which are your must-do Bali attractions and prioritise them.

Are you a beach bum?

Add Canguu and Uluwatu to the top of your list.

Do you prefer learning about culture and tradition?

Make sure to base yourself in Ubud for a few days.

Whatever your jam, be it high-end beach clubs or yoga lessons, temple hopping or volcano trekking, make a note of your non-negotiables and stick to it!

If you only have 1 week in Bali then I strongly recommend choosing 2 places to base yourself in and exploring the island by hiring a driver and doing some day trips – you don't want to be wasting precious time checking in and out of accommodation when you could be using the time to see Bali's main sights instead!

If you have more time in Bali then you should definitely check out the nearby Gili Islands. I will be sharing my recommendations for visiting the Gili Islands towards the end of this post, so make sure to read right until the end!



Bali itinerary for 2 weeks in Bali


3 days in Seminyak


Although many people visiting Bali tend to start with Kuta, I recommending skipping Kuta in favour of Seminyak (more on why later).

Seminyak is Kuta's much more upmarket cousin, located just a 15 minute taxi ride down the road (making it super easy to get there from the airport – you can book your transfer with i'way.)

Every year, Seminyak is getting busier and busier, and it's not hard to see why – home to an abundance of spas, famous beach clubs and designer boutiques, not to mention luxury villas and a stunning sandy beach to boot, Seminyak is a popular choice for luxury travellers and flashpackers alike.



Day 1 in Seminyak


No Bali bucket list is complete without a trip to the Potato Head beach club making an appearence.

Potato Head describe themselves as a 'creative village by the ocean is where music, art, design, food and wellness play together.'

While away an afternoon in the infinity pool sipping cocktails, indulge in some gourmet Indonesian food, take a yoga class or watch a cultural performance in the club's very own amphitheatre!

Whatever your vibe, there will be something to tickle your pickle at Potato Head.

Expect to pay around 7 EUR for a cocktail and Western food prices.



When you've had enough time relaxing and recharging at Potato Head, experience Seminyak nightlife at La Favela.

La Favela is a nightclub and restaurant like no other. Inspired by the jungles of Indonesia, the favelas of Rio, the underground bars and clubs of London and New York through the early 90's and much more, La Favela was designed to captivate, and captivate it does!

Considered the first in Bali's underground party scene, La Favela boasts semi-indoor gardens, artificial waterfalls, ornate décor juxtaposed with graffiti and street art, and absolutely no house or techno – just 'music that everyone loves and can dance to.'

If you're more about deep house music and bougie surroundings, Woobar at W Hotel might be more your scene. Describing itself as a 'place to see and be seen' with international DJs, a sky deck and expensive cocktails, Woobar is one for the influencers and socialites.



Day 2 in Seminyak


Kick off your day with an Insta-worthy vegan brunch at Kynd Cafe. Think smashed avo, garlic mushrooms, vegan eggs benedict and other hipster favourites in an absolutely stunning open space.

When you're full to burst, take a stroll down Seminyak's main shopping street, Jalan Laksmana.

Dubbed the best shopping street in all of Bali, Jalan Laksmana is a 1km strip where you can find handcrafted artisanal jewellery, local designer boutiques and concept stores.

If shopping isn't your thing then why not get a Balinese massage?

There are tonnes of spas in Seminyak catering to every budget, but you can also just do what I did and walk right into one of the many massage parlours that line Seminyak's streets and pay around 5 EUR for a 60 minute massage.

When it gets to late afternoon, take a taxi to the most photographed temple in Bali, Tanah Lot. Tanah Lot is a beautiful temple located on the top of a rock at the seaside. Not only is it a sight to behold, but it is also where you can catch an incredible sunset.



Day 3 in Seminyak


No Bali itinerary is complete without a day dedicated to lazing around on the beach (or more than a day!). Seminyak's beach is a great place to catch some rays and relax. When I was there, the sun loungers were just 2 EUR to rent and came with a free soft drink or beer – you can't grumble at that!

Sidenote: the first time I tried to rent a sun lounger in Seminyak, I realised I'd left my purse at the hostel. The guy working at the beach bar actually drove me to my hostel on his scooter to pick up my purse, telling me 'don't worry, if I do something bad, you can call the police!' – it definitely wasn't as reassuring as he meant it to be, but I arrived back at the beach safe and sound!

End your afternoon in style by watching the sunset at La Plancha, a beach bar inspired by Spanish chiringuitos with colourful beanbags, happy music and tapas dishes that has made its way onto many 'top 10 beach bars in the world' lists.

Owned by the same people as La Favela, La Plancha also yearned to break away from the deep house and techno that dominated the Seminyak nightlife scene, creating a more relaxed and unpretentious atmosphere.



Where to stay in Seminyak


Unfortunately, the hostel that I stayed in while in Seminyak is no longer in business. Here are my best picks for hostels in Seminyak (if you prefer to stay in other accommodation types, check out Hotellook for villas, guesthouses and hotels):

Stellar Capsules: a social hostel with capsule beds, quirky art and a swimming pool.

M-Box Semiyak: another capsule hostel with free gym equipment, pool table and pizza nights.

d'Gobers Hostel: with two roof terraces, a swimming pool and free Indonesian or Western breakfast, this is another highly rated hostel that is great for meeting new people and partying.



3 days in Canggu


If you want to learn how to surf in Bali, Canggu is the place to do it.

Every single person I met that had taken surfing lessons in Bali had taken them in Canggu, and Canggu has the benefit of being ever so slightly less touristy than nearby Seminyak and surrounded by lush green rice paddies, making it a peaceful escape.

As there are not that many things to do in Canggu, I won't break this one down day by day because 3 days in Canggu will be too much for some people.

For the slow travellers who enjoy a laid back experience, 3 days in Canggu is perfect, but you could easily arrive in Canggu in the morning and stay for just 1 night if you want to get the most out of your 2 weeks in Bali.



The best things to do in Canggu


– Learn to surf, duh!

– Relax on Canggu's beach, an unusual black sand beach that is definitely worth taking a picture or two!

– Head to The Lawn beach club and relax in the infinity pool while sipping on cocktails – the Canggu beach clubs are less pricey than the Seminyak clubs, making them a better choice for backpackers!

– Visit the markets. The Love Anchor Canggu Market is open every day from 9am – 11pm and sells cute dresses and jewellery. The Samadi Bali Market takes place every Sunday from 8am – 2pm and is the place to go for fresh organic produce and products made by local artisans.

– Discover all of the best brunch spots where you can feast on some of the most photogenic food you've ever seen. From Poke bowls to burritos, veggie burgers to smoothies, you can't go wrong with brunch in Canggu.

– Party at Old Man's, a self-professed 'beachfront beer garden' with cheap and cheerful drinks, live music and drinking games.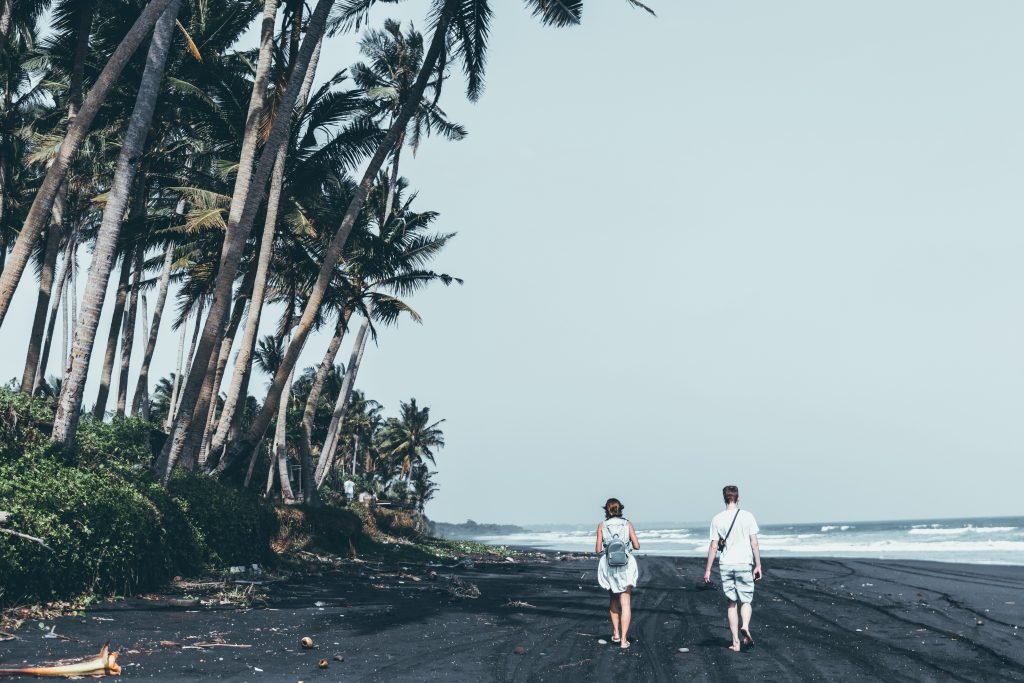 Where to stay in Canggu


Here are my best picks for hostels in Canggu (if you prefer to stay in other accommodation types, check out Hotellook for villas, guesthouses and hotels):

The Tipsy Gypsy Hostel – A lively party hostel with a pool in a great location.

The Farm Hostel – A large, 80-bed hostel with 2 swimming pools, multiple common areas and a relaxing vibe.

Elements BnB – A stunning building with large swimming pool and quiet atmosphere.

Lay Day Surf Hostel – A party hostel ran by surfers with 4 swimming pools, all-day bar and parties every night. Capsule beds for a good night's sleep.




3 days in Uluwatu


This hilly peninsula on the southern tip of Bali is famous for its stunning cliff-top temple and vast array of beaches with strong surf. Uluwatu was one of my favourite places in Bali and if you have 2 weeks in Bali, you should definitely stick Uluwatu on your Bali itinerary.



Day 1/2 in Uluwatu


Hire a scooter and spend your first 2 days in Uluwatu exploring some of the magnificent beaches the area has to offer. Uluwatu is a lot less touristy than elsewhere in Bali, and many of the beaches are totally unspoilt.

What's more, each Uluwatu beach is totally different, from the cool rock formations and shallow rock pools of Padang-Padang to the white sand and limestone cliffs of Dreamland Beach (where there is also a bougie beach club), there is something to suit every taste. The main beach in Uluwatu is called Uluwatu Beach and is a great place to grab lunch and watch the experienced surfers do their thing.

Some of the best beaches in Uluwatu are Suluban Beach (this beach actually has a shipwreck on it!), Bingin Beach, Nyang-Nyang Beach and Pantai Tegal Wangi.

For a great guide to Uluwatu's beaches, click here.



Day 3 in Uluwatu


Head to Uluwatu Temple just before sunset to see the incredible views from this scenic temple which is built on a 70-meter high cliff.

Karang Boma Cliff, also known as Uluwatu Cliff, is one of those must-see places in Bali and the view is definitely not something you forget in a hurry.

Around sunset time (6-7pm), you can see a traditional Kecak dance performance in the clifftop amphitheatre at Uluwatu Temple (arrive about an hour and a half early to guarantee you get a ticket as it can get very busy).

A Kecak performance is a rhythmic musical performance where a group of over 65 male vocals act as instruments that accompany a story told by dance, complete with ornate traditional costumes, and it is incredibly impressive. Going to see a Kecak performance is one of the best things to do in Bali and should absolutely be on your Bali itinerary.



Single Fin


Single Fin is the most popular cliffside bar in Uluwatu and you can find it on the walk down towards Suluban Beach.

Not only is it a great place to enjoy a cocktail and watch the sunset, but every Sunday they host a legendary party with international DJs, stunning views and a great atmosphere. When I was there, the party finished at 1am so be sure to arrive early to make the most of it!



Where to stay in Uluwatu


Here are my picks for the best hostels in Uluwatu. For other accommodation types, I recommend Hotellook.

Pecatu Guest House – Cheap and cheerful dorm rooms close to all of the main beaches. This is where I stayed and while it wasn't the greatest hostel ever, it was dec

SR Hostel Uluwatu – Perfect for backpackers, this is a super sociable hostel with lots of parties, shuttle buses to the Single Fin parties and a free buffet dinner every night!

Sultans of Swell – surfers hostel with gorgeous private rooms for as little as 8 EUR per night!



5 days in Ubud


In Ubud, you will find ancient temples and serene rice paddies just steps away from bustling markets and stores selling handcrafted artisan gifts.

Raw vegan cafes sit alongside gourmet restaurants, and whether you want to try your hand at batik or yoga, there is a class for everything in Ubud and you could easily while away an entire week there!

There are so many things to do in Ubud that I haven't made a day-by-day Ubud itinerary – simply choose the ones you like the sound of the most from the list below and work your way through them!

I wrote a more comprehensive guide to Ubud and all the wonderful things to do there here.



The best things to do in Ubud


– Visit Ubud Monkey Forest. Mandala Suci Wenara Wana, or Ubud Monkey Forest, is actually a series of three temples dating from the 14th century that sit in a nature reserve. For a small fee you can meander round and take in the beautiful scenery, all the while surrounded by over 600 wild monkeys, which are said to be spiritual creatures that guard the temples!

– Campuhan Ridge Walk is located just out of town and is a gentle 2km walk which begins at Gunung Lebah Temple and continues through rolling hills and valleys that seem a million miles away from the hustle and bustle of Ubud city centre.

– Visit Pura Tirta Empul. For 1000 years, Hindus have been bathing in the sacred waters of Pura Tirta Empul. The sacred springs are said to have been created by the god Indra, and Hindus believe that they have healing properties.

– Visit a coffee plantation. Ubud is home to many coffee plantations, which make the famous Kopi Luwak. For a couple of bucks you can get a tour of the plantation, learn about Kopi Luwak and sample various types of teas and coffees.

– Visit Ubud market and stock up on cheap clothing and souvenirs.

– Visit Tegalalang Rice Terraces and marvel at their beauty.

– Go chasing waterfalls. Some of the best waterfalls near Ubud include Tegenungan Waterfall (one of the most popular), Tibumana Waterfall and Kanto Lampo Waterfall.



Where to stay in Ubud


Here are my hostel recommendations for Ubud. If you prefer to stay in hotels or guesthouses then I recommend using Hotellook for the best rates. They have a wide variety of different accommodation types, from family guesthouses to fancy resorts and quaint wooden bungalows.

Kuna Bali – with a huge swimming pool, free yoga, BBQ nights and even free massage, Kuna Bali is one of the top rated hostels in Ubud and it isn't hard to see why. To view rates and availability at Kuna Bali, click here.

Puri Garden Hotel and Hostel. Some of the things on offer at Puri Garden include free massage, free yoga, free manicure/pedicure, PUPPY THERAPY, live music, traditional Balinese dancers, movie nights in their own cinema room, a free healthy breakfast and more. This boutique hotel and hostel really has it all. To view rates and availability at Puri Garden Hotel and Hostel, click here.

Arya Wellness Retreat. The clue is in the name here, and Arya Wellness retreat offers 'the perfect balance for a healthy, eco-friendly and social stay.' Free daily activities include meditation, yoga, pilates, healing circles, fitness classes, cooking classes, spa treatments and their restaurant has an abundance of delicious vegan food. To view rates and availability at Arya Wellness Retreat, just click here.



Should you visit Kuta?


Kuta is the first port of call for many when they arrive in Bali. It's cheap, it's close to the airport (although only a fraction closer than Seminyak) and it attracts hordes of rowdy Australians looking to party.

When I arrived in Bali, I spent two nights in Kuta by myself and I didn't mind it. The markets are pretty good for shopping, it's the cheapest place to get drunk in Bali (although this can often be dangerous as the alcohol in Bali can contain methanol) and you can find all of your Western favourites, from Jamie's Italian to Hard Rock Café.

That being said, Kuta is not entirely safe.

Pick pocketing is absolutely rife, especially at night, sexual assault isn't uncommon, and many travellers have died after drinking cheap spirits that have contained methanol.

The food is mediocre and overpriced, the beach is dirty (the sea water is actually brown), and you are very likely to get scammed and overcharged in Kuta.

I recommend staying in Seminyak and taking a taxi to Kuta if your curiosity gets the better of you. It's only a 15 minute ride and you'll still be able to get a feel for the place without committing to actually staying there.

If you do decide to stay in Kuta then my hostel recommendations are as follows:

Pudak Sari Unizou Hostel – This was the hostel that I stayed in and the pool was SO luxurious. Highly recommended.

Puri Rama Hostel – With 2 pools and a swim up bar, what more do you want?

Lokal Bali Hostel – A calm hostel with a stunning pool and lounge area.



Things to know before you visit Bali


The currency in Bali is the Indonesian Rupiah.

The language in Bali is Indonesian and Balinese, although English is widely spoken in the more touristy areas.

Although Indonesia is a Muslim country, the island of Bali follows Balinese Hinduism, which is a mix of Buddhism and Shivaism.

ATMs in Bali give you your money first and then there is a delay before your card is returned. I lost my debit card this way, so be mindful of this whenever you withdraw money!

Muggings and pickpocketing are unfortunately on the increase in Bali. Always carry your bag on the side furthest from the road and make sure to separate your money and valuables.

Indonesia has some of the strictest drug laws in the world, and if you are found to be drug trafficking, you can face the death penalty. Even being found with a small amount of marijuana can land you up to 4 years in a Balinese jail. Just don't do it.

Uber and Grab are very common and affordable taxi apps in Bali. Download them before you arrive and make use of them!

Dress respectfully when visiting temples – most temples in Bali provide sarongs for men and women to wear, often for free (or sometimes there is a small charge). You must also remove your shoes before entering temples in Bali. If you decide to visit the Gili Islands, remember that they are Muslim and you shouldn't wear your bikini when walking through the village.

The tap water is not safe to drink in Bali, so make sure to bring your own bottle (most hostels will have filtered water that you can top up with), or a bottle with a built-in filter.

If you decide to rent a scooter in Bali, be very careful. The roads aren't great, the traffic is even worse, and most insurance providers won't cover you unless you have a licence in your home country.

Beware of the monkeys – while they look cute, they can (and will!) steal your valuables! I have seen this happen countless times, from expensive cameras to eye glasses! They can also occasionally bite, meaning that you may have to go and get a rabies shot.

The food in Bali is incredible. If you're one of those people who usually orders meat with every meal, step out of your comfort zone and try some of the veggie/vegan dishes in Bali.

With that being said, Bali belly is a very real thing, so do be careful with what you eat – eat cooked food, wash fruit and vegetables before you eat them, and never eat from a street food stall that isn't surrounded by locals enjoying a meal.



Best time to visit Bali


Since Bali is in Southeast Asia, the weather is extremely tropical with just 2 seasons – dry season and wet season.

April – October is dry season in Bali, and April, May, June and September are considered the best months to visit Bali as you can still experience great weather but with less crowds.



Getting around in Bali


Public transport in Bali is not as common as you might think, and many travellers in Bali hire a private driver or take a taxi.

My friends and I used Uber religiously in Bali, and even when the journey time was over 2 hours long, we never paid more than a couple of bucks for a ride. Grab is another taxi app that is popular in Bali. If you decide to take a taxi from the street, you should use the Blue Bird taxis as they are the most reputable and always stick to the meter.

You can also take a ride on a motorbike taxi – seriously, every guy in Bali seems to be offering a moto-taxi service, and you will rarely go longer than 30 seconds without somebody asking if you need a ride somewhere.

Another option is to rent a scooter in Bali. Although pretty much everyone does this, I urge you to proceed with caution. The roads in Bali are not good, the traffic is crazy, and most insurance providers won't cover you unless you have a licence in your home country.



Budgeting for Bali


One of the most common questions I hear people asking is 'Is Bali expensive?'

The answer is yes and no.

Bali can be as cheap – or expensive – as you make it. There are tonnes of luxury resorts that go for over $1000 a night, but you can also get a nice private room for as little as 5 bucks.

There are dozens of fine dining options and cafes selling smashed avocado on toast for the same price you'd pay at home, but there are hundreds of warungs (locally owned cafes and restaurants) selling tasty local grub for a fraction of the price.



Some tips for visiting Bali on a budget:

Stick to the warungs for food. You can fill your belly with delicious Indonesian food for just a couple of bucks, whereas if you visit a Western-style café, you might pay 15 EUR for avocado toast. You can also buy food from the street food vendors and at local markets.
Use taxi apps and share taxis with people from your hostel.
Try to pay in cash everywhere. You can sometimes pay by card in Bali but there are often hefty fees that come along with that.
If shopping at the markets, remember to haggle! A general rule of thumb is that you can usually haggle things down to around half of their initial asking price.
If you're exploring Bali on a budget, skip the expensive beach clubs (where there is often a minimum spend) and head to one of the chiringuito-style beach bars instead, where you can grab a cool bar for half the price.
You don't have to pay spa prices to get a great massage – many roadside massage parlours will do 60-minute massages for as little as 5 EUR and they are just as good as the fancy ones.

Is Bali safe?


Bali was the first place I visited as a solo female traveller and I always felt completely safe there.

With that said, I did witness several instances of pickpocketing in Kuta (4 of my friends got their phones stolen on one night!) and heard about several muggings as well.



Here are my safety tips for Bali:

Don't drive a scooter unless you have a license in your home country and never ride on a scooter without a helmet.
If a monkey tries to steal something from you, don't fight it. Monkeys have a very nasty bite and can carry diseases such as rabies. Try and keep your valuables safety locked away inside your bag. Yes, LOCKED!
Try to steer away from super-duper cheap drinks deals. The alcohol may contain methanol which can make you very ill or even kill you.
Always be aware of your surroundings when crossing the street. Traffic is crazy in Bali and motorbikes can come hurtling out of nowhere.
For the most part, exercising common sense will keep you safe on your Bali trip. Bali generally is an incredibly safe island, and as long as you remain vigilant, exercise caution with everything and keep a close eye on your valuables, you should be fine.

A few words on Bali and overtourism


Just like many other destinations worldwide, Bali has unfortunately suffered from the effects of overtourism, with traffic and air pollution being two of the major problems in Bali. In addition to this, tourists are sometimes incredibly disrespectful, trespassing on private property or protected land in order to take Instagram pictures, littering and wearing revealing clothing at sacred religious sites.

That is not to say that you should not visit Bali. It is a truly wonderful place, and it would be a shame to miss out on experiencing its beauty.

A few Bali travel tips to keep in mind if you do not want to contribute to the overtourism in Bali are as follows:

– If you have the time, try and stay for a few days in each place you visit. Day trippers do not contribute much to the economy and create huge crowds in the afternoons.

– There are hotel chains popping up around Bali. Try and stay at local guesthouses instead.

– Do not trespass in order to take the perfect photograph.

– Do not dress immodestly when visiting temples.

– Try to visit Bali in shoulder season. This is when it will be less crowded and when the residents need income the most.

I wrote a whole blog post about how to tackle overtourism and visit popular destinations responsibly here if you're interested in learning more!



Staying for longer than 2 weeks in Bali? Why not visit the Gili Islands?


There are tonnes of beautiful islands surrounding Bali, but the ones that I visited on my Bali trip were 2 of the 3 Gili Islands.

If you have longer than 2 weeks in Bali (or you raced through this itinerary!), you might want to consider checking them out.

The Gili Islands are comprised of Gili Trawangan, Gili Air, and Gili Meno.

Gili Trawangan is known as the party island, and is most popular with backpackers, Gili Meno is super quiet and favoured by honeymooners, and Gili Air is somewhere in between.

All 3 of the islands are super small, and you can actually walk around the whole perimeter on foot! I definitely recommend checking out at least 1 or 2 of the Gili Islands if you have time. You could probably see them all in 1 week.

Here are my mini guides to the Gili Islands, just in case your 2 weeks in Bali ends up being extended!



Gili Trawangan


Commonly known only as Gili T, Gili Trawangan is the island where backpackers let loose and party – it even has its own Full Moon Party!

However, if that sounds like your idea of hell, don't worry – Gili T does not even come close to the Thai islands where parties are concerned. Rather than deep house, drugs and cocktail buckets, Gili Trawangan's vibe is more about live music, Irish pubs, beach parties and beer pong (Sama Sama Reggae Bar was my favourite spot for live music in Gili T!).

Although Gili T is tiny, there is actually a surprising amount of things to do on this pretty little island.

Not only is it a fantastic place to dive, but you can also go snorkelling and see some fantastic coral and even swim with turtles!

Don't miss out the famous night market for barbecued fresh fish and traditional Indonesian food, and if you want to take a picture with those famous swings, Gili T is the place to do it. You can also go horse riding on the beach.

My hostel recommendations for Gili T are Gili La Boheme (this doesn't have the best reviews but I stayed here and really enjoyed it), M Box, My Mate's Place and Good Vibes Bungalows.



Gili Air


Gili Air is a lot more relaxed than Gili T which makes it perfect if you aren't looking to party.

The beaches here are absolutely beautiful, and many of them are completely unspoilt and secluded.

My favourite bar here was a tiny reggae bar with a beautiful sea view, and there are also lots of cute beach bars where you can enjoy a sunset view with your cocktail.

The best hostels on Gili Air include:

Fantastic Gili Hostel – This was where I stayed and it was lovely. Who doesn't want to stay in a cute hut and enjoy a free breakfast?

Begadang – Begadang seems to be the closest thing to a party hostel I could find on Gili Air and the name of it actually means 'to stay up talking all night!'

Captain Cocunuts – An eco-friendly hostel with a relaxing vibe.



Gili Meno


I didn't visit Gili Meno but this island is known as the quietest out of the three and the most untouched.

There aren't too many activities to do here but you can visit the turtle sanctuary and help release baby turtles into the wild!

The best hostels on Gili Meno are Gili Meno Eco Hostel and The Rabbit Tree Hostel. The Rabbit Tree Hostel boasts 'ball pit bedrooms' and bedrooms 'filled with one hundred pillows.' It's safe to say that I am intrigued by this place.



The Ultimate Bali Itinerary – 2 Weeks in Bali | Final Thoughts


So that just about concludes my mega Bali itinerary for 2 weeks in Bali!

It may have been a bit long – we're almost 6000 words and counting – but I wanted to be as comprehensive as possible to ensure your Bali trip is truly the stuff that dreams are made of.

You could easily spend 6 months in Bali and not discover everything that this charming island has to offer, but this guide be all you need to enjoy a magical 2 weeks in Bali.

If you want even more tips for your Bali trip then make sure to check out the incredible guide over at You Could Travel, or read Jen's guide over at Jen on a Jet Plane for tips on the most Insta-worthy photo spots in Bali!

Was this guide useful? Don't forget to let me know your thoughts in the comments section below!

Until next time,

XOXO

If you liked this article and would like to support my work, please click the button above to donate a couple of bucks and buy me a coffee. The ad revenue that I receive on this website is minimal, so support from my readers enables me to keep creating content that you (hopefully!) love to read.

Disclaimer: Travelling Jezebel uses affiliate links. If you make a purchase on a recommended site, I may make a small commission at no extra cost to you.