The Danish lifestyle concept of hygge (pronounced 'hoo-guh') has been growing rapidly in popularity over recent years.

It promotes cherishing the small joys and savouring life's simple pleasures.

Designing an outdoor area devoted to the concept of hygge can be a great way to unwind, relish nature, and make memories with those you love most.

In this blog post, I'm going to provide you with some helpful advice on how to construct your own personal outdoor hygge garden.

So, let's get started and create a space that encourages relaxation, connection, and contentment! 



Creating a Hygge Garden for Cosy Outdoor Living


What is hygge?


Hygge is a Danish word that originated from the Norwegian word for 'well-being' and describes 'a mood of cosiness and comfortable conviviality with feelings of wellness and contentment.'

Hygge is popular in both Danish and Norwegian culture (the Norwegians call it 'Kos,' meaning 'cosy), and the Germans and Dutch have similar versions, known as gemütlichkeit and gezelligheid, but the most well known by far is the Danish version, with many self-help books and newspaper articles proclaiming that the Danes have found the key to happiness and it's called hygge!

So, hygge, which is both a verb and an adjective, describes both a lifestyle and a state of being where one derives pleasure from the simple things, enjoys a quiet life, spends quality time with loved ones and is, above all else, comfy.

While many people associate hygge with winter, you can certainly enjoy hygge in the summer too, and creating a hygge garden is one of the best ways to do exactly that.



Creating a hygge garden


Choose your location


Finding the right location for your hygge garden is critical.

Opt for a spot with an abundance of natural light and a degree of protection from changing weather conditions.

This way, you'll be able to enjoy time spent outdoors in comfort, even during late-night hours. 



Clean the space from bush and debris


Prior to beginning your hygge garden plans, make sure that the space is spotless of weeds and other unwanted greenery.

To get rid of this clutter, you may need either a leaf blower, lawnmower, or edger.

If any one of these tools is not working properly due to worn-down parts, take advantage of the replacement parts available here (if you're in the US).



Consider the furniture


When selecting outdoor furniture for a peaceful and cosy hygge garden, comfort should be the top priority.

Wicker chairs and benches are ideal options as they bring an inviting environment while being easy to maintain at the same time.

Additionally, hammocks, swings or daybeds will also create that perfect space where you and your guests can relax in blissful serenity.



Add natural beauty


Vibrant flowers and plants can truly breathe life into any outdoor space, so don't be afraid to go big with your favourite blossoms and herbs!

If you're trying to find ways of reducing upkeep, succulents and cacti are some excellent options which bring a delightful hue without much work on your part (especially if you're terrible at keeping plants alive, like me).

You might also consider incorporating a pond filled with colourful fish to truly bring your hygge garden to life.



Invest in outdoor throws, pillows and rugs


Outdoor throws, pillows and some boho rugs should not be considered an afterthought.

These cosy items will bring a unique touch to your hygge garden while creating ambience and inviting comfort.

Choose textiles in muted colours such as blues or greens to ensure overall relaxation – the last thing you want is for onlookers to feel overwhelmed by a bright, clashing design! 



Set up lighting options


Lighting is essential when it comes to setting the mood in any outdoor environment, but especially in a hygge garden.

String lights, landscape lighting, and candles can all contribute toward fostering a tranquil atmosphere – just make sure any open flames are far away from the furniture!

Alternatively, tiki torches offer a more rustic charm if that's the direction you're going for.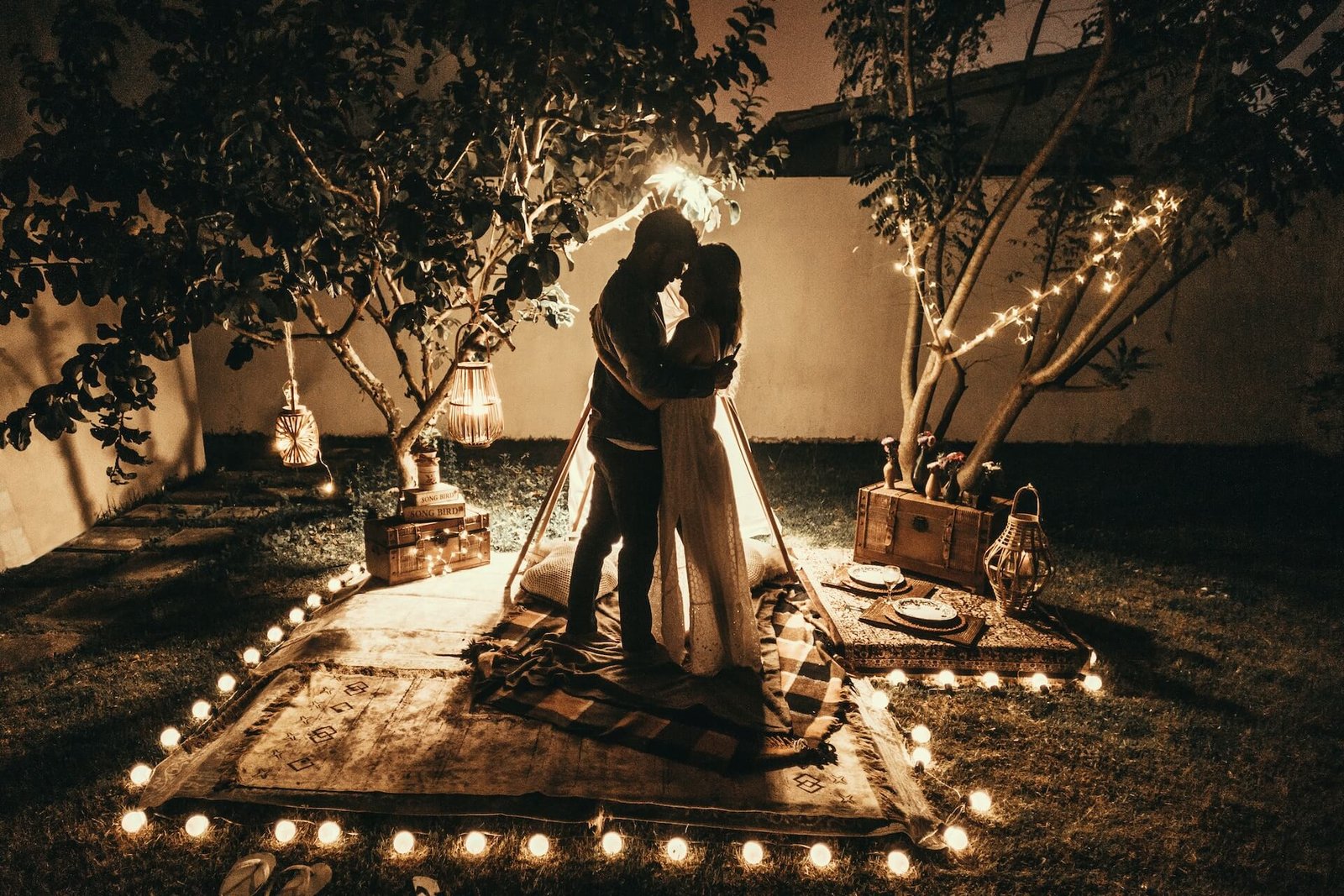 Creating a Hygge Garden | Final Thoughts


Creating a hygge garden can be one of the most rewarding projects you'll ever undertake when it comes to sprucing up your home.

Not only will it give you an outdoor oasis to call your own, but it will also bring joy and peace into your life – which is exactly what hygge is all about!

So with these tips in mind, go forth and design a cosy garden that caters uniquely to your needs and desires – when it's all done, your new spot might very well become the favourite place in your home!

Got any questions?

Don't hesitate to reach out to me in the comments below!

Until next time,

XOXO


If you liked this article and would like to support my work, please click the button above to donate a couple of bucks and buy me a coffee. The ad revenue that I receive on this website is minimal, so support from my readers enables me to keep creating content that you (hopefully!) love to read.

Note: This blog post is the result of a collaboration between myself and an external author.