I never had any desire to visit Marbella.

As someone who grew up in the UK, I always associated Marbella with D-list celebrities, superyachts belonging to Russian oligarchs and other ostentatious displays of wealth that are far removed from my laid back, backpacker style of travel.

I won't lie, had the annual TBEX travel conference not been taking place in Marbella this year, I would have never even considered visiting this glitzy resort town on the Costa del Sol.

'Is Marbella worth visiting?' I pondered, whilst debating whether or not to buy a ticket.

In the end, I thought 'sod it,' and booked my trip to Marbella, figuring that even though it probably wasn't the place for me, it was sure to be an interesting experience.

At the time, I had no idea how quickly this playground of the rich and famous would win me over, and how much more there is to Marbella than shiny Ferraris and the TOWIE cast.

If you're considering visiting Marbella but are unsure if it's for you, then keep reading, because I've put together 10 reasons to visit Marbella (and none of them include designer shops or celeb-spotting).



Is Marbella Worth Visiting? 10 Reasons to Visit Marbella, Spain


1. It's easy to get to


Marbella is rarely part of a longer travel itinerary for people.

It's the kind of place that you travel to, stay there, and then come home.

Therefore, if it was a pain in the ass to get to, Marbella would probably lose a few points for people wanting an easy escape from everyday life.

Luckily, Marbella is super easy to reach.

The closest airport to Marbella is Malaga, which is around 50km away.

Flights to Malaga from the UK take less than 3 hours, and once you're there, you can either take a 45 minute bus to Marbella directly from the airport, book a private transfer or hire a car and drive there in under an hour.

If you are renting a car for your Marbella trip, then you can also reach the nearby cities of Ronda, Nerja, Mijas and Malaga easily.



2. It's sunny


It isn't called the Costa del Sol (Coast of the Sun) for nothing – with 320 days of sunshine a year, this part of Spain has some of the best weather in the country.

What makes Marbella particularly special is that it is protected by the Sierra Blanca mountains, meaning that it avoids the worst of the summer heat and enjoys mild temperatures all year round.

In summer, the average temperature in Marbella is 29 degrees Celsius (84F), making it perfect for sunbathing.



3. The food


When I was asking Google 'Is Marbella worth visiting?' one of the main decision makers for me was finding out that Andalucian food is very highly regarded in Spain.

With over 800 restaurants and countless small eateries serving everything from elegant Michelin Star creations to hearty rice dishes, you are sure to find something you like in Marbella.

Something you have to try in Marbella are espetos* – freshly-caught sardines that have been speared on a long bamboo or metal stick and barbecued over a hot fire on the beach.

Some beach restaurants still grill the fish in old wooden fishing boats filled with sand, but this practice is becoming less common now due to health and safety concerns.

You can also find an abundance of cheap tapas places around Marbella old town, so don't fall into the trap of thinking that all Marbella cuisine has to offer is high-end restaurants!

If you want to sample the local cuisine with an experienced guide, you might want to try a Marbella food tour like this one!

*The term espeto refers to the stick that the fish are speared on. Sardines are by far the most common, but you can also find sea bream, calamari and more.



4. Marbella Old Town


Marbella's Old Town is called Casco Antiguo, and is one of the prettiest old towns I've seen in Spain.

With its cobblestoned streets lined with orange trees, bright pink bougainvilleas hanging down whitewashed houses and blue plant pots filled with flowers of every colour, Marbella Old Town could rival Mykonos any day of the week.

The main square in Marbella Old Town is Plaza de Los Naranjos, although the best bars and restaurants are hidden down little side streets.

You will also find 11th century castle walls, beautiful churches (look out for La Encarnación on Plaza de la Iglesia and Santo Cristo de la Vera Cruz with its 15th century chapel) and countless wine bars, churro shops and tapas bars.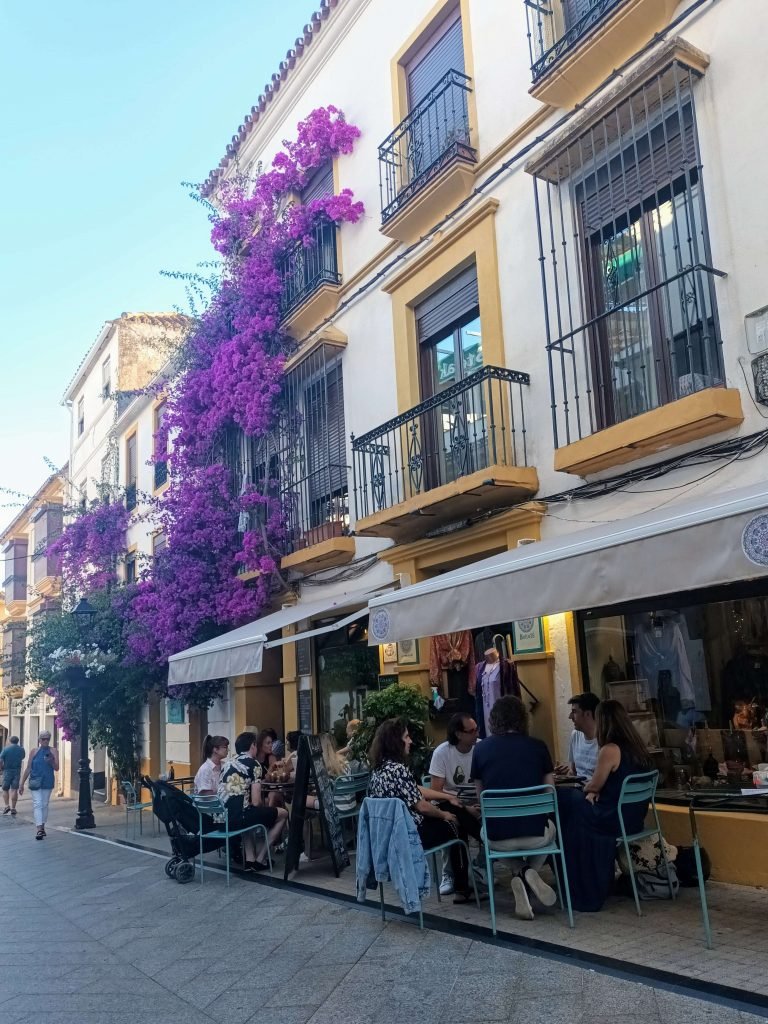 5. It's more affordable than you think


If you're wondering whether Marbella is worth visiting, one of your main concerns might be money.

After all, if you're saving up all year for a holiday, you don't want to arrive and find out that you can't afford anything!

As a budget traveller, pricey destinations are places I tend to avoid, but as I was travelling to Marbella for a conference, I didn't have much choice!

So, is Marbella expensive?

Not as much as you might think!

I found the prices in Marbella (drinks, meals in restaurants etc.) to be on a par with, or even slightly lower than in the UK (excluding London, of course), meaning that a holiday in Marbella doesn't have to break the bank.

You can easily find 3-course lunch deals for 15 EUR, affordable holiday apartments (I stayed in the authentic Miraflores neighbourhood, which was a 10 minute walk from the Old Town and 20 minutes from the beach), and glasses of house wine for around 4 EUR in most Old Town and marina bars.

It should be noted that I am talking about central Marbella here, and not the glitzy Puerto Banús or the Golden Mile.



6. Marbella beaches


With 27km of sandy coastline, warm Mediterranean waters and a whopping 24 separate beaches, most of which hold Blue Flag status, Marbella is the place to be if you're a sun worshipper.

Playa de la Fontanilla, which runs along the Paseo Maritimo on the southern edge of Marbella is considered the main Marbella beach, and it has a tonne of bars, restaurants and cafes dotted all the way down.

A little further west is the lovely Playa Bajadilla, located in the quaint fishing quarter of Marbella.

Whether you're looking for lively beaches with trendy beach clubs and chiringuitos or quieter stretches of sand, you're sure to find something that suits in Marbella.



7. Marbella shopping


I know that I said I wouldn't be touching on designer stores in Marbella, and I'm not.

While you can certainly find all of the designer labels imaginable down at Puerto Banús (contrary to popular belief, Puerto Banús is actually 6km away from Marbella itself), shopping in Marbella is all about independent boutiques.

The cobbled streets of Marbella Old Town are dotted with tiny stores selling handmade jewellery, clothes, artisan gifts and more. They're not cheap, but they sell some really beautiful pieces, and are definitely worth checking out.

If you're like me and prefer snagging a bargain, you'll want to head to the Las Albarizas street market, which is held every Monday between 9am-2pm on Calle Platino.

With 350 stalls selling everything from clothes and jewellery to fruits, vegetables and flowers, visiting Las Albarizas market is one of the best things to do in Marbella.



8. Marbella's artistic side


Although he never actually lived in the city, Salvador Dali's (1904 – 1989) work is all over Marbella and you can find ten of his unusual bronze works dotted along the Avenida del Mar promenade!

The art scene in Marbella is surprisingly strong, with dozens of art galleries and museums scattered around the city, including the Galeria Municipal de Exposiciones (Municipal Exposition Gallery) and the Casa Grande gallery, which both have ever-changing exhibitions by artists from all around the world.

There is also a contemporary engraving museum, a mechanical art museum, an international contemporary art gallery, two theatres and numerous private galleries!

As if all that wasn't enough to put Marbella on the map of arts and culture, there is also the International Art Festival every June and the annual Marbella International Film Festival.



9. The nature


Outdoor activities like hiking and cycling may not be the first things that spring to mind when considering if Marbella is worth visiting, but the Sierra Blanca mountain range offers ample opportunities for adventure enthusiasts to get their fix!

La Concha is a peak that hikers of all abilities should attempt. This 4 hour hike is rewarded by views of Marbella and beyond, and on a clear day you can even see as far as the Atlas Mountains in Morocco!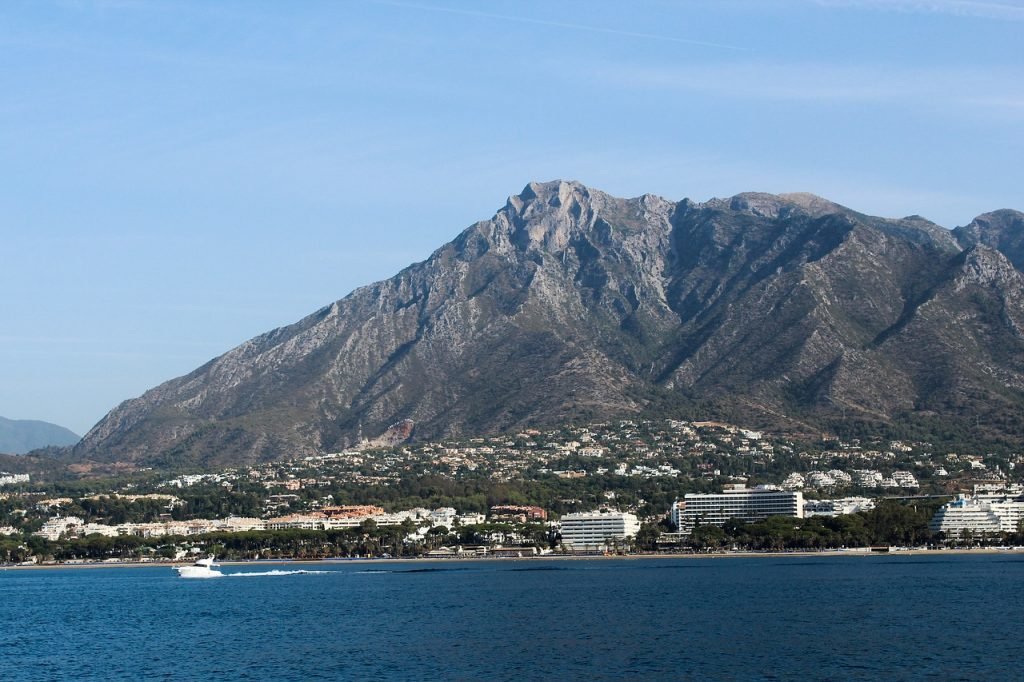 10. Feria de San Bernabe


Although I've lived in Spain for almost two years, I never tire of the endless fiestas and celebrations that seem to occur every single weekend (although attending two Fallas festivals in a six month period was a bit much!).

The Feria de San Bernabe festival, held every June in Marbella, is one of those events that really stand out in the jam-packed Spanish calendar, and I was lucky enough to be visiting Marbella in June, when the fair was held.

This weeklong event celebrates the patron saint of Marbella, San Bernabe (Saint Barnabus), and involves a lot of flamenco dancing, street partying, midnight fireworks, tapas and alcohol.

I always say that June is a great month to travel regardless, but the Feria de San Bernabe makes June an absolutely perfect time to visit Marbella!



Is Marbella Worth Visiting? | Final Thoughts


I would hope that by this point in the article, I don't really need to answer this question!

Is Marbella worth visiting?

Absolutely!

This picturesque town, set against a mountainous backdrop and with an abundance of sandy beaches and traditional bars and restaurants, makes a fantastic holiday destination.

Sure, if you want to party the night away at opulent nightclubs and spend your days strutting around Puerto Banús shopping for designer bags and professional footballers, you certainly can, but if none of that appeals to you in the slightest, you can just as easily avoid it.

Have I persuaded you to visit Marbella?

Let me know in the comments section below!

Until next time,

XOXO


If you liked this article and would like to support my work, please click the button above to donate a couple of bucks and buy me a coffee. The ad revenue that I receive on this website is minimal, so support from my readers enables me to keep creating content that you (hopefully!) love to read.

Disclaimer: Travelling Jezebel uses affiliate links. If you make a purchase on a recommended site then I may make a small commission at no extra cost to you.