It may be a very small town, but there are a surprisingly large number of restaurants in Oliva that can make choosing where to eat a difficult decision.

From traditional Valencian paella and fideuá to fresh seafood, English Sunday Roasts (yes really!) and even Chinese food, there is certainly variety in Oliva's restaurants, and so I've put together a list of the best ones to make sure that you don't miss out if you're visiting Oliva.



The 14 Best Restaurants in Oliva, Spain


Oliva restaurants in a nutshell


Oliva is a very small town, meaning that pretty much all of the restaurants in Oliva are within walking distance of one another.

It is a little uphill in parts, but it is definitely manageable for most people.

Eating out in Oliva is not too expensive, especially if you go out for lunch – most restaurants on the promenade have a Menu del Dia for less than 10 EUR which includes 3 courses and a drink.

A glass of wine in a bar will cost you around 1.70 EUR.

Oliva is home to lots of orange and tangerine plantations, as well as avocado, loquat, fig, banana, prickly pear and olive. Yum!

In Oliva's restaurants you will find an abundance of Valencian paella, soup dishes with rice and seafood, baked chicken with bell peppers and potatoes, grilled fish, and – of course – lots and lots of Valencian oranges!

So, without further ado, let's explore some of the best restaurants in Oliva!



1. El Lloc


With a sleek, modern interior and a menu packed full of Mediterranean delights, El Lloc is definitely one of the best restaurants in Oliva and I personally have dined here many times!

Starters include grilled cuttlefish, Galician style octopus, beef carpaccio and steamed mussels, and their main dishes are split between a huge variety of pastas and pizzas, meat and fish dishes.

My recommendations include chicken breast with wild mushroom sauce, grilled T-bone steak and ravioli with mushroom, truffle and parmesan.



2. Bar Restaurant Colors


Colors is one of the most popular Oliva restaurants there is and is the place to go if you fancy a Menu del Dia in Oliva. At lunchtime it is always packed full of hungry locals, both old and young.

With hearty Valencian food, massive portions and a noisy, no frills atmosphere, you will get a true Spanish experience at Colors.

The menu changes every day but highlights include oven-baked chicken, arroz caldolso (rice in broth) with ribs and chickpeas, pork medallions with Roquefort sauce and lamb stew.

A three course meal with a drink and bread basket costs just 9 EUR at Colors Bar.



3. Restaurante Pizzería La Rústica


La Rustica is a great Italian trattoria that cooks its pizzas in a proper wood oven.

It has an abundance of traditional Italian comfort food at very low prices, but the pizza is true Italian style and highly recommended.



4. Hamburgueseria Manb'ys


As the name would suggest, Hamburgueseria Manb'ys is a burger joint that the local Spaniards love.

With greasy delights including double beef burgers with fried eggs and bacon, cheesy bacon fries, breaded cheese and chicken wings, Manb'ys is guaranteed to be your next guilty pleasure.



5. El Pelut


El Pelut is a great family-run restaurant in the heart of Oliva's old town and is the place for great meat (think steaks, ribs and burgers with grilled veggies) and lots of seafood.

Dishes I recommend are the prawns and garlic, ribs with barbecue sauce and salmon with cheese sauce and bacon (just don't bring your Italian friends with you for this one – Italians never mix fish and dairy!).



6. Kiko Port


Of all the restaurants in Oliva, Kiko Port is probably one of the most high end.

Located on the beach with a fiercely slick and modern interior, Kiko Port offers a range of traditional Spanish food including Paella Valenciana, arroz meloso (creamy rice with seafood) and fried seafood.



7. Mandala


Mandala is another beach restaurant, and if you go at lunchtime on a weekend when the sun is shining, you'll be very lucky to get a table!

Specialising in pizzas with delicious toppings such as serrano ham, aspencat (grilled peppers and aubergines), truffle oil and mascarpone cheese, you will be sure to find something that tickles your pickle at Mandala.



8. Nou Celler


I have had the Menu del Dia at Nou Celler twice in Oliva and I highly recommend it.

A higher end alternative to Colors Bar, Nou Celler often puts a modern twist on traditional Spanish cuisine, and their food is always presented beautifully.

The last time I visited I got a delicious seafood salad followed by honey-glazed ribs, and my mum ordered a yummy-looking spinach, feta and pine nut salad.

Other dishes on offer include tender duck breast, Secreto Iberico (a thin cut of meat from the Spanish black pig), creamed anchovies with parmesan and duck confit.



9. L'Olivera


L'Olivera is another of the higher-end Oliva restaurants on this list, and is slightly more expensive than most of the other restaurants in Oliva.

You can enjoy your paella with duck and foie gras, paella with cauliflower, garlic and ribs or crayfish and monkfish, or opt for lamb skewers with couscous, sole fish with asparagus and baby potatoes, duck breast with apple and much more.



10. Asiatico Fortuna


There are two great Chinese restaurants in Oliva (the other one is Restaurante Chino Nuevo Hai Jing) but my personal favourite is this one because it has the best beef chow mein I've ever tasted, for just 4 EUR!

They also have a 5.50 EUR set menu which includes a starter (spring roll or Chinese salad) main and rice or noodles.



11. El Galano


Technically El Galano is a café and therefore not one of Oliva's restaurants, but it is one of the best places to grab lunch in Oliva and I can't recommend it highly enough.

With a range of salads including a crab and tuna pasta salad and quinoa salad with avocado and smoked salmon, hot options including oven-baked chicken and barbecue ribs and a huge range of cakes, pastries and sandwiches, there is something for everyone at El Galano.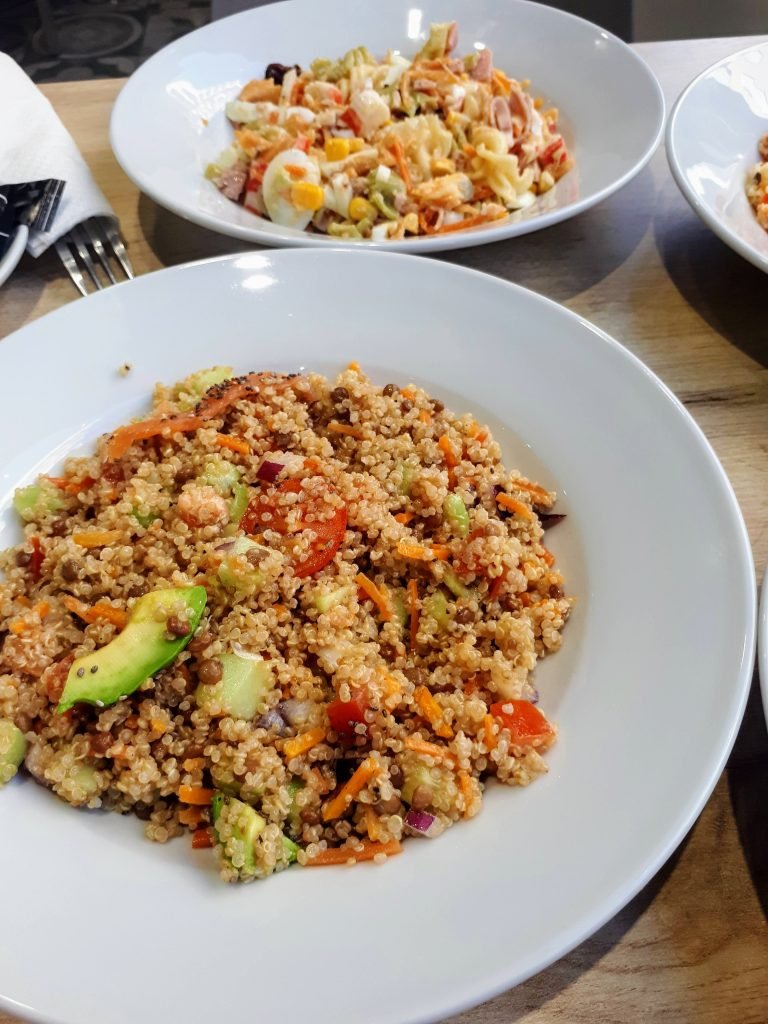 12. Café Oliva


Although I have yet to try a Sunday Roast here (although they do come well recommended!), Café Oliva is my go-to spot for breakfast.

For just 2.50 EUR you can get an egg and bacon sandwich on your bread of choice and IT IS DELICIOUS. They also do English breakfasts.



13. Ca Fran


Another fancier option, Ca Fran prides itself on having both traditional Valencian cuisine as well as global flavours such as French oysters and wasabi.

Dishes include baked octopus, carpaccio of prawns from Dénia and red tuna tataki with seaweed salad.



14. Moby Dick


Moby Dick is another beachside restaurant in Oliva with a great Menu del Dia.

Sunny weekend afternoons fill up fast so booking is recommended, and a three-course set menu with a drink will cost 11 EUR.

I have enjoyed lamb stew, chicken lasagne and fried calamari here, and enjoyed every dish.



15. La Cassola


I am including La Cassola on this list, not because I consider it to be one of the best restaurants in Oliva, but because I had an absolutely terrible Menu del Dia here, and I want to save others from the same fate!

My starter of 'crab salad' consisted of chopped up seafood sticks from the supermarket and an undressed salad of lettuce, tomatoes, sweetcorn and olives.

It was edible, but definitely disappointing.

However, even more disappointing was my mum's dish of 'Cuban rice,' which was nothing more than overcooked boiled white rice with tomato ketchup on top and two fried eggs (one of which was burned and one of which wasn't cooked).

Our mains of grilled salmon and tuna were definitely better (although my salmon was very dry), but the Cuban Rice was quite possibly the worst thing I've ever seen come out of a restaurant kitchen, and so out of all the restaurants in Oliva, you're probably best avoiding La Cassola!




The Best Restaurants in Oliva, Spain | Final Thoughts


There are many great places to eat in Oliva, and although the variety is not as large as you would get in a big city, there should be at least several Oliva restaurants to suit you.

If I had to pick the best one on the list?

Colors Bar is my favourite for a cheap and cheerful traditional Valencian lunch. You're welcome 😉


If you liked this article and would like to support my work, please click the button above to donate a couple of bucks and buy me a coffee. The ad revenue that I receive on this website is minimal, so support from my readers enables me to keep creating content that you (hopefully!) love to read.

Disclaimer: Travelling Jezebel uses affiliate links. If you make a purchase on a recommended site then I may make a small commission at no extra cost to you.