Ah, Matera, Italy.

An Ancient Civilisation once known as 'the shame of Italy,' Matera is soaring in popularity thanks to its enchanting cave dwellings, mystical Sassi and, er, a James Bond film.

I visited the city of Matera back in 2019, and to this day it is probably the most unique city I've ever been to, and definitely one of the most spectacular places in Italy.

My friend Liam and I were staying in nearby Bari for a few days, and so we visited Matera from Bari as a day trip, thinking it would be enough.

However, as soon as we reached the centre and took in the sweeping views over the Sassi di Matera, we both wished that we were staying for longer.

In this post I'll be delving into the ancient city of Matera, Italy, and discussing what to expect when you visit, how to get to Matera from Bari, the best things to do in Matera, and of course the most incredible accommodation options (this last bit may have distracted me for a lot longer than it should have done during my 'research' for this post).

So, without further ado, let's dive into the captivating underground city of Matera, Italy.



Visiting the Magical City of Matera, Italy


Matera Italy in a nutshell


If you like caves, you'll love Matera.

No really.

Matera is known as an 'underground city' due to the Sassi di Matera, a series of over 1500 grottoes, carved into the limestone of the canyon of the River Gravina and teetering on the edge of the ravine.

Sassi, which literally translates to 'stones' refers to these neighbourhoods of ancient cave dwellings, which could be compared to ancient Jerusalem – indeed, Matera Italy was the filming location for Mel Gibson's The Passion of the Christ, as well as several other Biblical productions!

While Matera was totally unknown to tourists for a long time, recent years have seen some of the ancient caves being transformed into boutique hotels, elegant restaurants and artisan shops, and slowly but surely, the masses are finally discovering Matera.

With that said, due to its location in Southern Italy, Matera receives only a fraction of the tourism that destinations like Cinque Terre do, and so you won't have to battle your way through hordes of camera-clutching tour groups in order to enjoy Matera's charm (a definite plus for me as I hate overtourism!).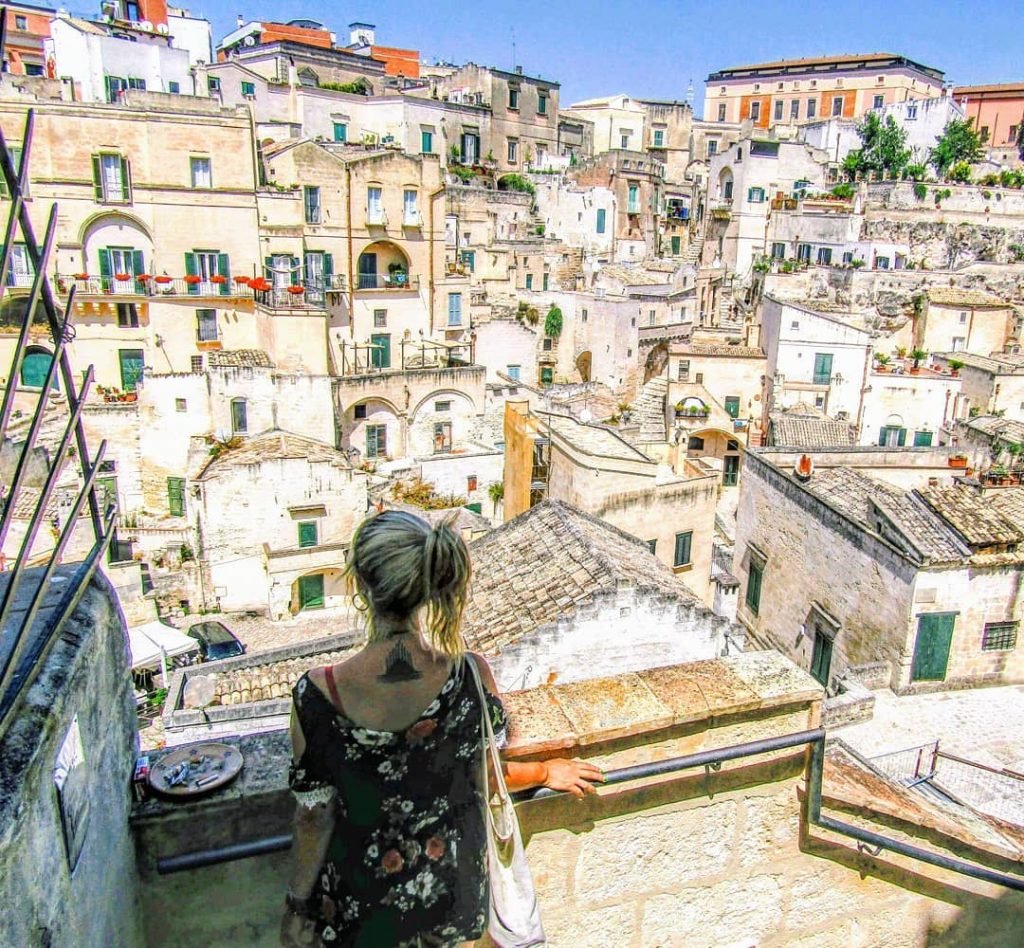 Matera, Italy – Quick facts


Matera is located in Southern Italy's Basilicata region (not Puglia!).

The closest airport to Matera is Bari, which is 65km away. If you are travelling to Matera from Bari then you can hire a car and pick it up at the airport.

Matera was designated as a UNESCO World Heritage Site in 1993, with UNESCO describing it as the 'most outstanding, intact example of a troglodyte settlement in the Mediterranean region.'

Matera was named as a European Capital of Culture in 2019, along with Plovdiv in Bulgaria (I actually visited both cities in 2019, how lucky was I?!).

I briefly mentioned this earlier, but the 2021 James Bond film No Time to Die was partly filmed in Matera.

The population of Matera is 60,400, making it a very small city!

Matera is very safe.



A brief history of Matera, Italy


Dating all the way back to the Palaeolithic Age (10,000 BC), the caves in the Sassi of Matera are one of the first ever human settlements in Italy and one of the oldest continually inhabited settlements in the world, with the myriad of caves burrowing deeper and deeper into the stone.

However, as beautiful as the Sassi dwellings may be, by the end of World War 2 they were pretty much uninhabitable, with huge rates of Malaria, an infant mortality rate of 40% and 35% of the caves being too dangerous to live in.

In 1948, Justice Minister Palmiro Togliatti called the Sassi of Matera a 'national shame,' and by 1952, the Italian government had built a neighbourhood on the outskirts of town for the Sassi inhabitants to live in, forcing out over 16,000 people, mostly peasants and farmers.

This resulted in the Sassi becoming nothing more than an empty shell, and its residents were only allowed back there over 30 years later in 1986, on the condition that they would use their own money to restore their former homes.

The whole area was considered poverty-stricken until the late 1980s, but if you visited in present day, you'd never think it, with the Sassi now being home to cave hotels, cave restaurants, cave spas, cave galleries and more!



How to Get to Matera, Italy from Bari


There are 3 ways to travel from Bari to Matera – take the bus, take a train, or rent a car.

You could always hire a taxi as well I guess, but that will cost you over 100 EUR and who wants to pay for that? Not me, that's for sure.



Taking the bus to Matera from Bari


When I visited Matera from Bari, I took the public bus and it was super straightforward.

The bus is the fastest way to get to Matera from Bari via public transport, with a journey time of just 1 hour and 5 minutes, and the cost is between 6-8 EUR.

The bus company that travels from Bari to Matera and back is Flixbus, which I have used all over Europe and highly recommend.

You can check timetables and buy your ticket online here.

The bus stop is around a 15 minute walk to the Sassi di Matera, which you can easily navigate using Google Maps, or simply do what we did and just follow everybody else!



Taking the train to from Bari to Matera


Normally I use Trainline and Italiarail for train travel in Italy, but neither of those websites had any information about travelling to Matera from Bari by train so…do with that what you will.

I did find a website called Ferrovie Appulo Lucane, which is a private company offering trains from Bari to Matera, so if you'd prefer to travel by train then that's the way to go! Journey time is around 1 hour 45 minutes, and the cost is around 6 EUR each way. Trains run every day except Sundays.

Personally, due to the longer journey time and spotty online information, I would take the bus.



Renting a car in Bari


Another great option if you're travelling to Matera from Bari is to rent a car! You could pick it right up from the airport, or in the centre of Bari, and then you have complete freedom of travel, making this option ideal if you plan to tour Puglia.

The drive from Bari to Matera is around 50 minutes, making it super easy to travel to Matera as a day trip, or you can stay as long as you want.

There are so many incredible places to visit around Bari, making renting a car the best option, in my opinion.

If you decide to rent a car, you can sign up to Qeeq using this link for $50 off your car rental and free COVID-19 protection!



Parking in Matera


By far the most difficult thing about renting a car and driving to Matera from Bari is parking.

In order to park in the Sassi or historic centre, you need a permit, and so your options are severely limited.

The best place for parking in Matera that is close to the Sassi is Parcheggio Nicoletti Michele, which costs 15 EUR a day. It is a privately run space and you need to leave your keys with them, but it gets really great reviews.

A cheaper option is Parcheggio Via Saragat, which costs 50 cents an hour and is around a 30 minute walk to the Sassi. If you have too much luggage, or don't fancy the walk, there is a bus that runs from here directly to the Sassi every 30 minutes. It costs 1.50 EUR.



Things to do in Matera


Get lost in the Sassi di Matera


If you're visiting Matera from Bari and are wondering what should be top of your list of things to do, it's this – get lost.

However, usually when I advise my readers to just 'wander and get lost' in some medieval old town in Europe, I don't mean literally get lost.

However, that's exactly what happened to Liam and I when we decided to separate in the Sassi. We didn't have much time before our bus back to Bari (rookie error number 1), and wanted to explore different parts of the Sassi, so we decided to split up and explore by ourselves (rookie error number 2), agreeing to meet up in an hour's time in Piazza Grande so we could walk to the bus stop together.

Oh my.

When I tell you that I felt like I was in an actual labyrinth, I'm not kidding. With no phone signal, a dodgy GPS and the minutes ticking by, my experience literally getting lost and not being able to find my way out of the Sassi was not so fun, but if you give yourself an adequate amount of time and don't split up from your partner, you'll likely have a much better experience than I did!

Explore the narrow alleyways, discovering secret courtyards, streets built on top of houses, uneven stone staircases and hidden passageways.

Oh, and dead ends.

Lots of dead ends.

If you want to get a delve deeper into the Sassi di Matera then you can always opt for a guided tour, such as this 2 hour group walking tour or if you prefer a bit more intimacy, you can check out this private tour of Matera by night with a local guide.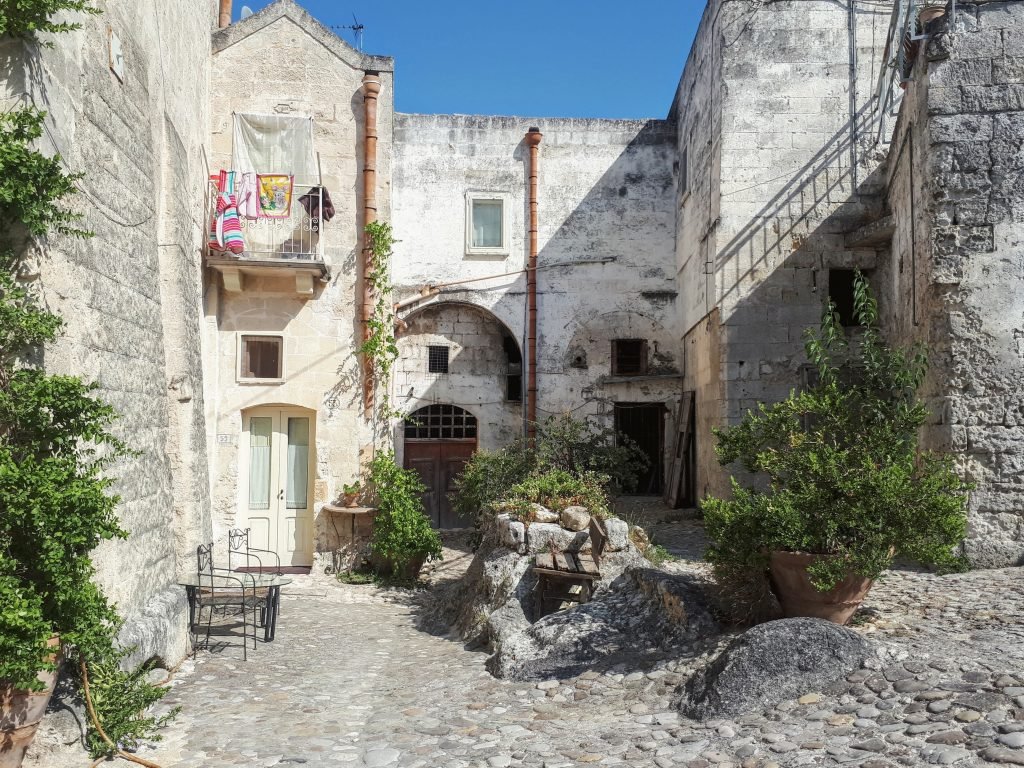 Visit some cave churches


Yes, you heard me right, there are cave churches in Matera, Italy.

I mean, why wouldn't there be? Italy is a very Catholic country after all.

Known as chiese rupestre, cave churches have been carved out of the soft tufa rock and many of them contain ancient frescoes.

Two of Matera's cave churches that are definitely worth visiting are Santa Maria de Idris, which sits on top of a rock, and the largest cave church, San Pietro Barisano, which dates all the way back to the 12th century but was plundered and stripped of all its treasures in the 1960s and 70s, leaving it empty and its statues without heads.

There are many churches and monasteries in Matera, and you should definitely peep inside a couple before you leave.



Stay in a cave hotel


If I could return to Matera Italy for one reason, it would be to stay inside a cave hotel.

With atmospheric cave rooms and an otherworldly, romantic feel, the cave hotels and B&Bs of Matera are truly something special.

The highest rated cave hotels in Matera include:

Loggia delle stelle – A charming and rustic cave hotel with spa baths in the rooms and wonderful attention to detail.



Aquatio Cave Luxury Hotel & Spa – With luxury cave rooms, an underground pool and spa carved into the rock and a restaurant with outdoor courtyard, this is the perfect Matera hotel for a special occasion.



Le Dimore dell'Acqua – an old building with airy and modern rooms and stunning terraces, this boutique B&B is another popular choice for Matera accommodation.



La Corte dei Pastori – this B&B is for those of you truly want to feel as though you're a cave dweller. With charming, rustic rooms and friendly hosts, this is a great spot for anyone wondering where to stay in Matera.



Grotta Gea Luxury Home con Piscina & Spa – another spa and cave hotel perfect for honeymooners and solo travellers looking for a little luxury on their trip.



Explore the uninhabited Caves of Sasso Caveoso


Sasso Caveoso is a neighbourhood on the edge of town where you can escape the crowds and see what life used to be like for the early inhabitants of Matera. Explore the uninhabited caves and see them in all their untouched glory.

This is where you will get a true taste of Matera's ancient history.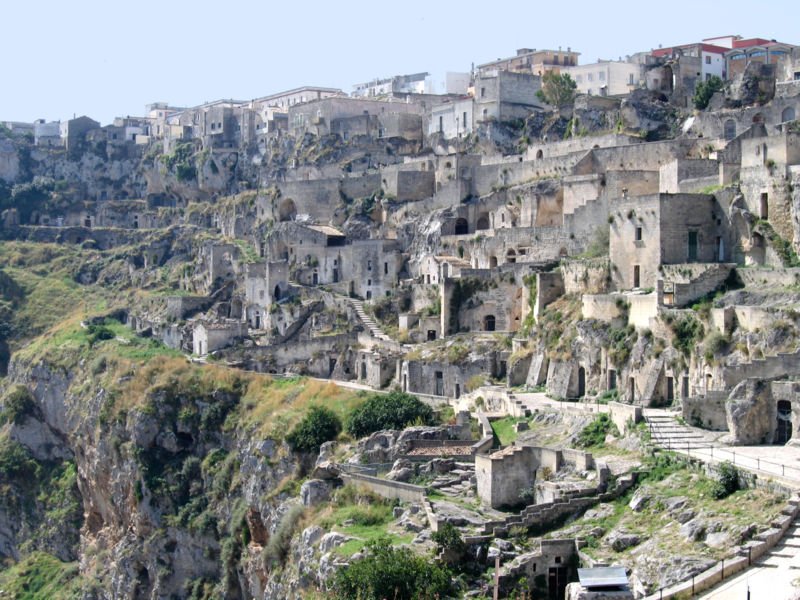 Watch Italian cheese being made!


If you're like me and love cheese, you'll want to head just outside town to Masseria Riccardi, where you will see fresh cheese being made right in front of your very eyes including scamorza, ricotta and caciocavallo, along with mozzarella balls hanging from the back wall just waiting to be snapped up by someone like you!



See how the original troglodytes lived in Casa Grotta di Vico Solitario


Casa Grotta di Vico Solitario is a kind of ethnological museum that shows visitors to Matera Italy what a typical cave dwelling would have looked like in the 18th century, giving a hint as to what household and family life looked like for the inhabitants of the Sassi before the city was abandoned.

At 540 square feet, this cave would have housed 12 people (known as 'troglodytes' which means cave dwellers) and of course there was no running water, drainage or electricity.

Fun fact – Casa Grotta literally translates to 'cave house!'

The Casa Grotta is open every day, including Sundays and holidays, from 9:30am 'until night' (a typical way of doing things in Italy, especially the further south you go). Entrance is 3 EUR.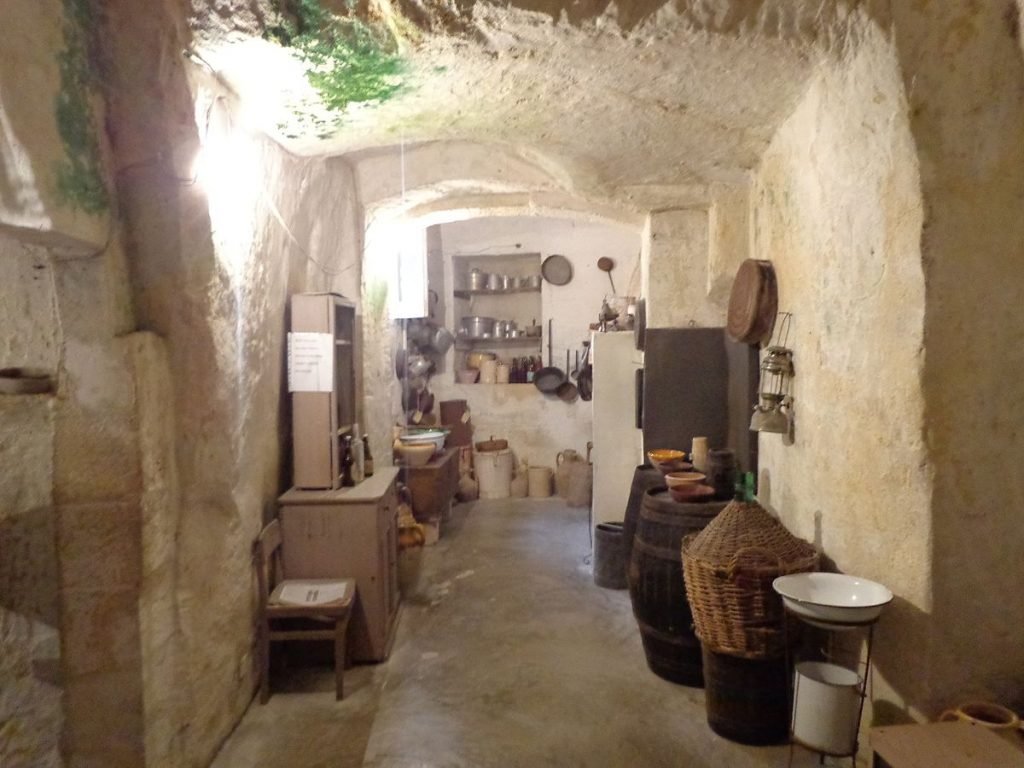 Have a history lesson at Casa Noha

Another great stop for those wanting to learn about the history of Matera is Casa Noha, where you can watch a 50 minute video about the city through the ages.

Casa Noha is open every day except Wednesdays from 10am to 7pm (April – October), and 10am to 5pm (November – March). Entrance is 6 EUR for adults and 2 EUR for children.



Hike into La Gravina


If you have a bit longer to spend in Matera Italy and you want to get off-the-beaten-path, you can follow the trail that leads from the Sassi and into the wild ravine, or La Gravina, as it is in Italian. Amble along paths once used by Pagan shepherds and enjoy the incredible mountain views, as well as the old Neolithic caves opposite the Sassi, where people lived 7000 years ago.

There are many different hiking trails, all of which begin by following the trail at Porta Pistola, crossing the river and just choosing a direction!

The hikes are not super difficult, but if you're travelling in high season then go early in the morning or late in the afternoon to avoid the harsh midday sun, and make sure you bring plenty of water.



Sample some local cuisine


My favourite thing to do when I travel is to discover the local cuisine, and if you're a fellow foodie, Matera will not disappoint.

In the south of Italy, the cuisine is known as cucina povera, or 'poor man's cooking,' but many of the cave restaurants inside the Sassi present this rich and hearty food with pride.

Expect to find sweet and crunchy Senise peppers powdered and used in everything, bean soups and plates piled high with local meats and cheeses.

Some traditional dishes from Matera include:

Crapiata – a rich legume soup made with lentils, beans, chick peas, potatoes and any vegetables which happen to be lying around, this is an old peasant dish meant to celebrate the end of the harvest. The whole community would throw all of the legumes and cereals available to them into a large cauldron and share the soup between everyone. Seasoned simply with salt, this traditional dish is pure comfort food.

Strazzata – A local crusty focaccia and the region's pride, often known simply as 'Matera bread.'

Brasato di Capocollo all'Aglianico – Braised pork neck in local Aglianico red wine.

Maiale Nero – 'Black Pig Salami,' with notes of cinnamon and fennel.

Cavatelli con Peperoni Cruschi – Sundried and crushed Senise peppers with cavatelli pasta, garlic, pecorino cheese from Basilicata and fried bread crumbs.

Orecchiette with Sausage and Broccoli Rabe – 'Little ear' is the name Italians give to this unusual type of pasta. This dish is tossed with broccoli rabe, sweet or spicy sausage, chili and fried breadcrumbs.

Caciocavallo cheese – A local cheese that is salty and curd-like. You may find it on cheese plates or in ravioli or tortellini dishes around the region.



Pray for somebody trapped in Purgatory


Chiesa del Purgatorio is a church with a difference – it is a 'Purgatory Church,' where people can visit and pray for their loved ones, who they believe are trapped between heaven and hell (there's also one in Trapani, Sicily!).

Built between 1725 and 1747, this impressive Baroque-style church is adorned with skulls and skeletons, which add a definite spooky touch and it is an interesting stop if you are interested in the macabre.



Know before you go – Things to know before you visit Matera Italy


The currency in Italy is the EURO. Not everywhere in Matera accepts card payments so it is useful to carry cash with you.

The best time to visit Matera is in shoulder season. It gets super busy in the summer months, but in May/June and September/October, you'll be able to enjoy the beautiful weather with less crowds.

In the winter months, Matera can get pretty cold and can even see snow sometimes, while in the summer it reaches high-thirties.

Is Matera Italy safe? YES – Matera is an incredibly safe city.

Traffic and parking inside the Sassi are strictly limited, and so I recommend parking outside and carrying your luggage to your accommodation.

Steps and streets in the Sassi are uneven and can be slippery at times. I would wear sensible footwear with a good grip whilst exploring the Sassi.

If you decide to rent a car, you can sign up to Qeeq using this link for $50 off your car rental and free COVID-19 protection!



Visiting the Magical City of Matera from Bari, Italy | Final Thoughts


Visiting Matera from Bari is super easy as a day trip, but it's even more magical to stay for a few days so that you can experience the Sassi at nightfall, when most of the tourists have left and the streets become quiet.

There may not be a huge list of wacky things to do in Matera, but that doesn't make it any less of a worthwhile destination.

In fact, some of the best places are those that simply have to be felt, and Matera is certainly one of those.

What do you think? Are you planning to visit Matera? Let me know in the comments below!


If you liked this article and would like to support my work, please click the button above to donate a couple of bucks and buy me a coffee. The ad revenue that I receive on this website is minimal, so support from my readers enables me to keep creating content that you (hopefully!) love to read.

Disclaimer: Travelling Jezebel uses affiliate links. This means that if you make a purchase on a recommended site then I may make a small commission at no extra cost to you.