When I decided to book a spontaneous trip to Lviv (pronounced L-veev), Western Ukraine, the only thing I was worried about was finding things to do in Lviv!

However, luckily for me, there is an abundance of weird and wonderful things to do in Lviv, so much so that myself and my travel companion Nadia both agreed that we could have spent another week there! I had an absolutely fantastic time in Ukraine's cultural capital, and it is my intention with this post to encourage you (yes you) to go and pay a visit as well.



Lviv, Ukraine in a Nutshell


Put simply, Lviv is lovely. The city centre is small and incredibly walkable. I was there for a week and managed to go everywhere I wanted without once using public transport.

Lviv is also a beautiful city. The streets are clean, the architecture is stunning and there are plenty of parks, fountains and statues. People play classical instruments on the street, the coffee shop culture is huge and everybody is well dressed and polite (I have never seen so many women wearing stilettos in my life).

Walking through the centre of Lviv at 10pm on a Tuesday night, you'll find children running around playing, couples strolling hand in hand, elderly people eating ice cream on benches, and groups of students drinking craft beer in the many quirky bars that make up the old town of Lviv.

If all of this sounds charming, it's because it is. Lviv is an absolutely magical city, and so this is why I have compiled a list of unusual things to do in Lviv, in order to help you make the most of your visit! First though, there are a few things you should know before you go…



Lviv – Know Before You Go


The currency in Ukraine is the Ukrainian Hryvnia. One euro is 26.47 hryvnia.

Ukraine is not part of the European Union. UK citizens can enter and remain in the country for 90 days without a visa (until January 31st 2021). US citizens will need to acquire a visa before entering Ukraine. Information for other countries can be found here.

Ukraine is not called 'THE' Ukraine. You can read why in my blog post here!

The language spoken in Lviv is Ukrainian, not Russian.

You can fly directly to Lviv from many European cities. You can book your Lviv airport transfer here.

Another way to get to Lviv is by bus. My go-to bus travel in Europe is always FlixBus. Flixbus is the most extensive bus network worldwide and all Flix buses have Wi-Fi, extra legroom, charging ports and the ability to modify your booking just 15 minutes before departure! Click here to book your Flixbus to Lviv.

Lviv is safe. Not only is Lviv one of the safest cities in Ukraine, but it is safer than many popular European cities. Violent crime is extremely rare, as are scams, sexual violence and terrorism. The biggest risk in Lviv is being pickpocketed, but even then, your chances of being victimised are relatively low. Solo female travel in Lviv is safe.

With that said, if you're planning a trip to Lviv, then I strongly recommend buying travel insurance. I NEVER travel without insurance, and I've seen too many others get landed with huge medical bills as a result of not having had insurance, that it's something I'll never neglect to buy. My recommendation for great travel insurance is World Nomads.

Unfortunately, with the proliferation of far-Right groups, racism in Ukraine is on the rise. If you are a black person, especially a black man, then you are at a higher risk of being the victim of a crime. If you are a person of colour then you should avoid walking around alone at night, particularly if you see groups of young local guys hanging out on the streets together.

There is a low tolerance to LGBT+ people in Lviv (and all of Ukraine), but being the victim of a homophobic attack is unlikely.



18 Best Things to Do in Lviv!


1. Drink Putin beer at Pravda Beer Theatre


Originally Nadia and I planned to go here for a quick drink before dinner. Although we'd been told Pravda Beer Theatre is one of the best things to do in Lviv, it wasn't high on our list of priorities.

Rookie error.

We entered the beer theatre at about 7.30pm and managed to get seated with a fantastic view of the live brass band (I'd recommend booking a table to guarantee a seat), and what a band it was. Not only did they play some classics (Despacito definitely made an appearance at some point, along with Linkin Park and The Cranberries), but the atmosphere was electric, and Nadia and I found ourselves dancing with a group of fifty-something year old Ukrainian ladies from the next table.

However, what makes Pravda Beer Theatre really stand out is their selection of craft beers. Each beer is named after a different politician, and let me tell you, Ukraine does not give a damn about offending people. Their strongest beer is named after Putin, their Trump beer reads 'Product of Mexico' on the label and their Obama beer is – you've guessed it – dark.

Similarly to the Hard Rock Cafe, Pravda Beer Theatre also has a gift shop with lots of reasonably priced souvenirs. I bought a beer mat with a cartoon drawing of a topless Putin on it for around £1.50.



Psst – if you're interested in quirky themed bars and restaurants then make sure you read my posts about the best unique restaurants in Lviv!


2. Be spanked by the waitresses at Masoch Cafe


If there was one thing that I was determined to do while I was in Lviv, it was pay a visit to Masoch Cafe. Masoch Cafe is dedicated to Lviv-born writer Leopold von Sacher-Masoch, after whom the term "masochism" is coined. Sacher-Masoch lived a life loosely based on his erotic novel, Venus in Furs, where his mistress signed a contract making him her slave for a period of 6 months, and so naturally Lviv wanted to dedicate a bar to him.

Once you pass the statue of Sacher-Masoch and enter the dimly lit building, bras and handcuffs are casually draped across red and black leather seats, cocktail names include 'Submission,' and 'Lady in Fur,' and if you get peckish, you can order some bull's testicles in oil with sweet peppers.

However, despite the overt displays of sexuality, Masoch Cafe is closer to a burlesque or cabaret show than anything else, and is definitely a staple of Lviv nightlife. The waitresses (who all carry whips), will certainly have their way with brave volunteers (when we visited, a topless guy was whipped and had ice cubes and candle wax dripped over his torso), but it is all in good fun and the majority of the clientele are actually female.



3. Visit the eerie Yard of Lost Toys


One of the most Instagrammable things to do in Lviv and just a five minute walk from the main square is the Yard of Lost Toys. In one of Lviv's oldest neighborhoods, a resident at 1 Mukachivska St. once found two lost toys and left them in the communal courtyard for their owner to find. The owner of the toys never came back, but the courtyard has since amassed a huge collection of dolls and stuffed animals arranged like a shrine to a long forgotten childhood of days gone by.

Lviv's Yard of Lost Toys is a strange and slightly eerie experience, but it's so unique and is definitely worth a visit.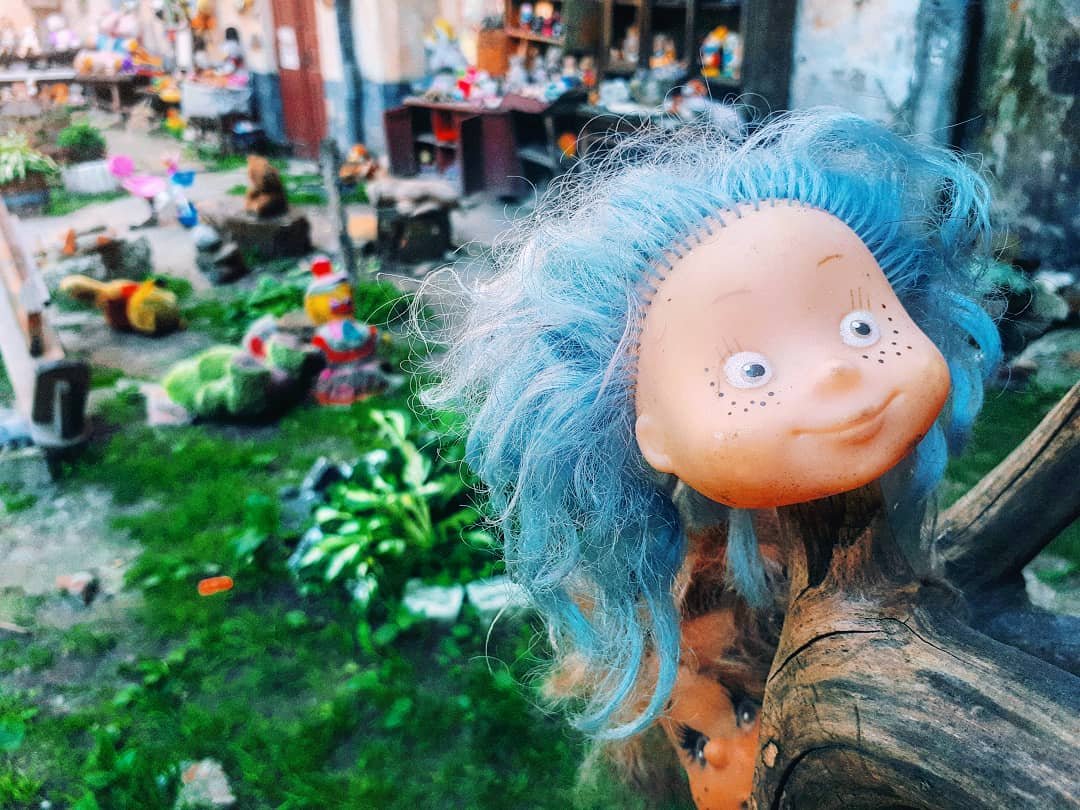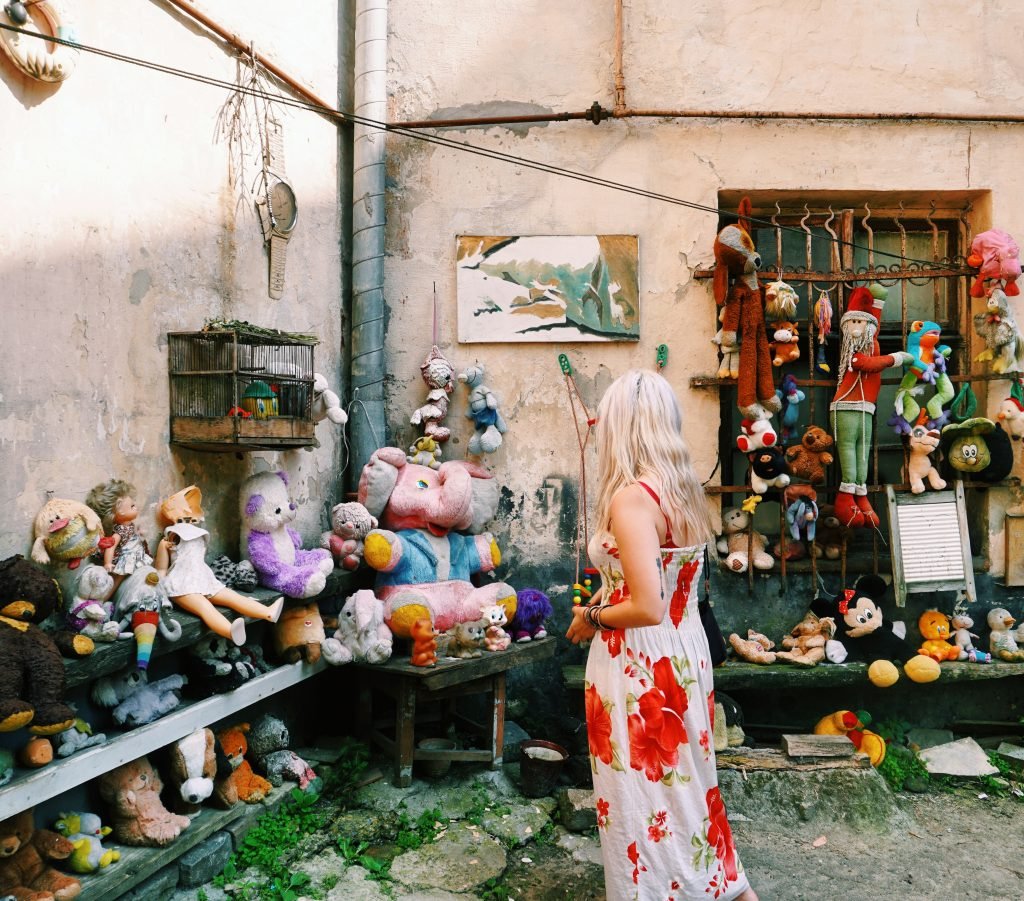 4. The First Lviv Grill Restaurant of Meat and Justice


In case you hadn't noticed, Lviv loves a themed restaurant and the First Lviv Grill Restaurant of Meat and Justice is exactly that. The first municipal employee in Lviv was an executioner whose duties also involved removing garbage and protecting city prostitutes. When a constitutional state arrived, the executioner had to look for another job and so he decided to open his own meat restaurant because after all who knows more about meat than an executioner?

Situated in a secluded courtyard, the First Lviv Grill Restaurant of Meat and Justice pays homage to this executioner. Not only can customers enjoy what is arguably the best steak in Lviv, but they can also be tied to the stretching table outside and whipped by the on-site executioner or locked in a cage and lowered underground.

Unfortunately when Nadia and I arrived at around 9.30, the 'executioner' had finished work so we couldn't witness any of the torture, but we did enjoy a damn good meal and had the bill presented to us in a very interesting way (hint: it involved our fingers and a chopping block).

Note: there are so many cool restaurants in Lviv but if you're pushed for time, you may want to consider booking a traditional Ukrainian cuisine food tour to make sure you don't miss out on the yummy foods on offer in Lviv!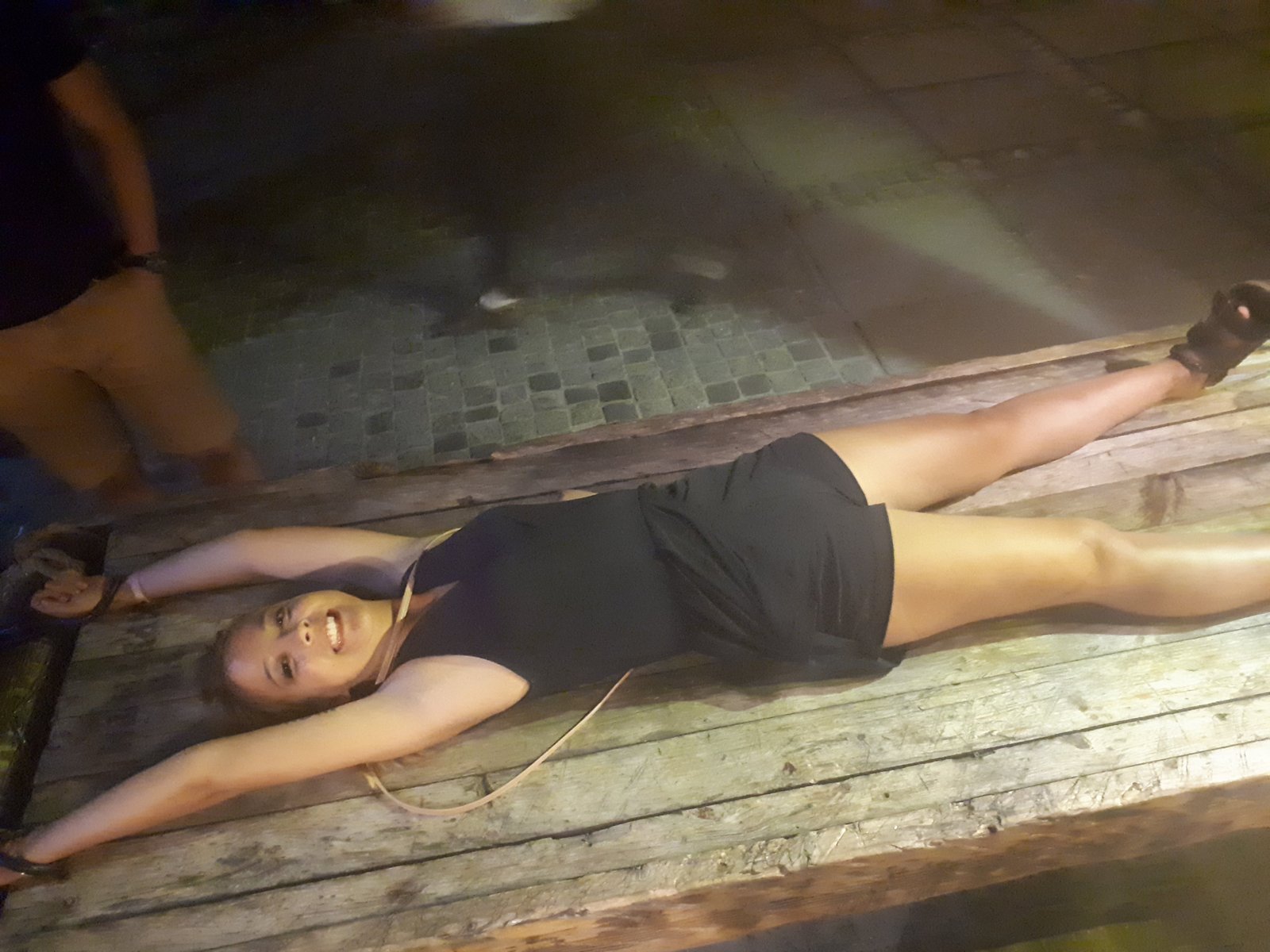 5. Raise your eyebrows at the Golden Navel


Is it a bird? Is it a plane? No! It's a sculpture of a mysterious golden belly button. Why? Just because.

Lviv's famous golden navel sculpture is one of the stranger things to see in Lviv, and is hidden in a courtyard in downtown Lviv. Shaped like a portly man's beer belly, the sculpture sits proudly in Lviv and remains one of its major tourist attractions, despite the fact that nobody knows why it is there or whose belly button it is.

For me, Lviv's golden navel sculpture just about sums up Lviv. It is unapologetically random, infuriatingly mysterious, and here to stay.



6. Sample craft beers at Lviv's Beer Museum


What better place for beer lovers than a museum dedicated to the stuff? The oldest functioning brewery in Lviv, Lvivarnya was founded by monks 303 years ago and later purchased by Robert Doms in 1861.

Entrance to Lvivarnya (about £2) includes a ticket to the interactive exhibition and a tasting of four different craft beers in the copper-hued bar upstairs. The exhibition details beer brewing traditions going all the way back to the ancient Egyptians and tracing the development of the craft, particularly in Lviv, which to this day boasts an impressive selection of craft beer. Our time in the museum was made especially amusing by the presence of the friendly old man working there who gave Nadia and I cool props to pose for photos with. 10/10 Instagram husband, would work with again.



7. Visit Robert Doms' Hop House


Next to Lvivarnya Beer Museum is Robert Doms' Hop House, a German-style beer hall located three storeys underground in a centuries old beer storage vault. With live music almost every night, long wooden tables, candles aplenty and litres of cold beer paired with huge plates of meat, you really feel as though you are in a German beer hall (not that I've ever been to one but you catch the drift). If you're looking for some German-inspired Lviv nightlife, then Robert Doms' Hop House is the place to be!



8. Drink a flaming coffee at Lviv Coffee Mining Manufacture


Perhaps the most memorable coffee of my life was underground in the Lviv Coffee Mining Manufacture. Located right on Rynok Square, entrance to the mine is via a bustling coffee shop. After being given a hard hat, you make your way through the dimly lit passages to a candlelit cave where waiters use huge blow torches to caramelise the sugar on top of their strong black coffees.

Touristy as it may be, it is a unique experience and the coffee is to die for (and less than £2!).



9. Take a walk up Castle Hill


While the name may be misleading (there is no castle up Castle Hill, just a crumbling wall that used to be part of one), a trip up Castle Hill is a must-do if you've spent the majority of your time in Lviv underground in coffee houses and beer cellars. Located about 2KM from Rynok Square, a circular footpath winds its way up Castle Hill to an impressive summit at the top, 413M above sea level, where a huge Ukrainian flag blows in the wind.

From there you can enjoy a panoramic view over the whole of Lviv and its surroundings, from the Old Town (which is a UNESCO World Heritage Site), to the Carpathian Mountains in the distance.



10. Watch the sunset at House of Legends


Remember when I said that the Yard of Lost Toys was one of the most Instagrammable things to do in Lviv? Well House of Legends is another, and it is definitely one of the best places to visit in Lviv.

Located in the heart of the old town, House of Legends is a quirky building with a huge black dragon on the outside (that puts on a firework display every evening) and a man with a top hat and a monocle that stands outside telling visitors about the legends of Lviv.

Inside, every room has a different theme, from lions (Lviv is the city of lions after all), to clocks (every clock displays a different time), but the main attraction is the observation deck on the roof. Located right at the top of several winding sets of creaky stairs, the House of Legends rooftop bar is the perfect place to watch the sunset. If you're feeling lucky, there is a copper statue of a chimney sweep holding a hat – legend has it that good fortune will come to all those who successfully toss a coin into his hat, and Nadia was SUPER excited to be able to do it (while making my purse a lot lighter at the same time). There is also an abandoned car up there – god only knows how that got there, but if Lviv has taught me anything, it is that everything is possible.

After watching the sunset and taking a tonne of pictures inside the VW Beetle (I'm a millennial, give me a break), Nadia and I made our way back inside the building and decided to settle inside the lion room for some food, the main reason being that one of the tables was inside a cage, and so naturally we wanted to be locked inside. Once we were seated comfortably, a little person came to take our orders (House of Legends is famous for hiring dwarfs, another 'just because' thing about Lviv) and we proceeded to enjoy a selection of flavoured vodkas and some hearty stew served in clay pots.

The biggest shock of the night (yes, even bigger than the fire breathing dragon), was when our bill arrived. For a total of 8 shots, 2 pints of beer and 2 main meals, we paid 12GBP total. TOTAL. THAT'S RIGHT. I PAID 6 ENGLISH POUNDS FOR 4 SHOTS, A PINT OF BEER AND A MEAT STEW. Jesus man, glory to Ukraine.



11. Use the password to get inside Kryjivka


I know I just said 'Glory to Ukraine,' but did you know that this is actually a password for one of the hottest spots of Lviv nightlife? Kryjivka tries to pretend that it is all edgy and that it is a truly secret bar, but let's be honest – it's fooling no one. Every visitor to Lviv is desperate to check out this 'hidden' bar, and for good reason. To get inside this former stronghold of Ukrainian nationalists, you must first knock on a heavy wooden door and be ushered inside by a 'scary' (read: actually looks like your grandad) soldier who demands a password. Once you say the magic words, Slava Ukrayini, the smiling old man pours you a shot of honey vodka and you are free to make your way downstairs to the underground bunker.

Once downstairs, find a table in the dimly lit bar and proceed to do what every self-respecting visitor to Ukraine does – you drink. Nadia and I ended up sitting with a couple of Lithuanian guys, watching the live music (complete with violins) and drinking a number of vodka shots before finding the impressive gun selection (yes, really) and posing for 1000 pictures with our newfound weapons (and some young Ukrainian guys who we picked up along the way). We'd heard that there was a real shooting range in the back where you can fire guns at Putin's face, but unfortunately that little area was being renovated when we visited. I guess there's only so much that his little face can take.



12. Discover another 'speakeasy' at Libraria


I put the word speakeasy in parenthesis because, just like most of the 'hidden' bars in Lviv, Libraria is not a true speakeasy at all. The internet will try to fool you that this place is really difficult to find and hard to enter, but, just like most bars, Libraria is given away by the groups of people drinking and smoking outside the entrance and the unmistakable sound of music coming from inside. There is even a doorman for heaven's sake.

As the name would suggest, the bar looks just like a library inside, and the extensive cocktail menu is fabulously expensive and not at all suited to an academic's budget. We'd heard that Libraria usually hosts live jazz nights, but when we went, there was only an Adele concert being projected onto the wall. Underwhelming to say the least but a nice enough place to relax and watch people enjoying incredibly awkward first dates.



13. Buy Putin toilet paper


Yes, you read that right. In Lviv, you can buy toilet paper with the President of Russia's face on it. I feel like this in itself is enough of a reason to visit Lviv.



14. Visit Lviv's oldest pharmacy


Visiting an old pharmacy may not seem like one of the most exciting things to do in Lviv, but humour me. Since 1735, Lviv's Under the Black Eagle pharmacy has been tending to the needs of Lviv's citizens, making it the oldest operating pharmacy in the city. The front room of the building is still a regular pharmacy, but as with most things in Lviv, not all is as it appears, and if you pay the pharmacist a small fee, she will open a secret door that allows you to explore the pharmaceutical museum. Each one of the sixteen rooms depicts a different medicinal era, with visitors going further back in time as they proceed from room to room.

The first room is full of antique pharmacy equipment such as pestles and mortars, ornate scales and jars containing elixirs from the 19th and 20th centuries. The pharmacy also boasts one of the most comprehensive medical libraries in east Europe, with over a thousand ancient medical texts from centuries gone by, and even more books. After passing through the beautiful outdoor courtyard, visitors can make their way down into the basement – an alchemist's laboratory with rare plants hanging from the walls and the oldest tools that would have been used by the resident alchemist hundreds of years ago.

Under the Black Eagle pharmacy is an incredible building and it is fascinating to wander through the rooms and learn about the pharmaceutical practices of years gone by. Walking around, I felt like a student at Hogwarts, which is enough of a reason in itself to visit!



15. Have a shot at Drunk Cherry


If there is one place that is guaranteed to be buzzing, it is Drunk Cherry. Drunk Cherry only has two things on the menu – cherry liqueur and dark chocolates with cherry liqueur inside. Hundreds of full liqueur bottles hang from the ceiling, forming a giant chandelier, and the drinks are served in beautiful crystal glasses. Day or night, there are always people standing outside Drunk Cherry and the liqueur really is fabulously delicious and served in beautiful crystal glasses.



16. Explore the Old Town on a Free Walking Tour


Lviv's Old Town is a UNESCO World Heritage Site, and it comes as no surprise. On a Free Walking Tour, your guide will show you around for 2/3 hours, pointing out interesting architecture and regaling you with interesting historical facts. Midway through the tour, you stop at a lovely little coffee shop for a caffeine fix and the chance to get to know the other people on the tour. I try and do a walking tour in every city I visit because I really feel as though I gain so much more than I would if I simply walked around by myself and explored.



17. Eat at Puzata Hata


This Ukrainian chain restaurant is the absolute best value food that money can buy. First, you pile your plate as high as you can at the buffet-style deli counter (an interesting process as none of the servers can speak English), and then take your plate to the till to find out how much you owe. I got enough food to feed two people and paid around 5 euros.



18. Haggle for your meal at At the Golden Rose


Not for the easily offended, At the Golden Rose is a 'Jewish themed' restaurant in Lviv's Old Town. Obviously, the restaurant is more than a little controversial, and some Jewish residents of Lviv feel as though it is in bad taste (to put it mildly) to open a non-Kosher restaurant dedicated to Judaism in a city where Judaism was basically wiped out by the Nazis. Others see the restaurant as some harmless fun and no more offensive than some of Lviv's other quirks (remember the dark beer named after Obama and the restaurant that exclusively employs dwarfs?). I wanted to see for myself just what a trip to this restaurant involves, and so Nadia and I decided to eat there on our final night.

For the most part, we couldn't find anything offensive. The food was beautiful (I ordered a duck plate), the walls are decorated with Judaica and Yiddish theatre posters with handmade tablecloths and candles everywhere, and the menu provides visitors with information about the history of Lviv's Jewish population. However, the controversy arises when it is time to pay, for there are no prices on the menu. Playing to the stereotype of Jews being tight with money and haggling for everything, the servers tell guests that the food actually costs about 4 times more than what it should, encouraging them to haggle and sing in order to receive discounts. Clearly this is not in the best taste, but after the Obama beer, Nadia and I had begun to realise that Lviv has a very specific sense of humour and that while it may be offensive, it isn't malicious.



And there we have the top 18 unusual things to do in Lviv!


Unfortunately, time restrictions didn't allow me to sample any more of what Lviv has to offer, with other delights including a kerosene themed restaurant, a BBQ rib restaurant with no cutlery and 'The Most Expensive Galacian Restaurant,' which is a Mason-themed secret restaurant where you need to have a 90% discount voucher to be able to afford anything on the menu (yes, these vouchers really exist and nobody dines at The Most Expensive Galacian Restaurant without one). If you think that all of this sounds tacky, then you are not mistaken. The city of Lviv is unapologetically tacky and it doesn't care what you think. All it asks of you is that you leave your pretensions at the door and be prepared to have some fun.


Have you ever been to Lviv? What did you get up to? Did you try any of the things on my list or did you find some other weird and wonderful things to do in Lviv? Let me know in the comments below!



If you liked this article and would like to support my work, please click the button above to donate a couple of bucks and buy me a coffee. The ad revenue that I receive on this website is minimal, so support from my readers enables me to keep creating content that you (hopefully!) love to read.


Disclaimer: Travelling Jezebel uses affiliate links. If you make a purchase on a recommended site, I may make a small commission at no extra cost to you.