By far my favourite thing about Lviv, Ukraine, was the abundance of quirky and unique Lviv restaurants, coffee shops and bars dotted around the city. During my time in Lviv, I tried to visit as many as I could, and my trip became a very gastronomical expedition indeed, as I ate all the Lviv food I could get my hands on!

The reason why there are so many unique restaurants in Lviv is largely thanks to an organisation named !FEST. !FEST was formed in 2007 and is a chain of creative restaurants and projects with unique concepts. Their mission is 'to create a unique scope of emotions and impressions, to make: itself, the city, the country and the world better.'

Well, I can't speak for the whole world, but I CAN say that with its crazy collection of weird and wonderful establishments, !FEST has certainly made Lviv a damn good place for a city break! I decided to put together a list of the best restaurants in Lviv that you simply cannot miss!

If you don't have time to hit up all 7 of these restaurants, you may want to consider booking a traditional Ukrainian cuisine food tour or a 'tipsy walking tour' to make sure you don't miss out on the Lviv food on offer!

You could also try a special themed restaurants tour and tasting if you're pushed for time and would like to sample a bit of everything in one night!

(If you're wondering about what things to do in Lviv, check out my other guide here!)



Best Restaurants in Lviv You Can't Miss!


1. The First Lviv Grill Restaurant of Meat and Justice


A cross between a torture museum and a steak house, The First Lviv Grill Restaurant of Meat and Justice is an experience like no other. Tucked away in a secluded courtyard in the medieval complex of a former Bernardine Monastery (which is now St. Andrew's Church), The First Lviv Grill Restaurant of Meat and Justice pays homage to the first ever municipal employee in Lviv – the executioner.

The executioner's duties included taking care of garbage removal and protecting city prostitutes, but he was also in charge of administering executions, and the only way to escape your fate was if the executioner died, because the law mandated that if the executioner died, the next person to be executed would be spared.

When execution ceased to be a form of punishment in Lviv, the executioner opened his own meat restaurant, because after all, who knows more about meat than a meat expert?

Outside The First Lviv Grill Restaurant of Meat and Justice there is a long wooden table which merry restaurant-goers can be strapped to and flogged by the onsite executioner (unfortunately, Nadia and I were too late for this as the executioner finishes work at 9pm!).

Inside, there is a cage just big enough to fit one person, which can be lowered into the ground as everyone watches and laughs at whomever the executioner has selected for punishment. There is also an unusual way of receiving the bill, with the receipt coming on a thick block of wood and the waitress insisting that you put your index finger on the block as she pretends to cut it with an axe, 'accidentally' missing your finger and slicing the receipt instead. I have to say, it was a pretty nerve-racking experience!

However, gimicks aside, what really stands out about this restaurant is the food. Everything is prepared in a huge open kitchen, and the steak that I had was succulent and flavoursome, not to mention extremely affordable!

Even if you're not interested in the story behind The First Lviv Grill Restaurant of Meat and Justice, it's worth visiting it just to sample the best steak in Lviv – I promise that you will not be disappointed!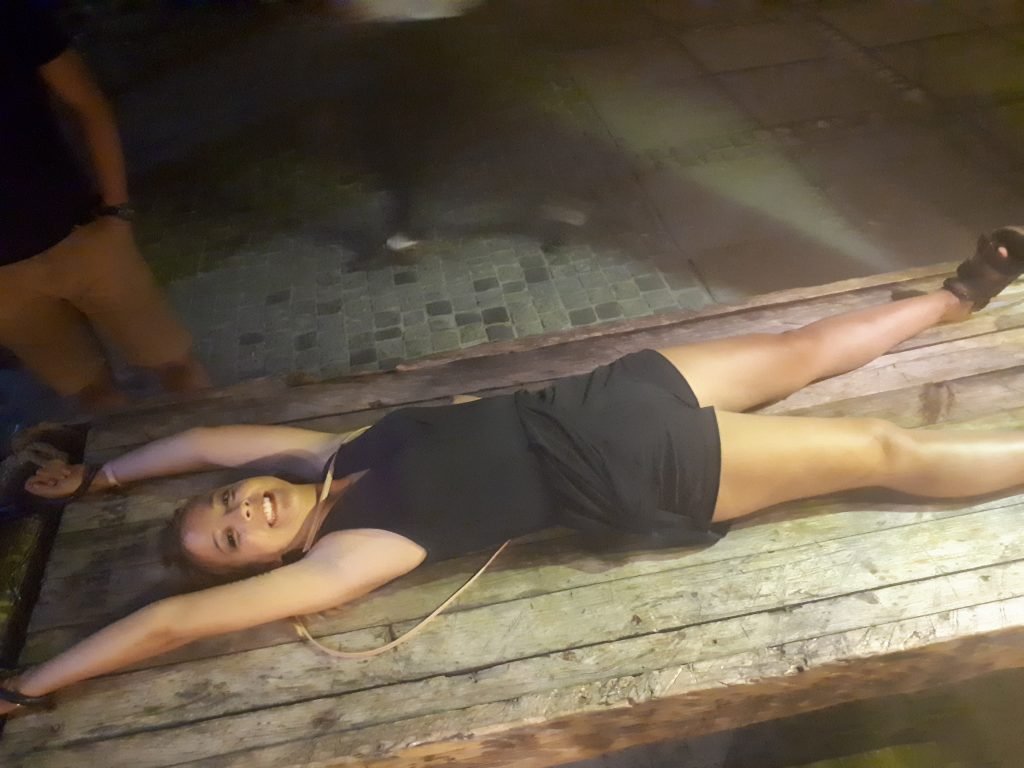 2. Masoch Cafe


Of all the best restaurants in Lviv, the concept behind Masoch Cafe is the most interesting by far.

Masoch Cafe is a risqué little bar and restaurant dedicated to Leopold Von Sacher Masoch – the founder of masochism. When you walk past the statue of Sacher Masoch himself and enter, Masoch Cafe doesn't seem to be anything special, and aside from a few naughty cocktail names and bras hanging from the chandelier, it all seems very tame.

However, downstairs is where the magic happens, and as you descend into the dimly lit basement, you'll find a whole new world where the waitresses will flog you and let you drink vodka shots out of their cleavage, where people sit casually eating bull's testicles, and where handcuffs and chains are scattered around everywhere.

I actually wrote an entire blog post about Masoch Cafe here if you'd like to read it, but for now let me just say that a trip to Masoch Cafe will be one you never forget.



3. Kryjivka


To understand Kryjivka, you must first understand a little bit of Ukrainian history. During WW2 there was a Ukrainian army called the Ukrainian Insurgent Army (UPA). They hid in bunkers and used secret codes to recognise one another. The phrase 'Heroyam Slava' was used by the soldiers to greet one another when they were waging guerilla warfare against the Nazis, Poles and the Soviet Union, and this phrase is the one you must learn to pronounce if you want to visit Kryjivka Lviv because it is now the password to enter this Ukrainian Nationalist themed bar!

Now before I visited Lviv, I had heard that Kryjivka was a secret underground bar, almost impossible to find and off the beaten tourist track. I pictured a dungeon full of old Ukrainian men drinking vodka and comparing battle scars. However, as was the case with everything in Lviv, my expectations were turned upside down, and I actually found the complete opposite.

It is indeed true that Kryjivka isn't signposted, but that is about the only 'secret' thing about the place, and Kryjivka Lviv is actually one of the busiest bars in the centre, full of drunk Ukrainians and tourists alike. The 'Ukrainian Nationalism' that the bar is dedicated to is nothing more than a touristy gimmick (apparently Kryjivka actually attracts a lot of amused Russian tourists, who are made to sing Ukrainian anthems if they are discovered!), but don't let that put you off – it's a lot of fun!

Kryjivka is located in the main square of Lviv, but to get inside, you have to knock on the heavy wooden door and wait until a Ukrainian 'soldier' opens the hatch and says 'Slava Ukraini' or 'Glory to Ukraine!' To this, you must reply 'Heroyam Slava' (Glory to the Heroes).

Only then will the man let you enter. Once inside, the old soldier, dressed in his worn green military uniform, will pour you a shot of honey vodka and send you downstairs to the basement tavern of Kryjivka, a cavernous cellar designed to look like an underground bunker. Once inside, you find a table and drink copious amounts of honey vodka as musicians play traditional Ukrainian music, locals chow down on borscht and pig ears, and groups of drunk young men practice their shooting skills in the ON-SITE SHOOTING RANGE.

Yup, you read that right folks.

In Kryjivka Lviv, you can shoot blanks from genuine WW2 weapons at targets with – you've guessed it – Putin's face on them. Unfortunately, the shooting range was closed for renovation when we went, but the guns were lying around for people to play with, along with spent artillery shells on the floor and posters of Ukrainian soldiers everywhere.

Kryjivka has gone all out when it comes to its theme, and whatever your thoughts on Ukrainian Nationalism (or Nationalism in general), it certainly makes for a fun night out and is definitely one of the most interesting Lviv restaurants!



4. Pravda Beer Theatre


When it comes to the best restaurants in Lviv, Pravda Beer Theatre may give you more than you bargained for as it is a brewery, bar, live music venue, restaurant and shop all under one roof! With brewers from all over the world working in Pravda to produce beer using fresh hops, elderberry flowers, sunflowers and more, the team over at Pravda Beer Theatre are constantly evolving and experimenting with craft beer, coming up with new creations all the time!

When you enter Pravda Beer Theatre, you can choose from a wide range of craft beers, but these are not just any old craft beers – beers sold in Pravda are all named after world leaders, from the 'Putin Huilo' beer (which is the strongest and translates to 'Putin is a dickhead') to the 'bitter' Angela Merkel beer, the Donald Trump beer (whose label states that it is an 'Imperial Mexican Lager' and features people holding up signs saying 'Free Melania!') to the dark beer which is – of course – Obama beer.

The beer bottles all feature insulting cartoons of the politicians, and you can buy various items in the gift shop all sporting the same cartoons, from t-shirts to shot glasses. I couldn't help myself and ended up buying a 'Putin Huilo' coaster which features a naked Putin sitting on a throne.

When you're done laughing at everything on offer in the gift shop, you can make your way upstairs for the nightly live music performance* (try and get there before 7pm and reserve a table in advance), where the on-site brass band play everything from Despacito to Zombie by The Cranberries. EVERYONE gets involved with the singing and dancing, and it is a really special atmosphere.

As far as food goes, there is an extensive, albeit meat heavy menu – I wasn't too hungry so I opted for bone marrow, but other delights included braised beef shank, Galician schnitzel and smoked pork ears.

The evening that I spent at Pravda Beer Theatre was probably one of the best nights that I had in Lviv, and that's really saying something!

*Pravda Beer Theatre has performances every night except Mondays.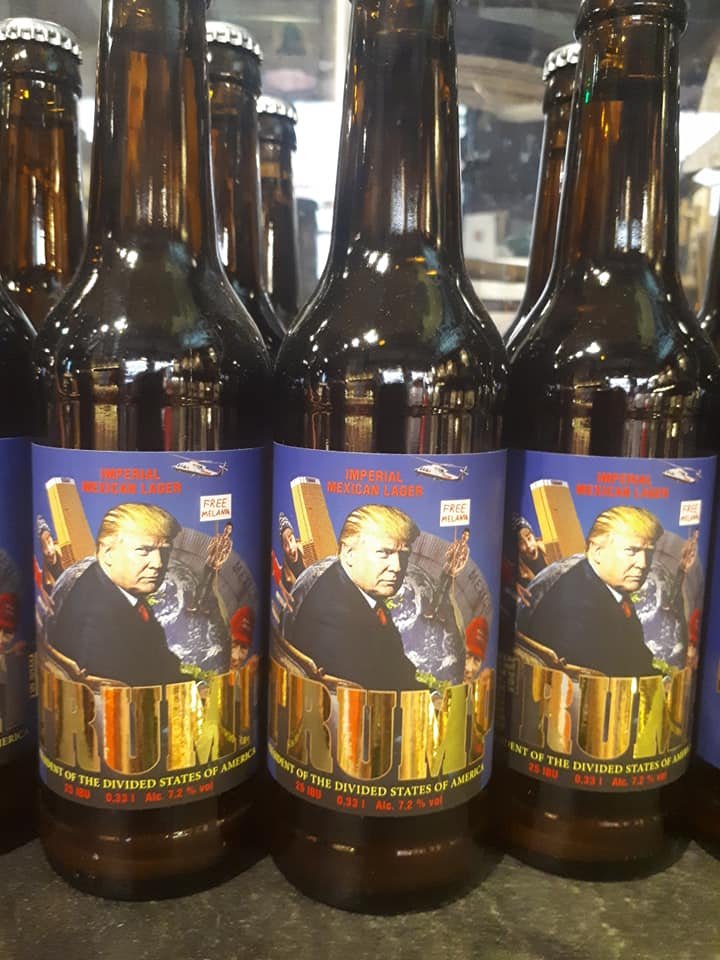 5. Lviv Coffee Manufacture


Lviv Coffee Manufacture is not strictly one of Lviv's restaurants, but it deserves a place on this list because it is still a unique experience (and hey – coffee and cake count as sustenance, okay!).

When you first enter, Lviv Coffee Manufacture seems like a rather conventional coffee shop, selling all kinds of coffee in the ground floor cafe, as well as having a large shop selling various coffee apparatus. However, when you descend the stairs and go underground (complete with a hard hat!), the experience turns into something different entirely.

Underneath Lviv Coffee Manufacture is a maze of tunnels with candlelit tables hiding in the corners. Rock music blares (at least when I was there!), and waiters will use a huge blowtorch to set fire to your coffee, creating a hard surface of caramelised sugar on top of the strong black brew.

Sure, it's corny, it's gimmicky, and it may even be – shock – a tourist trap, but Lviv Coffee Manufacture creates a wonderful visitor experience and sells good coffee at affordable prices, so why not give it a go?



6. The Most Expensive Galician Restaurant 


Unfortunately I didn't get a chance to visit The Most Expensive Galician Restaurant whilst in Lviv (but leaving a stone unturned means there is always a reason to return!), but no guide to the strangest restaurants in Lviv would be complete without The Most Expensive Galician Restaurant.

Those on a budget may be squirming at the name of this place, but there's a catch. You see, if you enter The Most Expensive Galician Restaurant with a special coupon, then you get a 90% discount off everything on the menu (so a £100 dish would become £10). Yet another of Lviv's wonderful little gimmicks, this restaurant is not actually expensive at all – the rigamarole is all just part of the fun.

However, the fun doesn't stop there.

To actually get into the restaurant, you need to bang on a seemingly innocuous apartment door, where you will be greeted by a confused old man in his pyjamas standing in an old Soviet style kitchen. He will insist that you're in the wrong place and will try to close the door in your face, but if you manage to convince him otherwise, he will lead you through the kitchen and into his 'bedroom' which is actually a spectacular restaurant with white glove service, Masonic imagery and…a random car in the middle of the room?!

My biggest regret about going to Lviv is not visiting The Most Expensive Galician Restaurant – my friend and I were just too pushed for time – however, I would LOVE to hear all about your experiences at The Most Expensive Galician Restaurant, as well as all of the other weird and wonderful places that I mentioned in this list!



Lviv is a city that just keeps on surprising, and I can't wait to return and discover all of the other quirky bars, restaurants and coffee shops that I didn't get a chance to see this time (such as the gas lamp cafe, the ribs restaurant which doesn't have cutlery, and God only knows what else!).

Please let me know all about your experiences in Lviv, as well as giving me your recommendations for the best Lviv Restaurants that I have to check out on my next visit! I can't wait to read your suggestions!

XOXO

If you liked this article and would like to support my work, please click the button above to donate a couple of bucks and buy me a coffee. The ad revenue that I receive on this website is minimal, so support from my readers enables me to keep creating content that you (hopefully!) love to read.

Disclaimer: Travelling Jezebel uses affiliate links. If you make a purchase on a recommended site, I may make a small commission at no extra cost to you.