If you're dreaming of a luxury holiday in Sri Lanka, I don't blame you.

Luxury travel in Sri Lanka is on the rise, and as a country known for its unwavering hospitality, breathtaking nature, and golden sandy coastline, it's hardly surprising.

Not only are there plenty of luxury beach resorts in Sri Lanka (several of which I've included in this article), but you'll also find a growing number of both eco resorts in Sri Lanka and Ayurveda resorts in Sri Lanka.

Many of the hotels on this list combine elements of all these things, with six of my nine picks offering Ayurvedic spa treatments!

I've been lucky enough to stay at every hotel on this list, and so this isn't simply a round-up of Sri Lanka's best luxury hotels based on other people's experiences, but of my own.

Here are my top picks when it comes to the best luxury hotels in Sri Lanka.



9 Best Luxury Hotels in Sri Lanka – Beach Resorts, Eco Lodges, Ayurveda Resorts, and More


1. Aliya Resort and Spa, Sigiriya


If you're looking for eco resorts in Sri Lanka or Ayurveda resorts in Sri Lanka, Aliya Resort and Spa has got you covered.

Aliya Resort and Spa is a luxury eco-hotel in Sigiriya with a huge infinity pool, excellent Ayurveda spa facilities, 4 restaurants, and a commitment to sustainability.

Guests can enjoy cooking classes, Ayurvedic spa treatments (I got a full-body massage and it was incredible), or rent a bike to explore the local surroundings.

Dining options include a contemporary Chinese restaurant (with Chinese chef) and a buffet restaurant with live cooking stations serving up Sri Lankan and international cuisine.

After dinner, you can pick your poison – will you enjoy a cocktail at Migara jazz bar, dance the night away in the hotel's very own night club, or perhaps grab some friends and make use of the dedicated karaoke room?

The rooms are also wonderful – I stayed in the 'Deluxe Room with Garden View' and loved the comfortable king-size bed, standalone bathtub, and the fact that my towels were folded in the shape of elephants!

Some of the rooms even have their own plunge pools!

Aliya Resort and Spa is located close by to Sigiriya Lion Rock, Minneriya National Park, and the Dambulla Golden Cave Temple Complex, so it is a great place to base yourself for a few days (read my post about the highlights of Sri Lanka for more tips and things to do!).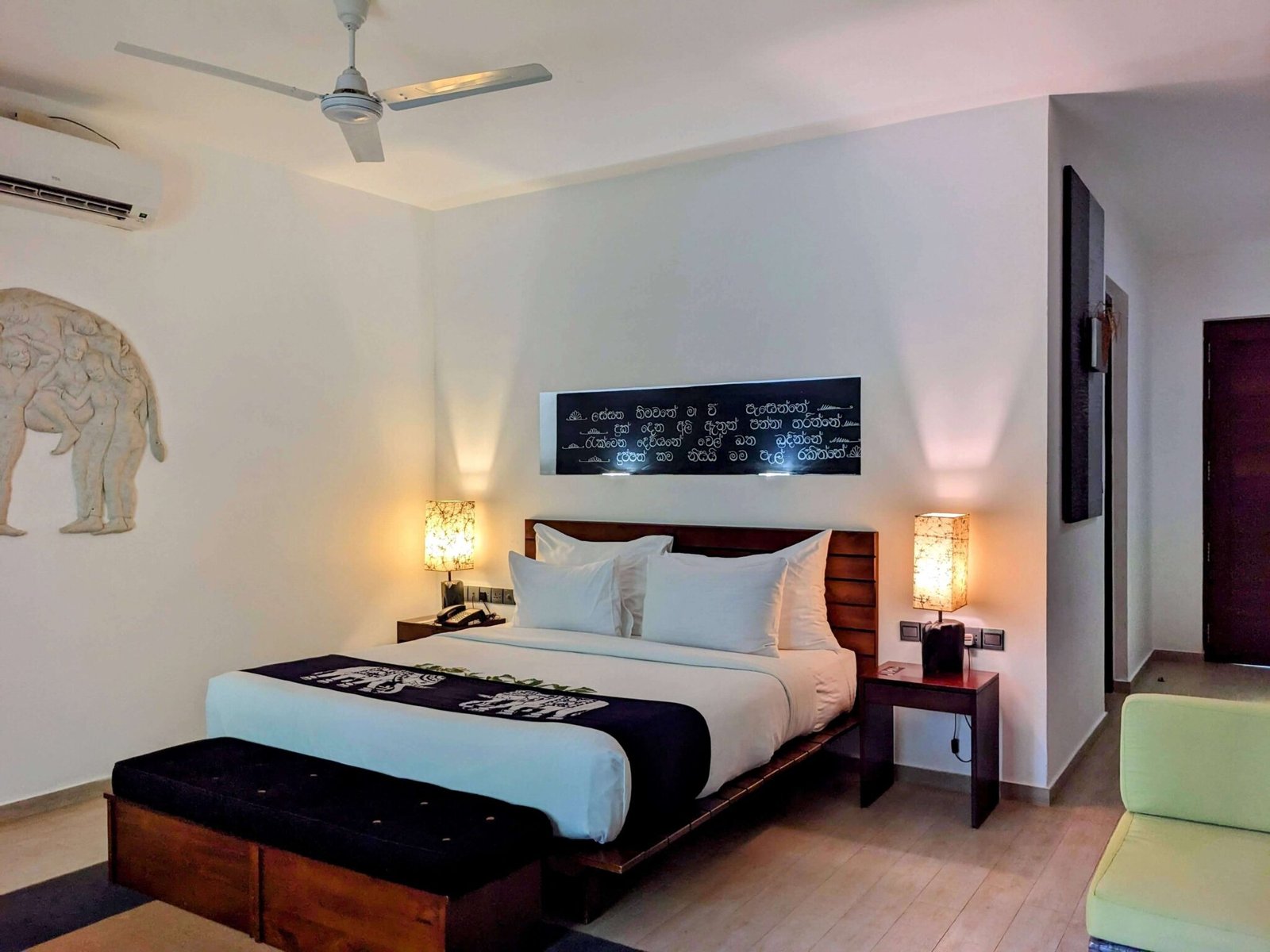 2. Jetwing St. Andrews, Nuwara Eliya


Jetwing St. Andrews is a charming, Tudor-style residence where you can enjoy 5-star luxury in the Sri Lankan highlands.

This hotel has a wood-panelled billiards room, a colonial-esque Road House bar where you can enjoy delicious cocktails, and lush gardens that provide fresh produce to the hotel restaurant.

The decor includes Chesterfield sofas, roaring fireplaces, and fine wood furnishings, and the buffet restaurant boasts live cooking displays (I particularly recommend trying the pork belly), and an extensive wine list (a rarity in Sri Lanka).

One thing that I loved about Jetwing St. Andrews was that we were able to experience a tea tasting and food pairing, hosted by the hotel. We sampled several local teas, learning all about them as we tasted them, along with some tasty snacks.

I stayed in the 'Superior Double Room' and felt like I was the leading lady in a period drama!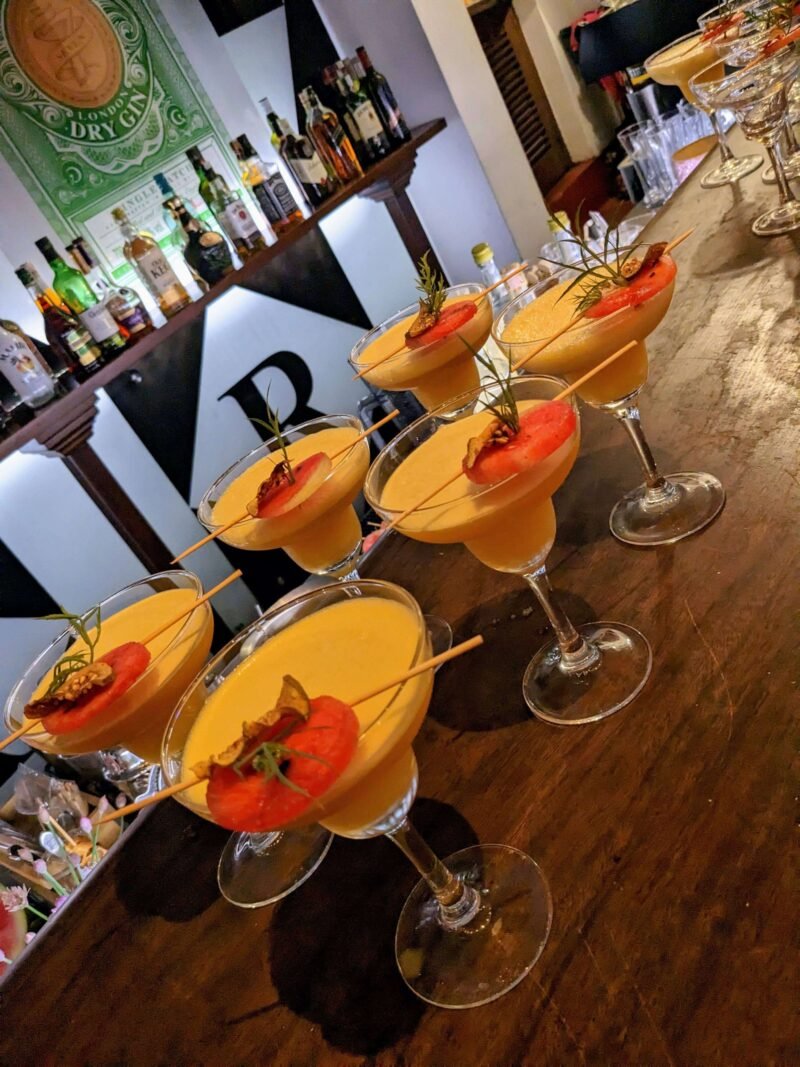 3. Shangri-La, Hambantota


Located about an hour's drive from Yala National Park, the Shangri-La Hambantota hotel is the epitome of luxury, and when it comes to beach side hotels in Sri Lanka, you can't get much better than this.

Not only is it home to an 18-hole golf course (the only one in Sri Lanka), but it also has 3 swimming pools, an Ayurvedic spa, Artisanal village where you can buy local souvenirs or learn a new craft, an abundance of sporting activities, a state of the art fitness centre, and so much more.

There are lots of activities to keep children occupied, making this hotel a great choice if you're travelling with family – from a flying trapeze and archery to a video games zone, kids club, and babysitting facilities, Shangri-La has it all.

The rooms are huge (I stayed in the 'Deluxe King Room'), and the beds just might be the comfiest I've ever experienced! I also loved the balcony with garden views, as well as the large bathroom with separate bath and shower.

Shangri-La Hambantota is without a doubt one of the best beach resorts in Sri Lanka.



4. Trinco Blu by Cinnamon, Trincomalee


Trinco Blu by Cinnamon is another of the stunning beach resorts in Sri Lanka.

Situated right on the beach in Trincomalee, you can open your patio doors and step right onto the sand directly from your bedroom.

The sea views and private beach are not all that Trinco Blu has to offer, though.

There's also a PADI-certified dive centre where you can organise snorkelling, scuba diving, fishing expeditions, and even dolphin/whale watching!

There's a large swimming pool and 2 restaurants (a buffet restaurant and a seafood restaurant specialising in crab dishes), and if you ask me, Trinco Blu is one of the best beach hotels in Sri Lanka.

I stayed in a 'Beach Chalet,' which is only about 20 EUR more expensive than a 'Superior Room,' and I highly recommend going with this option in order to enjoy the full Trinco Blu experience.



5. Tabula Rasa Resort and Spa, Habaraduwa


Of all the luxury hotels in Sri Lanka that I've visited, Tabula Rasa Resort and Spa was my favourite (and trust me, the bar was already high!).

Located about 20 minutes away from the city of Galle, Tabula Rasa excels in every possible way.

From the infinity pool with jungle views to the incredible rooms (I stayed in a 'Garden Villa with Ocean View'), the chance to enjoy a floating breakfast in your own private balcony pool, everything about Tabula Rasa is just perfect.

The food and cocktails are sublime, the hospitality was unparalleled (Tabula Rasa is owned by a lovely Dutch couple who welcomed us in as though we were family), and the resort is small enough that you feel as though you're staying at a private villa rather than a boutique hotel.

This has got to be one of the best luxury hotels in Sri Lanka.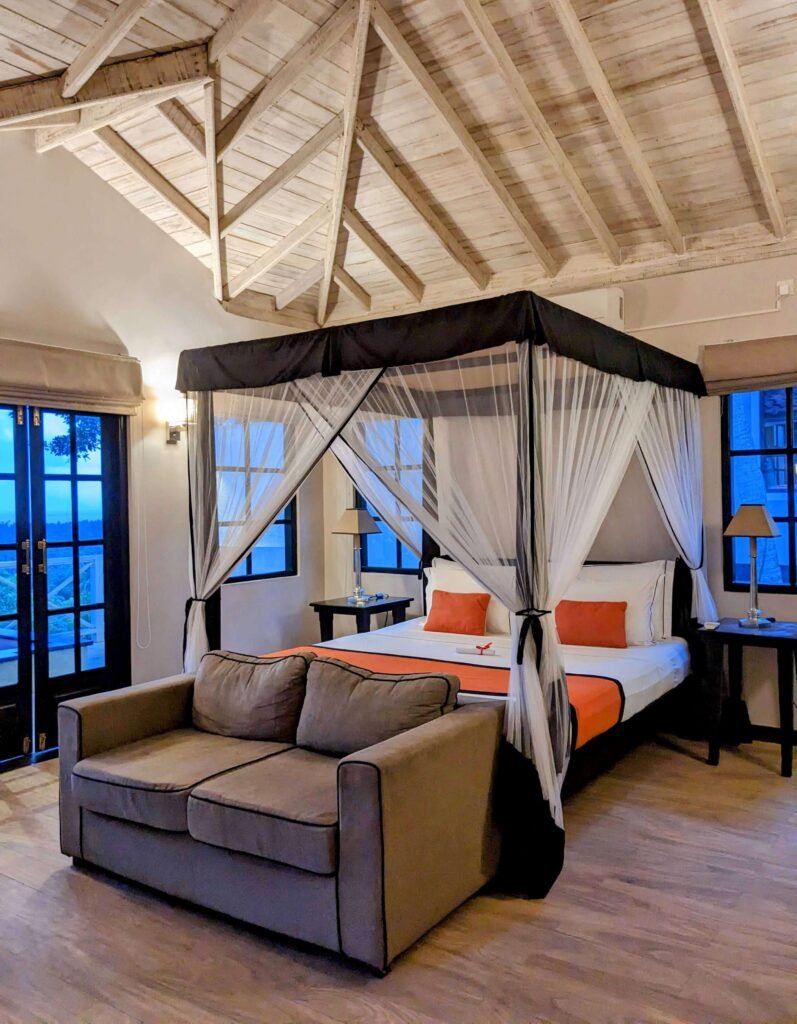 6. Cinnamon Grand, Colombo


Cinnamon Grand Colombo is huge, and if you decide to stay here, you won't really have a reason to leave!

With FOURTEEN restaurants, a bar, two swimming pools, a spa and wellness centre, fitness centre, live music, and evening entertainment, you could stay here for a week and not get to experience everything.

I ate at two of the onsite restaurants, and was impressed with both.

The rooms did have a more corporate style of decor than some of the other luxury Sri Lanka hotels on this list, perhaps with business travellers in mind (I stayed in a 'Premium Room').



7. Jetwing Blue, Negombo


Jetwing Blue is a stunning Negombo beach resort and it was the first place I stayed on my Sri Lanka visit.

I can't speak for other Negombo beach hotels, but what I can say is that Jetwing Blue is pretty special.

Perched right on the beach (we enjoyed dinner and cocktails on the beach, which was incredible), you can either sunbathe on the sand or make use of the sun loungers around the swimming pool.

The buffet restaurant is also on the beachfront, meaning you can enjoy your morning coffee with a view of the ocean – not a bad way to wake up!

The rooms were huge (I stayed in the 'Super Deluxe Room with Sea View') with gigantic bathtubs, balconies overlooking the pool, and were beautifully decorated.



8. Madulkelle Tea and Eco Lodge, Madulkelle (Kandy)


If you're looking for eco resorts in Sri Lanka, Madulkelle Tea and Eco Lodge is one of those once in a lifetime stays that will remain with you long after you check out.

Nestled in the rolling hills of Madulkelle Tea Estate, this eco lodge and spa provides a glamping experience and retreat like no other.

After a comfortable night's sleep in your luxury tent, emerge onto your terrace and be rendered speechless by the sweeping mountain views.

Enjoy breakfast fit for a king with those same views, before reclining by the infinity pool or indulging in a spa treatment. In the evening, enjoy a game of billiards or expertly-prepared local dishes, along with a glass or two of fine wine to wash it down.

I stayed in a 'Deluxe Tent with Mountain View,' and my only regret is that I couldn't stay longer.

If you think you're too good for a tent, this place will make you think again.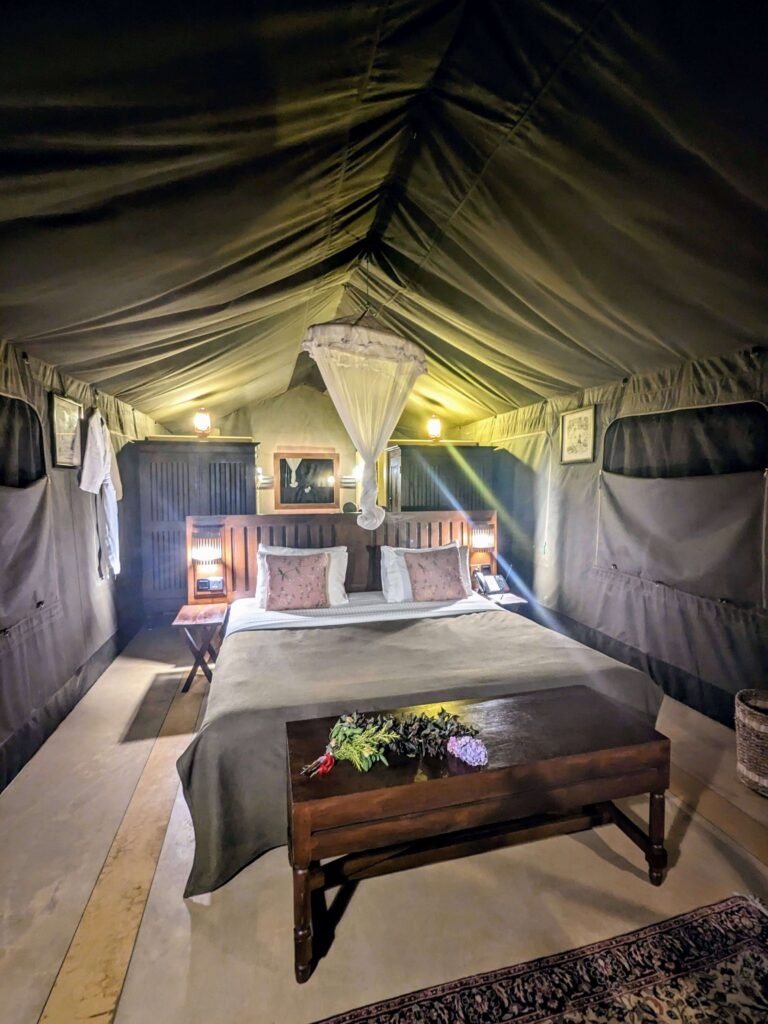 9. Jetwing Kaduruketha, Wellawaya


Jetwing Kaduruketha is another stunning Jetwing property that is also a Level 1 certified luxury eco/agro resort 21 km away from the city of Ella.

Set amongst lush rice paddies that are home to many exotic birds, Jetwing Kaduruketha employs the 'fork to table' concept, providing fresh produce to the resort's kitchen.

The bungalows here are the perfect combination of comfort and sustainability, and from the pool you can enjoy views over the mountains and rice paddies.

When it comes to luxury eco resorts in Sri Lanka, Jetwing Kaduruketha truly has it all.

Plus, did I mention that the fine dining onsite restaurant is amazing?

I stayed in the 'Wel Vidana Forest View' room type.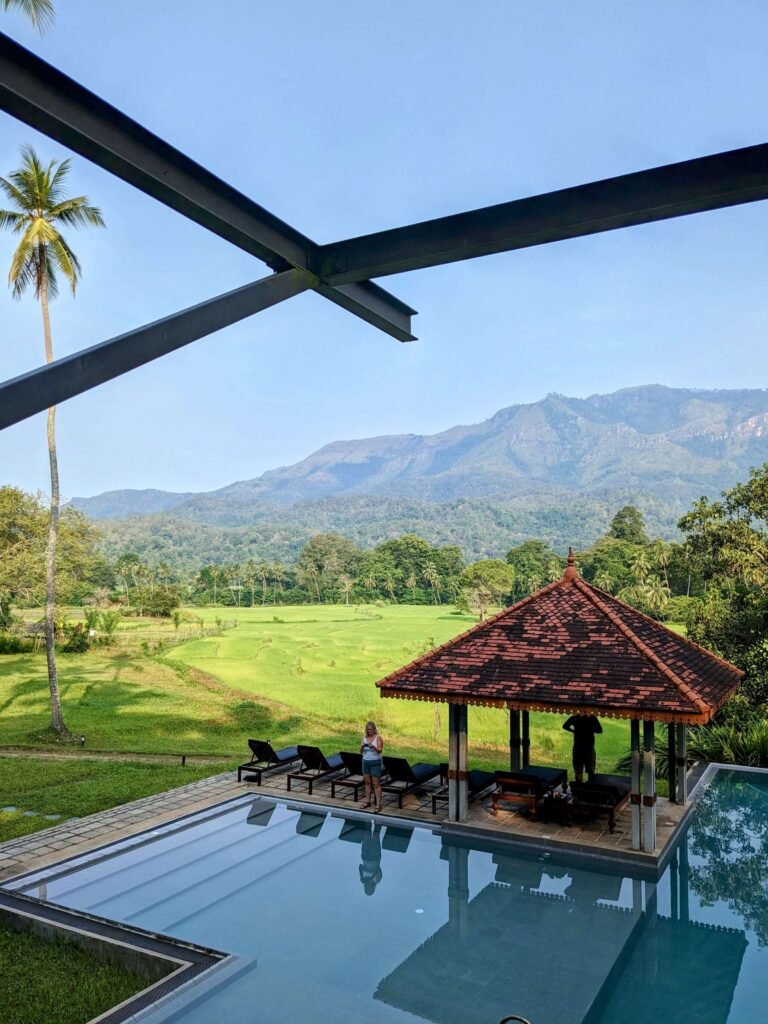 Best Luxury Hotels in Sri Lanka | Final Thoughts


I hope I've managed to show you that when it comes to the best luxury hotels in Sri Lanka, there really is something for everyone.

Whether you want huge resorts with all the bells and whistles like Shangri-La Hambantota or boutique getaways like Tabula Rasa, you're sure to be satisfied.

Commitments to sustainability, farm to table practices, Ayurvedic spa treatments and glorious beach sunsets are just some of the things you can look forward to on a luxury holiday in Sri Lanka, and you're guaranteed to be received with the big smiles and hospitality that Sri Lankans are so well-known for.

Oh, and Sri Lanka is safe too, just in case you were wondering 😉

That's all I've got for today, but if you have any questions about any of the hotels on the list, please don't hesitate to reach out in the comments below and I will get back to you!

Until next time,

XOXO


If you liked this article and would like to support my work, please click the button above to donate a couple of bucks and buy me a coffee. The ad revenue that I receive on this website is minimal, so support from my readers enables me to keep creating content that you (hopefully!) love to read.

Disclaimer: I visited Sri Lanka on a press trip hosted by the Sri Lankan tourism board. All hotel stays were complimentary. The links on this page are also affiliate links, meaning I may make a commission if you decide to book a hotel that I recommend.