Before I went to Bratislava, the tiny Slovakian capital, I had only heard bad things. Other travellers that I met complained that it was boring, that there was nothing to do, and that one night there is more than enough. I'd heard that the nightlife was bad, the locals were unwelcoming and that Bratislava is only really worth visiting if you have some time to kill on a layover.
My verdict?
I call bullshit.
I stayed for a total of six nights in Bratislava on two separate occasions, and it remains one of my favourite cities in Europe.
Certainly, for groups of young travellers looking for an experience similar to what you may find in Krakow, Prague, or Budapest, then sure, Bratislava may not be the right choice. It is not the kind of city that you visit for a lad's weekend or a stag party (although I did see quite a few posters advertising strip clubs, and there is an abundance of massage parlours, so seek and ye shall find if that's what you're after). However, if you want to enjoy a stroll through a picturesque old town, listen to classical music on cobbled streets, eat top quality venison and drink pints of dirt cheap beer in cosy pubs then Bratislava just may be what you're looking for, not to mention the abundance of day trips that you can take from Bratislava!
I arrived in Bratislava late in the afternoon. I was pretty hungover tired from my time at Retox Party Hostel in Budapest, and so as soon as I checked into my hostel, A Wild Elephants, I had a nap and woke up just in time for the communal dinner. A Wild Elephants is a fully vegan hostel, which may put some people off, but as I'd been backpacking and eating like crap for weeks, I was looking forward to eating some healthy food! Making my way to the kitchen, I sat down and was immediately given a can of beer and introduced to some of my fellow travellers. Every night, a different staff member at A Wild Elephants cooks dinner for the guests, and that night was mushroom soup with homemade garlic bread. The cost of this, plus my beer, was 4 euros – not bad!
That night, almost everyone went out (the hostel runs nightly pub crawls for one euro) but I decided to stay in and wait for my friend Nadia, who was due to arrive later that evening. Not long after everyone left, she arrived, and so we bought another 1 euro beer from reception and went upstairs to the common area to hang out for a while, before getting a reasonably early night (1am is early, right?).
The next morning, Nadia and I slept in late (I'm not kidding – Budapest really did ruin us), before enjoying some free coffee at our hostel and heading out to Balans Bistro, a fully vegan cafe just outside Bratislava's old town. It was jam-packed when we arrived, so we had to order our food for takeaway, but it didn't matter as it was so delicious. We both opted for a creamy tempeh stroganoff that came with rice and chunky chips that we ate in the sunshine in a local park and it was so tasty!
After we were suitably stuffed, we made our way back to the main square and joined a free walking tour! Free walking tours are my favourite thing to do when I get to a new city, because as well as helping you get your bearings, you also find out tonnes of stuff that you would never in a million years learn about if you explored the city by yourself. This walking tour in particular was a lot of fun because our guide was hilarious, and he took us to all the major statues of the city (I shook hands with Hans Christian Anderson because apparently that makes you have a successful writing career!), as well as the opera house, Michael's Gate, St. Martin's Cathedral, and of course, Bratislava Castle! After around 2 hours, we ended our tour with a pint in the pub – exactly the way an afternoon should end!
That evening, we tucked into vegan spaghetti bolognese at our hostel, before joining them on a 'chilled pub crawl,' where the hostel staff took us to a few quiet pubs around Bratislava's old town. It wasn't a huge night out but I wasn't expecting that in Bratislava anyway, and anyone that knows me will know I much prefer a night in the pub than at a nightclub!
The next day, Nadia and I went to a vegan food stall for a late breakfast. She opted for a meat-free hot dog and I got a vegetable burrito – yum! (To those of you wondering why I seem to be following a vegan diet in this post, it's because I was staying at a vegan hostel and travelling with a vegan so I'd decided to be vegan myself for the time that I was in Bratislava!).We then spent the afternoon raiding the vintage stores! Bratislava is absolutely full of vintage clothing stores, and we were lucky enough to be in Bratislava on a day when everything in every store was 1.50 euros! After trying on so many things, we eventually bought a couple of items of clothing each, and I treated myself to a couple of gold chains and a cute little handbag. Exhausted from all that retail therapy, we ended our day with fruit smoothies and soup at Enjoy Coffee, a cute little cafe just around the corner from our hostel (and of course, another pub crawl that evening!).
The next day, we had planned to stay in Bratislava and explore Devin Castle but we were pining for the nightlife in Budapest so much that we instead hopped on a bus and went straight back to Hungary – oops!
Fast-forward about 3 weeks, however, and I was back in Bratislava! I hadn't planned to return so soon but I was making my way from Krakow to Ljubljana and so I needed somewhere in between that I could rest for a couple of days in order to break up the journey! My friend Rob, who I'd been with in Krakow, had never been to Bratislava, and so we both figured that we'd spend a couple of nights there before going our separate ways.
Our first morning was spent wandering around the old town trying to find somewhere to eat. We eventually settled on the Slovak Pub, where the beer is cold and the portions are huge! I opted for garlic soup served in a bread bowl to start, and we both shared a trio of gnocchi-style potato dumplings with various sauces for our main. After trying (and failing!) to finish the monster portion of potato, Rob and I, along with our friends from Krakow, Dom and Jack, set out to find Magio Beach, a man-made beach on the side of the Danube river. It didn't take us long to reach Magio Beach from the old town (about 20 minutes), but unfortunately, the weather took a turn for the worse and it was impossible to enjoy our fruity ciders because we were shivering too much!
That night we decided not to go out, preferring to have a chilled night in so that we could be fresh for the following day, when we'd decided to go to a nearby lake and drink in the sun! A Wild Elephants hostel often does day trips to the lake (I only wish I knew the name!), and the only cost you have to cover is your bus fare (which is around 2 euros). Stopping at a local supermarket to stock up on fruity ciders (and all the watermelon), we joined our fellow travellers and made our way there.
The bus took about 20 minutes, and from there it was a 10 minute walk through the countryside to the prettiest little spot ever! We waded out to a small island in the middle of the lake, and spent the rest of the afternoon eating watermelon, soaking up the sun, enjoying a few drinks and swimming in the lake (well, I say "we" swam in the lake, but because I am a moron and didn't think to wear a bikini, I had to make do with drinking and sunbathing – not that I was complaining).
After a few hours, we made our way back to the hostel for another communal vegan dinner (vegetable curry and rice), and a few 1 euro beers, before heading out to a cute local pub with everyone. However, when everybody moved on, myself, Rob, Dom and Jack decided to hang back and find a pub of our own, away from the crowds.
It's difficult to say whether or not we were successful in our mission. We did indeed find a really cute underground pub nearby, but when a group of local drug dealers decided to sit with us and be really intimidating, the night took a strange turn. On the one hand, the ringleader bought us a tonne of beer and shots, but on the other hand, his mates were giving me the eye and looking like they wanted to murder the boys, and after my bad experience in Thailand, I was pretty wary. Not only that, but the boys all agreed that something wasn't right, and so we thanked them for the drinks before making our excuses and legging it leaving.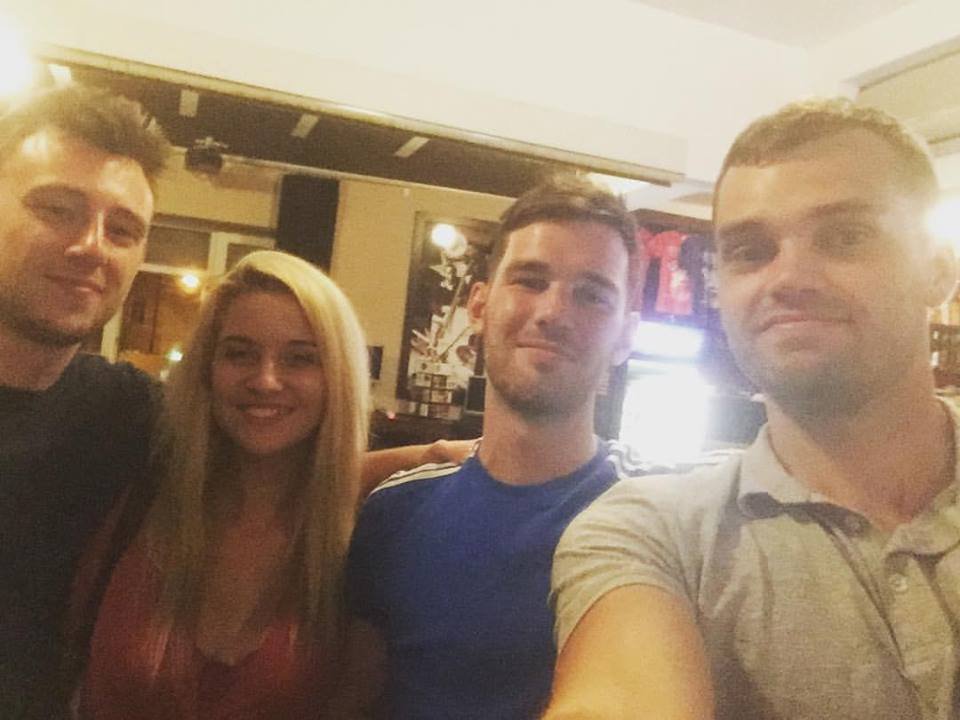 The next day was unfortunately time to leave Bratislava for good. I'd spent a total of six nights in the quaint Slovakian capital, and while I still hadn't made it to Devin Castle, I still felt as though I'd made the most of my time there. Bratislava is not the place to go if you want crazy parties and a tonne of activities. However, if you like cobbled streets, beautiful churches, meat platters and pubs then it just may well be the place for you.
The hostel that I stayed at, A Wild Elephants, is the only hostel in the old town, and is super cheap, super secure and is a place where laid back solo travellers will thrive. The nightly communal dinners make it really easy to meet people, the common room is really cool and there are pub crawls every single night. To book your place there, simply click this link.
Have you ever been to Bratislava? What did you think? Did you enjoy its medieval charm as much as I did, or did you find it lacking? Let me know in the comments below!
Disclaimer: This page contains affiliate links. This means that if you make a purchase on the sites that I endorse, I may make a small commission at no extra cost to you 🙂