Although many people visit Prague to enjoy the cheap beer and crazy nightlife, few visitors to the Czech Republic* do so with the aim of indulging in all the traditional Czech food they can.

Not many people are even aware of what Czech cuisine is, and I'm sure that more than a few Prague partygoers end up sustaining themselves on a drunk diet of kebabs and McDonald's, without even munching a single Nutella-smothered trdelnik!

However, if you're reading this article then chances are you're not one of those people, and you're wondering what to eat in Prague and what traditional Czech food is like.

So, without further ado, let's get into it – here is all the food from Prague (well, Czech food generally!) that you absolutely have to try.



Traditional Czech food in a nutshell


Czech cuisine is, at its heart, comfort food, with a focus on succulent meats, rich sauces, root vegetables and potatoes.

It is especially rewarding to visit the Czech Republic in the winter time, where you will be able to make the most of the dense, hearty soups, meat stews and stodgy dumplings that feel like a hug from the inside out.

A typical meal in the Czech Republic will consist of two courses – usually a soup followed by a meat dish, and perhaps a slice of cake for dessert.

It almost goes without saying that both lunch and dinner are accompanied by a beer.

In fact, the Czech Republic consumes the most beer per-capita than any other country in the world – Na zdraví!

In order to make sure that you don't miss out, I've compiled a list of traditional Czech food that you can't miss on your trip to Prague.

Here are my 20 top Czech dishes.



Traditional Czech Food – 20 Czech Foods You Have to Eat in Prague


1. Knedliky


Starting off simple, we have a kind of bread which is called knedliky.

Knedliky is a kind of Czech dumpling perfect for mopping up all of those thick sauces that the Czech cuisine is packed full of – in fact, most soups, stews and sauce-based dishes in the Czech Republic will be served with a side of Czech dumplings.

Knedliky are made by rolling dough into small dumplings, and then boiling or steaming them. They can be sweet or savoury.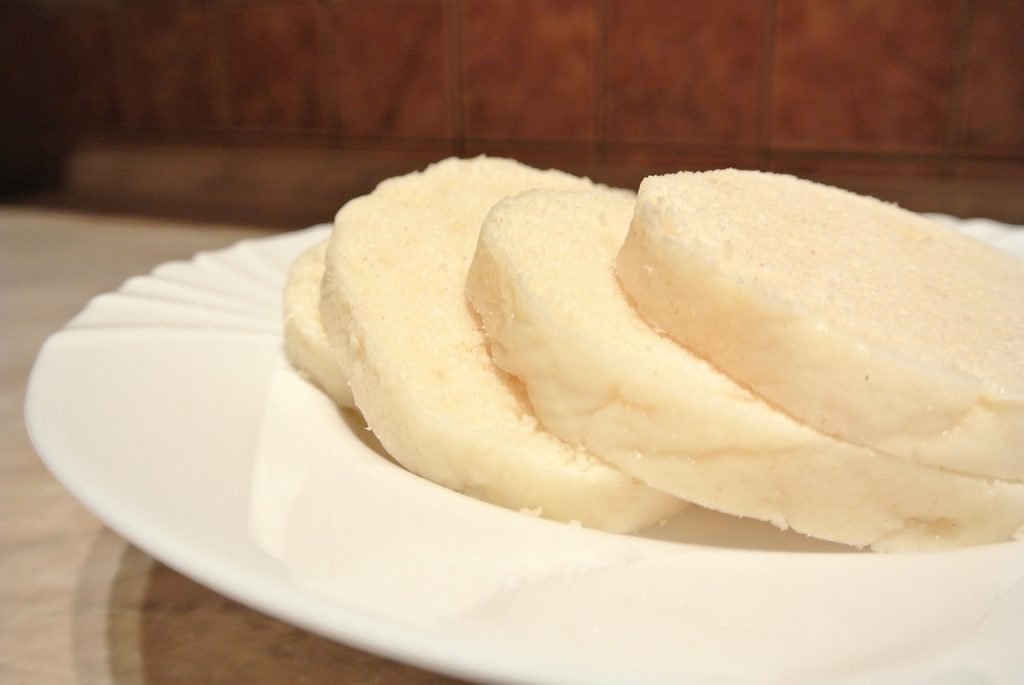 2. Svíčková na smetaně


Unrelated, but isn't the Czech language beautiful to look at?

Anyway, let's continue.

I first tried Svíčková na smetaně in an old Bohemian castle (yes, you can be jealous!) and when I first saw the plate coming over to me, I was a little nervous.

I never mix sweet and savoury.

Sweet and sour chicken, pineapple pizza, cheese and honey – you get the gist.

You can imagine my horror then, when I saw slices of beef covered in a sweet vegetable puree (made from carrot, parsley and celery) with a dollop of whipped cream on top, a generous helping of cranberry sauce and slices of lemon, along with some sweet knedliky Czech dumplings to top it off.

Little did I know that svíčková na smetaně is known as one of the best Czech dishes out there, and with a preparation time of over 3 hours, it is usually only prepared for special occasions – we were honoured!

Of course, I polished off the lot, but I've got to be honest – it wasn't for me. With that said, svíčková na smetaně is one of the most famous foods from Prague, and so you should definitely give it a try.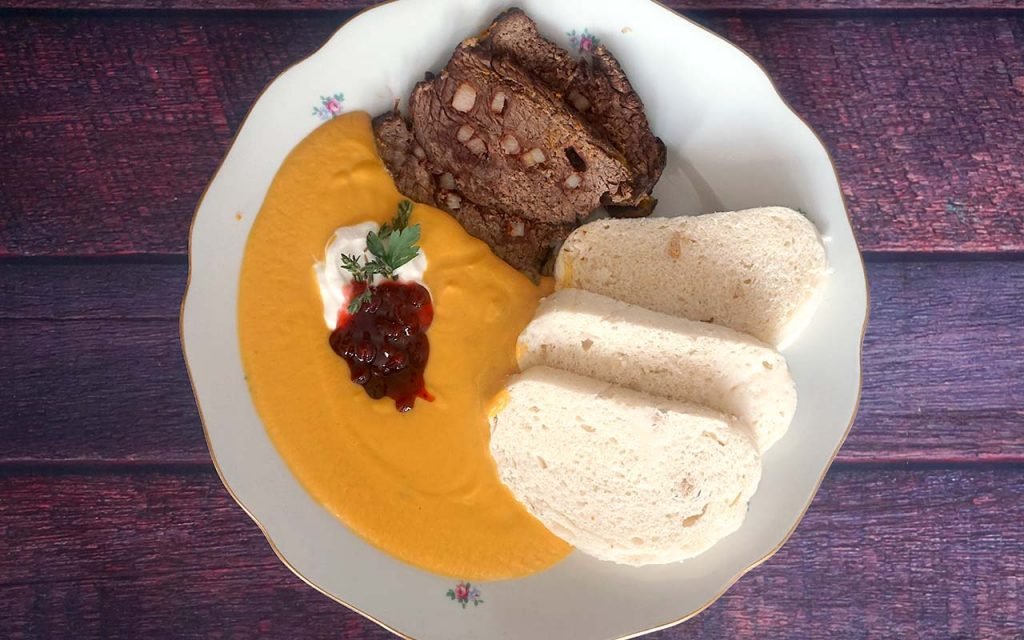 3. Tatarák


Although not exclusively a traditional Czech food, tatarák, or beef tartare is a big part of Czech cuisine, and you'll almost definitely come across it on restaurant menus.

Beef tartare is ground raw beef topped with a raw egg yolk and served alongside chopped onions and pickled cucumber, along with paprika, salt, pepper and mustard and a hunk of thick crusty bread.

This is a really special Prague food, as not only do the strong flavours create an explosion on the palette, but the marrying of textures, particularly that of the raw beef with the egg yolk, come together to create a unique and tasty dish.

The best way to eat tatarák is to pour the egg yolk into the middle of the raw beef and then mash everything up together – I tend to use the bread to mop up the remains but some people prefer to spread the tartare right onto the bread.



4. Trdelník


Trdelník, which means 'chimney cake' are a bit of a mystery, with most people believing that they originate from Transylvania in Romania, with some people arguing they come from Slovakia and others believing they are a Czech food.

Regardless of which camp you're in, you will find Trdelník on every street corner in Prague and if you have a sweet tooth, you have got to try one.

Trdelník are made by wrapping dough around a stick and sprinkling it with sugar and cinnamon before roasting it over an open flame.

They can be served alone or with treats such as Nutella or ice cream.

A trdelník from a street food vendor in Prague will usually cost around 2 EUR, and they are absolutely massive, so perhaps don't buy one just before lunch!



5. Chlebíčky


A chlebíčky is an open-faced sandwich and a common Czech breakfast food.

Almost all of the hotels I've stayed in in the Czech Republic have laid out the ingredients to make a chlebíčky as part of their breakfast buffet and chlebíčky are also a common sight in deli shops around Prague.

Common toppings include ham, cheese, tomato, cucumber, pickles, salami and egg.



6. Guláš


Guláš, or what you may know as goulash, probably originated in Hungary, but if you're wondering what to eat in Prague, you simply have to include goulash on your list of Prague foods.

Goulash is a thick, meaty stew, usually made with chunks of beef (but it can be made with pork or wild boar instead), and seasoned with paprika.

Knedliky dumplings are usually served along with it to mop up the sauce.

You will find goulash absolutely everywhere in Prague as it is one of the most popular Czech foods there is, and no trip to Prague is complete without at least one helping of goulash.



7. Palačinky


Palačinky, otherwise known as crepes, are not unique additions to Czech cuisine, but you'll still want to try them when you visit Prague.

Usually served as a dessert (but they can be a main dish too), palačinky can be topped with anything including jam, nuts, chocolate sauce, fruit, ice cream and sweet cheese.

Savoury versions can be served with spinach, meat or cheese.



8. Vepřové koleno


Vepřové koleno is pork knuckle, which is a common Polish dish as well!

With extremely tender meat that has been marinated in dark beer, pork knuckle is eaten from the bone for extra flavour, and is usually served with horseradish, mustard and sauerkraut.

Trust me, if you're going to wish you could bring any food from Prague back home with you, it would be vepřové koleno!



9. Vepřo knedlo zelo


Vepřo knedlo zelo is one of the most popular Czech dishes there is. It consists of tender roast pork and dumplings, served with sauerkraut or red cabbage and drizzled in onion gravy.

One to fill your belly in the harsh winter months, vepřo knedlo zelo, like most other Czech foods, is always washed down with a glass of cold Pilsner.



10. Kulajda


Kulajda is a delicious creamy potato and mushroom soup, seasoned with vinegar and dill and served with a poached quail's egg on top.

Of all the Czech soups, this one is one of the heaviest, and while you can eat it as a starter, it is perfectly acceptable to order kulajda as a main meal as well.



11. Bramboráky


Bramboráky are Czech potato pancakes and they are one of the few vegetarian Czech dishes out there!
They can be served as a main, side dish or street food, and are made from grated potatoes, shredded garlic, flour and eggs, seasoned with salt and pepper and often served with sour cream and chives.

While Czech potato pancakes may not be good for your waistband, it's difficult to care when they taste as good as they do!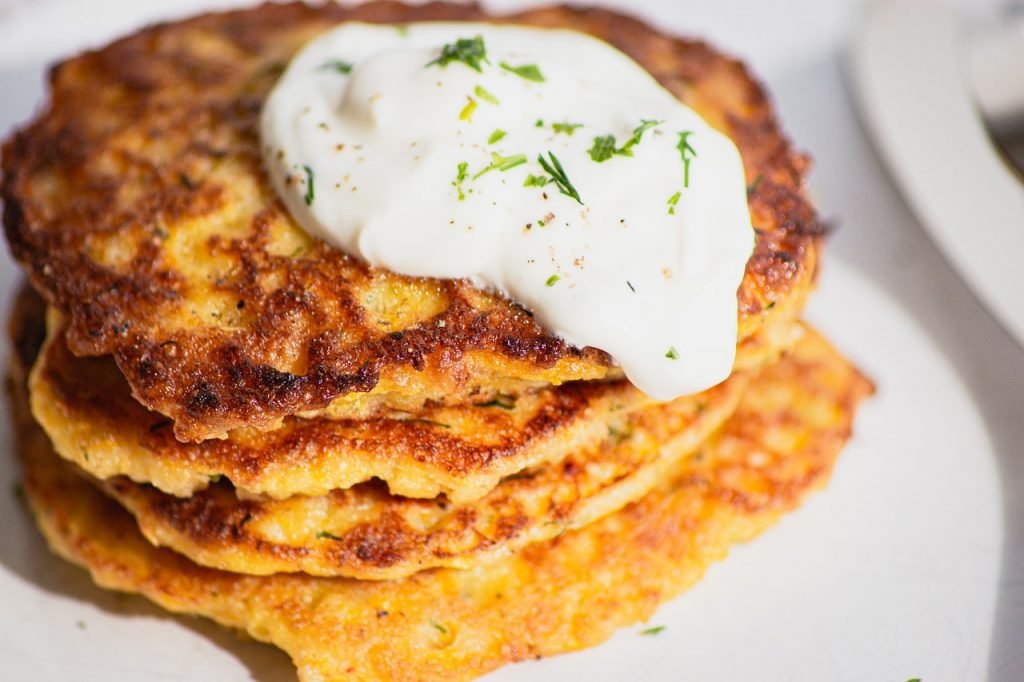 12. Pečená Kachna se Zelím


Another quintessential Czech food is Pečená Kachna se Zelím, or roasted duck with pancakes and red cabbage or sauerkraut.

As always, it should be accompanied with a cold beer.



13. Zelňačka


Zelňačka is a sour cabbage soup made from sauerkraut. It also contains smoked sausage as well as potatoes and sour cream.

Due to the heavy presence of sauerkraut, this Czech soup certainly has an acquired taste, but the smoked meat complements the fermented cabbage perfectly, and it is an intoxicating mix of flavours.



14. Smažený vepřový rízek


Smažený vepřový rízek is one of the most simple Prague foods, and is basically the Czech equivalent of a pork schnitzel (although veal and chicken cutlets are common as well).

While schnitzel (rízek) is obviously not unique to the Czech Republic, it is an integral part of classic Czech cuisine and a common working man's lunch.

Rízek is served with potatoes, a slice of lemon and fresh parsley.



15. Česnečka


Česnečka is one of my favourite Czech foods and is one of the oldest soups in the Czech Republic.

This soup has a garlic base and is served with croutons (both in the soup and also on the side), as well as a raw egg, which is added near the end to give a denser texture.

Česnečka can also have small pieces of sausage or cheese cubes added in, and it is widely known as a hangover soup, making it perfect after a long night on the Czech beer!



16. Sekaná Pečeně


Sekaná Pečeně is a Czech meatloaf made from baked minced meat (beef or pork, sometimes both) with chopped onions, garlic, bell peppers, parsley and marjoram. Oftentimes, bacon is added, making the dish even meatier.

Like most Czech foods, meatloaf is a fantastic winter dish, so if you're wondering what to eat in Prague in the cooler months, you should put sekaná pečeně at the top of your list.



17. Smažák


Another of the few vegetarian Czech foods, smažák is a giant slab of fried cheese, breaded and deliciously greasy. It can be served either as a bar snack or a main dish (often with a potato side), and the cheese used tends to be Edam.

I'm ashamed to say how many of these I indulged in during my trips to Prague, so let's just move onto the next shall we?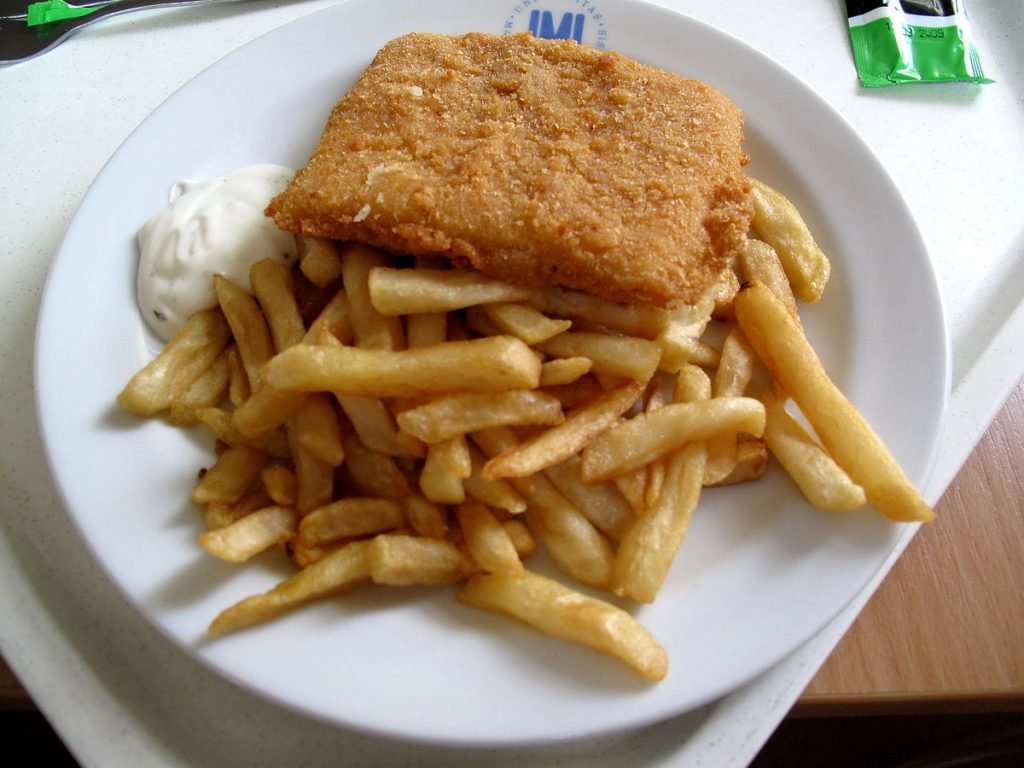 18. Rajská omáčka


Rajská omáčka is a beef dish with tomato sauce, made from pureed tomatoes and tomato paste.

The beef is roasted and sliced before being doused in the sauce and accompanied by Czech dumplings.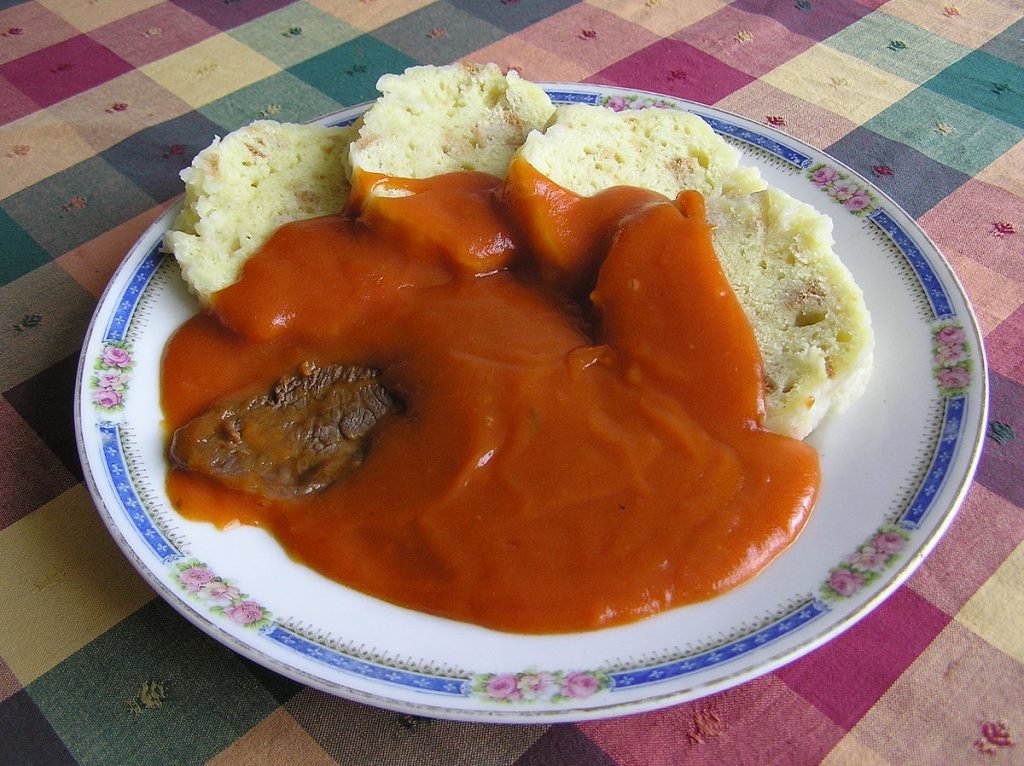 19. Moravský Vrabec


Moravský Vrabec, which means 'Moravian sparrow' is another one of the most popular Czech dishes.

A stodgy, heavy dish, Moravský Vrabec has nothing to do with sparrows (or birds at all!).

Rather, it is a pork dish where the meat is taken from the shoulder (or other fatty cuts), chopped into little chunks and served with either red cabbage and bread dumplings, or white cabbage and potato dumplings.

Regardless of the combination you try, you're guaranteed to be full to burst after a full plate of Moravský Vrabec.



20. Pivo!


In case you didn't know it, the Czech word for 'beer' is PIVO, and despite it technically not being a food, I couldn't write a post about traditional Czech cuisine and leave off their national pride!

Beer is a way of life in the Czech Republic, as not only do the Czechs drink more of the stuff than anyone else, but it is also the birthplace of Pilsner!

In Prague, not only can you visit a brewery or hire a beer bike, but you can even take a bath in the stuff!

In fact, in the Czech Republic, beer is cheaper than bottled water!

Seriously – if you go to the right places, you can find pints of beer for as little as 14 koruna (0.54 EUR), whereas a .33cl bottle of water will cost you 35 koruna on average!



Traditional Czech Food | Final Thoughts


So, that just about brings us to the end!

Of course, there are hundreds more traditional Czech dishes out there, and I'm sure there are a few of you already getting ready to write me an indignant comment telling me how much I missed 😉

However, if you're new to Czech cuisine then this list is a great starting point for your first trip to Prague, and you can either work your way through the dishes that take your fancy, or just use it for a bit of guidance if you're overwhelmed by restaurant menus!

I hope that this was helpful, and now, the only thing left for me to say is DOBROU CHUŤ!

Until next time, XOXO


If you liked this article and would like to support my work, please click the button above to donate a couple of bucks and buy me a coffee. The ad revenue that I receive on this website is minimal, so support from my readers enables me to keep creating content that you (hopefully!) love to read.

*I am aware that the official name stated by the Czech government is Czechia, but most people still refer to the country as Czech Republic and from my research, I have found that both versions of the name seem to be correct. I am not trying to be political or invalidate the country in any way. Don't come for me 😉


Disclaimer: Travelling Jezebel uses affiliate links. This means that if you make a purchase on a recommended site then I may make a small commission at no extra cost to you!