As I write this article, I've visited Warsaw multiple times and know it like the back of my hand. However, it wasn't always this way. My first trip to Warsaw was less than 24 hours long – I actually never planned on visiting Warsaw at all, and so it came about as somewhat of an accident.

I hadn't heard anyone actually say that they had enjoyed Poland's capital city, and although that in itself isn't usually enough to put me off a place, I didn't have a lot of time to spend in Poland and so I'd decided to give it a miss.

Until I met Joanna that is.

Joanna was one of the students I met when I took part in the Just Speak English language immersion programme, and we really hit it off, so much so that she invited me to visit her in her home town and spend one day in Warsaw.

Sidenote: this is more of a 'travel diary' kind of post. If you're looking for a proper guide to Warsaw, you can read my in-depth guide to Warsaw here.



One Day in Warsaw, Poland

Right from the beginning, Joanna was adamant that I needn't worry about finding a place to sleep, and assured me that she would sort everything out as a way of showing me that she was happy I was coming to visit.

Sure enough, I didn't have to worry about planning a single thing. When my bus arrived in Warsaw at 5pm, Joanna was already waiting at my stop. She drove me to her auntie's vacant apartment, and told me that we would both be staying the night there, before handing me a beer and waiting patiently while I dumped my bags and freshened up. We didn't linger for too long – we only had one day in Warsaw and so Joanna was eager to take me on a whirlwind tour of the main sights before nightfall.


What to See in One Day in Warsaw


While I would never recommend only spending one day somewhere, sometimes you simply don't have the time to do otherwise, much like me on my first trip to Warsaw.

Luckily, most of the things to see in Warsaw are very close together and can be visited in an afternoon. Warsaw's Old Town (which is actually a new town as the buildings were destroyed during the Second World War!) is tiny and extremely walkable, and this is where Joanna took me first.

We began in Plac Zamkowy (Castle Square), the main square and entrance to Warsaw Old Town. Something you can't miss is Sigismund's Column, a huge column made of bronze and granite. Sigismund's Column was originally erected in 1644 and is one of Warsaw's most famous landmarks, as well as being the first secular monument in the form of a column in modern history – now there's a fun fact for ya!

You will also find the Warsaw Royal Castle here, which is a stunning work of Baroque architecture and definitely worth a photo or two!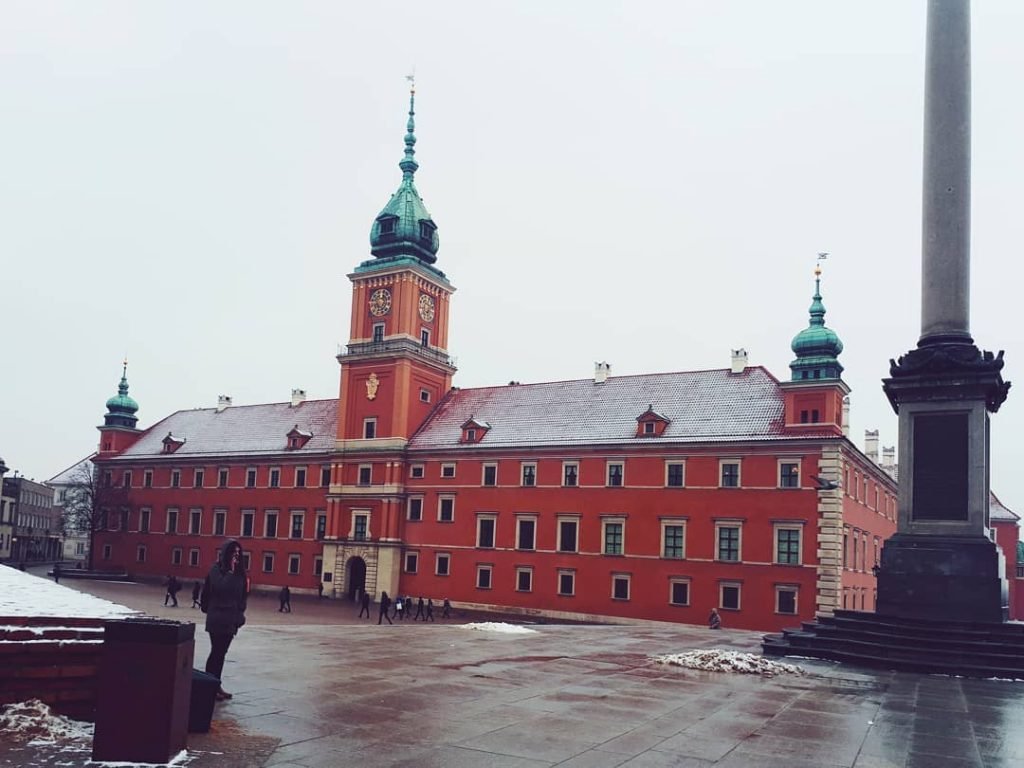 We proceeded to have a stroll around Warsaw Old Town, down the winding cobbled streets, lined with colourful buildings housing gift shops and quaint restaurants. We also went inside a couple of churches, including the one that Joanna actually got married in!

We went on to admire the Warsaw Barbican which was erected in 1540 and was designed by Jan Baptist the Venetian, an Italian Renaissance artist who was instrumental in the redesign of the 14th century city walls that had fallen into disrepair.

The Warsaw Barbican is absolutely beautiful and one of the last remaining relics of the complex network of fortifications that used to encircle the city of Warsaw.



Another thing you can't miss if you only have one day in Warsaw is the Warsaw Palace of Culture and Science, an imposing building that stands at 237 metres tall, making it the 5th tallest building in the European Union!

Opened in 1955, Joseph Stalin offered the Palace of Culture and Science as a 'gift of the Soviet people to the Poles.' Unsurprisingly, for this reason, it is a controversial building, with many residents wanting to see it destroyed and other believing that it should be preserved as a historical monument.

Inside the Palace of Culture and Science today is a university, theatre, cinema, trendy bars and restaurants, a nightclub, and the main Warsaw Tourist Information Office.

You can even go up to the 30th floor of the Palace to enjoy panoramic views of the city, but for me, the best view is always OF the Palace of Culture and Science, not FROM it!




Next it was time for food, and Joanna had just the answer. She had made a reservation for us as Fontanna, one of the highest rated restaurants in Warsaw and one that Joanna had always wanted to visit but had never had the chance to.

We took our seats outside in the fading light and ordered the drink of all Polish ladies – lager with raspberry syrup, served in pint glasses with straws!

For food we ordered spaghetti with mussels, clams and juicy cherry tomatoes, soaked in olive oil and garlic and baked in tinfoil, and both concluded that it was absolutely delicious!



With our bellies full to burst, we left the restaurant and embarked on a long walk to work off some of that food! We strolled by the Vistula river and the Warsaw city beach until we came upon a cluster of riverside bars with colourful chairs and fairy lights.

Deciding that we could do with a rest, we took our seats at the cosiest looking one and drank another couple of beers, enjoying our conversation as the sun went down and the temperature dropped.



When we started to get cold, we decided to continue our walk around the streets of Warsaw, enjoying the quiet streets and stopping every so often so that Joanna could point something our or tell me a story about a particular place.

By the time our feet took us back to Joanna's aunt's house, it was past 1am and Joanna had to be up at 5 for work! Tipsy and exhausted, we dragged ourselves up the stairs and fell into deep stupors almost instantly.

This was unfortunately the end of my one day in Warsaw, and I had to admit that the city had surprised me. Warsaw is not the serious and grey city that so many travellers describe it as being, and I was excited to return and see what more the city had to offer.


If you're planning a trip to Warsaw and are thinking of renting a car while you're there, I recommend using Qeeq. Click here for a $50 coupon off your car rental and FREE Covid-19 protection!

You can also travel around Poland by bus. My go-to bus travel in Europe is always FlixBus. Flixbus is the most extensive bus network worldwide and all Flix buses have Wi-Fi, extra legroom, charging ports and the ability to modify your booking just 15 minutes before departure! Click here to book your Flixbus to Warsaw.

To compare bus and train travel, use Trainline.

For airport transfers, I recommend i'way. Click here to book your transfer.


have you ever been to warsaw? how would you spend one day in warsaw? let me know in the comments section below!


If you liked this article and would like to support my work, please click the button above to donate a couple of bucks and buy me a coffee. The ad revenue that I receive on this website is minimal, so support from my readers enables me to keep creating content that you (hopefully!) love to read.


Disclaimer: Travelling Jezebel uses affiliate links. This means that if you make a purchase on a partnered site then I may make a small commission at no extra cost to you.