Last updated 26/07/2021.

Before I visited the Republic of Moldova, I had heard rumours that it was possible to visit a winery in the city of Cricova (named Cricova Winery – who would have thought it?) that is home to Vladimir Putin's personal wine collection. I had also heard that Moldova wine is known to be some of the best in the world, with wine making in Moldova harking back to ancient times.

Those two little pieces of information meant that before I even stepped foot into Moldova, a visit to Cricova Winery was on my bucket list – I mean, it's not every day you get to peruse Putin's wine collection, is it?

My decision to visit Cricova Winery was cemented when I arrived in Chisinau and realised that it's actually only 15km from Chisinau to Cricova, making it really bloody easy to get there.

So, with that said, let's dive into the history and culture of Moldova wine and discover whether Cricova Winery lives up to the hype.



Cricova Winery Moldova – The World's Most Majestic Wine Cellar?


Cricova Winery and Moldova Wine – Some Fun Facts


Moldova is the poorest country in Europe, but wine is the number one economic product of Moldova, with Moldova being the second largest wine exporter in the world, mainly due to Cricova Winery.

Over 400 million litres of wine are produced in Moldova annually and 67 million bottles are exported – that's 1 million more bottles of wine than there are people living in the UK!

Kazakhstan is the largest importer of Cricova Winery's wine.

Cricova Winery is the second largest wine cellar in the world, with 120km of underground wine storage!

The tunnels at Cricova Winery were dug back in the 15th century, when limestone was carved to build Chisinau.

Cricova Winery is famous for its sparkling wines, and they are produced using the same method that is used in France for Champagne.

Vladimir Putin spent his 50th birthday at Cricova!

It is said that during Nazi occupation of the Soviet Union, Cricova Winery hid Jewish people in wine barrels.

In 1966, Russian astronaut Yuri Gagarin visited Cricova Winery and didn't leave until two days later, when he had to be assisted out due to the huge amount of Moldova wine he'd consumed!

More shockingly, the wine collection of Hermann Göring, one of Hitler's henchmen, is stored in Cricova Winery as well. After the Red Guard took Berlin, his collection of more than 2,000 bottles was brought here to continue aging.



An Underground Tour of Cricova Winery



On arrival at Cricova Winery, we met our fellow Moldova wine tasting buddies and our guide, Maria.

We commended our tour by taking our seats on a kind of golf buggy and being driven underground, deep into the labyrinthine twists and turns of this 'underground city,' where the streets are named after various wines such as Cabernet and Merlot.

As we descended deeper into this enchanting maze – the cellars are 80 metres deep at some points – it got colder and eerier – I certainly wouldn't like to be lost down there alone!

The temperature is actually very carefully controlled – to create the ideal environment for wine storage, the temperature in the tunnels is kept at a constant 12 degrees Celsius with a humidity of 90 percent.

After a short while we stopped so that Maria could show us some of the barrels used to store the wine, from the smaller sizes to the gigantic barrels that are used to store tonnes of the stuff!

We were then taken to a swanky underground cinema (yes, Cricova Winery actually has its very own private cinema) where Maria poured us each a glass of sparkling wine and invited us to sit down and watch a film all about the history of Cricova and its wine making tradition.



The film not only discussed the history of Cricova, but also Moldova's long history of wine making, comparing wine to the finest kind of poetry. It was a short watch but super interesting, and a nice introduction to the tour.

When the film finished, we all piled back onto the buggy and headed to the 'maturing section.'

This is where 500,000 bottles of Moldova wine are stored for the maturation process. In order for this process to happen effectively, the bottles have to be stored at different angles and turned by hand to ensure that the sediment separates from the wine properly.

Each day, a team of 5 women rotates as many as 35,000 bottles by hand!

Next was the sparkling wine production section, where we were able to see the machines used to make sparkling wine. Cricova is actually the first of the Moldova wineries that manufactures sparkling wine using the same method that Dom Perignon himself used to make Champagne!




Our next stop on our tour of Cricova Winery was the National Collection, or Oenotheque, which is comprised of almost 1.3 million bottles of wine, each with its own unique history – now, I don't know about you, but to me that's a hell of a lot of wine!

Included in this collection is the 'Easter Jerusalem' wine, which is the only piece to have survived of 400 bottles that were bottled way back in 1902.

This collection of Moldova wine is priceless, and it was a very odd feeling to be walking among so much valuable wine, without any barriers or anything actually stopping you from reaching out and touching them.

Another interesting thing about the National Collection is that the room is actually shaped like a wine glass!

As we walked through the collection, we got to the part where the real juice was – the personal wine collections of many of the world's leaders, including Angela Merkel, Joe Biden, Petro Poroshenko and many many more.



Tasting Moldova Wine!


After more than an hour of exploring the underground city of Cricova, it was finally time for the actual tasting!

After letting us take a peek inside the five large tasting halls, all decorated in their own unique ways with tapestries, stained glass and wooden sculptures, we got comfortable in the tasting hall that we would be using – the 'Sea Bottom' tasting hall.

The Sea Bottom tasting hall takes its name from the depths of the Sarmatian Sea that existed here 12 million years ago. I'm not going to lie – it felt very random, but it was definitely my favourite of the five tasting halls as I'm all about a bit of eccentricity!

After we got comfortable, Maria led the tasting.

We were taking part in the Business Tour which includes 3 types of sparkling Moldova wine and some nibbles (although we tasted 4 types of wine, and the website doesn't state that there are any tours with 4 types of wine so I'm not really sure what happened there).

Before we tasted each glass, Maria walked us through the process, showing us how to see the different colours in each wine, how to sniff out the subtle flavours, and of course, how to taste it (not that I needed any instruction on that!).

As we drank our wine, we got to know one another and picked at the nibbles on the table (nuts and biscuits, nothing out of this world). Despite the fact that the tours run on a schedule, at no point did Maria rush us, even after it was clear we'd been sitting there for longer than we should have!

Finally, after we'd finished the last of the wine, we exited through the gift shop. Now usually, as I'm travelling on a budget, I wouldn't really stop to look at the wines on offer as I would assume that they are all super expensive. However, most of the wines in the gift shop at Cricova Winery were around the 5 EUR mark, and so it was impossible to resist bringing one back to the hostel!



Types of Wine Tours at Cricova Winery


As previously mentioned, I took part in the Business Tour, which is the cheapest option, and definitely the best for backpackers like me! It includes the full tour, 3 types of wine in the tasting (plus one glass in the cinema) and some snacks. The cost of this tour is 23 EUR.

Other tours include the Sparkling Tour, which includes 5 types of wine and a cheese plate and is 31 EUR, and the Early Morning Tour, which, as the name suggests, runs early in the morning and does not include a tasting. This tour is priced at 10 EUR.

To see the other tours that Cricova Winery offers and the price list, please visit their website here.



Cricova Winery – Getting There & Buying Tickets


You can purchase tickets for wine tours at Cricova Winery through tour agencies, but it is much cheaper to phone them yourself and book direct. Staff at Cricova Winery speak English so it's very easy.

Their phone numbers are (373) 690 777 34 and (373) 79202999 and their email address is cricova.vin@gmail.com.

To get to Cricova Winery from Chisinau, we took a taxi (be sure to use an app like iTaxi or yandex for the best rates). The drive took 30 minutes and cost about 6 EUR – bargain!

It's also possible to take a public bus from the centre of Chisinau to Cricova and then walk to the winery, but it is so cheap to take a taxi that this is what I would recommend.



Cricova Winery – Final Thoughts


Wine tasting at Cricova was very different to my other experiences with wine tasting (in Italy and Albania, and Mallorca).

While my other experiences felt very relaxed, wine tasting at Cricova felt a lot more official, and even corporate (seeing that Cricova Winery is such a huge business, it was bound to feel that way!).

Visiting Cricova Winery was fascinating, and I'd never before seen anything like the underground city that I got to explore with Maria on my tour – it was especially fascinating to learn about how Cricova produces such vast quantities of wine (the fact that 5 women turn so many bottles by hand still amazes me!).

Not only that, but seeing the personal wine collections of some of the most powerful people in the world was a once in a lifetime opportunity and definitely one of the most surreal moments of my travels.

I also enjoyed the technical aspect of the tasting, as my other wine tastings have been so informal that I didn't really learn about how to taste wine like a pro, and so if you're looking to truly learn about wine, Cricova will not let you down.

My only criticism of the tasting was that perhaps because it did feel so formal, I didn't bond with the other participants as much as I have done on other, more relaxed tastings. Perhaps this was due to the fact that Maria had only been working at Cricova for a couple of weeks when I attended the tour (so it's very possible that she was a little nervous), or perhaps Cricova just prefer a more formal atmosphere at their tastings.

Either way, it didn't take away from my enjoyment of the experience and I would definitely recommend a visit to Cricova Winery if you find yourself in Moldova or one of the surrounding countries!

That's it for today, but as always, if you have any questions, let me know in the comments section below!

Until next time,

XOXO


If you liked this article and would like to support my work, please click the button above to donate a couple of bucks and buy me a coffee. The ad revenue that I receive on this website is minimal, so support from my readers enables me to keep creating content that you (hopefully!) love to read.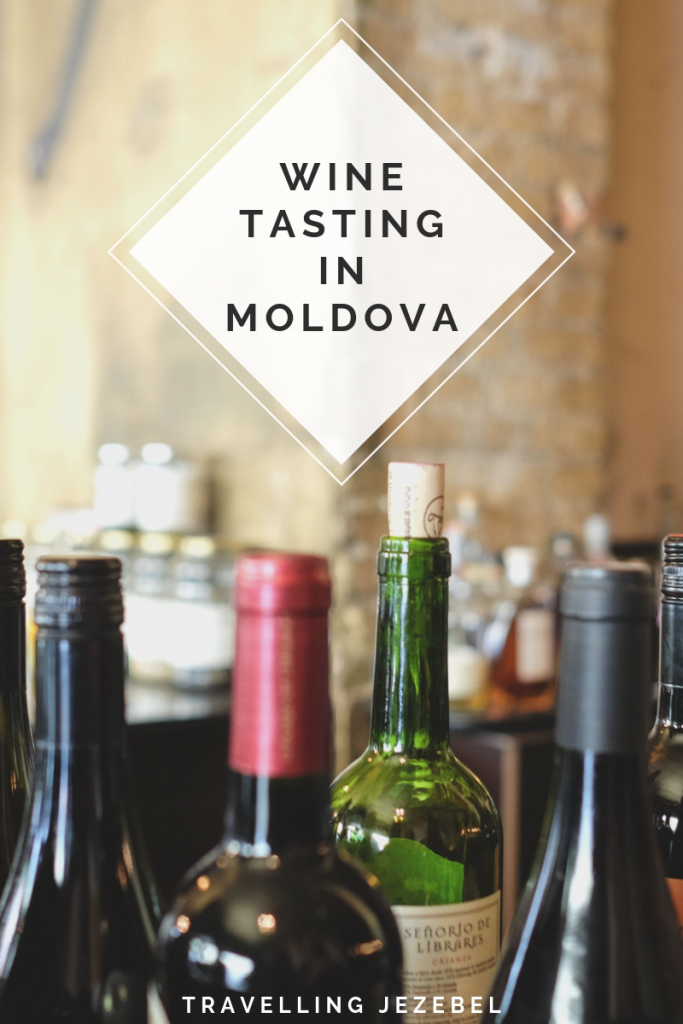 Disclaimer: Travelling Jezebel uses affiliate links. If you make a purchase on a recommended site, I may make a small commission at no extra cost to you.