When I was invited to visit Hamburg for the annual Reeperbahn Festival this September, I could barely contain my excitement. Not only do I love exploring cities that usually fall under people's radars (and let's be honest, Hamburg isn't up there with Berlin, Venice and Prague when it comes to most people's idea of a European city break), but it had been so long since I'd been to a music festival – in fact, the last one I attended was Manchester's Parklife all the way back in 2013!

My excitement increased tenfold when I found out that the Reeperbahn Festival itself takes place in St. Pauli, Hamburg's infamous Red Light District. I mean don't get me wrong, I'm not a sex tourist like that, but I'm definitely a sucker for anything remotely seedy and so the table dancing bars, drag queens and neon lights of St. Pauli are right up my street.


So, what exactly is the Reeperbahn Festival?


Well, the Reeperbahn Festival is a 4 day city festival in Hamburg, meaning that unlike traditional music festivals, it doesn't take place in a large field and the guests don't camp outside. Instead, the acts playing at Reeperbahn perform all around the city in various bars, clubs and stages set up especially for the event.

The Hamburg music scene is huge, and with more than 600 concerts at 90 venues, 425 international new bands and artists, 53,000 visitors and 5500 professional guests from 56 nations, the Reeperbahn Festival is Europe's biggest club festival (and possibly even one of the best European music festivals!).

You will find absolutely every kind of music genre imaginable on the schedule (in fact, no two acts that I saw were even remotely similar).

Although there are definitely some well-known artists on the programme, the beauty of the Reeperbahn Festival is that it aims to promote emerging talent, and so it is definitely the event to go to if you're looking to discover new music.

However, it isn't just musicians that have a chance to shine at the Reeperbahn Festival – there are also various panels and discussions, art exhibitions, speeches and workshops in everything from fine art and film to politics and literature. I actually saw the most obscene exhibition of my life at the Reeperbahn, but more on that later…

The Reeperbahn Festival also features a programme from the Keychange initiative – something which originally began as a talent development programme for female artists but has since grown into a movement for gender equality within the music industry. Some of the Keychange events at Reeperbahn 19 included meet-ups for women in the music industry, as well as presentations on how feminism sells, sexualised violence in show business and diversity and tech.



Preparing for Reeperbahn Festival


Due to the huge number of events at the Reeperbahn, I cannot stress enough the importance of planning ahead and coming up with a strategy for which concerts and events you want to attend. Some of the venues are on opposite sides of the city, and if you don't arrive early enough then you risk being turned away due to the venue being at full capacity.


Here are my best tips for making the most of Reeperbahn Festival:


Study the acts before you go


As I mentioned previously, there were around 425 bands and artists at the Reeperbahn Festival this year, and a large number of those acts are not well-known. While I am definitely more of a 'turn up and wing it' kinda girl, I was eternally grateful that one of the guys in our group (you should check out his YouTube channel here btw) had spent hours upon hours listening to the acts on Spotify in order to narrow down the list ever so slightly.

In my opinion, the best way to conquer Reeperbahn (in terms of music at least) is to pick out a few non-negotiable acts that you definitely want to see. Find out where and when they are performing and make them a priority.

Then wing it.

When your favourite act has finished performing at one club, rather than hot footing it across town to see someone specific, check out the smaller venues nearby first. This is what my friends and I did for a large part of the festival and we stumbled upon some fantastic acts that had the added bonus of not being as crowded as those at some of the more famous clubs.

Pro tip: something that was invaluable to my friends and I was the Reeperbahn App which is completely free to use and allows you to create your own personalised schedule for the event, making sure that there are no clashes! The current app is for the 2019 festival, but definitely check back closer to the 2020 festival to see if they release another/update the current app!


Make use of the public transport



Hamburg has excellent public transport and you should definitely make the most of it! The Reeperbahn street is only a 100m distance from the St. Pauli metro station and this means that not only will you save time, but you can use your energy for dancing rather than walking!

The best bit of this is that the festival wristbands actually include the use of Hamburg public transport to and from the venues while the festival is on!

To get into Hamburg itself, you can take the bus. My go-to bus travel in Europe is always FlixBus. Flixbus is the most extensive bus network worldwide and all Flix buses have Wi-Fi, extra legroom, charging ports and the ability to modify your booking just 15 minutes before departure! Click here to book your Flixbus to Hamburg.

If you're flying into Hamburg and would like to book an airport transfer, I recommend i'way. You can book yours here.


Get there early


Because I attended Reeperbahn Festival as part of a press trip, I was lucky enough to have a 'fast track' wristband which meant that I could skip the queues, but regular festival goers are not so fortunate. A lot of the bigger venues often have lines that snake all the way down the street and when the venue is full, it's full. This means that if you're the kinda person who usually turns up 15 minutes late to a gig and hopes for the best then you will not stand a chance at Reeperbahn. If there is an act that you really want to see then arrive early (and take a beer with you for the wait – drinking on the streets is legal in Germany so you know, when in Rome and all that…).


Plan your time well


To truly get the most out of your experience, try to plan your time accordingly. Choose acts that are performing at venues close together to avoid spending the whole day walking back and forth across the city. Choose accommodation close to St. Pauli so that it is easy to pop back to your hotel to freshen up or grab your phone charger. Grab food to go at some of the many food trucks that are are part of the festival (they are very reasonably priced and there are tonnes of vegan options). Don't waste valuable time perfecting your hair and makeup – people at the Reeperbahn Festival party in jeans and trainers and you will get funny looks (and sore feet!) if you turn up wearing stilettos and false eyelashes.


Book accommodation in advance


As with any major event, many of the best places to stay will be snapped up way in advance, and prices are only going to increase if you leave everything until the last minute. If you know for a fact that you will be attending the Reeperbahn Festival then book your accommodation at the same time that you get your ticket.

– I stayed at the Superbude Hotel & Hostel St. Pauli and I really recommend it. Not only was the breakfast delicious (you can make your own waffles and they have beef tartare!), but the rooms were great, it was just a 15 minute walk to the Reeperbahn and I really love the fact that you can opt for the dorms or private rooms according to your budget! To book your stay just click here! –



Divide and conquer


It may seem like an odd tip for a festival but hear me out – there are so many presentations and discussion panels in the afternoons during the Reeperbahn Festival that there may well be a clash of things that you want to see. Now, while you can't exactly tell your friend to go to an actual gig for you, it's definitely possible to plan your schedule in a way that allows you to see some presentations and your friends to see others, so that you can swap notes or tell each other what was included afterwards. This may sound a bit geeky but if there are some discussions that you desperately want to see that happen to coincide with one another then it's definitely worth doing!



My Highlights of Reeperbahn 2019


Because of the nature of my trip, my fellow bloggers and I had a jam-packed schedule during the daytime that meant that we were unable to attend as many Reeperbahn events as we would have done had we been attending the festival independently. I say this to reassure you that if you decide to attend Reeperbahn Festival in the future, you will be able to see a lot more acts than I did, getting a lot of bang for your buck, so to speak.



Hatari


Hatari were the first act that I saw at Reeperbahn 19, in the Gruenspan club, and what an act they were. I first became aware of Hatari (which translates to 'Hater') after seeing them perform for Iceland in the Eurovision Song Contest 2019. As soon as I saw them on the Eurovision stage looking like they just left an S&M club, I was rooting for them to win, and so when I found out that they were performing at the Reeperbahn, I was ecstatic.

Hatari describe themselves as an 'anti-capitalist performance art group' and their music combines elements of techno, industrial goth and punk rock, with barely there PVC costumes, politically charged lyrics and an undeniable raw sexuality.

Their performance style and music make me think of Deathstars or an early Marilyn Manson, and the three musicians did not break character throughout the entire performance, with Clemens Hannigan strutting around provocatively in skimpy leathers and a fishnet bodysuit as his cousin and lead vocalist Matthias Haroldsson dominated the stage, fixing his ferocious and penetrating stare on random audience members.

I actually don't think he blinked for the entire 45 minute set.

Hatari's performance was phenomenal from beginning to end, and unlike the vast majority of Eurovision entrants who fade into nothingness, I see Hatari becoming one of Europe's biggest bands in the very near future.

You can find Hatari's website here and follow them on Instagram here.



OTEO


After Hatari, we didn't have a set plan for our first night at Reeperbahn Festival, and so we decided to check out the Kaiserkellar club, a venue where The Beatles used to play for up to 7 hours a night, 7 days a week before they made it big.

The Kaiserkellar club is a fairly big venue with a free foosball table at the back (something that my friends and I were delighted to discover), and the stage is very close to the audience, giving performances there an intimate feel.

Cologne-based duo OTEO are on the opposite end of the spectrum to Hatari, with fun electronic pop beats, baseball caps and hipster attire that wouldn't look out of place in Manchester's Northern Quarter. Despite the huge shift in atmosphere from Hatari's gig, we were quick to get into the groove of things and enjoyed a little boogie to OTEO.

You can find OTEO on Facebook here.



Peaches Whose J–z is This?


Remember I said I saw a very obscene art exhibition? Well here we are ladies and gentlemen. After I arose from my slumber on the Friday morning, dehydrated and bleary eyed, it was off to an art exhibition like no other.

Walking through the front door of the Kunstverein, we were confronted with a television playing a YouTube video of a man 'reviewing' a male sex toy, saying things that didn't exactly portray him as a progressive feminist, let's put it that way.

The story behind this exhibition is that artist Peaches stumbled across a video just like this and was disgusted at the way that the man onscreen was talking about women's bodies. She decided to create a narrative that shows these sex toys, or 'fleshies' rising up and reclaiming their identities and independence, away from human interaction.

This 14 station, all singing, all dancing (literally) installation features hundreds of fleshies in the various stages of their emancipation, from an AA-style support meeting where the fleshies discuss their feelings to a podium where several of the fleshies sing an empowering track about how they'd 'made it.' The final piece of the exhibition is a kind of 'melted' pile of fleshies, showing that they have transcended their original forms and have established a collective consciousness.

The concept was actually very interesting, despite the fact that I'm not used to seeing hundreds of silicone vajays first thing in the morning.




Anna Ternheim vs. Kaiser Quartett at the Elbphilhamonie


One of the most special experiences I enjoyed at the Reeperbahn Festival was getting to witness the world premiere of Swedish musician Anna Ternheim's new album, complete with pieces written by Ternheim as part of a collaboration with the Kaiser Quartett especially for the concert.

Not only was the concert a one time event with limited spaces, but the three performances by various artists at the Elbphilharmonie had to be reserved in advance, setting these concerts apart from the rest of the Reeperbahn performances. In fact, only the first 5700 ticket holders even had the opportunity to apply for a seat at one of these performances, which is definitely a reason to buy an early bird ticket for next year's Reeperbahn!

In addition to the stunning vocals and music of both Ternheim and the Kaiser Quartett, the Elbphilharmonie itself as a venue is exquisite, with acoustics like nothing I have ever heard before. Even if you don't visit Hamburg during the Reeperbahn Festival, I highly recommend getting tickets for a performance at the Elbphilharmonie.

Fun fact – no member of the audience in the Grand Hall of the Elbphilharmonie is more than 30 metres from the conductor…how cool is that?!

You can find Anna Ternheim's website here and Kaiser Quartett here.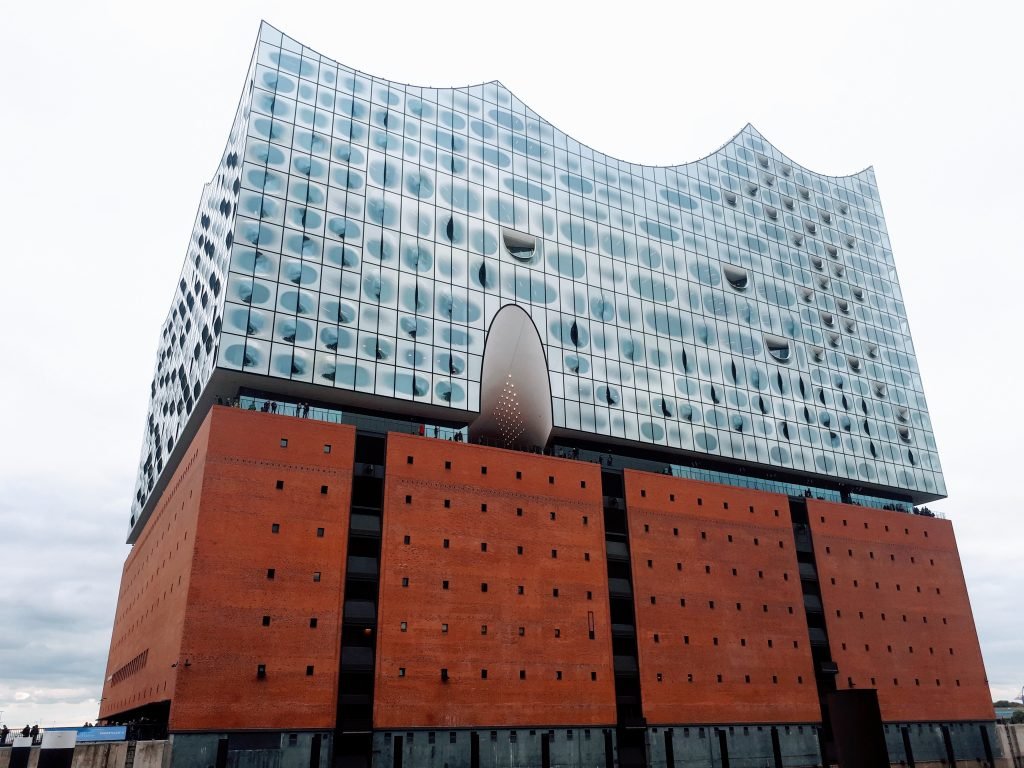 Frittenbude


Just as with OTEO, Frittenbude were another accidental find at the Reeperbahn Festival. Venturing into Grosse Freiheit 36, another of Hamburg's most famous music venues, we were lucky enough to catch Frittenbude, a Bavarian electropunk band.

Although Frittenbude do not identify as a political band, they participate in and promote left-wing demonstrations and many of their lyrics carry political messages. Perhaps the highlight of Frittenbude's Reeperbahn performance was when two humongous dinosaurs took to the stage, holding huge signs that read Kein Mensch ist ein Ausländer, or 'No Human Being is an Alien.'

You can find Frittenbude on Facebook here.



A-WA


After a backstage tour early Saturday afternoon in Mojo club, we really wanted to see how the venue was when it was full, and luckily for us, our friend Joe said that there happened to be a really good band playing later that evening that we should check out.

All we knew going into A-WA's gig was that they were 'quirky,' and so we really had no idea what to expect, but my god, were we blown away.

A-WA are three sisters from Israel whose Yemeni roots have a real influence in their music. For the first couple of songs, Joanna and I were confused why the music sounded so Arabic, but after the sisters explained that they were jazzing up traditional folk music from Yemeni weddings, it suddenly became clear!

Not only is A-WA's music fantastic and so unusual (I challenge you to see them live and not dance), but their personalities and energy really brought the whole room together as they told jokes and funny little anecdotes in between songs (including telling us that the airline had lost their luggage earlier that day so they arrived in Hamburg that afternoon sans make-up and outfits to perform in!).

You can find A-WA's website here!



Skinnyblackboy


Seeing Skinnyblackboy was another happy accident. Moondoo is a venue that I'd heard a lot about during my Hamburg trip, and so after A-WA finished performing, Joanna from The World Inside My Pocket and I decided to check it out! On entering, we found that Skinnyblackboy was already partway through his set, but luckily for us, we didn't seem to have missed too much.

Skinny is a German rapper from Bremen, and as rap and grime are two of my musical guilty pleasures, I was thrilled to have stumbled upon him! However, not only is Skinny a rapper, but he's a damn good one at that. In fact, the only other rapper I've heard that can spit as fast as Skinny is Akala, and when you factor in that Skinny is rapping in English, which is not his native tongue, it becomes even more impressive!

The crowd at Skinnyblackboy's show was full of energy and although Skinny is a rap MC, there were enough pop and disco undertones in his music to appeal to a more mainstream crowd. When I was researching him after the festival, I couldn't find too much online about him, but I am confident that his big break is just around the corner, so just remember to watch out for him!

You can find Skinnyblackboy's website here!


The FOOD!


No post about the Reeperbahn Festival 2019 would be complete without a nod to what I stuffed my face with while I was there! Food trucks at festivals are usually incredibly overpriced with mediocre food, but at Reeperbahn, I was spoilt for choice. Not only were there tonnes of vegan stands, but you could choose from Indian food, Japanese food, burritos, crepes and more, and all at very reasonable prices.

Before hitting Mojo club on Saturday evening, my friends Joe, Joanna and I grabbed some grub from some of the food trucks. I decided on a hot battered fish bap with lots of tartar sauce (€5) and the others got traditional German bratwurst (€4). We really enjoyed our food, and I was only sorry that I was too full to buy anything else afterwards!

The Reeperbahn street itself is also a great street for grabbing food to go, as sandwiched in between the bars (excuse the pun) you will find ample fast food outlets serving everything from pizza by the slice to currywurst, falafel, kebabs and more. I also ate at Rock Our Kitchen and Hatari, both of which were phenomenal and both of which you will be hearing more about in a future post!



Final thoughts on Reeperbahn Festival


The Reeperbahn Festival Hamburg was something that I went into with absolutely no expectations and it turned out to be such a phenomenal experience. Not only is Hamburg a fantastic city in itself, but the whole city takes on a life of its own when the Reeperbahn Festival commences, and no matter what your musical tastes, you will definitely find something you love at Reeperbahn!

What's more, flights from Manchester to Hamburg are always so damn cheap that it would be almost rude not to go! Germany may not be as 'off the beaten path' as the places I usually write about, but I firmly believe that Hamburg is perhaps Germany's best kept secret, and that Hamburg (and the Reeperbahn Festival!) truly does make the perfect Autumn city break.

Lastly, you may have noticed that I haven't spoken about Hamburg in general in this post (and trust me, I could have). The reason for this is that I strongly believe that if you visit Hamburg to go to the Reeperbahn Festival then you should allocate as much of your time as humanly possible to the festival itself.

With 900 events over the 4 days of the festival, you're already fighting a losing battle in trying to see everything, and so to spend time doing anything else seems really fruitless to me – after all, Hamburg isn't going anywhere!

Lastly, if you're planning a trip to Hamburg, then I strongly recommend buying travel insurance. I NEVER travel without insurance, and I've seen too many others get landed with huge medical bills as a result of not having had insurance, that it's something I'll never neglect to buy. My recommendation for great travel insurance is World Nomads.



Did I convince you to attend the Reeperbahn Festival in Hamburg? Let me know – maybe I'll see you there next year!

If you'd like to know more about Reeperbahn Festival and purchase a special Early Bird ticket then just visit their website here!


If you liked this article and would like to support my work, please click the button above to donate a couple of bucks and buy me a coffee. The ad revenue that I receive on this website is minimal, so support from my readers enables me to keep creating content that you (hopefully!) love to read.


Disclaimer – I was lucky enough to attend Reeperbahn Festival 2019 as a guest of Hamburg Marketing GmbH as part of a press trip. However, all views and opinions expressed in this article are totally my own! Travelling Jezebel uses affiliate links. This means that if you make a purchase on a site that I am partnered with then I may make a small commission at no extra cost to you!