Last updated February 2023.

Palermo, Sicily. The rugged capital of Italy's southernmost island, and not somewhere that makes it onto the Italian itinerary of most travellers.

When I visited Palermo in July 2019, I initially only planned on staying for 3 days, but as soon as I arrived and strolled around the narrow cobbled streets of the historical centre, I knew that I would end up staying for longer.

My 3 days turned into 6 months, and even though I've since moved on, living in Palermo remains one of my most treasured travel memories.

It is safe to say that Palermo truly stole my heart, and as I am passionate about promoting those destinations that don't get enough love from tourists, I figured that I would write a Palermo travel guide that includes all the best things to do in Palermo, whether you're a foodie or an adventure traveller.

If you're planning some Palermo travel, don't worry, because this guide is packed with all of the best things to do in Palermo, one of the highlights of Sicily!



21 Things to Do in Palermo, Sicily | Palermo Travel Blog


Why Visit Palermo?


I hadn't heard many good things before I visited Palermo.

People complained that it was ugly (not true), dirty (not true – only on the outskirts) and big (technically true but the main tourist sights are all very close together).

Palermo has also had a pretty bad reputation historically due to organised crime, and so people often mistakenly assume that Palermo is unsafe to visit.

Well my lovelies, I am here to tell you that not only are the naysayers totally wrong about Palermo, but that Palermo is truly the soul of Sicily, a rough diamond that you will absolutely fall in love with.

While it is true that Palermo isn't as polished as other Italian cities, and that Sicilian travel is sometimes challenging, it is also so rewarding.

There are many reasons to visit Palermo, but some of the main ones are as follows.



Reasons to Visit Palermo, Sicily


1. Palermo has yet to be discovered by mass tourism

This means that if you're looking for an authentic Italian experience, you will find it in Palermo. The people are unfiltered, the street food is greasy, the buildings are dilapidated (but so charming) and the traffic is crazy. Palermo is the beating heart of Italy and if you've previously visited cities such as Rome or Florence, Palermo will stop you in your tracks with its rawness.

2. Palermo is a foodie paradise

The street food in Palermo has been named the best in Europe, a title that it truly deserves. I won't spoil the surprise for now (there will be a whole section about Palermo food later!), but just know that if you're looking for a gastronomical experience then Palermo is the place to be.

3. Palermo is friendly

Locals in Palermo are incredibly friendly. My friend and I joked that we couldn't go on one night out without making at least several new Facebook friends and being invited to somebody's family home for dinner, and every night for almost two weeks, this is exactly what happened! Palermo locals may be a little rough around the edges, but they will go above and beyond to make you feel welcome in their city, and they will ensure that you get looked after during your time in Sicily.

4. There are tonnes of great things to do in Palermo, as well as lots of awesome day trips!

Think that there aren't a lot of things to do in Palermo? Think again! Whether you want to explore centuries old catacombs, marvel at UNESCO churches, buy fresh fish at one of Palermo's traditional markets or simply watch the world go by while eating cannolo, Palermo has it covered.

As far as day trips from Palermo go, you are just a stone's throw away from the white sands of Mondello, or you can go further afield to the seaside towns of Trapani, Cefalu and San Vito Lo Capo.

Perhaps you want to jump on a boat to head to the paradise island of Favignana, or visit the medieval hilltop village of Erice?

Whatever you fancy, it's never very far from Palermo.



21 Things to Do in Palermo – A Guide to Palermo, Sicily


Things to Do in Palermo…for Sightseers


1. Visit the Capuchin Monastery and Catacombs


One of the strangest things to do in Palermo to pay a visit the Capuchin Monastery and Catacombs.

Back in the 16th century, the monastery outgrew its original cemetery and so the monks began to excavate the crypts below it to create a space to keep mummified corpses.

Originally, the crypts were reserved for friars, but eventually it became sort of a status symbol to be entombed in the catacombs, and people would write in their wills which clothes they wanted to be dressed in, or how frequently they wanted their clothes changed (often to reflect the fashions of the time!).

Relatives would pay for the corpses to be kept in the spot which they had been allocated, but if the payments stopped then the body was taken away and put on a shelf until payments resumed.

Today, the Capuchin Monastery and Catacombs are open to the public and contain about 8000 corpses and 1252 mummies that line the walls.

One of those is Rosalia Lombardo, who tragically died of pneumonia when she was just aged 2 in 1920 – her body is so well-preserved that she looks as though she is still sleeping and will open her eyes at any moment.

Some of the other mummies have been so well preserved that they still have hair and fingernails, which is a very unnerving thing to see!

The catacombs are open every day including holidays (apart from Sunday afternoons in from late October to late March) from 9.00 – 13.00 and then again from 15.00 to 18.00. Admission is €3.

Officially photography inside the catacombs is not allowed but there have been many documentaries and photographs taken inside the catacombs, and outside you can even buy fridge magnets with photographs of the mummies on them, so whether the Capuchin Monastery restricts photography in order to preserve the mummies, or whether it just wants tourists to have to pay to buy the professional photographs from their gift shop is unclear.

If you prefer to take part in private guided tours when you travel then you can always combine a trip to the catacombs with a visit to Monreale.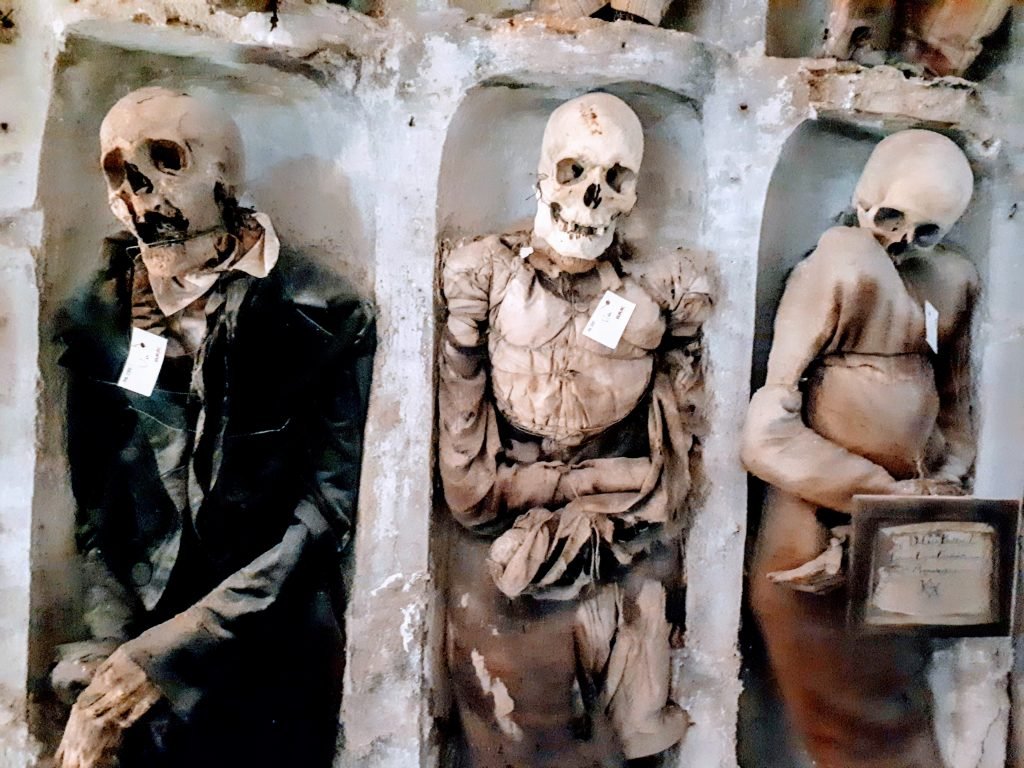 2. Teatro Massimo


Teatro Massimo is the largest opera house in Italy and the third largest opera theatre in the whole of Europe, so it's definitely one to add to your list if you're sightseeing in Palermo!

Not only were some scenes from The Godfather III filmed inside Teatro Massimo, but Pavarotti himself has even performed here!

Unfortunately, the only way that you can see inside Teatro Massimo if you aren't going to see a show is to book a guided tour – you cannot simply pay an entrance fee and wander around alone.

English language tours begin every 50 minutes (or thereabouts), between 9.30 and 18.00. Tickets cost €8 and the tours last for around 30 minutes.



3. Pretoria Fountain


Palermo's Pretoria Fountain used to be known as the Piazza della Vergogna or 'Square of Shame' due in part to the naked statues that surround the magnificent fountain, but also because the statues were seen to represent the corrupt municipality of the Palermo.

However, what the figures actually represent are the 12 Olympians, as well as other mythological figures and animals.

Whatever it represents, Pretoria Fountain is one of the most impressive things to see in Palermo (and the sight of many a wedding and Instagram photoshoot!).



4. Marvel at Quattro Canti


Quattro Canti is the most famous intersection in Palermo, and chances are you will stumble upon it by mistake when wandering around the capital of Sicily.

Each of the four sections represent one of the four seasons, one of the four Spanish Kings of Sicily, and one of the patronesses of Palermo.



5. Amble Down Via Maqueda


Via Maqueda is a fully pedestrianised street and one of the most important streets in Palermo.

From fancy restaurants to boutique stores, coffee shops, smoothie joints and more, Via Maqueda is a lovely street to walk down.

Buy some gelato or granita and meander slowly down the street, taking in the souvenir stalls and the atmosphere.



6. Palermo Cathedral


Palermo Cathedral is comprised of a mix of architectural styles due to a long history of additions and alterations.

Palermo Cathedral is free to enter but the outside of it is actually far more impressive than the interior and it is one of those buildings that will make you stop in your tracks when you see it.



7. Join an Anti-Mafia Tour


If you want to learn more about the history of the Mafia in Sicily, you should take a trip to Corleone with a guide. Here you will learn everything there is to know about this infamous Sicilian village and the Mafia bosses that came from there.



8. San Giovanni degli Eremiti


San Giovanni degli Eremiti is a Benedictine monastery-turned mosque-turned church in the centre of Palermo that was once inhabited by a wolf-taming hermit.

Yes, you read that right.

A wolf-taming hermit.

The hermit monk, Saint William of Montervergine, decided to tame and keep a wolf after it had killed one of his donkeys – umm, yeah.

Anyway, the building itself reflects the various architectural styles, and it is possible to enter but there is a fee of €6. It is closed on Sundays.




9. The Church of Santa Maria dell'Ammiraglio


Also known as La Martorana, the Church of Santa Maria dell'Ammiraglio sits on Piazza Bellini (lots of the streets and piazzas in Palermo are named after food and drink – it's very cute).

The most impressive thing about the interior of the church is its gold mosaic decorations, made by Byzantine artists around 1151.

Entrance is €2.



10. Cappella Palatina Chapel


Another top tourist attraction in Palermo is the majestic Cappella Palatina Chapel, with its gold mosaics, marble floors and painted wooden ceiling.

This chapel is also on UNESCO's World Heritage List, and is part of the architectural complex of the Norman Palace.



Things to Do in Palermo…for Foodies


11. Eat all of the food!


I mentioned earlier that Palermo street food is the best in Europe and I wasn't lying – however, some of Palermo's more unusual dishes may not be for everyone.

Something that Palermo is famous for is offal. That's right – waste products or the innards of an animal.

Perhaps the most famous example of this is the pane ca' meusa, which is a sandwich comprised of spleen, lung and trachea – oh, and cheese! The pane ca' meusa may sound unappealing, but trust me when I say that it is delicious. Full of flavour and dripping with grease, the pane ca' meusa is the perfect hangover food! My favourite place to get pane ca' meusa is 'Nni Franco U'Vastiddaru. The service is slow but the food is GOOD.

If you like the sound of the pane ca' meusa then it may also interest you to know that Palermo street food also includes sheep's intestines wrapped around spring onion and grilled on a BBQ and frittula, which is waste product from calves (ground bone, scrap meat and cartilage) mixed with lard and ladled onto sandwiches.

If the innards of a baby cow don't appeal to you then you'll be relieved to know that there is a lot more to Palermo cuisine than offal!

From arancine (fried rice balls with various fillings) to chick pea fritters, potato croquettes and sweet treats like the legendary Sicilian cannoli (tubes filled with sweet ricotta and sprinkled with pistachio) and ice cream for breakfast, the food in Palermo will keep you coming back for more.

I sampled all of these and more on my Palermo street food tour with Streaty (which you can read about here).

I highly recommend doing a Streaty tour in Palermo because not only will you get to sample all of the best authentic Sicilian food, but you will learn SO much about Palermo as a whole that you wouldn't find out anywhere else.

Restaurants in Palermo are all very reasonably priced, but if you want the true Palermo experience then you will eat like the locals do – on the street.

On almost every corner (and in the markets), you will find street food vendors grilling their specialities, and if you want an authentic Sicilian experience then this is where you should head. If you're not sure which street food you want to try, head down to La Vucciria market in the evening – you'll find everything imaginable all concentrated in one piazza.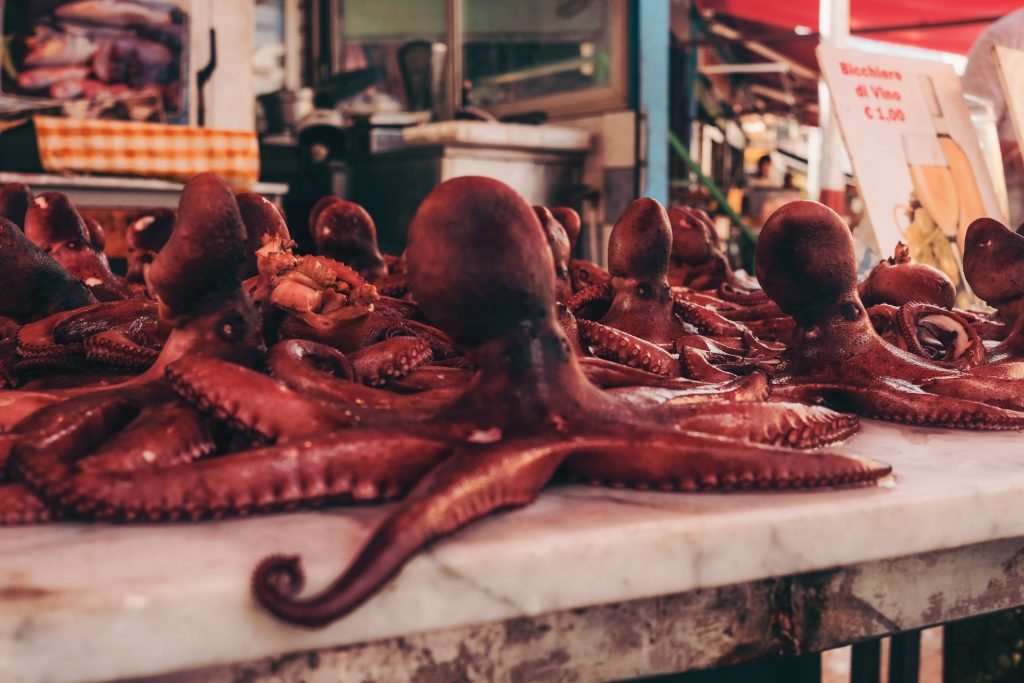 12. Explore Palermo's Historic Street Markets

Ballarò Market

Ballarò market is the largest and oldest Palermo market of all.

Ballarò is unhygienic, stinky and loud, and if you visit here in the morning, you will find people of every nationality imaginable pushing their way through the crowds to get the best produce from the vendors who are all seeing who can yell the loudest to attract passers-by to their stall.

Ballarò market is the most authentic and entertaining of all Palermo's street markets, but be sure to keep an eye (and hand!) on your valuables as Ballarò is known for pickpockets.


La Vucciria

While Vucciria isn't the market it once was in terms of an early morning spot to buy every ingredient imaginable for making perfect Sicilian cuisine, now La Vucciria is the place to be once the sun goes down in Palermo.

As soon as darkness hits, this dilapidated square comes to life, with street food vendors setting up shop, bars throwing open their doors, trattorias serving steaming bowls of spaghetti to hungry partiers and all of Palermo's weird and wonderful people congregating together.


Capo

The history of the Capo market is an interesting one.

Capo dates back to the times when Arabs ruled Palermo, and was the place where pirates and slave merchants would congregate.

Today however, Capo has left the past in the past and is a favoured spot for bargain hunters. Here you can find cheap local produce, and all of the chaos that you should have come to expect from Palermo.

You can read my in-depth guide to Palermo's street markets here.



13. Take part in a street food tour


If you don't know where to start when it comes to sourcing out some of Palermo's best cuisine, then I highly recommend going on a street food tour. Not only will your tour guide take you to all of the best vendors, ensuring that you get great products, but you will also learn a tonne of the fun facts and information that you wouldn't ever get if you decided to explore on your own.

A great street food tour can be found here!



14. Enjoy an Aperitivo


One of my absolute favourite things to do in Palermo is to unwind with a glass of wine and a platter of yummy goodness.

Aperitivo is one of the best things about Italy, and in Palermo you can either go to one of the many bars which have a buffet-style aperitivo, where you pay €5-6 for a drink and can help yourself to any of the food from the buffet that is laid out, or you can go to a fancier bar and pay €10-12 for a drink and be served with a beautiful platter full of Sicilian delights.

My favourite buffet aperitivi can be found in Zammu Drink and More and Come Nelle Favole Taverna, and my favourite high-end aperitivi can be found at Vespa Cafe, Palermo Store and Il Siciliano.



Things to Do in Palermo…for Day Trippers


Palermo is a fantastic place to base yourself for day trips.

Whether it's white sand beaches, stunning mountains or charming villages, Palermo is just a stone's throw away from some must-visit places in Sicily, and if you have time then you should definitely check some of them out!

Please note that this list is by no means an exhaustive list of Palermo day trips. These are just the most famous and the ones that are most interesting for tourists.



15. Mondello Beach


The easiest day trip from Palermo and one of the most popular things to do in Palermo in the summer is to visit Mondello beach.

Mondello is just a 15 minute car ride (or 40 minute bus ride) away from Palermo and is where all of the young Palermitani head to in the summer months to relax on the beach or rent a boat for the day.

Although Mondello beach gets super busy during high season and most of the beach is private (meaning that you have to pay in order to access the beach and use the sun loungers), it's the closest beach to Palermo and the easiest to access.

However, if you are lucky enough to visit Palermo in shoulder season, all of the sun loungers are cleared, giving way to a huge stretch of white sand that truly is bliss.



16. San Vito Lo Capo


San Vito Lo Capo is a bit further away (a 2 hour bus ride from Palermo), but it is a lovely seaside town with stunning white sands and an abundance of cafes selling the regional speciality of couscous, as well as tonnes of gelaterias and small bars.

I actually spent a few days in San Vito Lo Capo, but if you're short on time then it's definitely doable as a day trip from Palermo.

If you do decide to spend the night in San Vito Lo Capo then I highly recommend Timbuktu Hostel. It has a 9.9 rating on Hostelworld and is one of the nicest hostels I've stayed in.



17. Cefalù

Just over an hour away from Palermo (70km) is the stunning coastal town of Cefalù, which boasts both a stunning sandy beach and an old town that could have been lifted straight from the pages of a fairytale.

Cefalù is one of the most charming places I've visited, and if you only take one day trip from Palermo then let it be to Cefalù.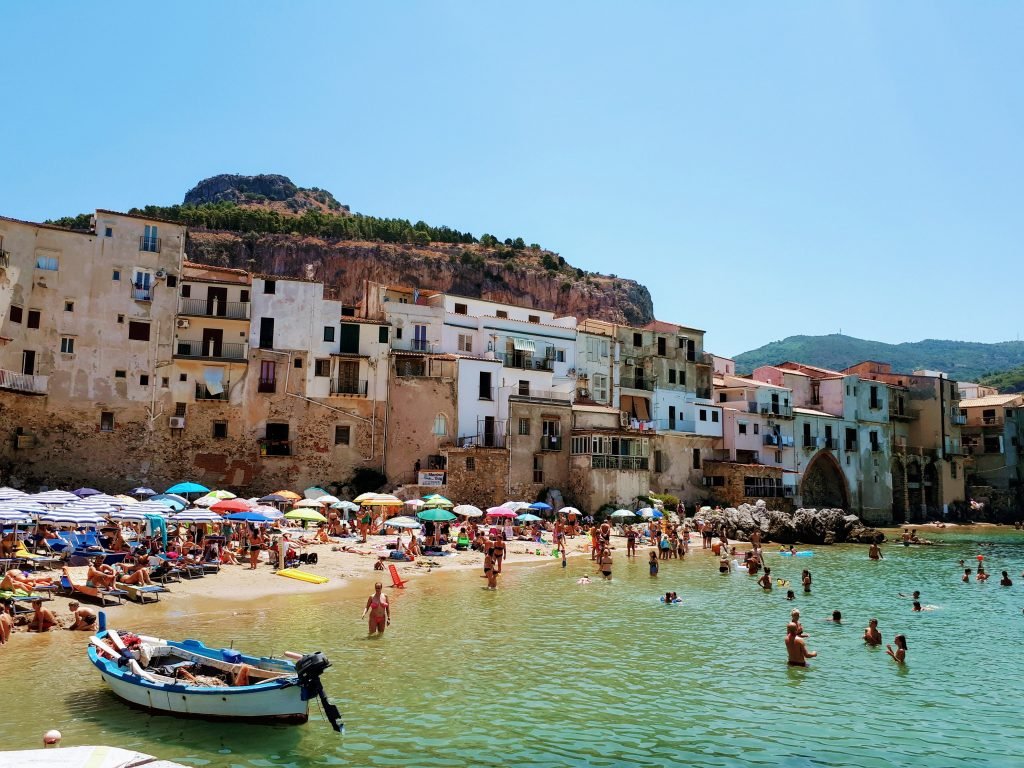 18. Monte Pellegrino


Monte Pellegrino towers over the city of Palermo and is one of the most popular day trips from Palermo.

Whether you want to enjoy a picnic in the stunning nature reserve or pay homage to Santa Rosalia in her sanctuary atop the mountain, Monte Pellegrino is one of Sicily's true gems. Even if you're not religious, it's worth going to the top of the mountain just to see the jaw dropping panoramic views over the city of Palermo.



19. Corleone


Corleone is the home of the Corleonesi, one of Italy's most infamous Mafia gangs. Located just one hour south of Palermo, it is a surprising favourite among tourists, and locals have set up the Mafia and Anti-Mafia Museum of Corleone, a place that preserves history while helping locals move on from the criminal past of the town.

Something that I recommend is taking part on an organised Corleone excursion. That way you'll learn so much more than you would if you did it on your own, plus you don't have to worry about figuring out Sicily's terrible public transport system!



20. Agrigento


Agrigento is one of the best places to visit to see the ruins of the Ancient Greek civilisations that one ruled Sicily. The Valley of the Temples is one of the largest archaeological sites in the whole of Italy and if you're an ancient history buff then this is the place for you!



21. Zingaro Nature Reserve


The Zingaro Nature Reserve, or Riserva Naturale della Zingaro is en route to San Vito Lo Capo and is home to countless unspoilt beaches, hiking trails, caves and tunnels and is a favourite for nature and adventure lovers alike!

To find out more about the Zingaro Nature Reserve and plan your trip properly, please see their website.



Things You Should Know Before You Visit Palermo

The currency in Palermo is the EURO. Not everywhere accepts card payments so it is useful to carry cash with you.
Palermo is a safe city. You can read more about safety in Sicily here.
Even if you speak Italian, you may find it difficult to make yourself understood in Palermo. Sicilians have their very own language (complete with a kind of sign language!) that is totally different from the Italian that you may know. A guy I met from Milan could not make himself understood in Palermo!
Sicilians have heard all of the mafia jokes before and they don't find them amusing. For people in Sicily, organised crime has been a dangerous and unpleasant reality for a long time and they don't need dumb tourists like us joking about it. In case you were genuinely curious, organised crime doesn't pose an issue for tourists at all in Palermo and the city is not the dangerous place it once was.
Be careful driving if you choose to rent a car in Palermo. Sicilians are crazy drivers and I feared for my life many times while being driven around by locals in Palermo! Even if you're an experienced driver, be cautious when renting a car in the Sicilian capital – if you do plan to rent a car, you can find one for as little as 3 EUR per day on Discover Cars.
Some of the cobblestones on the streets are uneven and most of them are very slippery! I found walking in flip-flops almost impossible in Palermo so I suggest opting for pumps or sandals that have some grip.
If taking the bus, buy your ticket beforehand. Tickets are purchased from tobacco shops. If that sounds weird, it's because it is.
Relax! Maybe your tour will begin late, or a restaurant won't be open at the correct time, or you won't be given enough change (or you'll be given too much if that requires less effort for the cashier!). Sicilians are super laid back, and if you expect everything to be organised and on time then you won't enjoy Palermo very much!
It is perfectly acceptable to have ice-cream for breakfast! Especially popular in Palermo is dipping a brioche into coffee flavoured granita (shaved ice popular in Sicily).
Most restaurants only open for dinner between 7:30 and 8:00pm so make sure to factor that in to your dinner plans.
If you think people are arguing, don't worry. That's just how Sicilians talk to each other. And if they are arguing? They'll be hugging before you know it.

Getting to Palermo


Palermo is just a 3 hour flight from London or Manchester, and there are many direct flights from the UK, as well as daily flights to Palermo from Paris and Brussels.

It is also very easy to fly to Palermo from pretty much anywhere on mainland Italy (alternatively, you can fly from mainland Italy to Trapani airport).

If you're coming from mainland Italy, you can reach Palermo by bus. You can get to Palermo from many places in Italy such as Bari, Rome or Naples. My go-to bus travel in Europe is always FlixBus. Flixbus is the most extensive bus network worldwide and all Flix buses have Wi-Fi, extra legroom, charging ports and the ability to modify your booking just 15 minutes before departure!



Palermo is also easily accessible from other cities in Sicily. It is just 1 hour by train from Cefalu, a 2 hour bus ride from San Vito Lo Capo, or around 4 hours by bus or train from Catania.

The coach station in Palermo is just behind the main train station, and both can be found in the Old Town district of Palermo.



Where to stay in Palermo – Hostels and hotels in Palermo


Hostels in Palermo


The hostel scene in Palermo is still in its infancy, and so there is not a whole lotta choice when it comes to finding a decent hostel in Palermo.

I personally have stayed in two (one of which is no longer in business), and I haven't heard anything about the other hostels in Palermo (good or bad), so here I am just including the one that I stayed in twice, Balarm Hostel.

Now look – Balarm Hostel is not the BEST HOSTEL EVER that you will write home about.

With that said, I believe that Balarm Hostel is still the best hostel in Palermo.

The beds are comfy and the security system is really good (with electric combination lockers and key cards for all the rooms, as well as having to use a code or buzzer to get into the building itself).

In addition to that, the location is perfect – Balarm Hostel is just a few steps away from the train station and it is on the main street in Palermo, just a few steps from bars, restaurants and markets. It's also a pretty sociable hostel, and you can drink your own beers there or buy some from the hostel itself.

There is also a free breakfast which was nice.


Hotels in Palermo


Budget hotel in Palermo


Hotel Concordia is in a 19th century building and rooms have wrought iron beds, exposed brick and traditional tiled floors. It is just a 5 minute walk from the train station and close to all of Palermo's main sights, including Quattro Candi, Palermo Cathedral and La Vucciria market.



Mid-range hotel in Palermo


Located in the heart of Palermo, 60m from Via Maqueda shopping street, Eurostars Centrale Palace Hotel is a 4 star hotel that was once the noble 18th-century Palazzo Tarallo, and when you see the interior, you'll certainly feel like you're in a palace.

With ornate ceilings, stunning tiled floors and chandeliers, you will certainly get the Italian experience here. There's also a gym and sauna, and the location is perfect, just steps away from the main pedestrian street in town and all the major attractions.

At the time of writing, a double room here was just 68 EUR, which is a steal.



Luxury hotel in Palermo


The Grande Hotel Et Des Palmes is an absolutely beautiful 5 star hotel in an Art Nouveau building. Palermo Port is a 10 minute walk away and Teatro Massimo is just 5 minutes away. You are slightly further away from the cathedral (1.6km) than the other options, but you are still incredibly central.

The word 'grand' really doesn't do this place justice – tradition and luxury are an indulgent combination, and there is also an onsite cocktail bar and high end restaurant.



Best Time to Visit Palermo


The best time to visit Palermo is the shoulder season.

This is when the weather is still great, but the beaches are not as crowded as they are in the summer months.

With that said, if you're not too bothered about going to the beach, Palermo in the summer is a lot of fun.

The heat in the centre never feels too oppressive due to the way the Arabs built the city long ago, and while many Italians come to visit Palermo in the summer, you won't be fighting your way through hordes of Brits and Americans (see my article about the problems related to overtourism here).

In addition to that, the council makes a real effort to clean the streets up in time for summer so the city is cleaner than at other times of the year.

Palermo is also somewhere that you can visit during the cooler months.

Even in January, Palermo is still around 15 degrees Celsius, so if you're looking for some winter sun then Palermo is a great bet.



Budgeting for Palermo


Palermo is the most affordable Italian city that I've been to. Here are some average prices for Palermo:

Hostel beds (in high season and with breakfast) are around €17;

Restaurant meals are usually less than €10 (with some pasta and risotto dishes being just €5);

Street food is €2-3;

A large (0.66cl) beer at any of the bars on La Vucciria (party street) is €2;

A small beer, glass of wine or shot on La Vucciria is €1;

A one way bus ticket is €1.40 or a full day pass is €3.50

So there concludes my monster list of things to do in Palermo! I hope that this information helped you in planning your trip to Palermo, and if I missed anything then please let me know in the comments section below!

If you enjoyed this article then please pin it using the buttons below so that other people can find it – thanks!

xoxo


If you liked this article and would like to support my work, please click the button above to donate a couple of bucks and buy me a coffee. The ad revenue that I receive on this website is minimal, so support from my readers enables me to keep creating content that you (hopefully!) love to read.
Disclaimer: Travelling Jezebel uses affiliate links. This means that if you make a purchase on a recommended site then I may make a small commission at no extra cost to you!