As soon as my taxi dropped me off on the edge of Plovdiv Old Town, I knew that I was going to fall in love with this city.

Cobbled streets, adorable stray cats and hidden alleyways give the Old Town of Plovdiv a truly magical feel, and although Plovdiv attracts its fair share of tourists, Plovdiv Old Town still manages to retain its olde worlde charm.

I stayed for four days in the heart of Plovdiv's Old Town, and during that time I got to know it pretty well.

If you're visiting Plovdiv and don't know where to start, here's a quick guide to the highlights of Plovdiv Old Town.

For a more in-depth guide to Plovdiv, check out my huge list of things to do in Plovdiv, which covers not only the Old Town, but also the shopping district and the trendy Kapana neighbourhood.

(Side note: if you end up visiting Sofia then you should definitely check out this Vegan Food Guide for Sofia over at Wellness Travel Diaries.)



A Quick Guide to Plovdiv Old Town


Plovdiv is the oldest living city in Europe and one of the six oldest cities in the world.

With its archaeological sites, unique rhythm and cobblestone streets, Plovdiv Old Town is like a city within the city of Plovdiv, Bulgaria.

Cafes and restaurants sit alongside romantic courtyards, religious temples and grand Revival houses, many of which have been turned into museums.

Something interesting to note about the architecture in Plovdiv Old Town is that it displays Bulgaria's national interpretation of the European Baroque style.



Things to Do in Plovdiv Old Town


Marvel at the beautiful buildings


Beautifully ornamented and brightly coloured buildings line the cobbled streets of Plovdiv Old Town, with a rich cultural heritage dating back hundreds of years.

The Bulgarian National Revival was a time of socio-economic development and opposition to the Ottoman rule, and Bulgarian architecture saw huge developments between 1770 and 1900.

Towards the end of the 19th century, trade connections were established with Central and Western Europe, and Bulgarians took inspiration from European architecture, building the majestic houses that you see on the streets today.

You can go inside many of the Revival houses in Plovdiv Old Town, as many of them have been turned into museums and restored to look the way they would have done in centuries past.

Houses of note are the Ethnographic Museum, Balabanov House, Nedkovich House and the Hindliyan House. Inside you will find impressive wood-carved ceilings, vast reception halls, ballrooms and large paintings.

A funny little curiosity is that the second floor is usually wider than the first, giving the houses a top heavy appearance!

.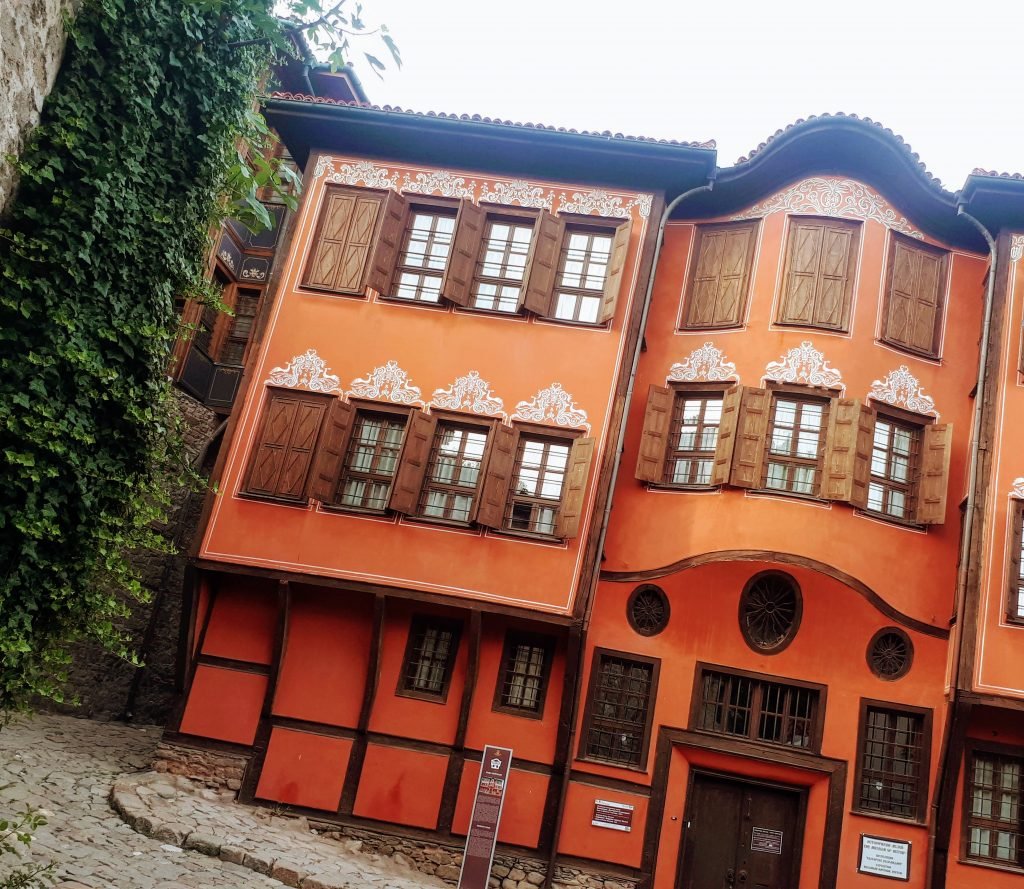 Climb the Watch Tower Hill


Follow pretty much any path leading upwards in Plovdiv Old Town and you will inevitably come to the highest point, Nebet Tepe, or the Watch Tower Hill.

Plovdiv's first Neolithic settlement was established on the top of Nebet Tepe in around 6000 BC. The remains of another prehistoric settlement can still be seen here, from around 4800 to 4000 BC.

There are also sweeping panoramic views over the Carpathian Mountains, the Balkan Peninsula and the other five hills that surround the city (Plovdiv used to be the city of seven hills but one was flattened, so now there are only six), as well as the many churches and mosques in the city below.

One of the surrounding hills is home to a statue of a Soviet soldier which is naturally hugely controversial.

Some say that the statue is a symbol of Soviet oppression and should be destroyed, while others say that it is a symbol of winning the fight against the Nazis and so it should remain.

For now at least, it remains.

There is also the 'Hill of Time'. Nowadays the Hill of Time is home to a giant clock tower, but it has actually always been a hill of time, having first been inhabited by a giant sundial.

The seventh hill, the one that was flattened, was done so that the city of Plovdiv could be built in the first place.

And who destroyed it?

Bulgarians.

Wanting an easy life, they decided to flatten one of the hills and built the city of Plovdiv in its place.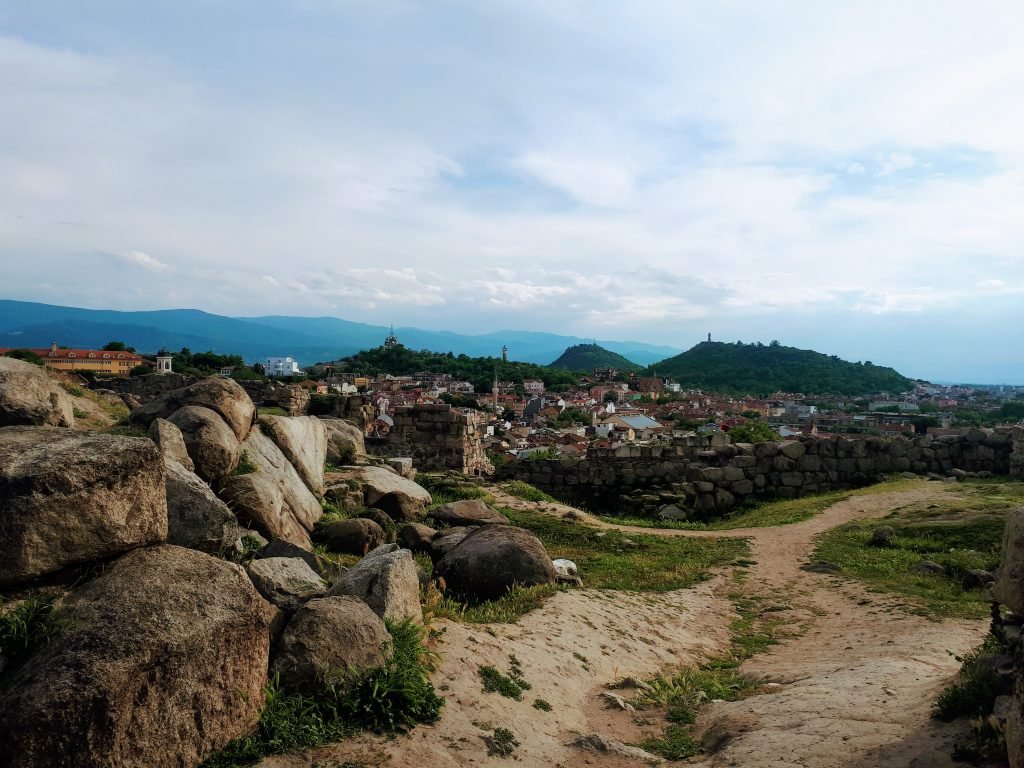 Visit the Orthodox church


Stroll down from Nebet Tepe and head to the Orthodox Church of St Constantine and Helena.

Built in the year 337 on the site of an old Pagan temple, it is one of the oldest churches in Plovdiv, and like any Orthodox church, it is ornately decorated inside and dripping with gold.

A fun fact about the Orthodox Church of St Constantine and Helena is that the church is surrounded by walls because during the Ottoman rule, churches were prohibited from being seen in the street. Since it has been rebuilt in recent years, the bell tower can be seen standing taller than the surrounding walls.




Go souvenir shopping on the Street of Crafts


Venture through Plovdiv's Hissar Kapia Medieval gate and you will find Strumna Street, also known as the 'Street of Crafts.'

The Street of Crafts is a narrow cobblestoned alleyway leading downwards where you will find a handful of open houses selling traditional Bulgarian crafts.

Watch the weavers, potters and woodcarvers at work (maybe they'll even let you join in!) and consider supporting them by purchasing a little souvenir.



Get lost!


No, I'm not being rude – I'm just telling you that one of the best things do to in Plovdiv Old Town is to put Google Maps away and just get lost!

There are countless archways and gates, narrow passageways and staircases leading to some of the prettiest buildings and gardens you'll ever see.

Take your camera and get snap happy on the quiet streets of Plovdiv Old Town, and make sure to stop and say hi to some of the resident cats – they're ever so friendly!



Marvel at the Roman amphitheatre


The great Roman amphitheatre of Plovdiv Old Town really is a sight to behold.

In last decade of the 1st century AD, a beautiful new theatre was built in Philippopolis.

This ancient theatre was used not only for public entertainment however; it also hosted the official meetings of the local governors. Every family had its own rows and seats, and their names were engraved in stone. You can actually still see some of the names there today!

It is crazy to see the 2000 year old theatre columns juxtaposed with the scores of modern buildings behind them.

In summer, the amphitheatre is actually open for live concerts and opera theatre performances, and it can seat a whopping 7000 people!

If you're lucky enough to visit Plovdiv in the summer, you should definitely try and catch a performance here.



Fill your boots at Rahat Tepe Beer House


Most of the best restaurants in Plovdiv are located in the hipster Kapana neighbourhood, but if you only have one meal in Plovdiv Old Town, make it here.

Rahat Tepe Beer House is a Bulgarian BBQ grill and beer house on the top of Nebet Tepe.

Offering gorgeous panoramic views and with both indoor and outdoor seating, Rahat Tepe also has the largest range of beers in the city.

Culinary delights include slow cooked pork ribs, veal meatballs and chicken skewers.

If you're feeling adventurous, you can order duck heart, tripe in butter, grilled chicken giblets and even tongue.



Where to stay in Plovdiv Old Town


If you're visiting Plovdiv, you just have to stay in the Old Town.

Plovdiv Old Town has tonnes of accommodation options, from luxury hotels and quaint guesthouses to budget hostels.

Here are my picks for Plovdiv hotels and other accommodation in the Old Town:

Luxury – Gallery 37 – Gallery 37 is an elegant 5-star hotel offering all the facilities you could possibly want and décor that is traditional yet modern. Tufted window seats, charming views and plush carpets make this an excellent choice.

Click here to view rates and availability at Gallery 37

Quirky – Saborna 25 – Saborna 25 Guest House is delightfully quirky. Every room has a totally different design and colour scheme, with total attention to detail. Exposed brick, solid oak furniture, Turkish lamps are just some of what you can expect in this guest house. The Executive Queen Room even has its own private sauna!

Click here to view rates and availability at Saborna 25

For families – Blacksmith's House – Blacksmith's House is a 3-bedroom townhouse in Plovdiv Old Town with a bohemian interior and private terrace. Have your home away from home in Plovdiv.

Click here to view rates and availability at Blacksmith's House

Traditional – Guest House Old Plovdiv – Step back in time at Guest House Old Plovdiv. With carved wooden ceilings, Bulgarian Revival furnishings and plenty of rich mahogany, you will feel like a Bulgarian aristocrat in Guest House Old Plovdiv.

Click here to view rates and availability at Guest House Old Plovdiv.



Plovdiv Old Town | Final Thoughts


While there is so much more to the Bulgarian city of Plovdiv than its Old Town, you can't go wrong with dedicating an entire day (or even two!) to exploring the enchanting streets of Plovdiv Old Town.

Whether you're into architecture or history, mountain views or museums, there will be something in Plovdiv Old Town for you.

As always, please let me know if you have any questions in the comments below and I will get back to you!

Until next time,

XOXO

If you liked this article and would like to support my work, please click the button above to donate a couple of bucks and buy me a coffee. The ad revenue that I receive on this website is minimal, so support from my readers enables me to keep creating content that you (hopefully!) love to read.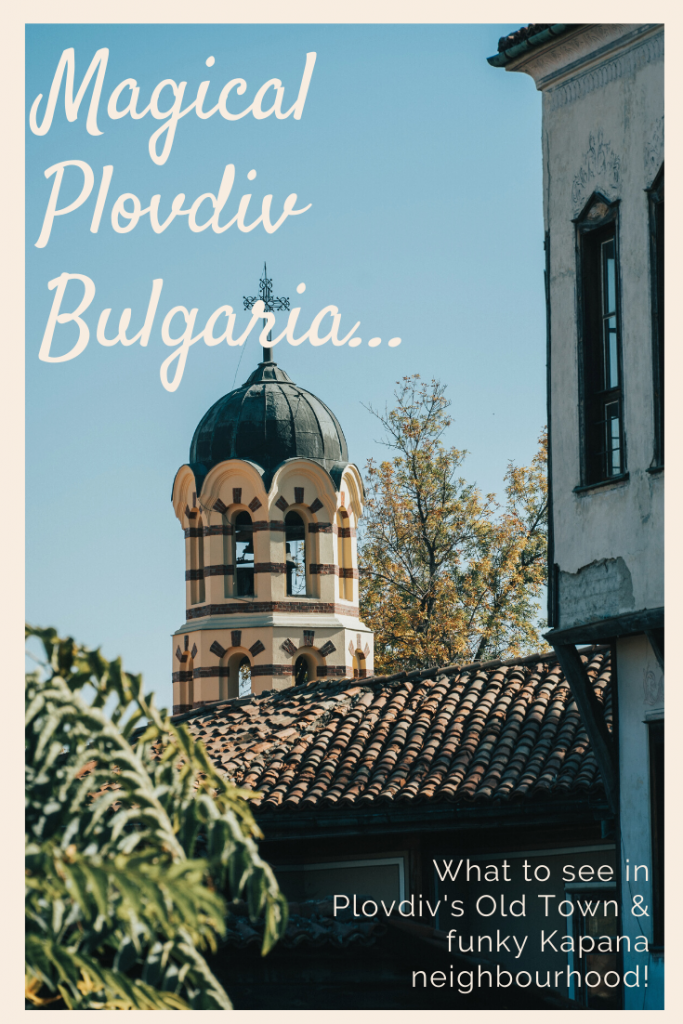 Disclaimer: Travelling Jezebel uses affiliate links. If you make a purchase on a recommended site then I may make a small commission at no extra cost to you.