Last Updated March 2020.

Plovdiv, Bulgaria. One of those places where I arrived and I just knew. Knew that this was a place that could steal my heart.

The last time I experienced this feeling was in Kotor, Montenegro, a place that I ended up spending 3 months in, memorising the twists and turns of the labyrinthine Old Town and soaking up the hearty Balkan vibes (not to mention a healthy dose of rakija).

Kotor was the last place that I felt instantly at home in, the last place where I felt as though I was exactly where I needed to be.

That is, until I arrived in Plovdiv, Bulgaria.

During my 4 days in Plovdiv, I got a chance to explore this European Capital of Culture 2019 in a way where I simultaneously learnt about the history of Plovdiv and made the most of the cafe culture in the artsy Kapana neighbourhood. I also meandered around Plovdiv Old Town, befriended stray cats and photographed quirky street art, and so if you want to know more about my time in Plovdiv and how I fell in love with this magical place then please read on!



Plovdiv, Bulgaria – Guide to The European Capital of Culture 2019


As I mentioned above, Plovdiv Bulgaria has actually been named the European Capital of Culture 2019! After winning the title of European Capital of Culture in 2014, Plovdiv has really focused on the arts, culture and music scene, bringing together different communities and generations under the hashtag 'together.'



And what else should you know about Plovdiv, Bulgaria?


Well, Plovdiv is located in the south of Bulgaria, just 2 hours from the capital of Sofia, with frequent bus connections running between the two cities. My go-to bus travel in Europe is always FlixBus. Flixbus is the most extensive bus network worldwide and all Flix buses have Wi-Fi, extra legroom, charging ports and the ability to modify your booking just 15 minutes before departure! Click here to book your Flixbus to Plovdiv.

Not only is Plovdiv Bulgaria's second biggest city, but it is also the oldest living city in Europe (and sixth in the world!). Plovdiv has been Thracian, Greek, Roman, Byzantine, Old Bulgarian, Ottoman and now, modern, and you can't fail to miss these echoes from the past everywhere, from the architecture to the food.

Often referred to as the 'City of the Seven Hills' due to its development on seven hills (now only six as one has been destroyed), Plovdiv, Bulgaria is also home to many preserved Roman ruins, as well as the longest pedestrian street in Europe, which is a whopping 1.8KM long!

If you're wondering 'is Plovdiv safe?' then worry no more. As a solo female traveller, I felt completely safe in Plovdiv, and the chances of you becoming victim of a crime are very low. Exercise the same common sense that you would anywhere. With that said, if you're planning a trip to X, then I strongly recommend buying travel insurance. I NEVER travel without insurance, and I've seen too many others get landed with huge medical bills as a result of not having had insurance, that it's something I'll never neglect to buy. My recommendation for great travel insurance is World Nomads.

Perhaps my favourite thing about Plovdiv is that it is known for being a real cultural hub. As well as being home to various theatres and orchestras, Plovdiv is also a literary centre (and as a Literature graduate, this was music to my ears!), home to the first public library in Bulgaria and dozens of independent book stores and library themed cafes and bars. If that isn't enough to tickle your pickle, then Plovdiv is also home to more than 40 art galleries, tonnes of museums, a 'Crafts Street' and an area called 'Kapana' (or 'The Trap') which is choc-full of coffee shops, wine bars, antique stores and colourful street art.

There are also so many cool things to do in Plovdiv, Bulgaria, and in my opinion you need at least three days to really see all that Plovdiv has to offer. Some absolute must-do's while you're in Plovdiv Bulgaria include:

Soak up the cafe culture in the Kapana neighbourhood

See the Roman Stadium in the New Town and the Roman Amphitheatre in the Old Town

Enjoy the sunset from Nebet Tepe

Buy some traditional souvenirs from Craft Street

Peek inside some restored Bulgarian Revival houses

Get lost in Plovdiv Old Town

Visit Dzhumaya Mosque, the only remaining mosque in Plovdiv

Stroll down the Main Street (Knyaz Alexander I)

Join a Free Walking Tour

I discuss all of these things in more detail below so just keep reading if you're interested in what there is to do in Plovdiv!



Enjoying bohemian Plovdiv Bulgaria


I arrived in Plovdiv late and took a taxi from the train station to the Old Town (it only cost me a couple of euros so it was well worth it). If you're travelling with heavy bags then it should be noted that taxis aren't allowed to drive inside the walls of Plovdiv Old Town. However, luckily for me, my hostel, Hikers Hostel, was only a short walk from the entrance.

Hikers Hostel is located smack bang in the centre of Plovdiv's Old Town and it has a super cool bohemian vibe with quirky decor, an outdoor kitchen/chill area, and a delicious free breakfast everyday. Although it was very quiet when I was there, the staff made me feel really welcome, and I definitely recommend it staying here if you're a backpacker. (If you want to check it out then just click here!)

The next day I rose late and decided to head to a vegan cafe that I'd read about online called Veggic.

Veggic was less than a 10 minute walk from my hostel, in the lovely Kapana neighbourhood, and I made the most of the 28 degree weather by sitting in the sun as I ate my food (seitan with porcini mushrooms, brown rice and a delicious sauce made from soy sauce and garlic). Not only was the food at Veggic divine, but the waiter was super friendly and all of the tables of Veggic and the neighbouring restaurants were full of people enjoying local wine, Turkish coffee and yummy looking cakes, creating a wonderful atmosphere in which to relax and watch the world go by. I definitely rate Veggic very highly, so if you're wondering where to eat in Plovdiv then be sure to add it to your lists!




After I'd finished my lunch I decided to find somewhere to grab a coffee, and so I spent some time wandering the streets in search of somewhere with a free table! Kapana sure is a beautiful place to spend the day, with coloured bunting on every street and every establishment having its own unique and quirky vibe. It didn't take me long to figure out why it is called 'The Trap!' (It actually got its name from it's labyrinth of narrow streets that you can easily get lost in, but all of the coffee shops and bars are a trap in themselves!).




I eventually settled on Monkey House, a trendy coffee and cocktail bar with bright yellow and black outdoor seating and a really friendly server – seriously, everyone in Plovdiv is so NICE! (Monkey House doesn't serve food but their sister place, Monkey Burgers does, and is one of the more popular places to eat in Plovdiv). I ordered an iced cappuccino and sat outside in the sun for a couple of hours enjoying the atmosphere. (Psst – for those who care about tanning as much as I do, Monkey House is also a wicked little sun trap!)



After I couldn't justify staying put for any longer, I decided to head back in the direction of my hostel so that I could explore Plovdiv Old Town.

Plovdiv Old Town is truly a delight to wander around. Although it attracts its fair share of tourists, it hasn't become one huge tourist trap in the same way that other European cities have, which makes it a wonderful travel destination.

The cobbles on the streets are old, uneven, and difficult to walk on. The secret alleyways and staircases all lead somewhere beautiful and there is a real sense of calm as you wander around. The restored buildings have a real majestic air about them, and there are flowers and cats everywhere. If I had to compare Plovdiv Old Town to anywhere, it would be Berat or Gjirokaster in Albania (two of my favourite cities) or Sighisoara in Romania.



Quite by accident, I followed an interesting looking pathway and found myself on top of Nebet Tepe (or Watch Tower), one of the six remaining hills surrounding the city and the highest point of Plovdiv Old Town. Visiting Nebet Tepe is one of the most popular things to do in Plovdiv, and I highly recommend it.

When I visited, small groups of local teenagers were sitting around smoking and chatting, and a few couples were sitting on the walls drinking beer and overlooking the city. With the stunning views over the Capathian Mountains, the other 6 hills surrounding Plovdiv, the Balkan Peninsula in the distance and the churches and mosques of the Old Town below us, it really was beautiful. As I sat on a rock and enjoyed the view, I realised that Plovdiv reminded me of yet another city – with its coffee shop culture down in Kapana, and this hilltop gathering place overlooking the town, Plovdiv reminded me of my time in Prizren, Kosovo, which is another of my favourite undiscovered gems of the Balkans.



After I'd spent a while relaxing, I headed back to Plovdiv Old Town to explore some more. On one street, I met two friendly stray cats who wouldn't leave me alone, so I sat with them for 10 minutes, highly amused that one of them looked exactly like Hitler (Kitler?).




I continued to walk, venturing through a Medieval arch way and finding 'Craft Street,' , a narrow cobbled alleyway with a handful of open houses where you can buy traditional crafts from Plovdiv (there is even a house where you can learn the art of wood carving!). Buying souvenirs when I travel isn't really my thing, but I do recommend Craft Street if you're looking for something traditional and hand made from Plovdiv, Bulgaria (because supporting local businesses is the best and you should all be doing it in one way or another!).





The next morning I woke early (for me!) to do the Plovdiv Free Walking Tour (Free Plovdiv Tour). The Free Walking Tour in Plovdiv is organised by the 365 Association, named so because they run tours EVERY SINGLE DAY at 11am and 6pm in summer months and 2pm in low season. Whew! The 365 Association actually runs walking tours in Sofia as well, which is worth bearing in mind for those planning a visit.

The Free Plovdiv Tour is one of the best things to do in Plovdiv as you get to see all of the main sites (Roman Stadium, Roman Theatre, Dzhumaya Mosque, Old Town, Kapana etc.) while getting a tonne of historical and contextual information about the places that you're seeing – if you're interested then I wrote an entire post about my Plovdiv Free Walking Tour!

After the walking tour concluded, myself and a few of the group deciding to grab lunch together at a restaurant named Smokina that had been recommended by our tour guide as one of the top places to eat in Plovdiv.




Smokina is pretty fancy but very reasonably priced, and all four of us enjoyed our meals (I opted for quinoa with pistachio pesto, yum). Next was time for coffee and so we headed to another of Pavel's recommendations, which happened to be somewhere that I had been dying to try.

Although there are certainly lots of choices when it comes to coffee in Plovdiv, Dukiana Coffee Roaster is an impossibly cute little coffee house with almost every type of coffee imaginable, rustic decor and a friendly barista, making it a top choice. It's also not pretentious, which, given the above, is quite a feat. I ordered a sweet Turkish coffee, something that I'd not been able to get my hands on in a while, and I was not disappointed.




After coffee the boys left and so me and my fellow English gal, Kim took a few hours to wander around Plovdiv Old Town some more before heading back to Kapana, taking photographs of the street art and enjoying a beer or two at a charming little bar named Cat and Mouse Craft Beer Bar.

We then went for a lovely dinner at a restaurant named Amsterdam. I opted for the pork ribs and Kim ordered sausages – a fine day indeed!

For the remainder of my time in enchanting Plovdiv, I did much of the same. I returned to Veggic for a salad with gorgeous vegan cheese, I sat in a park and read my book, and I returned to Monkey House for another 3 hours of sunning myself, this time blogging and sipping iced mochas. I also had a wonderful meal at Pavaj (one of the most famous places to eat in Plovdiv and for good reason – make sure to book in advance!) and a fruit smoothie at Central Perk (yep, you read that right). You could say I really got into the cafe culture in Plovdiv!



Plovdiv, Bulgaria – Final Thoughts


Plovdiv is an absolutely charming city. It is quaint, it is quiet and it is beautiful. Its people are stylish, yet friendly and relaxed. There are artists, and musicians, and writers, but yet nothing feels pretentious. Everyone is just ailyak, relaxed, and that is a vibe that I can get down with.

Whether you're a solo traveller looking for some quiet time, a backpacker on a budget, or a group of friends that appreciate fine architecture and tiny wine bars, Plovdiv will not disappoint. With 2019 being the year that Plovdiv, Bulgaria is the official European Capital of Culture, now is the perfect time to visit, as I am sure that more and more people will be discovering Plovdiv in the coming years. With overtourism killing some of Europe's most beautiful destinations, Plovdiv Bulgaria is a great place to go to escape the crowds.

Plovdiv, you've captured a piece of my heart and I know I will be seeing you again.

Have you ever visited Plovdiv, Bulgaria? What did you think? Do you have any coffee or cafe recommendations that I need to remember for my next visit? Please share them with me in the comments section below! If you are planning a trip to Bulgaria and are looking for ideas of where to visit, check out this post for 25 places to visit in Bulgaria! Also don't forget to PIN this article if you liked it as it helps me out a lot! 🙂


If you liked this article and would like to support my work, please click the button above to donate a couple of bucks and buy me a coffee. The ad revenue that I receive on this website is minimal, so support from my readers enables me to keep creating content that you (hopefully!) love to read.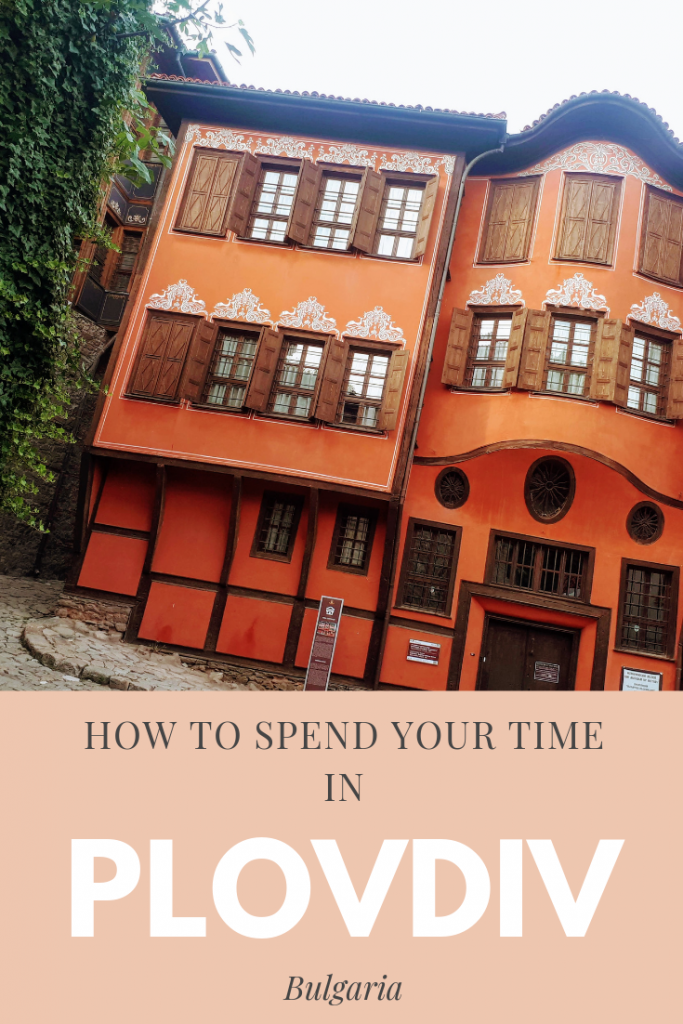 Disclaimer: this page contains affiliate links. This means that if you make a purchase on one of my partner sites then I may make a small commission at no extra cost to you.