Ever since I moved to Valencia and heard a friend talking about Port Saplaya, the 'Little Venice of Valencia,' I knew I had to go.

Valencia had already won me over with its cobbled streets, dinky little bars and friendly locals, but the idea that it had its own mini Venice endeared the city even more to me.

In true Dani fashion, it was almost a year before I visited Port Saplaya, the Little Venice of Valencia, but hey, better late than never, right?

If you are visiting Valencia and want to get out of the city and discover a local hidden gem, just keep reading because Port Saplaya is exactly that.

Here's a guide to Port Saplaya, Valencia.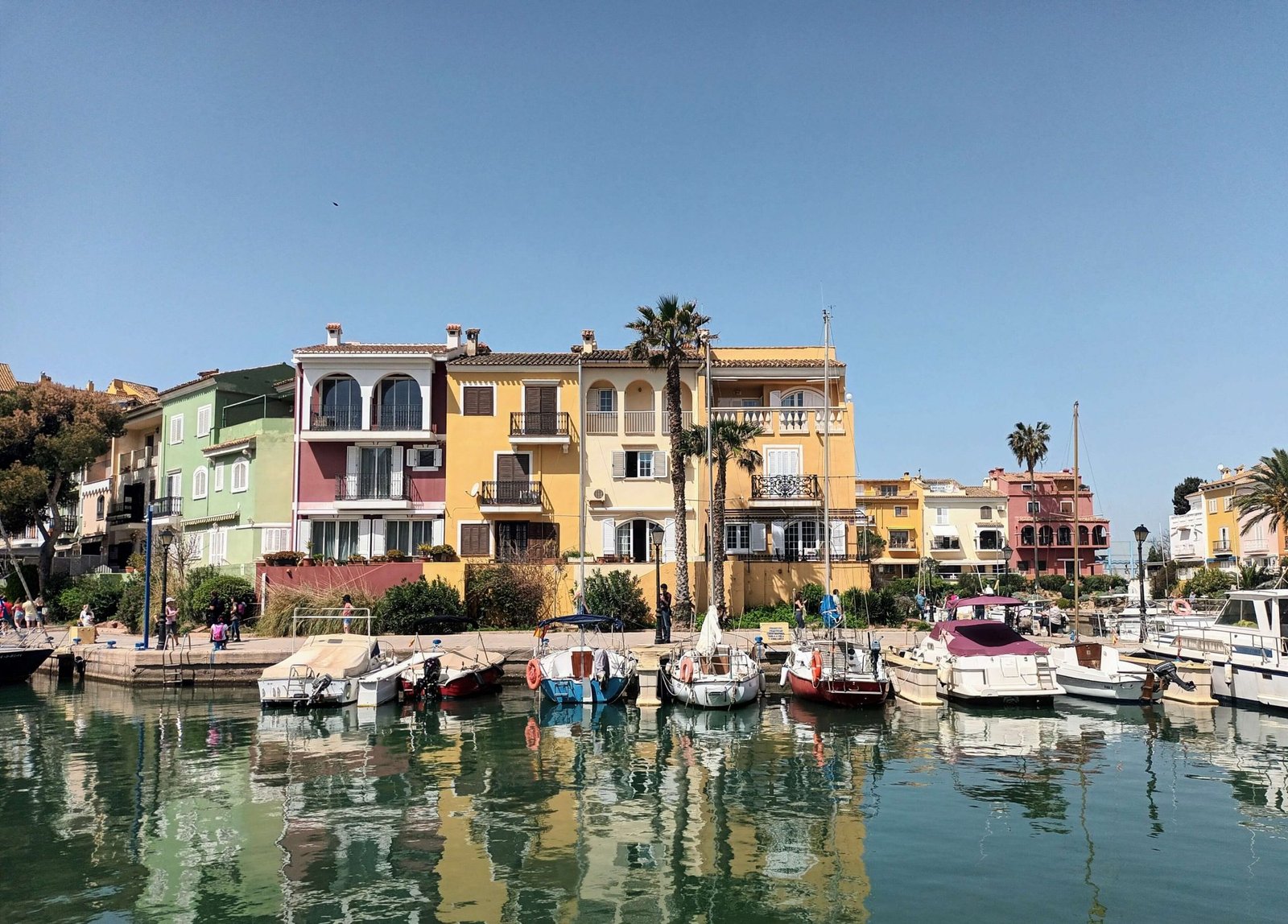 Port Saplaya – The 'Little Venice' of Valencia


Port Saplaya, Valencia's Little Venice


Port Saplaya is a residential area in the municipality of Alboraya that is home to around 2000 people.

Known for its golden sandy beaches, boats and colourful buildings, Port Saplaya does indeed resemble Venice, albeit without the hordes of tourists and souvenir shops.

While many use their homes in Port Saplaya as a summer residence, there is a growing community of people who live in Port Saplaya for the entire year, and when my taxi dropped me off at the end of the main beach, I found myself understanding why.

With two beaches, an abundance of beachfront restaurants and bars, a nearby shopping centre for the essentials and transport links to Valencia, Port Saplaya has everything you need to live quite happily.

However, at less than 8km from the centre of Valencia, it also makes a great day trip.

Tonnes of Valencian locals visit Port Saplaya each weekend to enjoy lunch in the quaint surroundings, and this is exactly what myself, my boyfriend and my mother decided to do on Easter Saturday.



How to spend 1 day in Port Saplaya, Valencia


Port Saplaya Beach


We started our day with a leisurely stroll down the beach.

The main beach at Port Saplaya is just under 1.5km, and when we visited in April, it was way quieter than the main Valencian beach of Malvarossa.

If you visit Port Saplaya on a nice day (and why wouldn't you?) then I highly recommend spending some time on the beach to soak up the sun and enjoy the holiday atmosphere.



Drink Horchata


Thanks to the nearby tiger nut fields, Port Saplaya is one of the best places in Valencia to try horchata, a staple Valencian sweet treat.

Horchata (or Orxata in Valencian) translates to 'tiger nut milk,' and refers to a sweet drink made from tiger nuts, which are edible tubers and part of the potato family.

Valencia actually grows 90% of the world's tiger nuts, which are ground with water and sugar to produce horchata.

For the truth Valencian experience, order some fartons to dip into your horchata.

Fartons are local pastries dusted with icing sugar and are the perfect accompaniment to horchata.



Enjoy a Menu del Dia


Menu del Dia translates to Menu of the Day and is one of my favourite things in Spain.

A typical Menu del Dia will consist of a starter, main, dessert/coffee, bread and a drink and will cost between 8-15 EUR in the centre of Valencia.

The Menu del Dia offerings in Port Saplaya were quite a bit more expensive, with the average cost being 20 EUR and most of them not including a drink, but that's to be expected in a holiday village like this.

We looked at a few menus until we found a great deal at a place called Mosquetero – 16 EUR including a drink!

The restaurant happened to be in a gorgeous spot overlooking the rainbow houses and boats, so we happily got settled and placed our orders.

To begin, I had fried calamari with alioli, followed by paella negro, a seafood paella made black with cuttlefish ink.

Ethan and Mum both got tuna salad with crispy onions and balsamic vinegar, followed by Valencian paella for Ethan (with chicken and rabbit) and spaghetti carbonara for Mum.

The food was decent – not the best I've ever eaten, but given the price I'm not complaining.

The service left a lot to be desired in terms of speed, but our waitress was very apologetic so I won't hold it against her (much).

Overall, I do recommend Mosquetero – if you go in without expecting too much, you'll be grand.

Here's a Google Maps link to Mosquetero.



Admire the views!


One of the best things to do in Port Saplaya is simply to wander around the port and enjoy at the lush vegetation, pretty houses and various sailing boats, yachts and catamarans.

Follow the winding road that loops around the water and find yourself feeling totally disorientated as you wonder whether you've turned this corner before, or whether you've gone too far and walked past the part where you entered!

The walk really isn't that long but it definitely messes with your head a little bit – or maybe I just have a terrible sense of direction!

It isn't the kind of rustic pueblo like El Palmar and Oliva are but it's definitely charming.



Spend the night


If you want to spend longer than one day in Port Saplaya then you're in luck – there are plenty of gorgeous accommodation options in Valencia's Little Venice, meaning you can stay and enjoy the sunset, dine at a beachfront restaurant and indulge in a glass or two of Agua de Valencia.



How to get to Port Saplaya, Valencia


There are several ways to get to Port Saplaya from Valencia.

If you have a car, it will only take you about 15 minutes.

We took a taxi and it cost around 15 EUR one way with the FREE NOW taxi app.

You can also take the L112A and L112B buses from Valencia to Port Saplaya. These weren't running super frequently when I tried to take the bus to Port Saplaya but it's worth checking on Moovit for times and more detail. Expect to spend anywhere from 40-60 minutes on the bus.

You can also take the metro part of the way and walk the remaining 40-50 minutes. Moovit has more detailed information on taking the metro to Port Saplaya.

You can buy both your bus tickets and metro tickets on the EMT Valencia app. A single ticket costs 1.50 EUR and you can buy a bundle of 6 tickets for 5 EUR.



Port Saplaya Valencia | Final Thoughts


Port Saplaya makes a lovely little day trip from Valencia.

If you like the sound of wandering around a pretty port town, relaxing on the beach and eating seafood and rice until your belly is about to burst, you'll love Port Saplaya.

Got any questions?

Please don't hesitate to ask in the comments section below!

Until next time,

XOXO


If you liked this article and would like to support my work, please click the button above to donate a couple of bucks and buy me a coffee. The ad revenue that I receive on this website is minimal, so support from my readers enables me to keep creating content that you (hopefully!) love to read.

Disclaimer: Travelling Jezebel uses affiliate links. If you make a purchase on a recommended site then I may make a small commission at no extra cost to you.