Although Peniscola, Spain, is incredibly popular with domestic tourists, most foreigners have never even heard of it.

This picturesque coastal town in the province of Castellon on the Costa del Azahar is considered one of the sunniest places on the Spanish coast, and with its charming white and blue houses, turquoise waters and cobblestoned streets, Peniscola feels more like a Greek island than mainland Spain!

I visited Peniscola in the October of 2021 and knew that I was in love from the moment I stepped out of the car and saw the medieval old town towering above me.

Here's my guide to Peniscola, Spain, including what to do, where to eat, and where to stay in Peniscola.



Guide to Peniscola, Spain – The City in the Sea


Peniscola at a glance


Peniscola is in the province of Castellon, on the north coast of the Valencian community.

Located in between Valencia and Barcelona, it makes the perfect day trip from either, as well as a gorgeous romantic weekend getaway.

Peniscola is connected to the mainland by a very narrow strip of land, and its medieval old town is perched on a rock 64 metres above sea level, giving it a magical, other-worldly feel.

It has been the filming location of numerous movies and TV shows, including none other than Game of Thrones (don't worry – I'll tell you where to get your Game of Thrones fix later in the article!), and is famous for its picturesque old town, Templar castle and long stretches of sandy beaches.

Whether you're a history buff, a beach bum or simply in search of some delicious seafood and dreamy views, Peniscola has something for you.



Best time to visit Peniscola


You'd be forgiven for thinking that the best time to visit Peniscola is in the summer, but actually a visit during the off-season is best.

Peniscola gets around 300 days of sunshine every year, so you aren't restricted to the height of summer.

If you visit Peniscola in the months of June, September or October, you will still experience the glorious weather without the hordes of tourists – this tiny town of just 8000 people receives a staggering 150,000 tourists in the months of July and August!

I went to Peniscola in October and enjoyed a beautiful day with only a handful of other tourists.



How to get to Peniscola from Valencia


If you are staying in Valencia, the best way to get to Peniscola is by hiring a car.

The journey takes about 90 minutes and is a pleasant drive. There is a large car park right by the beach.

You can also take the train from Valencia Estacion Nord to Peniscola's neighbouring town of Benicarlo, before taking a bus or taxi to Peniscola. The train will take about 1 hour 15 minutes and the bus will take 20 minutes. Buses leave every 15 minutes.

Get your train tickets on Omio.



The best things to do in Peniscola, Spain


Hit the beach!


With over 7km of golden sandy beaches, Peniscola is a fantastic place for a beach holiday.

Playa del Norte is the main Peniscola beach and stretches for 5km, while Playa del Sur is the smaller of the two and located right by the main car park.

No matter which Peniscola beach you choose, you're sure to get a lovely tan!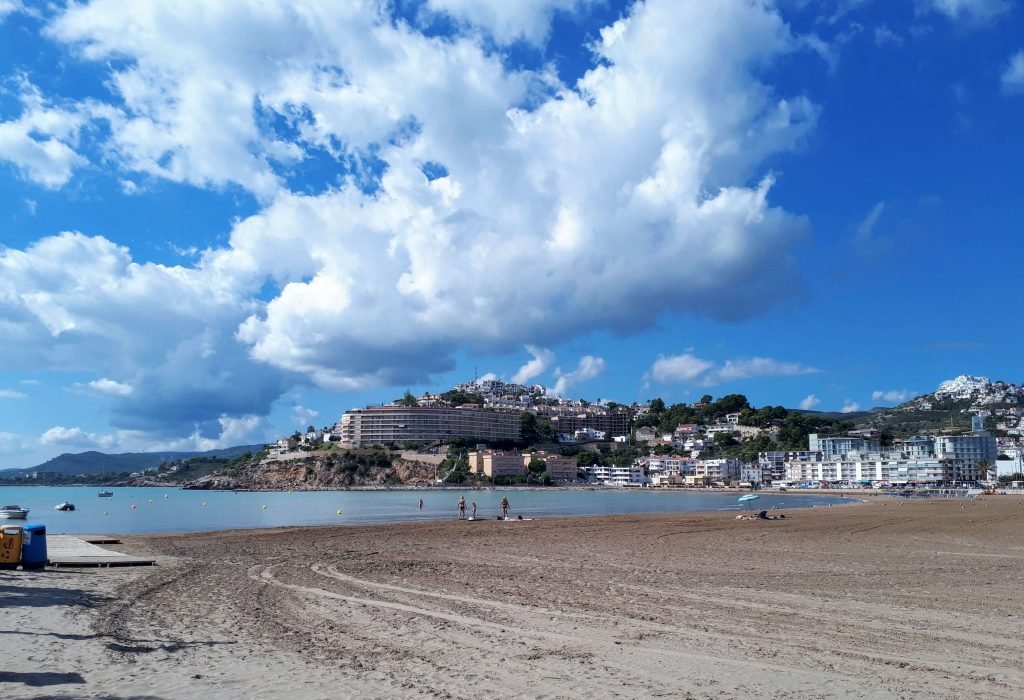 Peniscola Castle


Undoubtedly one of the main things to do in Peniscola is to visit Peniscola Castle, where the exiled Papa Luna (Benedict XIII) lived for around 20 years in the early 15th century.

Peniscola Castle was built between 1294 and 1307 by the Knights Templar on a former Moorish fortress before it became the home of Papa Luna, who spent his years in the castle fighting for his rights as the legitimate Pope and leaving a large body of written work behind.

Peniscola Castle was the final home of both Papa Luna and the Order of the Temple, making it unique.

For a small fee you can enter the castle and see where Papa Luna lived and enjoy the sweeping panoramic views over Peniscola.

Peniscola Castle costs 5 EUR to enter. Click here for opening times and more information.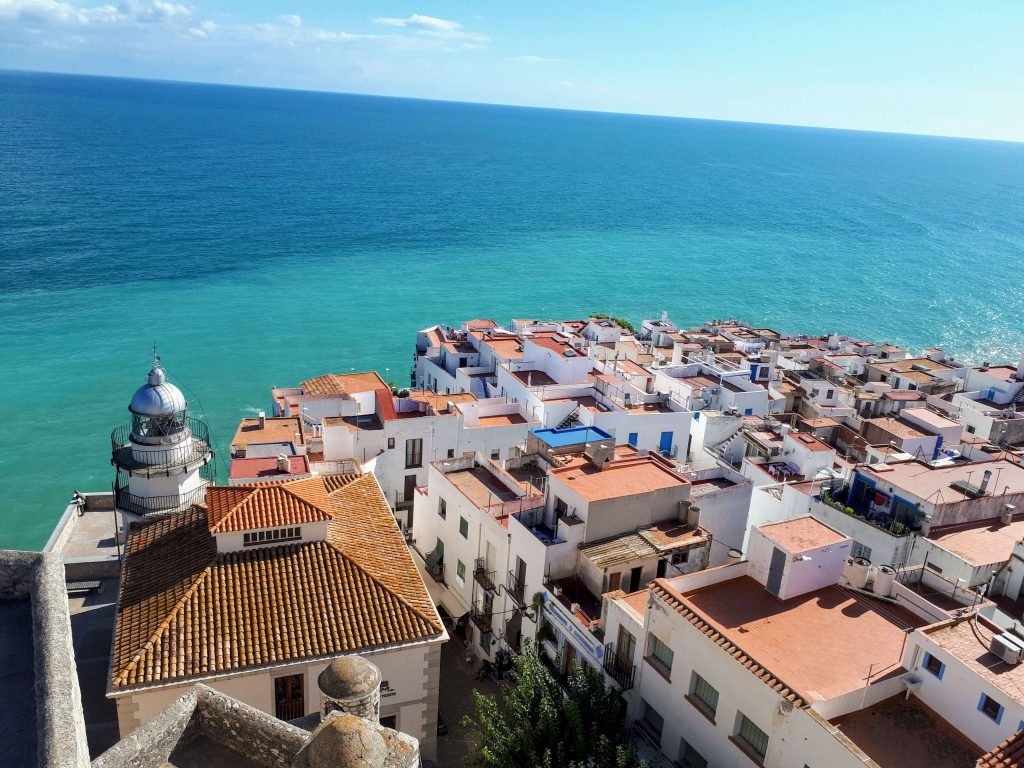 Peniscola Artillery Park


The Artillery Park around Peniscola Castle was a filming location for Meereen in Game of Thrones, but is worth checking out even if you're not a fan of the show.

Towering palm trees, robust fortifications and lots of cannons and other artillery can be found here, so if you're interested in weaponry or military history then this is the place to be.



Church of the Virgen de la Ermitana


The Church of the Virgen de la Ermitana, or Iglesia de la Ermitana is attached to the walls of Peniscola Castle and has a stunning Valencian Baroque façade.

This small temple was built on a cemetery on the site of a chapel in the name of the virgin.

Legend has it that during the invasion of the Moors, the statue of the virgin was hidden in a mountain cave, for which it received the name of 'Armitana,' meaning 'hermit' or 'recluse.' Now the statue of the virgin is displayed proudly at the church altar.

You can enjoy a stunning view of the church's bell tower from the top of Peniscola Castle.



Take a guided tour


If you only have one day in Peniscola and want to see all of the main Peniscola attractions while learning a bit about the history of the city, a guided tour is the way to go.

This one, on GetYourGuide not only includes entry to Peniscola Castle and Artillery Gardens, but includes filming locations from Game of Thrones, a walking tour of the old town and the emblematic buildings of Peniscola, as well as tonnes of Phoenician and Muslim history.

For just 19 EUR, this two and a half hour tour is a bargain.



Monument of Papa Luna


The monument of Papa Luna sits just outside Peniscola Castle and has only been a fixture since 2007!

Take your picture with the famous Papa Luna before venturing into his final residence (naturally, I forgot).



Eat fuet!


Since living in Valencia, I have developed a bit of an addiction to fuet, a thin, dry-cured sausage from Catalonia made of minced fat and lean pork meat.

Casa de las Fuets is a gorgeous shop where you can taste various flavours of fuet and buy whichever ones you like.

Variations include curry, rosemary, blue cheese, barbeque and more.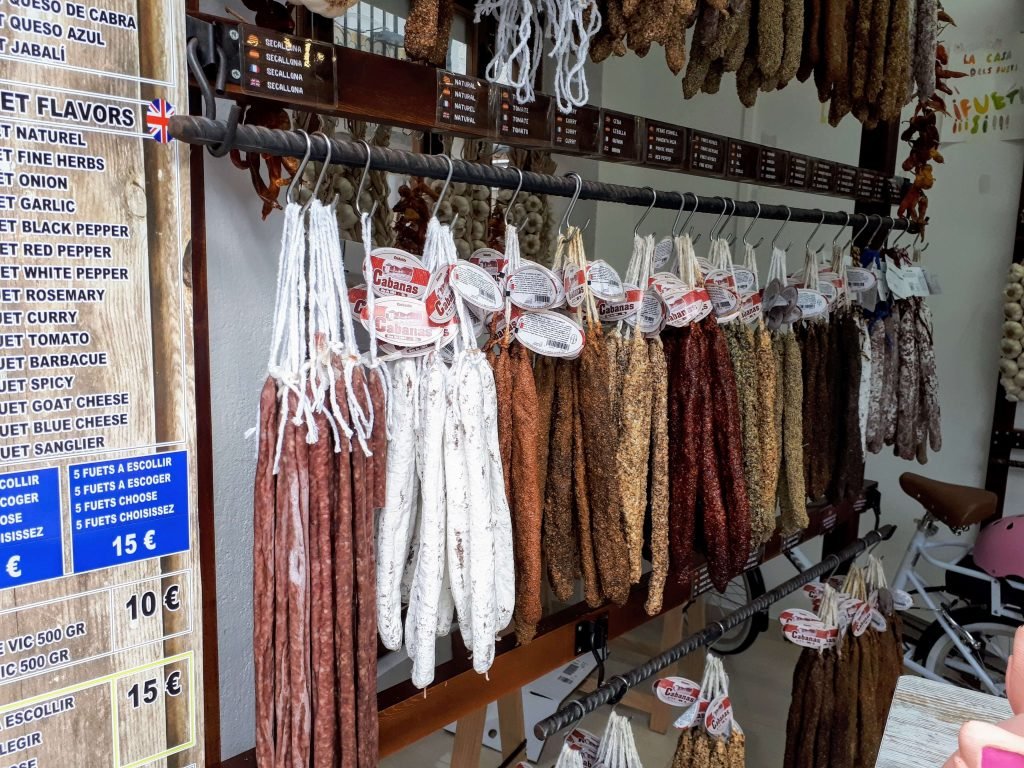 Visit the House of Shells


La Casa de las Conchas is an iconic building in Peniscola Old Town, due to the fact that its facade is covered entirely in shells!

This is a super popular photo spot in Peniscola (another reason to visit in the off-season!) and is simply stunning.

If you want to know the love story behind La Casa de las Conchas, click here to read my blog post about it!



Wander Peniscola Old Town


Medieval old towns of Europe are my favourite thing, and Peniscola's Old Town does not disappoint.

Perched on a rock 64 metres above sea level, with cobblestoned streets, whitewashed buildings and lots of blue doors and window shutters, Peniscola Old Town is super pretty.

Treat yourself to an ice cream or some local souvenirs, enjoy a glass of wine in the sun or discover the artisan boutiques dotted around everywhere (or do all of the above!).



Peniscola Maritime Museum


Look – maritime museums are not my thing.

During the two months that I lived in Kotor, Montenegro, the maritime museum was about the only thing that I didn't do while I was in Kotor.

The topic just doesn't interest me.

With that being said, the Museo de la Mar is one of the best things to do in Peniscola if you are at all interested in maritime history.

Here you can trace the former sailing routes that have survived from the earliest settlements, right up to the present day, admire models of Phoenician vessels and check out the three onsite aquariums.

It's also free, so if you're unlucky enough to get bad weather and are in need of things to do in Peniscola when it's raining, head straight to the Museo de la Mar.


Enjoy a Menu del Dia


Almost all of the Peniscola restaurants that I saw offered a daily menu, or Menu del Dia.

This is a 3-course menu where you can choose from a selection of dishes, as well as bread and (sometimes) a drink for a fixed price.

We found a cute restaurant with breathtaking views and enjoyed a delicious seafood lunch.

I opted for clams with artichokes to start, monkfish with potatoes and mussels for my main, and a crème brûlée for dessert.

The nearby town of Benicarlo is actually famous for its artichokes, so be sure to try some during your time in Peniscola!



Drink artichoke beer


Remember how I said that Benicarlo is famous for its artichokes?

Well, there is actually a craft beer bar and shop in Peniscola that makes its very own artichoke beer!

Other beers on offer include pumpkin ale, a stout, blonde ale, an organic wheat beer and an IPA, meaning there is something for everyone at Ceveza Artesana BADUM.

Enjoy a drink on the terrace or buy a few bottles for later!



Go to the magic museum!


Unfortunately, Peniscola's magic museum was closed when I visited, but if I could go back and do one thing, it would be this.

Peniscola Magic Museum by Yunke takes you through centuries of magic and illusion and uncovers some of the most famous magician's best-kept secrets. The ticket includes a guided tour so you can ask any questions that you may have.

There are also frequent live magic shows held at the museum with various magicians, so if you're looking for one of the more unusual things to do in Peniscola then this could be for you.

Tickets to the museum with a guided tour cost 8 EUR and show tickets are 16 EUR.

Visit the website here.



Check out the lighthouse


The Peniscola lighthouse dates back to 1892 and has that quintessential nautical style.

Located just by the castle, you can enjoy a great view of the lighthouse from Peniscola Castle itself (where the picture below was taken!). You can also admire it from the balcony area on which it sits, although unfortunately it isn't possible to go inside.



El Bufador


El Bufador is a natural curiosity found in Pensicola, close to the San Pedro Gate in the old town.

It is basically a geological feature that connects the street with an underground cave. The sea enters through the hole, flooding into the cavity before bursting out with a loud noise and lots of spray.

You can find El Bufador close to the entrance to the old town. It's worth checking out, but don't get too close!



Where to stay in Peniscola Spain


While Peniscola makes a fantastic day trip, it's always better to spend the night (or a couple of nights!) in a place so that you can experience it after the sun goes down and the day trippers leave.

There are lots of gorgeous hotels in Peniscola, as well as apartments and guesthouses.

Here are my picks for where to stay in Peniscola.



Hotel Arena Prado


Right on the beach with a swimming pool, simple rooms and a buffet restaurant serving up Mediterranean classics, Hotel Arena Prado is a great choice if you want a mid-range hotel with all the amenities you need.



Hotel Boutique Barra Alta


Hotel Boutique Barra Alta is an adults-only hotel, meaning it gets my vote right away.

It has modern décor that still manages to retain a rustic charm, huge balconies with views of the castle walls and the sea, and an on-site restaurant, Hotel Boutique Barra Alta is the perfect choice for a romantic weekend in Peniscola.



Mayor 17 Apartamento 2


If you'd prefer to stay in an apartment in Peniscola, this old town gem is perfect.

This cute and rustic little apartment has original stone walls and beams, a well-equipped kitchen and dining area and the benefit of being situated right in the centre of the quaint old town.



Visiting Peniscola, Spain | Final Thoughts


If I could sum up Peniscola in one word it would be 'delightful.'

This medieval town with its Templar castle, stretches of velvety golden sand, whitewashed buildings and abundance of great artisan shops and restaurants is the perfect getaway, whether you're looking for a romantic escape for you and your partner, or a place to detach from everything and enjoy some time alone.

That's it for now, but as always, if you have any questions, please leave the in the comments section below and I will get back to you!

Until next time,

XOXO


If you liked this article and would like to support my work, please click the button above to donate a couple of bucks and buy me a coffee. The ad revenue that I receive on this website is minimal, so support from my readers enables me to keep creating content that you (hopefully!) love to read.

Disclaimer: Travelling Jezebel uses affiliate links. If you make a purchase on a recommended site, I may make a small commission at no extra cost to you.