Medieval architecture, dramatic fortresses, labyrinthine streets – I'm a sucker for them all.

Give me a sleepy hilltop village over a fast-paced modern city any day of the week, seriously.

Ever since I moved to Spain, the village of Albarracin, with just over 1000 inhabitants, had been high on my list of day trips from Valencia that I knew I had to make.

Often cited as the 'prettiest village in Spain,' Albarracin, close to Teruel, is situated in rural southern Aragon, and when it comes to hidden gems in Spain, Albarracin is certainly up there.

Higgledy-piggledy pink-hued houses with overhanging wooden balconies line twisting narrow streets sloping upwards to medieval fortress walls, perched on a clifftop against a backdrop of deep gorges, ravines and forest.

Sounds magical, right?

That's because it is.

If you're interested in discovering Spain off the beaten path then you're in the right place.

Here's everything you need to know about visiting Albarracin, Spain's prettiest village.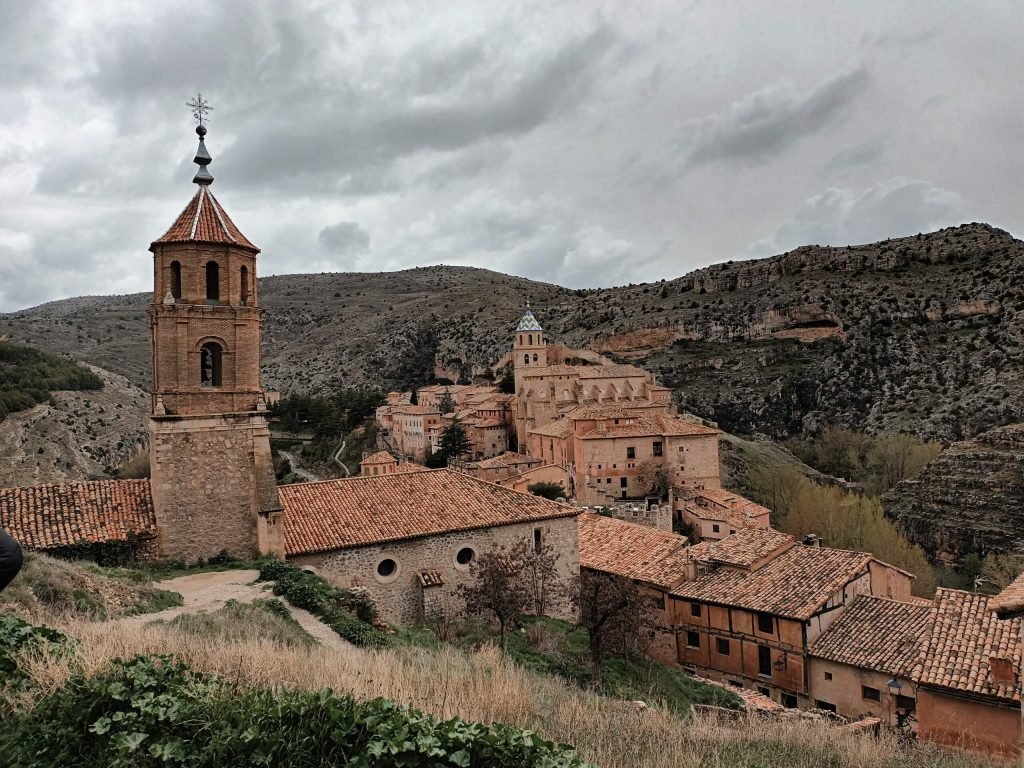 Visiting Albarracin, Spain – Spain's Prettiest Village


Albarracin in a nutshell


The tiny mountain village of Albarracin is in the province of Teruel, in the community of Aragon, inland Spain, and it was actually declared a National Monument in 1961!

It is about a 30 minute drive from the city of Teruel, and about two hours from both Zaragoza and Valencia.

Albarracin is the former capital of a Moorish kingdom, or taifa, and just like many other Spanish towns, the Islamic influence can definitely be felt in its architecture and winding streets. It was actually under Muslim rule for several hundred years, right up until the 12th century, when it was conquered by the King of Aragon and fell under Roman Catholic rule.

Fun fact – Arabs used to design their cities in a labyrinthine fashion to confuse intruders. This is why you'll get hopelessly lost in the medinas of Marrakech!

The village of Albarracin Spain is nestled inside a fortified enclosure which follows the cliff edge all the way up to the 10th century Torre del Andador and the Castillo de Albarracin.

It sits some 3878 feet above sea level, surrounded by the River Guadalaviar in the Sierra de Albarracin, and all the buildings are in various shades of pink.

This is due to the gypsum material that they are made out of, and Albarracin is so protected today that the houses must be kept this colour!



Things to do in Albarracin, Spain


If you're looking for an extensive list of things to tick off your 'must-do' list, you're about to be disappointed.

There aren't tonnes of things to do in Albarracin, which is actually part of its charm – Albarracin is a place you go to slow down, appreciate nature and escape from the chaos of day to day life.

With that said, there are a few things you shouldn't miss if you visit Albarracin.



Bouldering


This may come as a surprise, but Albarracin is actually Spain's most important area for climbing and bouldering!

Surrounded by red sandstone boulders and cliffs, there are definitely plenty of opportunities to get your adrenaline fix in Albarracin.



Admire the churches


Like most medieval towns in Europe, Albarracin is home to some stunning churches.

The El Salvador Cathedral (La Catedral del Salvador) was built in the 16th century and has a beautiful dome with a lantern-style design and multicoloured tiles that sparkle in the sun.

It is built on top of the old mosque and is the result of the remodelling that was carried out in the 16th century, blending Gothic, Renaissance and Baroque styles. There are even Roman archaeological remains embedded within it!

Unfortunately, if you want to see inside the cathedral, you must take part in a 45 minute guided tour in Spanish (4 EUR). At this time, the tour does not run in English.

The Church of Santiago, with its late Gothic style and simple façade, is another building of note in Albarracin. It also has a dome, only this one has orangey-pink tiles to match the rest of the village.



Museum of Albarracin


The Museum of Albarracin (Museo Albarracin) is located in an old hospital which was actually used as a district prison after the civil war.

It focuses on the medieval period and includes many remnants from the Moorish rule with ceramic, bones and coins from the Islamic period, as well as sandstone tombstones.

There are also artefacts from the Christian period.



Casa de la Julianeta


Whether you're an architecture geek or an Instagram queen, the Casa de la Julianeta is the place for you.

Casa de la Julianeta is the most photographed house in the entire province of Teruel, thanks to its unique and quirky design.

Located in the Portal de Molina, one of the entrances to the walled part of the town, the small plaster and wooden Casa de la Julianeta is famous for its bizarre design, with lots of irregularities and few vertical lines.

Very top-heavy, with rooms jutting out at unusual angles, the Casa de la Julianeta is the epitome of traditional architecture in Albarracin – you can't fail to notice the erratic structure of most of the houses in Albarracin's narrow streets!

Inside, the rooms are stacked on top of one another and connected by a complex system of stairways.

Unfortunately, members of the public are not allowed inside the Casa de la Julianeta because it serves as a functioning residence workshop for artists. There are two small studios with their respective workshops inside, and travelling artists can stay there while they work, taking inspiration from the house and its surroundings.



Plaza Mayor


Plaza Mayor is the main market square in Albarracin and it dates back all the way to the 11th century.

Here you will find the Town Hall and a couple of bars and cafes where you can enjoy an evening drink and watch the world go by.



Get lost


Regular readers of this blog will be rolling my eyes at the fact that I always recommend people just to wander around aimlessly when they travel, but seriously, it's one of the best things to do!

Although it's small, Albarracin is full of narrow streets that twist and turn, historic stone arches and uniform-pink facades which makes it super easy to feel disorientated!

When you're somewhere as beautiful as Albarracin though, that's not a bad thing.

You'll notice that most of the houses in Albarracin jut out at uneven angles and appear very top-heavy. This is because in days gone by, people were taxed according to how wide their homes were at ground level, so people simply built up and out!

As well as the curious structure of the houses, you'll see plenty of elaborate door knockers – see which the craziest one you can spot is!

You'll also find glorious vantage points, cute little courtyards and adorable cats enjoying the sun.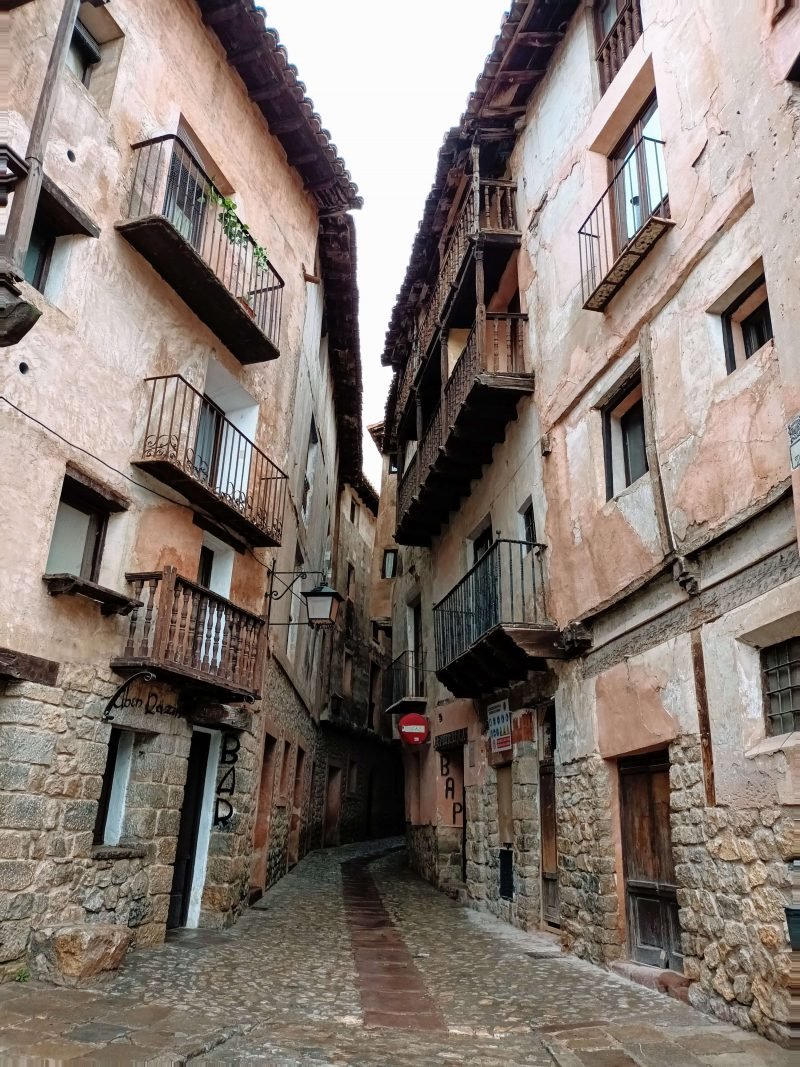 Feast on mountain food


Spanish food is delicious and Spanish mountain food is very different from the fried seafood and paella that you will find in coastal cities like Valencia.

Aragon is famous for having the best cheese in Spain, so be sure to order a ham and cheese plate to start.

Fresh sheep milk is used to make cheese in Albarracin, and with numerous awards backing it, La Cava de Mía is the most prestigious cheese in the town.



Also try migas, a traditional breakfast dish for shepherds across the Iberian peninsula, but common to order as a first course at any time of day!

Migas is made by crumbling stale bread, dampening it with water and letting it sit overnight. Additional ingredients vary based on where you are, but in Aragon, the day-old bread is then fried with heaps of garlic, bacon and chorizo and topped with grapes.

Lastly, you must try Ternasco Asado, an Aragonese roast lamb that is so tender and juicy it is a Spanish Denominación de Origen (protected regional variety).

Ternasco is often served with Chilindrón, a light sauce made with peeled red peppers, chorizo and garlic. The sauce adds a rich and indulgent flavour that compliments the delicate lamb perfectly.

We ate at Restaurante Alcazaba in Albarracin and I highly recommend it.

With a cosy cave-like interior in a traditional old house, local ingredients and all the best dishes from the region, you can't go wrong at Alcazaba.



Walk up to the fortress walls


Sitting high above the village are the Medieval Walls (Murallas de Albarracin) and the Andador Tower (Torre del Andador), which is the highest point in Albarracin.

This stone tower dates all the way back to the 10th century and was created as a defence for the Moorish town, with the walls added a century later.

It doesn't take long to climb up to the fortress walls (less than 10 minutes) and although the gravel track is a little steep, you will be rewarded with the best view of Albarracin, the River Guadalaviar and the dramatic backdrop of the Sierra de Albarracin region.

Alternatively, you can walk partway up like we did, avoiding the steep bit and still get to take in the views!



Discover the castle ruins


Although much of the artefacts discovered within the Castillo Musulmán De Albarracin are now housed in the Museo de Albarracin, it's definitely worthwhile to visit the 9th century castle ruins themselves to imagine what Albarracin must have looked like under Moorish rule.



To tour, or not to tour?


As someone who has been travelling around the world solo for the last 6 (!) years, I am a huge advocate for independent travel.

Albarracin is also a gorgeous place to stay for a romantic weekend with a partner (find the best accommodation in Albarracin here!).

With that said, there are several reasons why I recommend visiting Albarracin as part of a tour like I did, especially if you are only visiting for the day or if you are travelling alone.

Here's why.



Why I recommend visiting Albarracin as part of a tour:

Public transport to Albarracin is practically non-existent. If you are visiting Albarracin from Valencia, you'd need to take the 2.5 hour train to Teruel (around 20 EUR one way) and then take a taxi from Teruel to Albarracin, which will be around 40 EUR each way. Hiring a car and driving can also be expensive, especially with the rising costs of fuel. Visiting Albarracin on a tour eliminates these worries.
Visiting Albarracin on a tour is also easy. You don't need to worry about hailing a taxi, missing your train or getting lost in the twisting roads of Aragon.
As an English speaker, I really appreciated Daniel's wisdom (my tour guide) while he was showing our group of three around Albarracin. Most of the information in the museums and local guided tours is all in Spanish, and while you don't need to be bilingual to take in the gorgeous scenery, it's always better to learn a bit about the place you're visiting.
If you visit Albarracin on a tour like the one I did, you will also get to visit the nearby city of Teruel. There's no way that you would be able to visit both locations in if you did everything by yourself, and Daniel's itinerary allowed us to see everything that both places had to offer without feeling rushed.
I have experienced four tours with Valtournative over the last few years and can personally attest to their quality, value for money and the knowledge and professionalism of owner Daniel. From swimming in thermal springs to crawling through Moorish caves and seeing local wine being produced, every tour that I have done with Valtournative has exceeded my expectations and I've always come away with such a deep knowledge and appreciation of somewhere I'd never previously heard of.
It's no secret that the travel and tourism industry has suffered tremendously since the pandemic, and Daniel's company is a local one with only a handful of people running it. My first tour with Valtournative was way back in 2017 and they have kept every bit of their authenticity and if you want to support any small business in Valencia, this is a great one to choose.

Best time to visit Albarracin Spain


I always recommend that people travel in shoulder season, and I'm going to say the same here.

Although Albarracin remains relatively undiscovered by international tourists, domestic tourism thrives here and the summer months get incredibly busy.

Visiting in May, June or September means less crowds with great weather (although you will be in the mountains so bring a jacket just in case!).



Albarracin, Teruel | Final Thoughts


Albarracin is a quiet but charming village in the mountains of inland Spain.

It has stunning architecture, a fascinating history, ample opportunities for hiking and outdoor adventure sports, as well as a hearty cuisine that you can't fail to fall in love with.

I thoroughly enjoyed Albarracin, and I'm sure that you will too.

As always, if you have any questions, don't hesitate to ask me in the comments section below and I will get back to you!

Until next time,

XOXO


If you liked this article and would like to support my work, please click the button above to donate a couple of bucks and buy me a coffee. The ad revenue that I receive on this website is minimal, so support from my readers enables me to keep creating content that you (hopefully!) love to read.

Disclaimer: I went on this tour as a guest of Valtournative. All opinions are my own and I really recommend them as a company, regardless of our professional relationship.