Wyrysk was not a place I planned on visiting. Neither, for that matter were the Polish villages of Osiek nad Notecia, Górka Klasztorna and Runowo Krajenskie, but as is the nature of travelling, you meet a crazy Polish lady who offers to show you the real rural Poland, and the rest becomes history.



I met Ewa when I was teaching English in the village of Kwiejce. We hit it off right away, and so when I found myself back in Poland 3 months later, I decided to take her up on her offer to go and visit her in her hometown, Wyrysk (pronounced 'vi-jisk').

At around 8pm, I met Ewa at her nearest train station (which happened to be a 30-40 minute drive from her house). She hadn't been joking when she said that Wyrysk was in the middle of nowhere! When we arrived at her apartment, I was reminded just why I love Polish people so much – the amount of food they give you! Ewa doesn't cook (a woman after my own heart), but she presented me with a huge spread of chicken wings, different cheeses and cold meats, salad and crusty bread which I tucked into greedily, along with a couple of cold beers.

The next day, Ewa gave me a brief tour of Wyrysk (I say brief because it's such a small town, we'd seen everything in 30 minutes!), before driving me to the neighbouring village of Osiek nad Notecia to visit the Museum of Folk Culture.

The Museum of Folk Culture is an open-air ethnographic museum and farm which allows visitors to see what life would have been like in a small Polish village in nineteenth century Wielkopolska and Pomerania. Along with sheep, goats and chickens (which may have been my personal highlight), the mock village is full of traditional cottages, as well as a fire station, school, church, an old tavern and some beautiful old windmills. Our audio guides (available in a variety of languages) made the experience incredibly interesting as we learnt about what life was like for Polish villagers back in the olden days. I was surprised to learn that even when married, couples slept in separate beds, and that the local teacher would actually live in the school building.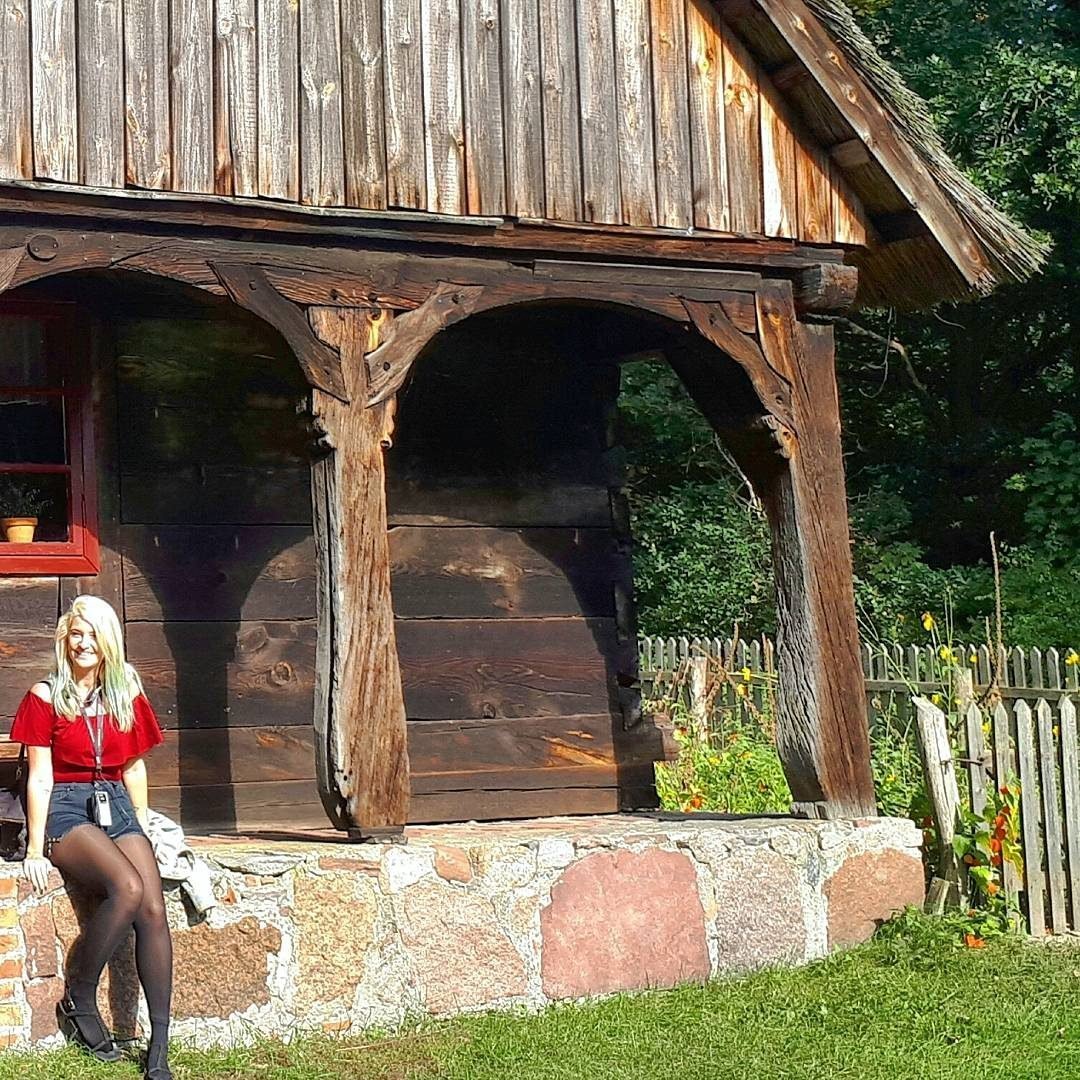 After we'd spent some time exploring the various buildings, we ate our packed lunches in the sun before heading to Krajna to visit the Sanctuary of the Virgin Mary.

Back when I was helping Ewa with her English, she had prepared a presentation that she performed in front of the class at the end of the programme. For her presentation, she had talked about the Sanctuary of the Virgin Mary and promised me that if I ever came to visit her, she would take me there, and so, on this sunny afternoon in late September, that is exactly what she did!

Legend has it that in the year 1079, the Virgin Mary appeared to a shepherd in the place where the sanctuary is located, and created a natural spring with water that contains miraculous healing properties. As a result, the Sanctuary of the Virgin Mary has become a place for pilgrims, and every year, thousands of people visit to pray and heal themselves with the holy water. However, when Ewa and I visited, the sanctuary was very quiet, and so we were able to take our time and enjoy a stroll through the small woodland area behind the forest without hordes of people disturbing the peace.



By this time we were hungry, and Ewa assured me that she had somewhere special in mind for dinner. She drove us both to the village of Runowo Krajeńskie – I was really getting acquainted with Polish villages by now! – where we went to the Pałac Runowo Hotel for some top notch grub.

I opted for some Polish food classics – a delicious steak tartare followed by beef cheeks – I think I was in a meat coma for about a week afterwards!



After Ewa had insisted on paying the bill, she drove us both back to her apartment in Wyrysk for some much appreciated beers and good conversation.

Unfortunately, this was my last night in rural Poland, and I left feeling sad to say goodbye, but thrilled to have had an amazing two days with an incredible woman, exploring a new and exciting place.

Many people who visit Poland never get further than Krakow, and while the larger Polish cities are indeed magical, Polish villages are really something special. While you definitely need a car (and a local!) to explore, I highly encourage anybody who has the opportunity to take the same route me and Ewa did and explore the villages of Wyrysk, Osiek nad Notecia, Górka Klasztorna and Runowo Krajenskie.


If you liked this article and would like to support my work, please click the button above to donate a couple of bucks and buy me a coffee. The ad revenue that I receive on this website is minimal, so support from my readers enables me to keep creating content that you (hopefully!) love to read.

Disclaimer: Travelling Jezebel uses affiliate links. If you make a purchase on a recommended site, I may make a small commission at no extra cost to you.