Last updated: 16/02/2022

Is Wroclaw worth visiting?

Despite Poland getting more and more tourists every year, few people choose to visit Wroclaw, capital of the the Lower Silesian Voivodeship in Poland.

Wroclaw just hasn't had the publicity that Krakow has had, and so, despite it being just as lovely (and perhaps even more lovely), it has remained relatively unknown to most foreigners.

However, after visiting Wroclaw dozens of times, I firmly believe that Wroclaw is one of the best cities to visit in Poland.

With great food, stunning architecture, lots of things to do and a vibrant nightlife, it's safe to say that Wroclaw is definitely worth visiting, and so I thought I would put this list together to convince you that you should definitely visit Wroclaw!

So, make yourself a drink and get comfy because as always, it's going to be a long one!



Is Wroclaw Worth Visiting? 14 Reasons Why You Should Visit Wroclaw, Poland


Things You Should Know Before You Visit Wroclaw


Wroclaw is pronounced 'vrotz-waf.' (I know – it took me a while too!)

The currency in Poland is the Polish złoty and at the time of writing, 1 złoty is the equivalent of €0.23.

If you're planning a trip to Wroclaw, then I strongly recommend buying travel insurance. Wroclaw is a safe city but you never know what might happen, and you don't want to be landed with huge medical bills if something goes wrong. My recommendation for great travel insurance is World Nomads.

Wroclaw is the capital of the Lower Silesia region of Poland and often ranks among the most liveable cities in Europe.

Although most young people speak English, older people may not necessarily understand you if you speak to them in English. It is worthwhile learning a couple of basic Polish phrases if you plan to visit Wroclaw.

Poland is a Central European country, not Eastern. Be careful referring to Poland as 'Eastern European' when you are there as some people find it irritating.

Is Wroclaw safe? Absolutely, even for solo travellers and single women. I walked home alone at night MANY TIMES in Wroclaw without a problem. In Wroclaw, and the rest of Poland for that matter, people are much more likely to try and help you than to hurt you.

Shops are closed on Sundays (apart from the final Sunday of the month).

Drinking on the streets is illegal and you will be fined if caught.

Jaywalking in Poland is illegal. You must use the proper crossings and wait until the green man appears. You will never see a local jaywalking.

The centre of Wroclaw is extremely walkable and taking taxis or public transport is not necessary. However, the tram system in Wroclaw is cheap and efficient if you choose to use that, and taxi apps like Uber and Taxify, are very common and very affordable.

Strip clubs in Poland are notorious for scamming tourists. While this scam is definitely more prevalent in Krakow, other Polish cities are not immune to dodgy practices at strip clubs.



How to Get to Wroclaw


If you are going to be travelling throughout Poland, renting a car is a great option. I recommend using Qeeq for all your car rental needs.


You can book an airport transfer from the airport in Wroclaw, directly to your front door. I recommend using i'way.

Another way to get to Wroclaw is by bus. My go-to bus travel in Europe is always FlixBus. Flixbus is the most extensive bus network worldwide and all Flix buses have Wi-Fi, extra legroom, charging ports and the ability to modify your booking just 15 minutes before departure! Click here to book your Flixbus to Wroclaw.

Another way I used to travel around Poland was with Blablacar. Blablacar is a rideshare app where you can split the cost of fuel with somebody who is already planning on driving to your destination and it is incredibly popular in Poland.



Is Wroclaw Worth Visiting? 14 Reasons to Visit Wroclaw


1. The student vibes


Wroclaw is a lively student hub, with 9 universities and academies and a student population of over 130,000, making it one of the most youthful cities in the Poland.

This makes Wroclaw a great city break, not only because Wroclaw nightlife is really fun as a result of all the students, but also because student cities always have an abundance of wallet-friendly food and drink options (more on that later)!

No matter what night of the week is it in Wroclaw, the bars, clubs and restaurants are always full, and it really makes the city feel alive.



2. Wroclaw Market Square (Rynek we Wrocławiu)


The Old Market Square (Rynek we Wrocławiu), is not only one of the largest in Poland, but in the whole of Europe as well, making it one of the best things to see in Wroclaw by a mile.

Not only is it huge, but in my opinion, the Old Market Square in Wrocław is the prettiest in all of Poland (even prettier than the market square in Krakow!), with its pastel-coloured buildings and stunning architecture.

One of the most striking buildings in the Market Square is the Old Town Hall, a group of Gothic buildings all connected in one complex.

On the East side, there is an astronomical clock dating back to 1580, and a free museum inside that has lots of information about not only the building itself, but also the history of Wroclaw. The basement, a former German beer cellar, is now home to Piwnica Świdnicka, one of Europe's oldest restaurants.

You also shouldn't miss St. Elisabeth's Church (Bazylika Św. Elżbiety), another Gothic structure that dates back to the 14th and 15th centuries. For 6 PLN, you can climb to the top of the tower to enjoy the views but prepare for a climb – there are 300 steps to the top!

Also in Rynek we Wrocławiu are an abundance of bars, restaurants and coffee shops, making it a wonderful place to while away an afternoon and definitely a reason to visit Wroclaw.



3. Wroclaw Old Town


Wroclaw Old Town is one of the prettiest old towns in Poland and taking your time to stroll around it is one of the simplest yet best things to do in Wroclaw.

Cobbled streets off the Old Market Square lead to a pretty flower market, The Shambles.

The Shambles used to be a street full of butcheries but it is now home to some cutesy animal statues dedicated to the animals that were slaughtered for the butchers on this street, and dozens of coffee shops, candlelit bars and restaurants, with a stunning mix of Medieval Gothic and Baroque architecture.



4. Wroclaw Nightlife


With an abundance of craft beer houses, cocktail bars, German beer halls, shot bars and jazz cubs, you will never be short of places to drink in Wroclaw.

My favourite place to drink is Pasaz Niepolda.

This semi-hidden courtyard is home to almost a dozen watering holes and is where you can find Wroclaw's hedonistic youth.

If you like rock music, be sure to check out Niebo, a live music venue with rock and roll vibes, rickety wooden tables and candles, and if you're feeling in the mood for a dance, head to Mundo 71 Music Club, which is mainstream and tacky but always fun.

Another great thing about Wroclaw nightlife is that all the bars are super close to one another, meaning that the best way to have a good night is to just stroll around the Old Town and check out wherever takes your fancy!



5. Wroclaw Restaurants


People are always surprised when I say that Poland is a great destination for foodies.

Not only is traditional Polish food unbelievable, but the variety of cuisines on offer in larger Polish cities is staggering.

Restaurants in Wroclaw are not only fabulous, but plentiful too, and I could honestly just spend weeks eating my way around this city.

There are a tonne of vegan restaurants in Wroclaw (don't miss Vega in the main square), as well as Indian, Thai, Mexican and more.

For huge platefuls of hearty traditional Polish grub and a trip back in time to communism, head to Konspira, and if you want to try the best hot chocolate of your life then get yourself down to Czekoladziarnia – you may not be able to pronounce it but I guarantee that the chocolate will more than make up for the name.

I enjoyed a white hot chocolate with whipped cream and raspberry syrup but you can have everything from mint to chili hot chocolate!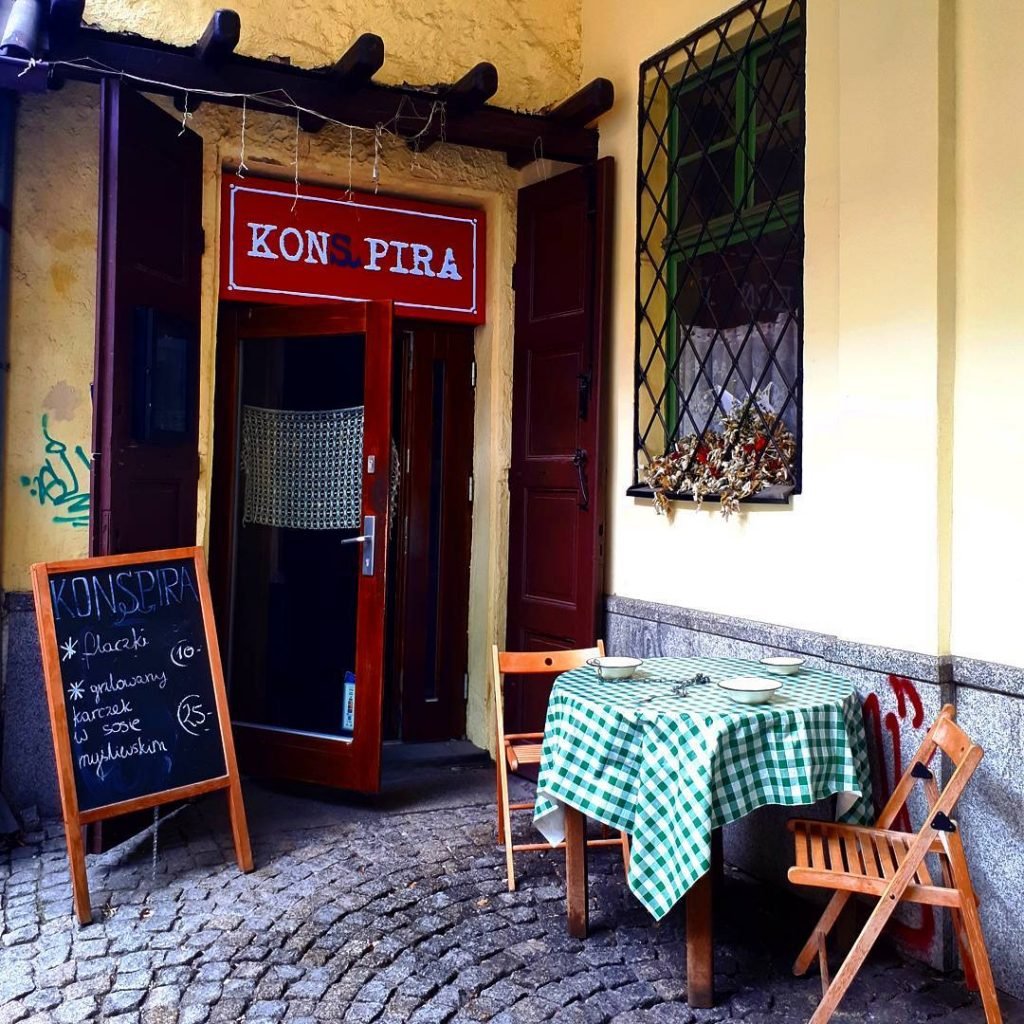 6. The Dwarfs!


One of Wroclaw's most interesting quirks are its dwarfs! As of 2015, there were more than 350 of these little dwarfs dotted around the city, but the truth is that nobody actually knows how many there are for sure!

The dwarfs first graced Wroclaw's streets back in 2001 to commemorate a Polish anti-communism movement (dwarfs were the movement's symbol).

Since then, they have been popping up everywhere, and you can even go to The Dwarfs' Museum and pick up a map which tells you where you can find some of the dwarfs, or attend the Dwarfs Festival in September!

Perhaps the most precious thing about the dwarfs of Wroclaw is that in the wintertime, people dress them in tiny knitted hats and scarves to protect them against the cold – knowing this, how could you not want to visit Wroclaw?!



7 . The Shopping


Polish people LOVE to shop and there are a whopping 15 shopping malls in Wroclaw!

In fact, if you arrive in Wroclaw by bus then you literally have to leave via a shiny new shopping mall.

Malls are so popular in Poland that they actually have huge opening parties that thousands of people attend!

One shopping mall that you don't want to skip if you visit Wroclaw is the Sky Tower, which is the tallest building in Wroclaw and has an observation deck that you can get a great view of the city from.



8. It's not too touristy


I've said it before and I'll say it again – overtourism is a huge problem, and one of the ways that we can help to combat it and take the strain off popular European cities, is by visiting those lesser-known places that are just as wonderful and not half as crowded.

Not only that, but there is something very special about visiting a place and being able to get a real feel for the country that you're in.

Even though it has a population of over half a million, Wroclaw has been almost untouched by tourism, and you will definitely be able to experience the 'real Poland' when you visit, with barely a tour group in sight.



9. Wroclaw Christmas Market


The Wroclaw Christmas Market is the best in Poland (trust me, I've been to a lot!) and has even been named as one of the best Christmas Markets in Europe!

While the markets in Krakow and Warsaw are relatively small, the Wroclaw Christmas Market is huge and it make the city so magical!

Not only can you try amazing foods from around the world, but there are so many cosy cabins to sit in and drink special Wroclaw mulled wine, eat sweet pierogi with cream and enjoy the festive cheer.

Another cute quirk that can be found in the Wroclaw Christmas Market are large glass boxes with dolls inside that act out popular fairy tales, from Hansel and Gretel (Jaś i Małgosia in Polish) to Sleeping Beauty!

The displays are super intricate and it's really fun to stand and watch the dolls move around to the music being played.



10. Wroclaw is super easy to get to


You can fly directly to Wroclaw from many major airports in the UK and it's always super cheap.

I've travelled there for less than £20 on more than one occasion!

Not only that but Wroclaw is super accessible from a tonne of other European cities, from Krakow and Prague to Berlin.



11. Cathedral Island


Ostrow Tumski, or 'Cathedral Island' is the oldest part of the city and is home to the most striking buildings in Wroclaw.

Not only is this little island home to the Cathedral of St. John the Baptist (you can pay a small fee to go up to the observation deck, which I highly recommend, although prepare for it to be very windy!), but there are also three more churches, two monasteries and a small palace here.

Cathedral Island definitely a nice place to enjoy a quiet stroll if you visit Wroclaw.



12. Racławice Panorama


Racławice Panorama is one of the most famous things to see in Wroclaw, and is a 114m panoramic painting that depicts the Battle of Racławice during the Kościuszko uprising.

The entrance price of 30 PLN includes a 30 minute audio guide which explains not only the battle scenes that the painting depicts, but also the history behind the painting itself.

Even if you're not particularly big on history, the panorama itself is a sight to behold, with not only an incredible attention to detail, but also a 3D effect that almost makes you feel as if you're on the battle scene yourself!



13. Wroclaw is affordable


I am a budget traveller through and through, and so one of my biggest concerns before I visit any city is how affordable it is.

Wroclaw, like all of Poland, is super affordable, with hostel beds costing as little as 5 EUR, a pint of beer costing 1-2 EUR, and restaurant meals starting at just 3 EUR (for simpler dishes such as pierogi or soup).


14. Grampa's Hostel


Every time that I've visited Wroclaw, I've stayed in Grampa's Hostel, sometimes for up to two weeks at a time, and I absolutely love it.

The beds are cheap, the staff are friendly and the location is great. However, what really makes Grampa's Hostel special is both the lovely social atmosphere and the wonderful common area.

As Wroclaw is not very touristy, some of the other hostels in Wroclaw tend to be very quiet and not geared towards backpackers.

However, the volunteers at Grampa's Hostel organise regular events to encourage everybody to socialise, from movie nights with hot chocolate, to pub crawls, to sangria parties.

I was there for Thanksgiving, and the staff made a huge Thanksgiving dinner (complete with wine!) for us to enjoy, totally free of charge!

The amenities in this hostel are also great.

As well as having a fully stocked and modern kitchen, the common area not only has a huge TV with a PlayStation, Netflix and YouTube, but a tonne of books, card games and board games, with something to suit just about everyone!

A traditional Polish breakfast is also included in the price of your stay at Grampa's.



Is Wroclaw Worth Visiting? Final Thoughts


It's no secret that I adore visiting Wroclaw, and if you're still wondering 'is Wroclaw worth visiting?' then let me end with this:

Wroclaw is affordable. It has a tonne of things to see and do. The food is amazing. Wroclaw nightlife is amazing. The tourist infrastructure is great, and most people speak English. You can also visit Wroclaw easily from pretty much anywhere in Europe.

Does that answer your question? 😉

So, that's about it for now, but if you have any questions at all about visiting Wroclaw then please don't hesitate to ask me in the comments below and I shall do my best to help!

Until next time,

XOXO


If you liked this article and would like to support my work, please click the button above to donate a couple of bucks and buy me a coffee. The ad revenue that I receive on this website is minimal, so support from my readers enables me to keep creating content that you (hopefully!) love to read.
Disclaimer: Travelling Jezebel uses affiliate links. This means that if you make a purchase on a site that I recommend then I may make a small commission at no extra cost to you.