About 18 months ago, I wrote about my first trip to Wrocław, Poland (pronounced vrotz-waf). I only spent two nights there, so I didn't really have a chance to get to know the city, but over the last year and a half, I've returned to Wrocław more times than I can count and I feel like I know this charming city in Western Poland like the back of my hand.

Despite having a population of well over half a million, Wrocław has been relatively untouched by tourism in comparison to other Polish cities such as Warsaw and Kraków, and I think that if you miss out on the magic of Wrocław during your time in Poland then you're doing yourself a real disservice!

10 Reasons to Visit Wrocław – Poland's Undiscovered Beauty


1. The student vibes
Wrocław is a lively student hub, with 9 universities and academies and a student population of over 130,000, making it one of the most youthful cities in the country. I love student cities because students bring a really great atmosphere to a place and student cities always have an abundance of wallet-friendly food options (more on that later) and great nightlife. No matter what night of the week is it in Wrocław, the bars, clubs and restaurants are always full, and it really makes the city feel alive.
2. The beauty of the old town
In my opinion, the Old Market Square in Wrocław (Rynek we Wrocławiu) is the prettiest in all of Poland. Home to the largest two city halls in Poland and the stunning St. Elisabeth's Church (Bazylika Św. Elżbiety), the Old Market Square is one of the largest in Europe, and its lovely pastel-coloured buildings are truly magical.

Cobbled streets off the Old Market Square lead to a pretty flower market, the Shambles (which used to be a street full of butcheries but is now home to some cutesy animal statues dedicated to the animals that were slaughtered for the butchers on this street), and dozens of coffee shops, candlelit bars and restaurants, with a stunning mix of Medieval Gothic and Baroque architecture.

The beauty of Wrocław's Old Town and Market Square is undeniable, and I honestly feel that it beats Kraków in terms of prettiness (not an easy feat).
3. The nightlife
As I mentioned earlier, Wrocław is a real student city and wherever there are students, there are parties! With an abundance of craft beer houses, cocktail bars, techno clubs, shot bars and jazz cubs, you will never be short of places to go in Wrocław.

My favourite place to drink is Pasaz Niepolda. This semi-hidden courtyard is home to almost a dozen watering holes and is where you can find Wrocław's hedonistic youth. My favourite bar here is Niebo, a live music venue with rock and roll vibes, rickety wooden tables and candles, and if I'm feeling in the mood for a dance then I'll head to Mundo 71 Music Club, which is mainstream and tacky but always fun.

Another great thing about Wrocław's nightlife is that all the bars are super close to one another, meaning that the best way to have a good night is to just stroll around the Old Town and check out wherever takes your fancy!
4. The FOOD
Wrocław is an absolute foodie paradise and I could honestly just spend weeks eating my way around this city. There are a tonne of vegan restaurants (don't miss Vega in the main square), as well as Indian, Thai, Mexican and more.

For huge platefuls of hearty traditional Polish grub and a trip back in time to communism, head to Konspira, and if you want to try the best hot chocolate of your life then get yourself down to Czekoladziarnia – you may not be able to pronounce it but I guarantee that the chocolate will more than make up for the name. I enjoyed a white hot chocolate with whipped cream and raspberry syrup but you can have everything from mint to chili!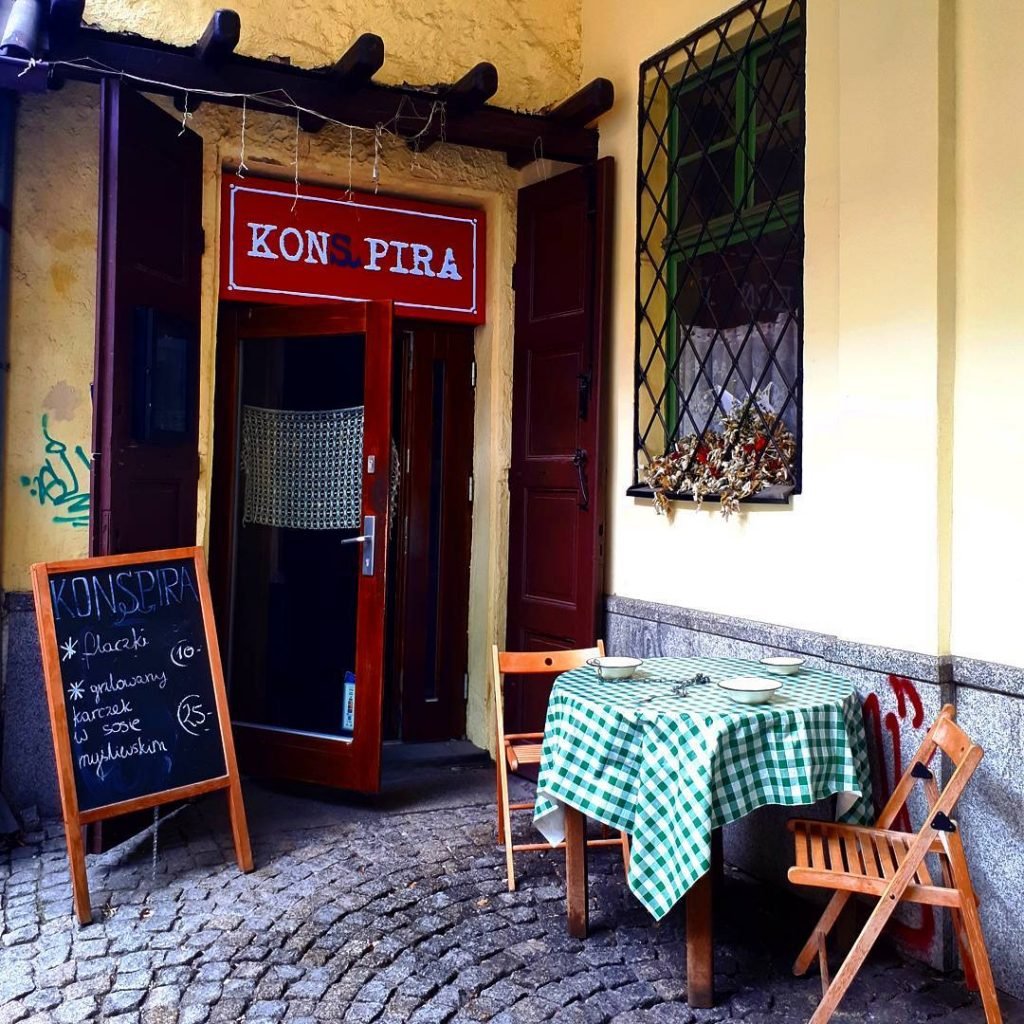 5. The dwarfs!
One of Wrocław's most interesting quirks are its dwarfs! As of 2015, there were more than 350 of these little dwarfs dotted around the city, but the truth is that nobody actually knows how many there are for sure!

The dwarfs first graced Wrocław's streets back in 2001 to commemorate a Polish anti-communism movement (dwarfs were the movement's symbol). Since then, they have been popping up everywhere, and you can even go to The Dwarfs' Museum and pick up a map which tells you where you can find some of the dwarfs, or attend the Dwarfs Festival in September!

Perhaps the most precious thing about the dwarfs of Wrocław is that in the wintertime, people dress them in tiny knitted hats and scarves to protect them against the cold – knowing this, how could you not want to visit this city?!

I actually wrote a full article about the backstory of these little guys, so after you've finished reading this article you should check that one out as well – just click here!
6. The shopping
Polish people LOVE to shop and there are a whopping 15 shopping malls in Wrocław! In fact, if you arrive in Wrocław by bus then you literally have to leave via a shiny new shopping mall. In fact, malls are so popular in Poland that they actually have huge opening parties that thousands of people attend! One shopping mall that you don't want to skip is the Sky Tower, which is the tallest building in Wrocław and has an observation deck that you can get a great view of the city from.

I'm not a huge shopping lover myself (and I don't really go to shopping malls when I'm travelling unless I need something specific), but I know that a lot of people do and if shopping malls are your thing then you don't want to miss a trip to Wrocław!
7. It's not too touristy
I'm not one of those stuck-up bloggers that refuses to go to popular tourist destinations. Kraków is my favourite city in the world, and I wrote an entire article defending people's decisions to visit Koh Phi Phi in Thailand. I firmly believe that if a place is super popular, then there's usually a reason for that, and I won't knock anybody for visiting more typical tourist destinations.

That said, there is something very special about visiting a place and being able to get a real feel for the country that you're in. Wrocław is a working Polish city and you will definitely be able to experience the 'real Poland' when you visit. What's more, the streets are much less crowded than cities such as Kraków, and so you can take your time and enjoy everything properly rather than feeling rushed and hassled by huge crowds of tourists all clamouring for the same pictures.
8. Wrocław Christmas Markets
The Christmas Markets in Wrocław are the best in Poland (trust me, I've been to a lot!) and have been named as one of the best Christmas Markets in Europe! While the markets in Krakow and Warsaw are relatively small, the Christmas Markets in Wrocław are huge and they make the city so magical! Not only can you try amazing foods from around the world, but there are so many cosy cabins to sit in and drink special Wrocław mulled wine and eat sweet pierogi!

Another cute quirk that can be found in the Wrocław Christmas Markets are large glass boxes with dolls inside that act out popular fairytales, from Hansel and Gretel (Jaś i Małgosia in Polish!) to Sleeping Beauty! The displays are super intricate and it's really fun to stand and watch the dolls move around to the music being played.
9. Wrocław is super easy to get to
You can fly directly to Wrocław from many major airports in the UK (I fly from Manchester) and it's always super cheap. I've travelled there for less than £20 on more than one occasion! Not only that but Wrocław is super accessible from a tonne of other cities. Public transport in Poland is excellent, and Wrocław is also close to Berlin and Prague, with direct connections running daily.
10. Cathedral Island
Ostrow Tumski, or 'Cathedral Island' is the oldest part of the city and is home to the most striking buildings in Wrocław. Not only is this little island home to the Cathedral of St. John the Baptist (you can pay a small fee to go up to the observation deck, which I highly recommend), but there are also three more churches and two monasteries and a small palace here, and it's definitely a nice place to enjoy a quiet stroll.
So, there concludes my list of 10 reasons to visit Wrocław! Have you ever been to Wrocław? What did you think? Please let me know your thoughts in the comments section!