Although I've been living in Valencia since June, I haven't actually written about it that much on this blog.

In fact, the posts that I have written are about the Valencia region rather than the city itself, making a post about Valencia's Old Town long overdue.

How serendipitous it was then, when Suzie, a tour guide from Tours In Valencia asked me if I wanted to try out a 'Valencia city game' that she had designed for Secret City Trails.

The game is an online game that you can play directly from your phone, and it is designed to reinvent the way that we explore and enjoy cities.

Having lived in Valencia for 4 months, I was excited to discover 'my' city in a new way, and hopefully find even more to love about this place that I call home.

So, if you're visiting Valencia and want to explore Valencia Old Town in a new and interesting way, read on for my review of my Secret City Trails Discovery Walk Valencia.



Discovering Valencia Old Town With Secret City Trails


Who are Secret City Trails and what the hell is a discovery walk?!


If you're scratching your head and wondering what the hell a 'discovery walk' is, worry not – I was exactly the same.

The best way that I can describe a Secret City Trails discovery walk is that it is a kind of treasure hunt across the city.

You begin the game with a riddle, and the answer to the riddle is the next location that you will go to, and so on.

You can also think of a discovery walk as an 'outdoor escape room,' with a series of puzzles to solve that take you on an exciting walk through the city rather than being stuck in one room.

Secret City Trails have discovery walks in 55 cities across Europe, and they work with local 'creators' who design each tour.

These creators may be tour guides, expats, puzzle-addicts or bloggers, but one thing they all have in common is that they are experts on their chosen city, and eager to share their knowledge.

Once you sign up to a discovery walk, you will receive an email with a link inside containing your game.

When you're ready to play, you simply click the link and follow the instructions!



Our Discovery Walk through Valencia Old Town


The Secret City Trails games are designed to be played in groups of 2-5, and although I'd invited a bunch of friends to join me, our antics the previous night resulted in everybody being too hungover when the time came around (!), and so it ended up being just myself and my boyfriend, Ethan, playing.

At first, we felt as though living in Valencia would give us a real advantage against previous teams, and a couple of riddles were definitely made easier thanks to our time in the city.

For example, one of the riddles involved knowing which country a local bar was named after – for a Valencia newbie, this wouldn't have been so easy, but when I saw which plaza we were heading to, I knew the answer right away (and no, it wasn't an obvious answer like one of Valencia's popular sports bars).

With that said, the discovery walk itself is comprised of 13 riddles, and most of them were about such specific things (for example, how many angels are holding up a specific sign) that living in Valencia Old Town wasn't that much help at all!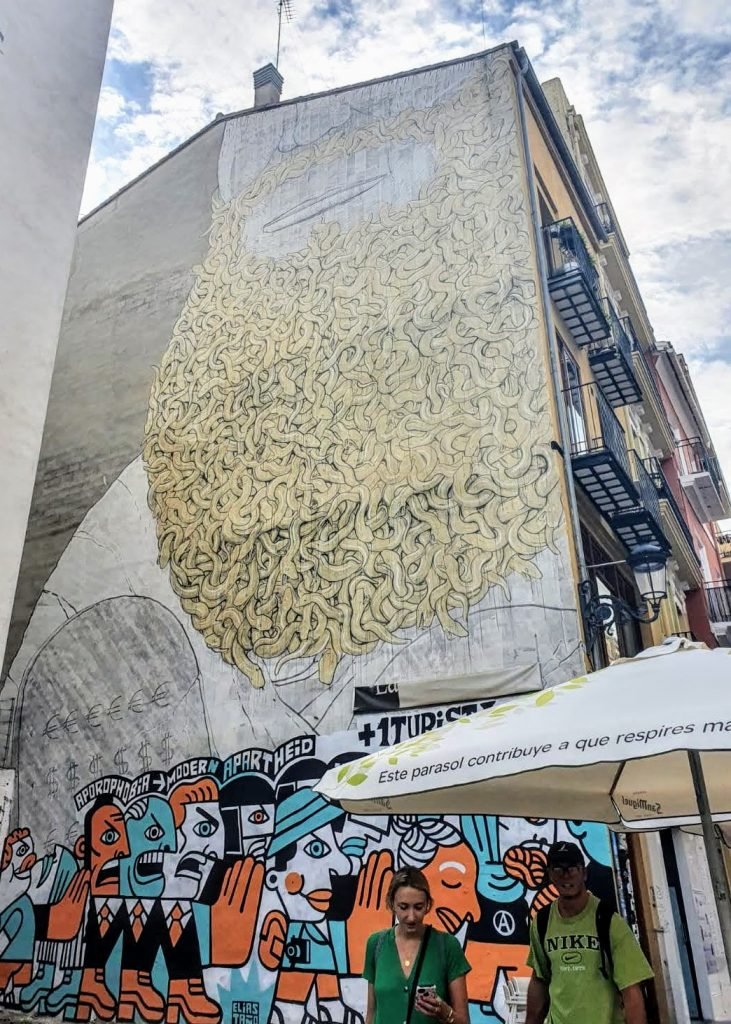 Our time began in front of the cathedral on Plaza de la Reina, where we were given our first riddle.

Each riddle that you answer correctly unlocks a 'story,' which might be a fun fact about something nearby, a restaurant recommendation, or an interesting legend about the city.

After reading the story, you are given the next riddle, which will take you to another location in Valencia Old Town

This is great for 2 reasons – not only it is super fun to play detective and solve the riddles, but you end up seeing most of the main sights in Valencia's Old Town as you play, including one of the biggest food markets in Europe, Valencia's historic Silk Exchange, some interesting street art and even a house made just for cats!

Now, you have a choice about how you play the game – if you prefer, you can linger at each of the stops, taking pictures, venturing inside old churches etc.

However, I recommend sticking a pin on your Google Maps for things you want to come back to later, because with Secret City Trails, the clock is ticking!



A Race against time


As soon as you press 'play,' your adventures through Valencia are timed automatically.

With the exception of a cocktail break halfway through (you should definitely go for an Agua de Valencia) when the clock stops ticking, every second is precious, and the longer you spend arguing about the correct answers, taking selfies in front of cool monuments and getting distracted by pretty souvenir shops, the further down the leader board you will be at the end!

There are also 'penalties' involved – for example, you can request a 'hint' for each riddle, but this will add 10 minutes of 'penalty time' to your final score.

If you like, you can choose skip a riddle entirely, but this will add 20 minutes onto your final completion time!

If you're competitive like me and Ethan, this race against the clock will definitely up the ante – we spent so much time yelling at each other ('hurry UP you moron, it's this way!') that we definitely got a few strange looks from passers by!

It was all in good fun though, and whenever we weren't pulling our hair out, we were laughing hysterically.

Our final completion time was 2 hours and 1 minute, putting us at number 11 on the leader board.

This is infuriating for a couple of reasons – at one point I clicked on a 'hint' that I shouldn't have, adding 10 minutes of penalty time on, and there were a few times when we forgot we were on a timer and went to buy fizzy drinks, or take selfies.

There was also a disastrous point towards the end where we totally dropped the ball and spent a good 30 minutes on the same riddle – I truly believe we could have hit the #1 spot if it wasn't for the non-existent 'girls on the bridge' (I stand by the fact that said bridge does not exist).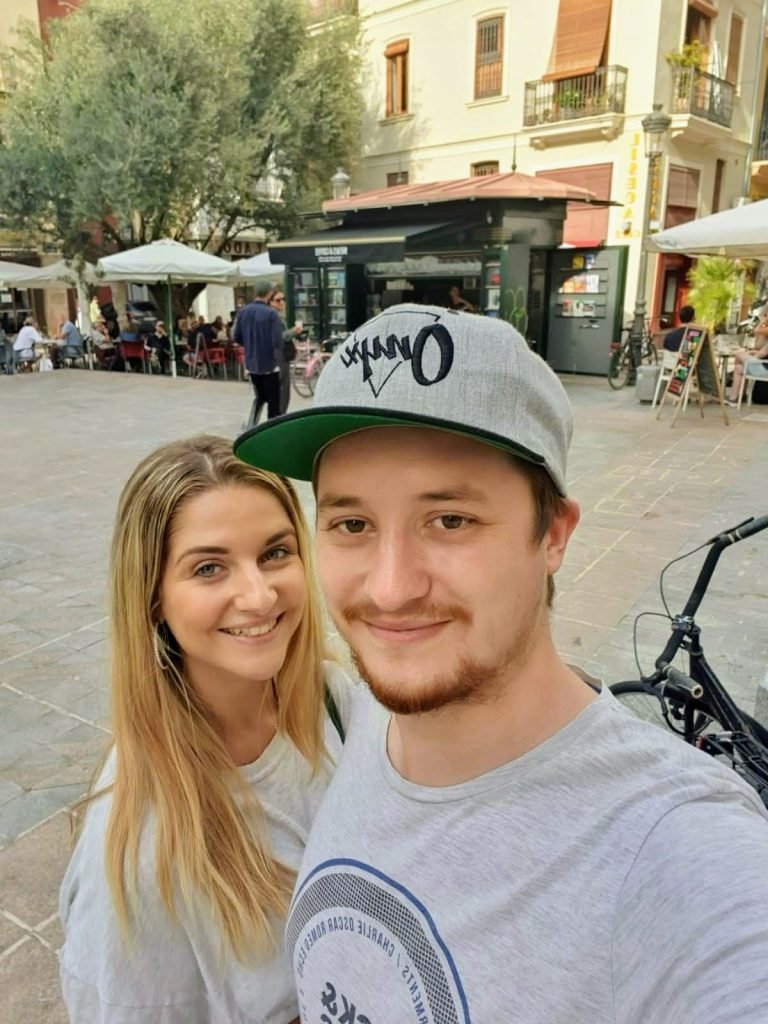 Secret City Trails | Final Thoughts


Both Ethan and I thoroughly enjoyed discovering Valencia Old Town with the Secret City Trails discovery walk.

Despite being super familiar with the city, we still felt as though we were discovering something new and learning a lot, and it was fun to experience Valencia through the eyes of a tourist, with the game feeling like a treasure hunt for grown-ups!

I can also personally vouch that the recommendations for drinks and tapas that Suzie includes on the game are top notch, helping you avoid overpriced tourist bars and showing you where the locals like to hang out.

All in all, I recommend the Secret City Trails Discovery Walk Valencia if you're looking for something to do. The game is available in English, Spanish and Dutch, and it costs 26 EUR.

You can book your discovery walk here, or if you're interested in other Valencia tours offered by Suzie, then you can check out her website, Tours In Valencia.

I played this game for free in exchange for a review. All opinions are completely my own, and I would never recommend something to my readers that I would not pay for myself. In this case, I think that the game is a little expensive if there are just 2 of you playing, but if you were splitting the cost 4 or 5 ways, I think that 26 EUR is a fair price.

If you have any questions about my experience then please don't hesitate to reach out and ask me in the comments below!

Until next time,

XOXO


If you liked this article and would like to support my work, please click the button above to donate a couple of bucks and buy me a coffee. The ad revenue that I receive on this website is minimal, so support from my readers enables me to keep creating content that you (hopefully!) love to read.