As soon as I arrived in Kotor, Montenegro, I knew I was in trouble. It was the first stop on a 4 month trip to the Balkans, and I'd been determined not to do what I always do and 'get stuck.' My one week trip to Koh Rong turned into twelve months, and my three week trip to Poland turned out exactly the same.

However, as soon as I entered the walled Old Town and saw the beautiful narrow streets with mysterious cobble stoned alleyways, staircases leading to nowhere and hundreds of friendly cats (refraining from using the word 'stray' as Kotor's cats truly belong to the town of Kotor and are looked after and cherished by the residents), I knew that I'd find it hard to leave.

In Kotor Old Town, violinists and painters set up shop on the street and get to work on making Kotor even more beautiful than it already is. Restaurants selling fresh seafood and hearty Balkan cuisine sit alongside tiny shops selling handmade jewellery, Turkish silk rugs and bottles of local fruit brandy, and the mountains surrounding the ancient town make Kotor a truly picture perfect destination.

As I settled into life in Kotor, securing a volunteer position at my hostel in exchange for free food and accommodation, I found that what I most liked about Kotor, as well as its obvious beauty, was the slow pace of life there. Locals in Kotor rise late and meander to their favourite bar to enjoy an espresso and watch the world go by, maybe stopping at the bakery for a tasty burek on the way. Life in Kotor is simple.

With that being said, if the slow-paced lifestyle of a small Balkan town doesn't immediately appeal to you, don't be so ready to dismiss Kotor. There is something in Kotor for everyone, and even the rowdiest Australian backpacker will find themselves falling in love with Kotor (trust me, I've seen it happen enough times!).

To find out why I love Kotor so much and what there is to do there as a backpacker, just carry on reading!

A Backpacker's Guide to Kotor, Montenegro


Getting to Kotor
Getting to Kotor is easy. The closest airport is Tivat, which is just a 15 minute drive from Kotor. I asked my hostel to book me a taxi from the airport to Kotor in advance for 10 euros (half the price of an airport taxi).

If you're coming by bus, you can come from almost anywhere including Uncinj (MN), Podgorica (MN), Skoder (AL), Tirana (AL), Mostar (BIH) and more. The Old Town of Kotor is a 10 minute walk from the bus stop.

Things to Do in Kotor, Montenegro


1. Hike up to Kotor Fortress
If you've ever seen a photograph of Kotor before, chances are it's been taken from that viewpoint up at Kotor Fortress. If there's one thing that everybody does in Kotor, it is to hike up to the fortress and take in the breathtaking views of Boka Bay, or the Bay of Kotor.

The 'official' way to go is up a steep staircase of more than 1500 steps, which costs 8 euros*. However, there is also a lesser known route that you can take which is actually free and far lovelier.

To take this route, exit the Old Town via the North Gate and turn right after crossing the bridge. Head towards the mountain and you will see a track criss-crossing its way up the mountain and towards the fortress – just head right on up there, and eventually you will come to an abandoned church. Turn right at the church and follow the path (the walls of the fortress will be on your right hand side). After a few minutes, you'll have to climb through a hole in the wall (I know this sounds terribly dodgy and dangerous but I promise you it isn't! I'm the biggest wimp, and I managed it!), and from there, you just follow the crowds up the steps to the fortress!

Once you're there, just take in the views and relax! It's very common to take a few beers up to Kotor Fortress and just hang (in the summer months, there's actually a man who sells cans of beer and soft drinks, but it's three times more expensive than if you just buy your own from a store in the Old Town)! Kotor Fortress is really fun to walk around, and it's almost untouched (not having had a makeover as so many others have) so it's super cool to explore. There's also a couple of cute fortress kitties that live there who are really friendly!

Once you're done, feel free to head back down via the stairs – you won't be checked for a ticket so don't freak out when you see the turnstile!

Pro Tip #1 – right where the abandoned church is on the way up, you can turn left and go and visit the old man who lives up the mountain and makes his own cheese and rakija for thirsty explorers. Sit and have a chat with him, sample some of his goods and enjoy the authentic Balkan experience while helping a local man feed his family!

Pro Tip #2 – legend has it that the best time to hike up to Kotor Fortress is before sunrise, as it is free to climb the stairs before around 7am and the sunrise is supposed to be beautiful. I can't personally vouch for that, as the only time I see sunrise is when I'm still up drinking, but many people have told me it's worth it.

*prices correct as of November 2018.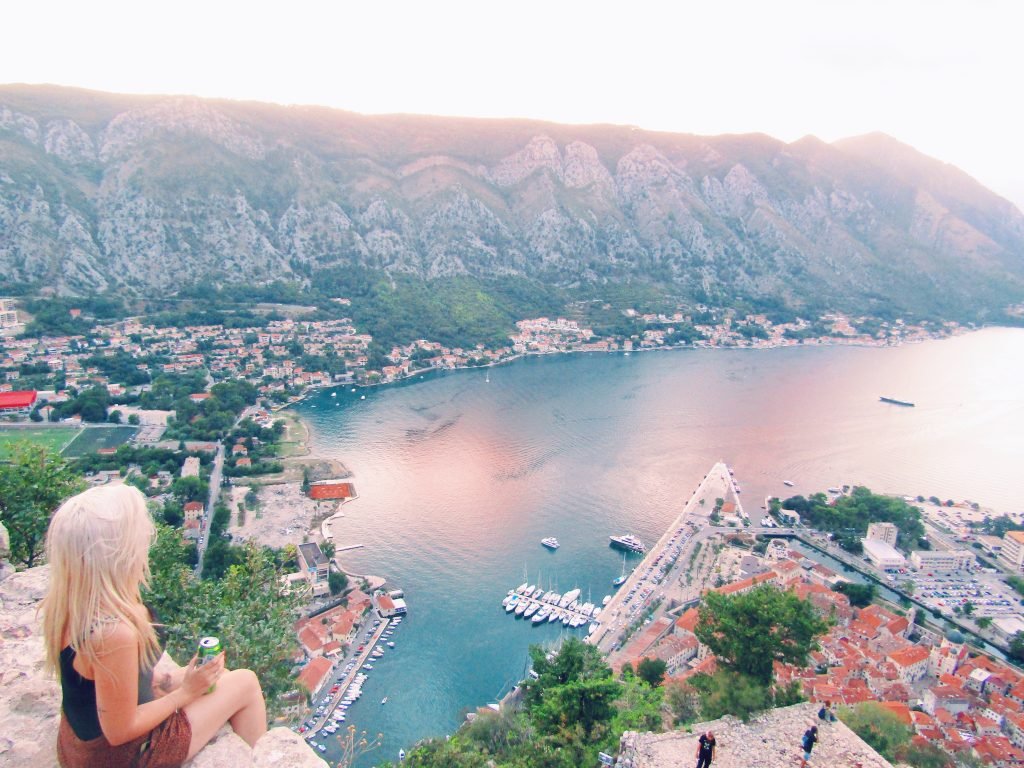 2. Take part in a tour!
I have written before about my experience taking the Great Montenegro Tour with 360 Monte, and I cannot recommend a tour with them enough! I got to see so many things that I never would have been able to see otherwise, including the highest mausoleum in the world in Lovćen National Park, the old royal capital of Cetinje and Crnojević River, where we enjoyed a boat trip and some swimming!

Tour prices are 44 EU for guests at Old Town Hostel Kotor and 49 EU for everyone else. Prices correct as of January 2019.
3. Visit Cat Square
Just before the North Gate in Kotor's Old Town is a tiny park with a couple of benches, trees and – you've guessed it – cats. So many of Kotor's cats congregate in this little square, and if you're a cat lady like me then you'll be in your element as Kotor's kitties clamber all over you! I've spent way too many afternoons on Cat Square, and I regret nothing.
4. Stroll around the city walls
Reason 579 why Kotor is better than Dubrovnik – you don't have to pay a fee to walk around the city walls! It only takes around 20 minutes to stroll around the city walls of Kotor's Old Town, but it's definitely worth doing as you find some really cute photo spots and lovely views down into the Old Town.
5. Visit Perast
Just a short bus ride from Kotor is Perast, a beautiful little town that is definitely worth visiting. Whilst there, you can take a boat out to visit 'Our Lady on the Rocks,' a tiny church on an island, or you can just wander around Perast taking in the gorgeous views of the bay. My friends and I went to Perast for lunch and it was such a nice little place to sit and just breathe, especially as we went in shoulder season when it was very quiet.
6. Explore the Old Town
Kotor is one of those places where you can spend hours just wandering from place to place drinking coffee and watching the world go by. One of my favourite days in Kotor was when my friend Meg came to visit and we literally ate our way around the Old Town! We simply wandered around and stopped at anywhere that took our fancy to enjoy plates of cold meats, cheeses, coffees and beer! Everywhere in Kotor Old Town has outdoor seating where you can just soak up the sunshine and take in the beauty of the place.

I actually wrote a guide to the best places to eat in Kotor so if you're interested then just click right here to read it!
7. Visit Budva
Most people choose to actually stay in Budva, but if you're strapped for time then don't worry – you can easily visit Budva on a day trip from Kotor to save you missing out! Budva is only a 40 minute bus ride from Kotor and buses run frequently from Kotor's main bus station.

When I went to Budva, it was November so it was very quiet but it was still a lovely place to explore. The Old Town is beautiful, and Budva has the advantage of having lots of lovely sand beaches (Kotor's beaches aren't as nice as those in Budva) so if you want a day of sunbathing then head down to Budva!
8. Go to the Beach!
I won't lie – the main beach of Kotor isn't an endless strip of white sand that will take your breath away. It's a pebble beach, so it isn't all that comfortable (and the sun loungers are kind of expensive to rent). HOWEVER. It's a beach, it's clean, you can enjoy the stunning views of Boka Bay and there are a couple of lovely little restaurants where you can enjoy an octopus salad or an iced coffee with the stunning mountain views.

When you factor in the brilliance of the rest of Kotor, I think having a pebbled beach is a small price to pay. I mean, you can still tan 😉
Budget Accommodation in Kotor, Montenegro
Almost all backpackers in Kotor stay at either Old Town Hostel or Hostel 4U. The benefit of Hostel 4U is that it is located right on the beachfront so you can literally roll out of bed and onto the beach. That said, Old Town Hostel is right in the Old Town, close to all the bars and restaurants while still only being a 10 minute walk away from the beach.

Old Town Hostel also has beautiful rooms with thick stone walls, wooden beams and a higher ratio of bathrooms to beds than other hostels in Kotor (not to mention a swimming pool!!!), and after staying in hostels for almost 4 years, Old Town Hostel is definitely one of the nicest I've stayed in when it comes to comfort and facilities.

However, what makes Old Town Hostel so special are the events that the hostel staff put on for guests. From simple things like movie days with shisha and cocktail parties by the pool to sunset BBQs on top of mountains, booze cruises (BYOB with just a 4EU charge for the boat, about a fifth of the price of the booze cruises hosted by other hostels), dinner cruises (4EU for a BBQ dinner and 2 hour evening cruise) and nightly pub crawls. There's also a tonne of free beer and rakija around every night for whoever wants to get involved in beer pong tournaments or other drinking games, plus a cheap homemade dinner for those on a budget!

Old Town Hostel's competitors just cannot compare when it comes to the events that Old Town Hostel organises for their guests. Sure, they might take their guests to bars at night, but after spending almost 3 months in Kotor and seeing firsthand how passionate Old Town Hostel staff are about making sure their guests have a great time (shoutout to the manager Danilo who is always first to the beer pong table <3), I promise you that Old Town Hostel is the place that you want to be staying if you want to make friends and have a great time.

If you'd like to book your stay at Old Town Hostel Kotor then just click here!

Prices in Kotor, Montenegro
Kotor is definitely more expensive than I was anticipating, and far more expensive than other places that I've been in the Balkans (with the exception of Croatia).

However, it's still cheaper than the UK!

Expect to pay 8-15 EU for a meal in a restaurant, 2.5-3 EU for a beer, 1.50 EU for a coffee and 8-20 EU for a dorm bed in a hostel (prices in high season are always higher).


Should You Visit Kotor, Montenegro?
Absolutely! Kotor is an absolutely magical place that won me over immediately. Its beauty goes way deeper than surface level, and it truly is the perfect place to unwind and escape from reality for a little while. That said, if you do want to party then fear not – you're in the home of rakija and Balkan people, and they never say no to a good knees up!

Something that I always tell people is that Kotor is a less touristy (and less expensive!) version of Dubrovnik, Croatia. However, it won't stay that way for long. Cruise ships have discovered Kotor's undeniable charm, and within a few years, Kotor will be just as crowded as Dubrovnik, so take advantage of it while it's still relatively undiscovered.

Have you ever been to Kotor? What did you think? Let me know your thoughts in the comments below!