This list of things to do in Sighisoara Romania was last updated on 29/12/2021

Picture Transylvania and what do you see?

No doubt images of castles, medieval towns and rolling hills spring to mind, made all the more mystical and enticing by legends of bloodsucking vampires.

Just the word Transylvania is enough to make us shudder in spooky delight as we picture Dracula himself in his castle, feasting on the blood of the young and innocent.

If you'd told me 10 years ago that I would actually be visiting the birthplace of Vlad Tepes, otherwise known as Vlad the Impaler, otherwise known as Vlad Dracula, I would have probably laughed in your face, but yet in May of this year I found myself in the city of Sighisoara, Romania, the magical Transylvanian city where Dracula himself was born.

It didn't take long for this charming Transylvanian beauty to win me over, and I spent 3 days in Sighisoara, soaking up the beauty of the Medieval town and learning about its history.

Despite its size (Sighisoara's Old Town is teeny tiny), there are a lot of interesting things to do in Sighisoara, and so I thought that I would create this guide for you to use when you visit Sighisoara, Romania.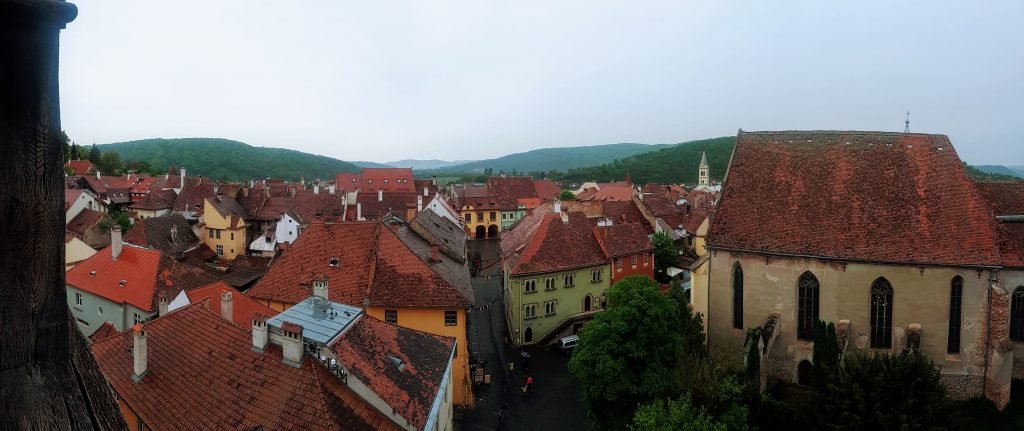 7 Things to Do in Sighisoara, Romania – Birthplace of Dracula


Dating back to the late 12th century, Sighisoara Romania was built by the Saxons and as of 1999 the entire historical centre is listed as a UNESCO World Heritage Site.

Frequently named as one of the most well-preserved medieval citadels in all of Europe and the last remaining inhabited citadel in Europe, visiting Sighisoara feels like stepping back in time.

With the use of vehicles inside the city walls severely restricted, it is possible to amble around the cobbled streets admiring the colourful buildings and artisan gift shops without fear of being in anybody's way, and as there are only around three main streets in the citadel, it is possible to see most of the main Sighisoara attractions in just one afternoon.

But just what are these attractions?

Well, let's find out.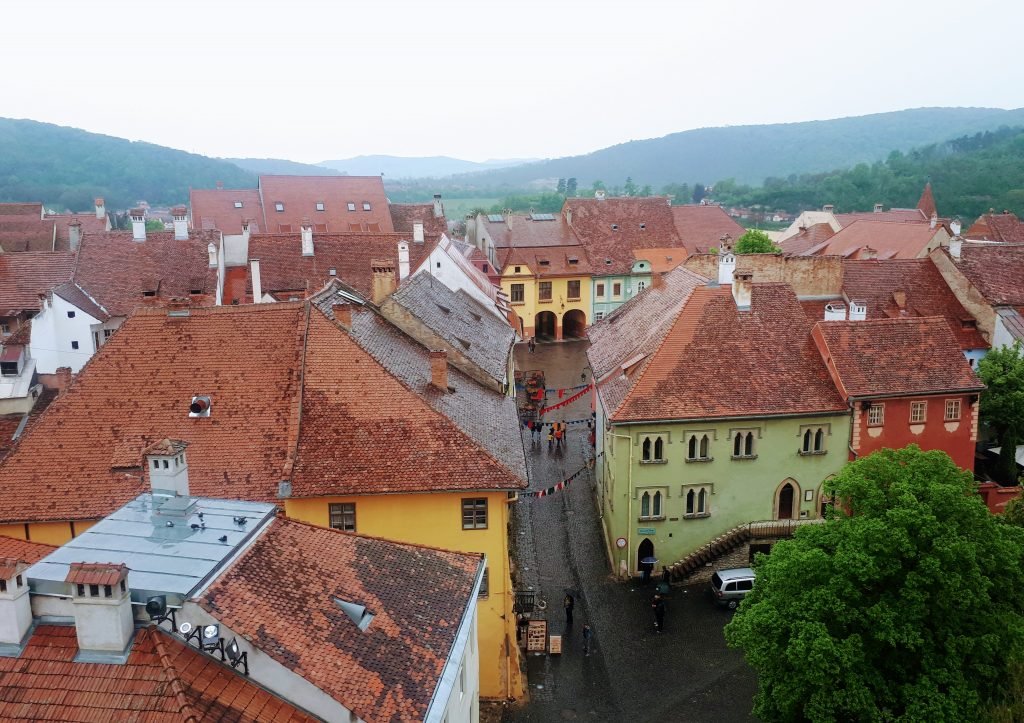 The 7 Best Things to do in Sighisoara, Romania


1. Climb the Clock Tower


Something that you absolutely cannot miss when visiting Sighisoara is a visit to The Clock Tower of Sighisoara (Turnul cu Ceas in Romanian).

Also known as the Council Tower, Sighisoara's Clock Tower was built in the second half of the 14th century and was expanded by Austrian artists in the 16th century after a fire. It is for this reason that the tower is in a Baroque style today.

The original citadel of Sighisoara had 14 towers build by tradesmen to protect against attacks and invasions. The Clock Tower of Sighisoara is one of the 9 towers still standing in the city today, and for a small fee (3 EUR) you can climb up to the viewing deck at the top and enjoy stunning panoramic views over the intact 16th century Saxon houses of Sighisoara's historical centre.

This is one of the main things to do in Sighisoara, so be sure not to miss out!

On the way upstairs, wander around the rooms inside the tower which make up the Sighisoara History Museum (included in the admission fee for the Clock Tower).

The museum features many objects and artefacts made by master craftsmen (including some exceptionally scary gynaecological equipment!) and there are laminated information sheets available in English, Spanish and German.

As you near the top of the tower it is possible to see the inner workings of the clock mechanism, as well as the seven creepy dolls inside which represent the seven days of the week, seven ancient gods, seven planets and seven basic metals.

The four small turrets on top of the tower actually used to symbolise the judicial autonomy of the Town Council, which could apply the death penalty if it was deemed necessary.

The Sighisoara History Museum and viewing deck are open from Tuesday – Friday between 9am and 6:30pm and Saturday – Sunday between 10am and 5:30pm.

In winter the tower closes early at 3pm.



2. The Torture Room


If you're into anything macabre like me, then it may please you to know that there is also a torture museum called The Torture Room inside the Clock Tower (at the bottom).

This room is where prisoners were tortured and confessions were extorted back in the Middle Ages, and some of the torture instruments are on display.

Unfortunately when I visited in the off-season the museum is closed, but it is usually open in the summer months.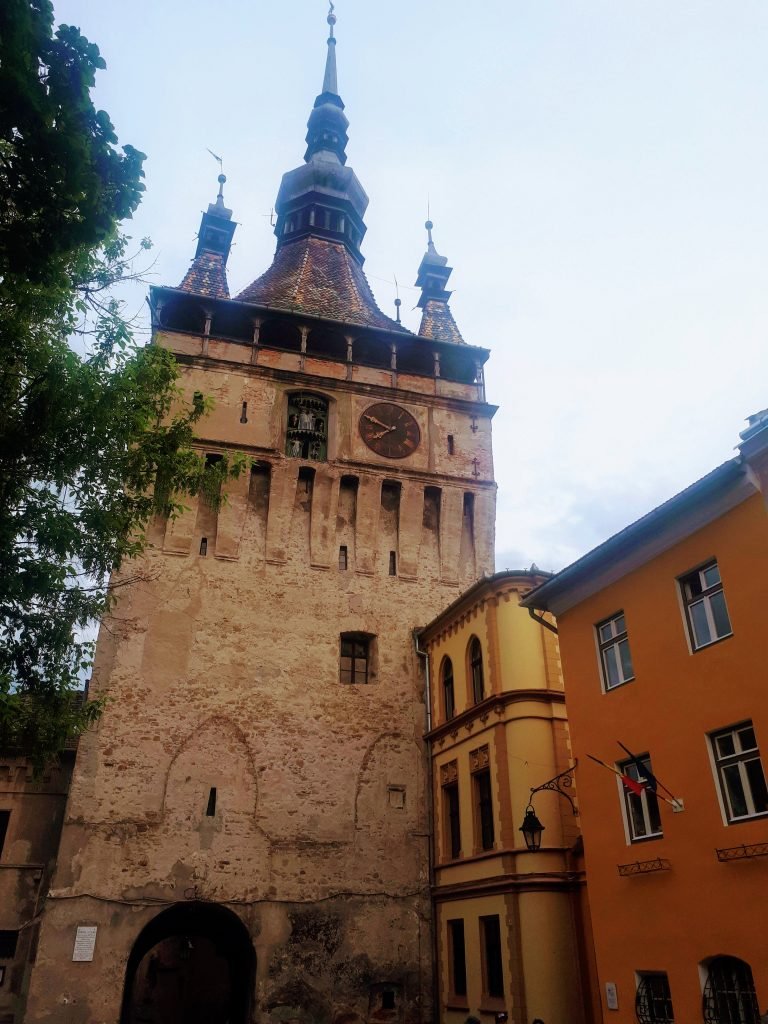 3. Climb the Scholars' Stairs to the Church on the Hill


The Scholars' Stairs were originally built in 1642 as a safe passage and shield against the cruel winters for children and professors who had to follow the pathway up the hill to the school.

Originally there were more than 300 steps but now only 176 remain.

At the top of the staircase there is the Church on the Hill (Biserica din Deal in Romanian), which is an old Gothic style church that took over 200 years to build and is the third largest of its kind in Transylvania. It is named as such because it is 1373 feet high!

Inside the church you can find fragments of frescoes (1483 – 1488), a gothic alter dating back to 1520 and the only ancient Romanesque crypt in all of Transylvania.

At the top of the hill you can also find a German graveyard which provides the final resting place for the early German settlers in Sighisoara, Romania.

The Church on the Hill is open Mon-Sun 10am – 6pm and the cemetery is open everyday from 8am until 8pm.



4. Church of the Dominican Monastery


Another one of the main things to do in Sighisoara is to pay a visit to is the Church of the Dominican Monastery, which has a curious mix of late Gothic architecture on the outside and a Baroque interior.

Inside is a collection of 16th and 17th century Oriental carpets, a Baroque organ and an altarpiece from 1680.

Next to the Church of the Dominican Monastery is a bust of Vlad Dracul, or Vlad the Impaler.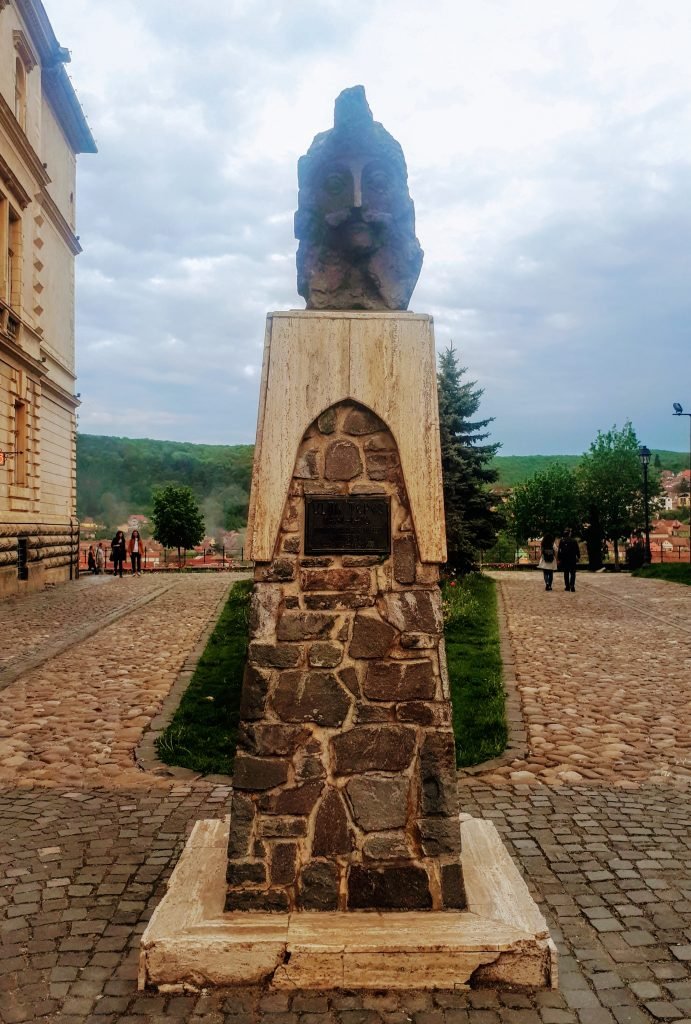 5. Wander the Fairytale Streets of the Medieval Citadel


One of the simplest yet loveliest things to do in Sighisoara Romania is just walk.

Sighisoara is one of those darling cities which are just a pleasure to amble slowly around, admiring the gorgeous colourful buildings, cobbled streets and secret alleyways.

In the centre of the citadel is Piata Cetatii, which is the main fortress square and was used in the past for street markets, craft fares, witch trials and public executions.

Today, however, it is only home to a few touristy bars, gift shops and restaurants.

I ate at a place here called Taverna Romaneasca Piata Cetatii which serves huge portions of meaty deliciousness for reasonable prices – I ordered a pork knuckle with sauerkraut and was not disappointed!).

As you wander around Sighisoara, be sure to check out some of the gift shops – while most simply sell tacky vampire souvenirs, there are still some skilled craftsmen who produce high quality woodwork, textiles and ceramics, making Sighisoara a great spot to buy someone a traditional Saxon gift.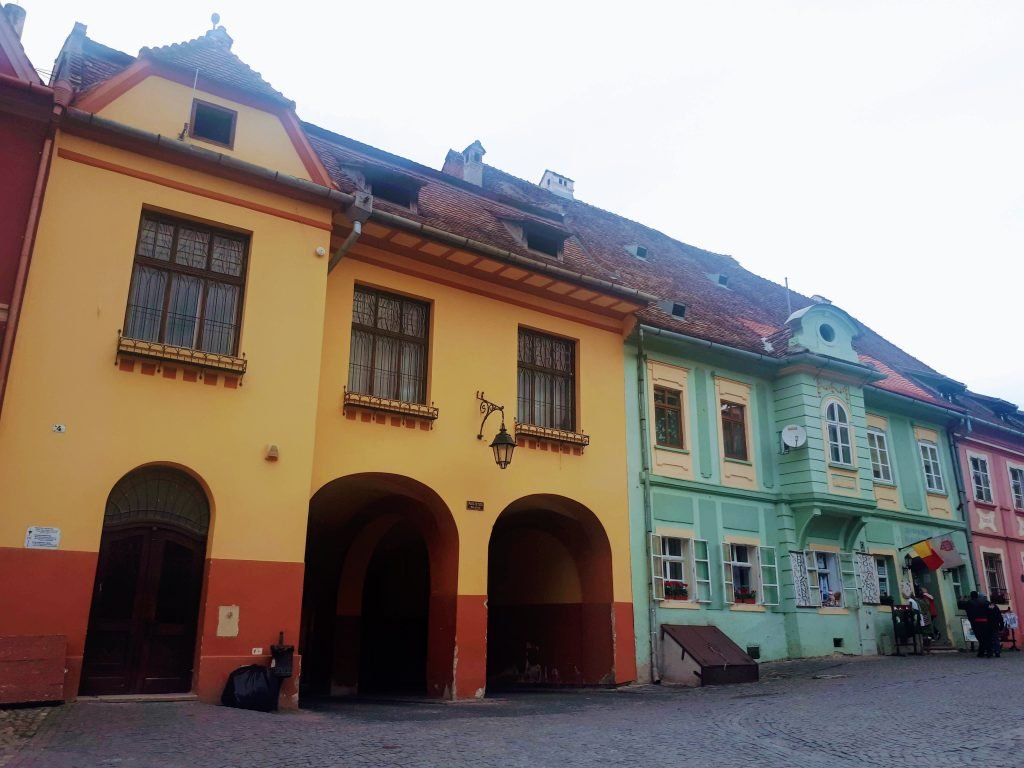 6. Visit Dracula's House


Forget Bran Castle, the real home of Dracula was right here in Sighisoara – yes, that's right – the birthplace of Dracula was Sighisoara!

You can even go inside Dracula's house – visiting this place is without a doubt one of the most popular things to do in Sighisoara!

Nowadays the actual building is home to a restaurant named Casa Dracula which serves hearty dishes such as bean soup and beef goulash, as well as spooky delights such as 'Dracula Dinner' platters and 'Vampire wine.'

Once you've eaten, make sure to pay a couple of euros and head upstairs to see the childhood bedroom of Vlad the Impaler, which is decked out like a dollar-store Halloween aisle.

Yes, the whole thing is tacky and yes it's a massive tourist trap, but if you can't visit a tourist trap in the birthplace of Dracula for heaven's sake then when can you?!

From my experience, the food was decent (although I just got a chicken salad) and reasonably priced.

On the first floor of Casa Dracula is also a Weapons Museum, which features an array of medieval weapons and showcases the development of weapons over the ages.

Plus, how many people can say they've been to Dracula's birthplace?



7. Go to the Sighisoara Medieval Festival!


If you can't go to a Medieval Festival in the last inhabited medieval citadel in Europe then where can you?!

The Sighisoara Medieval Festival takes place in the last week of July and sees brave knights fighting in the streets, ladies dancing and storytellers telling old medieval tales.

Local craftsmen hold pottery, carpentry and ironmongery workshops for those wanting to learn a new skill, and all of the bars and restaurants serve up their best hearty grub and play medieval music.

I went to a medieval festival in Barga, Italy last year (The Battle for Barga), and thoroughly enjoyed myself, so the Sighisoara Medieval Festival is definitely on my bucket list!



Sighisoara, Romania, the Birthplace of Dracula


I couldn't write a list of things to do in Sighisoara without delving a little bit into the main reason why everybody visits this place – Dracula.

Of course, Count Dracula himself is no more than a character in Bram Stoker's 1897 Gothic horror novel of the same name.

In the book, Dracula lives in a castle in Transylvania and wishes to move to England to find fresh blood and spread his undead curse.

However, while Dracula is a work of fiction, the character of Count Dracula is said to have been based on a real person, Vlad Dracul, who was born in Sighisoara Romania in 1431.

Vlad Dracul 111 was a Romanian prince who earned his place in history by impaling his enemies alive.

Becoming known as Vlad Tepes or Vlad the Impaler, Vlad Dracul defended his homeland by torturing and murdering trespassers, impaling them and leaving them on the borders of his territory as a deterrent to any would-be invaders.

It is believed that he executed between 40,000 and 100,000 people during his bloody reign of terror, and was even said to drink the blood of his victims from a bowl, which of course lends itself to the vampire story very well.

Some say that Vlad the Impaler was nothing more than a bloodthirsty barbarian, but he is actually considered a national hero in Romania for defending the country against brutal Ottoman attacks.



Quick Facts About Sighisoara Romania


Sighisoara is pronounced See-ghee-swahr'ah.

The entire city is just 3 square miles large, and the historical centre is minuscule, with just a handful of streets.

The population of Sighisoara is 28,000.

Sighisoara has been inhabited since the 6th century BC.

The bus station is a 20 minute walk up to the historical centre. If you have a suitcase, be aware that there is a bit of an uphill walk!

My go-to bus travel in Europe is always FlixBus. Flixbus is the most extensive bus network worldwide and all Flix buses have Wi-Fi, extra legroom, charging ports and the ability to modify your booking just 15 minutes before departure! Click here to book your Flixbus to Sighisoara.

Sighisoara is definitely a budget-friendly destination, although the restaurants in the historical centre (especially those in the main square) will obviously be a little more pricey. However, I didn't find anything to be a rip off.

If you're planning a trip to Romania, then I strongly recommend buying travel insurance. I NEVER travel without insurance, and I've seen too many others get landed with huge medical bills as a result of not having had insurance, that it's something I'll never neglect to buy. My recommendation for great travel insurance is World Nomads.



Getting to Sighisoara


Situated inbetween the cities of Sibiu and Brasov, Sighisoara makes for an easy day trip from either, but I always recommend staying at least a couple of nights in any given place. Due to its small size, one day in Sighisoara is probably enough time if you're on a tight schedule, although as a lover of slow travel, I always try and stay a few nights in a place to truly soak up the atmosphere and delve a little deeper.

Sighisoara is accessible by train or bus from most major cities in Romania such as Bucharest, Sibiu and Brasov.

I actually took the bus from Brasov to Sighisoara. The journey time was just over two hours and I paid around five euros. Although it is possible to buy tickets online, it is just as easy to head straight to the station and pay at the ticket office there.

If you're coming from Bucharest then expect a journey time of 5-6 hours or 2 hours from Sibiu.

If it's an airport transfer you're after, I recommend using i'way. Click here to book!

My go-to website for public transport in Romania was Bus Radar.



Where to Stay in Sighisoara


As a solo traveller I always opt for backpacker hostels whenever I can.

The hostel that I stayed in was called Burg Hostel, and as far as I am aware it is the only hostel in Sighisoara.

Located right in the medieval citadel, just next to Piata Cetatii (the main fortress square), Burg Hostel could not be in a better location and the attic rooms are super cute.

I visited in May which is off-season and so when I was there it was pretty quiet, but there is a large bar area that is a great place to meet other travellers in the busier months.

The only thing to beware is that with any accommodation in the medieval citadel, it is up a steep cobblestone hill from the bus station, and so walking with a heavy bag or suitcase isn't the easiest!



Hotels in Sighisoara


Best budget hotel in Sighisoara – Pensiunea Joker

Pensiunea Joker is a 3-star guest house in the medieval citadel, just 100m away from the main square. It has cute and cosy rooms, free parking and a room for 3 people was just 21 EUR at the time of writing! In terms of location specifically, this is the best budget hotel in Sighisoara.



Best mid-range hotel in Sighisoara – Maximus Apartments

Maximus Apartments is an aparthotel with stunningly furnished rooms. Wooden floors, exposed brick and a keen attention to detail are everything here, and some of the apartments even have their own kitchen and living room area. If you want a self-catering experience in a gorgeous space for less than 40 EUR a night, Maximus Apartments is perfect for you.



Best luxury hotel in Sighisoara – Casa Georgius Krauss

Casa Georgius Krauss is a boutique 4-star hotel in a 16th century UNESCO building that is the former home of chronicler and historian Georg Krauss. The rooms are individually designed with original frescoes, medieval-style or solid wood furniture, hand carved decorations and some of them even have fireplaces! There is also a high end restaurant onsite serving Romanian and international dishes which you can enjoy inside or on one of the two terraces.



Things to Do in Sighisoara, Romania – Birthplace of Dracula | Final Thoughts


So there, my dear readers, concludes my mini guide to Sighisoara, Romania!

As you can see, there aren't a tonne of 'things to do' if you're the type of traveller that likes to go around a city checking things off a list, but if you enjoy a slower pace, beautiful views and quaint restaurants then you can easily spend a couple of nights in Sighisoara.

I should reiterate that I visited Sighisoara in May as a solo traveller, and I found it quite difficult to meet people – my hostel was pretty much empty and there didn't seem to be a Couchsurfing community or such where I could meet up with other solo travellers.

Therefore, if you're travelling alone, I would probably visit Sighisoara in the summer months, when you have more of a chance of meeting other backpackers!

I especially recommend Sighisoara to couples – the abundance of lovely restaurants and beautiful guesthouses make Sighisoara the perfect place to escape with your loved one for a few days.

If you have any thoughts then please let me know in the comments section below!

xoxo



If you liked this article and would like to support my work, please click the button above to donate a couple of bucks and buy me a coffee. The ad revenue that I receive on this website is minimal, so support from my readers enables me to keep creating content that you (hopefully!) love to read.


Disclaimer: Travelling Jezebel uses affiliate links. If you make a purchase on a recommended site, I may make a small commission at no extra cost to you.