Barga is a charming Medieval hilltop town in Northern Tuscany, in the province of Lucca.

Not that many people have heard of Barga, Italy, and the tourists that do visit Barga tend to travel there on a day trip from Lucca, only spending a few hours wandering around the walled old city.

During my research for this article, I actually read a guide to Barga written by somebody who had spent just 4 hours there – 4 hours!

Now, writing travel guides to a place that you didn't even spend the night is another issue entirely, but after having spent almost the entire summer in Barga, Tuscany, I think that it is a real shame that more people don't take the time to soak up Barga's beauty and give it the time that it deserves.




Barga Italy – The Most Charming Town in Tuscany


Getting to Barga, Italy


As previously mentioned, Barga is in Tuscany, in the province of Lucca, and is located 35km from the city of Lucca.

Most of the accounts I've read have recommended getting the 40 minute train from Lucca to Barga, but if you do this then you will have to walk 60 minutes uphill to get to the centre of Barga.

My recommendation would be to take the bus from Lucca. It takes just over an hour and drops you off right in the very centre of Barga (even going all the way up to the Old Town, or Old Barga as the locals call it).

If you're flying, I recommend taking a flight to Pisa. From there, you can travel to Barga via Lucca, or take a direct train right from Pisa (the airport shuttle in Pisa takes about 5 minutes and goes right to the train station). You can also book an airport transfer that will take you straight to your front door using i'way.

Alternatively, Florence, Italy, is just a 2 hour drive away from Barga, making Barga a great day trip if you are visiting Florence and want a little bit of peace and quiet, and it is also easily reached from Cinque Terre!

To check train and bus times, I recommend Trainline.



Barga Italy – A History Lesson


Barga's history has been…tumultuous.

Over the years, it seems like every man and his dog has fought to claim Barga Italy as his own. In the 11th century, although Barga was formally subordinate to Lucca, it was obtained by Matilda of Tuscany, whose military accomplishments allowed her to dominate all of the territories north of the Church State (go girl!). Matilda actually founded 100 churches, including the cathedral, or duomo of Barga – Collegiata di San Cristoforo. After she died, Matilda left all of her possessions to the cathedral, but this only caused a war, and the diocese of Lucca was split between several places, including Pisa.

This new allegiance with Pisa gave Barga the motivation and confidence it needed to take on Lucca, and so in the 13th century, Barga and Pisa fought Lucca together (this is known as the Battle for Barga).

Finally, in 1236, after a long battle, Barga was subordinated to Lucca, but it didn't stay quiet for long – over the years, many regions have taken Barga as their own, but since 1923 it has remained a province of Lucca.



Is Barga the most Scottish town in Italy?


Take a walk around Barga and you may well hear a lot of Scottish accents, often by people seamlessly switching into Italian when the mood takes them.

There are a lot of Scots living in Barga, but this isn't your typical 'Brits abroad' scenario – the Barga/Scotland connection goes all the way back to World War 2, when many Barga residents emigrated to Scotland.

Over the years, their children and grandchildren have returned to Barga, Tuscany, and now a massive 40% of Barga citizens have Scottish relatives! There is even a fish and chip festival every August to celebrate the Scottish connection!



So why should you visit Barga, Italy?


Most visitors to Italy go to all of the major cities. Perhaps they will make a few stops along the Amalfi Coast, or explore Sardinia, but not very many tourists go and visit the smaller towns in Italy, and in my opinion, if you want to see the 'real' Italy then small towns like Barga are exactly where you need to be (another great spot I visited in Italy that is lesser known is Trento – to read a guide to this charming Northern city then click here!)!

Not only that, but overtourism is a real problem, and the antidote to it is to visit those lesser-known places!

In Barga, which has only 10,000 inhabitants, you can wander around the Old Town without having to battle through hordes of tourists.

Most of the houses there are actually people's homes rather than Airbnbs and you get the sense that Barga is a real Italian town! What's more, Barga is much more budget-friendly than larger Italian cities such as Rome or Florence – in Barga you can get a large glass of Prosecco for €2 and a meal in a restaurant for as little as €8!



There is also always something going on in Barga, from the annual summer Jazz Festival, to the 'Battle of Barga,' the Fish and Chip festival (!), and the Christmas Nativity parade that takes place on the streets of Barga Old Town each year.

Every time a restaurant or shop opens, there is a party in its honour – in fact, there was even a recent inauguration for a new ATM in the Old Town! There are also tonnes of boutique shops, art galleries, museums and churches, so much so that you'd have to spend a month in Barga to see everything it has to offer!

What's more, Barga is very tourist-friendly.

You may be hesitant to visit such a small town for fears that you will struggle to make yourself understood or get around, but in Barga, you will not have a problem.

Most of the restaurants have English menus, most locals have a basic understanding of English, and the tourist information centre (plus the Barga News website) make it impossible for you to mess up. Barga is also so tiny that it's impossible to get lost, and you won't need to worry about taking public transport around Barga because you can walk from one side of the city to the other in less than 10 minutes!



Things to do in Barga Italy


Explore Old Barga


The Old Town of Barga, Tuscany, absolutely blew me away. On my first visit to Barga back in 2011, I couldn't believe how many secret passageways, staircases and alleyways there were, and the pastel coloured houses with shutters on the windows and hanging baskets brimming with colour stole my heart – if you've ever visited Erice in Sicily, you will definitely notice some similarities to Barga.

What's more, Barga's Old Town is quiet. You can take your time and stroll around the streets without having to push past large groups that are all jostling for that perfect picture. There aren't crowds of cruise ship tourists or groups of more than 30 people blindly following a tour guide. There aren't Americans clutching paper maps and wearing socks with sandals (sorry to my American readers out there – I trust that you guys aren't the ones wearing socks and sandals).

Even in the middle of the day during the summer months, you will not feel as though you are just wandering through one giant tourist trap.

In Barga you will not find dozens of souvenir shops or restaurants geared specifically towards hapless tourists. You will just find a sleepy town full of real people living real lives, and this makes Old Barga a pleasure to explore.



Walk up to the Duomo


Barga's cathedral, or duomo, is called Collegiate di San Cristoforo (the Cathedral of San Cristoforo) and is a magnificent building at the highest point of the Old Town (there are a number of ways to reach it, but just keep walking up!).

Barga's duomo is home to frescoes and sculptures dating back to ancient times, and it is the oldest religious building in Barga, being built sometime between the 11th and 16th centuries.

The duomo is free to enter, but for the lights to be on you must put €2 into the meter (the lights will then come on for 10 minutes).

Of course, like most European cathedrals, Collegiate di San Cristoforo is stunning inside, but the real treat is the view from outside.

From the front of the cathedral, the sweeping panoramic views over Barga Old Town and the sloping hills of the Apuan mountain range have to be seen to be believed, and the large grassy area to the side of the duomo is the perfect spot to while away an afternoon.



Visit the Antonio Mordini Civic Museum and explore the old prison


The Antonio Mordini Civic Museum is located right next to the duomo, so it's worth checking whether it's open after you've had a look around the cathedral.

The building itself is actually the former residence of the commissioner and chief of Barga, and the museum documents the palaeontology of the Serchio Valley, the archaeology of Barga and art from the Middle Ages and Renaissance.

There are some fossils and religious artefacts, and although most of the information is in Italian, the lady who showed us around spoke a little English and was able to tell us what things were.

The most interesting part of the museum, however, is the underground prison.

The prison was actually in use until the last century (having been there since 1330), and prisoners lived in underground stone cells, having only one hour every day for fresh air. From the prison, prisoners had a view of the cathedral, but they also could also see the huge tree next to the duomo which was used for public hangings!

I love prison museums, and this one in particular was super interesting as the cells remain exactly as they were, with the prisoners' graffiti etched into the stone walls. It was especially amusing to be to note that the older markings were all religious in nature (there were lots of depictions of the Virgin Mary), but by the 17th century the prisoners were drawing boobs and willies!

A word of warning – for no other reason than 'this is Italy,' this museum doesn't have set opening times and is closed more often than not.

Nobody that I spoke to when I visited actually knew what the summer schedule was for this museum, so if you do happen to come across it open then you're in luck! As far as admission prices, entry to the museum and prison is supposed to be €3 but on the day that we went it was free. I don't think that there is a set day when entrance is free – it's just another Italian quirk.



Go shopping!


Italy is renowned for good shopping, and Barga is no different.

Inside the walled Old Town you'll find a range of independent boutique stores selling wonderful handcrafted gifts.

From the cobbler who makes shoes by hand to the newly opened saffron shop, which sells everything from saffron cheese to saffron honey and saffron craft beer, you're sure to find a unique gift for somebody in Barga Italy.



Find Barga's churches


It almost seems as though there is a church on every corner in Barga – for such a tiny town, it really packs in the churches, and you can easily spend a whole day visiting all of them and looking at the wonderful architecture, frescoes and stained glass windows.

After all, you're in Italy – it almost wouldn't count if you didn't go inside a few churches!



Get cultured at the local art galleries


Barga Italy is home to so many art galleries with constantly rotating exhibitions, often featuring the work of local artists.

Whilst I was in Barga, I had a nosy inside the latest exhibition at the OXO Gallery, but there were many other galleries around the Old Town featuring paintings, photography, sculptures and more.



Teatro dei Differenti


Literally translating to 'theatre of the deviant,' Teatro Dei Differenti is related to one of the most renowned Italian poets ever, Giovanni Pascoli, who considered Barga to be his adoptive town and gave his famous speech in favour of the Lybian war here in 1911.

Today the theatre has been completely renovated while preserving its original structure, and today functions as a working theatre, home to many literary and cultural manifestations aimed at celebrating both the esteemed Italian poet and local literary, artistic and musical organisations.



Go wine tasting!


If all of that walking around and looking at churches has tired you out then fear not – not far out of Barga centre is La Cantina del Vino, a winery that stocks local wines from nearby independent vineyards.

For just €15, you can sample a selection of wines (and the portions are not stingy – once the bottle is opened, it's left on the table!) and enjoy some bruschetta, cold meats and cheeses with honey.

La Cantina del Vino is in a wonderful location with lush mountain views, sweet smelling flowers and very hospitable hosts, Eduardo and Vanda, and wine tasting here was one of the highlights of my visit to Barga.



Wake up and smell the coffee


Darling, this is Italy!

Something that all the Barga residents like to do each morning is wander down to Hotel Alpino in the New Town and enjoy their morning cappuccinos and pastries together as read the newspaper, share gossip and watch the world go by.

Of course, there are other spots to take your morning coffee, but Alpino is always packed full of locals and is in the best location (plus, their custard cream pastry is to die for!).

Not only that but Alpino has been owned by the same family since the end of the 18th century – now if that's not authentically Italian, I don't know what is!



Learn about Brazil's close knit relationship with Barga


Not many people know this, but Brazil was actually the only South American country to send ground troops to fight overseas during the second world war.

These troops, called the Brazilian Expeditionary Force, consisted of 25,700 men and women who fought in Italy from September 1944 to May 1945.

Right in the centre of Old Barga, a museum aims to educate those in the dark about Brazil's participation and sacrifices during that time.



Enjoy the hustle and bustle at the Saturday market


Every Saturday morning in Barga, local sellers set up shop and sell their wares at fair prices to the residents of Barga.

Most of the stalls are clothes stalls but there are also chicken stalls, fish stalls and cheese stalls with humongous wheels of cheese up for grabs!

Even if you're not interested in buying anything, it's still fun to wander around, perusing the goods on offer and people watching.

There are tonnes of gelaterias, cafes and coffee shops all around the New Town where the market is held, and so it's a lovely way to start the weekend.



Go to the telephone booth library!


Several years ago, Keane from Barga News set up a wonderful mini library next to one of the entrances to the Old Town – what first appears to be a bright red telephone box is actually a library!

With the door always open and the books organised according to language (there are a lot of English language books there thanks to the expat community), the telephone box library is a great place to get rid of old books that you've been carrying around with you, as well as finding something new to read!

It's also just really cute.



Be at one with nature


You're in Tuscany, which means you're never far away from lush green mountains!

Everywhere you look in Barga, you will see rolling hills and greenery as far as the eye can see.

Whether you'd like a relaxed stroll through Parco Kennedy (close to the entrance of the Old Town and the telephone booth library), or a more challenging hike, you will not be disappointed in Barga!

For a list of hikes that you can do from Barga, please click this link.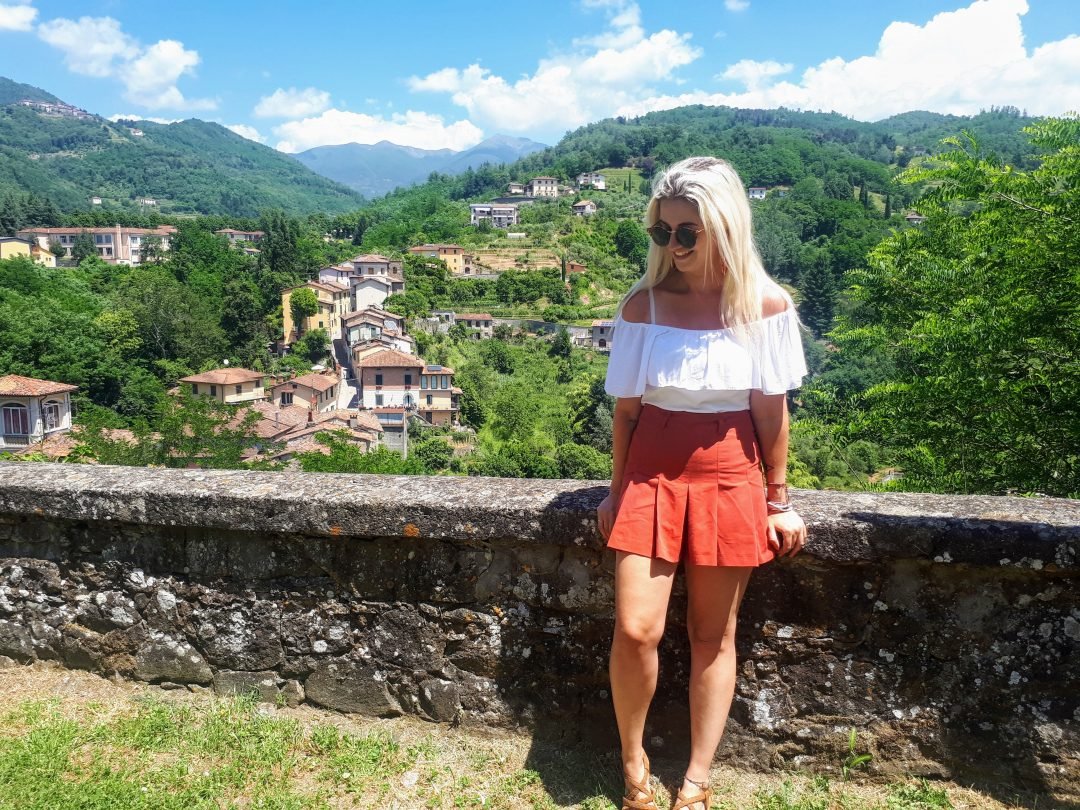 Go to a festival!


As previously mentioned, there is ALWAYS some kind of celebration or festival going on in Barga. The dates change every year and new things are always being added to the calendar, so I recommend keeping up to date with Barga News if you'd like to know more.

Barga News is constantly being updated and is the best English language resource for anybody interested in planning out their time in Barga, Italy.



Where to eat in Barga Italy


There are so many great options for eating in Barga.

Because Barga isn't a town geared exclusively towards tourists, you won't find any 'tourist trap' restaurants with overpriced mediocre food.

You can't really go wrong in Barga, but I've put together a list of my personal favourites, as well as some restaurants that have been recommended to me.



Caffe Capretz


Somewhere that the locals in Barga adore is Caffe Capretz.

Not only is the food top notch, but the restaurant itself is stunning, with a small balcony at the back (with only 4 tables) that deliver stunning sunset views over Barga.

On my visit, I opted for a cheese soufflé to start which was light and airy and divine, and chose a pasta with speck and asparagus for my main.

Although pasta dishes are supposed to be served as a first plate in Italy, the portion was huge and I didn't manage to finish it! Everyone that I was with had nothing but good things to say about our meals, and the incredible views just made our time at Caffe Capretz even more special.

Pro tip: although the inside eating area is large, if you want an outside seat then I would advise booking a day or so in advance as Caffe Capretz is extremely popular among locals. Simply pop into the restaurant the day before and say that you'd like to reserve a table on the balcony.



L'Osteria


You know that if a restaurant is always busy then it must be good, and L'Osteria is ALWAYS jam packed, no matter what time.

I visited L'Osteria twice, and both times I left very satisfied.

The first time I popped in for lunch and enjoyed a spinach and ricotta ravioli with tomatoes, and the second time I dined at L'Osteria was in the evening, when I opted for a selection of cold meats and cheeses to start, followed by lamb cutlets for my main course. Both dishes were cooked to perfection and I thoroughly enjoyed my visits to L'Osteria.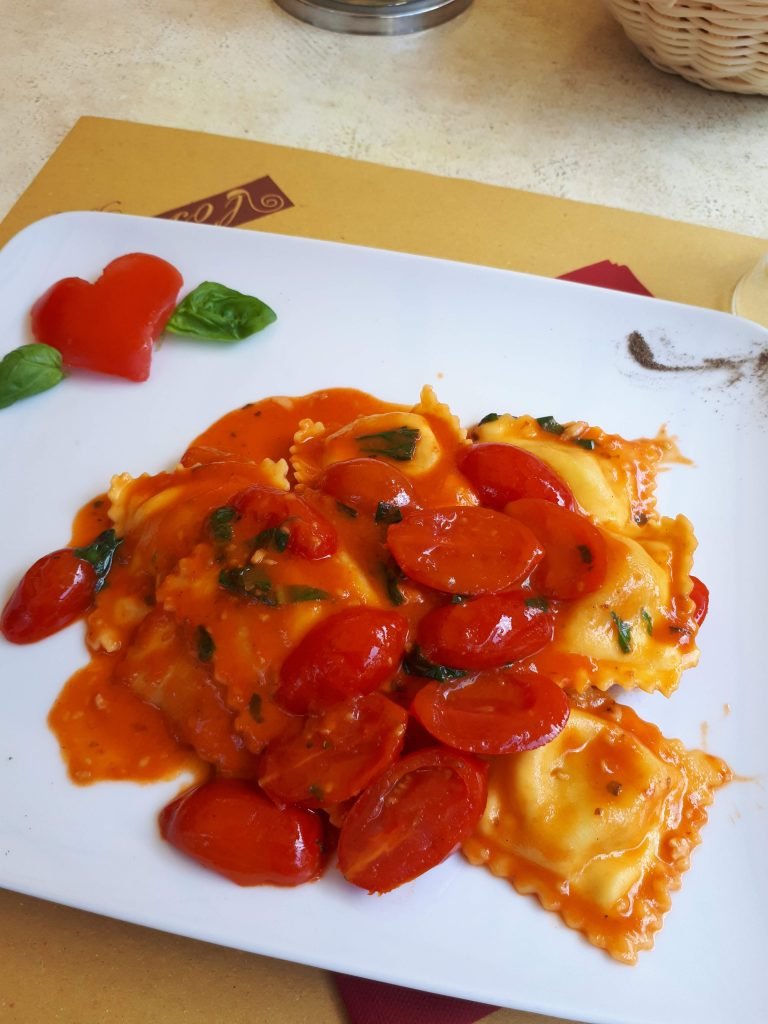 Bar Sport


According to my auntie, who has lived in Barga for a number of years, Bar Sport has the best pizza in all of Barga, and although I haven't tried every pizzeria in Barga, I find it very hard to believe that she's wrong.

I got a huge pizza, cooked fresh to order and topped with ham, mushrooms and artichokes. It was DELICIOUS. In fact, my total bill for the pizza and three large glasses of Prosecco came to €11 – now THAT'S a bargain!



La Pergola Ristorante Pizzeria


La Pergola is another spot in Barga that you shouldn't miss. Located in the New Town, La Pergola has an impressive pizza selection, as well as a good amount of seafood. My portion of fried seafood was absolutely huge and although I tried my best, I couldn't finish it all!



Ristorante L'Altana


Another local favourite, L'Altana also has delicious pastas along with a fine selection of meat dishes. I chose a speck and gorgonzola pasta before helping my auntie finish her steak, and I can confirm that both dishes were excellent! There are only two outdoor tables at L'Altana so if you want a guaranteed seat then make sure to reserve in advance!



Alpino


I mentioned Alpino's briefly earlier, but I do feel as though it deserves its own place in the list of restaurants. Not only is Alpino's great for breakfast and coffee, but it also has an upstairs restaurant with an A La Carte menu that the locals love.



Nardini/Andrea's


Somewhere my family and I went almost every day for breakfast (Alpino's was saved for Sundays) was Nardini.

Known to locals as Andrea's place (if you're asking for directions then this is what you should say), Nardini is next to a pharmacy in the New Town.

Although it isn't in the nicest location (it's on a carpark and isn't as good for people watching as Alpino's), my auntie claims that it has the best cappuccino in Barga, and the service is second to none. When Andrea noticed that I was disappointed that there were never any ricotta pastries left, he ordered an extra one especially for me and set it to one side until I arrived the next morning!



Al Ro Manzo


Al Ro Manzo is a brand new steak and grill house that has opened in Barga Old Town, and I've heard very positive reviews.



Piazza Angelio


I only stopped for aperitivo here, but word on the street has it that this new restaurant serves expensive but exquisite food. The portions are small and the prices are definitely above average for Barga, but if you're looking for something a little more high end then this may be the place for you.



Elisa


This is another new restaurant in Barga with an original concept – Elisa's serves food with flowers. Elisa Da Prato, a chef from Brooklyn, says that her mission is to 'deliver flowers into your body.'

Now, while I'm not sure that eating fried rosebuds and bee pollen is quite for me, I can't say that the food at Elisa's doesn't intrigue me, and I admire anybody who follows their dream and does something different.

Unfortunately I only managed to speak to one couple that had dined at Elisa's restaurant. The woman gushed and said how beautiful the food was, while the guy shrugged and said 'Well, it's just flowers innit.'

I'll leave you to make up your minds about this one!



Giro di Boa


My favourite restaurant in Barga Italy is a fish restaurant named Giro di Boa. Giro di Boa's menu is absolutely to die for, and I just may have got a seafood pasta and seafood mixed grill for my birthday…ssh!



Where to drink in Barga


Da Aristo


Da Aristo's is the hub of Barga, and it only takes one visit to see why. Giovanni, the friendly (but frisky!) Father Christmas of Barga is a delightful front of house, and locals and expats alike always choose Da Aristo's as their first port of call for eating, drinking and socialising.

Located in Piazza Salvi, Da Aristo's is a great place for people watching, and the drinks are very very cheap (I've lost track of the number of bottles of Prosecco I must have consumed at this place).

Da Aristo's also serves food but I've included it in this section as it is definitely primarily a bar. The food at Da Aristos is quick and easy and the perfect accompaniment to beer. At Da Aristo's you can get meat and cheese plates, polenta with sausage, and a variety of homemade flans (my favourite is the cheese and aubergine).



Shamrock


Every town needs an Irish pub and Barga is no different. Shamrock is located just outside the Old Town, and it's actually one of the nicest Irish bars I've been to, with a beautiful roof terrace and Irish coffees to die for. Shamrock is favoured among the younger crowd in Barga, and it doesn't usually pick up until after 11pm.



Paulo Gas


Right next to Shamrock is Paulo Gas, another pub favoured by the youngsters (and oldies alike!). Paulo Gas doesn't have a roof terrace like Shamrock, but it does have a nice outdoor seating area, and is always busy.



Barga, Tuscany | Final Thoughts


This just about concludes my travel guide to Barga Italy. I tried to include all of the main things to do, as well as provide you with genuine restaurant recommendations that either come personally from me, or highly recommended by friends of mine who live in Barga. If I missed anything then please let me know so that I can include it! Lastly, has this article made you want to go a little off the beaten path and visit Barga? Let me know in the comments section below!


If you liked this article and would like to support my work, please click the button above to donate a couple of bucks and buy me a coffee. The ad revenue that I receive on this website is minimal, so support from my readers enables me to keep creating content that you (hopefully!) love to read.

Disclaimer: Travelling Jezebel uses affiliate links. If you make a purchase on a recommended site, I may make a small commission at no extra cost to you.