Although Brno is the second largest city in the Czech Republic, it often plays second fiddle to Prague, with the vast majority of tourists never making it out of the Czech Republic's capital city.

Part of me thinks that this is a real shame because Brno absolutely deserves more tourism, but another part of me is secretly glad, because despite everything it has to offer, Brno remains free from hordes of tourists wielding selfie sticks, driving up the prices and being general nuisances.

I recently spent a week in Brno in September, and despite the vast majority of bloggers writing that one day in Brno is enough, I still felt as though I could have stayed longer.

In this absolute whopper of a blog post, I'll be sharing all the best things to do in Brno, from underground labyrinths to fairytale castles, medieval restaurants and secret cocktail bars.

Is Brno worth visiting?

Let's find out.



39 Unusual Things to Do in Brno, Czech Republic


Brno at a glance


As I mentioned in the intro, Brno is the second largest city in the Czech Republic and the capital city of the Moravia region. It has around 380,000 inhabitants and a massive student population of over 90,000.

Founded in the year 1030, Brno is one of the oldest cities in Europe, and for every medieval building you find, there will be a funny legend to accompany it.

Brno also has a buzzing nightlife, an abundance of world class Czech and international cuisine, and a coffee culture to keep even the biggest caffeine addict happy.

Other reasons to visit Brno (as if you really needed more) are its accessible location between Vienna, Bratislava and Prague, its affordability, and the fact that Brno is super safe, even for solo female travellers.



Quirky and Unusual Things to Do in Brno


Špilberk Castle


Perched on a hilltop overlooking the entire city is the imposing Špilberk Castle, a 13th century castle built by Czech King Pøemysl Otakar II.

Špilberk Castle has served many purposes over the year, including those of royal castle, city fortress, and the toughest prisons of the Habsburg Monarchy.

Since 1904, it has been home to the Brno City Museum, which is home to various temporary and permanent exhibitions. There are also the casemates, a system of Baroque vaulted corridors which used to be the prison. You can walk through these passages, visit the old torture chamber and even enter the cells where prisoners were kept in horrendous conditions.

If you don't want to pay to go inside the castle, it is worth visiting just to walk around the grounds and enjoy the panoramic views over the city of Brno.

Špilberk Castle is a particularly good spot from which to watch the sunset.

Key info:

Špilberk Castle is located on the top of a hill, which is a pretty gentle slope that will take you about 10 minutes to walk. If you are not able to walk, you can take a taxi right to the top.

Entrance fees vary depending on which exhibits you want to see, so please visit the website for ticket prices and opening times.



Cathedral of St. Peter and Paul


Brno's Cathedral of St. Peter and Paul sits atop Petrov Hill and was completed in the year 1296.

Originally, the cathedral was finished in a Romanesque-Gothic style, with neo-Gothic elements creeping in during 19th century reconstructions. Inside is mostly Baroque, and there is an 11th century crypt that you can visit as well.

Right by the cathedral are Denis Gardens (Denisovy sady, Opevnění), and the fortification wall circuit, which is a lovely place to walk.

Something that makes Brno's cathedral unique is that the 12 O'clock bells actually ring at 11 O'clock, which is where we get our first Brno legend!

In 1645, Brno had been under siege by the Swedish army for an entire month. Growing tired of waiting, the Swedes decided that if they couldn't conquer the city by noon the following day, they would give up and retreat.

Word of this got back to the residents of Brno, and the next day they rang the church bells an hour earlier, at 11am, tricking the Swedes and causing them to retreat.

Ever since, the bells have chimed at 11 O'clock, making the Cathedral of St. Peter and Paul the only church in the world that announces midday at 11am!

Key info:

Brno Cathedral is free to visit.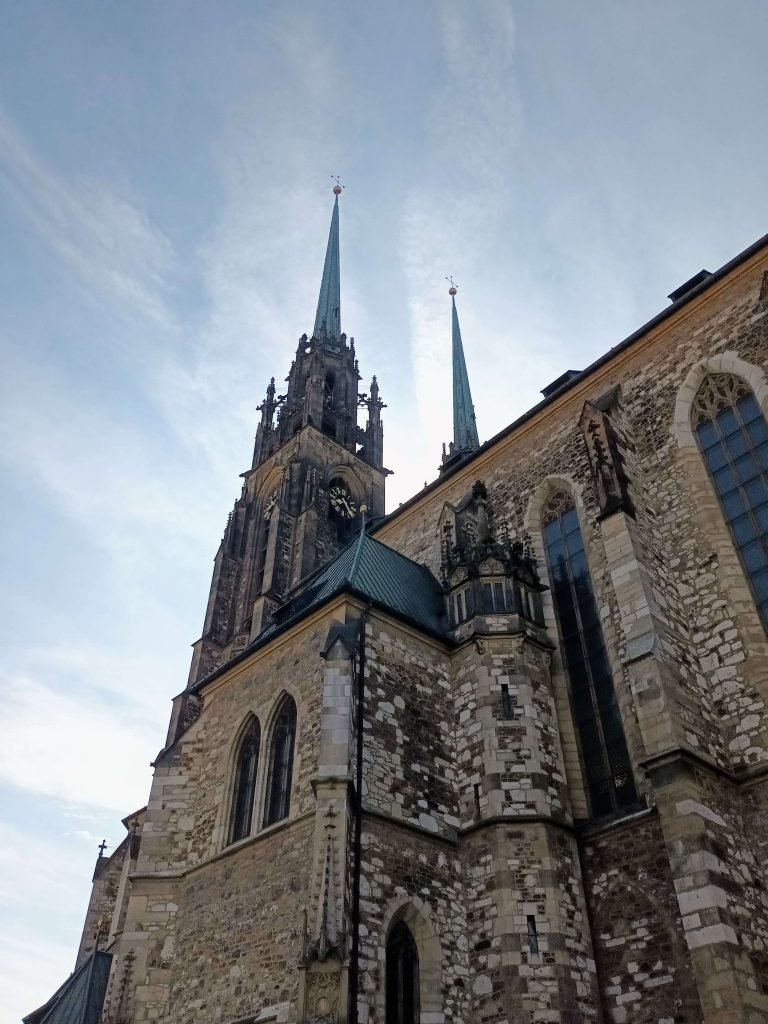 Ossuary at the Church of St. James


Even though it seems quite small, the Ossuary at the Church of St. James is actually the second largest ossuary in Europe after the Catacombs of Paris!

As you descend underground and into the dimly-lit ossuary, you will see the remains of over 50,000 people from the 17th and 18th centuries.

The bones are stacked in this way as the common burial practice in the Czech Republic used to involve placing the bodies in a grave for 10-12 years, before moving the bones to an underground area like this one to make room for a new corpse to be buried in the grave.

Due to the epidemics of cholera and the plague, the ossuary actually had to be extended several times before it was closed and sealed with a concrete slab in 1784, where it would remain undiscovered until 2001.

The Ossuary at the Church of St. James has been open to the public since 2011.

Key info:

The ossuary is open every day except Monday from 9:30am – 6:00pm.



The indecent little man


If you stand outside and look up at the Church of St. James, you will see a little sculpture of a two-headed showing his bare bum!

Legend has it that there was a competition between the Church of St. James and the Cathedral. When both buildings were finished, the church's spire was actually 10m taller than that of the cathedral, and so the indecent little man was added as a middle finger to the losing church!



Capuchin Monastery


It isn't quite as large as the Capuchin Monastery of Palermo, but Brno's Capuchin Monastery is another point of interest for all you dark tourists out there.

Inside the 17th century crypt are the bodies of 24 friars and nobles, naturally mummified by a combination of the site's unique soil and ventilation system.

They are still wearing their cloaks and robes, and some of them are still clutching a rosary!

If you're not a fan of looking at mummified corpses, you may appreciate the fine Baroque statues and important 17th-century frescos. There is also the open casket of Franz Baron von Trenck, an 18th-century officer and mercenary who became something of a local hero (he was actually imprisoned at Špilberk Castle for a time!).

Key info:

General admission is 120 CZK, with an additional 30 CZK if you would like to take photos.

More information and opening times can be found on their website.



Brno Dragon


I promised you a city of legends, and a city of legends I shall deliver!

In the covered passageway that leads to the Old Town Hall, you will find the 'Brno Dragon' suspended from the ceiling.

This 'dragon' is actually a crocodile, and legend has it that back in the day, it made Brno its home and started attacking people's homes and livestock.

Tired of losing his animals, a farmer decided to fill a lamb with calcium oxide (quicklime) to trick the dragon.

Falling for the trap, the dragon ate it and became thirsty, so he went to the river to quench his thirst. As soon as he drank, the water mixed with the quicklime and had a reaction, causing the dragon to burst!

This crocodile, or 'dragon,' is now the symbol of Brno, and you will see him everywhere!



The wheel in the passage


Before you leave this passageway, take a look at the wheel on the wall underneath the crocodile.

One day, a craftsman from Lednice made a bet that he could cut a tree, make a wheel and roll it to Brno (50 km away!) in just 12 hours.

To everyone's surprise, he managed to accomplish the challenge, therefore winning the bet.

However, unfortunately for him, people believed that the only way he could have won the bet was by making a deal with the devil, and so he never received his money and later died in poverty.

This is the wheel that you can see in the passage, and now each year, teams race with a wooden wheel from Lednice to Brno in his honour.



The Old Town Hall Façade


When you're admiring Brno's Old Town Hall, be sure to notice the crooked spire on the façade.

Legend has it (!) that architect Anton Pilgram wasn't paid as much money as he was promised and so he made the spire crooked out of spite, while others say he drank so much wine that he spilled some on the papers and the workers couldn't read the plans!

Now people say that it was totally normal for steeples to be crooked in medieval times, so you will just have to decide for yourself which tale you're going to believe!

Underneath the crooked spire is a statue of Lady Justice, placed there because the courthouse and the prison both used to be inside the building.



Climb the Clock Tower at the Old Town Hall


When you're finished pondering over its curious façade, step inside the Old Town Hall and climb the 173 steps to the 63m Clock Tower to enjoy sweeping panoramic views over the city of Brno.

It's quite a climb, but there are museum exhibits on the way up which will give you an excuse to rest for a few moments!

There is a small fee to climb the clock tower, and at the time of writing, it was 70 CZK.



Villa Tugenhat


Villa Tugendhat is one of the most famous villas in the world and is considered one of the first examples of modern architecture in Europe, and if you're an architecture buff, it is certainly one of the top things to do in Brno.

This UNESCO World Heritage List building was commissioned by Grete and Fritz Tugendhat to German architects Ludwig Mies van der Rohe and Lilly Reich.

As the Tugendhats had grown up in very cluttered houses, they wanted something minimalist to live in together, and so the architect's task was to design a bright, functional and spacious living space that was unlike anything else from that time.

Villa Tugendhat took 2 years to build, and unfortunately the family didn't get to live in it for very long as they had to leave the Czech Republic dye to the threat of the Second World War.

Subsequently, the villa was snatched by the Gestapo and while it has been used for various things over the years, the Tugendhat family never returned to live there.

If you want to visit Villa Tugendhat, you must book tickets weeks, if not months in advance.



Wander the streets of the Old Town


One of the best things to do in Brno is simply to take your time and wander around the Old Town, admiring the majestic architecture, stopping to enjoy a coffee in one of the countless hipster cafes, and take in the statues, monuments and other curiosities.

The historical centre of Brno is incredibly walkable, and you can get from one side to the other in less than 15 minutes.



Courage monument


In Moravian Square (Moravské náměstí), you will find a statue of a very tall horse with a man (Jobst of Moravia) on top.

This giraffe-legged horse that is supposed to represent courage is odd enough, but what's even stranger is what you'll see if you stand underneath the horse and look up.

Every other travel blogger on the internet says that you will get a 'cheeky surprise' if you do this, without actually saying what this surprise is.

Well, I'm not going to beat around the bush.

If you stand underneath the horse and look up between the horses 2 front legs, you will see the very obvious silhouette of a male appendage, and that is what draws hundreds of giggling tourists to this statue every day.



Cabbage Market


Despite what the name suggests, the Cabbage Market (Zelný trh) does not only sell cabbage, but a wide range of fruit and veg, flowers, herbs and homemade produce such as various jams, honeys and breads.

Also in this square, you can find a 17th century Baroque fountain (Parnas), which represents a cave and is decorated by mythical characters including Hercules and Cerberus, as well as a statue of a young Mozart, who performed a concert in Brno in 1767 when he was just 11 years old.

A fun fact about the fountain is that it is not drinking water, nor has it ever been – Czechs used to say that drinking beer was safer than drinking water, which might explain their love of the stuff!

The Cabbage Market is open every day except Sunday.



Drink Moravian wine


Not many people think of the Czech Republic when they think of wine, but in a couple of years, enotourism is set to boom here, and the centre of winemaking in the Czech Republic is Moravia, of which Brno is the capital.

Surrounded by renowned vineyards, Brno has a tonne of local wines to choose from, and you can find cellars and wine bars all over the city.

If you're a white wine drinker like me, you're in luck, because this region is especially famous for its white varieties 😉



Astronomical Clock


Located on Liberty Square (Náměstí Svobody), Brno's astronomical clock is nothing like the one you can find in Prague.

Made from black marble, it is supposed to resemble a bullet, although (understandably), many Brno residents think that it is incredibly phallic in its appearance.

Every day at 11am, Brno's astronomical clock releases a glass ball from one of four openings (Brněnský orloj), and you will see people crowded around the clock every morning, hoping to be in with a chance to take home the glass ball as a souvenir.

This clock took 3 years to build, and cost a whopping 12 million CZK, or almost 500,000 EUR.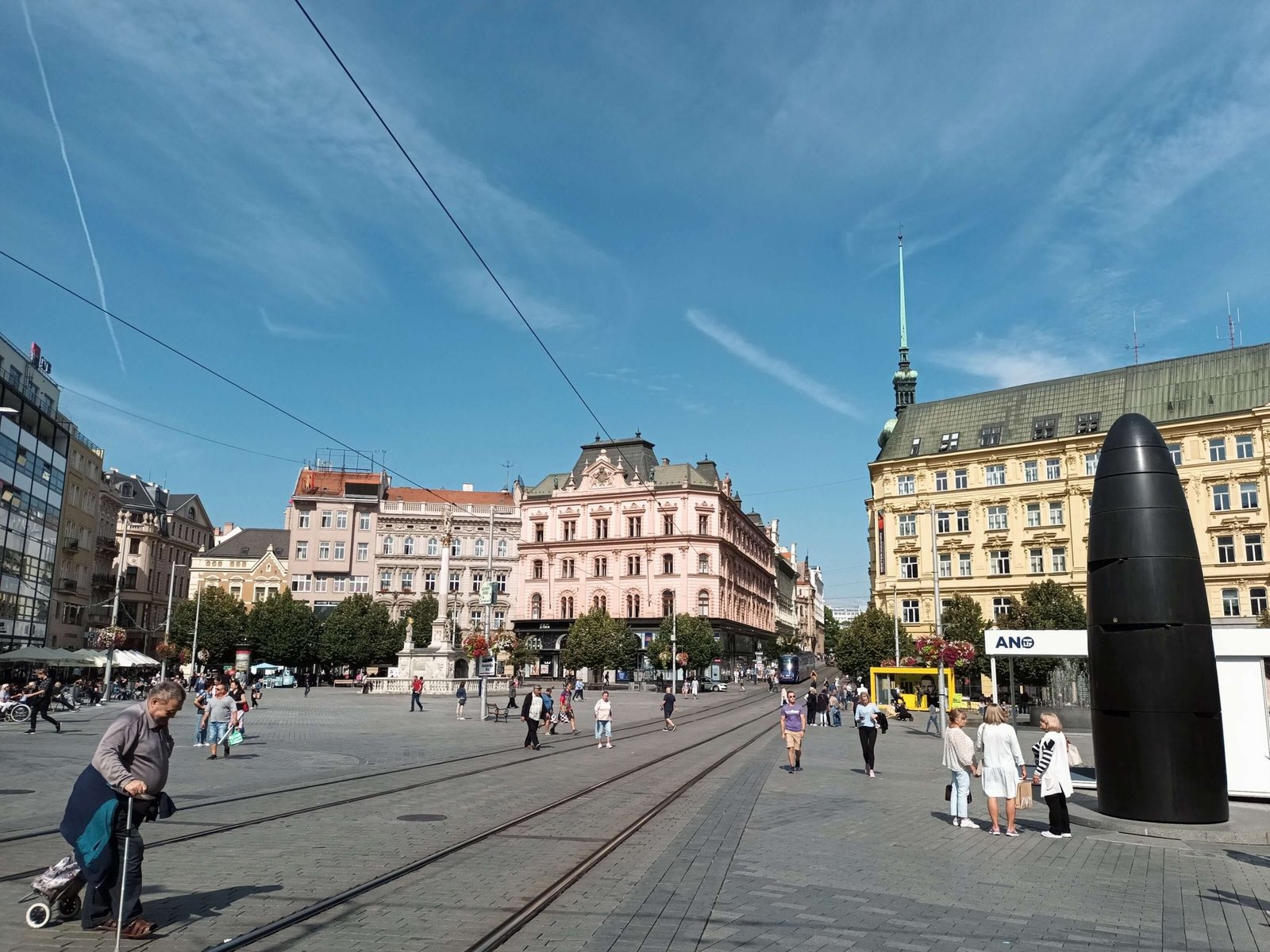 Starobrno Brewery


Everybody knows that the Czech Republic is a beer lover's dream, and Brno does not disappoint in this regard.

One of the best things to do in Brno if you love a good pint is to book onto a tour of the Starobrno Brewery, which is owned by Heineken and was founded in 1872!

While Brno officially got permission to brew beer in 1243, the Czechs have actually been brewing beer for over 1000 years, so it's safe to say they know their stuff!

The Starobrno brewery can product about 1 million pints every single day, and during this 1-hour tour, you will go behind the scenes and see the beer being produced before enjoying a tasting directly from the keg in the underground beer cellar.

Key info:

The cost of the brewery tour and tasting is 150 CZK.

Tour times can be found on the website.



Villa Stiassni


Villa Stiassni was built in the 1920s and is one of Brno's iconic functionalist buildings.

What makes Villa Stiassni unique is the contrast between the modern exterior and more traditional interior.

The reason for these contrasting styles is that Alfred Stiassni, the Jewish textile manufacturer for whom the villa was built, was a huge fan of modern functionalist design, but his wife Hermine preferred a chateau style that would remind her of the chateau that she had been brought up in.

In the end, they reached a compromise, resulting in the modern exterior and traditional interior.

Just like the Tugendhat family, the Stiassni family had to flee in World War 2, and the Nazis used the villa as a casino during the war.

Although the villa itself is now quite plain inside thanks to the Red Army looting the place, it is still worth going for a tour to learn about the quirks of the Stiassni family and to see how they lived.

Something I found particularly amusing was that Alfred Stiassni was so image-conscious that he made sure to always write down what outfit he wore when meeting people so that he was never seen in the same outfit twice, a fact that is easily corroborated by his absolutely massive walk-in closet.

Key info:

The 60-minute tour of Villa Stiassni that I did costs 210 CZK and you must reserve in advance if you want an English-language tour.

For more information, see their website.



Labyrinth Under the Vegetable Market


Exploring the Labyrinth Under the Vegetable Market (Labyrint pod Zelným trhem) is one of the more unusual things to do in Brno, and in my opinion, it's also one of the best.

This former marketplace, used for storing wine, meat and vegetables, is comprised of dimly-lit passageways leading to cave-like rooms that have been made up to look as though they would hundreds of years ago (complete with fake rats!).

A guide will lead you through the corridors and cellars that were used to store food, before taking you to an alchemist's lab, torture chamber, and even an underground tavern!

I especially enjoyed visiting the dungeons and learning about how untrustworthy merchants would be punished if they sold bad meat or watered down their wine!

Key info:

The tour lasts about 1 hour and costs 180 CZK.

On their website, it states that the tours only run in the Czech language, but as my tour was in English, I'm not really sure why the website states that! Your best option is to pop in and ask.



Museum of Romani Culture


Located in the Romani quarter of Brno, the Museum of Romani Culture is the only museum of its kind in Europe.

25,000 objects in this permanent exhibition detail the entire history of Romani people, with a special focus on their struggles in Europe, as well as Romani art, music, craftsmanship and culture.

Key info:

Entrance to the Museum of Romani Culture costs 80 CZK and includes an audio guide, which is available in various languages.

Visit their website for current opening times.



Day trips from Brno


Lednice Chateau


55 km away from the city of Brno is Lednice Chateau, former summer home to the Liechtenstein family and widely considered one of the most beautiful villas in Europe.

This majestic chateau has been on the UNESCO World Heritage List since 1996 and is the second most visited Czech attraction after Prague Castle!

Dating all the way back to 1222, Lednice Chateau has taken on various architectural styles including Renaissance, Baroque and Classical, before its final renovation in the 1800s introduced a modern English Neo-Gothic style.

As well as being surrounded by beautiful gardens, it is incredibly ornate inside, with a highlight being the self-supporting spiral staircase in the library, which was made from one single oak tree!

After your tour of Lednice Chateau, be sure to check out the greenhouse, which is the second largest in the world after Kew Gardens in London.

It houses a collection of over 250 tropical and subtropical plants, including a tree that is around 300-400 years old.

Key info:

A guided tour of Lednice Chateau costs 240 CZK and lasts for 45 minutes.

For opening times and more information, visit their website.



ANNOVINO Winery


As I mentioned earlier, Moravia is the centre of Czech winemaking, so a trip to a local winery is a must!

ANNOVINO Winery is about an hour's drive away from Brno in Lednice.

They offer a range of options, so whether you'd like a behind the scenes tour of the wine production process, a guided tasting, or simply a visit to their seriously impressive wine shop, you're sure to find something that suits.

When it comes to the tours and tastings, prices vary depending on group size, so contact them if you're interested.



Visit Bratislava


I believe Bratislava to be one of the most underrated capital cities in Europe, and with it being only a stone's throw away from Brno, a day trip there makes perfect sense!

Blue churches, quirky statues and some of the cheapest pints on the continent are just some of the things that await you in Bratislava, so I'd definitely squeeze in a visit if you can!

If you plan on visiting Bratislava as a day trip from Brno, be sure to check out my 1 day Bratislava itinerary!



Olomouc


78 km northeast of Brno lies Olomouc, a charming city which boasts beautiful architecture, delicious fine dining restaurants, and a thriving student nightlife.

If you're a culture vulture, you may want to pay a visit to the Moravian Theatre, Moravian Philharmonic Orchestra, and the numerous other museums and galleries that this Czech hidden gem has to offer.

If I've piqued your interest, here are 28 things to do in Olomouc.



Eating and drinking in Brno


Eat a trdelník


Trdelník, which means 'chimney cake' are a bit of a mystery, with most people believing that they originate from Transylvania in Romania, some people arguing they come from Slovakia and others believing they are a Czech food.

Regardless of which camp you're in, you will find Trdelník on every street corner in Brno and if you have a sweet tooth, you have got to try one.

Trdelník are made by wrapping dough around a stick and sprinkling it with sugar and cinnamon before roasting it over an open flame.

They can be served alone or with treats such as Nutella or ice cream.

A trdelník from a street food vendor in Brno will usually cost less than 2 EUR, and they are absolutely massive, so don't buy one just before lunch!



Lokal U Caipla


Lokal U Caipla is without a doubt one of the best restaurants in Brno, and to make it even better, it's also a brewery!

Serving beer straight from the tank alongside traditional Czech food from local suppliers, Lokal is one of the best places for classic Czech smoked meats, huge slabs of fried cheese, and all the beer snacks you could possibly eat.

In fact, for Gourmet Brno 2021, experts rated Lokal U Caipla as the best for beer taste, quality and treatment, and also for beer snacks.



Středověká krčma


Another one of the best restaurants in Brno is Středověká krčma, an underground medieval tavern dating back to 1304!

Over the years, Czech Kings and smugglers have drank side by side in Středověká krčma, and today, you can dine by candlelight on medieval and old Bohemian delights (I recommend the roasted duck!), beer with mead and steaming mulled wine.

Food here includes pork knuckle, potato dumplings stuffed with meat, garlic soup and honey-roasted ribs.



Kočkafé Schrödinger


While Kočkafé Schrödinger isn't going to be winning any prizes for its food, the real reason you'll want to visit this place is that it is a cat café!

Although it isn't the best cat café I've ever been to (there aren't actually that many cats), it's free to enter, there's friendly service and it's a nice place to grab a coffee and cake (they also have savoury crepes but I wasn't a fan).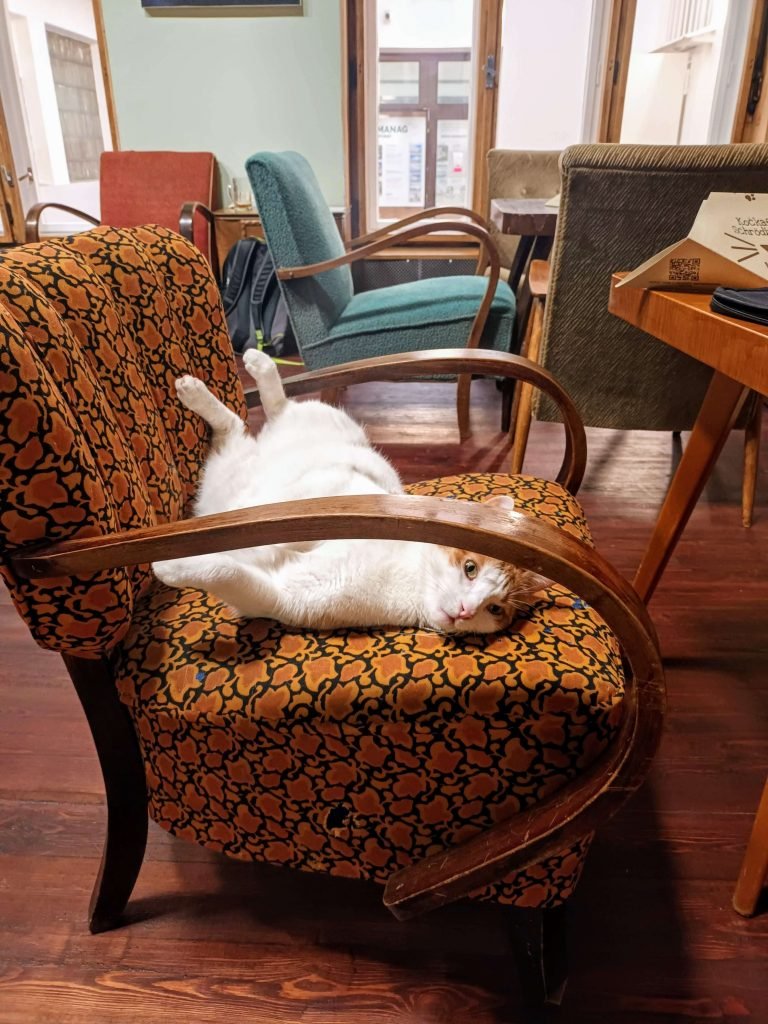 Terraza Bar


In the Renaissance building of Dům pánů z Lipé, head to the top floor via the elevator and you will find Terraza Bar, a rooftop bar serving up great value cocktails and absolutely stunning views over the city.

To make the most of Terraza, head here while it's still light to enjoy those panoramic views.



Moon Cocktail and Sushi


While I usually like to stick to local cuisine when I travel, it isn't always possible, and boy oh boy am I glad I ended up in Moon Cocktail and Sushi!

I can't speak for the sushi itself, but the Pad Thai I ordered was the best I've had outside of Asia, and the menu features all Asian cuisines, from Japanese to Thai, Indonesian and more.



SORRY! We Bake Differently



Situated a few minutes outside the centre, SORRY! We Bake Differently (SORRY – PEČEME JINAK) is a coffee and dessert shop that certainly lives up to its name!

The cakes on offer here are just as beautiful as they are delicious, and if you're feeling brave, you can try the famous Mechový Dort, a cake that's actually made with spinach!

Mechový Dort, or Forest Moss Cake is a light spongy cake with a moist spinach-pistachio base, a homemade lemony cream cheese filling, and a thin layer of strawberry jam.

The cake is then decorated with pomegranate seeds, berries and real crickets to resemble a magical forest floor.

It may sound strange, but it tastes incredible, and I highly recommend you try a slice!

Key info:

SORRY! We Bake Differently is open every day from 10:00am – 8:00pm.



Restaurace Jakoby


Restaurace Jakoby is a sleek and modern restaurant with a daily lunch menu with typical local foods at a fraction of the price you'd normally pay.

I ordered a kind of pork stew with bulgur wheat and roasted peppers, while my friend went for breaded cauliflower and mashed potatoes with tartare sauce.

Key info:

The lunch menu is served between 11:00am – 2:00pm.



Stopkova Pizenska Pivnice


Stopkova Pizenska Pivnice is another one of the best restaurants in Brno, serving up steaming plates of traditional Czech food, beer snacks and foamy pints.

This restaurant has a tonne of rooms, all with wooden tables packed closely together, and no matter when you go, it's always packed.

I got potato pancakes stuffed with smoked pork neck, sauerkraut and beer cheese, served with sour cream and garlic bread – yum!



Brno nightlife


As a student city, Brno is teaming with bars, breweries and nightclubs, and while 1 week in Brno was definitely not enough time for me to discover everything that Brno nightlife has to offer, I definitely had a few favourite spots.

Here are my recommendations.



Super Panda Circus


Super Panda Circus is a bar like no other, and definitely not the kind of bar you'd expect to find in Brno!

Hidden behind a curtained door on Šilingovo náměsti, you must ring the doorbell to enter.

On stepping inside, you will be given a glass of green tea as a palate cleanser, before being whisked upstairs to the bar itself, which is decked out in a kind of circus boudoir style (yes, I made that up).

Once there, you can choose between ordering from the main menu, or playing a game which involves choosing a character and going on a multiple-choice journey where each question you answer determines which cocktail you'll end up with.

I highly recommend playing the game (you can stop playing at any time), but even if you choose from the menu, you're sure to be impressed with what you get.

The experts from Gourmet Brno rated Super Panda Circus as having the best drink taste and quality and best presentation of drinks in the city.

Key info:

Super Panda Circus is open Wednesday to Saturday from 6:00pm – 2:00am, and from 7:00pm on Mondays and Tuesdays. It is closed on Sundays.



Pivovar dum Poupe


Pivovar dum Poupe is a brewery bar and grill with a buzzing atmosphere and beer straight from the tank.

This place is also massive and super popular with students.

The best bit? It's right across from Moon Cocktail and Sushi, so you can fill your boots with glorious sushi and then fall right into your seat at Pivovar dum Poupe.

Key info:

Pivovar dum Poupe is open all day, every day, except Sundays.

See their website for menus and more information.



Charlie's Hat


Charlie's Hat is an underground bar with a main bar area that leads to cave with more seating, disco lights and a teeny tiny dancefloor.

The drinks are cheap, the staff are nice, and it's never too crowded here.

With that being said, I would avoid going to Charlie's at weekends because there is a 50 CZK entrance fee, while in the week it's free.



But Bar


But Bar is a cosy gay bar in the centre of Brno, and according to Travel Gay, it is the most tourist-friendly gay bar in town.

With English-speaking staff, great cocktails and Spanish tapas plates on offer, But Bar is a great all-rounder, and it's open until 3 on Friday and Saturday nights.



Pivovar HARRY


Pivovar HARRY make their own beers and have a wide range of different flavours available to try, along with friendly staff that will help you choose.

With an industrial interior and capacity of 300 people, Harry's should be high on your list of Brno nightlife spots, especially considering their (rather cheeky) mission is to create beers that 'Brno's hipsters, students, moms, dads and office bitches will fall in love with.'

Check out their website and e-shop for more info.



The Bar That Doesn't Exist


The Bar That Doesn't Exist, or Bar který neexistuje is one of the most famous bars in Brno and is owned by the same people as Super Panda Circus (that's how you know it's good).

It's super popular with young professionals, and not once in the whole week that I was in Brno was it not absolutely packed.

With drinks made to order, an interior designed to look like a Manhattan speakeasy and quite possibly the largest collection of liquor I've ever seen, The Bar That Doesn't Exist is well worth a visit.

What's more, experts rated it as the best bar for originality of drinks selection and presentation of drinks in Gourmet Brno.



VN Brothers Club


VN Brothers Club has mixed reviews on Google, but talking from my own experience, I had a great night there.

It stays open until 5, there is international music (even 90s classics like the Spice Girls!), and there's even a karaoke room upstairs (at an extra cost) that my fellow travel blogger friends and I certainly made the most of!

Like most nightclubs out there, the drinks are slightly more expensive than in the bars, and the bouncers are probably a bit miserable sometimes, but hey, isn't that their job? 😉



Getting around in Brno


The historical centre of Brno is quite small and flat, making it incredibly walkable for most people.

With that being said, the streets are cobbled, so if you're a bit unsteady on your feet, you might have trouble.

The best way to get around in Brno if you aren't walking is by taking the tram.

It's very easy, very cheap and can get you anywhere in just a few minutes. I used Google Maps to plan my tram journeys in Brno (I entered my destination and clicked on the public transport tab), and found it to be accurate.



How many days in Brno?


Most blogs say that one day in Brno is enough, but I really have to disagree.

There are so many things to see and do in Brno that you could spend a month here and not get bored, and when you factor in all the great day trips, you have even more to keep you occupied!

I spent a week in Brno, and I was up early most days sightseeing, and I still didn't manage to squeeze everything in that I wanted to!



When to visit Brno


The best time to visit Brno has to be either during the summer months, when the weather is nice and warm, or between March and May, when a lot of music, food and cultural festivals are held.

If you don't mind the cold, visit Brno in December to enjoy the Christmas markets dotted across the city.



Getting to Brno


Getting to Brno is surprisingly easy.

The Brno–Tuřany International Airport serves flights from the UK, France, Spain, Germany, Greece and other European countries, and the city of Brno is also very close to Vienna, Bratislava and Prague.



Prague to Brno


The Czech capital of Prague is a direct 3 hour train ride away from Brno, so you can either visit Brno after your trip to Prague, or take a flight to Prague and catch the train straight to Brno from there.



Vienna to Brno


When I visited Brno, I flew to Vienna and got a shuttle directly from the airport to the main bus station in Brno.

Even though I arrived about 10 minutes late, the driver waited for me, which I definitely appreciated because it was very late at night!

The company I used was called Gepard Express and I recommend them, especially if you're arriving late.

There are also regular RegioJet buses every day, and I am talking from personal experience when I say that RegioJet are the best bus company ever (free coffee and television screens on the chairs!).



Bratislava to Brno


It is super easy to get from Bratislava to Brno, with the RegioJet buses taking just 90 minutes (and again – free coffee!).



Where to stay in Brno


My friend and I stayed at Internesto Apartments in Brno, which was the cheapest option we could find.

The place was actually really cool, with themed rooms (we got the graffiti room), really comfy beds and tonnes of space. The shared kitchen and bathrooms were always clean (there were 2 bathrooms between 4 rooms), and the location couldn't have been more perfect.

The owner also gives a portion of the profits to charity each month (when we were there, he was supporting street cats), which I think is really cool.



If you want something a bit off-the-wall, Bunker 10-Z is a reconstructed bunker from the Cold War, and the rooms will have you feeling like you've gone back in time!

It isn't a luxury stay by any means, but definitely worth checking out for a night if you're a history buff or want to try such a unique experience.



To see the full range of Brno hotels and apartments, I recommend Booking as they have a price match guarantee.



Visiting Brno | Final Thoughts


I hope that this article has given you plenty of inspiration for your trip to Brno.

Brno is a truly underrated city with a tonne of things to do and see, affordable prices and friendly locals, and if you want to discover the real Czech Republic outside of Prague, Brno is the place for you.

That's about it for now, but as always, if you have any questions, let me know in the comments section below and I will get back to you!

Until next time,

XOXO


If you liked this article and would like to support my work, please click the button above to donate a couple of bucks and buy me a coffee. The ad revenue that I receive on this website is minimal, so support from my readers enables me to keep creating content that you (hopefully!) love to read.

Disclaimer: Travelling Jezebel uses affiliate links. If you make a purchase on a recommended site, I may make a small commission at no extra cost to you.