The internet doesn't have much to offer when it comes to decent travel information about Koh Rong Island, Cambodia. Most of the guides have been written by people who only spent a few days on the island, and they are all at least two years out of date. Now, a travel guide to anywhere wouldn't be great if it were two years out of date, but this applies to Koh Rong even more than most places, because 2/3 years ago, Koh Rong didn't even have 24 hour electricity, never mind internet and A/C! Koh Rong has changed so much in recent times, even within the 12 months that I spent there myself, and so most of the older guides online just aren't relevant anymore!
With this in mind, I've aimed to make this guide as packed full of information as possible, with info on everything from where to eat on the island, to how to get there, and what jungle critters to watch out for. All of the information that I've posted is up-to-date and correct as of April 2017, and I will be doing my best to keep it as up-to-date and accurate if possible.
Pst – another must-visit island in Southeast Asia is Koh Yao Noi (Thailand) so be sure to read all about that too!
And why do I think myself an authoritative guide?
Well, I've spent just under 12 months on Koh Rong. I've worked in two bars/hostels, and have also worked with the pub crawl and a boat trip (selling tickets). I've stayed in 5 different guesthouses (my shortest stay being one week and my longest six months), and have experienced the island in high and low season. I'm not saying all of this to brag; rather, to illustrate that I have a lot more experience with the island than most of the other travel bloggers who have written guides to the island, and I am giving you my personal and genuine recommendations of what to do while you're there. I'm not trying to sell you anything (I'm not even on the island right now), and I'm not recommending any businesses that I wouldn't personally stay at/eat at/whatever myself. These are just my tips on how to make the most of your time on Koh Rong Island, Cambodia.*
Please bear in mind that certain things (prices, days of certain events) can change depending on the time of year (things are usually much cheaper in low season, for example), and so the prices I have specified may be slightly different when you arrive on the island. Not only that but sometimes the police will enforce temporary noise restrictions (such as the time they stopped the music on New Year's Eve just after midnight – argh!), but for the most part, the information in this guide will be correct.
Why Visit Koh Rong Island
Your question shouldn't be 'Why go?' to Koh Rong, but 'Why leave?' – so many travellers rock up, expecting to spend a few days there, and find themselves still there six months later. That's certainly what I did! If the gorgeous stretches of white sand beaches, crystal clear waters and picture-perfect sunrises don't do it for you, then the laid back vibe will. Whether your idea of relaxing is reading a book in a hammock, playing card games with perfect strangers or enjoying a cold beer in the sun, you'll be sure to find your happy place on Koh Rong! Koh Rong allows you to totally forget about the stresses of every day life, and enjoy a slower pace. Days are spent soaking up the sun and getting close to nature, and nights are spent drinking beer in cosy bars, with great people.
Koh Rong is like what I imagine some of the Thai islands to be 30 years ago. It's similar to Perhentian Kecil in Malaysia, or Gili Air in Indonesia – but better. Most of the guesthouses are right on the beach, so the moment you step outside, you'll feel sand between your toes and see waves lapping the shore. It's hands down, the best place in Cambodia (I'm not biased, I swear!), so if you're visiting this awesome country anyway, then you'd be doing yourself a disservice if you didn't take a trip to Koh Rong!
Getting There
If you're coming from Phnom Penh, simply take a minibus to Sihanoukville. You'll probably have to spend the night in Sihanoukville as the tour companies will tell you the bus only takes 4 hours but it's really about 6. Once in Sihanoukville, there are plenty of great hostels close to the pier (the road nearby the Golden Lions roundabout). I recommend The Big Easy.
The ferry to Koh Rong can take 2.5 hours, 45 minutes, or 30 minutes, depending on which boat company you choose. The fastest way is with the Buva speedboat, but they tend to cram too many people onto their tiny boats, and I've had a few scary experiences with them, so I'd opt for the Speed Ferry Cambodia boat instead. It leaves from the pier at Serendipity three times a day (9am, 12pm and 3pm) and is the biggest boat and most reliable company. If you're not in a rush then take the slow boat. It has a sundeck on the top where you can have a nap, and it's half the price of the other boats ($10 for a return ticket). Most hostels around the area sell boat tickets, and there are lots of kiosks near the pier where you can purchase them as well.
Remember to bring enough money with you to last the duration of your stay as there are no ATMs on the island! You CAN take out money at establishments like Green Ocean and White Rose but it comes with a hefty 10% fee on top of your usual bank fees!
Where to STAY on Koh Rong Island
The internet connection on Koh Rong isn't great and most businesses don't even have online profiles (and the ones that do don't really check their online bookings), so your best bet is to just turn up and have a look around! All of the accommodation is right near the pier you'll arrive at, and it's always cheaper to just walk into a place than to pay online.
All of the accommodation on Koh Rong is basic. Very few places have A/C, hot water is non-existent and internet is never guaranteed. Most dorms, bungalows and private rooms will just consist of a bed, fan and mosquito net, and most toilets on the island have to be flushed manually with a bucket. If you've ever been described as 'high maintenance' then Koh Rong is probably not for you! However, if you don't mind slumming it a little, you will definitely be rewarded. Some of the bungalow resorts (Tree House Bungalows, Happy Bungalows, Monkey Island, Sky Bar and Zen Bungalows) have incredible sea views, and waking up to the sound of waves lapping the shore will cure even the worst hangover!
Happy Bungalows
My friends and I stayed in Happy Bungalows when we came to the island as tourists, and they are so nice. Located right on the beach (and a two-minute walk from all the bars and restaurants), Happy Bugalows are about 20-24USD for a bungalow with two king-size beds and a private bathroom. They also have Wi-Fi.
Tyty's Guesthouse
I stayed in a lot of locally-owned guesthouses while I was living on Koh Rong, but Tyty's was the one I stayed in for over 6 months, because it was by far the best value for money. Tyty's Guesthouse is located left of the pier, just past Green Ocean Guesthouse, and if you're on a budget, but don't want to totally slum it, then this is the place for you. Tyty's has dorm beds, double and triple rooms, with doubles selling for 8-10USD (a double room 50 metres further down the beach will cost around $15 and won't be as nice). Tyty's has good Wi-Fi (among the best on the island), free water refills, free coffee, and safes in every room. They also provide free towels and have two communal balconies with gorgeous sea views.
Green Ocean
Green Ocean is Tyty's slightly more upmarket cousin. The prices are a bit higher, but the rooms are just that bit nicer (and all have private bathrooms). It's also got a great laundry service (with one of the only washing machines on the island) so make sure to bring your clothes here when they need a wash!
Things to DO on Koh Rong Island
People don't come to Koh Rong Island to tire themselves out – they come to escape the chaos of mainland Cambodia! One of the greatest things about Koh Rong is its unspoilt white sand beaches, that truly are paradise, so perhaps the greatest thing that you can do while you're on Koh Rong is just enjoy them. Grab a fruit shake from a local vendor ($1), get a book and just relax. When you're done lazing around on the beach, make sure you head to Sok Chan next to Bong's for a $7 massage and $3 manicure.
Boat Trip
If you only do one thing when you're on the island of Koh Rong, make sure it's a boat trip! A boat trip is the only way to see what the island truly has to offer, and they're so much fun that you're definitely missing out if you choose not to go on one.
So, what does a boat trip involve? Well, you'll set sail on a longtail boat, and get to see some of the 28 pristine white sand beaches that Koh Rong has to offer. You'll go to the best snorkelling spots, catch your own fish, have a seafood BBQ on the beach, watch the sunset, swim with bioluminescent plankton (something that Koh Rong is famous for), and play beach games (think Frisbee) in the crystal clear waters with a (free!) ice cold beer in your hand.
Kayak
Something that's really fun to do on Koh Rong Island is to grab a friend, rent a kayak, and explore! There are multiple places that will allow you to hire a kayak for the day. It won't cost you much (about $5), and you can kayak to the 'small island' – it's easy to spot and not very far at all – and go and explore the island which has a pagoda and some decent visibility for snorkelling. When you're done, just return the kayak to the bar, buy a beer and kick back in a hammock!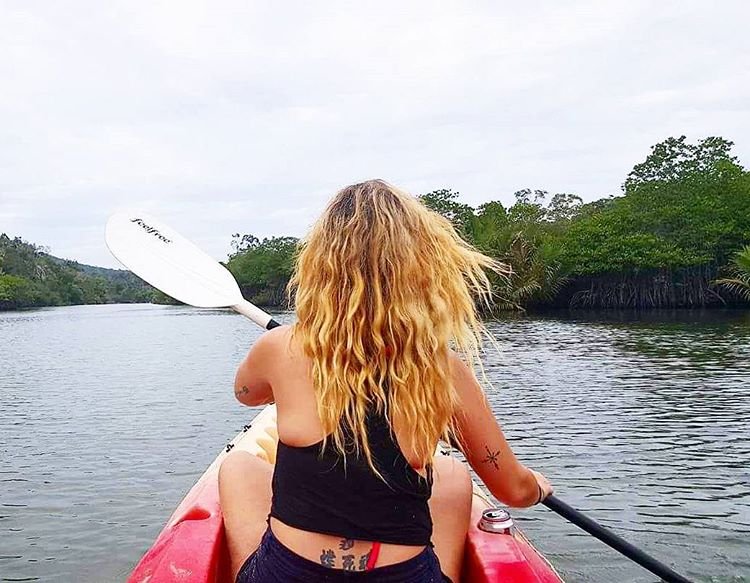 Hike to Long Beach
The hike to Long Beach to watch sunset is something most travellers to Koh Rong end up doing. This jungle trek begins just behind Sky Bar and takes about one hour. It's a pretty nice walk through the jungle (and not too strenuous), as long as you make sure that you wear shoes and take a decent amount of water with you. Once on Long Beach, just walk until you find a nice spot! There is quite a lot of building work going on at the minute (the Royal Group are building resorts there), but if you walk for long enough (Long Beach stretches for 7KM), you'll be sure to find the perfect spot to watch the sun set. Fun fact: two of my friends got engaged on Long Beach!
(If I may throw in my two cents, 4K beach is MUCH prettier and a much better place to spend the day. To get there, just walk to the end of White Beach (the main beach), and go through the jungle, past Tree House Bungalows, and follow the path for about 20 minutes. When you emerge from the jungle, walk past Nest Beach Club and just walk until you find a nice spot – the further you go, the better!)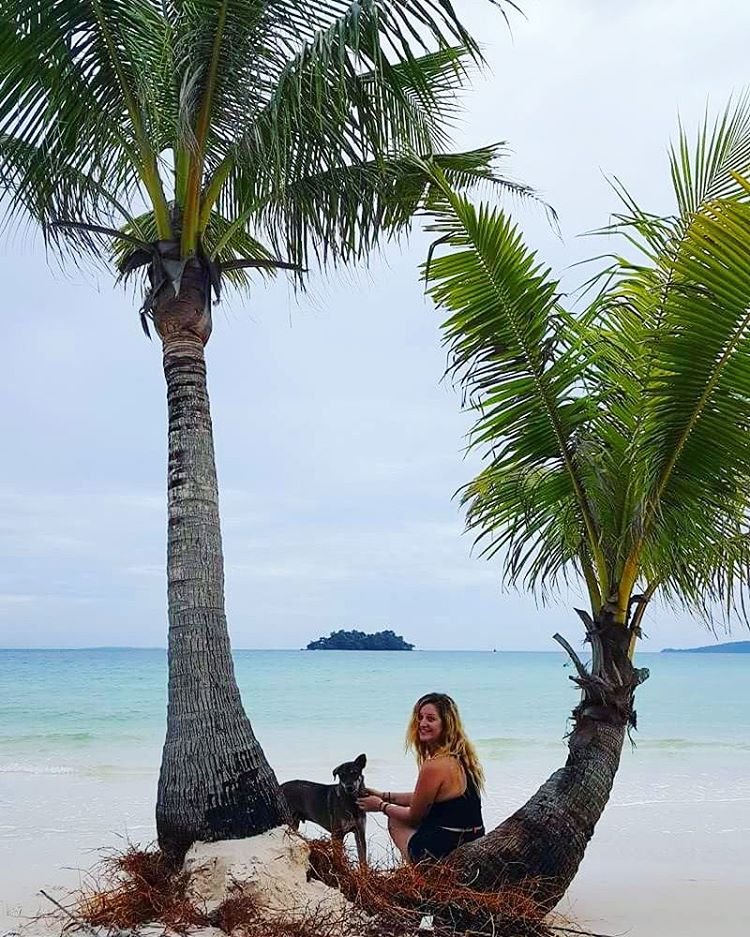 Where to EAT on Koh Rong
Although there aren't as many foodie options as in Sihanoukville, the food on Koh Rong is surprisingly varied compared to other islands that I've been to in South East Asia (such as the Gili Islands and the Perhentian Islands). The expat community originate from all over the world, and have brought their favourite foods with them! There are a tonne of authentic Turkish options, as well as Thai food, Italian, gorgeous seafood barbecues and incredible superfood salads.
BBQ
If there is one dish that you have to try on Koh Rong, it is the BBQ. Almost every beachfront restaurant has their own version of this and you can expect pork ribs, barracuda), tuna steaks, chicken drumsticks, and more, all served with potato wedges, salad and garlic bread.
Koh Lanta
Named after the French television series, Koh Lanta is the ONLY place on Koh Rong where you can get food 24 hours a day. Their speciality is their build-your-own pizzas (unlimited toppings for $8) but they also have a selection of paninis and Asian dishes available from 3-5USD.
Sigi N' Thai Food
Sigi is a Thai native who runs a one-man show at his restaurant in Koh Rong. He does incredible Thai dishes, and whips them up right in front of you, with seating taking the form of a square bar surrounding his outdoor kitchen. Be prepared to wait a while for your food if you visit Sigi, because he does everything himself, but his food is worth the wait. It's the best Thai food I've ever tasted, and a favourite among expats. To find him, head up the alleyway in between Dreamcatch Inn and Green Ocean Guesthouse. Walk about 10-15 metres and Sigi's hut will be on your left. I recommend the yellow curry with beef!
Rising Sun
Rising Sun is a vegetarian/vegan restaurant in between the two main piers. Their vegetarian English breakfast is to die for, and they have a tonne of yummy, cruelty-free dishes, all involving the usual suspects (falafel, hummus, eggplant etc.). Not only that but Rising Sun is a really mellow place to hang you if you need some respite from some of the louder bars in the area.
Where to DRINK on Koh Rong Island
It's not difficult to find a place to drink on Koh Rong. Just walk through the village and see which bars take your fancy!
Prices start from $1 for an ice cold Klang beer, $2.50 for a spirit and mixer (I recommend a Vodka Crapple – just trust me on this one!), and around $3 for a cocktail. Most bars have 241 happy hours at various times during the day so if you plan strategically, you can double your alcohol intake for free!
Live Music at Bong's
No, it's not what you're thinking – 'bong' actually means 'bro' in Khmer! Bong's is a really great place to drink because of it's down to earth atmosphere. The staff genuinely make the effort and become friends with people who drink there, and they even serve Cambodia beer on tap! What makes Bong's stand out though, is the live music three times a week. Anyone can sign themselves up (and if you perform, you get free beer all night!), and there are always some talented local musicians performing as well. It's not unusual for the audience to be singing and dancing along with the acts, and so if live music is your thing, then make sure to check out Bong's.
Police Beach
If you're on Koh Rong on a Wednesday or Saturday (or even better – Full Moon!) then don't miss out on one of the all-night Police Beach parties. To get to Police Beach, just follow the path through the jungle (past Green Ocean guesthouse) for 15 minutes. When I first arrived on the island, the whole walk was comprised of jagged rocks but there is a proper footpath now! Tickets for the parties are available from most bars (prices change depending on whether you visit in high or low season and whether you attend a Full Moon or regular party), and will get you entry, plus one free beer if you arrive before midnight.
Koh Rong Island is home to some incredible DJs, and whatever your taste in music – from Drum and Bass, to deep house, techno, dubstep and even disco – you will find it catered to at a Police Beach Party. Not only that, but there are always fire spinners around to keep you entertained, and you're in the perfect spot to catch that Insta-worthy sunrise, if that's what you're into!
Staying Safe on Koh Rong
Koh Rong is a very safe place to be, especially as far as crime is concerned – although as with anywhere, use your common sense and don't leave huge wads of money lying around or leave your valuables unattended on the beach if you go swimming – but it is an undeveloped island in South East Asia, and you're never far away from the jungle, which means one thing: critters. You won't see snakes and the like in your dorm room or anything, but it is important to be mindful of them when you're walking through the jungle, and exercise caution. Here is a round up of some of the things to beware of during your time on Koh Rong.
Snakes
Now not to alarm anybody, but YES, Koh Rong Island is home to various snakes, including the Malaysian Pit Viper, the Siamese Spitting Cobra and even the King Cobra. However, in my 12 months of living on the island (and walking through the jungle frequently), I never saw one. I heard about one girl getting bitten, but she was okay. Now, of course, this is not to say that there is nothing to worry about – these things can kill you – but it IS to say that the chances of you getting bitten by a deadly snake are very very slim. To stay safe, just watch where you're stepping when you're walking through the jungle, tread heavily so that the snakes will hear you coming and make themselves scares, and never walk through the jungle alone.
Sandflies
Koh Rong is also home to these little bastards known as sand-flies. Not everyone will be affected by them (they never got me, woo!), but for those that are, sand-fly bites are twice as itchy as mosquito bites and take twice as long to heal. The little buggers get you while you're sunbathing, but one way to make sure that they leave you alone is to apply coconut oil to your skin before going in the sun (although don't forget your SPF or you will fry!).
Dogs
If you're a dog lover, then Koh Rong will be your paradise. Almost every bar has multiple dogs, and they really are impossible to avoid. As long as you exercise caution, you have nothing to fear. The dogs are looked after by local organisation, Pups in Paradise, and none of the dogs on Koh Rong have rabies. Just don't be an idiot. If you drunkenly approach a dog you don't know and start picking it up and messing with it, then you might get bitten. Koh Rong's dogs are tame, but you have to approach them in the way that you'd approach any strange dog. Don't startle them, hold your hand out for them to sniff first, and then stroke them. If in doubt, ask the bar staff which ones like to be petted.
Infections
When I first got an infected cut on Koh Rong, I ignored it. Idiot move. The infection got so bad that I actually almost died (there's definitely a future blog post in there somewhere…). Therefore, if you only listen to one piece of advice, let it be this: if you get an infected cut or insect bite, don't ignore it. Go to a pharmacy (there are three pharmacies and a Western clinic on the island), get some antibiotics (you'll usually be given amoxicillin), keep the wound clean and covered (use iodine) and don't go in the sea. I know it's difficult to stay out of the water when you're somewhere as beautiful as Koh Rong, but if you go in the sea with an infected cut, it will never heal and you'll only end up screwing yourself over.
And what about the Koh Rong bug?
Ah, the elephant in the room. Whenever I mention Koh Rong to backpackers, I'm almost always met with 'but doesn't everybody get sick there?' and it's not entirely untrue. Many visitors to Koh Rong Island do get a 24 hour stomach bug that they almost always chalk down to food poisoning. However, if I may throw in my ten cents, I don't believe that the bug is caused by the food. Almost no long term residents of the island get this bug, despite eating their every meal there (and no matter how long you've spent in a place, nobody is immune to food poisoning). Sure, our stomachs might be stronger than those of short term visitors, but I (and many business owners on the island) believe that the water is to blame for the amount of stomach bugs we see on the island.
Not to put you off your dinner, but the sewage is pumped out into the sea, and while you'll be fine swimming in the sea from Monkey Island onwards (towards White Beach bungalows), if you swim in the part of the sea close to the piers (and especially in between the two main piers), you'll be getting extremely dirty water in your mouth, and it will make you very sick indeed.
Never underestimate the power of the water.
As far as the food goes, I hear many people talking about avoiding meat because they think that this will help them escape from food poisoning, but to be honest, you're safer eating meat than you are sticking to salads, as a lot of the salad is washed with tap water, and of course, the germs will not simply be cooked away (the salads are usually fine on Koh Rong but I'm just saying, if anything is going to give you 'food poisoning' then it's less likely to be the pork ribs you had and way more likely to be the salad). The ice in most drinks (cocktails, sodas) is perfectly fine, but the ice used in iced coffees and fruit shakes is not guaranteed to be as clean so if you're worried then just ask the bar what kind of ice they use for their coffees and shakes.
Lastly, the business owners on Koh Rong are aware of this problem, and are in talks about how best to tackle it. They don't want people getting sick, and so they are doing their absolute best to deal with this issue and ensure that this bug is wiped out ASAP 🙂
Travelling Responsibly
FUNDRAISERS
If you're lucky enough to be on the island when a fundraiser is being held, you'd be mad to miss out! Local bars take it in turns to hold fundraisers, which are a great way to have fun while supporting a good cause!
Each fundraiser has a raffle (with prizes being anything from a free meal to a tattoo!), games such as tug-of-war, sack races, strong man competitions, beer pong and flip cup, human auctions (because who doesn't want a smelly expat to take them on a date!?), incredible DJs, face painting, fancy dress and great food. Often, the fundraiser is a full-day event that takes place on the beach, and all the local kids get involved with the games!
The Koh Rong fundraisers are by no means a weekly event but they usually occur around once a month so make sure to look out for posters!
So there we have it – the ultimate guide to Koh Rong Island! Did I miss anything? If you think I should have included something else (or if some of the information I've provided wasn't accurate), then be sure to let me know in the comments below so I can take note!
* This guide was written with the majority of backpackers in mind, and so the places I have covered are mainly located around Koh Touch village. It is possible to stay elsewhere on the island, for example, Sok San beach resort on Long Beach, or various other resorts, but as I have never visited them personally, and as they are not where most budget backpackers choose to stay, I have not included them. Please note prices in these resorts will be higher than those listed for Koh Touch village, and the medic centre & pharmacies are located in Koh Touch.
If you liked this article and would like to support my work, please click the button above to donate a couple of bucks and buy me a coffee. The ad revenue that I receive on this website is minimal, so support from my readers enables me to keep creating content that you (hopefully!) love to read.

Disclaimer: Travelling Jezebel uses affiliate links. If you make a purchase on a recommended site, I may make a small commission at no extra cost to you.