Living in Cambodia was never something I planned on doing.

I think it's fair to say that, for a large percentage of Cambodia expats, they never planned on moving to Cambodia either.

It just sort of…happens.

Like thousands before me, I fell in love with the slow pace of daily life in Cambodia and when the time came to leave the Kingdom, I just couldn't.

But I'm getting ahead of myself.

Before I go into too much detail about my story, I want to talk about my reasons for writing this post.

You see, although living in Cambodia remains one of the best things I've ever done, and barely a day goes by when I don't remember my time there fondly, it was also really really difficult, and I haven't found a single article that really addresses that.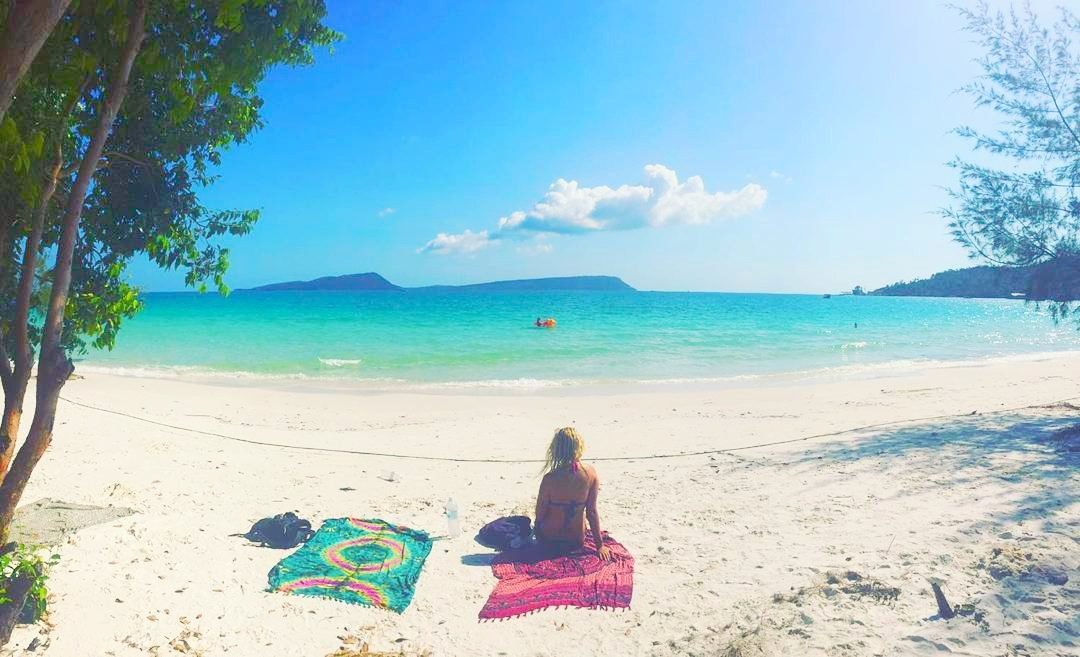 Many of the websites offering information about living in Cambodia wax lyrical about the cheap cost of living, the relaxed visa process and the glorious weather without really touching on the negative side of things, from minor niggles you will face to the major issues that Cambodia has in terms of poverty and human rights.

The purpose of this post then, is to paint a slightly more accurate picture of life in Cambodia.

Cambodia is an incredible country, with a beautiful landscape, a rich culture and warm people, but living in Cambodia is not for everybody, and if you are planning on moving to Cambodia, it's definitely better to be prepared for the challenges that you may face. If you are moving from the US you can also count on moving companies to help you with your relocation.

In this article, you won't find detailed practical information on how to obtain a visa for Cambodia or where to find the best real estate or teaching jobs. What you will learn is what it's really like living in a developing country, where the average age is 25 and where more than 70% of the population live on less than $3.20 a day.

Are you ready? Good, so let's begin.



Living in Cambodia – The Good, The Bad, and The Really Really Ugly


My Story


I was 2 months into what was supposed to be a 3 month backpacking trip around Southeast Asia. I'd spent a month in Indonesia before flying into Phnom Penh, Cambodia's capital city, where I went on to visit Kampot and Siem Reap.

And then I went to Koh Rong.

Koh Rong was supposed to be a week long beach trip before I left Cambodia and began backpacking through Vietnam. 

That 7 days turned into 10 months.

Along with a girl I'd met in Siem Reap, I found a job in a bar and we both rented a cheap room together on the beach.

Life as I knew it ended and I quickly fell into the island way, discarding my shoes, throwing out my bras  and getting used to being covered in a layer of sweat and sand at all times. 




Most of my time living in Cambodia was spent on the island, but I also rented an apartment on the mainland for 3 months in the dingy seaside town of Sihanoukville (known to expats as Sh*tville). During this time, I took on a more part-time role at the bar and spent a couple of days a week in my swanky apartment (well, swanky compared to my room on the island), working online. 

And I loved it. But I'd be lying if I said that it was easy.

Here are some of the things I loved about living in Cambodia, as well as some of the things I didn't love (and finally some of the things that I really didn't love).



Living in Cambodia – The Good

Life in Cambodia as an expat is cheap


It is well known that you can live like a King in Cambodia on a minimal budget.

I rented a large studio apartment in Sihanoukville for 200 USD per month, inclusive of water and internet. The apartment was newly furnished (the fridge was still wrapped up for heaven's sake), with a satellite TV, air-con, balcony and king size bed complete with all linen. This price also included a cleaner who came round once a week to tidy up and change my bed sheets! The only bills I had to pay were my electric bills, which came to about 15 USD per month.

As far as other living costs in Cambodia go, expect to pay less than 4 USD for a meal in a nice restaurant, 1 USD for a beer and 1 USD for street food, with hostel beds going from as little as 2USD with a 4USD average.



Living in Cambodia – The Bad

Racist beauty products


Without delving into how insanely problematic it is that EVERYTHING IN ASIA CONTAINS SKIN WHITENING AGENTS, do you have any idea how infuriating it is not to be able to buy shower gel, moisturiser, or even DEODORANT that doesn't bleach your skin?

I'm trying to get a tan god damnit, I don't want to be walking around like Casper the friendly ghost!



Living in Cambodia – The Good

The Weather

If you're a sun worshipper, you will love the weather in Cambodia. With temperatures ranging from 21 – 35 degrees year round, you will never need to wear a jacket and can enjoy a year round tan.

This is probably one of the main reasons people have for moving to Cambodia.



Living in Cambodia – The Bad

The Weather

Okay, I know that I just listed this as a good thing, and it really is, but you also have to prepare to live in a constant state of heat exhaustion.

You will be covered in a layer of sweat at all times, you will feel like you're about to suffocate with the humidity, and you will get caught in a tropical storm wearing nothing but a cotton sundress and flip flops.



Living in Cambodia – The Good

The Landscape


There's no messing around – Cambodia is a beautiful country.

I've seen the most beautiful white sand beaches of my life in Cambodia, and that's not even the tip of the iceberg.

Whether you want to ride a scooter up the imposing Bokor Mountain, go trekking through the jungle, wake early to see the sunrise over Angkor Wat, sail slowly down the Mekong Delta or swim with bioluminescent plankton, Cambodia has something for you.

Cambodia remains one of the most underrated countries I've ever visited in terms of beauty, and I can't tell you how lucky I feel to have travelled as extensively as I have through Cambodia.



Living in Cambodia – The Bad

Your Health

You will always be getting sick, being sick, or recovering from being sick. The food will upset your stomach. The water will upset your stomach (yes, even if you only use it to shower and brush your teeth), and you will get infected cuts that turn into life threatening diseases (ask me how I know).

You will also be covered in mosquito bites 24/7, and if they don't get infected too then they may well turn into malaria or dengue fever.

Do not expect a clean bill of health when you return home from living in Cambodia.

While it is true that my living conditions in Cambodia were worse due to the fact that I was on an island, you will find hygiene issues and a low quality of medical care wherever you live in Cambodia.



Living in Cambodia – The Good

LGBT Rights

Cambodia is remarkably LGBT friendly, meaning that you will not encounter any problems as an LGBT traveller and there are tonnes of gay bars and clubs in Cambodia's capital, Phnom Penh.



Living in Cambodia – The Bad

Your Wardrobe

All of your clothes will be ruined. Whether it's all of those icky yellow stains under the armpits, the melting of colours because the lady who does your laundry refuses to separate reds from white, the holes gnawed into them by the mice who live in your room or the black mould growing on them, you will have to say goodbye to your favourite outfits more often than you would like.

On the plus side, it's cheap to buy new ones!



Living in Cambodia – The Good

Finding a Job

It is very easy to find expat jobs in Cambodia.

If you want to volunteer in exchange for bed and board then there are hundreds of hostels and backpacker bars available for you, and it is also very easy to find work as an English teacher, no questions asked and no qualifications needed.



Living in Cambodia – The Bad

Finding a Job

…it is very easy to find work as an English teacher, no questions asked and no qualifications needed.

This means that at best, children in Cambodia are being taught by people with no particular interest in teaching, no qualifications and no experience.

At worst…well, we'll get into that later.



Living in Cambodia – The Good

The Parties

Cambodians love to party, and Cambodia is actually the country with the highest number of public holidays in the world (28 in case you're interested), meaning lots of days off!

Cambodians also love to stretch out celebrations, with weddings, funerals and anniversaries lasting up to a week, and Songkran Festival, which is at the beginning of the Khmer New Year, is basically a giant water festival that can last for way longer than the official 3 days!

Not only that, but as an expat living in Cambodia, you will be the guest of honour wherever you go, so don't be surprised if you find yourself dragged into a wedding while just walking by, or attending a child's birthday party who you've never met!


Living in Cambodia – The Really Really Ugly


Child Sexpats 


Let's get the fat balding elephant out of the room: many men living in Cambodia are there to abuse children.

I will not sugar-coat this issue because it is a huge one and it is one that is not spoken about enough. Cambodia has a reputation of being the place to go if you want to sexually abuse a child, and many Western men take advantage of this.

While you will find sex tourism in many countries, and it is true that female sex tourists exist as well, the numbers of men who go to Cambodia to abuse children is disproportionate to other places. Cambodia was the first country that Richard Huckle, the 'world's worst paedophile,' ever travelled to. so go figure.




In fact, there are scores of men who have served time for child abuse in the UK, who go on to open 'orphanages' in Cambodia, where they rent out the children by the hour to other morally bankrupt sickos.

In the book 'Off the Rails in Phnom Penh' the author describes a brothel known as 'Kiddy Corner' by the expats, and you don't have to spend too much time in Sihanoukville to see men in their sixties walking down the beach holding hands with girls and boys young enough to be their grandchildren. 

Witnessing this kind of thing is the worst aspect of daily life in Cambodia and nothing can quite prepare you for the first time you see it. 

UPDATE 14/12/2021 – Since writing this article, a lot of male expats in Cambodia have seemed to take personal offence at this section of the article, and my work has been shared across expat forums, full of men denying that child abuse in Cambodia is an issue at all, and that if it is, expats are not the perpetrators. To that I say – methinks thou dost protest too much, love.



Domestic Violence


I know that I am going to get a lot of hate for this one as well, but I can only speak my truth and about what I witnessed while living in Cambodia.

Domestic violence in Cambodia is rampant, and while that may not affect you directly as a tourist or expat, it is difficult not to notice it happening all around you.

When I worked in the beach bar, one of our kitchen staff would frequently come into work with black eyes courtesy of her lovely husband. Some hostel guests once walked in on a different Cambodian man raping his wife in our hostel.

67% of Cambodian women believe that they should keep quiet about domestic violence in order to keep the family together and 1 in 5 Cambodian men have admitted to raping a woman at somepoint in their lives.

Gang rape is seen as a 'male bonding activity' and 5% of Cambodian men admit to having taken part in a gang rape, known as bauk.

As a woman, it is difficult living in a country where the value of female life is so low and feeling helpless to do anything about it.



Death

The combination of Cambodia's bloody history, poverty, human rights issues, attitude to violence and lack of adequate healthcare means that unfortunately, life is cheap in the Kingdom.

Moto crashes are commonplace, drunken fights where the weakest ends up dead is standard, and thousands of children every year are dying from preventable diseases and poor sanitation.

Of course, as far as these last few points go, if you live in a fancy penthouse in the city and surround yourself with other rich expats, you may be able to pretend that these things are not going on all around you.

However, whether you turn the other cheek or not, these things are happening every single day in Cambodia, and I would hazard a guess that for most decent people, it is impossible to look away and feign ignorance.



Living in Cambodia – Final Thoughts


Moving to Cambodia and spending a year living in Cambodia is one of the best things I've ever done.

The Kingdom of Cambodia is an incredible place, rich in culture and beauty, and living there for such a long time gave me a deeper understanding of who Cambodian people are and what their life is like.

In many ways, I had an incredible quality of life in Cambodia – who could complain about living on a beach, working in a backpacker hostel and spending their days going on boat trips and sunbathing?

However, in many ways, I had a poor quality of life. I contracted a life threatening illness whilst in Cambodia, and even taking that out of the equation, my health was never good. Barely a week went by where I wasn't vomiting, suffering from diarrhoea, in agony from a UTI, nursing a fever or tending to infected wounds all over my body.

The internet was often non-existent, the overall hygiene levels were horrendous, and I was surrounded by human and animal cruelty everywhere I looked, even if it was taking place against a backdrop of white sands and crystal clear waters.

Should you move to Cambodia? I can't answer that.

You would undoubtedly have a better quality of life in Thailand or Vietnam, but for some of us, the allure of the Kingdom is simply too strong, and no matter its flaws, we choose Cambodia.

Until next time,

XOXO



If you liked this article and would like to support my work, please click the button above to donate a couple of bucks and buy me a coffee. The ad revenue that I receive on this website is minimal, so support from my readers enables me to keep creating content that you (hopefully!) love to read.


Disclaimer: Travelling Jezebel uses affiliate links. If you make a purchase on a recommended site, I may make a small commission at no extra cost to you.