If you spend even half a day in Valencia, you can't fail to pass through Plaza del Ayuntamiento Valencia, the largest and most famous square in the city and a popular meeting point for locals and tourists alike.

Plaza del Ayuntamiento is not only home to some of Valencia's most important buildings such as the Town Hall, Central Post Office, and main tourist office, but it's also a place where major events take place, where shops and eateries abound, and where people from all walks of life collide.

After living in Valencia for over a year, I must have been to this square over 100 times, and so I decided to put together this quick guide to Plaza del Ayuntamiento, Valencia's majestic main square.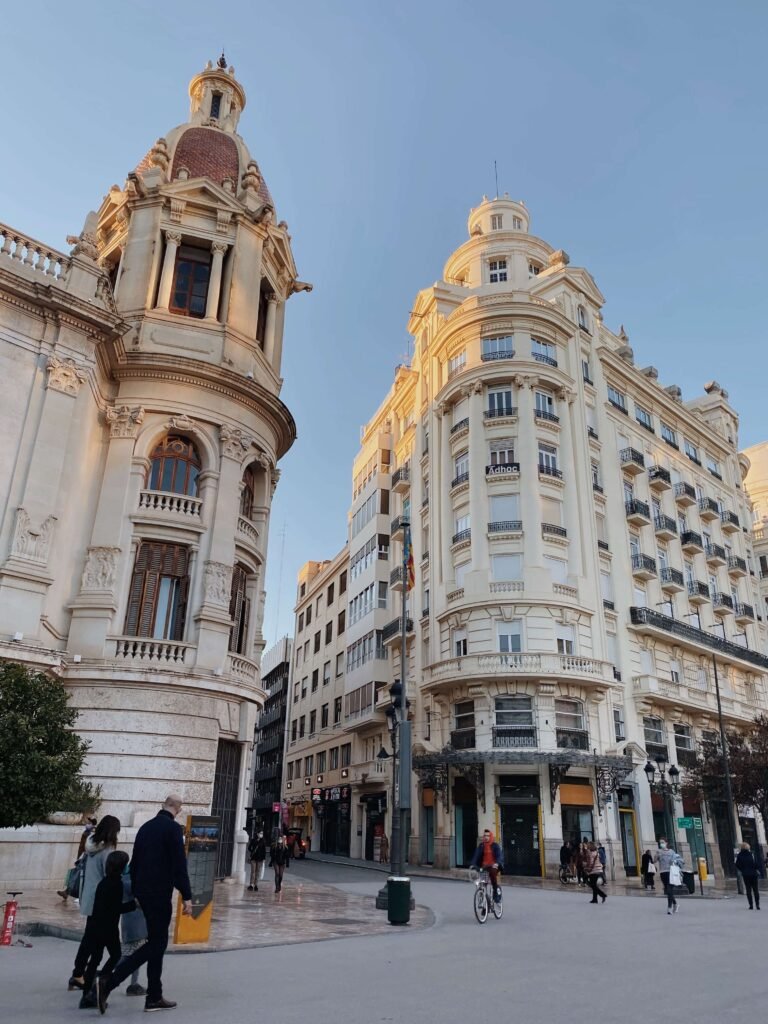 Plaza del Ayuntamiento – The Most Famous Square in Valencia


Plaza del Ayuntamiento at a glance


Plaza del Ayuntamiento, or 'Town Hall Square,' is, as the name would suggest, where Valencia's Town Hall stands, as well as various other decadent buildings, souvenir shops, and places to eat. It's also home to several banks, as well as the main tourist office of Valencia, where you can book tours, ask questions, and pick up city maps.

The square covers a large area, and in contrast to the shabby chic vibes of El Carmen, Plaza del Ayuntamiento is a wide open space lined with grand architecture, immaculate lawns, and manicured flowerbeds.

It is in the Sant Francesc neighbourhood of Valencia's Old Town, and just across from the main train station, Estación del Norte (which is a sight to behold in itself).

In the centre of the plaza is a large circular fountain, stalls selling flowers, and a large open space where various cultural events take place (more on that later).




Things to do around Plaza del Ayuntamiento


Step inside the Town Hall


A visit to the Town Hall, or Ayuntamiento, is a must.

This historic building offers a fascinating glimpse into Valencia's civic heritage, and you can actually step inside and have a look around! As you enter, you'll see a grand neoclassical marble staircase adorned with ornate details,

Head up the stairs to the Crystal Hall where you'll find gigantic chandeliers, painted ceilings, and marble floors, before paying a visit to the small Historical Museum of the City (also located upstairs).

Here you'll find various symbols of the city's rich history, including the original Senyera (Valencian flag), the sword used by James I in the conquest of Valencia, and the banner of the Reconquista, which symbolises the city's recovery from the Arabs.

From outside the building, make sure to have a look at the stunning façade and clock tower – the clock strikes at each quarter hour from 8:00 am until midnight, playing the Valencian regional anthem at noon.

The main Town Hall building was designed in the neoclassical style by architect Miguel Angel Navarro in the early 20th century, and is one of Valencia's finest architectural works.



Check out the fountain


The Fuente de la Plaza del Ayuntamiento, or the Fountain of the Town Hall Square, is a large, circular fountain that acts as a sort of centrepiece to the square.

At night, the fountain lights up, and during the daytime, the water resembles a white fluffy cloud (at least, it does to me).



Admire the post office


Yes, you read that right – I'm listing a post office as a tourist attraction.

However, that's not because Valencia is lacking in things to see – it's just that the Central Post Office, or Correos y Telégrafos, is an architectural gem that is well worth your time.

The building's architectural style is a blend of eclectic and neoclassical influences (it was also designed by Miguel Angel Navarro), with intricate carvings and elegant columns.

Look up, and you'll see two clusters of angels, one on each side of the building. One group is resting on a locomotive, and one on a ship, representing the only two methods of postal delivery that were in existence when the building was constructed – land and sea.

On entering the building (don't worry – they're used to tourists!), you'll find a magnificent glass domed ceiling, adorned with the coats of arms of all the Spanish provinces. The dome is comprised of 370 panels and 3,500 pieces of stained glass, all with intricate design work.

Even if you don't consider yourself an architecture buff you can't fail to be impressed by Valencia's post office!

Sidenote: the first time I was 'introduced' to Valencia's post office was because I needed to collect a parcel. You can imagine my expression when Google Maps led me to this absolute beauty of a building!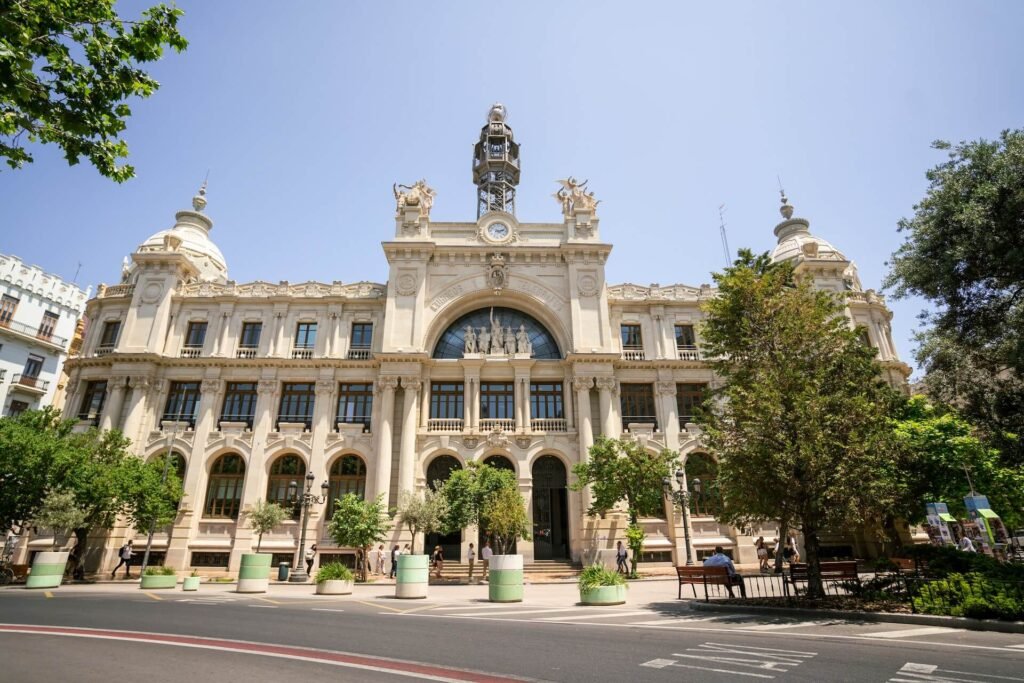 Buy some flowers


Flower stalls have been present on Plaza del Ayuntamiento since the early 20th century, and a handful of them still remain today!

Originally the stalls resembled mushrooms, but now, they look just like newsstands (albeit very colourful newsstands), and while the main focus is bouquets of flowers, you can also find houseplants, hanging baskets, and dried flowers here.



Have a cocktail with a view at Atenea Sky Bar Restaurant


Ateneo Sky Bar is one of Valencia's best rooftop bars, offering stunning views over Plaza del Ayuntamiento.

If you like, you can head up there simply to check out the view, or you can stay for a bite to eat and a cold drink.

The cost to go up to the viewpoint is 3 EUR, but part of the fee is deducted from the bill if you decide to stay and order something at the bar. If you get a cocktail, 2 EUR will be deducted from the total, and if you order anything else (except water or tea) 1 EUR will be deducted from the bill when you leave.

Good to know: Although this place isn't cheap, it's not majorly expensive, especially if you're visiting Valencia from the UK or US. You can get a glass of wine for less than 4 EUR, and Valencian pizza slices (coca) for around 6 EUR.

You can find Ateneo Sky Bar Restaurant here.



Events


Depending on what time of year you visit Valencia, there may be other things happening on Plaza del Ayuntamiento!

If you visit Valencia in winter, you'll find a large ice rink, carousel, and a selection of Christmas market stalls here.

During the summer, you may come across outdoor cinema screenings, concerts, or Gay Pride celebrations, and in the month of March, it's Fallas festival.

Fallas is Europe's biggest street festival and it completely takes over the city of Valencia for most of the month of March. Although Fallas celebrations are everywhere, Plaza del Ayuntamiento is where you'll find the largest crowds, especially for the daily 2:00 pm mascleta (pyrotechnical display), and the burning of the main Fallas sculpture at the end of the festival.



Places to eat


In terms of places to eat on Plaza del Ayuntamiento, I'm going to have to be the bearer of bad news – most eateries here are international fast food joints (think Taco Bell and Burger King) and the ones that aren't are quite mediocre and overpriced.

There are plenty of amazing cafes and restaurants in Valencia, and I don't recommend wasting your time looking for something show-stopping on Plaza del Ayuntamiento.

Instead, choose a side street and venture down it – I guarantee you'll find something within 100m.



Where is Plaza del Ayuntamiento?


Plaza del Ayuntamiento isn't difficult to find – in fact, it's difficult to avoid.

The square sits right in front of the main train station (Estación del Norte) and Bullring (Plaza de Toros), and the Xativa metro station is also just a few steps away.

Here is a Google Maps link.



Where to stay


There are tonnes of hotels on Plaza del Ayuntamiento and in the vicinity.

Here is a list of the top-rated hotels on/near Plaza del Ayuntamiento.



Plaza del Ayuntamiento | Final Thoughts


I hope that this post has been helpful!

There aren't a tonne of things to do in Plaza del Ayuntamiento, but it is where you'll find some of Valencia's best architecture, and it's also a great place to sit for a while and soak up the lively atmosphere.

Plaza del Ayuntamiento is also the place to go if you're craving fast food, need to do some high street shopping (you'll find Ale Hop, H&M, Mango, and more on the plaza itself and the streets surrounding it), or if there's a major event going on in the city!

That's all I've got for today, but as always, if you have any questions then please don't hesitate to ask in the comments section below and I will get back to you!

Until next time,

XOXO


If you liked this article and would like to support my work, please click the button above to donate a couple of bucks and buy me a coffee. The ad revenue that I receive on this website is minimal, so support from my readers enables me to keep creating content that you (hopefully!) love to read.

Disclaimer: Travelling Jezebel uses affiliate links. If you make a purchase on a recommended site, I may make a small commission at no extra cost to you.